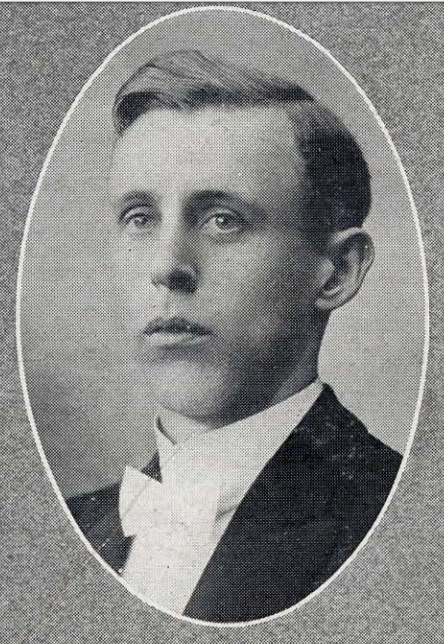 ---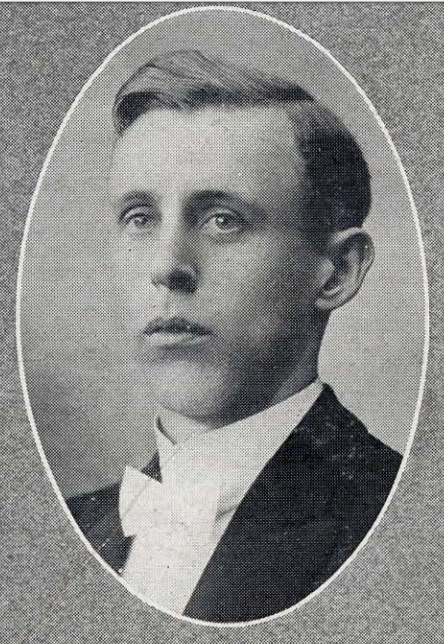 After tearing up the Ohio and Pennsylvania League for the Youngstown Steelmen, pitcher Ed "Doc" Moyer appeared in six games with the 1910 Washington Senators. In a deflating debut in relief on July 20, 1910, against Cleveland, Moyer was greeted by the Naps' 3-4-5 batters with three blistering base hits to lead off the sixth, prompting manager Jimmy McAleer to yank Moyer in favor of his ace, Walter Johnson. Doc Moyer's truly historic debut came six years later, back in Washington, but this time in Cleveland's dugout, as the first former major-leaguer to be hired as a team trainer.
Born August 15, 1885, in Andover, Ohio, Charles Edward Moyer was the son of Dr. Walter Edward Moyer and Alma L. (Mack) Moyer. A sister, Katie, born on November 26, 1881, died December 21 of the same year. Neither of his parents was living by 1896. Charles Edward appears to be missing from the 1900 census.
In his first professional season, 1910, Moyer was mowing down the opposition to the tune of nine strikeouts per game with a high of 15 when the scouts came knocking. He followed up consecutive shutouts for Youngstown with a combined 28 strikeouts, with a June 4 two-hit shutout in which he struck out another 13 New Castle batters. Moyer also helped his own cause with a home run.1 In the stands was Washington's Kid Elberfeld, who was scouting while nursing a split finger. Moyer, who struck out 109 batters to 21 walks, was already sitting on many offers,2 but his Youngstown manager, Frank Eustace, and McAleer were friends, or so the story goes, and it was Washington who tentatively signed "the wonder" on June 6, 1910.3
Elberfield went so far as to say that Moyer possessed the best spitball he ever saw. "When I first looked at Moyer I could not understand why so many batters were missing the ball, but when I caught him I could see that it was a remarkable spit ball that was fooling the batters, Elberfeld said. "His fast ball, too, has a shoot on it that no one can follow, and it is the combination of these two that makes him a success."4
McAleer feared that Moyer was being overworked, and finalized the deal on June 17,5 with the recruit reporting on July 16.6 After his inauspicious debut in relief of Bob Groom four days later, in which he was knocked out of the game on consecutive hits by Terry Turner, Nap Lajoie, and Harry Bemis, the papers remained in favor of Moyer. "He isn't bad, just new. Wait!" said the Washington Herald, but added, "There was a difference purely palpable when Johnson relieved Moyer."7 The Big Train, 6-feet-1, 200 pounds, surely lived up to his name next to the slender, 6-foot, 145-pound Moyer.8
Moyer got his second chance on August 7 against the White Sox. As Big Ed Walsh was blanking the Nationals, with Wid Conroy picking up their only two hits, Moyer worked the eighth. Throwing nothing but fastballs, he gave up two scratch hits, and a lucky run.9
Moyer made his first big-league start on August 10 in the first game of a Wednesday doubleheader against the Naps. Working with a fellow rookie, catcher John Henry, Moyer gave up six hits and as many walks in a 3-2, 11-inning complete-game loss. He had his spitter working with 19 outs recorded at first base. Nine of those putouts were completed by the pitcher himself, as the Naps kept "topping their drives."10 Moyer did himself in, however, exploding over a called ball by Silk O'Loughlin, and eventually walked in the winning run with two out in the 11th.11
It would be over a month of riding the pines before Moyer got into another contest. On September 13 in Philadelphia, pitted against the eventual World Series champs, Moyer worked the last two innings, giving up a double and triple as the Mackmen plated a pair.12 Two days later, with the Senators on their way to Detroit, Moyer accompanied his manager back to Youngstown as McAleer checked on other recruits, and Doc visited old friends.13
Moyer recorded his second complete game on September 21, working the initial game of a doubleheader against the Tigers. Moyer held Ty Cobb, Sam Crawford, and company to just three hits, two of them bunts up the third-base line. Cobb provided the only clean hit, a ringing homer off the right-field fence. But Moyer also gave up six free passes, and, aided by some costly errors, took the loss, 4-3.Doc did manage to collect his lone big-league hit, a single to right off Wild Bill Donovan.14
Moyer's big-league finale came in the Senators' last road game of the season before 7,000 fans at Hilltop Park against the New York Highlanders on October 4. Moyer, "a green young star,"15 gave up four runs in two innings of work. In the first, he walked a man and beaned the next, got a fly to center, then hit a second batter to load the bases. In the second, Moyer balked and beaned a third batter before he was lifted with two out in the frame.
Moyer would be back with the Nationals for spring training in 1911, with "his spitter the wonder of his teammates."16 Despite going to pieces in his last appearance of 1910, he was still thought well of. "Unlike most young pitchers, Moyer does not rely on his natural ability when he pitches. He is wise to the art and uses good judgement."17 In a March 13 intrasquad game in relief of Walter Johnson, he was hit hard and surrendered five runs in three innings.18 In another split-squad contest five days later, Moyer worked three innings, walking three and beaning a fourth, his catcher Eddie Ainsmith.19
Suffering from a lame arm that he couldn't lift above his head "without making a face,"20 Moyer was excused from pitching batting practice and was tended to by the team trainers. On March 29, he was knocked out by a line drive off the bat of teammate Fred Corbin that split his upper lip, loosened teeth, and knocked him senseless. It took several minutes before Moyer could walk to the clubhouse, and only with the help of a teammate under each arm. An hour later he was still bleeding from the nose and mouth.21 Days later he was still on a liquid diet. Subsequently, Moyer failed to break camp with the Senators. By April 19 he was back with Youngstown, but held out for more money. "Pitcher Doc Moyer may spend the summer on his farm in Andover and may pitch for the Andover Blues,"22 wrote a Washington sports scribe.
Youngtown suspended Moyer on May 13 for "not being in condition,"23 but had him pitch in two more games, one an exhibition game on June 14 against the Phillies for which he was promised $5.24 This prompted the National Commission to grant Moyer a $65 claim at the end of August. He was released to New Castle on June 24, where he went 1-5 while working with half an arm.25
Moyer began 1912 with Toledo, pitching for the Mud Hens against the Yankees in early April, but was released at the end of the month by manager Topsy Hartsel due to Moyer not wanting to take any chances with his arm.26 He caught on with Jack O'Connor's Cleveland club in the outlaw United States League, but never signed a contract, and as a free agent was appealing to Clark Griffith for another shot with the Senators.27
Moyer was hopeful his arm would be ready by June, relaying that he had taken the tail end of 1911 off after discovering that "two ligaments were displaced in [his] arm," and adding that Bonesetter Reese had "fixed them up."28 A chance with Washington never materialized and Doc Moyer landed instead in the New York State League twirling for Troy.29
Sometime before the 1913 season, Moyer changed his professional name to More. There was a More with Springfield of the Eastern Association in 1913 who went 16-10 in 32 games.30 Back with Springfield in 1914, Moyer (More) went 19-15. He led the league in games at 41, while putting 329 more innings on his arm. The following season, Moyer (More) won a New England League-best 18 games with the pennant-winning Portland team.31 Moyer's readily available minor-league record stands at 62-58.
Dr. Charles Edward Moyer graduated from the American School of Osteopathy in June 1916. Records indicate that his previous education occurred at the University of Michigan. While at the American School in Kirksville, Ohio, Moyer was a member of the Iota Tau Sigma fraternity.32
In the summer of 1916, Moyer was heralded as the first former major-leaguer to be employed as a trainer, doing so with the Cleveland ballclub.33 In 1914, Moyer was recommended to Cleveland as a pitcher by former Waterbury manager Lee Fohl, then a Cleveland coach. Two years later, Fohl, by then Cleveland's manager, hired Moyer as the team trainer. When Stan Coveleski's arm grew weak after he logged extra innings with Guy Morton injured, Dr. Moyer was able to get him back to working on a single day's rest. Moyer treated a twisted ankle for Terry Turner, and it was Moyer who first responded to a fallen Tris Speaker when The Grey Eagle caught his spikes while making a circus catch at home on July 31.34 A sprained left ankle didn't seem to slow Speaker down too much as he finished 1916 atop the American League in seven offensive categories.
Dr. Moyer is listed in the Detroit Tigers' 1939 spring-training scorebook as assistant trainer. While with the Tigers, Moyer could have treated Hall of Famers Earl Averill, Charlie Gehringer, Hank Greenberg, and Hal Newhouser.
Moyer married Ruth Louis Stebbins in Andover on December 7, 1912. Their union produced one daughter, Jean L. Marple, born in 1917. Dr. Moyer, "physician," filled out a World War I draft card in Cleveland on September, 12, 1918. The 1920 census had the Moyers back in Andover, and the doctor curiously listed as a tire salesman. In 1930 the family had moved an hour south to 283 North Market Street, East Palestine, Ohio, in a modest brick building that most likely doubled as the osteopath's medical practice, and today is part of the East Palestine Memorial Public Library. In 1940 the family of three lived in Birmingham, Alabama, with Doc still practicing medicine and his daughter as a newspaper reporter.
Dr. Charles Edward Moyer retired to Jacksonville, Florida, around 1954, where he died at 77 from complications of heart disease on November 18, 1962. Moyer was survived by his wife of almost 50 years, his daughter, Jean, and an aunt, Mrs. Celey Kingsley of Phoenix, Arizona. His funeral was presided over by Rev. James Orth, rector of Jacksonville's St. Paul's Episcopal Church. The doctor was cremated.35
Acknowledgments
This biography was reviewed by Len Levin and fact-checked by Alan Cohen.
Sources
In preparing this biography, the author relied primarily on online newspaper archives including The Sporting News offered at Paper of Record, and Sporting Life, as well as the Chronicling America newspapers hosted by the Library of Congress. Additional information was obtained from the player's file at the Hall of Fame Museum and Library in Cooperstown. Census data was acquired from familysearch.org, with special thanks to Dianna Csikos.
Notes
Born
August 15, 1885 at Andover, OH (USA)
Died
November 18, 1962 at Jacksonville, FL (USA)
If you can help us improve this player's biography, contact us.
https://sabr.org/sites/default/files/MoyerEd.png
600
800
admin
/wp-content/uploads/2020/02/sabr_logo.png
admin
2017-09-21 13:51:17
2020-04-09 14:40:31
Ed Moyer