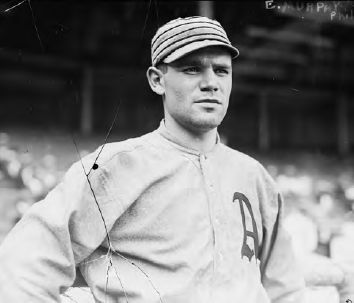 ---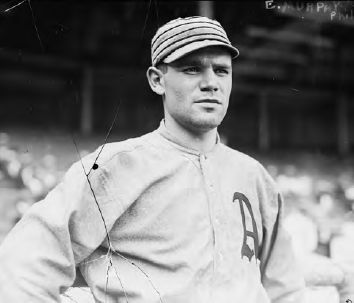 Hancock, New York, has made numerous contributions to baseball history. A mill operated there by the Hillerich & Bradsby Co. for more than eight decades provided Louisville Slugger bats to Babe Ruth, Ty Cobb, Joe DiMaggio, Ted Williams, and other hitting stars.1 Hancock was also the hometown of John "Honest Eddie" Murphy.
Murphy was a member of two of the greatest teams of the Deadball Era, Connie Mack's Philadelphia A's and the scandal-ridden Chicago White Sox, where he earned his nickname and a reputation for integrity after eight of his teammates were accused of throwing the 1919 World Series.
Decades later, in an interview with Chic Feldman of the Scrantonian newspaper in Pennsylvania, Murphy said, "We might have started the dynasty that was the (New York) Yankees' good fortune. But our best players … sold their honor and souls to the gamblers and a pennant purgatory came upon the White Sox."2
The youngest of Charles and Theresa Murphy's six children, John Edward Murphy was born on October 2, 1891. Hancock abuts the state line with Pennsylvania. His parents later relocated the family, including siblings Frank, Charlie, Helen, Anna, and Marie, from Hancock to nearby White Mills, Pennsylvania, where Charles worked as a hotel manager along the railroad that ran from Honesdale, Pennsylvania, to Lackawaxen, New York.
Charles had a college education, which kept him out of the coal mines that dominated the northeastern Pennsylvania landscape around the turn of the 20th century. The coal industry provided plentiful job opportunities, but those opportunities came at a price. The work itself was dangerous; death, dismemberment, and the dreaded black-lung disease were constant clouds over all workers. Miners and their families also lived in poorly built company housing, purchased their goods from company-owned stores, and paid wages arbitrarily calculated by the ton of coal they loaded. The average annual salary was $375.3
In the early 1900s, coal companies encouraged their employees to play baseball and often hired talented players for their services on the diamond.4 Young Eddie Murphy earned money during the summer playing with Honesdale, Pennsylvania, in the semipro Anthracite League. One day he filled in when Honesdale's starting catcher did not show up. Pitcher Big Bill Steele took one look at the 5-foot-9, 155-pound Murphy and told the manager, "This kid will never hold me!" Murphy held his own. When the game was over, Steele said to Murphy: "See you in the big leagues, kid!" By 1912 Steele was pitching for the St. Louis Cardinals when Murphy made his debut in the American League with the Philadelphia Athletics.5
Murphy impressed observers with his consistent ability to reach base and his speed. Manager John Dorflinger of the White Mills team in the Anthracite League was able to arrange for Murphy to attend Villanova College on a scholarship.6 He starred at nearly every position in 1911, and after the college season that spring, he signed with the Scranton Miners at the age of 19.7 Murphy played in 91 games. In 323 at-bats, the left-handed-hitting Murphy batted .300 with 11 doubles, 6 triples, and 1 home run.
In 1912 Murphy was acquired by the Baltimore Orioles of the International League and his play was even better at a higher level of the minors. In 122 games he hit a league-best .361 with 14 doubles, 15 triples, and 7 home runs. His performance attracted the attention of Athletics manager Connie Mack, who traded for him in the midst of a pennant race with the Boston Red Sox. Murphy made his major-league debut with the two-time defending World Series champions on August 26, 1912. In 33 games he batted .317 and scored 24 runs but the Athletics could not catch up with the Red Sox for the AL pennant.
In 1913 Murphy won a starting outfield job, replacing the aging and injured veteran Danny Murphy in right field. "People were always getting us mixed up," Eddie later said.8 But Eddie made a name for himself in his first full season. As the A's primary leadoff hitter, he batted .295, stole 21 bases, and scored 105 runs (fourth best in the AL) as Philadelphia returned to the World Series to face the New York Giants for the third time. Behind Christy Mathewson's record-setting three shutouts, the Giants had dominated the A's in the 1905 fall classic, but the A's, powered by the heroics of Home Run Baker, had gained a measure of revenge in 1911.
Murphy mostly struggled against the Giants in the 1913 Series, hitting .227, but he did reach base three times against Mathewson in the decisive Game Five as the A's closed out the Series. In the ninth inning, Larry Doyle's flyout to end the game settled in Murphy's glove in right field and the A's were once again champions of baseball.
Murphy's old semipro manager, John Dorflinger, whose father was president of the C. Dorflinger & Sons Glass Company in White Mills, honored the hometown hero with a special glass baseball bat that was hand-blown at the company's glass plant. Murphy was presented with the bat before Game Two of the World Series and it went on display at the John Wanamaker & Co. department store in Philadelphia for nearly a year before it was returned to Murphy.9
The 1914 season proved to be another banner year for Murphy. Playing in a career-high 148 games, he once again scored more than 100 runs and batted .272 with 36 stolen bases. His on-base percentage of .379 ranked seventh in the American League, giving sluggers like Home Run Baker, Stuffy McInnis, and Eddie Collins ample opportunities to drive him in.10
The A's captured their second consecutive pennant and fourth in five years, moving on to face the Boston Braves in the 1914 World Series. The Braves were heavy underdogs, but shocked the baseball world by sweeping the A's in four games, the first time that feat had been accomplished. Murphy batted just .188 with three hits in four games.
In disgust, Connie Mack broke up his A's dynasty in the offseason. He released pitchers Chief Bender, Eddie Plank, and Jack Coombs, and sold future Hall of Fame second baseman Eddie Collins to the Chicago White Sox. The depleted A's quickly became the worst team in the league and one of the worst in baseball history. By July 1 Philadelphia was in last place, 22 games behind the Red Sox, when Mack began another round of his unusual "fire sale." Young pitcher Bob Shawkey was sold to the New York Yankees, where he would become a star for the next decade, and shortstop Jack Barry was sold to the Red Sox. On July 15 Eddie Murphy joined the exodus, too. He was reunited with Collins on the White Sox, who bought him for $11,500.11
Murphy recalled the deal decades later: "We were in Chicago that day. Mr. Mack came to me on the field before the game and said, 'I'd like you to meet Clarence Rowland.' We went under the stands, and when I shook hands with Rowland, who was manager of the White Sox, he said, 'You ought to know I just bought you.' So, I just changed suits."12
Before the deal Murphy batted .231 with 13 stolen bases and 37 runs scored in 260 at-bats for the A's. His season turned around with his move to Chicago. He hit .315 over the rest of the year as the White Sox, led by Collins and the newly acquired Shoeless Joe Jackson, surged to win more than 90 games for the first time in a decade, finishing in third place.
As the White Sox' fortunes improved, however, Murphy found his playing time diminishing in the outfield. Left fielder Jackson was one of the American League's top stars, and rookie Happy Felsch promised to be a standout in center field for years to come. In right field, manager Rowland preferred to employ a platoon of Nemo Leibold and Shano Collins.
Beginning in 1916, Murphy was used primarily as a pinch-hitter in his seven-year tenure with the White Sox. After initially struggling in the role, he began to flourish and recorded batting averages of .314, .297, .486, and .339 from 1917 to 1920, averaging just 140 plate appearances a season during that span.
The White Sox finished atop the American League standings in 1917, Murphy's third pennant winner in his first five major-league seasons. But he was left off the postseason roster and did not appear in the World Series against the New York Giants, which the White Sox won in six games.
With World War I looming over the major leagues in 1918, Murphy briefly gained a starting position in the White Sox outfield after Joe Jackson and Happy Felsch left the team in midseason for war-essential work as shipbuilders. He hit .297 in 91 games, but the White Sox, missing many of their star players, tumbled to sixth place.
In 1919 Jackson, Felsch, and the others returned, and Murphy's playing time was cut back under new manager Kid Gleason. He appeared in just 30 games, but he hit .486 with 17 hits in 35 at-bats for a dissension-riddled White Sox team that beat out the Cleveland Indians for their second pennant in three years. His eight pinch hits led the American League.
Murphy later recalled that the White Sox, while "gifted" in talent, had "cliques within cliques" in the clubhouse: "The eight who were thrown out always hung out together, even at the batting cage. … (Buck) Weaver and Happy Felsch were very close, and Felsch would do anything Weaver wanted. Eddie Cicotte and Lefty Williams were close, and so were their wives." Murphy also praised Chick Gandil ("a good clutch hitter"), Joe Jackson (he "could murder the ball"), and Swede Risberg (who was "just coming into his own when the thing happened.")13
The "thing" Murphy referred to was the throwing of the 1919 World Series to the Cincinnati Reds. Those seven players plus utility infielder Fred McMullin were eventually banished from Organized Baseball for their roles in what became known as the Black Sox Scandal.
Murphy made just three pinch-hitting appearances in the World Series against the Reds and he was not involved in the scandal. But as he later recalled, it was hard for anyone on the team to ignore. Murphy later claimed that manager Gleason held a team meeting after Game Three and challenged the players to win the Series. According to Murphy, Gleason said, "I hear that $100,000 is to change hands if we lose." Murphy believed that "Gleason told the story to (owner Charles) Comiskey and almost anyone who would listen."14
But few in baseball were listening as the 1920 season began, and the White Sox returned most of their pennant-winning team for another year. Murphy was again used mostly as a pinch-hitter, batting .339 in 58 games, and the White Sox contended with the Cleveland Indians and New York Yankees for first place. As rumors of the World Series fix grew, and some observers suspected that the White Sox were throwing games in 1920 as well, tension began to mount. Murphy recalled: "We knew something was wrong for a long time, but we felt we had to keep silent because we were fighting for a pennant. We went along and gritted our teeth and played ball. It was tough."15
On September 28, 1920, Eddie Cicotte and Joe Jackson testified to a grand jury in Chicago about the World Series fix. All seven players implicated — Chick Gandil had retired in the offseason after a salary dispute — were immediately suspended before the final regular-season series against the St. Louis Browns. With the White Sox roster depleted, Murphy replaced Buck Weaver at third base for the final three games. He recorded four hits in the series and made one error as the White Sox were eliminated from contention and finished two games behind the Indians for the pennant.
Murphy and the other "clean Sox" not involved in the fix were hailed as heroes by the public and by team owner Charles Comiskey, who made a magnanimous gesture after the season by sending them checks for $1,500 — the difference between the winners' and losers' share of the 1919 World Series gate receipts. Comiskey's letter read, in part: "As one of the honest ball players of the Chicago White Sox team of 1919, I feel that you were deprived of the winner's share of the worlds series receipts through no fault of your own."16
Murphy's reputation for integrity would follow him for the rest of his life, and even into the 21st century, his nickname of Honest Eddie remains well known. A sports bar in his hometown of Hancock, New York, was named Honest Eddie's Tap Room.
Murphy returned to the White Sox in 1921, but made just six appearances before he was released on waivers to the Cleveland Indians, who reassigned him to the Columbus Senators of the American Association. As a full-time starter in the outfield again, he spent five productive years with Columbus, serving a stint as team captain and even winning a batting title at age 33 with a .397 average in 1925.17
Traded to Rochester (New York) of the International League after the 1925 season, Murphy was having another superb season when his contract was purchased by Pittsburgh Pirates owner Barney Dreyfuss in mid-August 1926.18 Murphy injured his knee soon after he joined the Pirates and did not have much impact on the three-way National League pennant race.19 He hit just .118 in 22 plate appearances for the Pirates, who finished in third place, 4½ games behind the St. Louis Cardinals. Murphy finished his 11-season major-league career with a .287 average and 680 hits in 761 games.
In the winter of 1926-27, Murphy was called to Chicago to testify before Commissioner Kenesaw Mountain Landis about a disputed Chicago White Sox-Detroit Tigers series from a decade earlier. Murphy's disgraced former teammates Chick Gandil and Swede Risberg claimed the Tigers threw a four-game series to the White Sox in early September 1917, and that the White Sox players had paid them off to do so. Although many members of the White Sox, including Eddie Collins, admitted contributing money to the Tigers pool, they claimed it was to reward the Tigers for beating the rival Boston Red Sox instead. For his part, Murphy said he was never asked to contribute and wasn't aware of a plot.20 Landis eventually dismissed Gandil and Risberg's claims, although he did put a stop to the once-common practice of "rewarding" opposing teams.
Murphy returned to the minor leagues for two final seasons, playing for Rochester in 1927 and splitting time in 1928 with the Montreal Royals and Jersey City Skeeters. When Jersey City sold him to the Reading Keystones, Murphy refused to report and abruptly ended his playing career.21
In retirement, Eddie and his wife raised two sons and lived in Dunmore, Pennsylvania, for the rest of their lives. He stayed involved with baseball, managing a semipro team in Stroudsburg and for a time operating an instructional school in Scranton.22 Later, he worked as a supervisor of recreation for the Works Progress Administration in Lackawanna County and helped arrange exhibition baseball games for visiting troops at a USO club during World War II.23
Murphy died at the age of 77 on February 21, 1969, at his home in Dunmore. He was buried at Queen of Peace Cemetery in Hawley, Pennsylvania.
Notes
1 Bob Hill, Crack of the Bat: The Louisville Slugger Story (New York: Sports Publishing, 2002).
2 The Scrantonian (Pennsylvania), September 13, 1959.
3 William C. Kashatus, Diamonds in the Coalfields: 21 Remarkable Baseball Players, Managers, and Umpires From Northeastern Pennsylvania (Jefferson, North Carolina: McFarland & Co., 2002).
4 Ibid.
5 Kashatus, 31.
6 Kashatus, 19.
7 Mark Simonsen, "Hancock native escaped 'Black Sox' scandal of 1919," Oneonta (New York) Daily Star, June 19, 2010.
8 The Sporting News, September 21, 1968.
9 Bob Warrington, "Eddie Murphy's Glass Bat," Philadelphia Athletics Historical Society, accessed online at philadelphiaathletics.org/event/glassbat.htm on October 10, 2013. In recent years, the bat has been displayed at the Corning Glass Museum in Corning, New York.
10 William Connelly, "Great Run-Getters Past and Present," Baseball Magazine, August 1915, 37-40. Accessed online at LA84.org on September 1, 2014.
11 Retrosheet.org lists Murphy's sale to the White Sox at $11,500, but several contemporary sources state that the deal was for $13,000.
12 The Sporting News, September 21, 1968.
13 Ibid.
14 The Scrantonian, September 13, 1959. For more discussion of Gleason's team meeting, see Gene Carney, Burying the Black Sox: How Baseball's Cover-Up of the 1919 World Series Fix Almost Succeeded (Washington, D.C.: Potomac Books, 2006), 46-47.
15 Kashatus, 93.
16 Charles Comiskey letter to Eddie Murphy, October 2, 1920. A copy of the letter can be found at honesteddiemurphy.com. Checks were also sent to Ray Schalk, Red Faber, Eddie Collins, Shano Collins, Nemo Leibold, Dickey Kerr, Roy Wilkinson, Hervey McClellan, and Byrd Lynn. See Chicago Tribune, October 5, 1920.
17 Hamilton (Ohio) Journal News, September 26, 1925.
18 Franklin (Pennsylvania) News-Herald, August 13, 1925.
19 Scranton Republican, September 16, 1926.
20 Chicago Tribune, January 4, 1927.
21 Reading (Pennsylvania) Times, June 13, 1928.
22 Scranton Republican, April 6, 1935.
23 Scranton Republican, July 3, 1936; Mount Carmel (Pennsylvania) Item, May 3, 1945.
Born
October 2, 1891 at Hancock, NY (USA)
Died
February 21, 1969 at Dunmore, PA (USA)
If you can help us improve this player's biography, contact us.
http://sabr.org/sites/default/files/EddieMurphy.JPG
600
800
admin
/wp-content/uploads/2020/02/sabr_logo.png
admin
2012-01-04 20:18:49
2020-10-16 15:48:25
Eddie Murphy