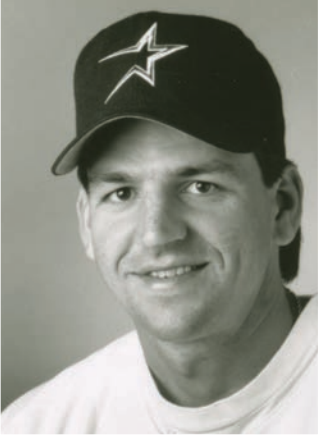 ---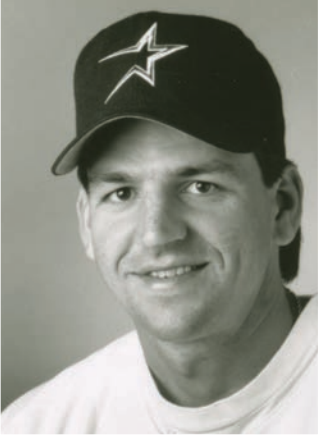 Scooter Tucker was not unlike millions of boys who have aspired to play in the big leagues. It was a dream of his from an early age to play professional baseball. His influential mentors as a youth taught him how to play the game. His sports role models were former major leaguers from his hometown. His college coach was a former major-league player and coach. All of them helped shape his passion for the game.
Tucker achieved success at all levels of baseball as he pursued his goal. Indeed, he reached the major leagues, able to share his debut game milestone with his ill father. However, several events kept him from keeping a steady job in the majors. He came close to reaching the pinnacle of baseball in 1995 – playing on a World Series team, but that didn't work out either. Yet Tucker always felt fortunate to have had the opportunity to compete at the highest level of baseball. His career found its way back into professional baseball as a coach and manager, almost 15 years after his playing career ended.
Eddie Jack Tucker was born on November 18, 1966, in Greenville, Mississippi, to Nolan and Jacqueline (Pope) Tucker, Mississippi natives. Although that area of the Mississippi Delta was largely known for its farmlands, Tucker's parents held jobs outside of the agricultural industries. Nolan worked as a terminal manager for Chevron and later for U.S. Gypsum, while Jacqueline was a bookkeeper for a local Otasco retail store. Tucker has a younger sister, Stephanie.
Eddie's grandfather gave him the nickname Scooter at an early age. "I'm not sure why he did," Tucker said in a telephone interview. "He must have thought I was going to be faster than I am. I was in the second grade before I knew my name was Eddie."1 The nickname stuck with him.
Nolan Tucker was an avid baseball fan and encouraged his son to play. Eddie began playing as a 6-year-old. As he grew up, he competed in all the age groups of the youth leagues in town. By the time he was 10 years old, he was regularly playing the catcher position, and continued throughout his high school, college, and professional careers.
Tucker attributed his initial passion for baseball to two local residents who provided influences throughout his teen years. One, Tommy McGehee, was his coach for two years on the Greenville Phillies in a local summer league. Tucker recalled that McGehee was a gritty, hard-nosed person who taught him mental toughness and helping form his initial passion for catching. The other, George Hood, was a local baseball enthusiast who nurtured Tucker's baseball interests and later helped him evaluate college baseball and football scholarship offers.
Tucker had two other sports role models, both former major-league players from Greenville, on whom he could draw encouragement. His father had grown up with Bobby Etheridge, who played parts of two seasons with the San Francisco Giants in the late 1960s. And Tucker played baseball with the son of George Scott, who had a 14-year major-league career, most notably with the Boston Red Sox, during the 1960s and 1970s.
Tucker attended the private Washington School in Greenville, where he was a standout in baseball and football. As an offensive and defensive end, he lettered three years in football and won All-Conference selection for two seasons and All-State honors as a senior. He was a letterman in baseball all four years of high school, recognized as an All-Conference player three times and All-State in his senior year. His baseball team was a conference champion and state playoff semifinalist in his sophomore season, and Tucker's passion for baseball was fueled by his success in high school. (The school has retired his baseball jersey number.2)
Tucker graduated from high school in 1985 and with the advice of George Hood, he chose to attend Delta State University in Cleveland, Mississippi, which offered him a full scholarship to play baseball. Other offers included only partial scholarships, while several four-year colleges and junior colleges offered football scholarships.
At Delta State, an NCAA Division II school, he started at catcher in his freshman season in 1986 and was named Freshman of the Year, based on a batting average of .344, 5 home runs, and 27 RBIs. His sophomore season was similar, with an average of .381, 8 home runs, and 35 RBIs. As a junior, Tucker's numbers included a .356 batting average, 7 home runs, and 51 RBIs, as Delta State won the Gulf South Conference Championship and went to the NCAA Division II Regional tournament. 3 Tucker was named to the All-Gulf South Conference team in each of his three seasons (1986, 1987, and 1988) with Delta State, and was selected for the All-American team in 1988.
Tucker attributed his development at Delta State to the coaching of Dave "Boo" Ferriss, the longtime baseball coach who had pitched for the Boston Red Sox in the 1940s and was the team's pitching coach for several years in the 1950s.
On the field, Ferriss leveraged his own big-league experience to tutor Tucker as a catcher – taught him how to call a game, watch tendencies of hitters, and pay close attention to game details. Ferriss stressed to Tucker that catchers should be leaders. Off the field, Ferriss often gave fatherly advice to Tucker and took a personal interest in his schoolwork. Ferriss arranged for Tucker to play in college summer leagues, where he got exposure to other styles of baseball and a higher level of competition.
The San Francisco Giants selecting Tucker in the fifth round of the 1988 June Amateur Draft. He didn't return to Delta State for his senior year, instead deciding to sign with the Giants. (It is noteworthy that tiny Delta State has sent two other catchers to the major leagues, Barry Lyons and Eli Whiteside.)
At 6-feet-2 and 205 pounds, Tucker was assigned to Everett of the Class A Northwest League in 1988. He was named to the league's postseason all-star team.4 The next season he was moved up to Clinton of the Midwest League. On July 6, 1989, Tucker played in a 25-inning contest against Waterloo, the longest game in Midwest League history. The game was suspended by curfew after the 19th inning and 5 hours and 46 minutes of play, and resumed on August 17. Waterloo won, 4-3, after 7 hours and 37 minutes of total play. Tucker batted 11 times in that elongated game.5 He recalled that he didn't get a hit in the game, with his at-bats including hitting into a double play and a bloop fly out to the outfield that started a triple play. He remembered coming back to the dugout after one of his frustrating at-bats late in the game, demonstrating one of the few tantrums of his career. Tucker said Clinton manager Keith Bodie shouted to him, "At least you made only one out in that at-bat!"
At Class A San Jose in 1990 Tucker threw out 50.4 percent of potential base-stealers (59 of 117 attempts). He played in the California League All-Star Game that year.6 He was promoted to Double-A Shreveport for the 1991 season, and again excelled defensively, leading the league's catchers with a .995 fielding average and 70 assists. From April 25 to July 18, he had a stretch of 67 consecutive errorless games. In 110 games, he batted .284, with 4 home runs and 49 RBIs, and was selected to play in the Texas League All-Star Game.7
Shreveport won the Texas League championship in 1991. Tucker was placed on the Giants' 40-man roster, and thought his future looked bright. But while taking part in a postseason camp for promising young Giants farmhands, he was put on waivers. The Giants told him the team needed to make room for more pitching help after a number of hurlers were sidelined by injuries during the season.
The Houston Astros claimed Tucker off waivers. The Astros figured that if he showed he was ready for a big-league roster spot, he could become part of a plan to allow incumbent catcher Craig Biggio to shift to second base and focus more on the offensive part of his game. The Astros were thinking Tucker and Scott Servais would share the catching duties in the new lineup.8
The Astros sent Tucker to play winter ball in Venezuela, but he had to come back after being felled by a stomach virus.9 Tucker thought he had a good chance to make the Astros out of spring training in 1992. However, the team had also acquired catcher Ed Taubensee in a trade with Cleveland, and Tucker was sent to Triple-A Tucson instead.
A right-handed hitter, Tucker was batting .329 at Tucson through June 12, when he was called up by the Astros. He made his major-league debut on June 14. Recalling recalled his feelings about his first game, Tucker said, "I was grateful for getting the chance. There was a lot of emotion surrounding the event since my father had been ill, and I had been dealing with that. My father was able to attend the game, but died three weeks later. I was blessed to have him witness the realization of our shared dream."
In his debut game, Tucker drew a walk from the Giants' Dave Righetti, but then was picked off at first base after getting a steal signal. Tucker remembered Giants first baseman Will Clark consoling him by indicating the Giants had stolen the Astros' signal. Two days later against San Diego, Tucker got his first major-league hit, a single to right field off Rich Rodriguez, his first of three hits in the game, and had three RBIs in an Astros blowout. The next day, despite not being known for the speed that his nickname would imply, he again got the steal signal and this time successfully swiped second base. Tucker said he never got another steal signal in the majors.
Astros manager Art Howe liked what he saw from Tucker in his first games. "He's a take-charge guy and that's what you want to see in your catcher," Howe said. "Once he gets used to the pitchers, I think he's going to do a good job calling games."10
Tucker started 13 games in 17 appearances during his first call-up with the Astros, but was returned to Tucson on July 21, when he failed to routinely get on base. He hit.302 with Tucson for the season, but his power numbers were low, including only one home run and 29 RBIs in 83 games. Recalled by the Astros in September, he played in only three more games.
Servais and Taubensee remained as the Astros' primary catchers in 1992, and Tucker played most of the 1993 season with Tucson, where he helped the Toros win the Pacific Coast League championship over Portland. He was the Most Valuable Player in the championship series, hitting .391 with one home run and five RBIs.11 He got a September call-up to the Astros, starting seven of the Astros' final 18 games.
Tucker had decided to change his hitting approach a few years earlier. More of a contact hitter than a power hitter, mainly hitting between the left-field and right-field gaps and not striking out much, he came to realize he would have to add more power to better his chances of reaching the big leagues. In 1990 he had gone to San Diego in the offseason to work with former major leaguer Deron Johnson on his new hitting approach. Tucker recalled, "I put myself in a sink-or-swim situation with this change." By the end of the 1993 season, his confidence in his hitting had improved, and he was starting to realize the benefits of the change.
Tucker was one of four catchers competing for the Astros' catcher job in 1994. Tony Eusebio came onto the scene in spring training, making for a difficult decision by Astros manager Terry Collins.12 Since Tucker did not have a guaranteed contract, he was sent back to Tucson. With the help of hitting coach Dave Engle, Tucker had a breakout year with Tucson, accomplishing career highs in batting average (.321), home runs (14), and RBIs (80). He finished second in the Astros minor-league system for RBIs, and was the best defensive catcher in the Pacific Coast League with a .993 fielding average.13 However, in August Tucker was hit in the face by a pitched ball. "I never felt like I fully recovered from that injury," he recalled. "I lost my comfort factor in the batter's box. In a way, it turned out to be the beginning of the end of my career."
Meanwhile, major-league players went on strike on August 12. In September the remainder of the regular season and the postseason were officially canceled.14 A court ruling brought an end to the strike on March 31, 1995. The start of the 1995 season was delayed until April 25 to allow for an abbreviated spring-training extension.15 Tucker recalled, "It was hectic because of the late start. There was a hurry to get things going, getting pitchers up to speed in order to be ready for the regular season. However, it was exciting when I made the major-league roster out of spring training."
Tucker hit his only major-league home run on May 6, off St. Louis Cardinals pitcher Ken Hill. (He recalled that when an Astros coach attempted to retrieve the home-run ball from the stands, he asked the fan who caught the ball, "What would it take to get the ball?" The fan responded, "A new ball," obviously having little regard for catching the first home-run ball of a little-known rookie like Tucker.)
Tucker played in five games for the Astros before being traded on May 15 to the Cleveland Indians for pitcher Matt Williams. The Indians' regular catcher, Sandy Alomar Jr., had been on the disabled list since the beginning of the season, leaving veteran Tony Peña to perform most of the everyday catching duties. Tucker was acquired to serve as a backup for the 38-year-old Peña.
The Indians were loaded with big-name players that season. In addition to Peña and Alomar, veterans Dave Winfield and Eddie Murray, who later became Baseball Hall of Fame inductees, were the designated hitters. Omar Vizquel, Jim Thome, Manny Ramirez, Albert Belle, Carlos Baerga, and Kenny Lofton were regular position players. Orel Hershiser, Dennis Martinez, Charles Nagy, and Jose Mesa highlighted the pitching staff. "I couldn't believe all the talent on this team," Tucker said. "It was a unique, awesome experience being around the caliber of those players. What really impressed me were the leadership, work ethic, and attention to details many of them brought to the team."
With the Indians on their way to winning 100 games in the strike-shortened season, the recently opened Jacobs Field was selling out many games. Tucker observed, "There was a fan resurgence going in Cleveland. They were really paying attention to the details of the games. For example, I was once congratulated by a fan after a game for laying down a sacrifice bunt, because it had been instrumental in winning a game."
Tucker played in 17 games for the Indians, primarily as a late-inning replacement for Peña. He aggravated a rib-cage muscle on his left side, but nursed himself through the injury rather than go on the disabled list. He wanted to remain active so that he could stay around for what he saw as a potentially pennant-winning team. However, Tucker became expendable when Alomar returned from the disabled list in late June. He figured he would be sent to Triple-A Buffalo after clearing waivers and then rejoin the team in September to continue being part of a championship club. Furthermore, Tucker was optimistic that he and Alomar would be the catching tandem in 1996.
But the Atlanta Braves altered Tucker's hopeful course when they claimed him off waivers. He didn't get his shot at experiencing the Indians' American League pennant-winning team and their first World Series appearance since 1954. Tucker finished the season with the Braves' Triple-A club in Richmond.
Disappointed with the outcome of the 1995 season and unable to regain his hitting edge after being hit in the face a year earlier, Tucker decided to retire. However, Kansas City's manager, Bob Boone, persuaded him to come to spring training with the Royals in 1996. Tucker signed with the Royals in December 1995. He spent part of the 1996 season with Triple-A Omaha and then retired from playing baseball, his dream ending at age 29.
Tucker's major-league career included 51 games played, a .126 batting average, one home run, and seven RBIs in 103 at-bats. His minor-league stats included 744 games, a .276 average, 32 home runs, and 342 RBIs during parts of nine seasons.
Tucker worked for a home manufacturing and development company from 1996 until 2004. He also worked with a recreation ministry in Pensacola, Florida, for five years and conducted sports clinics in Korea and Russia.
In 2007, at the age of 40, Tucker started tinkering with baseball again, when a friend of his got a job with an independent minor-league team in Pensacola. Tucker offered to pitch batting practice and, as he put it, "an itch became a rash" to return to baseball in some capacity. It also rekindled his thoughts when he retired that he might want to coach one day.
After some part-time scouting for the New York Mets in 2010 and 2011, Tucker got back into baseball full time with the Cleveland Indians organization in 2012 as a hitting coach for the Class A Carolina Mudcats. He felt that he was a great fit in the Indians organization and managed the Class A Lake County Captains in 2013. He returned to the Mudcats in 2014 as manager and in 1915 was promoted to minor-league catching instructor.
Tucker married Teresa Coghlan, whom he met while attending Delta State, on November 9, 1991. They have four daughters, Courtney, Torey, Hailey, and Anna Grace. Tucker was named to Washington School's Sports Hall of Fame in 1990 and the Delta State University Hall of Fame in 2002.16
Last revised: January 24, 2018
This biography was published in "1995 Cleveland Indians: The Sleeping Giant Awakes" (SABR, 2019), edited by Joseph Wancho.
Sources
Delta State University Baseball 1987.
Gillette, Gary, and Pete Palmer, eds. The ESPN Baseball Encyclopedia, Fifth Edition (New York: Sterling, 2008).
Johnson, Lloyd, and Miles Wolff, eds. Encyclopedia of Minor League Baseball, Third Edition (Durham: Baseball America, 2007).
Simpson, Allan, ed. Baseball America 1996 Almanac (Durham: Baseball America Inc., 1995).
Scooter Tucker telephone interviews with author, November 12, 2014, and December 8, 2014. Except where cited, the information for this biography was obtained in these interviews.
Notes
1 The Sporting News, April 6, 1992: S-22.
2 Cleveland Indians Information & Record Book 2012, 255.
3 San Francisco Giants Information Guide 1991, 120.
4 Ibid.
5 bghotrodsblog.mlblogs.com/2013/08/31/scooter-tucker-one-of-the-mwls-marathon-men/.
6 San Francisco Giants Information Guide 1991, 120.
7 Houston Astros Media Guide 1995, 101.
8 The Sporting News, October 28, 1991: 23.
9 The Sporting News, December 16, 1991: 35.
10 The Sporting News, June 29, 1992: 20.
11 Houston Astros Media Guide 1995: 101.
12 The Sporting News, March 28, 1994: 22.
13 Houston Astros Media Guide 1995: 101.
14 Alan Schwarz, "Damaging Labor Impasse Casts Black Cloud Over Baseball," Baseball America 1996 Almanac, 5-9.
15 Ibid.
16 Cleveland Indians Information & Record Book 2012: 255.
Born
November 18, 1966 at Greenville, MS (USA)
If you can help us improve this player's biography, contact us.
https://sabr.org/sites/default/files/EddieTucker.jpg
600
800
admin
/wp-content/uploads/2020/02/sabr_logo.png
admin
2012-01-04 20:24:36
2012-01-04 20:24:36
Eddie Tucker