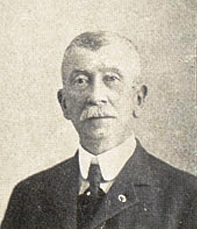 ---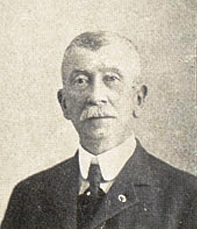 Best known today as the field manager of the Providence team of the National League that won the inaugural World Series championship in 1884, Frank Bancroft was better known among his contemporaries as a highly proficient businessman. He was "one of the game's first great promoters," using his showmanship skills to produce profits for small-market teams during his four decades as a business manager in the major leagues.1 During his tenure with the Cincinnati Reds, from 1892 to 1920, Frank was renowned for popularizing Opening Day, Sunday baseball, doubleheaders, and barnstorming tours.
Francis Carter Bancroft was born on May 9, 1846, in Lancaster, Massachusetts, a town 30 miles west of Boston.2 His roots in America extended back eight generations to 1650, when ancestor Thomas Bancroft arrived from England.3 Frank was the only surviving child of Lorey and Ann (Carter) Bancroft.4 His mother died when he was just three days old, though, due to childbirth complications.5 After his father remarried in 1847 to Julia Valentine, Frank had a stepmother for three years until she died in 1850 after giving birth to Frank's half-brother Julius.6 Following Julia's death, his father sent Frank and Julius to live with their respective maternal grandparents.7
Frank grew up on the farm of his grandfather, Samuel Carter, in Lancaster, where his grandmother, Dilly Carter, raised her grandson until she died in 1859.8 On the farm, Frank learned self-reliance and the value of hard work. Since his grandfather had once operated a sawmill and a grist mill in Lancaster, as well as one of the several cotton factories in town, Frank also learned about the challenges of operating a business.9 This was his foundation to becoming "a born Yankee — shrewd, addicted to work, incessantly angling for money, and adept at driving a very hard bargain."10
In 1861, "having become war-crazy at fifteen years of age," Frank ran away from home to serve in the Civil War, by traveling 15 miles north to Nashua, New Hampshire, and using a fake name and inflating his age to enlist in the 8th Regiment of the New Hampshire Volunteers.11 The regiment was deployed to New Orleans, where Frank, a drummer, was wounded in battle.12 After convalescence in a hospital at New Orleans, Frank rejoined the regiment and advanced to bugler by the end of the war.
Following his discharge from the military in 1865, Frank initially stayed in New Hampshire, where he married Olive Derby on November 11, 1865, in the town of Hudson, just east of Nashua.13 It was the first of four marriages for Frank.14 The young couple moved to Holyoke, Massachusetts, where he worked as a spool turner in a textile mill when their daughter Mabel Bancroft was born on February 5, 1868.15 Frank and Olive parted ways soon after the birth of Mabel, with the marriage apparently ending in divorce.16
Between 1865 and 1890, Frank never remained in one city very long, at most two or three years, before moving on to the next promising venture. He held more than a dozen different positions before he finally settled down for the long term in the early 1890s in Cincinnati, when he married for the fourth time.
Leaving a life of manual labor behind him when his first marriage ended, Frank was working as a clerk, or apprentice businessman, when he married Georgiana Washburn on November 24, 1869, in Charlestown, Massachusetts.17 In 1870 Frank moved back to New Hampshire, where he and his wife lived in the boardinghouse of the Columbian Manufacturing Company in Mason Village, a town 25 miles west of Nashua.18 Frank likely managed the boardinghouse for the textile mill, one of his first jobs in the hotel business.
Seeing little chance for advancement within the textile industry, given its steady industrialization at the time in New England, Frank did see a future through the rapid expansion of railroad transportation to connect major cities in the region. One outgrowth of this economic change was an increase in the number of hotels operating in cities dependent on the textile industry, to support business travelers.19
In 1873 Frank worked as a hotel clerk at the Hazeltine House in Manchester, New Hampshire, while also dabbling as a writer as a correspondent for the weekly New York Clipper.20 He probably wrote more theatrical news for the Clipper than sporting articles. A year later Frank was in Pawtucket, Rhode Island, where he was the proprietor of the Benedict House.21 This was the first of several business ventures in which he had an ownership interest.
While operating the hotel in Pawtucket, Frank expanded his repertoire of business activities to include theater, when he managed a comedy act, the Gleasons, which he booked for short engagements in variety theaters.22 Just as he had with the hotel business, Frank got in on the ground floor of the growth in variety theater, which charged "popular prices" to cater to the emerging middle class that was priced out of first-class playhouses (the so-called legitimate theater).23 Variety theater soon became known as vaudeville, whose variety acts provided "something for everybody" as thousands of traveling entertainers worked short stints at theaters before moving on to the next engagement.24
By 1876 Frank was operating the Bancroft House, a hotel in New Bedford, Massachusetts, 50 miles south of Boston.25 His target customers were "managers, agents, and [theater] companies visiting New Bedford," to take advantage of traveling vaudeville entertainers as well as the change in legitimate theater, which had shifted to combination companies touring to perform just one play from stock companies that performed different plays at the same theater.26 Frank soon applied his knowledge of the trends in the theater industry to the growing popularity of baseball.
As he made money from the increased demand for hotel accommodation and theater entertainment, Frank initially saw baseball merely as an adjunct to these businesses. He likely was not that well versed in the intricacies of the game of baseball, despite his later bluster that as a youth "he pitched for an amateur club of his native town" and during the Civil War "he spent the leisure hours of a four years service in playing baseball."27 He was, however, proficient at spotting a business opportunity in entertainment.
In 1877 Frank organized a group of investors to build and operate a ballpark in New Bedford, the Kempton Street Grounds, which hosted baseball games played by amateur and semipro teams.28 That same year Frank's wife, Georgiana, gave birth to their only child, Fred Washburn Bancroft, who was looked after by Georgiana's sister Lucy.29 The assistance of Lucy was essential, as Georgiana was often ill while Frank continued to operate the Bancroft House hotel and began to travel extensively with this baseball ventures.
While the ballpark in New Bedford was not overly profitable, Frank saw the money-making potential in running a baseball team. In 1878 he established the New Bedford professional baseball team, which competed in the minor-league International Association.30 Treating a baseball team as a touring theatrical group, Frank scheduled the New Bedford team to play 130 games in 1878, far more than the several dozen games related to league competition.31 On the Fourth of July holiday, he arranged a tripleheader for New Bedford and Hartford: a morning game in New Bedford, a noontime game in Taunton, and a late-afternoon game in Providence.32
Frank demonstrated such a proclivity for turning a profit in New Bedford that the Worcester minor-league team hired him to be its manager for the 1879 season. After having Worcester play a jam-packed slate of ballgames, Frank organized a postseason trip to Cuba for a team comprising Worcester players and a few major leaguers.33 The team was called the Hop Bitters, after the patent-medicine tonic manufactured by Asa Soule, the sponsor of the team. The Cuba excursion lasted just a few games, though, as the Hop Bitters spent most of the winter in New Orleans, playing games with amateur teams into March 1880.
The Cuba trip in December 1879 was long enough for Frank to be honored later, since the games not only "helped to launch the Cuban professional league's inaugural season," but also "marked the beginning of a continuous North-South exchange of talent, information, and technical expertise."34 Some future writers considered him to be "the father of Cuban baseball."35
Worcester entered the National League for the 1880 season, and Frank continued to elevate his managerial prowess. At that time, the manager of a baseball team was more concerned with business issues than on-field baseball matters (the latter were handled by the player named team captain; Frank sat in the stands, not on the players bench). Frank signed ballplayers before the season, but then focused on scheduling exhibition games around league games, minimized travel cost to road games, and promoted the home games to encourage attendance. Since player salaries were a fixed cost, Bancroft increased team profits by scheduling as many games as possible on the six weekdays during the weeks from April to October, with several weeks of games before and after the regular-season league games (Sunday games were then prohibited by law in all six New England states as well as in New York).
Frank was so successful in Worcester that the new Detroit team in the National League hired him to be manager for the 1881 season. With baseball being so lucrative that it took him away from Massachusetts, Frank took on a business partner, Edward Huggins, to run the Bancroft House; by 1883 Frank sold the entire business to Huggins.36 After Frank employed his business acumen for two seasons in Detroit, the Cleveland team lured him away for the 1883 season.
Before the 1883 baseball season began, though, Georgiana Bancroft died, on March 24, 1883.37 Her sister Lucy stayed in New Bedford to look after Frank's son, Fred; in the fall of 1883 Lucy married New Bedford businessman Samuel Elder.38
In 1883 Frank arranged for the Cleveland team to play 150 games. He increased profits by moving preseason games from local sites to a tour of Southern locations, by playing games in Washington and Baltimore. For postseason games Frank also moved from local sites to a lucrative barnstorming tour in warm-weather states, arranging brief series with the Baltimore, Cincinnati, and St. Louis teams of the American Association, the rival of the National League.
Frank became a prosperous man as a baseball manager for National League teams. His salary increased from $1,000 at Worcester to $1,800 in Cleveland to $2,500 for the 1884 season in Providence, where he earned additional income from the scorecard concession.39 As capitalists began to dominate baseball ownership, Frank's skills were in high demand to produce a return on investment for the capitalists.
By the mid-1880s, the theatrical business was a less lucrative offseason adjunct to baseball. In the fall of 1883 Frank openly trolled for business opportunities with an advertisement in the New York Clipper, noting that he was "open for winter's engagement as manager, treasurer, or agent for combination [company] or star."40 In the winter of 1884 Frank opened the Adelphi Skating Rink in New Bedford, which he operated with his half-brother Julius, who had moved to the city a few years earlier.41
Providence hired Frank despite the extravagant salary he asked for to make the move from Cleveland. With Frank as manager, Providence won the National League pennant in 1884, largely due to his skill at negotiating with the team's star pitcher. The team nearly disbanded midway through the 1884 season, when Charlie "Hoss" Radbourn wanted his release. Frank persuaded the Providence owners to give Radbourn an extra $2,000 and promise to release him after the season was over if he would do all the pitching for Providence.42 Radbourn went on to win 59 games that season to propel Providence to the championship.
Ever the entrepreneur, Frank arranged a postseason series with the American Association champion, the Metropolitan club of New York City. To maximize profits from the series, Frank negotiated with Metropolitan manager Jim Mutrie to play all the games in New York City, where attendance was likely to be greater than in Providence.43 Providence easily defeated the Metropolitans in all three games of the series, which has come to be billed as the first World Series competition.
The statistical measure of on-field success was not indicative of why Frank was in demand as a manager. It was his ability to run the financial end of the business in a small city, where profits were harder to generate than in a more populous city. The career won-lost record of the teams Frank managed was mediocre (375-333, .530); excluding the 1884 championship team in Providence, his teams lost more games than they won (291-305, .488). Mediocre on-field results provided a good formula for producing a profit, through the balancing of encouraging attendance by spectators and dampening salary demands of ballplayers.
Before the 1885 season began, Frank entered into his third marriage when he wed Irene Fitch on March 28, 1885.44 Since his wife traveled with him and the Providence team in 1885, it appears that Frank's sister-in-law Lucy Elder continued to raise Fred, his son from his second marriage, rather than Irene as his stepmother.45 Irene was notably with Frank at the Providence games in New York in September 1885. "This is my last season with the Providence team," Frank told a writer from the New York Times, as he and Irene watched the game from seats in the grandstand. "I intend to form a stock [theater] company and open a summer resort down East [in Maine] next summer, and in that event I will meddle as little as possible with baseball."46
At the end of the 1885 season, Frank left the National League, as he no longer had the independence to run the business end of a team and was frustrated with the monetary split between him and the investors. The National League owners expanded the regular season to 126 games for the 1886 season. This 50 percent expansion of the 84-game season in 1880 wiped out one of Frank's profit-making strategies to pack in exhibition games during the season. The owners also chipped away at Frank's value by dropping cities with a smaller population, such as Worcester and Providence, in favor of larger cities like New York and Philadelphia.
The new capitalists in baseball were no longer willing to pay Frank a large salary just to manage their business affairs. The owners wanted someone to focus on controlling the players on the field, while the owners handled the business affairs. An 1886 editorial in The Sporting News summed up Frank's evolving place in the baseball hierarchy: "[Bancroft] is a good man at driving a bargain, and no one can beat him in the arranging of dates. He is also a good businessman. Right there, however, his usefulness as a manager ceases. He knows nothing whatsoever about disciplining players, training them for the season's work and establishing an esprit de corps."47
Frank was now more interested in running skating rinks, where his business skills could be put to better use than in baseball, given the rising popularity of roller skating. During the winter of 1886, the Adelphi Rink was used not just for public skating but also to contest games of roller polo, which was "the first commercially successful [team] sport" involving "hitting a ball along a ground surface into a goal."48 Roller polo was an early progenitor of outdoor ice hockey, which displaced the popularity of indoor polo by the end of the nineteenth century. More importantly, roller polo was the first professional team sport that was played indoors at night under artificial light.49 Frank was one of the entrepreneurs who promoted the new sport of roller polo to create a demand for it.
Frank was the owner of his own team-sport enterprise during the fall of 1885 when he established a roller-polo team in New Bedford, which initially played in the Southern League of the New England Polo Association before transferring to the Central League that encompassed teams in the Boston area.50 Soon after the polo season ended, Albert Fitch Bancroft, the only child of Frank's third marriage, was born on May 9, 1886.51
For the 1886 baseball season, Frank tried his hand at baseball management in the small city of Rochester, New York, for its team in the International League. In 1887 he went to Philadelphia to manage the American Association team, which competed there with the National League team. Even though "Mr. Bancroft has never been identified with a club that lost money during his connection with it," Frank's business skills were wasted in the two-team city and he didn't last a full year in Philadelphia.52
By 1887 Frank was focused on owning a team rather than simply managing one. For the 1886-1887 and 1887-1888 roller-polo seasons, his New Bedford team continued to play in the Central League of the New England Polo Association; during the latter season Frank was also the president of the Association.53 In professional baseball, Frank was part of investor groups that unsuccessfully sought to buy the Cleveland club in the National League and the Portland club in the New England League.54
He made a brief return as baseball manager for the 1889 season with the Indianapolis team in the National League, but quit by midseason. The one long-term benefit of this job for Frank was the beginning of his relationship with John Brush, the Indianapolis owner, for whom he later worked for many years when Brush owned the Cincinnati team in the National League.
Frank was in Springfield, Massachusetts, in 1890 when he was elected president of the New England League to try to revive that venerable minor league, which did not operate in 1889.55 After three weeks, Frank resigned. While living in Springfield, he managed a local theater to earn some money while he was out of baseball.56 However, the business nature of vaudeville was changing by 1890, as large theater owners began to industrialize vaudeville, minimizing the value and control of managers.57 With fewer opportunities in baseball and theater, Frank had a very uncertain future, especially after the demise of his roller-polo team that he had transferred from New Bedford to Springfield, when the Connecticut League went out of business.58
During the turbulent 1890 baseball season, when the Players League disrupted the operation of both major leagues as well as the minor leagues, Frank was out of baseball. Following the collapse of the Players League, he returned to baseball in 1891 as the business manager of the renegade Cincinnati team in the American Association led by Mike Kelly, the former Boston star with both the National League team (1887-1889) and the Players League team (1890).
Sunday baseball was the primary driver of ballpark patronage for this American Association team, an element that Frank had no experience with. Playing on Sunday in Cincinnati was so challenging that the former American Association team transferred to the National League after the 1889 season rather than continue to battle the legal system over Sunday games. Cincinnati players were arrested after each Sunday game in 1891, but the jury acquitted the players at each trial.59 Although it won the Sunday baseball battle, the team lost the war and transferred to Milwaukee in midseason before the American Association ultimately collapsed at the end of the 1891 season and partially merged with the National League.
Frank made such an impression on John Brush, the owner of the Cincinnati Reds team in the National League, that Brush hired him to be business manager of the Reds for the 1892 season.60 With the contraction of ownership opportunities in professional baseball, Frank had little hope of becoming an owner and was happy to have an employee role with the Reds that focused on his business skills and minimized his player-relations role. It was the beginning of a three-decade relationship between Frank and the Reds.
As a result of the merger with the American Association, Sunday baseball was finally allowed to be played in the National League. "Sunday games, devoid of intoxicating drinks, are in every way moral and healthy," Frank remarked about Sunday baseball during the spring of 1892. "They afford a few hours' recreation to thousands of clerks, mechanics, etc. who are shut up all the week" and can't attend a weekday game.61 Frank worked with local law enforcement to have the team pay a fine after each Sunday game, rather than endure further jury trials, so that Sunday baseball became a legally accepted activity once again in Cincinnati.62 Essentially, Frank treated the legal fine as a cost of doing business on Sunday.
Because Sunday games attracted the largest crowds, Frank worked hard to have the Reds play every Sunday, if possible. Since not every team in the league was amenable to playing road games on Sundays, Frank used his scheduling skills to conduct one-game Sunday homestands when the opposing team in town declined to participate in Sunday baseball. For example, Cleveland, between games in its homestand, traveled to Cincinnati to play on Sunday, May 1, since both the New York Giants (leaving Cleveland) and Philadelphia Phillies (arriving in Cleveland) were non-Sunday-playing teams in 1892. If a Sunday opponent couldn't be enticed to Cincinnati, Frank would arrange for the Reds to play a single road game on Sunday in nearby Louisville or even travel to St. Louis (as the Reds did on April 17 in 1892).
While work went well for Frank with the Reds, he was less successful in his personal life. His third marriage ended in divorce in 1893, after his wife, Irene, discovered that Frank was having an adulterous relationship in Cincinnati; the divorce decree granted Irene sole custody of their child, Albert.63 Frank married for a fourth time on November 15, 1893, to Mary Seifried in Portsmouth, Ohio.64
Just two months earlier, on September 18, 1893, Frank had arranged for assistant groundskeeper Louis Rapp to be married at home plate before a Reds home game.65 This was one of numerous promotions that Frank hatched to attract spectators to League Park, located on the site of an abandoned brickyard in a factory section of the city.
Festivities to celebrate the first home game of the season were another promotion created by Frank, who is often cited as being the "Father of Opening Day." In 1895 he arranged for the mayor of Cincinnati to throw out the first pitch, and encouraged fans to parade to the ballpark before the game.66 Both became Opening Day traditions in Cincinnati, which attracted holiday-sized crowds on the heels of the newspaper publicity about the team's spring-training Southern tour, which Frank also instituted in 1895.
Frank popularized the term "doubleheader" in July 1896.67 He seized upon the term used at the recent Democratic National Convention to refer to competing state delegations representing gold and silver interests leading to the nomination of William Jennings Bryan.68 When Frank noticed that attendance more than doubled on dates when two games were played for the price of one, he expanded the doubleheader concept from simply making up a rained-out game to intentionally canceling a weekday game to combine into another weekday date, a so-called "manufactured" doubleheader.
Eventually Frank expanded the manufactured doubleheader to Sunday dates with opponents low in the league standings to attract more paying customers. In 1899 he slated several three-team doubleheaders on Sundays, where the Reds played one team in the first game and another team in the second game.69 The opponents were often the lowly Louisville and Cleveland teams, both strictly road teams by September, who were expelled from the league at the end of the season.
By 1900 Frank and his family lived in the suburb of Norwood, northeast of downtown Cincinnati.70 In addition to daughter June, born in 1895, a son named George was born in 1899 (he died in 1901) followed by another son, Frank Jr., born in 1904.71 One of Frank's neighbors on Spencer Avenue in Norwood was Pastor Charles Peale, father of famed positive-thinking author Norman Vincent Peale.72
In August 1902 Brush sold the Reds team to a group headed by August "Garry" Herrmann and financially backed by the yeast magnates Julius and Max Fleischmann. As Brush prepared to sell the team, Frank returned to the diamond as interim field manager of the Reds for two weeks. It was the seventh major-league team for whom he was field manager, establishing an informal record for most teams managed by one person in a career.73
Sunday home games in Cincinnati were not a problem by 1903, when all teams in the National League played road games on Sunday. For many years Pittsburgh was a frequent single-day visitor to Cincinnati to play a Sunday game, as the Pirates couldn't play at home on Sunday until 1934. The new scheduling task for Frank was to play Sunday games on the road while visiting the teams in Boston, New York, and Philadelphia, where Sunday baseball was legally prohibited until after World War I. Frank booked Sunday exhibition games in Sunday-friendly minor-league cities in the East. When in Boston, Frank had the Reds play at a Sunday-only ballpark near Providence, Rhode Island, and while in New York the Reds played on Sunday across the Hudson River in Hoboken, New Jersey.74
With Herrmann as the Reds owner, Frank devoted more time to arranging barnstorming tours, both preseason and postseason, to shore up the financial position of the Reds, a habitual .500 team. Beginning with the selection of Dallas, Texas, for 1904 spring training, Frank negotiated each year with cities in the South to select a new spring-training site, based on ability to conduct Sunday games and proximity to other cities for a lucrative exhibition tour.
Frank arranged two barnstorming tours to Cuba, with a team of Reds in 1908 and a composite All-Nationals team in 1909.75 One outgrowth of these Cuban expeditions was the signing of two Cuban ballplayers, Rafael Almeida and Armando Marsans, who joined the Reds in July 1911.76 These signings paved the way for other Cuban players to play in the major leagues. In 1914 Frank took a group of ballplayers on a barnstorming tour of the West Coast before heading to the island of Hawaii for additional games.77
Still sprightly into his 70s, Frank remained on the job as business manager of the Reds through the 1920 season. "There are men ten years younger than I who are tottering on the edge of the grave from old age," Frank said in 1919. "My advice to them is to get out and mingle with young people."78 He was still scheming to build fans for the Reds. "It doesn't hurt anyone to send a kid through the stiles" for free about the sixth inning. "It makes him a fan, and there is a return for us in later years."
Frank Bancroft died on March 30, 1921, in Cincinnati.79 He is buried at the Spring Grove Cemetery in Cincinnati.80
Acknowledgments
This biography was reviewed by Len Levin and the BioProject fact-checking team.
Notes
1 Lee Allen, The Cincinnati Reds (Kent, Ohio: Kent State University Press, 2006), 45.
2 Henry Nourse, The Birth, Marriage, and Death Registrar, Church Records and Epitaphs of Lancaster, Massachusetts, 1643-1850 (Berlin, Massachusetts: W.J. Coulter, 1890), 259.
3 John and Adele Allen, "Thomas Bancroft and Some of His Descendants," The New England Historical and Genealogical Register, Volume 96 (1942), 287.
4 Federal census record for 1850 for L.Y. Bancroft, South Hadley, Hampshire County, Massachusetts.
5 Nourse, Birth, Marriage, and Death Registrar, 266.
6 Death records for South Hadley in 1850 in the Massachusetts State Archives (Volume 49, Page 21).
7 Massachusetts state census records for 1855 for Samuel Carter, Lancaster, Worcester County, and Elmer Valentine, Northborough, Worcester County. Frank's father remarried again in 1855 and raised a separate family.
8 Federal census record for 1860 for Samuel Carter, Lancaster, Worcester County, Massachusetts.
9 D. Hamilton Hurd, History of Worcester County, Massachusetts (Philadelphia: J.W. Lewis, 1889), 40.
10 Edward Achorn, Fifty-Nine in '84: Old Hoss Radbourn, Barehanded Baseball and the Greatest Season a Pitcher Ever Had (New York: Smithsonian Books, 2010), 47.
11 John Stanyan, A History of the Eighth Regiment of New Hampshire Volunteers (Concord, New Hampshire: Ira Evans, 1892), 51-52.
12 Ibid.
13 Marriage records for Hudson, New Hampshire, in 1865, at ancestry.com website.
14 Frank never counted this first marriage in his declaration of number of previous marriages in the public record for each of his next three marriages (i.e., he declared his 1869 marriage to be his first, his 1885 one to be his second, and his 1893 one to be his third). The 1942 Allen genealogical article, "Thomas Bancroft and Some of His Descendants," makes clear, though, that Frank was married four times, by including detail about his 1865 marriage and 1868 birth of his daughter Mabel, long before modern digitized record search capability.
15 Birth records for Holyoke in 1868 in the Massachusetts State Archives (Volume 206, Page 13).
16 Olive Bancroft listed her marital status as divorced in the 1880 federal census record for Lucinda Derby (Olive's mother), New London, New London County, Connecticut. Perhaps there was an annulment rather than divorce, given Frank's perspective about this first marriage, as noted in footnote 14 above. It is unclear if Frank ever had further contact with his daughter Mabel.
17 Marriage records for Charlestown in 1869 in the Massachusetts State Archives (Volume 218, Page 157).
18 Federal census record for 1870 for Frank Bancroft, Mason Village, Hillsborough County, New Hampshire. Georgiana Bancroft listed her residence in their 1869 marriage record as New Ipswich, New Hampshire, which was the town next to Mason Village (now named Greenville).
19 A.K. Sandoval-Strausz, Hotel: An American History (New Haven: Yale University Press, 2007), 99-104.
20 Manchester City Directory, 1873.
21 Pawtucket City Directory, 1874.
22 Advertisement in New York Clipper, December 5, 1874.
23 David Nasaw, Going Out: The Rise and Fall of Public Amusements (New York: Basic Books, 1993), 18-19.
24 LeRoy Ashby, With Amusement For All: A History of American Popular Culture Since 1830 (Lexington: University Press of Kentucky, 2006), 119-120.
25 Advertisement in New York Clipper, October 7, 1876.
26 Benjamin McArthur, Actors and American Culture, 1880-1920 (Philadelphia: Temple University Press, 1984), 7-11.
27 "Frank C. Bancroft, Manager," New York Clipper, December 13, 1879.
28 "The New Bedford Association," New York Clipper, April 7, 1877.
29 There is no birth record for Fred Bancroft in the Massachusetts State Archives. The 1877 birth date is from the federal census record for 1880 for Chas. [sic] and Georgiana Bancroft, 24 West Street, Worcester, Worcester County, Massachusetts.
30 "The New Bedfords," New York Clipper, March 16, 1878.
31 "Frank C. Bancroft, Manager," New York Clipper, December 13, 1879.
32 "New Bedford vs. Hartford," New York Clipper, July 13, 1878.
33 Charlie Bevis, Tim Keefe: A Biography of the Hall of Fame Pitcher and Player-Rights Advocate (Jefferson, North Carolina: McFarland, 2015), 43-44.
34 Adrian Burgos, Playing America's Game (Berkeley: University of California Press, 2007), 31-32.
35 Norman Beasley, "Forty-One Years in the Baseball Business," The American Magazine, October 1919.
36 New Bedford City Directory, 1881, 1883.
37 Death records for New Bedford in 1883 in the Massachusetts State Archives (Volume 346, Page 128).
38 Marriage records for New Bedford in 1883 in the Massachusetts State Archives (Volume 343, Page 158).
39 Achorn, Fifty-Nine in '84, 55-57.
40 Advertisement in New York Clipper, October 27, 1883.
41 New Bedford City Directory, 1884.
42 Achorn, Fifty-Nine in '84, 205.
43 Bevis, Tim Keefe, 79.
44 Marriage records for New Bedford in 1885 in the Massachusetts State Archives (Volume 361, Page 140).
45 Fred Bancroft, as a young adult, lived with Lucy and her husband (New Bedford City Directory, 1894; federal census record for 1900 for Samuel Elder, 103 School Street, New Bedford, Bristol County, Massachusetts). The 1890 federal census records would have yielded this information, but these records were destroyed by fire.
46 "Manager Bancroft's Views," New York Times, September 12, 1885.
47 Editorial, The Sporting News, November 6, 1886.
48 Stephen Hardy, "Polo at the Rinks: Shaping Markets for Ice Hockey in America, 1880-1900," Journal of Sport History, Summer 2006.
49 Ibid.
50 "New Bedford's Polo Club," Boston Globe, November 22, 1885.
51 Birth records for New Bedford in 1886 in the Massachusetts State Archives (Volume 367, Page 155).
52 "Opening of the Season," Philadelphia Inquirer, March 31, 1887.
53 "The Outlook for Polo," Boston Globe, September 12, 1887.
54 "The Cleveland Club," Philadelphia Times, September 18, 1887; "Wafted from the Field," Boston Globe, May 19, 1888.
55 Charlie Bevis, The New England League: A Baseball History, 1885-1949 (Jefferson, North Carolina: McFarland, 2008), 69-72.
56 Springfield City Directory, 1890.
57 Travis Stewart, No Applause — Just Throw Money: The Book That Made Vaudeville Famous (New York: Faber and Faber, 2005), 84-85.
58 "Polo Outlook in This State," Boston Globe, October 2, 1888.
59 Charlie Bevis, Sunday Baseball: The Major Leagues' Struggle to Play Baseball on the Lord's Day, 1876-1934 (Jefferson, North Carolina: McFarland, 2003), 95-98.
60 "Reds' Business Manager," The Sporting News, January 26, 1907.
61 "Diamond Field Gossip," New York Clipper, March 26, 1892.
62 Bevis, Sunday Baseball, 104.
63 "Mrs. Bancroft Gets a Divorce," Boston Globe, April 10, 1893. Irene Bancroft supported herself as a dressmaker until she remarried in 1899.
64 Marriage records for Scioto County, Ohio, in 1893 (certificate 302) at familysearch.org website.
65 Harry Ellard, Base Ball in Cincinnati: A History (Jefferson, North Carolina: McFarland, 2004), 192-193.
66 Greg Rhodes, "Opening Day: How One Game Became Cincinnati's Baseball Holiday," FindlayMarketParade.com website.
67 Paul Dickson, The New Dickson Baseball Dictionary (New York: Harcourt Brace, 1999), 163; Peter Morris, A Game of Inches: The Stories Behind the Innovations that Shaped Baseball: The Game Behind the Scenes (Chicago: Ivan R. Dee, 2006), 128.
68 Charlie Bevis, Doubleheaders: A Major League History (Jefferson, North Carolina: McFarland, 2011), 11-13.
69 Ibid, 72.
70 Federal census record for 1900 for F.C. Bancroft, Spencer Avenue, Norwood, Hamilton County, Ohio.
71 Federal census record for 1910 for Frank Bancroft, 3935 Spencer Avenue, Norwood, Hamilton County, Ohio.
72 Norman Vincent Peale, The True Joy of Positive Thinking: An Autobiography (New York: William Morrow and Company, 1984), 27.
73 "Harris 'Movingest' Skipper," The Sporting News, December 24, 1958.
74 "Providence Beats Reds," Boston Globe, September 10, 1900; "Hoboken 6, Cincinnati 2," New York Times, June 16, 1902.
75 Thomas Barthel, Baseball Barnstorming and Exhibition Games, 1901-1962 (Jefferson, North Carolina: McFarland, 2007), 44-46.
76 Burgos, Playing America's Game, 94-97.
77 "Honolulu's Dream Comes True at Last," The Sporting News, December 24, 1914.
78 Beasley, "Forty-One Years in the Baseball Business."
79 "Frank C. Bancroft Dies After Long Illness," Cincinnati Enquirer, March 31, 1921.
80 Spring Grove Cemetery records; Frank is buried in Garden LN, Section 113, Lot 42.
Born
May 9, 1846 at Lancaster, MA (USA)
Died
March 30, 1921 at Cincinnati, OH (USA)
If you can help us improve this player's biography, contact us.
https://sabr.org/sites/default/files/Bancroft-Frank.jpg
600
800
admin
/wp-content/uploads/2020/02/sabr_logo.png
admin
2018-03-01 14:34:18
2020-04-09 14:40:23
Frank Bancroft