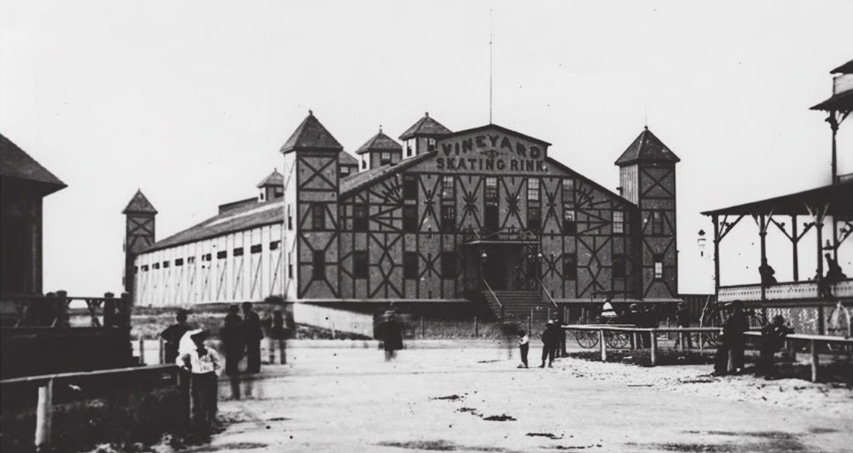 ---
Best known today as the president of the Boston team in the 1884 Union Association, Frank Winslow was an entrepreneur who operated two amusement facilities in Boston, the Union Athletic Grounds and Winslow's Skating Rink. His most lasting legacy is not a sporting endeavor, though, but rather an antidiscrimination law established by the Massachusetts legislature in 1885 spurred by an incident at his skating rink.
Frank Ellery Winslow was born on May 16, 1852, in Newton, Massachusetts, the older of the two children of Samuel and Mary (Robbins) Winslow.1 His father soon moved the family to the city of Worcester, where he established himself as a self-employed machinist.2 Frank initially grew up in the city's Seventh Ward, but in his teen years he lived on Linden Street in the city's middle-class Eighth Ward.3
During the 1860s, Frank's father had a thriving business making ice skates, which he expanded to roller skates in 1872.4 The popularity of skating in America, both ice and roller, enabled Frank's father to build a large factory on Mulberry Street in Worcester to specialize in making skates, which, in this era, were designed to strap onto boots rather than be a combination boot attached to skate. During the first boom in roller skating in the early 1880s, the products made by the Samuel Winslow Skate Manufacturing Company were among the most popular roller skates in the country.5
By 1870 Frank worked as the bookkeeper at his father's skate factory, a position he held for a dozen years.6 Frank married Eva Whiting on January 14, 1874, in the neighboring town of Oxford.7 They had no children.
In the late 1870s Frank became more interested in making money from the use of roller skates rather than the manufacture of them in his father's factory. Frank saw the rise of public amusements in Worcester, notably the professional baseball team from 1879 to 1882 that played its games at the Agricultural Fair Grounds, a half-mile west of the Winslow household on Linden Street. Although his younger brother, Sam, was the athlete in the family (captain of the Harvard College baseball team in 1885), Frank undoubtedly was a spectator at a few baseball games.
Frank opened his first roller-skating rink in 1879 in Oak Bluffs on the island of Martha's Vineyard, off the southern coast of Massachusetts, where he tested his father's patented Vineyard skate, to add some cachet to his father's products versus the competition.8 In December 1882 Frank opened his skating rink in the Back Bay section of Boston, which featured live music by a band, electric lighting, and steam heat in addition to the large skating area on a birch floor.9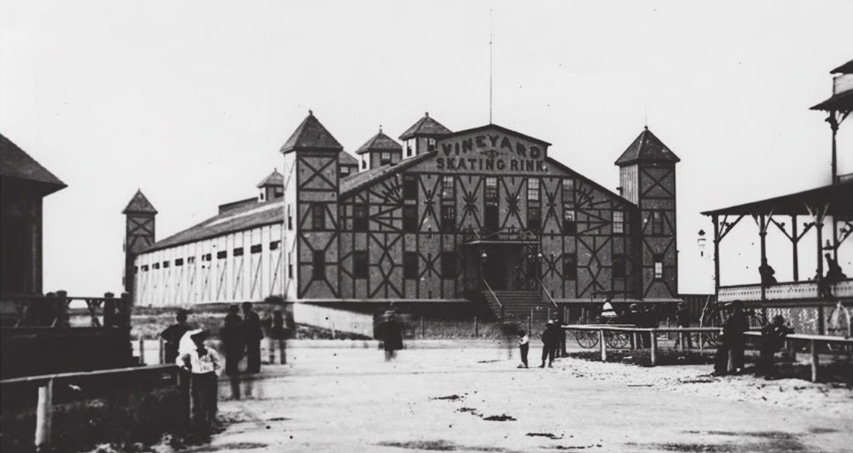 The Vineyard Skating Rink opened by Frank Winslow in 1879 in Oak Bluffs, Massachusetts.
The following winter Winslow's Skating Rink was used not just for public skating but also to contest games of roller polo, which was "the first commercially successful [team] sport" involving "hitting a ball along a ground surface into a goal."10 Roller polo was an early progenitor of outdoor ice hockey, which displaced the popularity of indoor polo by the end of the nineteenth century. More importantly, roller polo was the first professional team sport that was played indoors at night under artificial light.11 Frank was one of the entrepreneurs who promoted the new sport to create a demand for it. As a director of the New England Polo League for the 1883-1884 season, Frank wrote the rules for league play.12
Following the success of the indoor skating rink, which was used during the fall and winter, Frank established an outdoor amusement venue to be used from spring to fall to provide amusement activities year-round to Boston residents.
In March 1884 Frank was named president of the Union Athletic Exhibition Company, which operated the Union Athletic Grounds in the Back Bay section of Boston.13 The Union Athletic Exhibition Company also owned the Boston baseball team in the fledgling Union Association. Professional baseball, though, was just one of the many sporting events that were conducted at the Union Athletic Grounds, also known as the Dartmouth Street Grounds.14
Frank's outdoor amusement facility seemed to be built primarily for bicycle races, rather than baseball, since a bicycle track wound through the outfield portion of the baseball field and the grandstand was closer to the bicycle track than to home plate of the baseball diamond. When bicycle races and the baseball games were not being conducted, the Union Athletic Grounds hosted running competitions, wrestling matches, and football games (in the fall) to attract paying customers for amusement activities.
As the owner of two thriving amusement facilities, Frank purchased an opulent brownstone home at 243 West Newton Street in the new St. Botolph neighborhood of the Back Bay, which was within walking distance of both of his amusement venues.15
When the Union Association folded after the 1884 season, Frank's tepid interest in professional baseball was replaced by greater involvement in roller polo. For the 1884-85 season, Winslow sponsored a polo team in the New England Polo League.16 For the 1885-86 season, he was president of the New England Polo Association, an umbrella organization for the several polo leagues in the region.17 Frank leveraged his involvement in the league to mandate a league rule that required the use of his family's skates: "Rule 23: All games shall be played upon the Winslow Polo Skates … and no others will be allowed."18
Neither baseball nor roller polo was to be Frank's legacy as an athletic entrepreneur. In January 1885, the ticket agent at Winslow's Skating Rink refused to allow Richard Brown, an African-American, and his two grandchildren to skate at the rink during the advertised hours for public skating.19 This incident spawned the passage of two new laws in Massachusetts that year, one affirming that skating rinks were places of public accommodation ("An Act Authorizing Cities and Towns to License Skating Rinks") and the other prohibiting discrimination ("An Act to Punish Persons Making Discrimination in Public Places on Account of Race or Color").20
The Union Athletic Grounds closed in the fall of 1888, after the state of Massachusetts took a portion of the land under the facility to erect a state-militia armory.21 Winslow's Skating Rink remained in business until the spring of 1892, following the burst of the roller-skating bubble in the late 1880s. The skating rink was acquired by the Boston Art Students' Association, which converted it into artist workspaces and function rooms as part of the Grundmann Studios.22
Father's father died in 1894, leaving "a fortune estimated at several hundred thousand dollars" derived from skate manufacturing.23 Since his mother had died the previous year, his father's will divided this fortune "worth nearly $1,000,000" unequally between Frank and his brother, with his brother receiving "considerably more than $500,000."24 Frank's brother received a larger portion of the estate presumably because he had chosen to remain in the family skate-manufacturing business while Frank did not.25
Because Frank was estranged from his wife, the division of his father's estate was complicated. After initially contesting the will, Frank agreed to a settlement with his brother. Frank received $2,000 in cash and an income for life of $5,000 annually, while his wife received $10,000 in cash and a discharge of the mortgage held by the estate on the house on West Newton Street (the deed was in her name, for business liability reasons), "giving her clear title to the property, which is valued at about $25,000."26 Frank was soon divorced from his wife and used the $5,000 annual annuity to live a quiet life for the next 10 years.27
Frank Winslow died on June 11, 1905, in Boston and is buried at Hope Cemetery in Worcester.28

Acknowledgments
This biography was reviewed by Len Levin and fact-checked by Chris Rainey.
Photos in public domain, courtesy of Online-Skating.com.
Notes
1 Birth records for Newton in 1852 in the Massachusetts State Archives (Volume 64, Page 131).
2 David Parsons Holton, Winslow Memorial: Family Records of the Winslows and Their Descendants in America, volume II (New York: Mrs. Frances Holton, 1888), 99.
3 Federal census record for 1860 for Samuel Winslow, Ward 7, Worcester, Worcester County, Massachusetts; Worcester City Directory, 1872.
4 D. Hamilton Hurd, History of Worcester County, Massachusetts (Philadelphia: J.W. Lewis & Company, 1889), 1651.
5 James Turner, The History of Roller Skating (Lincoln, Nebraska: National Museum of Roller Skating, 1997), 19, 25.
6 Federal census record for 1870 for Samuel Winslow, Ward 8, Worcester, Worcester County, Massachusetts; Worcester City Directory, 1880.
7 Marriage records for Oxford in 1874 in the Massachusetts State Archives (Volume 264, Page 302).
8 Leading Manufacturers and Merchants of the City of Boston (Boston: International Publishing Company, 1885), 215.
9 Advertisement in Boston Daily Advertiser, December 21, 1882; "Roller Skating: The Successful Opening of the New Rink on Clarendon Street Last Evening," Boston Globe, December 22, 1882.
10 Stephen Hardy, "Polo at the Rinks: Shaping Markets for Ice Hockey in America, 1880-1900," Journal of Sport History, Summer 2006.
11 Ibid.
12 "The Winslow Rules Governing Polo on Skates," Boston Globe, November 18, 1883.
13 "Organization of the Union Athletic Exhibition Company," Boston Globe, March 27, 1884.
14 "The Union Grounds: Plans for the New Athletic Park Completed," Boston Globe, April 3, 1884.
15 Boston City Directory, 1885.
16 "Now Comes Polo," Boston Globe, October 8, 1885.
17 Wright & Ditson's Polo Guide, 1885-1886.
18 Ibid.
19 Millington Bergeson-Lockwood, "'We Do Not Care Particularly about the Skating Rinks': African American Challenges to Racial Discrimination in Places of Public Amusement in Nineteenth-Century Boston, Massachusetts," Journal of the Civil War Era, June 2015.
20 Acts and Resolves Passed by the General Court of Massachusetts in the Year 1885 (Boston: Wright & Potter, 1885), chapter 196, page 642, and chapter 316, page 774.
21 "The Proposed Regimental Armory at the South End," Boston Globe, November 18, 1888.
22 "Art and Artists," Boston Globe, December 18, 1893; Jean Oliver, "The Copley Society of Boston," New England Magazine, January 1905.
23 "Samuel Winslow Dead," Boston Globe, October 22, 1894.
24 "Estate Worth Nearly $1,000,000," Boston Globe, December 19, 1894.
25 Hurd, History of Worcester County, Massachusetts.
26 "Estate Worth Nearly $1,000,000."
27 Frank's marital status was listed as divorced on his death certificate (see footnote 28).
28 "Frank H. [sic] Winslow Is Dead," Boston Globe, June 13, 1905; death records for Boston in 1905 in the Massachusetts State Archives (Volume 14, Page 122).
Born
May 16, 1852 at Newton, MA (US)
Died
June 11, 1905 at Boston, MA (US)
If you can help us improve this player's biography, contact us.
https://sabr.org/sites/default/files/Winslow-Frank-skating-rink-Vineyard.jpg
600
800
admin
/wp-content/uploads/2020/02/sabr_logo.png
admin
2018-02-15 15:25:01
2020-04-09 14:40:24
Frank Winslow