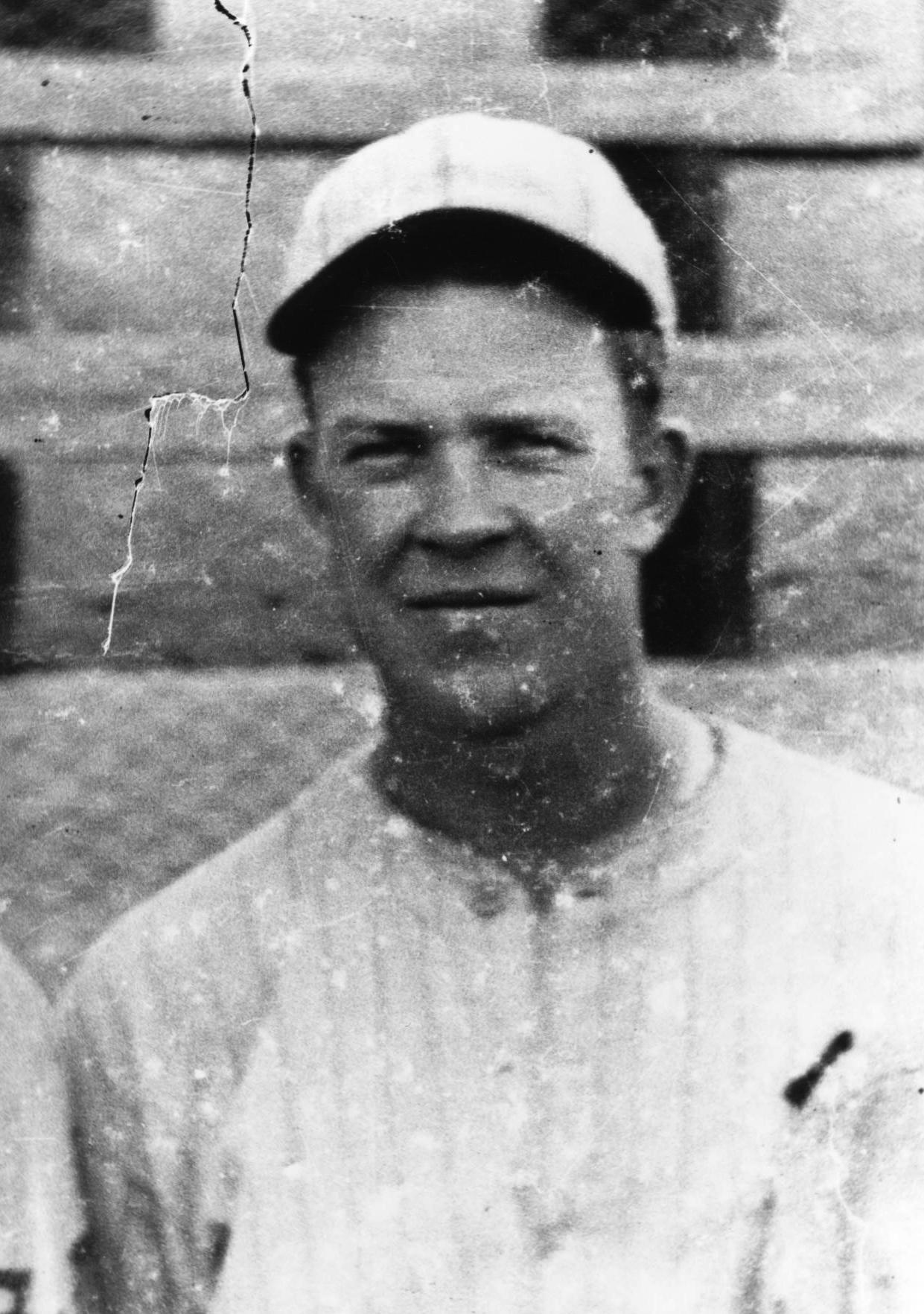 ---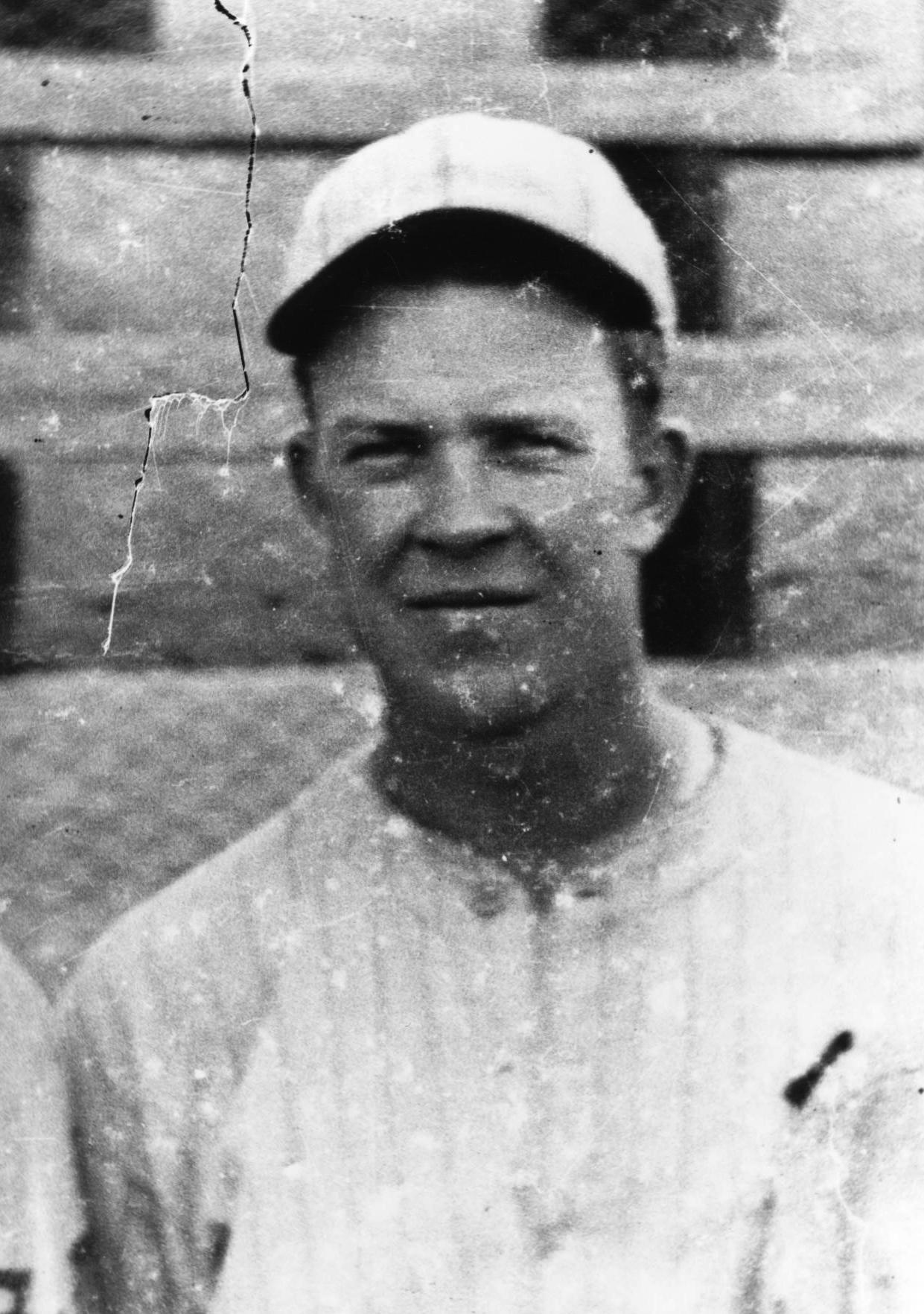 After Fred Thomas of the Boston Red Sox left for the Navy in July of 1918, third base was a tough position for manager Ed Barrow to fill. Catcher Wally Schang played there on occasion, but the hot corner was mostly played by a succession of career minor leaguers. All had strengths and weaknesses as players. George Cochran – acquired after the American Association suspended operations that summer – was noted for a strong arm and solid defense. Cochran was also a very streaky hitter throughout his minor league career. Unfortunately for the veteran infielder he was in the midst of a batting slump during his five-week major league career.
George Leslie Cochran was born in Rusk, Texas on February 12, 1889. His father was a Missouri native. His mother, the former Mary Guinly, was born in Pennsylvania, but the family moved to Missouri settling in the village of Steelville on the northern edge of Missouri's Ozark region. Mary's father was an ironworker. His father's name is not known, but he was likely an ironworker imported from Missouri to work at a foundry near the prison in Rusk. That is the same work Mary's father did.
Reasons are unclear, but by 1900, George and his older brother James were living with their elderly maternal grandparents Peter and Elizabeth in Steelville. Within a few years, the widowed Mary Cochran and her two sons were reunited and moved further west.
Carthage, Missouri is located in the southwest part of the state, near the Oklahoma and Kansas borders. Mary Cochran and her sons were living in Carthage by 1905 at 502 Budlong Street, a working class neighborhood. Carthage was mostly a farming community with some industry at the time the Cochrans moved there. Baseball Hall of Famer Carl Hubbell and future television host Marlin Perkins were born in Carthage during George's early years in the city. George Cochran attended Carthage High School, starring on the baseball team as a pitcher and infielder. After graduating in 1909, he worked as a driver for the McCormick Grocery located at Second and Main Streets. He played ball when not working, and late that season began his professional baseball career.
Bartlesville, Oklahoma is about 120 miles southwest of Carthage. In 1909, the city had a team in the Class-C Western Association. The Western Association had once been a strong minor league. After losing Topeka and Wichita to the Western League, and Oklahoma City to the Texas League following the 1908 season, the Association was struggling. Playing in Bartlesville was a great opportunity for the 20-year-old infielder,1910 and manager Jake Beckley took advantage of Cochran's strong arm using him mostly at shortstop. Unfortunately, even a great hitter like Beckley couldn't help George at the plate. He managed to hit just .165 playing in all 102 Bartlesville games before the team disbanded on July 31. He stole 27 bases.
Despite his weak offense, Cochran received a tryout the following spring with the Class-B Three I League. One source said Cochran almost won the starting shortstop job, with Springfield, Illinois, but was beaten out by future major league star Heinie Groh. A Decatur, Illinois newspaper places him on the Bloomington, Illinois roster. After receiving his release, Cochran chose to play independent ball in 1911.
Ira Bidwell was just a few months older than Cochran. While still a teenager, he established the Kansas City Red Sox, an independent professional team. The Red Sox were competitive with minor league teams and even signed the occasional player under minor league contract. In the spring of 1910, Bidwell received an offer to move his team to Wyoming, and the Cheyenne Indians were formed. In 1910, pitcher Claude Hendrix jumped his contract with Salina of the Central Kansas League to play with Cheyenne. The next season George Cochran joined the team. His 1911 season was shortened by a broken leg, but he was a star in a series of games with Junction City of the Class D Central Kansas League. That winter, Bidwell decided to form a league of independent teams in the region. The Rocky Mountain League applied and was accepted as a Class D league under the National Agreement. Bidwell was league president as well as at least part owner of all the league's teams. George Cochran started the season with Colorado Springs. Financial problems led to frequent franchise shifts before the league folded in June. Cochran returned to Cheyenne before the league folded. That season, he developed a reputation "of being a heavy hitter." Kept alive after the league folded, by the middle of 1912, the Cheyenne team was losing money and George Cochran received an opportunity to return to organized ball.
Since joining the Class-A Western League in 1909, the Topeka club had been at or near the bottom of the standings, 1912 being no exception. Manager Dale Gear's team was buried so deeply in the cellar that Topeka Daily Capital columnist Jay House later wrote, "Announcement has been made that the Western league season ends next Monday. The Western league season appears to have been detained along the route. It ended here in early June."
Gear was an excellent judge of young talent, sending at least four members of that 1912 club to the major leagues – Ross Reynolds, Josh Billings, Gene Cocreham, and Cochran. On July 16, it was announced he'd purchased Cochran from Cheyenne. George debuted that afternoon in a home game against St Joseph (Missouri) and House was impressed with the new switch-hitting infielder. "Cochran is a big fellow, very fast on his feet and has what appears to be the most wonderful throwing arm in the Western league. He shoots them across with a half arm motion and apparently with as little effort as the average man would employ in driving a fly from the bridge of his nose. His work on ground balls looked as strong as his arm. He hits from the right side of the plate and [also] increases by one Manager Gear's long string of left handed hitters."
Though very talented, Cochran's inexperience was a problem in a Class-A league. In one early game, he made three errors. In another game, he made two errors, though one was a throwing error blamed on the ball still being moist from the pitch by a Topeka spitball pitcher. House said of the young infielder: "Cochran who showed finely in his first few games has aviated. [He is a] promising youngster but the class is, as yet, too fast for him." Soon benched, Cochran might have been released or sent to a lower classification league, except for some quick thinking on his part. "He opined he might be able to pitch. Manager Gear told him to pick out a nice round ball and get busy. That was three or four days ago. With only that brief period intervening between his third basing and his pitching he was sent in to face Omaha, the shiftiest hitting team in the league. But Cochran looks like a thousand dollar bill. He made the mistake of most young slabsters and pitched his head off in the opening innings." That was the first of three tie games Cochran pitched during the last two months of the 1912 season. He won his first game over Sioux City a few days later. Lack of endurance and control were noted as his weaknesses on the mound.
The remainder of the season, Cochran was the most versatile member of the Topeka Kaws. Between pitching assignments, he was used at second, short, third, and the outfield. A highlight was a 4-2 win over first-place Denver. In that game, "Cochran went over into foul territory and took a pop fly for the last out. Cochran began pitching so recently that he has not yet learned that the average pitcher considers it against the law to stir out of his tracks for a pop fly." Future 1918 Red Sox teammate Jack Coffey went 0-4 against Cochran that afternoon. His control was gradually improving as well. He threw nine straight strikes to Denver's Lee Quillan in one at-bat.
That was Cochran's last win of the season. In consecutive September starts, he surrendered a total of five hits but lost both games. In one of those games, House wrote, "Cochran looked like a million dollars, except in the fourth. What happened in that round was enough and aplenty. Both the hits made by the [Des Moines] Boosters were plucked in this inning, and two walks and two errors by Cochran's support and two stolen bases occurred during this spasm." George Cochran finished 1912 with a 3-8 pitching record for a team that finished 51-109. He hit .276 in 48 games.
Offseason plans were to keep Cochran as a member of the Topeka pitching staff for 1913, but plans have a way of changing. When he reported to the Kaws spring camp in Denison, Texas, Cochran was a pitcher. When the team arrived back in Topeka, he started an exhibition game against Kansas City of the American Association. Cochran wasn't particularly effective that afternoon, and began to be used at second base in later exhibitions.
When Topeka opened the 1913 season at home versus Denver, Cochran was the leadoff hitter, and tripled in his first at-bat of the season, scoring the team's only run against former Red Sox pitcher Casey Hageman. He also made two errors that day. Another second baseman was soon signed, and Gear moved Cochran back to the mound. George made just one start allowing seven runs in five innings at Wichita on May 1.
The next day was a key day in Cochran's career. Gear told the Topeka Daily Capital: "We used Cochran at third base yesterday, and he worked like an old hand at the station, besides getting two hits, stealing a base and scoring two runs." Except for an occasional mop up relief stint, that was the end of George's career as a pitcher. Cochran played 13 straight games without an error and hit .328 in that span but still couldn't escape fan criticism. House said, "He booted a couple of hard chances and the hammer and anvil crowd fell upon his neck. What by the way, does the hammer and anvil crowd wish in the way of third basing?" House also believed "the Kaw infield as presently constituted is the fastest ever foregathered on this circuit."
Cochran slumped at the plate, but continued his excellent defense. Only an injury kept him out of the lineup. While making a tag, "Cochran's hand connected with Neff's shinbone with such force as to fracture a small bone in the hand. The bone snapped with a pop which was heard all over the diamond." Expected to miss a month, he was back at third in just two weeks.
In mid-August, he demonstrated another talent. The Capital noted: "Cochran was up twice in the seventh, was plunked in the slats on each occasion and scored two runs in the inning." George was hit by a pitch three times in the game. Incredibly he was again hit three times in a game the following season. A few days later, George led off a game against Sioux City with a home run against former major leaguer Kirby White.
During Topeka's last homestand in 1913, Cochran's performance was "the finest ever given by a Western League third bagster at the local park. He has starred throughout the series, and has contributed one or more feature plays in every game." Cochran finished 1913 with a .263 average and 22 steals. House predicted "Cochran should be among the top line of Western league third basemen next season."
For the first half of the 1914 season, it looked like that prediction would come true. In late June he was batting .325 and was third in the league with 18 stolen bases. Chicago White Sox scout Jack Doyle was looking for a third baseman that summer, and in late June he was closely watching George Cochran. Doyle was looking for a player "who can smite the ball frequently." Other clubs expressed interest as well and it was predicted Cochran would receive a promotion in 1915. A prolonged second-half slump resulted in 1914 stats quite similar to his 1913 numbers. Cochran's final batting average was .261 and his stolen base total increased to 34.
On May 12, 1914, Cochran left the team after a series at Wichita to return to Carthage for a day. Jay House said: "George Cochran, who subscribed to a permanent lecture course in Carthage Monday, was back on the job. And George has fixed himself so that is where he will have to stay. The only chance a married man ever has to loaf is when the works shut down." On his off day, he had married Wilma Ford, described "as the daughter of a mine operator at Carthage." There were several lead and zinc mines west of Carthage, and the operators (including the Ford family) generally lived in Carthage, the nearest sizable town.
Dale Gear resigned as Topeka manager during the 1914 season. Gear was clearly an important figure in George Cochran's career and life. The Cochrans named their son Dale. Cochran evidently didn't get along with Jim Jackson, Topeka's 1915 manager. Jackson was a veteran, apparently very critical of his players. 1915 was Cochran's worst season at the plate since 1910. Playing in just 125 of the team's 154 games, he hit .242.
The 1916 season presented challenges for players throughout the upper levels of the minor leagues. With the demise of the Federal League, there was an influx of players onto Western League rosters. One of those facing a challenge was George Cochran. Topeka signed a pair of former Federal League infielders. First baseman Joe Agler wasn't a concern, but the other newcomer Pep Goodwin was a third baseman. New manager Ralph Lattimore was also an infielder.
Cochran was initially shifted to shortstop, and Topeka owner John Savage felt Cochran "was too fast to play the hot corner." Savage had wanted to use Cochran at short in 1915, but Jackson was opposed to the idea. House was impressed with the change. "Cochran again played dazzling ball at short. If he keeps going he will have a lot of them eating their words." His offense had improved so much that a photo was captioned identifying Cochran as a "heavy hitting shortstop."
A game at Sioux City in late May was a highlight of his season. "The Savages robbed the home club of runs in the third frame with a lightning double play by Cochran unassisted. With Watson on third and Metz on first, Livingston, on a hit and run play, sent a liner to short. Cochran leaped two feet in the air to pull down the ball and then tagged Metz as he was sliding into second." Later in the game, Cochran scored the winning run. The next day, he doubled twice in an 18-inning tie. One of those doubles was probably the most unusual hit of his career. "Cochran sent one to right and the ball stuck in the chickenwire and he was allowed two bases on the hit."
The team wasn't playing as well, and Cochran was shifted back to third base. Even that didn't help, and manager Lattimore was fired and replaced by former Red Sox player Clyde Engle. The new manager meant changes for George Cochran. Always in the lineup, he was shuttled between short, third and the outfield. He even pitched in a game showing "a fast ball, a curve, and a change of pace, but as a pitcher he still ranks as one of the most brilliant third basemen in the league." No matter where he played, he showed a consistency at the plate lacking in his previous seasons in the Western League. He also hit a career-high six home runs in 1916.
Cochran's 1916 season ended early. On August 15, he was injured in a collision with catcher Lawrence Spahr of Des Moines. Expected to make a quick return, Cochran was unable to play the rest of the year. On the season, he hit .305 with 25 stolen bases. The team suffered a succession of injuries the latter part of 1916, worsening an existing attendance problem. In the offseason, owner Savage transferred the team to Joplin, Missouri.
The Western League was hit hard by World War I and worsening economic conditions. In a cost-cutting move, Savage became manager of the Joplin team during the second half of the league's split season. There was also a pair of midseason franchise shifts. The St. Joseph, Missouri team moved to Hutchinson, Kansas. Two weeks later, the Sioux City, Iowa team moved to St. Joseph. Despite the confusion, George Cochran was one of the struggling league's stars. He led the league with 55 stolen bases and was chosen by the league president as the All-Star third baseman. He also hit .301 with six home runs.
The 1917 Joplin team was Cochran's opportunity to play postseason baseball. Pitcher Roy Sanders shut out Hutchinson in both games of a season-ending doubleheader to force a playoff series between the two teams for the right to meet first-half champion Des Moines. Just two weeks before, the Miners were in sixth place. Joplin lost the best of five series, 3-0, but Cochran contributed three hits including a double and stole a base in the series. After the 1917 season, Savage sold his third baseman to Kansas City of the Double-A American Association.
The American Association was one of the top minor leagues in 1918. Affected somewhat by wartime personnel losses, the league was a mixture of veterans like Napoleon Lajoie and Roger Bresnahan, minor league stars like Joe Riggert, and young prospects. The Kansas City Blues were managed by John Ganzel, a former major league third baseman. Ganzel had confidence in his new third baseman. George Cochran likely resembled one of those veterans. His hair was prematurely gray, his eyes blue, and he was described as being of medium height and build. He was the leadoff hitter for the Blues and was a key to the team's success. Contending from the beginning, the Blues took over first place in the middle of June. Many of the league's younger players were being inducted into the armed forces, but Cochran was deferred due to a wife and two-year-old son.
Secretary of War Newton Baker issued his work or fight order in July, and almost immediately, the American Association suspended operations for the duration. In fact the International League was the only minor league to complete its season in 1918. Kansas City held a two-game lead over Columbus when the American Association ceased play after the games of July 21. George Cochran was hitting .284 with 11 stolen bases, playing in 67 of the Blues 74 games. Thanks in part to Baker, George Cochran would receive an opportunity to play major league baseball.
Third base was a revolving door for the 1918 Red Sox. Stuffy McInnis began the season at third before moving to his accustomed station at first. Fred Thomas played the hot corner for most of May and June before joining the United States Navy. Wally Schang and coach Heinie Wagner also played third during the early months of the season. After Thomas left, Ed Barrow tried Jack Stansbury, Walter Barbare, and Eusebio Gonzalez in just a month.
The Red Sox were in St. Louis, when George Cochran was signed. Even before the Red Sox left St. Louis, there was indication that his major league career would be short. American Association President Thomas Hickey said that since his league didn't disband for financial reasons, players not purchased would revert to their American Association teams when the league resumed operations. This included Cochran.
Cochran made his debut against the Browns on July 29. The Red Sox pitcher that afternoon was Babe Ruth. Cochran batted second and in his first major league at-bat against the Browns Allan Sothoron, he fouled out to third. He went 0-4 in a 3-2 Boston win. Boston won the next afternoon, 11-4. Cochran got his first major league hit off Dave Davenport, beating out a ball hit to George Sisler. Cochran made two errors that afternoon, the only miscues of his major league career. Overshadowing Cochran's play and even the win, was the arrest of an estimated 20 gamblers at Sportsman's Park by the St. Louis police.
July 31 was Cochran's best day as a major leaguer. The Boston Globe said: "Cochran was a busy boy at bat. He got on four out of five times. The hustling third sacker singled in the second, was hit in the third, walked in the fifth, was called out on a doubtful third strike in the seventh, and again got his ribs in the way of the ball in the ninth." Cochran scored two runs, stole a base, and advanced two bases on a Jimmy Austin error. The next day, Cochran scored the winning run after a Hank Severeid throwing error. It looked like Boston had found the answer to their third-base problem.
From St. Louis, the Red Sox went to Cleveland dropping three of the four games, and Cochran was dropped to seventh in the batting order because of Dave Shean's return to the lineup. He went hitless in three of the four games, but managed two hits and stole a base and scored the only run in a 5-1 loss to Jim Bagby. He managed just one hit in a series at Detroit, but walked twice scoring a pair of runs in one of the games. That hit on August 8 would be his last for almost three weeks.
The Red Sox returned home on August 10, and on the return, there was bad news for George Cochran. The Globe reported the signing of Cochran's former Western League rival Jack Coffey. Coffey's managerial experience and a stint earlier in the season with Detroit made him a desirable addition. George made his debut at Fenway in that afternoon's doubleheader against the Yankees. He again went hitless, dropping his batting average to .143 but fielded well and was part of an unusual 4-3-5 double play in the second game.
On August 14, Coffey joined the team and made his first start at third. Except for an exhibition game in New Haven, Connecticut, Cochran started just once in the next two weeks. Apparently considered the superior defensive player, he sometimes replaced Coffey in the late innings. As the Red Sox came close to clinching the pennant, Cochran began to play more. He started against Detroit on August 27 and 28 and started in both games of an August 30 doubleheader against Philadelphia. The weak hitting continued in those games. He was a combined 0-11 dropping his average to .091.
George Cochran was in the lineup batting seventh in the first game of the August 31 doubleheader against the Athletics. Boston beat rookie Jack Watson 6-1 in the opener. In what would be the last pennant clincher by a Boston team for almost three decades, Cochran broke out of his slump going 1-for-3. He replaced Everett Scott at shortstop in the latter innings of the second game. Watson returned to the mound for Philadelphia in that second game, shutting out the American League champs, 1-0.
What turned out to be George Cochran's final major league game was Boston's last regular season game in New York. Cochran managed a hit in four at-bats against Mogridge, and fielded flawlessly starting a double play. In an article comparing the relative strength of the Red Sox and Cub infields, Cochran's defense was praised. The article also mentioned the possibility of Fred Thomas receiving a furlough from the Great Lakes Naval training station.
George Cochran traveled with the Red Sox to Chicago for the opening of the World Series. When the team arrived in Chicago, Thomas was waiting for them. Cochran sat on the Red Sox bench but didn't appear in the Series. Cochran was one of six late-season acquisitions to receive a $300 share of the World Series proceeds. George spent that offseason working in the Oklahoma oil fields.
As American Association President Hickey predicted, Cochran and other players who went elsewhere after the league suspended operations were returned to their prior teams. That development, and the suspension of the major league draft, ended any chance of Cochran returning to the major leagues. George batted .311 for Kansas City in 1919. After sitting out the 1920 season, he returned and batted .322 for the Blues in 1921, his final professional season.
Cochran used his baseball earnings to move his family, which included Wilma, his mother, a son Dale G. (born in 1916), and daughter Marian (born 1919), to a newer home. He also opened a combination confectionery, cigar store, and newsstand with partner L.H. Dillard. The store was located on Carthage's town square. He also owned and operated a ballpark on West Fairview Avenue in Carthage later in the 1920's.
The Great Depression affected Missouri even before the stock market crash of 1929. Sometime near the end of that decade, George Cochran moved his family to California. Settling in Los Angeles, the family rented a home on East Rennington Road, and George opened another cigar stand. By the time George Cochran died on May 21, 1960, he was living in the Harbor City community located in the southern part of Los Angeles. He was working as a grocery clerk at the time of his death.
Sources
Decatur Daily Review, Decatur IL, 1911
Topeka Daily Capital, Topeka KS, 1912-16
Hutchinson Daily News, Hutchinson KS, 1917
Toledo Times, 1918
Boston Globe, 1918
Chicago Tribune, 1918
New York Times, 1918
Junction City (KS) Union, 1911
Manhattan (KS) Mercury, 1912
Carthage, Missouri, City Directories 1900-1927
United States Census, Missouri, 1900, 1920
United States Census, Oklahoma, 1910
United States Census, California, 1930
World War I Draft Registration, Carthage, Missouri, 1917
John Hall e-mail correspondence 2006-07
Michelle Hansford e-mail 2006
Born
February 12, 1889 at Rusk, TX (USA)
Died
May 21, 1960 at Harbor City, CA (USA)
If you can help us improve this player's biography, contact us.
http://bioproj.sabr.org/bp_ftp/images3/CochranGeorge.jpg
600
800
admin
/wp-content/uploads/2020/02/sabr_logo.png
admin
2012-01-04 20:09:04
2012-01-04 20:09:04
George Cochran