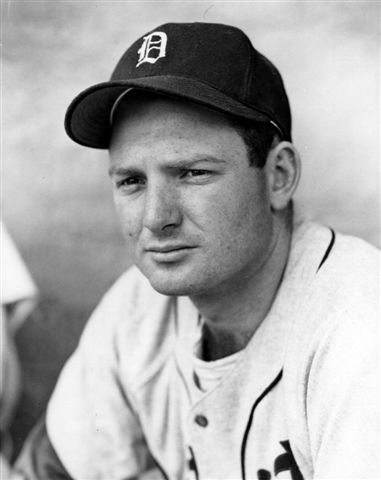 ---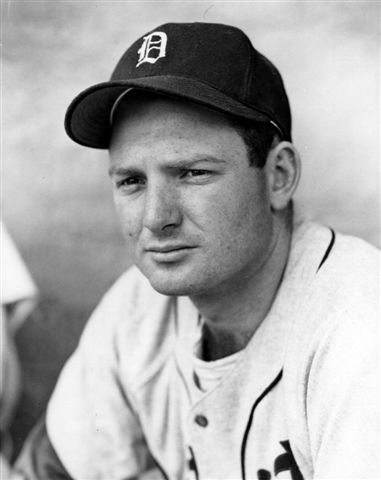 In a career that spanned 15 seasons, George Kell batted .306 in 1,795 career games. Narrowly beating out Ted Williams for the batting title in 1949, he hit over .300 in nine seasons. A 10-time All-Star, Kell was finally inducted into the Baseball Hall of Fame in 1983. When his playing career was over, he turned to the microphone and was a Tigers broadcaster for 37 seasons. Kell's Arkansas twang endeared him to Detroit fans with such "Kell-isms" as "It's a bright, sunshiny day," "It's a bunt, and a dandy," and "I don't think you can hit a ball any harder than that."
The son of Clyde and Alma Kell, George Clyde Kell was born August 23, 1922, in Swifton, Arkansas. George's father, a barber, had been a pitcher on the Swifton town team. Clyde, a native of Imboden, Arkansas, was such a great pitcher that the Swifton Town Team offered to buy him a barber shop if he moved to Swifton and pitched for the team all of the time. Clyde accepted the offer.
George, the oldest of three boys (brother Everett "Skeeter" Kell played for the Philadelphia Athletics in 1952), loved baseball from an early age. "I was a [St. Louis] Cardinal fan as a kid," Kell told the Associated Press in 1950. "We used to make the trip up to St. Louis a couple of times a season. I worshipped the old Gas House Gang—Dizzy Dean, Pepper Martin, Joe Medwick, Leo Durocher." In his autobiography Hello Everybody, I'm George Kell, he recalled, "There was never a time in my life when I didn't think about playing baseball. I loved the game. I loved every part about it."
Graduating from high school at 16, Kell enrolled at Arkansas State University at Jonesboro in the fall of 1939. Since the university did not have a baseball team, Kell played on the intramural softball team and then for the Swifton town team in the spring of 1940. It was also in the spring of 1940 that Kell got his first chance to play baseball professionally.
The Brooklyn Dodgers had an affiliate in Newport of the Class D Northeast Arkansas League. The Swifton postmaster, Clyde Mitts, often traveled to watch the team play. One day, after the Newport team lost a doubleheader, Mitts told the team's general manager about the baseball playing ability of George Kell. The GM was interested. After discussing it with his father (who would have preferred that young George stay in college), he agreed to join the Newport team the next day. In the 1940 season, Kell played in 48 games and batted a puny .160. During the 1941 season, Kell fared better—this time batting .310 in 118 games. Following the 1941 season, Kell's contract was sold to the Durham Bulls of the Class B Piedmont League.
After a brief stint with Durham, Kell was signed by Lancaster of the Class B Interstate League, then affiliated with the Philadelphia Athletics. Leading all of professional baseball with a .396 average in 1943, Kell attracted the attention of Athletics owner-manager Connie Mack, who offered him the opportunity to play for the A's after Lancaster was finished with the playoffs. Mack wanted Kell to play just one game with Philadelphia. In his debut with the A's on September 28, 1943, Kell hit a triple in his first at bat. "I tried to act very calmly like it was just another time at-bat for me," Kell wrote in his autobiography. "But I was dying to pinch myself to make sure this was all really happening."
Kell then returned to Arkansas to teach at a junior high school. Kell remembered, "Because of the war, they were using anyone who had at least some college experience. I also coached the basketball team and studied as hard as the kids so that I wouldn't get shown up in class."
Playing on a regular basis with the A's in 1944, Kell hit for a .268 average in 139 games. Nearly repeating his numbers in 1945, he batted .272 in 147 games. In early 1946, hitting .299, Kell found himself traded. On May 18, he went to the Detroit Tigers for outfielder Barney McCosky. Kell commented in the May 23, 1946, issue of The Sporting News, "It's the biggest break I've ever had in baseball."
Sixty years later, Kell told reporter Bill Dow, "Mr. Mack said, 'George, come up to my suite; I need to talk with you,' and that's when he told me I was traded to the Tigers for Barney McCosky, It was such a shock and felt like a rejection, but Mr. Mack told me, 'George, you're going to be a good ballplayer, and I'm sending you to a team that will pay you the kind of money that I can't.' As it turned out, it was the greatest day in my life."
Kell made his Detroit debut in the first game of a doubleheader against the league-leading Boston Red Sox in a jam-packed Briggs Stadium: "I was scared to death.
. . . In the first inning, Johnny Pesky slashed one down third base, I made a backhand stab and threw him out, which really calmed me down. I was young, full of enthusiasm and played hard, and the Detroit fans accepted me and were so good. It was the beginning of a great romance."
With the Tigers, Kell had his greatest years—batting better than .300 average every season from 1946 to 1951. In 1946, while batting .322, Kell struck out just 20 times. The next season, Kell made the American League All-Star team for the first time, but as he recalled in his autobiography, "I felt I had to prove myself all over again. I had to prove the previous season was not a one-year fluke." He finished 1947 with a .320 average in 152 games.
"From a personal standpoint, 1948 turned out to be the worst year of my career," Kell wrote. That season he was sidelined with two injuries. The first injury came in the second game of a May 8 doubleheader at Yankee Stadium when Kell's wrist was broken by a pitch from Vic Raschi. The injury prevented him from playing until May 31. At Yankee Stadium again on August 29, Kell's jaw was fractured by a ground ball from Joe DiMaggio. Talking to an Associated Press reporter about the injury two years later, Kell said, "I must have been out on my feet. They tell me afterwards that manager Steve O'Neill tried to take the ball away from me, and I wouldn't let them have it." This injury ended his season, leaving him with a still-impressive .304 average in just 92 games played.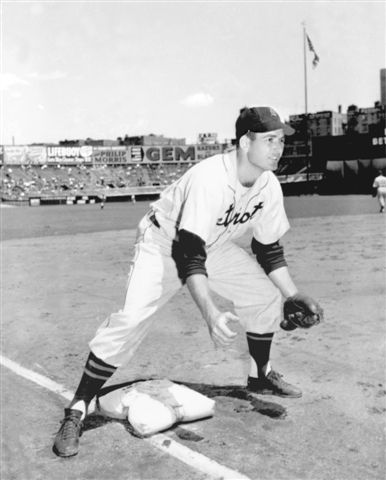 If 1948 was the worst year of Kell's career, 1949 was perhaps the best. That season, he edged out Ted Williams for the batting title on the last day of the season. Fifty years later, Kell recalled the final day for Detroit Free Press reporter Gene Guidi: "I went into the game trailing Ted Williams by a couple of points and didn't think I had a chance because I figured Ted was good for a couple of hits that day. Bob Lemon was pitching for Cleveland against us and he was always tough, but I got a double and single my first two at-bats." Later in the game, Bob Feller came out of the bullpen to face Kell. George remembered, "He walked me in the fifth inning and then got me out in the seventh." Late in the game, it was learned that Williams had been hitless in the Red Sox game against the Yankees. Kell's 2-for-3 game would give him an average of .3429—enough to push him past Williams (.3427) for the batting title. In the ninth inning, manager Red Rolfe wanted to put in a pinch-hitter to bat for the third baseman. Kell insisted on batting. "I remembered Ted Williams not sitting out the last day of the (1941) season after he was already at .400, and I wasn't about to back into a batting title against him." As Kell stood on deck in the ninth inning, batter Eddie Lake grounded into a double play to end the game. "I celebrated by throwing my bats in the air," Kell said. "It was quite a feeling."
In 1950, a season in which the Tigers narrowly missed winning a pennant, Kell hit .340 in 157 games. His average was second only to Boston Red Sox second baseman Billy Goodman' s league-leading .354. Kell had a career-high 114 runs and 101 RBI. In addition, he led the league with 218 hits and 56 doubles, and committed only nine errors. In that season, "I was confident about every aspect of my game," he said in his autobiography.
Kell followed that season up with another great year, batting .319 in 1951 and leading the AL with 191 hits and 36 doubles. But on June 3, 1952, Kell's playing career as a Tiger ended when he was traded to the Boston Red Sox. The blockbuster deal included eight other players. Kell, pitcher Dizzy Trout, shortstop Johnny Lipon, and outfielder Hoot Evers were traded for pitcher Bill Wight, first baseman Walt Dropo, third baseman Fred Hatfield, shortstop Johnny Pesky, and outfielder Don Lenhardt. General Manager Charlie Gehringer told Kell that the Tigers hadn't wanted to trade him, but they needed to do something to shake up the team, and the Red Sox wouldn't accept any deal that didn't include Kell. "I sure didn't want to leave Detroit, but the only thing that made it better was going to Boston because that's the other great baseball town in the American League," Kell said later. He finished the 1952 season with a .311 batting average.
In Boston, Kell's closest teammate became his onetime rival for the batting title, Ted Williams. Kell said in 2005, "We were already close when I went to Boston; we were primarily a young ballclub and he was an elder and I was past 30, so we hit it off real good." Continuing his habit of batting over .300, Kell batted .307 in 1953, with 141 hits and 73 RBI, and a career-high 12 home runs that year. His tenure in Boston was brief. On May 23, 1954, he was traded to the Chicago White Sox for Grady Hatton and $100,000.
"It was a totally different feeling in 1954 when the Red Sox traded me to the White Sox," Kell said in his autobiography. "More than anything else, I felt like I was being used." For the first time since 1945, his average dipped below the .300 mark that year. Playing in only 97 games, Kell hit .276 in 1954. In 1955, he bounced back in 1955 and led the Chisox with a .312 average and 81 RBI, but wasn't completely happy: "(T)hat trade took something out of me. I had lost something. That deal got me to thinking about retiring."
At the end of the 1954 season, White Sox manager Paul Richards left to pilot the Baltimore Orioles. Once with the Orioles, Richards wanted Kell to join him there and on May 21, 1956, George, along with pitchers Mike Fornieles and Connie Johnson and outfielder Bob Nieman, was traded to the O's in exchange for pitcher Jim Wilson and outfielder Dave Philley. Though he was flattered that Richards would want him as his third baseman, Kell's thoughts of retirement grew stronger. "After that season…I made up my mind I would play one more year. I really didn't even feel like doing that, but the Orioles had made quite a commitment to get me. I figured I owed it to them," Kell said.
Kell was beaned twice in 1957, his final season. On May 6, at Briggs Stadium, Kell was knocked down when he was hit above the right ear by a Steve Gromek pitch. Though Kell wasnot seriously injured, he was sidelined for 10 days. Then just five weeks later, in a June 9 game at Comiskey Park in Chicago, Kell was beaned again, this time by pitcher Dick Donovan. Though again avoiding serious injury, he once more sat out for 10 days.
During his period of recovery, George sat in the Orioles' radio-TV booth with Ernie Harwell. Kell was no stranger to broadcasting by this time, having worked with Harry Heilmann on a 15-minute radio show in Detroit in the early 1950s. In his memoir Tuned to Baseball, Harwell recalls joking with George, "Now you're learning the art of free-loading.…All the hot dogs you can eat and all the pop you can drink." Harwell remembered, "After a couple of games, I asked him to broadcast an inning for us. He did. He liked it and the listening audience liked him."
Kell retired after the 1957 season, saying in January 1958, "It's hard to retire, but it's a lot easier than waiting around until someone tells you you're through." He expressed a desire to spend more time with his 12-year-old son and 9-year-old daughter, saying, "A baseball player just doesn't get to see much of his family. I was away from them entirely for three months a year and at least half the time during the season."
Kell had planned to spend his retirement tending to his 800-acre farm in Swifton. However, CBS Television was interested in hiring a former player to host a 10-minute pre-game interview during the "Game of the Week" telecasts. Paul Richards recommended Kell for the job. Kell told Neal Russo in May 1958, "I jumped at the offer. I didn't want to turn my back on baseball completely.…Besides, I'm away from home only one night a week and I never work more than two days a week."
Kell discovered that as a former player, he had an advantage as a sports interviewer. He told Fred Petrucelli in November 1958, "My connections in baseball proved to be very valuable and that's where I had an edge. After all, I was talking and working with people with whom I had played for many years." Kell was able to set up the interviews himself, citing as an example, "I was able to line up baseball personalities pretty easily myself. I called Ted Williams for a spot on the show and he agreed readily. I don't know how some of the players would have reacted if the advertising boys had signed 'em up."
When Tigers broadcaster Mel Ott was killed in an automobile accident in November 1958, Detroit business manager Harry Sisson offered Kell the job as his replacement. Kell was hesitant to give up so much time away from his family. After talking with Tigers owner John Fetzer, Kell agreed to team up on radio and TV with Van Patrick. Kell reflected in his autobiography, "Before I left that room, I had signed a five-year contract to work all one hundred fifty-four Tigers games as the No. 2 broadcaster. To this day I can only speculate as to why I changed my mind and signed that contract. I'm really not certain." He credited John Fetzer's sincerity and his own love of the Tigers for helping persuade him to take the job.
During the 1959 season, Kell provided play-by-play for the middle three innings of each Tigers game. At the end of the 1959 season, he covered the playoff games between the Los Angeles Dodgers and Milwaukee Braves for ABC Television. Originally, the plan was for Kell to work with Buddy Blattner, but when Dizzy Dean used his connections with the sponsor to block Blattner from doing the broadcast, Kell found himself providing all of the play-by-play and color commentary by himself.
After his broadcast partner, Van Patrick, was fired in 1959, Kell's old friend Ernie Harwell became his new partner. Together, they broadcast Tigers games on radio and television beginning in 1960. Wanting to spend more time with his family, Kell resigned the 1963 season. Tigers owner Fetzer did not want Kell to leave the broadcasts, however. Kell recalls that Fetzer told him, "We are going to work this out some way so that you're still part of the team and everyone is satisfied."
Kell sat out the 1964 season and was rumored to be in line to replace Mel Allen as the voice of the New York Yankees. However, his heart was with the Tigers, and when Fetzer arranged for him to do only 40 to 50 broadcasts a season rather than a full schedule of games, Kell couldn't resist coming back. He rejected an offer from ABC to do the Game of the Week. With the Tigers, he told reporter Jack Craig in 1970, "I just drive to Memphis and take a jet to wherever the Tigers are playing. And if it's a Saturday day game, I get home late the same night."
Though a Tigers fan, Kell resisted being a "homer" on the air. "I'm for the Tigers, but I'm not a cheerleader," he told writer Joe Falls. "When he [Fetzer] hired me, he told me there were some announcers who irritated him by rooting so openly for their team. He told me to report accurately and fairly. Naturally, I'm for the Tigers—you've got to be honest about this thing—but he told me I could show my allegiance by the tone of my voice, rather than going rah-rah-rah."
One of the highlights of his broadcasting career was to be able to provide play-by-play for the 1968 World Series. In Hello Everybody, I'm George Kell, he said, "If I have one regret from my playing career, it's the fact that I never had the opportunity to play in a World Series. Every player wants to get that chance at least once in his career. So getting into one as a broadcaster for the Tigers was very special for me." Having previously provided play-by-play for the 1962 World Series over NBC radio, George covered the World Series games from Detroit for NBC television in 1968.
Kell's achievements on the field were recognized when he was elected to the Baseball Hall of Fame in 1983. Though proud of his accomplishments as a player, Kell was overwhelmed by the honor, telling Joe Falls that July, "[W]hen I think of being there with Babe Ruth and all the rest, I'm in awe."
Aside from his baseball broadcasting duties, Kell had other business and political interests to keep him busy. Besides raising Black Angus cattle on his farm in Swifton, he had also invested in an automobile dealership in Newport, Arkansas. He accepted an appointment to a 10-year term on the Arkansas Highway Commission. Proud of his appointment to the office, Kell said "I treated that appointment very seriously. I felt as though I not only was representing the Kell name, but also all the good hard working people of the state of Arkansas."
In 1991, Kell missed 20 Tigers broadcasts to take care of his wife, Charlene, as she battled cancer. George and Charlene Felts had met in the fifth grade and were high school sweethearts. Secretly married May 24, 1941, they spent 50 years together and raised two children (George Jr. and Terrie) before Charlene's death on August 20, 1991. Devastated by his wife's passing, George, a devout Methodist, relied on his deep religious faith to give him strength as he grieved the passing of his wife.
A few years after Charlene died, George met a woman named Carolyn at a local bank for which he was a director. Eventually working up the nerve to ask her to dinner, George said in his autobiography, "I suppose one thing led to another until finally I asked her if she wanted to be tied down to an older man and marry me." George and Carolyn were married May 7, 1994.
After enduring surgeries on his knee and on a broken disk in his back, Kell announced his retirement from broadcasting in January 1997.
Kell's home in Swifton was destroyed by fire in 2001. Miraculously, Kell was rescued from the burning home. Carolyn Kell told Detroit News sportswriter Tom Gage, "We don't like to think of what might have happened if a volunteer fireman hadn't been driving by the house at that very time. He went up the stairs and dragged George out. God was on his shoulder that night. That's what I tell George. From playing to broadcasting, all his life, God has been on his shoulder."
Kell, an avid Tigers fan, returned to Detroit on October 14, 2006, to throw out the first pitch before Game 4 of the American League Championship Series between the Tigers and the Oakland Athletics. Greeted by a standing ovation at Comerica Park, the 84-year-old Kell threw the ball to Tigers coach Andy Van Slyke. Kell commented, "Andy said I threw it better than (Mickey) Lolich." (Lolich had thrown out the first pitch the previous night.) Kell was touched and overwhelmed by the reaction the Detroit fans had to his return to Detroit. "I'm overwhelmed," Kell said. "I didn't expect all of this. The standing ovation sounded like Joe DiMaggio was on the field. It was a little bit more than I expected."
George Kell died in his sleep on March 24, 2009, at age 86.
An earlier version of this biography appeared in "Sock It To 'Em Tigers: The Incredible Story of the 1968 Detroit Tigers" (Maple Street Press, 2008), edited by Mark Pattison and David Raglin. It also appeared in "Detroit Tigers 1984: What A Start! What A Finish!" (SABR, 2012), edited by Mark Pattison and David Raglin.
Sources
Kell, George, and Dan Ewald. Hello Everybody, I'm George Kell. Champaign, Ill.: Sports Publishing. 1998.
Smith, Curt. Voices of the Game. New York: Simon & Schuster. 1987.
Associated Press. "George Kell Never Argues With Umpires, Says Players Get Better Deal If Quiet." Danville (Virginia) Bee, September 13, 1950, p. 9.
Associated Press. "Kell Quits Baseball Without 'Pink' Slip." Lawton Constitution (Oklahoma), January 7, 1958, p. 11.
Basenfelder, Don. "Wheaton and Kell Bloom as Red Roses; A's Believed Holding Inside Track for Slugging Pair; George Tops Hitters." The Sporting News, September 9, 1943, p. 7.
"Blattner Charges Dizzy Threw Curve, Quits Duet; Tiff Over Playoff TV Job Led to Blowup." The Sporting News, October 28, 1959, p. 23.
"Cadillac Agency, Golf Resort Helped Kell to Make up Mind." The Sporting News, August 31, 1963, p. 18.
Chi, Victor. "Charlene Kell, George's wife, dies of cancer." Detroit Free Press, August 22, 1991, p. 1F.
Craig, Jack. "Airing Ball Games an Honor." The Sporting News, July 25, 1970, p. 54.
Crowe, Steve. "Kell came to Detroit and brought Harwell with him." Detroit Free Press, January 29, 1997, p. 3E.
Crowe, Steve. "For openers, Kell pays a visit. Retired announcer admits: 'Yeah, this really does seem strange.'" Detroit Free Press, April 8, 1997, p. 6C.
Crowe, Steve, and John Lowe. "As George Kell, who retired Tuesday after 37 seasons as a Tigers broadcaster might say
. . . 'It's all over!' Hall of Famer Announces Retirement." Detroit Free Press, January 29, 1997, p. 1E.
Dow, Bill. "Kell's Well. Ex-Tiger third sacker returns to Detroit for 'Baseball as America.'" Detroit Free Press. March 7, 2006, p. 1D.
Ellis, Jim. "Big Gus Unlimbers Big Guns on Return to Limping Orioles." The Sporting News, May 15, 1957, p. 15.
Ellis, Jim. "Birds Take Wing Despite Injuries to Kell, Francona." The Sporting News, June 1, 1957, p. 20.
Falls, Joe. "Another Chapter on Baseball Broadcasters." The Sporting News, August 28, 1965, p. 14.
Falls, Joe. "Fans favor jocks on TV." The Sporting News, May 31, 1980, p. 34.
Falls, Joe. "Kell realizes dream in Hall of Fame." The Detroit News, July 31, 1983, p. 1D.
Gage, Tom. "Talking with…George Kell. The Detroit News, April 30, 2001, p. 4F.
Gage, Tom. "Kell misses calling games, remains an avid Tiger fan. He had Hall of Fame playing career, but never lost enthusiasm for broadcasting." The Detroit News, June 23, 2003, p. 4F.
"George Kell Now Cattle Raiser." The Sporting News, March 16, 1949, p. 25.
Guidi, Gene. "Tigers Corner: Kell traveled tough road to 1949 batting crown." Detroit Free Press, September 25, 1999, p. 5B.
Hammer, Dave. "Former Tiger Kell remembers career—Trip to Cooperstown helps 82-year-old forget pain from accident." Grand Rapids Press, August 7, 2005.
"Kell stays a fan." Grand Rapids Press, October 15, 2006, p. C1.
"NBC and CBS Saturday TV Starts April 5; Brave-Dodger, Yank-Phil Tilts First to Air." The Sporting News, April 2, 1958, p. 32.
Petrucelli, Fred. "Kell a Smash Hit First Season on TV and Happy in Role." The Sporting News, November 19, 1958, p. 15.
Russo, Neal. "He's 'Old Pro' of Video in Rookie Season; Kell Clouting at .300 Clip as Aircaster. Ex-Hot Sack Star Making Grade on TV." The Sporting News, May 28, 1958,
pp. 13–14.
Silva, Chris. "Tigers great Kell a hit with first pitch." Detroit Free Press, October 15, 2006, p. 2D.
Spoelstra, Warren. "With Tigers All's Well, After Club Acquires Kell." The Sporting News, May 23, 1946, p. 6.
"Tiger Kell rescued from his burning home." Grand Rapids Press, October 9, 2001.
"Yanks Swamp Tigers After Losing 3–2 Tilt." Syracuse Herald Journal, May 9, 1949, p. 59.
Young, Dick. "Kell Reported in Line For Yank Radio Job." The Sporting News, October 24, 1964, p. 32.
http://www.retrosheet.org
McClary, Mike. Interview with George Kell, March 14, 2007. http://www.detroittigerspodcast.com/2007/03/14/the-detroit-tigers-podcast-episode-4-its-a-dandy. Accessed June 23, 2007.
Born
August 23, 1922 at Swifton, AR (USA)
Died
March 24, 2009 at Swifton, AR (USA)
If you can help us improve this player's biography, contact us.
https://sabr.org/sites/default/files/images/Kell%20George%203541.88%20NBL.jpg
600
800
admin
/wp-content/uploads/2020/02/sabr_logo.png
admin
2012-01-04 20:38:15
2021-09-24 08:30:18
George Kell