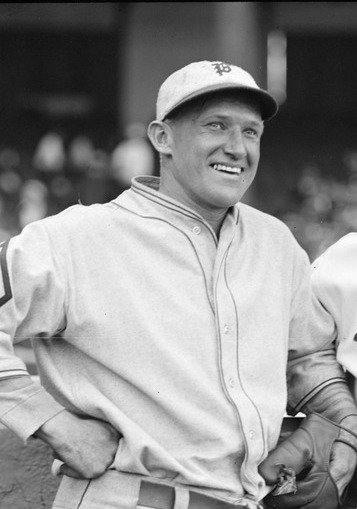 ---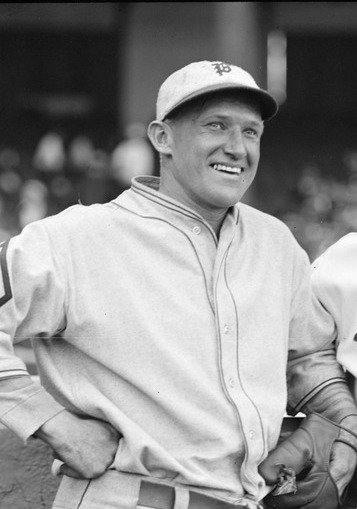 A slick-fielding middle infielder and consummate team player, George Knothe joined his younger brother Fritz as a rare set of siblings to break into the major leagues in the same year.1 In April 1932, George served as a utility second baseman for the Philadelphia Phillies while Fritz was the starting third baseman of the Boston Braves.
George Bertram Knothe was born on January 12, 1898, in Bayonne, New Jersey, to Gottleib and Augusta Meyers Knothe. After George finished high school in 1917, he matriculated at the University of Pennsylvania. Despite some breaks in his education as his professional baseball career began, he eventfully earned his Ivy League degree in 1925.
Knothe had a far-flung, nomadic twelve-year minor league career that began in 1922 and ended in 1934. He was an all-star at the Class B level, averaging .356 for the Lawrence Merry Macks of the New England League over 1926 and 1927. At the A and AA levels, the elder baseball Knothe was a solid singles hitter (batting averages in the .250-.280 range) and a sure-handed middle infielder (.950 fielding percentage at all minor league levels). In 1928, he had a career year with the Pueblo Steel Workers of the Western League. He hit .318 in 164 games with 41 doubles, 17 triples, and six home runs. He was considered by many baseball men in the Western League to be major-league ready: "Knothe is well-nigh a finished ball player. He hits the ball consistently, the last averages giving him a percentage of .336. His fielding has been spectacular. He is fast on the base paths and has the best arm of any infielder in the league." Knothe played every inning of the 164-game Pueblo schedule in 1928, as the shortstop on an infield that turned 215 twin killings, a total claimed by contemporary sources as an organized baseball record.2
This breakout year caught the eye of the American Association's Kansas City Blues, who grabbed Knoth in an off-season deal. He played 142 games for Kansas City, and a sportswriter noted of his season: "[Knothe's] work on defense was strong, but he hit only fairly well [.252 with only 19 extra base hits]."3 The Blues went 111-56 in 1929 and won the Little World Series over the International League's Rochester Red Wings, and have since been recognized as one of the 100 best minor-league clubs of all-time.4 Knothe returned to Kansas City for the 1930 season, improving his batting average to .294 but with little power.
But Knothe started slowly in 1931, hitting only .172 in 16 games. Kansas City sent him to the New Orleans Pelicans of the Southern Association. With the move, Knothe flourished, and a sportswriter summarized his season: "He became the leading shortstop of the Southern loop and finished the season with a fielding percentage of .972. In 121 games he miscued only 18 times."5 Another reporter praised his stellar fielding in effusive fashion: "[Knothe] is now the sparkplug of the Pels infield. He covers the shortstop with speed and agility, and in almost every game shows the fans some good stops."6 The Philadelphia Phillies took notice and selected him in the Rule 5 draft on September 30, 1931.
The brothers faced off against one another in George's debut with the Phillies on April 25, 1932, in a 4-3 win over the Braves. George was a ninth-inning replacement at second base while younger Fritz had a hit and a walk in five plate appearances. Four days later, George Knothe collected his only major-league hit, a double in the second inning off of Brooklyn starter Van Lingle Mungo, in a 13-6 rout of the Dodgers at Philadelphia's Baker Bowl.
Knothe's long route to the major leagues was ill-timed, when contrasted with his young brother. While Fritz Knothe "had no serious competition for his third base job" with Boston, George met an "insurmountable obstacle at Philadelphia" in the veteran Dick Bartell, thus "dooming [George] to reserve duty from the start." Furthermore, the new Depression-era, 23-player limit hastened George Knothe's exit from the major leagues at the advanced rookie age of 35.7 On May 25, 1932, Knothe was sent to the Fort Worth Cats of the Class A Texas League. His major-league career was the proverbial cup of coffee, lasting only one month. He had one hit (a double) in 12 at bats for a miniscule career OPS of .250. In five games at second base, he had one error in 13 chances for a .923 fielding percentage.
In 1933, Knothe had a successful season, returning to the New Orleans team he had been with two years earlier. He hit for a power-deficient .250 average but contributed a strong glove at short, with a .954 fielding percentage. The Pelicans took the Dixie Championship over the Texas League's San Antonio Missions. But Knothe had a weak post-season: the worst batting average among the team's regulars (four singles in 21 at-bats) and the worst fielding average on the club (four errors in 35 total chances).8
As with Fritz, 1934 was George Knothe's last year in organized baseball, spent with the Memphis Chickasaws of the Southern Association. He continued to be a solid fielder, playing 111 games at shortstop with career-typical numbers: 26 errors in 575 total chances for a .955 fielding percentage.9 In November 1934, Memphis placed Knothe on their reserved list as a key part of a strong returning unit for the 1935 season: "The infield shapes up as the strongest department of the club to date."10 But, in April 1935, Knothe held out, and was suspended by the team.11
Knothe continued his baseball career in the mid-1930s by playing for famed semipro clubs such as the Ridgewood (Long Island) Farmers, often playing with younger brother Fritz. Both brothers' play reflected their strengths and weaknesses in organized baseball. George Knothe remained a light-hitting, steady defensive player while Fritz was a solid clutch hitter who was more than adequate in the field. For example, in a 1936 contest, George went 1-for-4 at the plate and at second base fielded six chances flawlessly, while Fritz pounded out a single, double, triple with six RBIs with one chance at the hot corner.12 But, by 1937, George Knothe's play was showing signs of his advanced age (39). In a nail-biting match with their rival Mount Vernon (NY) Engine 3 Scarlets, Knothe, batting third and going 0-for-2, made two miscues in eight chances with his error in the eighth inning directly leading to a 4-3 loss for his Glendale (Long Island) club.13 His competitive baseball days were nearing an end.
In his post-playing days, Knothe served for 29 years as a supervisor for Curtis-Wright Aeronautics in Woodbridge, New Jersey, before retiring in 1965. He also was a World War II Air Force veteran.
George Knothe died on July 3, 1981, and is buried in St. Joseph Catholic Cemetery and Mausoleum in Toms River, New Jersey. He was survived by wife Anna; son George C. and daughter Georgia Anne Crelin; a brother, Louis, and a sister, Ada Knothe; and nine grandchildren and three great-grandchildren.14
Sources
Ancestry.com
Baseball-Almanac.com
Baseball-Reference.com
Retrosheet.org
Notes
Born
January 12, 1898 at Bayonne, NJ (USA)
Died
July 3, 1981 at Toms River, NJ (USA)
If you can help us improve this player's biography, contact us.
http://sabr.org/sites/default/files/KnotheGeorge.jpg
600
800
admin
/wp-content/uploads/2020/02/sabr_logo.png
admin
2016-09-12 12:34:23
2016-09-12 12:34:23
George Knothe