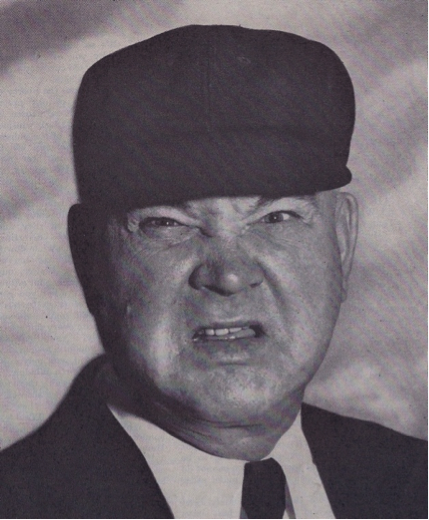 ---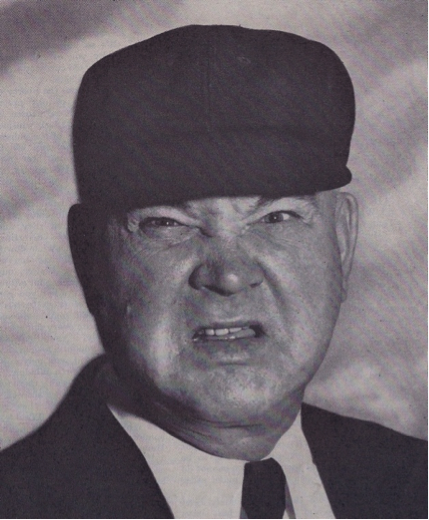 George Magerkurth was a National League umpire from 1929 to 1947, one of the best of the era. "He had bulldog features and disposition to match," said sportswriter Arthur Daley. "He had many faults but he was a colorful man of unassailable integrity who made rich contribution to baseball lore and legend."1 The New York Times called him "the most vociferous, gaudy and pugnacious of all the men in blue."2
Born December 30, 1888, in McPherson, Kansas, George Levi Magerkurth was the eldest child of Charles and Clara (Bangston) Magerkurth. Their surname was pronounced Major-Kirth.3 Charles, of German descent, was a boilermaker and carpenter; Clara was of Swedish descent. The family moved to Kewanee, Illinois, "the Boiler city," in 1894.4 George married Millie E. Gilmore in 1909; they resided in Moline, Illinois, and had five children.5
George played professional baseball as a young man. Primarily a catcher, he batted .203 combined in 1910 and 1911 with the Kearney Kapitalists of the Class D Nebraska State League. Ejected from a game on July 25, 1910, he later confronted the umpire at a hotel and "attacked" him, for which he received a 30-day suspension.6 It was a harbinger of things to come.
In 1912, Magerkurth played briefly for the Duluth (Minnesota) White Sox of the Class C Central International League7 before giving up his dream of a professional baseball career. For the next decade, he worked at various jobs near Moline but remained active in sports, playing baseball and football on local semipro teams.8 A guard on the gridiron, he stood 6-foot-3 and weighed 195 pounds.9
Magerkurth umpired in a local factory league,10 and in June 1922 he was hired to umpire in the Class D Mississippi Valley League (MVL). The Rock Island (Illinois) Argus praised his MVL debut, noting that "he has the size and voice to command respect." A week later, catcher Joe Sullivan of the Marshalltown (Iowa) Ansons, a known bully, challenged the new ump in a game at Cedar Rapids. After jawing with Magerkurth, Sullivan "advanced threateningly" toward him, and Magerkurth belted him, sending him to the hospital with a broken jaw. Belden Hill, president of the Cedar Rapids club, was impressed and telegraphed the league president: "You have a real umpire in Magerkurth. Hang on to him." Two months later, Hill predicted Magerkurth would one day umpire in the major leagues.11 This sentiment was echoed by "Iron Man" Joe McGinnity, who was a 51-year-old pitcher in the MVL in 1922.12
After the MVL season, Magerkurth was promoted to the Class AA International League, where he continued his fine work. "In addition to his keen baseball eye and brain," he had "six feet three inches of height and 217 pounds of beef (no fat) to back up his decisions."13 He seldom needed his fists, but when he used them, he made headlines. In the second game of a doubleheader in Baltimore on August 9, 1924, an on-field dispute erupted into a "near riot": "The excitement occurred when [Toronto's Eddie] Onslow, violently disputing a decision, was ordered out of the game. He hurled vile names at the arbiter [Magerkurth] for several minutes and finally the latter floored the athlete with a punch on the chin. Otis Miller, a teammate of Onslow, then knocked down the umpire and fists were flying thick and fast when police arrived to quell the disturbance."14
After a game in Baltimore on June 9, 1925, Magerkurth fought Buffalo manager Billy Webb under the stands; both were charged with disorderly conduct.15 And in the first game of a doubleheader in New Jersey on July 26, 1925, Magerkurth ejected Snooks Dowd of the Jersey City Skeeters, which "so incensed the crowd that the fans rushed on the field and attacked Magerkurth, while pop bottles showered about him from the stands. In the general mixup the umpire floored a fan with a punch to the jaw. Mounted police and others from the stands rushed onto the field and with difficulty protected the umpire from the crowd."16
In the riotous world of minor-league baseball, Magerkurth was fearless. After a game in Syracuse, an angry mob waited for him outside the ballpark. Before the police could arrive, he left the ballpark alone and spoke to the crowd: "Trot out your champions, one or two at a time, and I'll take them on." The crowd was suddenly "paralyzed," and "not a single man moved forward to accept the challenge." Magerkurth then walked safely to his hotel.17
The International League appreciated his work, and in October 1925, Magerkurth was given the honor of umpiring the Little World Series between the league's Baltimore Orioles and the American Association's Louisville Colonels.18 At his request, he was transferred in July 1926 to the American Association, so that he could work closer to his home in Illinois.19
During a game in Indianapolis on April 24, 1927, Magerkurth exchanged bitter words with Ivy Griffin, first baseman for the Milwaukee Brewers. Magerkurth went to Griffin's hotel that evening and demanded an apology. The men fought, with Griffin getting the worst of it. Magerkurth was fined $25 and given a 30-day suspended sentence for assault and battery.20 He later said, "I shouldn't have done it — but hell, I was mad."21
The incident forced Thomas Hickey, president of the American Association, to fire Magerkurth, yet Hickey recommended him to Harry A. Williams, president of the Pacific Coast League, who quickly hired him.22 Magerkurth did well in the PCL, and in November 1928 he was promoted to the National League.
Though he rarely fought, Magerkurth had a reputation that he was willing to fight and it served him well. Feisty ballplayers and managers would argue with him, but they avoided physical contact with the big man. When two rival players would square off to fight one another, Magerkurth would step between them and they would back away. He was both arbiter and policeman on the ball field, and he would not be intimidated.
In a game at the Polo Grounds on July 6, 1929, Magerkurth ejected John McGraw, the legendary New York Giants manager, for excessive arguing, though Magerkurth was a rookie ump and McGraw was in his 39th major-league season. Three years later, McGraw said Magerkurth is "one of the best umpires I ever looked at. He's the absolute boss out there. Nothing halfway about him. He has good judgment, and he's so honest it scares you."23
In 1931 sportswriter Thomas Holmes opined that only four of the 11 NL umpires "command the general respect and liking of ball players around the league": Magerkurth, Bill Klem, Beans Reardon, and Dolly Stark.24 "Most players agree that Stark, Magerkurth and Klem … are the cream of the crop in the National League," wrote sportswriter Harold Parrott in 1933.25
"The Major has everything it takes to be a great umpire," said an unnamed NL manager. "He has great power of personality, the sort of character essential to hold a ball game under control at all time. The players like him because he 'hustles,' as they put it. He never stands back and gives the impression that he is losing interest in the battle. He is the sort of umpire who is always in the game. Besides that, he has the distinctive note to his work which they call 'color.'" For example, when Magerkurth called a strike, he pronounced it in three syllables: "Stree-rock-oh!"26
Journalist Arch Murray described Magerkurth's "dual" personality: "Off the field, he's a mild-mannered, peace-loving citizen whose favorite pastime is playing hearts at the Elks Club back home in Moline, Illinois. Soft-spoken, easy-going, he's a good neighbor and a fond father and husband. … Put him on a ball field, though, and you wouldn't recognize the man. … He takes on the mien of a top sergeant drilling a band of raw rookies. He snorts confidence and his voice rings out with all the power of a bellowing bull. … The fellow oozes authority from every inch of his ponderous frame."27
But Magerkurth had his critics, notably managers Leo Durocher and Frankie Frisch, two notorious umpire baiters, and Casey Stengel, who felt Magerkurth was "drunk with authority."28 Durocher, who managed the Brooklyn Dodgers, argued so frequently with Magerkurth that the Brooklyn Daily Eagle called it "the usual Durocher-Magerkurth duet."29 Sportswriter Whitney Martin said the duet was more like "a terrier yipping at a St. Bernard."30
Frisch said, "I haven't always seen 'em as he called 'em," but conceded that Magerkurth is "a fine chap."31 Frisch liked to tease the big ump. Before one game he had his catcher deliver a lineup card to the ultra-serious Magerkurth on which Frisch had drawn butterflies and listed players by their initials. Magerkurth took one look at the card and roared, "Where's that Frisch? What the hell kind of lineup is this? What's he think this game is?"32
While Magerkurth tried to maintain order, he occasionally lost control of himself. During a heated dispute at the Polo Grounds on July 15, 1939, he exchanged punches with Giants shortstop Billy Jurges. Unsure who threw the first one, NL president Ford Frick gave Magerkurth and Jurges the same punishment – a $150 fine and a 10-day suspension.33 Sportswriters who witnessed the clash defended Magerkurth and claimed that "George had two strikes on him before he began to fight back."34 But Magerkurth said he and Jurges were equally at fault.35
Magerkurth used his fists again on September 16, 1940, at Ebbets Field. At the conclusion of the Dodgers' 10-inning loss to the Cincinnati Reds, an enraged Brooklyn fan went onto the field and attacked him; "the two exchanged blows and Magerkurth fell with the fan on top of him; the man continued to strike Magerkurth on the face until first-base umpire Bill Stewart put a headlock on the fan and pulled him off Magerkurth."36 Police arrested the assailant, a 21-year-old parolee named Frank Germano.37 The following spring, Germano's court case was dismissed after Magerkurth declined to press charges; as Germano left the courtroom, Magerkurth greeted him with a friendly handshake.38 Though he umpired with "a chip on each shoulder," Magerkurth had a big heart.39
After the second game of a doubleheader in Cincinnati on July 19, 1945, Magerkurth lost his cool and reached into the stands to punch a heckler. He gave the man a black eye, and it took "the combined efforts" of several ballplayers "to pull the big arbiter away."40 Magerkurth later apologized and settled the case by giving the fan $100 for his medical expenses.41
After the 1947 season Magerkurth decided to retire due to leg injuries. "I'm now in the buffalo class," he said of his 240-pound frame. "I could still go on — I'm only 59 years old — but the old knee says what's the use."42 In 19 major-league seasons he had umpired in 2,808 regular-season games, plus 22 games in four World Series, two All-Star Games, and hundreds of exhibition games. His final appearance was Game Seven of the 1947 World Series.
Magerkurth claimed Babe Ruth really did call his shot in Game Three of the 1932 World Series; Magerkurth was the first-base umpire that day and said it was his greatest moment in baseball.43 He picked Dizzy Dean and Carl Hubbell as the two best pitchers he had ever seen, and Rogers Hornsby as the best hitter. The greatest catch he ever saw was made by Terry Moore in the 1942 World Series.44 The worst city for an umpire? Philadelphia. The Philly fans were ferocious.45
In 1951, Leo Durocher was asked which umpire gave him the most trouble. "That's easy," he laughed. "George Magerkurth. Remember old Maje. That big bag of wind. He was the most stubborn guy I ever knew." But Durocher added, "What a guy. I sure miss him. We had some wonderful pushing contests together."46
In his retirement, Magerkurth played cards every day in Moline, smoked fat cigars, and spoke warmly of Durocher, Frisch, and Stengel.47 The big ump died in Rock Island, Illinois, on October 7, 1966, at the age of 77.
Photo credit: Harry Saltzman
Notes
Born
December 30, 1888 at McPherson, KS (US)
Died
October 7, 1966 at Rock Island, IL (US)
If you can help us improve this player's biography, contact us.
http://sabr.org/sites/default/files/MagerkurthGeorge.png
600
800
admin
/wp-content/uploads/2020/02/sabr_logo.png
admin
2016-07-24 14:22:42
2016-07-24 14:22:42
George Magerkurth