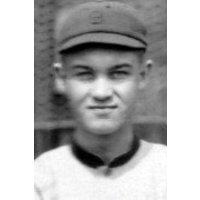 ---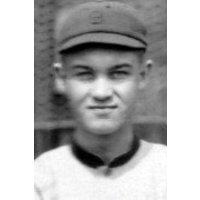 On March 9, 1914, youthful pitching prospect Harry Juul1 took two giant strides toward adulthood. Within hours, he signed a major-league playing contract with the Brooklyn Tip-Tops of the Federal League, and he married former high school classmate Hilda Marie Johnson. Shortly thereafter, Harry informed his doubtful father, "Yes, Pop. It's true. Hilda and I are married. You see, I've got a contract now and I can take care of her. I've got to make good."2 Regrettably, Juul found little success in either baseball or matrimony. In his brief stint with the Tip-Tops, his only duty in the big leagues, he posted a 0-3 record. Juul also went 0-for-3 as a husband, being long separated from his third wife when stricken by a fatal heart attack in January 1942. His life story follows.
Our subject was born Earl Harold Juul in Chicago on May 21, 1893. He was the youngest of three sons3 born to Danish immigrant Niels Juul (1859-1929) and his wife Hulda (nee Risberg, 1858-1897), a native of Sweden. By the time that Harry was born, ambitious father Niels had already established a thriving publishing business but was still a few years away from the start of a highly successful career in law and Chicago Republican Party politics. In time, Niels would become an Illinois state senator and serve two terms as a US Congressman. But Harry's role model was his brother, future Cincinnati Red Herb Juul, seven years older. Herb was a three-sport star at Chicago's West Division High School, and thereafter a baseball-basketball standout at the University of Illinois. The two resembled each other physically, being lightly framed 150-pounders, but at 5-feet-9, Harry was slightly shorter. He also lacked his brother's all-around athletic talent and thus chose to concentrate on baseball. On the diamond, both Juuls were pitchers, but Herb was a lefty and used exclusively as a hurler. Harry was a right-hander and good enough with the willow to occasionally double as a utilityman.
Following in his brother's footsteps, Harry matriculated to the University of Illinois. There, like Herb, he benefited from the tutelage of savvy baseball coach George Huff (who also served as a part-time scout for the Chicago Cubs). Earlier, Herb's time in an Illinois uniform had been short-circuited by summer pitching in the semipro Chicago City League. Once word reached university officials, he was declared ineligible for further collegiate competition after a single varsity season. Suspecting (likely with good cause) that Harry was following Herb's example and also pitching summer semipro ball, Coach Huff used him sparingly. He reserved Juul for preseason exhibition games against major-league clubs and non-collegiate opposition during the regular season.4
In early April 1913, Herb was already in the professional ranks and had pitched briefly for the 1911 Cincinnati Reds. Harry abandoned the university and signed a contract with the Milwaukee Brewers of the Class A American Association.5 He quickly proved unable to handle top-echelon minor-league hitters, and drew his release two weeks later.6 Juul subsequently landed a berth with the Wausau (Wisconsin) Lumberjacks of the Class C Wisconsin-Illinois League for $175 a month. In 17 appearances, he went 4-8 (good for a .333 winning percentage), a record about on par with a Wausau club headed for a seventh-place finish (45-80, .360). By then, however, Juul was gone. At midseason, he jumped Wausau to join the Cleveland Green Sox of the Federal League, a first-year outlaw minor-league circuit.7
In Cleveland, the 20-year-old blossomed into Green Sox field leader Cy Young's "best pitching bet."8 Juul's 7-7 won/loss record in 17 appearances was not eye-catching, but his 89 base hits surrendered in 125 innings pitched was first-rate. Whatever the basis, manager Young was a big Juul fan. The recently retired hurling great reportedly called Harry Juul "the best young pitcher he ever saw."9 Afterwards, Juul turned down "perhaps the largest salary [offer] ever made a young player," spurning a $500-per-month contract from Cleveland for the 1914 season.10 He then went home to Chicago to do some fall pitching for the Gunthers in the city league.11 Meanwhile, he weighed major-league offers from the Chicago White Sox and other suitors.12
Perhaps because he was on Organized Baseball's suspended list (courtesy of Wausau), Chicago and other clubs in the game's establishment ultimately shied away from pursuit of Juul. But the Federal League was expanding into metropolitan eastern venues like Brooklyn, Baltimore, and Buffalo and declared itself a major league for the 1914 season. Thus, a hot prospect like Juul had other options. In late January, Bill Phillips, manager of the reigning FL champion Indianapolis Hoosiers, announced the signing of Harry Juul. Phillips declared that "Juul will be a decided help to our pitching staff. I considered him the best young pitcher in the Federal League last year, and I feel sure that he can hold his own this coming season."13 Yet he evidently changed his mind quickly, releasing Juul during spring camp in early March.14 A week later came the double event noted in this profile's intro: On March 9, Juul signed a pitching contract with the FL Brooklyn Tip-Tops, and a marriage contract with 19-year-old Hilda Marie Johnson. Shortly after the couple's wedding at Chicago's Bethany Presbyterian Church, Harry headed south to join the South Carolina spring training camp of his new ballclub.15
Juul survived the cut and opened the 1914 season on the Brooklyn roster. He made his major-league debut on April 24, 1914, taking over for starter Rudy Sommers in the third inning with the Tip-Tops already trailing the Pittsburgh Stogies, 6-1. Harry pitched well until tiring late in an eventual 10-2 loss. After several passable relief outings, manager Bill Bradley gave Juul a May 19 starting assignment against his erstwhile employer, the Indianapolis Hoosiers. It did not go well for Harry, who surrendered six base hits and five walks before being yanked in the fourth inning with Brooklyn behind, 6-1. In the aftermath of the eventual 15-2 drubbing, reviews of his performance were not kind. "Juul lasted less than four innings and the wonder was that Bradley tempted fate that far," observed the New York Sun. "The only way this fellow could keep the Westerners from slamming the ball all over the field was to pitch it beyond their reach."16
Manager Bradley waited a month before giving Juul another start. This one went worse than the first, as Harry walked four and did not make it out of the second inning in a 6-4 loss to Baltimore. He was better in his third and final major-league start against Pittsburgh on July 10, taking a 3-2 lead into the seventh inning. Then, Juul "practically lost his own game," issuing two walks (of his eight total), allowing two base hits, and throwing a wild pitch in the three-run Stogies rally that earned him a 5-3 defeat.17
On July 30, 1914, Harry Juul completed his tour of duty with Brooklyn, turning in a dismal one-inning relief effort—three runs allowed on two base hits, a walk, a hit batsman, and a wild pitch—in a 9-2 loss to the St. Louis Terriers. A week later, Bradley publicly denied that Juul had been released,18 but he saw no further game action.
In late February 1915, newly appointed Brooklyn manager Lee Magee made it official, wielding "the axe on pitcher Harry Juul" and two others.19 Although Juul would go on to pitch another two years in the minors and in semipro ball, the Magee action brought his major-league career to a close. In nine appearances, Juul posted a 0-3 record, with a bloated 6.21 ERA. In 29 innings pitched, he allowed 26 base hits and 31 walks, while striking out 16. However, Harry's .222 batting average in nine plate appearances (with one run scored) was respectable for a pitcher.
In March, it was reported that Juul had been signed by the Toronto Maple Leafs of the Class AA International League.20 But without affording him a tryout or explanation, Toronto released Juul before the 1915 season started.21 By now, the Wisconsin-Illinois League had ceased operation, rendering moot the Wausau club's placement of Juul on its ineligible list. Yet he remained unsigned by any club in Organized Baseball. Instead, Harry spent the summer pitching for semipro clubs in and around Chicago, where he was now the father of a baby daughter named Lorraine. She would be his only child.
Any misgivings about Juul's eligibility were dissipated when his name appeared on the list of former Federal League players officially designated as free agents by the National Association of Professional Base Ball League's secretary, John H. Farrell, in January 1916.22 Two months later, Juul reentered Organized Baseball by signing, strangely, with the Toronto Maple Leafs.23 And as in the year before, Toronto released him before the season started.24 Dropping way down, Juul subsequently landed a job with the Erie (Pennsylvania) Sailors of the Class D Interstate League. He pitched ineffectively (0-2 in four games)25 and was quickly released.26
He soon got another chance, joining the last-place Mobile (Alabama) Sea Gulls of the Class A Southern League. On June 26, 1916, "Charlie Schmidt, manager of the Mobile team, announced that Harry Juul, a right-handed pitcher with Brooklyn last season, joined the team today."27 The circumstances were unusual. On June 18, Mobile third baseman John Dodge had been beaned and he died the next day. Boss Schmidt moved an outfielder named Wilcox to third base and shifted pitcher Pug Cavet to the outfield until he could find a regular at the hot corner. Thus there was an opening on the mound staff.28
In a 10-day tryout, Juul posted a 2-1 record, striking out 16 but walking 18 in 32 innings pitched.29 He also saw some duty in the Mobile outfield. On July 5, manager Schmidt "farmed pitcher Harold [sic] Juul to the Newnan club of the [Class D] Georgia-Alabama League."30 Juul won two of his first three starts for his new team, but thereafter his name disappears from newspaper coverage of the G-A League.
Harry Juul was still only 24 as the 1917 season approached, but any thought given to taking another stab at professional baseball was soon overcome by a larger event: America's entry into World War I. Harry and older brother Herb promptly enlisted. After a brief stint in officer training school, Second Lieutenant Earl H. Juul was dispatched to the Kelly Army Air Field in San Antonio. As with many other former major leaguers, Second Lieutenant Juul performed his military duty stateside, coaching air field athletic teams.31
With his pro baseball days well behind him and now working as a stock and bond salesman, Harry Juul reverted to his birth name, Earl. But much to the chagrin of his prominent Chicago Republican family—Congressman32 Niels Juul, Party-connected attorney Herbert V. Juul, and committeeman Roy E. Juul (cousin)—the name Earl Juul only seemed to appear in newsprint when he was having marital troubles. In March 1921, Earl's suit for divorce from wife Hilda, and his allegation that she had deserted him in January 1919, made a front-page news story for the Chicago Daily News.33
Press attention also attended Juul's divorce from his second wife, wannabe film star Jessie Davis Juul.34 In his divorce petition, Earl alleged that Jessie had "remained away from home last night"—she was reportedly on a Hollywood set filming a movie with Latin lover Antonio Moreno—and "refused to be congenial."35 In court, Juul testified that his wife "threw things at him on returning home from parties where drinks were served."36 No sooner had the ink dried on Divorce Number Two when Juul entered Marriage Number Three, taking 23-year-old divorcee Athalind Kellison, the daughter of a wealthy Detroit businessman, as his next bride.37 But that marriage did not work either.38
In November 1928, a Juul family tragedy set in motion the events that finally got Earl's name off newspaper gossip and society pages and into hard news. On election night, Herb Juul, Chicago Republican party campaign manager and a rising force in city politics, was monitoring voting results when stricken with severe abdominal pains. Rushed to a nearby hospital, exploratory surgery revealed that Herb was suffering from previously undetected pancreatic cancer near end-stage. He died a week later at age 42.
Although possessed of little more than a politically potent surname among Chicago Republicans, Earl succeeded his late brother as 35th Ward committeeman. But he lacked the family gift for politics and was defeated when he sought election in his own right in February 1930.39 The following year, Juul was a little-mentioned also-ran in the annual party committeeman contest. From there, he rapidly descended into obscurity, his name absent from the news, sports, and social pages for the ensuing decade. He lived alone in a Chicago hotel and worked as a stockbroker.
Afflicted with hypertension and hardening arteries, Juul suffered a late-night heart attack and died at Hines Memorial Hospital in the Chicago suburb of Proviso Township on January 4, 1942.40 Earl Harold "Harry" Juul was 48. The only survivors mentioned in a brief Chicago Tribune obituary were his married daughter Lorraine Juul Weylander and his older brother Niels Juul, Jr.41 Local funeral services were followed by interment in the Juul family plot at Mt. Olive Cemetery, Chicago.
Acknowledgments
This biography was reviewed by Rory Costello and Joel Barnhart and fact-checked by the fact-checking team.
Sources
Sources for the biographical detail recited herein include the Juul player file maintained at the Giamatti Research Center, National Baseball Hall of Fame and Museum, Cooperstown, New York; US Census reports and other governmental data accessed via Ancestry.com; and certain of the newspaper articles cited in the endnotes. Unless otherwise noted, stats have been taken from Baseball-Reference.
Notes
1 Our subject was born Earl Harold Juul. For reasons unknown to the writer, modern authority beginning in the early 1980s began to list him as Herold Juul. An effort to correct such entries is ongoing. During his time in baseball, he was known as Harry Juul, the name that will be used herein.
2As quoted in "Earl Juul Signs Two Contracts; Pitcher Weds and Joins Feds," Rockford (Illinois) Republic, March 14, 1914: 6.
3 His older siblings were Herbert (born 1886) and Niels, Jr. (1888).
4 Per the Juul obituary published in "Necrology," The Sporting News, January 15, 1942: 15. According to one unverifiable account, Juul had also pitched semipro ball in Calumet, Michigan during 1912, going 18-8 for a local nine. See the Hattiesburg (Mississippi) News, April 2, 1913: 5.
5 As reported in "The American Association," Sporting Life, April 5, 1913: 11.
6 Per "American Association Affairs," Sporting Life, April 19, 1913: 14.
7 Wausau promptly placed Juul on the club's suspended list, but that had no effect on his moving to the Federal League, a newly-formed circuit not affiliated with Organized Baseball.
8 Per "Juul Holds the Chifeds to Two Hits, Three Runs," Cleveland Leader, August 20, 1913: 10.
9 According to the Kansas City Star, November 18, 1913: 6.
10 See "Cleveland To Lose Juul," Kansas City Star, November 18, 1913: 6.
11 Ibid. At the time, Herb Juul was on Organized Baseball's suspended list, and supposedly Harry went home to fill the vacant pitching slot for the Gunthers created when Herb broke his arm in a September fall at the Juul family residence. See the Chicago Day Book, September 13, 1913, Vol. 3, p. 2.
12 See again, "Cleveland to Lose Juul," Kansas City Star November 18, 1913: 6.
13 Per "Phillips Is Whipping Hoosiers into Shape," Baltimore Sun, January 25, 1914: 8. See also, "Pitcher Juul for Federals," Sporting Life, January 31, 1914: 2.
14 As noted in Sporting Life, March 7, 1914.
15 See again, "Earl Juul Signs Two Contracts: Pitcher Weds and Joins Feds, Rockford Republic, March 14, 1914: 6. The marriage was also noted in brief items published in the Chicago Day Book, March 11, 1914, and Rockford Register-Gazette, March 12, 1914.
16 "Cy Is Pitcher When None Is in Demand," New York Sun, May 20, 1914: 13.
17 See "Tip Tops' Streak Broken," New York Times, July 11, 1914: 8.
18 As reported in the New York Evening World, August 4, 1914: 11.
19 Per "Baseball Bulletins," Chicago Tribune, February 26, 1915: 9. See also, "Three Players Let Out," Sporting Life, March 6, 1915: 10.
20 As reported in "Federal League Facts," Sporting Life, March 27, 1915: 17.
21 As reported in Sporting Life, April 10, 1915: 14. See also, "Released without Trial," Ordway (Colorado) New Era, April 30, 1915: 8, and Columbus (New Mexico) Courier, May 7, 1915: 5.
22 See "Many Players Loose from the Federals," Chicago Tribune, January 20, 1916: 12. See also, Sporting Life, January 29, 1916: 12.
23 As noted in "Official Bulletin, No. 7," promulgated March 1, 1916, and thereafter published in "Secretary Farrell's Bulletin," Sporting Life, April 15, 1916: 14.
24 See Sporting Life, May 13, 1916: 14.
25 Baseball-Reference provides no Erie stats for Juul, mistakenly attributing his Erie log to his subsequent tenure with the 1916 Mobile Sea Gulls of the Southern League.
26 As noted in "Official Bulletin, No. 15," promulgated June 23, 1916, and thereafter published in Sporting Life, July 8, 1916: 7.
27 "Chickasaws Send 'Cannon-Ball Robby' to the Dallas Club," New Orleans States, June 26, 1916: 49. See also, AP wire dispatch published in the Columbia (South Carolina) Record, June 24, 1916: 12, and elsewhere.
28 "This Time It's Roy Ellam's Bat That Gives Vols Win from Gulls," The Tennessean, June 26, 1916: 8.
29 Per Southern League (statistics)," Sporting Life, November 25, 1916: 10.
30 As reported in the (Little Rock) Arkansas Gazette, July 6, 1916: 12.
31 See "'Let 'Em Come' Is Kelly's Sweeping Defi in Basket Ball," San Antonio Light, December 15, 1918: 15.
32 Republican Niels Juul would serve two terms in Congress (1918-1922).
33 See "Niels Juul's Son Sues Wife," Chicago Daily News, March 12, 1921: 1.
34 Professionally, his second wife used the name Gloria Summers. See "Daily Graphic Review of News Events," Evansville (Indiana) Journal, December 29, 1924: 5, complete with photo of the then newlywed couple.
35 Per "Earl Juul Sues Second Wife," Rockford Republic, December 5, 1927: 15.
36 Per "Juul, Former Cub Pitcher, Divorces Movie Actress," Chicago Tribune, January 27, 1928: 23.
37 As disseminated by AP wire dispatch. See e.g., "Juul Weds," Rockford Morning Star, February 16, 1928: 7.
38 The third attempt at marriage also failed. Earl and Attalind Kellison Juul had been separated for years (and she was a permanent Los Angeles resident) by the time that Juul died in Chicago in January 1942.
39 Per "Huge Field of Candidates in Alderman Race," Chicago Daily News, February 21, 1931: 7.
40 As noted in the death certificate contained in the Juul player file at the Giamatti Research Center.
41 See "Earl Juul, 48, Former Pitcher of Cubs, Dies," Chicago Tribune, January 6, 1942. The deceased never pitched for the Cubs, but was often confused with his older brother Herb who signed with (but never pitched for) the Cubs in 1911.
Born
May 21, 1893 at Chicago, IL (USA)
Died
January 4, 1942 at Proviso Township, IL (USA)
If you can help us improve this player's biography, contact us.
https://sabr.org/sites/default/files/JuulHarry.jpg
600
800
admin
/wp-content/uploads/2020/02/sabr_logo.png
admin
2020-02-25 14:33:21
2020-06-23 17:18:00
Harry Juul