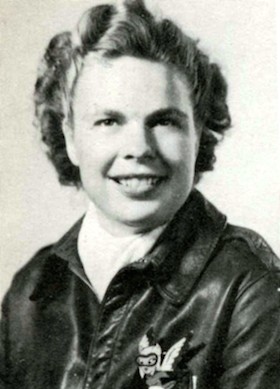 ---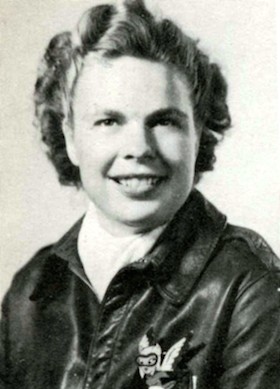 Helen Dettweiler was "The Girl of Summer" in 1938 when she became the first woman to broadcast professional baseball, according to The Sporting News. A promotional stunt for a radio sponsor, it was just one stop in a life of adventure.
She served as a World War II code-breaker and military pilot, and was one of the founders of the Ladies Professional Golf Association (LPGA). As a teaching pro, she played with President Eisenhower, comic Bob Hope, and many Hollywood stars. "Intelligent and unassuming, Helen Dettweiler considered herself a lazy person, but momentous events always seemed to find her," golf historian Rhonda Glenn wrote. "She was a tall, attractive woman with a wide smile and an easy, refined manner that made famous people feel at home in her presence. They liked Helen."1
Elizabeth Helen Dettweiler was born in Washington, DC, on December 5, 1914, to the former Helen Berens and William E. Dettweiler, who owned a restaurant and bakery. In a household with a sports-loving father and two younger brothers, she played tennis, football, baseball, and softball.
She took up golf in her teens to compete with her brother Billy, a top amateur. "I wasn't really interested in playing golf until he bet me an ice cream soda that I couldn't hit the ball three times if I aimed at it," she said. "I took the bet and lost."2 Two years later she won the DC women's championship. Early on she was recognized as one of the longest hitters. One sportswriter called her "the girl with a man's golf swing."3 She wrote and threw left-handed, but swung a club right-handed.
When Helen graduated from Trinity College in Washington, her grandmother gave her $500. The money paid for her first adventure. She spent the winter of 1935-36 in Florida playing golf against the best competition she could find. She traveled for several weeks with Babe Didrikson, the Olympian turned golfer, who got her nickname for her slugging on a baseball field.
Back home, Dettweiler won the Maryland state women's championship and began entering amateur tournaments around the country. She met Washington Senators owner Clark Griffith at Congressional Country Club in suburban Maryland and took a job in his office at the ballpark. Her duties included helping the team's broadcaster, Arch McDonald. That led to her own 15-minute radio show, The Woman's Side of Sports, on WJSV (now WTOP).
In 1938 Dettweiler talked her way into her pioneering baseball job. With Griffith's recommendation, she persuaded General Mills to send her on tour as a guest announcer in the dozens of markets where the company's Wheaties cereal sponsored major and minor league broadcasts. General Mills sent out a press release with a fashion-model head shot touting the 23-year-old "vivacious blonde" as baseball's first female broadcaster.4
She sold the tour to General Mills as a vehicle to attract women to baseball and, of course, to Wheaties. In a column for the Cincinnati Enquirer she wrote, "It has always been my contention that a game to be truly 'national' should provide entertainment for feminine as well as masculine spectators."5
Dettweiler joined McDonald on the broadcast of a July 4 doubleheader between the Senators and Yankees. Then she hit the road. Whatever General Mills paid her, the company got its money's worth. In addition to broadcasting an inning or two, she did radio and newspaper interviews at each stop and often played a golf exhibition. The US Golf Association, the sport's governing body, had ruled that the tour would not compromise her amateur standing.
While no complete record exists, it is documented that she broadcast two major league games in Cincinnati, with Red Barber and Harry Hartman, and one in Philadelphia with Bill Dyer. The Sporting News reported that she visited 25 cities in about two months.6
Sportswriters often derided baseball announcers as idiots, but the Rochester Democrat-Times's Jack Tucker said Dettweiler was an exception:
"We listened to Miss Dettweiler, a cream-complexioned blond girl who doesn't smoke, drink or say even as much as damn, broadcast the first inning of the Red Wing-Baltimore game Thursday night. She has something. Kept up a running line of comment, using vernacular that was almost flawless, and had to be corrected but once by Harry (WHAM) McTigue. This was when she had Versilich at bat instead of Crabtree. Helen is no phony on the air. She knows her fielder's choices and infield outs, and astounds doubting Thomases at fanning bees with her shrewd knowledge of technical baseball."7
Dettweiler had blazed a trail, but nobody followed. Only a few women appeared on baseball broadcasts in succeeding decades, usually as a gimmick. It was not until 1976 that the Chicago White Sox hired Mary Shane as the first full-time female announcer. In 2016 just two women were working regularly in major league broadcast booths: Jessica Mendoza on ESPN's Sunday Night Baseball and Suzyn Waldman on the Yankees' radio network. Others were confined to sideline reporting.
At the end of her baseball summer, Dettweiler went back on the amateur golf circuit. She turned professional after she won the high-profile Western Open in 1939, and signed a contract to promote Wilson golf gear. Women pros made their living from sponsorships by equipment manufacturers. Tournament winners earned no more than a few hundred dollars, far less than the men, and paying tournaments were rare. (The players were described as "businesswomen golfers," because someone decided "professional women" had a lewd connotation.)
The pros were nomads who drove thousands of miles to compete in exhibitions and conduct clinics. The 1941 US amateur champion, Betty Hicks, called Dettweiler her idol and envied her lifestyle, "travel[ing] around the country in a maroon Chrysler convertible with its Stuart-plaid upholstery and a horn that played 'The Campbells Are Coming' in bagpipe tones."8 It wasn't all glamour; Dettweiler survived at least two wrecks during her years on the road.
After Pearl Harbor Dettweiler put away her clubs and went to work as an army cryptographer in Washington. She was soon teaching code-breaking techniques to other women. In 1943 she joined the Women Airforce Service Pilots (WASP), an auxiliary of the US Army Air Forces.
Jacqueline Cochran, a celebrated pilot who became the first woman to fly faster than the speed of sound, had written to first lady Eleanor Roosevelt before the United States entered the war, urging that women be recruited as military pilots. The generals shot down that idea, but when the army faced a pilot shortage, it turned to women for noncombat duty. WASPs ferried new aircraft from factories to military bases, test-flew repaired planes, towed targets, and worked as flight instructors. Cochran was the unit's director, and Dettweiler served for a time as her assistant.
Dettweiler had already earned her pilot's license in small planes. "I had 20 flying hours to my credit when I discovered you needed 35 to enter the WASPs," she said, "so I hurried to Cleveland to get in the other 15."9 She was one of 13 women who qualified to pilot the B-17 Flying Fortress, the four-engine workhorse that could carry two tons of bombs.
The WASP was the adventure of a lifetime, but it didn't last long. When the army had trained enough men to fly, it disbanded the women's unit in December 1944. The pilots were sent home with a thank-you and nothing else, not even bus fare. They had been hired as civilian employees; they were not recognized as military veterans until 1977. Thirty-eight WASPs were killed during their noncombat service.
After the war Jackie Cochran, the WASP director, asked Dettweiler to put in a few golf holes on the California ranch Cochran owned with her husband. Dettweiler persuaded them to build a full nine-hole course and supervised construction, sculpting some of the sand traps by hand. Said to be the first course designed by a woman, it became part of Indian Palms Country Club.
Dettweiler joined other pros in working to create a women's circuit. "We didn't really think of the potential of the tour because there weren't that many lady golfers," she said. "Men's golf wasn't even doing very well. But we thought it was a great way for us to earn money doing what we liked."10 Their first organization, the Women's Professional Golf Association, patched together a few tournaments. Dettweiler was elected the WPGA's second president. She was professional runner-up in the 1946 National Women's Open, collecting a check for $1,000.
The world's most famous female athlete, Babe Didrikson Zaharias, joined the tour in 1947, but the WPGA was barely surviving. Thirteen players formed a new organization, the Ladies Professional Golf Association, in 1950 and hired Zaharias's manager, Fred Corcoran, to promote tournaments. The tour "was awful sick for awhile until Fred Corcoran came along," Dettweiler recalled.11 (Corcoran was also the business manager for Ted Williams and other athletes.)
Dettweiler was one of five players who signed the LPGA's original incorporation papers, and was elected its first vice president. The new association was not an immediate success; in 1950 the total prize money available was $50,000 for 14 tournaments.
Zaharias still dominated the tour; she was the best player, the biggest personality, and the meal ticket for the women's game. "I'm going to loosen my girdle and let it fly," she would say to the gallery.12 "She thinks she's the whole show," Dettweiler once told colleagues. "Which, of course, she is."13
Several LPGA players, including Dettweiler and Zaharias, appeared with other athletes in the 1952 Spencer Tracy-Katharine Hepburn film Pat and Mike. The script called for Hepburn's character to beat Zaharias on the golf course. Zaharias demanded that the scene be rewritten; she couldn't stand to lose even a fictional match.14
Dettweiler, who never won an LPGA event, left the tour in the 1950s to concentrate on her steady job as a teaching professional. Over several decades she taught at the Indian Wells, Indian Palms, El Dorado, and Thunderbird clubs in southern California, and the Neskowin Beach club in Oregon, where she established the Helen Dettweiler Invitational Tournament. Her pupils included show-business names such as Lucille Ball and Jack Benny, and she helped former President Eisenhower master approach shots when he played at El Dorado. In 1958 the LPGA honored her with its first Teaching Professional of the Year award.
She wrote a syndicated newspaper column, appeared on television, and contributed to Sports Illustrated's "Tip from the Top" feature. "Most women golfers are extremely conscious of the importance of body action in the golf shot," she wrote in one SI column, "but, probably because they have not had baseball training as many men have, they tend to ignore the importance of hand action."15
After retiring, Dettweiler opened a posh clothing shop in Palm Desert, California. Never married, she divided her time between homes in Palm Desert and Portland, Oregon. Her last adventures included photo safaris in Africa. She died of cancer at 75 on November 13, 1990.
During a reunion at a tournament in Texas three years earlier, writer Rhonda Glenn found Dettweiler sitting alone on the fringe of a noisy cocktail party, slowed by arthritis and looking older than her years.
"How did it all happen?" Glenn asked.
"Oh, a friend helped me here, a friend helped me there," Dettweiler replied, smiling. "I was lucky. I had a lot of friends."16
Photo credit
WASP Archive, Texas Woman's University, Denton, Texas.
Sources
Crossett, Todd W. Outsiders in the Clubhouse: The World of Women's Professional Golf. Albany: State University of New York Press, 1995.
"Girl Golf Pro Builds Course," Associated Press-Baltimore Sun, May 5, 1946: S6.
"Helen Dettweiler" biography at the LPGA website. http://www.lpga.com/players/helen-dettweiler/80411/bio.
"Helen Dettweiler to Become Woman Baseball Announcer." Washington Post, June 19, 1938: X2.
Morris, Peter. A Game of Inches: The Game Behind the Scenes. Chicago: Ivan R. Dee, 2006.
Official Archive, Women Airforce Service Pilots. Denton, Texas: Texas Woman's University. http://www.twu.edu/library/wasp.asp.
Notes
Full Name
Elizabeth Helen Dettweiler
Born
December 5, 1914 at Washington, DC (US)
Died
November 13, 1990 at Palm Springs, CA (US)
If you can help us improve this player's biography, contact us.
http://sabr.org/sites/default/files/DettweilerHelen.jpg
600
800
admin
/wp-content/uploads/2020/02/sabr_logo.png
admin
2016-11-01 22:08:48
2016-11-01 22:08:48
Helen Dettweiler