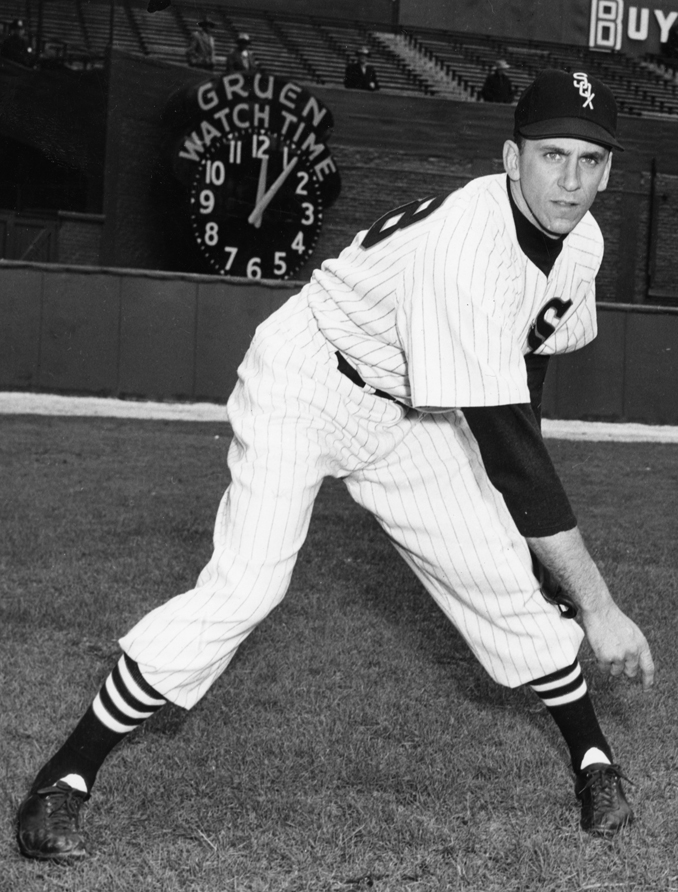 ---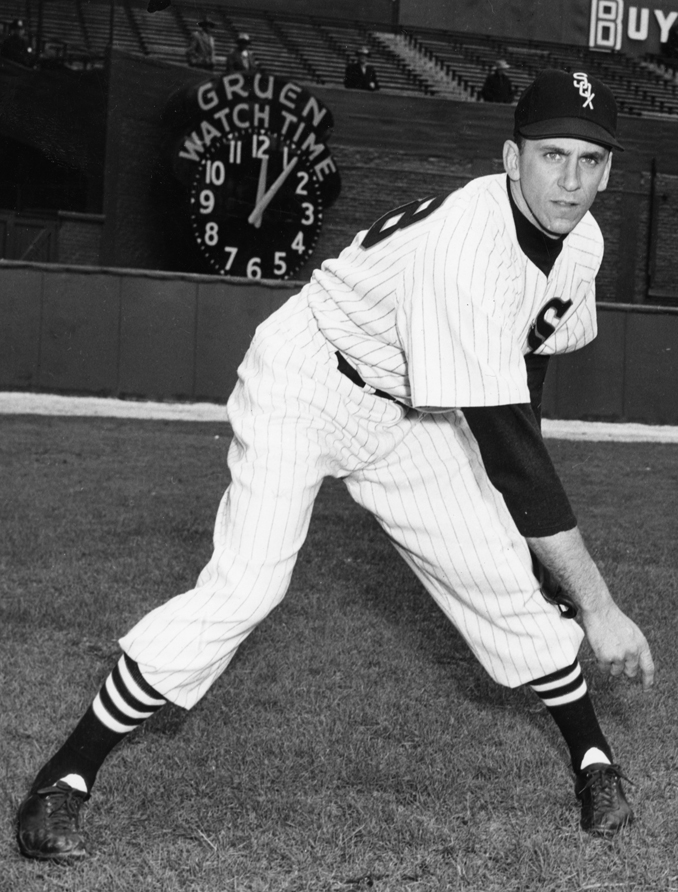 Pitchers have nightmares about a bullet back to the mound. Imagine having sight in just one eye to snare the ball. That was Howie Judson's reality in his seven-year major-league career.
Howard Kolls Judson was born on February 16, 1925, in Hebron, a village of about 600 residents in McHenry County, 75 miles northwest of Chicago on the Wisconsin border. He was the first of four children born to Illinois natives Clarence L. and Jessie Henrietta (Kolls) Judson (siblings Ruth Ann and twin brothers Paul and Phil followed, five and ten years later, respectively). The elder Judson, a contractor and stonemason, provided his family a sturdy middle-class environment. An athletic youngster, Howie was a two-sport star at tiny Hebron High School (total enrollment less than 100 students). On the hardwood, he was a high-scoring forward, whose "terrific one hand shot" helped him land a berth on the prestigious All-State High School basketball team in his senior year, 1942-43.1 [Nine years later, Paul and Phil were on the starting five that led Hebron high to the 1952 Illinois State basketball championship.2 The 6-foot-1, 195-pound right-hander also flashed a mean heater on the mound and a thunderous bat on the diamond for his school nine.
Widely recruited to play college basketball, Judson accepted an athletic scholarship to attend the University of Illinois in Urbana-Champaign in the fall of 1943. Coach Doug Mills' Fighting Illini squad was coming off a 17-1 record in the previous year, including a 12-0 slate in the Big Ten conference. Judson saw plenty of playing time his freshman season, highlighted by a 15-point game, including hitting a last-minute shot to hand the University of Kentucky its first of two losses that season.3 In the spring, Judson hung up his Chuck Taylors to put on his spikes for coach Wallie Roettger's baseball team. In the summer of 1944, Judson continued playing American Legion and semipro baseball in McHenry County. In his sophomore year at Illinois, Judson earned Honorable Mention on the AP All Western Conference basketball team (two teams were chosen; honorable mention was equivalent to the third team of players from primarily Big Ten and Midwestern schools), despite missing several weeks with an ankle injury.4 In the spring, Judson attracted big-league scouts, hurled an exhibition game against the Cleveland Indians, and showed his durability by going all 14 innings against Indiana University. A popular player, campus leader, and member of the Sigma Nu fraternity, Judson was named captain of his baseball team for his junior year, which he never started. He pitched in various summer leagues in northern Illinois, notably for the Sycamore Sons, then was drafted into the US Navy in mid-August, in the week after the United States dropped atomic bombs on Hiroshima and Nagasaki, Japan. He was stationed at the Great Lakes Naval Training Center, north of Chicago, and received an honorable discharge after three months,
Judson was back home in Hebron by January 1946, resumed his semipro basketball career, and returned to the diamond in the spring. In early May, he made local headlines by fanning 20 and cracking four hits for the Rockford Foresters in the Northern Illinois League.5 The next month scouts were back on the 20-year-old's trail. Doc Bennett of the Boston Red Sox, Bobby Mattick of the New York Yankees, and the Chicago White Sox skipper himself, Ted Lyons, watched him pitch.6 The excitement of one day playing for the South Siders proved to be a seduction Judson couldn't resist. He worked out with the team in July, impressing Lyons, himself a 260-game winner who had just retired as a player to take over the reins of the club. "He is a better looking prospect than I was when I came to the White Sox from Baylor University," quipped Sunday Teddy.7 On July 23, Judson signed with Lyons and GM Leslie O'Connor of Pale Hose.8
Judson spent his first few weeks as a professional baseball player sitting in the White Sox dugout during an early August homestand. He was then optioned to the Waterloo (Iowa) White Hawks in the Class B Three-I League, taking the mound seven times.
Back with Waterloo in 1947 in his first full season in O.B., the 21-year-old Judson proved to be one of the league's best hurlers. He finished in the top five in wins (16), innings (202), ERA (2.58), and fewest hits per nine innings (7.6). His 13th straight victory came in the league championship series against the Danville (Illinois) Dodgers. Finishing in fourth place in the regular season, the White Hawks captured an unlikely title.
Judson's success was also marred by a recurrence of a malady that would have far-reaching consequences in his playing career. In midseason he was hospitalized for the "same old trouble, his eyes," noted the Daily Sentinel of McHenry County.9 The problem dated back to his senior year in high school when he suffered a gruesome injury. He was hit in the left eye by a wire staple from slingshot at a game in Elgin and required emergency medical treatment.10 The injury never fully healed and was also the reason he received an early medical discharge from the service (and was rejected by the Army in 1950 during the nascent Korea conflict). In 1947, he developed an infection in that same eye which numerous eye surgeons, including one at the Mayo Clinic in Rochester, Minnesota, examined. "An infection has just about ruined the sight of my left eye," Judson once explained. "My right eye is perfectly normal. … I was told there was nothing that could be done for my left eye."11 He acknowledged just how dangerous his predicament had become by the time he began his professional career. "I do not see sharply hit balls which come back to the mound quickly enough to field them unless I just happen to stick my glove where the ball is." He claimed that he didn't require glasses to read, could see fine print easily, and also had no trouble tracking a bunted ball, but also suffered from severe headaches, especially on sunny days.
Judson's courage, self-denial, and concern for his team impressed his teammates throughout his playing career. "I'm just like any other ball player," he often said.12 He apparently never called attention to his eyesight, used it as an excuse for failure, became bitter, or looked for sympathy. "I've never met up a guy more self-sacrificing than Judson," said one admiring teammate.13
Judson was with the White Sox at spring training in Pasadena in 1948, but was considered a long shot to make the club from Class B. Essentially a fastball pitcher, Judson worked closely with Lyons to develop a curve and change of pace (though he never fully mastered them) and surprised everyone with his performances. On April 13, he held the Pittsburgh Pirates hitless for five innings for the second time in five days. Even though he faltered and the Pale Hose eventually lost both games, Judson's potential was clear.14 The team's potential was a different story. One report described the White Sox, coming off a 70-84, sixth-place finish, as "short of major league players" and suggested that "anything higher than [seventh place] in the final standing … would be put down as a modern baseball miracle."15 The White Sox experienced no divine intervention in 1948, finishing with the worst record in the majors (51-101); however, Judson almost did in his maiden appearance. Starting the club's third game, against the Detroit Tigers at Comiskey Park on April 22, "the fast ripening green pea" (one of Chicago sportswriter Edward Burns' unique monikers)16 tossed 5⅓ scoreless frames, but was tagged with the loss after yielding four hits and three runs and walking five in seven innings. Bombed for 12 hits and eight runs in his next start, Judson was moved to the bullpen and made only three more starts. He tossed three innings of no-hit relief, though he walked the leadoff batter in four straight innings, against the Cleveland Indians in the first game of a twin bill on May 16 at Cleveland Stadium to earn his first victory.17 It was otherwise a learning experience in a long season for Judson and the Chisox. Judson (4-5) led the club with 40 appearances and posted a 4.78 ERA (which was better than the 4.89 team mark) in 107⅓ innings.
Since 1920, the year after the Black Sox World Series scandal, the Pale Hose had been mired in mediocrity, or worse, finishing as high as third place just twice. GM Frank "Trader" Lane, in his second season with the club, vowed to shake things up and promised that fans would need a scorecard to keep track of the players in 1949. Windy City sportswriter Irving Vaughan tempered expectations, opining that "rebuilding a neglected big league club is more than an overnight task," and predicted that the team would once again "fight over the crumbs" with the St. Louis Browns and Washington Senators in the AL cellar.18 New skipper Jack Onslow, who at age 60 became one of the oldest first-time big-league managers in history, had 19 hurlers in camp in Pasadena and groomed young Judson for a starting role and a much needed dependable innings-eater. Judson debuted in the third game of the season, tossing five-hit ball over 6⅔ innings to beat the Tigers in the Motor City, 5-2, on April 21. He yielded two runs (one earned), but was plagued by what emerged as his career-long bugaboo, his control, walking five. No one could have imagined that it would be more than 13 months before Judson would notch another victory. He was bombed in his next start, then suffered a string of demoralizing tough-luck losses, including an extra-inning duel with the Cleveland Indians' Early Wynn, yielding a walk-off hit to Mickey Vernon in the 11th on May 28. He twirled seven strong frames against the Philadelphia A's on June 7, yielding just a run, but was collared with a loss to drop his record to 1-6, despite a robust 3.33. ERA. And then things careened out of control. As pressure mounted, Judson pitched poorly and was relegated to the bullpen in late June. Thrown an occasional bone in mop-up situations, Judson ultimately dropped 14 straight decisions and was also sidelined for three weeks with arm pain in a forgettable sophomore season, finishing with a 4.58 ERA in 108 innings (and also walking 70) and making 12 starts among his 26 appearances.
Despite Judson's abysmal 1-14 record, Onslow "remained optimistic about the youthful" 24-year-old hurler's chances of breaking into the rotation in 1950, reported Irving Vaughan.19 Nonetheless, Judson struggled with his control and began the season in the bullpen. He pitched well, giving up just one earned run in his first 13⅔ innings, but that tally resulted in his 15th straight loss. He finally ended that dubious streak by scooping up victories in relief appearances on consecutive days at the end of May. While the Pale Hose once again finished in sixth place, Judson emerged as a dependable reliever, posting a hardy 3.49 ERA in 43 appearances and 95⅓ innings as a fireman; in his three spot starts, he was hit hard, yielding 13 runs in 16⅔ frames. His 46 total appearances tied for third in the AL.
In 1951 Paul Richards became Judson's fourth skipper in as many seasons. "Given undivided attention during spring chores," according to Vaughan, Judson was nowhere to be found in the first month of the season.20 He finally made his first appearance on May 15. Dubbed sarcastically by Vaughan as the team's "secret weapon," Judson tossed seven rough innings in the White Sox' 9-7 slugfest victory at Fenway Park, but the 25-year-old hurler would soon catch a much-needed break. In consecutive Sunday twin bills, he won successive starts for the first time in his career, the latter of which was also his first distance-going victory. Not only did he hold the powerful Red Sox to seven hits and two runs in an 11-2 win at Comiskey Park on June 3, the notoriously weak hitter (14 safeties in 150 career at-bats) also picked up one of his seven lifetime RBIs. That victory kept the streaking Chisox (27-11) in first place, two games in front of the Yankees. At the end of the month, Judson ran his record to 3-0, going the route to beat the St. Louis Browns, 10-3, in the Windy City to push the Pale Hose 20 games over .500 (43-23), holding a half-game lead over the Bronx Bombers. Though the White Sox faded as the season progressed, Trader Lane held true to his promise of making the White Sox competitive again after almost 30 seasons of inconsequence. The fourth-place White Sox finished with a winning record (81-73) for the first of 17 straight seasons. Judson, who settled into a swingman's role, concluded the campaign by tossing a 10-inning complete game against the Browns on the South Side, copping the win on Bud Stewart's game-ending home run off Satchel Paige. The White Sox staff proved to be one of its strong suits with a robust 3.50 team ERA (only the Indians' 3.38 was better in the AL) and featured seven hurlers who started at least 14 games and logged 120 or more innings, including Judson (5-6, 3.77 ERA in 121⅔ innings).
Propelled by another strong pitching corps, with the league's second-best team ERA (3.25), the Pale Hose duplicated their record and moved up a notch to third place in 1952. Judson was the last man on a 10-man staff and saw little action, just four times after July 25. Making just 21 appearances — all of them in relief — and logging 34 innings, Judson saw the writing on the wall. On December 9 he was shipped to the Cincinnati Reds to complete an earlier deal on September 2 for journeyman flychaser Hank Edwards.
The Reds were coming off their eighth straight losing season and were in perpetual need of hurling since the glory days of the one-two punch of Paul Derringer and Bucky Walters a decade earlier. Skipper Rogers Hornsby seemed to wax poetic, gushing after seeing him in camp in Tampa that Judson "can be a winner for us if he learns to throw a curve or slider. His fastball is on par with the best."21 Judson's exhibition outings surprised everyone. Sportswriter Lou Smith of the Cincinnati Enquirer opined that "he has looked so impressive at times this spring that Hornsby and his coaching staff begin to wonder what was wrong with him."22 Judson unexpectedly won a spot on the rotation, but it was short-lived. He was hit hard in five starts, though he escaped with a 0-1 record, and was shunted to the pen. In mid-June he was optioned to Indianapolis of the Triple-A American Association, where he lasted just about five weeks, before he took another step down the ladder. He enjoyed a brief respite with Tulsa in the Double-A Texas League, gaining some national exposure by winning all 11 of his decisions with a 1.80 ERA in 90 innings as the Oilers bowed to the Texas Eagles in the league championship.
Judson continued his hot hand in the Puerto Rican Winter League, where he posted a 10-7 record in 130 innings for Mayagüez.23 He also set a league record by retiring 34 consecutive batters over two games.24 Birdie Tebbetts, in his first season at the helm of the Redlegs (as the club was known from 1954 to 1958 during the height of the McCarthy era), was hoping that Judson could keep lightning in a bottle a little longer. In his season debut, Judson held the heavy-hitting Milwaukee Braves scoreless for 6⅓ innings, yielding just three hits in a 6-4 victory in the first game of a twin bill on April 18 at County Stadium. But the clock struck 12 as Judson lost his next three starts and moved back into his accustomed role as swingman and mop-up artist. The Reds posted another losing campaign and Judson (5-7) made 37 appearances (8 starts) with a 3.95 ERA in 93⅓ innings.
With the offseason trade of Reds reliever Frank Smith, who had made at least 50 appearances in the previous four campaigns, Judson was in prime position to become Tebbetts' number-one man out of the pen. However, Judson suffered from what the Enquirer called a bad back and was sold outright to the Seattle Rainiers at the end of March.25
Judson spent five more seasons in professional baseball, posting a combined 40-47 slate, primarily as a spot starter and swingman. His best campaign was his first with the Rainiers of the Pacific Coast League, which had been elevated to an Open classification in 1952 (ostensibly one notch above Triple A), collecting 10 wins and carving out a 2.90 ERA in 186 innings while helping skipper Fred Hutchinson's squad to the league championship. He also hurled for the Miami Marlins of the Triple-A International League (and was a teammate of 50-year-old Satchel Paige, who won 10 games with a 2.42 ERA in 119 innings) in 1957, the PCL Portland Beavers in 1958, and finally the Denver Bears of the American Association in 1959.
At the age of 33, Judson hung up his spikes after 14 seasons in Organized Baseball. In parts of seven campaigns in the big leagues, he had a 17-37 record, started in 48 of his 207 appearances, and logged 615 innings. His lifetime 4.29 ERA, when adjusted to ballparks, was just about league average.26 He went 70-61 in parts of eight minor-league seasons.
Judson married Martha Ann Streeby, originally of Canton, Ohio, on February 20, 1955. They resided in Hebron. After his playing days, Judson was employed by the Stulper Company in Walworth, Wisconsin, about 12 miles northwest on Hebron, and worked in the shipping department. Howie and Martha relocated to Winter Haven, Florida, in retirement. On November 7, 2007, Martha died at the age of 87 and was buried in the Linn-Hebron cemetery.
Judson died at the age of 95 at a nursing home in Winter Haven on August 18, 2020.
Last revised: August 22, 2020 (ghw)
Acknowledgments
This biography was edited by Len Levin and fact-checked by Kevin Larkin.
Sources
In addition to the sources noted in this biography, the author also accessed Judson's player file and player questionnaire from the National Baseball Hall of Fame, the Encyclopedia of Minor League Baseball, Retrosheet.org, Baseball-Reference.com, the SABR Minor Leagues Database, accessed online at Baseball-Reference.com, The Sporting News archive via Paper of Record, SABR.org, the archives of the Chicago Tribune and Cincinnati Enquirer, and Ancestry.com.
Notes
1 Associated Press, "North Cagers Lay Plans for Roy Gatewood," Decatur (Illinois) Review, August 18, 1943: 10; AP, "Moline Ace on All-Star Five of Pat Harmon," Daily Times (Davenport, Iowa), March 31, 1943: 17.
2 Hebron's victory in the Illinois state basketball championship is steeped in lore. Scott Johnson and Julie Kistler's book Once There Were Giants: How Tiny Hebron Won the State Championship and the Hearts of Fans Forever (2002) is a good starting point for further information.
3 L.D. "Birdie" Gasser, "Here and There in Sports," Owensboro (Kentucky) Messenger, February 5, 1944: 5.
4 AP, "Here's the Team," Post-Crescent (Appleton, Wisconsin), March 6, 1945: 12.
5 "Judson Fans 20 Local Hitters, Rivals Win, 1-0," Belvidere (Illinois) Daily Republican, May 6, 1946: 6.
6 'Scouts Interested," Daily Sentinel (Woodstock, Illinois), July 1, 1946: 1.
7 "To Exhibit Jap P.T. Boat Here Monday," Daily Sentinel (Woodstock, Illinois), July 20, 1946: 1.
8 "Howie Judson," Daily Sentinel (Woodstock, Illinois), July 23, 1946: 1.
9 George E. Sullivan, "Put and Take," Daily Sentinel (Woodstock, Illinois), July 2, 1947: 6.
10 "'Howie' Judson, of Sox, Hebron, Gets Draft Call," Daily Sentinel (Woodstock, Illinois), August 17, 1950: 1.
11 Tom Swope, "Judson Denies He's Going Blind." [Unsourced article from 1954; from player's Hall of Fame file, Cooperstown, New York. Swope, who died in 1969, was a sportswriter for the former Cincinnati Post and Times-Star].
12 Harold C. Burr, "Judson Faces Dark With High Courage," Brooklyn Eagle, August 4, 1954: 17.
13 Ibid.
14 Edward Burns, "Sox Lose, 6-4, on Gustine's Grand Slam," Chicago Tribune, April 14, 1948: 31.
15 "Chisox Rated as Easy Marks in Flag Chase," Belvidere (Illinois) Daily Republican, April 14, 1948: 7.
16 Burns, "Sox Lose, 6-4, on Gustine's Grand Slam."
17 Judson was lifted after walking the leadoff hitter in the bottom of the 10th. He had walked the leadoff batter in innings seven, eight, and nine.
18 Irving Vaughan, "Vaughan Picks Indians to Win Pennant Again," Chicago Tribune, April 17, 1949: 67.
19 Irving Vaughan, "Platoon Plan Hits Baseball; Onslow Has Two Infields," Chicago Tribune, June 16, 1950: 45.
20 Irving Vaughan, "Sox to Unveil Secret Weapon in Boston Today," Chicago Tribune, May 15, 1951: 50.
21 Lou Smith, "SportSparks," Cincinnati Enquirer, March 2, 1953: 32.
22 Lou Smith, "SportSparks," Cincinnati Enquirer, April 5, 1953: 34.
23 "Puerto Rican Leaders. Final," The Sporting News, February 17, 1954: 27.
24 Harold E. Russell, "Sports Parade," Cincinnati Enquirer, January 31, 1954: 41.
25 "Redlegs Sell Judson; Rainiers Buy Hurler," Cincinnati Enquirer, April 1, 1955: 41.
26 His ERA + was 98; league average is 100, so Judson's ERA is 2 percent worse than league average.
Born
February 16, 1926 at Hebron, IL (USA)
Died
August 18, 2020 at Winter Haven, FL (USA)
If you can help us improve this player's biography, contact us.
https://sabr.org/sites/default/files/JudsonHowie.jpg
600
800
admin
/wp-content/uploads/2020/02/sabr_logo.png
admin
2018-04-27 00:36:12
2022-04-04 13:52:24
Howie Judson