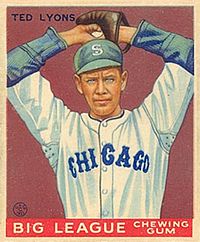 Ted Lyons is remembered as the "Sunday pitcher" who started only once a week for much of his career. But he completed more games than any other contemporary starter.
Lyons never played in the minors; he spent his entire career with the Chicago White Sox, who posted a winning record only five times in the twenty-one years that he wore their uniform. Lyons was one of the most popular players in the team's history, friendly to all and a clubhouse cutup except on the days he pitched, when he never shaved and his teammates knew to keep their distance.
Theodore Amar Lyons was born on December 28, 1900, in Lake Charles, Louisiana, and grew up on a farm in the heart of Cajun country. He started playing baseball with a rolled-up sock and a broomstick. At sixteen he weighed only 135 pounds and had to choke halfway up on his Joe Jackson-model bat. He soon grew bigger. When the Philadelphia Athletics spent spring training in Lake Charles, manager Connie Mack promised to pay the teenager's way through college if he would sign with the A's. "For all he knew," Lyons remarked later, "he might have been paying for an eight-year course—he didn't know whether I was dumb or smart."1 Lyons turned down the offer.
At Baylor University in Waco, Texas, he earned four varsity letters each in baseball and basketball, plus two in track. The baseball coach told him to forget about pitching and play the outfield instead. Lyons didn't take that advice, either. He became the team's pitching star. "I studied one term of law and then came to realize I had a little better fastball and curve than I did a vocabulary," he said.2 (Bill James repeated a story that Lyons went to Baylor on a trombone scholarship, but lost his scholarship when someone stomped on his trombone during a fight. That sounds like one of the tall tales that were Lyons' trademark.)
In the spring of 1923 the White Sox trained in Seguin, Texas. When several of the big leaguers dropped by Baylor's ball field, Lyons pitched to catcher Ray Schalk. Schalk recommended the young right-hander to manager Kid Gleason. The Sox signed him for a $1,000 bonus as soon as he graduated in June. He spent $428 of his bonus on a new Ford Model-T.
Lyons joined the White Sox in St. Louis. On July 2 he sat in the dugout watching the first major league game he had ever seen—until Chicago fell behind and acting manager Eddie Collins sent him in to pitch the final inning. "When I walked out on the mound, I felt enclosed," he recalled. "You see, I'd been used to playing on pastures, where when somebody hit a ball you had to stop it from rolling. Well, this field had fences around it. And of course in those days the Browns had big crowds, because they were usually contenders, so there was a lot of noise."3 He retired the side in order. He pitched eight more times that year, winning twice, with a 6.35 ERA.
In 1924 Lyons split his time between starting and relieving, but was not impressive: a 4.87 ERA in 216 1/3 innings. For the next six seasons, 1925-1930, he blossomed into one of the American League's best pitchers, twice leading the league in victories while winning more than twenty games three times (and losing twenty once). He accounted for 30 percent of his team's wins and finished in the top ten in ERA four times. But the Sox rose no higher than fifth place.
On September 19, 1925, Lyons held the Washington Senators hitless until two were out in the ninth. Even the Washington fans were rooting for him, but pinch-hitter Bobby Veach lofted a looping single over the first baseman's head. On August 21, 1926, Lyons started against the Red Sox at Fenway Park. The leadoff hitter, Jack Tobin, walked on four pitches. When Lyons threw ball one and ball two to the next batter, manager Collins ordered a reliever to get warm. But Lyons retired that man, then Baby Doll Jacobson lined to center. Johnny Mostil plucked the ball off his shoetops and doubled Tobin off base to end the inning. Lyons allowed only one more base runner, on an error, and finished his no-hitter by taking a toss from first baseman Earl Sheely and stepping on the bag for the final out.
He became friends with the erudite Princeton alumnus Moe Berg, a utility infielder for the Sox. Lyons said, "He makes up for all the bores in the world."4 On August 6, 1927, Lyons was scheduled to face the Yankees' Murderer's Row lineup. All three White Sox catchers were hurt, and they had just signed a replacement who arrived fat and out of shape. Lyons asked for Berg, who had served as the emergency catcher in only one major league game. The Sox beat New York, 6-3, as Berg made a spectacular play to tag a runner at the plate. The educated battery teamed up several more times. "In the years he was to catch me, I never waved off a sign," Lyons said.5 As the possibly apocryphal story goes, whenever Lyons allowed a runner to reach second base, Berg would stop flashing signs and he and Lyons would speak Greek to call the pitches.6 The pair later joined Lefty O'Doul on a visit to Japan, where they coached young players and laid the foundation for baseball's popularity in Asia.
Lyons also befriended Chuck Comiskey, the grandson of the Sox owner: "He was there when I was a kid bouncing around the ballpark. He was like a father to me. He was a very moral and high-class man."7 Years later Comiskey recalled, "I never knew anyone who disliked him or said an unkind word about him."8
Following the lead of his manager, Jimmy Dykes, Lyons was a raucous bench jockey and prankster. He and Red Sox outfielder Doc Cramer would try to sneak up on each other so they could smash an egg on the other man's head. Lyons entertained teammates and fans with a never-ending fund of stories. Many of them involved his own (imagined) feats as a hitter. "One day there were two out in the ninth and I hit a pop fly so high that the fans got tired of waiting for it to come down. So they all went home and listened to it drop by turning on the radio."9 He claimed to have played in an exhibition game at Joliet state prison until the warden ordered him to the bench because his line drives were punching huge holes in the prison wall. In real life, the switch-hitter was considered one of the best-hitting pitchers of his time, with a .233 batting average but no power.
Fortunately for those around him, he was usually good-natured. At five-feet-eleven and 200 pounds, he was a powerful man who would roughhouse like an overgrown boy, hoisting teammates and opponents off the ground. The Senators' Buddy Lewis said, "He was probably the strongest man I knew in the big leagues. He could pick me up by the shirt and just shake my damn teeth out."10 Lyons and Lou Gehrig liked to test their muscles by arm-wrestling. According to Chuck Comiskey, the wrestling matches stopped when Lyons noticed that he was winning too easily. Lyons told Jimmy Dykes, "You can't see it when he's at the plate, but something's wrong with him."11 (It's not clear whether this happened in 1939, when Gehrig was obviously ill, or the previous year, when the first signs of his decline went largely unnoticed.)
Despite his physique, Lyons was not a power pitcher. He struck out only two or three per game; his strikeout rate is the lowest of any Hall of Fame pitcher whose career started after 1920. His money pitch was a sailing fastball that he gripped along the seams and gave a twist as he released it. Today it would be called a cut fastball. The old-time pitching star Ed Walsh, a White Sox coach, encouraged him to use his slow curve as a change-up, and he became a master at changing speeds to keep batters off stride. In his early years he tried to fool hitters with a "pump handle" windup, swinging his arms above his head once, twice, or three times before delivering the ball. Above all, he knew how to put the ball where he wanted it and seldom walked a batter.
During his six-year run as the Sox ace, Lyons carried a heavy workload. He led the AL in complete games and innings pitched twice and pitched the second-most innings two other times. The load apparently caught up with him in 1931. At age 30 he came down with a sore shoulder and started only twelve games all season. The pain eventually diminished, but the injury changed his career.
"I lost the good stuff on my fastball," Lyons said. "I had to come up with something to keep me in the league. The knuckler rescued me then."12 He had thrown a knuckleball occasionally before his injury; after 1931 he relied on it more heavily, though he was never a pure knuckleball pitcher. He reinvented himself as a junkball artist, mixing in his slow curve and what was left of his fastball.
He returned to form in 1932 with a 3.28 ERA, although he finished 10-15 for a team that lost 102 games. From 1932-1934 he pitched more than 200 innings every year, but his workload shrank each season as his ERA rose. In 1935 manager Dykes began giving him six days' rest between starts, and he rebounded with a 15-8 record and a 3.02 ERA, his best in eight years.
Dykes designated him as the Sunday pitcher who would start one game of that day's doubleheader. "When I was a kid my mother wouldn't let me play ball on Sunday," Lyons said. "Then for three or four years that's the only day I played."13 He thrived on the lighter schedule, usually contributing a dozen or more wins each season with a better-than-average ERA. In 1939 he lowered his ERA to 2.76, the best of his career so far, in 21 starts. He was chosen for his only all-star team, but did not play. (The All-Star Game did not exist when Lyons was in his prime.)
The rookie Ted Williams asked his teammates about the White Sox veteran: "They'd say, 'Well, he's not real fast, but he's sneaky fast,' and 'His curve is hittable, but he gets it in good spots,' and 'You've gotta watch his change-up,' and 'He's got a knuckleball,' and 'The one thing you can't do, you can't guess with the son of a gun.'" Williams often named Lyons as the one of the toughest pitchers for him to hit: "Lyons was tough and he got tougher the more you faced him, because he'd learn about you by playing those little pitcher-batter thinking games, and he'd usually out-think you."14 He refined his control even more and led the AL three straight times in fewest walks per nine innings.
"Sunday Teddy's" popularity grew as he grayed. In 1940, when he led the league with four shutouts, the White Sox staged "Ted Lyons Day" and fans lavished gifts and cash on their old favorite. Newsboys who peddled papers outside Comiskey Park pooled their earnings to buy him a $7 shirt. One of the boys, Peter Prevan, said, "The papers were two cents. Ted would buy a paper and give me a quarter. He'd give the other kids dimes for ice cream."15
In 1942, his twentieth season in the majors, the forty-one-year-old completed all twenty of his starts, going 14-6 with a league-best 2.10 ERA. Then he joined the Marine Corps. He was too old for the military draft, but he was single without dependents. While he made no patriotic speeches about his decision to enlist, he had seen fellow players who had families sign up to do their part for the war effort. "So, take him away, marines," the Chicago Tribune's Irving Vaughn wrote, "but don't lose the return address."16 Lyons was commissioned a second lieutenant and eventually was promoted to captain.
Contemporary accounts indicate that Lyons spent a fairly comfortable war, serving as a physical fitness instructor while pitching for and managing Marine Air Corps baseball teams. Late in 1944 he joined service all-star teams made up mostly of major leaguers, including Ted Williams and Joe DiMaggio, that sailed to the Pacific to entertain the troops. After he faced DiMaggio in one of the games, he complained, "I left the country to get away from DiMaggio, and there he was."17 Lyons and Williams became friends during their stay in Hawaii—but only after he reassured the young slugger that, yes, he was as good a hitter as Babe Ruth. Williams also remembered Lyons' great strength: "When he grabbed you, you stayed grabbed."18 Lyons saw the Cardinals' budding superstar, Stan Musial, playing for a Navy team in Hawaii, and said Musial's unique batting stance reminded him of "a kid looking around the corner to see if the cops are coming."19
When the Marines discharged Lyons in November 1945, he was closing in on his forty-fifth birthday. He vowed to keep pitching until he was fifty. On April 21, in the first Sunday doubleheader of the 1946 season, he spun eight shutout innings against the Browns, but lost when they scored two unearned runs in the ninth. The next Sunday he went the distance again to beat the Browns, 4-3, for his 260th big league victory. It was his last. He started three more times and lost them all, though he was never hit hard. He had completed twenty-eight consecutive games, a streak stretching back to 1941.
Poor pitching didn't finish Lyons' career; his new job did. On May 23, 1946, Jimmy Dykes resigned after twelve years managing the White Sox. Lyons was the surprise choice to replace him. He later said he never wanted to manage. Inheriting a seventh-place club with a 10-20 record, he removed himself from the active roster and hired Red Faber, who had won more games than any White Sox pitcher except Lyons, as a coach. He offered a coaching job to Moe Berg, but Berg declined. Lyons shook up the lineup and tutored left-handed pitcher Eddie Lopat, who was developing into a baffling junkballer as his manager had been. Lopat led the team with thirteen victories and a 2.73 ERA. The White Sox went 64-60 under Lyons, but could not climb out of seventh place.
The Chicago franchise, once the strongest in the American League, was a wreck. The club had been mediocre-to-awful since the Black Sox were banned in 1920, achieving a winning record only seven times in twenty-six years. Every other AL team—even the St. Louis Browns—had won a pennant during that time. Founder Charles A. Comiskey had died in 1931 and his son and heir, Louis, died eight years later. That left the franchise in the hands of Louis's widow, Grace Comiskey, and her bankers and lawyers. Mrs. Comiskey held most of the stock in trust for her three children and delegated most decisions to the vice president and general manager, Leslie O'Connor, whose only baseball pedigree was his service as Commissioner Kenesaw Mountain Landis's secretary.
The roster was heavy with thirty-something journeymen; the only star, Luke Appling, was forty. The Sox edged up to sixth place in 1947, though they lost four more games than the year before. That winter they traded Lopat, their best pitcher, to the Yankees for three more journeymen. In 1948 they sank to the cellar, losing 101 times.
The sole male heir to the Comiskey heritage, twenty-two-year-old Charles A. Comiskey II, claimed his birthright and replaced O'Connor as vice president in 1948. Despite his respect and affection for Lyons, he did what most owners of a last-place team would have done: He fired the manager. Comiskey announced that Lyons had quit. Lyons responded, "I've never quit at anything."20
Ted Lyons had been the face of the White Sox for a quarter-century. He held club records for wins, innings pitched, and complete games. (He still does.) The Sox had finished as high as third place only twice during his career; many sportswriters later said his 260 victories would have been 300-plus with a decent team. "Sure, you'd like to finish higher; it would have been more pleasant once in a while," he said later. "And if we could have won a pennant, just one, to see what it was like, it would have been nice. But I never regretted being with Chicago all those years. It's a wonderful town, with wonderful fans, and I can't say enough for them."21
Lyons had no trouble finding work. The new manager of the Detroit Tigers, Red Rolfe, hired him as a coach. Rolfe said, "Ted, I guess you sort of hated to leave the White Sox." Lyons replied, "Not at all. When I signed my first contract 25 years ago, they said the job might not be permanent."22
For the first time in his professional career, Lyons put on a different uniform in the spring of 1949. Rolfe made him the first base coach, not the pitching coach. Since Rolfe had never managed in the minors or majors, he may have relied on Lyons' knowledge of other American League teams. Lyons stayed with Detroit for five years. Frank House, a bonus-baby catcher, remembered that "he was always the one who would buy the rookie pitchers a glove and a pair of shoes." House admired Lyons' watch, a new gadget equipped with an alarm. When House hit his first big league home run, Lyons gave him the watch.23
With the Tigers on the way to the first last-place finish in their history, Rolfe was fired in the middle of the 1952 season. Lyons was offered the job, but turned it down. Pitcher Fred Hutchinson was named manager. Hutch said, "When I'm pitching Ted Lyons is the manager of the club." He gave Lyons the authority to pull him from the mound.24 Lyons was let go when the Tigers shook up their coaching staff after the 1953 season.
Once more he quickly found a new job, this time as pitching coach for the Brooklyn Dodgers under rookie manager Walter Alston. After the 1954 season Alston was allowed to choose his own pitching coach, Joe Becker, and Lyons was released.
After thirty-one years in baseball, Lyons was out of the game for the first time in his adult life. But baseball was not through with him. He had been steadily gaining support in Hall of Fame elections since 1951; in 1954 he was named on 67.5 percent of sportswriters' ballots, close to the 75 percent required for election. The next year he went over the top, collecting 86.5 percent of the votes, second to Joe DiMaggio. Writers also elected another Chicago favorite, Cubs catcher Gabby Hartnett, and former Dodger pitcher Dazzy Vance. The Hall's Veterans Committee tapped Lyons' teammate Ray Schalk and old-time slugger Home Run Baker. At the induction ceremony in Cooperstown, Lyons thanked Schalk for helping him get started, and added "This is the greatest thing that can happen to a player after he ends his career."25
Lyons' 3.67 ERA is the second-worst among Hall of Fame pitchers, better than Red Ruffing's 3.80. However, his 118 adjusted ERA is equal to Tom Glavine's and superior to that of Steve Carlton, Nolan Ryan, and nineteen other Hall of Famers. (Adjusted ERA equalizes different eras and ballparks. Put another way, Lyons' ERA was 18 percent better than the average pitcher's.) Using a more advanced metric, wins above replacement, Lyons' 58.8 WAR ranks twenty-ninth among Hall of Fame pitchers as of 2011, with thirty-four others behind him; by that measure he is a mid-level Hall of Famer.26
The Hall of Fame election brought another benefit: The White Sox hired Lyons as a scout and minor league pitching instructor. He continued scouting for fifteen years. He never married, and lived with his sister Pearl on a farm in Vinton, Louisiana.
As he advanced into his eighties, Lyons' eyesight was failing and he had difficulty walking. In 1983 the White Sox wanted to retire his number 16 in a ceremony at the fiftieth-anniversary All-Star Game in Comiskey Park. Team Chairman Jerry Reinsdorf offered to send a private plane to pick him up, but Lyons wouldn't go. Reinsdorf said, "I think he declined because he would think it would have been embarrassing for him to have someone help him walk onto the field."27 Besides, Lyons said he didn't want his number retired; he wanted some young player to wear it.
Lyons' health continued to decline, and he died in a nursing home in Sulphur, Louisiana, on July 25, 1986, at age eighty-five. The White Sox retired number 16 the following year.
Notes
1 Donald Honig, Baseball When the Grass Was Real, reprinted in A Donald Honig Reader (Fireside/Simon & Schuster, 1988), 89.