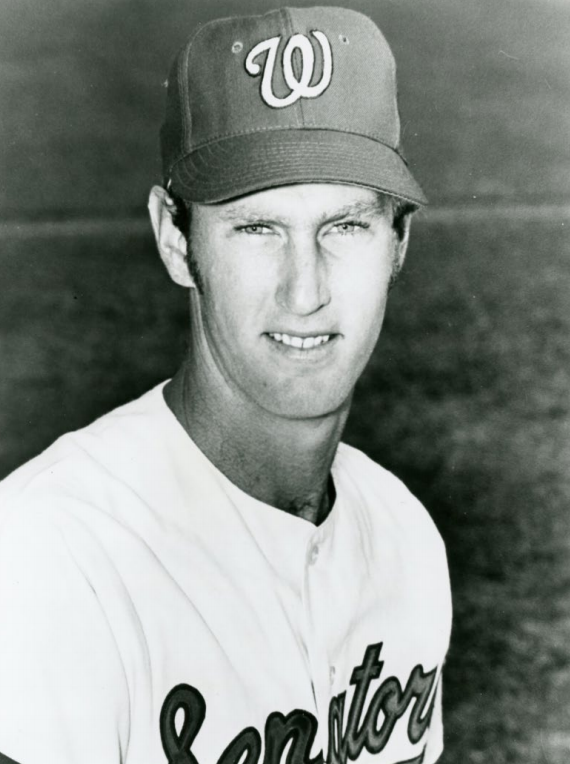 ---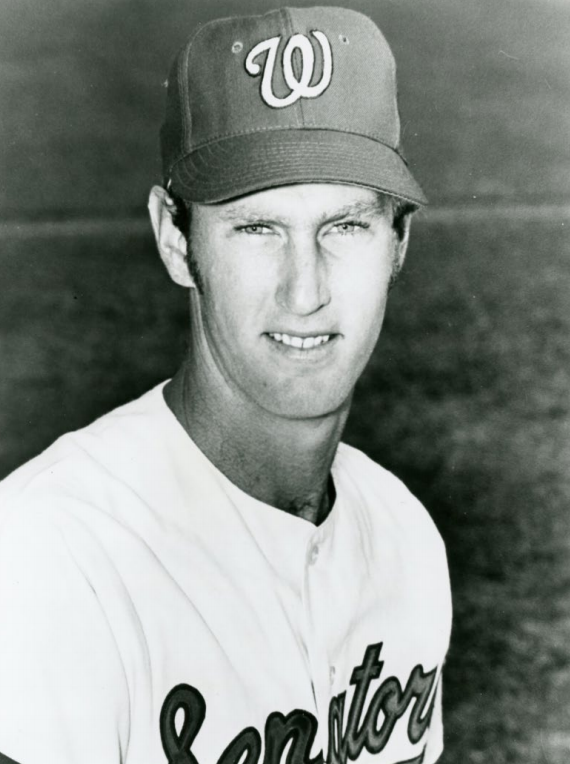 Jan Dukes was a left-handed pitcher who pitched in 16 games for the Washington Senators (1969-70) and the Rangers (1972) between 1969 and 1972. Exclusively a reliever in the major leaguers, Dukes had been a highly touted pitcher at Santa Clara College, where he remains a fixture in the schools' baseball record book. The Washington Senators thought enough of his professional prospects to draft him in the first round of the January 1967 supplementary draft. Arm trouble dating back to Dukes' college days severely shortened his professional career.
Noble Jan Dukes was born on August 16, 1945, in Cheyenne, Wyoming. During his childhood his family relocated to Millbrae, California, just south of San Francisco. Dukes attended Mills High School in Millbrae, where he became one of Northern California's most highly regarded prep baseball stars of the 1960s. The slightly built 5-foot-11 lefty relied on exquisite control and excellent offspeed and breaking pitches to baffle hitters. Longtime observers of Bay Area high school baseball consider the 1963 battle between Dukes and future Baltimore Orioles and Kansas City Royals pitcher Wally Bunker to be one of the greatest pitching matchups in the state's scholastic baseball history. Mills High School defeated Bunker's Capuchino High School 1-0 in 15 innings. Bunker, the game's incredibly hard-luck loser, struck out 23 batters in 15 innings. Dukes struck out 19 in 12 innings.1
Dukes accepted a scholarship to play baseball at nearby Santa Clara College. The Broncos had emerged in the early 1960s as a major college-baseball program. In 1962 they advanced to the championship game of the College World Series, losing to Michigan 5-4 in 15 innings. Dukes, one of 48 Santa Clara baseball players to reach the major leagues as of 2016, played for coach Sal Taormina, who transformed Santa Clara over 15 years (1965-1979) from an upstart college baseball program at a small Catholic college into a national power that made regular appearances in the NCAA baseball tournament. During Dukes' three years at Santa Clara (1965-1967), the Broncos posted strong records (29-11 in 1965, 27-17 in 1966, and 24-14 in 1967), but were never able to win the Western Collegiate Athletic Conference title or earn an at-large bid to the NCAA tournament. Despite chronic arm injuries, Dukes put together one of the finest pitching careers in Santa Clara history. Dukes' career 2.14 ERA is the Broncos third best as of 2016. In May 1967 Dukes threw a no-hitter against UC-Santa Barbara in his final collegiate game.2
In June 1966 the Baltimore Orioles selected Dukes in the fifth round of the amateur draft, but the southpaw chose to return for his senior year at Santa Clara. That summer, Dukes played for the semipro Boulder Collegians, a team made up of college stars, including future major leaguer Pat Jacquez, Dukes' Santa Clara teammate who pitched for the Chicago White Sox in 1971, and future San Diego Padres manager Greg Riddoch. In Dukes' season with the Collegians, they won the amateur National Baseball Congress championship.3
In January 1967 the Washington Senators selected Dukes eighth overall in the first round of the supplemental draft. He signed with the Senators in May after completing his college career.4 Dukes advanced quickly through the Senators' farm system in 1967. He pitched primarily for the York White Roses of the Double-A Eastern League but also made two appearances for the Hawaii Islanders of the Triple-A Pacific Coast League. Dukes compiled a 5-8 record with a 1.81 ERA in 17 appearances, all starts. After the season, newly appointed Senators manager Jim Lemon observed that Dukes "doesn't seem to have too much but he gets 'em out. And that's the important thing. He has great control and phenomenal poise."5
In 1968 Dukes impressed Lemon enough during spring training to remain with the major-league club late into March. He was in the mix for a spot in the bullpen but the 22-year-old instead spent the season with the Buffalo Bisons of the Triple-A International League.6 He struggled to an 11-13 record as a starter with a 4.75 ERA against the stronger competition. The following season Dukes improved considerably, going 11-10 for Buffalo with a 3.32 ERA. The 24-year-old Dukes' success in Buffalo in 1969 earned him a September call-up with the Senators, managed by Ted Williams.
Dukes made his major-league debut on September 6, 1969, against the Boston Red Sox. He allowed one earned run in three innings of relief in a 9-5 loss at Fenway Park. Dukes admitted feeling "a little shaky at first," telling the Washington Post that "I couldn't believe it in the bullpen that they were calling me." He ended up turning in a sufficiently solid performance to earn muted praise from his slow-to-offer-compliments manager, Ted Williams. "I think he was pretty good," Williams said of Dukes' three innings of work.7 In eight appearances for the 1969 Senators, Dukes finished with a 0-2 record with a 2.45 ERA in 11 innings pitched in relief. In both of his losses he put the winning run on base, but the winning hits were off other pitchers.
Dukes made the Senators' Opening Day 1970 roster as a relief pitcher. He appeared in the 1970 home opener, on April 6, pitching two innings of relief in a 5-0 loss to the Detroit Tigers. Dukes surrendered two runs, threw a wild pitch, and plunked the Tigers' power-hitting shortstop Dick McAuliffe.8 Dukes spent most of April with the Senators with no wins or losses in five appearances before being optioned to Triple-A Denver (American Association) on April 22.9 He did not return to the major leagues that season. Hampered by the arm troubles that would cut his career short, Dukes struggled with Denver, going 5-7 with a 4.10 ERA in 28 appearances, 14 of which were starts.
Dukes toiled away in Denver in 1971 and 1972, working almost exclusively as a reliever. In 1971 he appeared in 50 games with an ERA of 3.98. In 1972, his ERA ballooned to 5.19 in 34 appearances. Dukes made a one-week return to the major leagues, from July 15 through July 22, 1972, for the first-year Texas Rangers. During his final stint in the major leagues, Dukes wore number 37 for the Rangers, a change from his old number 22 with the Senators. He pitched in three games (2⅓ innings) and did not figure in any decisions.
Dukes made his final major-league appearance on July 22, 1972, against the Tigers, pitching a scoreless ninth inning in a 6-2 defeat. After the season, the Rangers released the 27-year-old Dukes. In 1973 he pitched in 12 games for the Peninsula Whips (Hampton, Virginia), the Montreal Expos' farm team in the International League, then had brief stints with the Saltillo Saraperos and Veracruz Aguila of the Mexican League, after which he retired at the age of 28.
Dukes appeared on one widely released baseball card during his brief major-league career. Topps placed Dukes alongside fellow Senators pitcher Jim Miles on a "Rookie Stars: Senators" card numbered 154 in their 1970 set.10
After leaving baseball, Dukes returned to the Bay Area and had a successful career as a businessman. He settled in Sunnyvale in Santa Clara County with his wife, Arlene, and his two sons. One of his sons, Kyle, was a standout pitcher in the mid-2000s for Homestead High School in Cupertino, California.11 In 2005 the San Mateo County Times inducted Dukes into its San Mateo County Sports Hall of Fame.12
This biography was published in "1972 Texas Rangers: The Team that Couldn't Hit" (SABR, 2019), edited by Steve West and Bill Nowlin.
Sources
In addition to the sources cited in the Notes, the author also consulted baseballalmanac.com, baseball-reference.com, SantaClaraBroncos.com, and various newspapers.
Notes
1 John Murphy, "Bunker-Dukes Classic was 50 Years Ago," PrepCat, April 12, 2013. Accessed on November 10, 2015: prep2prep.com/prepcat/?tag=jan-dukes.
2 "Santa Clara Broncos: Baseball Record Book," Santa Clara Broncos Baseball, 2015. Accessed on November 10, 2015: santaclarabroncos.com/sports/m-basebl/record_book.
3 Rory Costello, "Pat Jacquez," SABR Baseball Biography Project, 2011. Accessed on November 10, 2015; Zak Brown, "Collegians Provided Boulder With Plenty of Series Connections," Boulder Daily Camera, October 24, 2007. Accessed on November 10, 2015: dailycamera.com/ci_13090329.
4 "Pitcher Signs," Spokane Daily Chronicle, May 23, 1967: 43.
5 Bob Addie, "Lemon's Hopes High," Washington Post, November 4, 1967: D1.
6 George Minot Jr., "Cutting Winner Tough for Lemon," Washington Post, March 31, 1968: C4; Edward Prell, "Senators Skipper Has Visions of First Division," Chicago Tribune, February 20, 1968: C2.
7 "McMullen Continues His 'Swinging Right,'" Washington Post, September 7, 1969: 44.
8 "Nixon Sees Senators Drop Opener, 5-0," New York Times, April 7, 1970, 74; George Minot Jr., "Senators Tar Ball But Lack Pitch," Washington Post, April 5, 1970: 5.
9 "Ramos Cut, Hannan In, Dukes Out," Washington Post, April 28, 1970: D1.
10 "1970 Topps Senator Rookie Stars: Jim Miles, Jan Dukes," Rating the Rookies, June 17, 2015. Accessed on November 10, 2015: ratingtherookies.blogspot.com/2015/07/1970-topps-senators-rookie-stars-jim.html.
11 Rick Chandler, "Jan Dukes Is a Legend in County Baseball Lore," Oakland Tribune, May 31, 2005. Accessed on November 10, 2015: B14.
12 John Horgan, "Ten Sports Figures to Be Honored for Their Feats," San Mateo County Times, June 22, 2005. Accessed on November 10, 2015: insidebayarea.com/sanmateocountytimes/localnews/ci_2816747.
Born
August 16, 1945 at Cheyenne, WY (USA)
If you can help us improve this player's biography, contact us.
https://sabr.org/sites/default/files/DukesJan.jpg
600
800
admin
/wp-content/uploads/2020/02/sabr_logo.png
admin
2012-01-04 20:31:47
2012-01-04 20:31:47
Jan Dukes