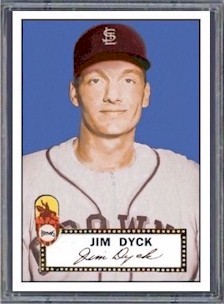 ---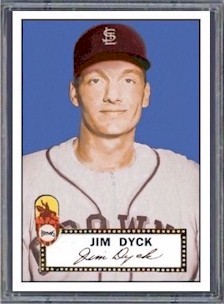 Jim Dyck's major-league career was relatively short and undistinguished. It spanned six years, four of which involved stints in the minors, only one season with more than 400 at-bats and a mediocre .246 average. In his brief stint with the 1954 Indians, Dyck had only two plate appearances. Yet during his career Dyck helped set a major-league record, saved a no-hitter, played for a pennant winner – and became the answer to a baseball trivia question. Dyck also represents something that is largely lost to baseball: the career professional player. Dyck began playing ball in 1941 with the Norfolk Yankees of the Western League. His last game came with the Vancouver Mounties of the Pacific Coast League in 1961. Like so many young men of his generation, Dyck's career was interrupted by military service during World War II.[fn]Various newspaper clippings for this biography are courtesy of Bill Francis, at the Baseball Hall of Fame, Cooperstown, New York. Thanks also to Joan Mamanakis, director of the Cheney (Washington) Historical Museum, for her guidance on questions of research.[/fn]
Dyck, of German extraction, was born in Omaha, Nebraska, on February 3, 1922, the son of Cornelius (Connie) Dyck, a bank teller, and his wife, Mary Jane.[fn]Thanks are due Jim Dyck, Jr., who through e-mails and a lengthy phone interview on January 3, 2011, provided a great deal of information and insight into his father's career and life.[/fn] Jim was the second of three brothers, Jack the oldest and Art. Jack died in a car accident at the age of 18. Art followed Jim into professional baseball.[fn]"Second Wreck Victim of Year," Jefferson City (Missouri) Post-Tribune, August 28, 1936.[/fn] When Jim was young the family moved to Jefferson City, Missouri, where his father opened Dyck's Bowling Alley. The business complemented Connie's talent for bowling, a skill passed on to Jim and Art, who each came to be excellent bowlers.[fn]Father's and sons' talent in local sports is reflected in various issues of the Jefferson City Post-Tribune from the late 1930s and early 1940s.[/fn]
Both Jim and Art fared well in baseball and basketball during high school and junior college.
While Jim was attending Jefferson City Junior College, his performance with the state amateur champion Jefferson City Red Birds attracted the attention of major-league scouts.[fn]Baseball Hall of Fame, Player File.[/fn]
In September 1940 after a New York Yankees tryout camp in Kansas City with over 300 hopefuls, Dyck was one of 12 offered a contract by Yankees scout Bill Essick, who negotiated with Dyck to pitch for Norfolk (Nebraska) in the Class D Western League the following April.[fn]"Jimmy Dyck Signs Contract to Play for Yankee Farm Club," Jefferson City Post-Tribune, September 18, 1940.[/fn] From there, it took Dyck ten years to make the majors, his progress impeded by military service in World War II.
In 1941 Dyck put together a respectable 9-6 record at Norfolk and played a few games in the outfield. The next spring he reported to the Fond du Lac Panthers in the Class D Wisconsin State League. While the right-hander's pitching fell off, he showed talent with the bat; of the 80 games he played in, only 20 were as a pitcher and 42 were at third base as he sported a non-pitcher-like .273 batting average.[fn]Minor league information from http://www.baseball-reference.com/minors/player.cgi?id=dyck–001jam[/fn] That year Dyck also met his future wife. One evening a Panthers fan took her friend to a ballgame. After the game, the friend introduced Charlotte Jane Holmes to Dyck and they hit it off immediately.[fn]James Dyck, Jr. e-mail, January 1, 2011.[/fn]
Dyck might have continued to climb through the Yankees organization but 20-year-olds stood little chance of continuing to play baseball in the early 1940s. World War II was in full stride and Dyck, like hundreds of other ballplayers, was called into the service, joining the Navy Air Corps as did his brother Art.
Jim Dyck, Jr. recalled that his father's baseball skills served him well in basic training: "One of his proudest moments was setting the record for the obstacle course. The first obstacle was a log that everyone crawled under. He told me he did a standup slide under the log and came up running. He never looked back and set the record." Dyck moved on to officer's candidate school, was commissioned an ensign, and was assigned to flight school. After winning his wings he was assigned to the USS Windham Bay, a support carrier in the Pacific. Before shipping out, Dyck married Charlotte on October 25, 1944. Their marriage spanned 54 years and produced two children, James Jr. and a daughter, Jamey.[fn]James Dyck, Jr. e-mail, December 30, 2010.[/fn]
On the Windham Bay, Dyck flew new Corsair fighters to the larger battle carriers and returned with planes in need of repair. Dyck and his fellow Windham Bay pilots had the right to turn down any plane determined not to be flyable, a decision often based on less than precise information. These return flights were not always routine. Dyck recalled several instances when a fellow pilot took off never to be seen again.
Dyck's combat experience was limited to several isolated strafing runs on enemy-held islands. Like so many other servicemen, he shared little of his experiences. Observing how this ultimately affected his father's playing career, Jim Jr. said, "I always felt being in the service cost him those years in the majors, and a pension as well. He ended up just a few months short of the necessary time to qualify but he was never bitter about that. He always took things in stride. He was just that kind of guy."[fn]Ibid.[/fn]
Discharged after the 1945 season, Dyck was assigned in 1946 to Joplin in the Class C Western Association, where he hit .364 and earned a late-season promotion to Quincy of the Class B Three-I League. He was now a third baseman; pitching was no longer in his future. (The career of Jim's brother Art took the opposite path; in 1943 he played first base in Class D as a Yankees' farmhand, but when he returned to baseball after the war, it was as a pitcher. Art advanced as high as Triple-A Syracuse before his career ended after eight seasons in 1953.)
For Jim, progress was slow through the loaded Yankees organization. By 1947 he had played for Kansas City and Newark teams, New York's top farm teams, where his performance, while solid, was not outstanding enough to warrant promotion to the majors. Dyck was with one of the most talent-competitive organizations in baseball.
On December 5, 1949, Dyck caught a break. He was acquired by the St. Louis Browns in the minor-league draft. Dyck had gone from one of the top organizations in the majors to one of the poorest, but after two solid seasons with the Browns' San Antonio farm club in the Texas League, batting .321 in 1950 and hitting 27 home runs in 1951, he made the major leagues.
Dyck often played ball during the winter. After the season, he and Charlotte traveled to Venezuela, where he began play in the Venezuela League and became caught up in a politically turbulent situation. The Venezuelan president was assassinated in Caracas and within hours rumors swirled about the capital that foreigners staying at the Hotel Savoy were celebrating his death. A contingent of police swept down on the Savoy, gathered up 15 players, herded them into trucks and took them to the local police station. Along the way, as The Sporting News reported, they were, "punched, shoved, herded along with the flat side of a machete." The situation seemed ominous as the police were armed with pistols, rifles, and machine guns. At the station, once their identity as baseball players was verified they were returned to the hotel. Within days of the incident, most of the players left the country despite apologies from local government officials and "$500 to forget the incident."[fn]"Venezuelan Cops Roughed U.S. Players, Says Hurler," The Sporting News, December 13, 1950.[/fn] Unlike most, Dyck let the incident pass. He explained, "They apologized for their mistake and I played in Caracas again. Can't beat the climate, the pay and there is no travel."[fn]"Dyck Gem in Browns' 'Jim-Dandy' Garden," The Sporting News, May 21, 1952.[/fn]
Dyck started spring training with the Browns in 1951 but was sent back to the Missions. The team again made it into the postseason playoffs. Dyck was a major offensive force, leading the league with 127 RBIs, and was named the league's Most Valuable Player. The 6-foot-2, 200-pound right-handed hitter slugged 27 home runs.
Dyck got a call-up to the Browns after the season along with teammate Bob Turley, who had been named the league's Pitcher of the Year. They made their major-league debuts in the last week of the season as the Browns were wrapping up a last-place finish. Dyck played his first game on September 27, starting at third base against the Detroit Tigers in front of just 560 fans. He went 0-for-4. Altogether he played in four games, getting one hit in 15 at-bats. At the age of 29, Dyck had reached the big leagues.
Once again Dyck was invited to the Browns' spring-training camp with an outside chance to make the team. While he had exhibited speed and hitting skill, there seemed to be a question about his fielding. His ability to make the team was enhanced when several outfielders, including Roy Sievers, were injured during exhibition games. Manager Rogers Hornsby shifted Dyck from third base to the outfield; he responded with timely hitting and ability in the field and made the Opening Day roster.
The Browns, long the doormat of the American League, were in dire financial straits at the time. Fewer than 300,000 fans had come to see them play in 1951. Thanks to owner Bill Veeck's numerous promotional efforts, attendance improved in 1952 but not to a financially sustainable level. This and a seventh-place finish led to another poor season for the Browns.
But Dyck had a decent rookie season. On May 2 he hit his first major-league home run, off Bill Henry of the Boston Red Sox. As the year progressed, Dyck was shifted to third as others were found wanting at the position. His play improved to the point that new manager Marty Marion called him "a standout," who "gets better with every game."[fn]"Coleman Joins Return Parade of Old Brownies," The Sporting News, August 4, 1952.[/fn] In July and August he hit eight home runs, capped off by a two-homer game against Chicago on August 12. The first home run tied the game in the eighth, the second won in in the 11th.
Continuing to do well, Dyck was honored with a "Jim Dyck Day" on September 14 at Sportsman's Park between games of a doubleheader with the Athletics. A contingent from Jefferson City, the state capital, including Missouri's lieutenant governor, was on hand and Dyck was presented a red Buick and fishing gear. The Browns were swept by Chicago.[fn]"Car, Gifts for Jim Dyck – Jim Dykes Wins Twin Bill," The Sporting News, September 24, 1952.[/fn]
For the season Dyck hit .269. He was second on the team to Bob Nieman in home runs with 15 and his .450 slugging average placed him among the top 15 in the American League. Dyck was named to The Sporting News' 1952 Rookie All-Star Team alongside such other notables as Eddie Mathews, Hoyt Wilhelm, and Dick Groat.
The Browns were satisfied with Dyck's performance. Marion observed, "Dyck is one of those 'naturals' a baseball manager dreams about. He plays any position – and plays it well – and while he is not a bulldog type … Jim's aggressive in his own way."[fn]"Rookie Award to Courtney Lauded by Manager Marion," The Sporting News, October 1, 1952.[/fn] Bill Veeck repeatedly described Dyck as one of his set players for the coming season. He backed up his praise with practical application. Dyck and seven other players were invited to Veeck's office during the offseason for "lunch," which turned into an impromptu contract-signing session, with Veeck, always the promoter, singing the praises of all concerned and arguing the Browns chances for the coming year.[fn]"Veeck Serves Contracts at Lunch; Seven Wield Pen at Mass Signing," The Sporting News, January 14, 1953.[/fn]
Dyck went into the 1953 season with an upbeat attitude: "I've come to the conclusion that next year I should do all right. After listening to the wise boys explain that it's to a pitcher's advantage to learn the league and know the men he's facing, so that he can improve himself after, say, a year, I've decided that the same theory works in the case of the batters. What's wrong with a batter studying the opposing pitchers and getting to know them better, so that he learns their style and knows how to hit against them after that first year."[fn]"Veeck Beams Over Gains; Stresses Star Young Trio," The Sporting News, October 8, 1952.[/fn] While he planned to fish during the offseason, he also looked beyond his playing days, opening a billiard parlor with his father in Jefferson City.[fn]"Bill Veeck Claiming Post-Season Title for Adding Players," The Sporting News, November 12, 1952.[/fn]
All the encouraging offseason talk could not mask the inevitable truth that Veeck was no longer able to sustain the Browns if they remained in St. Louis. Word spread that he was actively trying to shift the franchise to Milwaukee or Baltimore. Stymied by the intransigence of American League owners, Veeck was forced to sell out – but not without enduring a lame-duck season as a target of ire for outraged Browns fans.
The 1953 season also was a disaster for Dyck. He got off to a slow start, and by early May was hitting in the .140's with just one extra-base hit. On May 6 he was still mired in a slump when Marion gave lightly regarded reliever Bobo Holloman a start against the Philadelphia A's. Holloman had an 0-1 record with an 8.44 ERA, but threw a no-hitter in his first major-league start, before 2,473 fans. While most of the defensive focus was on a nice fielding play by shortstop Billy Hunter in the eighth to snuff out a hit, Holloman didn't forget an earlier play made while the game was still scoreless. When he said, "I owe it all to God, Hunter, and Dyck," Holloman was referring to Dyck's "leaping, twisting catch" at the left-field wall in the second inning of a ball off the bat of Gus Zernial.[fn]"Bobo Holloman Scheduled To Face A's Again Tuesday," Hartford Courant, May 8, 1953; "Holloman, Facing Axe, Hurls No-Hitter," The Sporting News, May 13, 1953.[/fn](About two months later Holloman was out of the majors, his no-hitter the only complete game he ever threw in the big leagues.)
Dyck's performance failed to improve appreciably. Marion thought his poor hitting might have been related to not having played winter ball. "Last year he came to us after playing winter ball and he was real sharp. Maybe that has been the difference in his play," the manager said.[fn]"New Third Sacker Ready for Browns – It's Mr. Shortstop!" The Sporting News, June 17, 1953.[/fn] By the end of May Dyck had been was replaced in the starting lineup and played sporadically thereafter. There was one highlight: On July 16, with only two home runs to his credit, Dyck came to bat against the Yankees at Sportsman's Park. Clint Courtney and Dick Kryhoski had just hit back-to-back home runs. Dyck hit a third. The three homers in succession tied a major-league record that was not broken until the Milwaukee Braves hit four in a row in 1961.[fn]"Brownies Homer Binge Knots Two Major Marks," The Sporting News, July 29, 1953.[/fn]
One of Dyck's teammates that season was the storied Satchel Paige. Paige, as Dyck recalled after his career, marched to his own beat, having just a passing knowledge of his teammates. Dyck was out of the lineup the day after he had had a particularly good day at the plate and happened to sit next to Paige in the bullpen. Paige said to nobody in particular, "Why aren't they playing that boy who was in left yesterday?" Dyck responded. "Well, that was me." "Then you ought to be out there today," the blasé Paige advised.[fn]Phone interview with Jim Dyck, Jr. January 3, 2011.[/fn]
The Browns stumbled through the '53 season, at one point losing 14 games in a row. With their crowds frequently under 5,000, it became apparent that they were not long for St. Louis. On September 27, the last day of the season, with the team down 2-1 to Chicago and with two outs in the bottom of the 11th inning, Dyck came to bat and flied out to center field, thus becoming the last player to ever bat for the hapless team. As if to epitomize the futility of the franchise, the Browns had run out of baseballs during the game and had to use what was left of scuffed-up balls. The ball Dyck hit had a large cut in it from previous use. Fans who had booed the team all season long had to wait only two days to learn that the St. Louis Browns were no more. Under pressure from the rest of the league's owners, Veeck sold out to a group that got permission from the owners to move east and become the Baltimore Orioles.
If the Browns finished on a dismal note, so did Dyck. After he had exhibited such promise the year before, his average had fallen off to .213, with just nine home runs. Under new manager Jimmie Dykes in Baltimore, his position was tenuous. The manager seemed to give Dyck short shrift, saying that "out of Don Lenhardt, Jim Dyck, and Dick Kokos and about 20 youngsters we're bringing to camp [we] ought to come up with a good left fielder."[fn]"Oriole Ducat Sale Given New Speed by Spieler Dykes," The Sporting News, January 20, 1954.[/fn] The year before, Dyck had been counted a mainstay. One of 12 outfielders on the Orioles' spring-training roster, Dyck found himself in a highly competitive environment. And he was the oldest.
The 1954 season was just four days old when Dyck was traded to Cleveland for infielder Bob Kennedy. While Indians manager Al Lopez indicated that he would use Dyck as insurance in the outfield and as a pinch-hitter, the likes of Larry Doby, Al Smith, and others made him expendable and he was sent to Richmond before getting into a game. Called up late in the season Dyck pinch-hit twice, drawing a walk once and singling against the Detroit Tigers.
Oddly enough, Dyck's two appearances for Cleveland paid him more per at-bat than any other appearance in his professional career. By the time of his recall, Cleveland had clinched the pennant. For having been on the Indians, even though briefly, Dyck was awarded $1,500 from the players' portion of the World Series revenue. For Dyck that translated to $750 per plate appearance with Cleveland.
As the 1955 season dawned, Dyck faced the same level of competition in the Cleveland outfield. He was again expendable, and was sold outright to the Indianapolis Indians of the American Association. Dyck proceeded to tear the league up in an effort to get back to the majors. He was leading the league in hitting in early July and Cleveland moved to recall him. The Indians were in the thick of another pennant race and needed pinch-hitting help. But Dyck found his path to Cleveland blocked by baseball bureaucracy. Commissioner Ford Frick voided the recall because a team could not sell a player's contract to a minor-league affiliate and buy him back until other teams had a chance to obtain him in the draft. He had originally been sold to Indianapolis because he had already been optioned the maximum three times. Dyck pleaded his case with Frick, arguing that he was being deprived of a pay raise and a possible share of World Series money. Frick told Dyck that rules were rules and had to be enforced.[fn]"Feller Beats Drums Against Dyck Deal," The Sporting News, July 13, 1955.[/fn] Indians general manager Hank Greenberg, embarrassed by his miscue, promised Dyck that he would try to sell him to another major-league team. Greenberg made good on his promise and arranged Dyck's sale to his former team, now the Orioles. Dyck left the American Association with a .378 average – more than 40 points higher than the eventual batting champ. (Dyck had only 78 games and 317 plate appearances, not enough to qualify for the title.)The Orioles, in last place and in need of offensive help, immediately put him into the lineup.
Dyck picked up with the Orioles right where he left off with Indianapolis. He crafted a 13-game hitting streak, and by the end of July was hitting .359. Among the reasons for the resurgence he credited playing just one position, outfield, and hitting to all fields, instead of trying to pull the ball in every at-bat, his new approach becoming the proper one for the cavernous Memorial Stadium.[fn]"Triandos Betters Orioles' Home Record With Nine," The Sporting News, July 27, 1955.[/fn] Eventually he cooled off and ended the season with a .279 batting average. On September 19 he hit a grand slam against the White Sox; it was the last home run of his major-league career.
Dyck led the Orioles in hitting during 1956 spring training, but was one of many vying for a position on the team. At 34, his age and lack of power worked against him. Manager Paul Richards, also the general manager, was on the lookout for young prospects and power hitters, and saw Dyck as expendable. Dyck later said, "I could see the handwriting on the wall in Baltimore."[fn]"In the Clutch," Jefferson City Post-Tribune, May 22, 1956.[/fn]
Off to a slow start and playing sparingly during the first month of the season, Dyck was sold to the Cincinnati Redlegs. He welcomed the trade to a team that was contending for the pennant. "This club certainly has the potential to go all the way," Dyck wrote to the Jefferson City Post-Tribune. He said Redlegs manager Birdie Tebbetts had advised that Dyck would be his number one pinch-hitter against left-handerd. Optimistically, he said, "If I can adjust myself to coming off the bench cold and get a few base hits in the clutch … I may be here until I am 40."[fn]Ibid.[/fn]
Not about to dent the starting outfield of Gus Bell, Wally Post, and Frank Robinson, Dyck had to adapt to being a bench player, a tough adjustment for one who had for the most part been a regular. It was an adjustment he could not make. After 11 at-bats and just one hit – as well as being thrown out at home three times, Dyck was sent to the Nashville Vols (Southern Association) as partial payment for infielder Tommy Brown. His last game in the majors came on July 22 as a pinch-hitter against the Pittsburgh Pirates. He struck out.
Dyck played only one game for the Vols. As his re-entry to the majors in 1955 had been marred by a bureaucratic mishap, so was his exit. When Brown reported to the Redlegs with a sore arm, the deal was nullified. It took the Redlegs two weeks to sort out the resultant muddle, and they eventually sent Dyck to the Seattle Rainiers in the Pacific Coast League.[fn]"Redlegs Finally Send Dyck to Minor Leagues," Hartford Courant, July 26, 1956. [/fn]
Dyck spent the rest of his playing career in the PCL, either for the Rainiers or the Vancouver Mounties. Jim Jr. recalled what his father said of those years: "My dad played because he loved the game. I don't think he ever really grew up. He always said he never worked, he was paid to play a kids' game. Back when he was playing, lots of players ended their careers playing in the PCL. They made good money in the PCL and the quality of the baseball was major league."[fn]E-mail from Jim Dyck, Jr., January 1, 2011.[/fn]
Dyck's last season was with Vancouver in 1961. He was a player-coach under future Orioles manager Billy Hitchcock. At the age of 39, playing part-time, Dyck retired after the season. He had coaching offers, and the Dodgers organization considered him for the manager's position with Spokane, but he turned them all down and happily retired to the bowling business. As much as he enjoyed playing, he shunned coaching, which he believed would require him to get into the political aspect of the game. Perhaps most importantly, he had two young children, James Jr. (born in 1953), and daughter Jamey (1954), and he felt that being absent on long road trips would not be conducive to their upbringing. For the Dycks it was the correct decision. His son recalled the many times he spent with his father bowling, fishing, or hunting, creating lifetime memories.[fn]Dyck phone interview, January 3, 2011.[/fn]
While playing in the Pacific Coast League Dyck had gained an appreciation for the Northwest. He and his brother Art decided to move to Cheney, Washington, where they opened a bowling alley. Eventually Jim Jr. joined the business. Dyck's running of Cheney Bowl was in keeping with his lifelong interest in bowling. As a young man he had won the Missouri all-state events when he was 17, and his skills never left him. In 1996 he was elected to the Spokane Bowling Hall of Fame.
On January 11, 1999, at the age of 76, Dyck died of cancer. He was survived by his wife, Charlotte, and their two children.
Dyck was not a major-league star, but he loved and respected the game, and in 21 years he was never kicked out of a game for improper conduct. He served his country to the detriment of his playing career. And in a profession where ego often trumps personal obligations, Dyck placed family as the highest priority, leaving a legacy more powerful than any batting exploit.
This biography is included in the book Pitching to the Pennant: The 1954 Cleveland Indians (University of Nebraska Press, 2014), edited by Joseph Wancho. For more information, or to purchase the book from University of Nebraska Press, click here.
Born
February 3, 1922 at Omaha, NE (USA)
Died
January 11, 1999 at Cheney, WA (USA)
If you can help us improve this player's biography, contact us.
http://sabr.org/sites/default/files/DyckJim.jpg
600
800
admin
/wp-content/uploads/2020/02/sabr_logo.png
admin
2012-01-04 20:49:29
2012-01-04 20:49:29
Jim Dyck