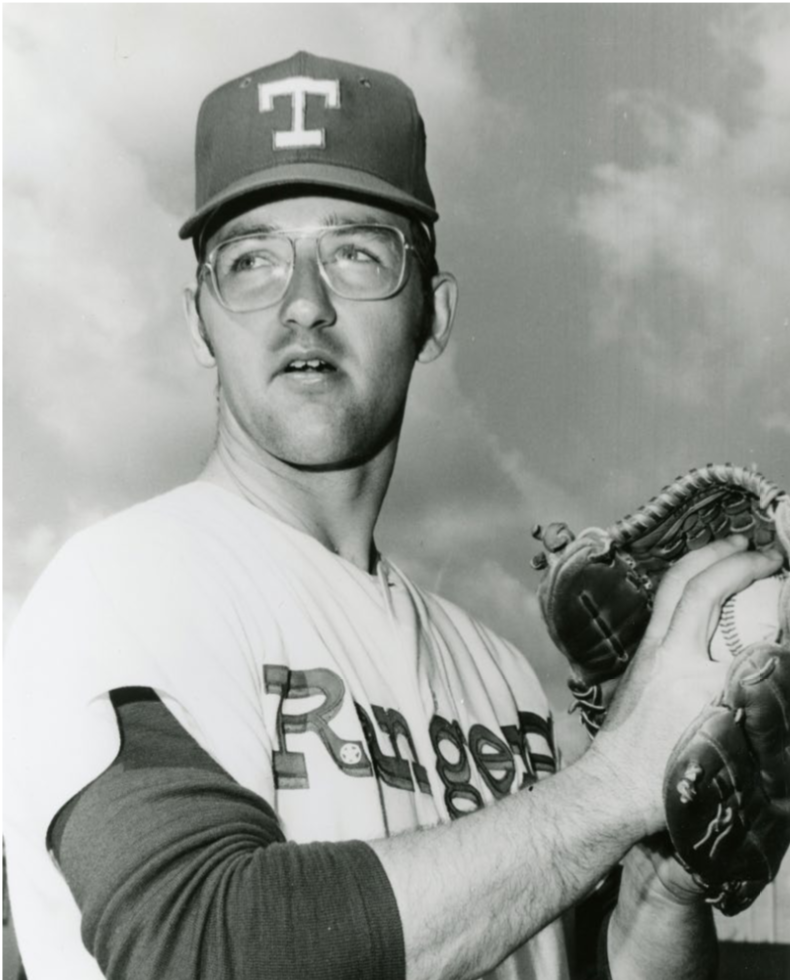 ---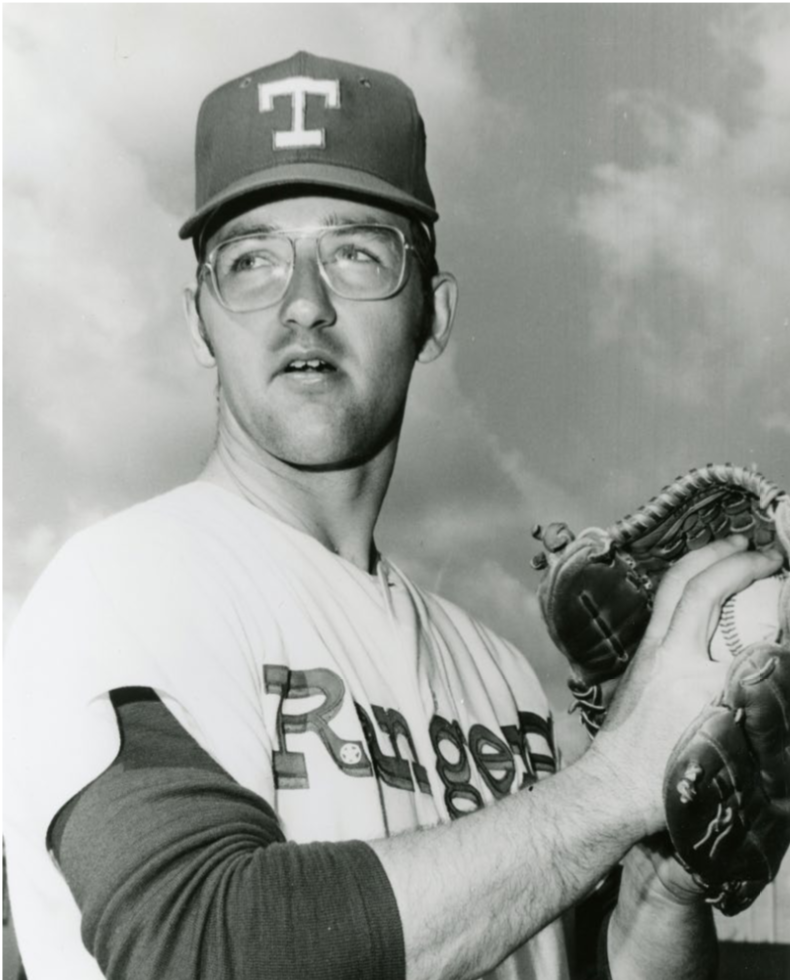 Although pitcher Jim Panther never appeared on a Topps baseball card, he nonetheless was able to stake a claim in baseball history as one of the original members of the Texas Rangers. After his relatively brief big-league career came to an unceremonious end, a new career in baseball began for Panther as a decorated high-school coach. "Yep, you can take Jim Panther out of baseball, but you can never take baseball out of Jim Panther," sportswriter Patricia Babcock McGraw wrote – a fitting way to describe a man who has dedicated his life to the game.1
James Edward Panther was born of German descent on March 1, 1945, in Burlington, Iowa, but grew up in the Chicago suburb of Highland Park, Illinois, where his parents had settled. His mother, Mary, worked as a buyer at a department store, and his father, Mark, worked in the education field – eventually climbing the ranks from teaching and coaching to an administrative position at Highland Park High School.2 Panther's brother, Mark Jr., rounded out the family in the Catholic household. Athletic genes ran in the family, as Panther's father was a one-time Big Ten Conference record holder in javelin for the University of Iowa (where he also played football), and an aspiring 1936 US Olympian until his hopes were dashed by an arm injury.3 Jim Panther was an accomplished amateur athlete in his own right at Highland Park High School, garnering an All-State Honorable Mention as a running back and quarterback in football, and being labeled a "tremendously clever ball handler" as a member of the varsity basketball squad.4 He was also selected as All-Conference in baseball, the recognition no doubt aided by what Panther deemed as one of his "biggest baseball memories": a perfect game he pitched against Libertyville High School in 1963 – the very school for which Panther later became head baseball coach.5
Panther had planned to accept an offer to play both baseball and football at the University of Miami (Florida) after graduating from high school in 1963. A broken leg suffered in his senior year while sliding into a base at the end of the baseball season derailed those plans, however. Although Miami offered him a spot on the roster for the following season once he had recovered, Panther decided to stay closer to home and enroll at Southern Illinois rather than deferring college for a year. In opting to become a college student, Panther felt it provided protection from being drafted into the military during those tumultuous political times.6 Despite passing on the opportunity at Miami, he did find his way onto the baseball squad at SIU, and made a positive impact for the squad's starting pitching staff. At one point during his junior season in 1966, the right-handed hurler boasted an impressive 19-inning scoreless streak as one of coach Joe Lutz's "top four pitchers."7 And at season's end, Panther's outstanding 0.94 ERA in 57⅓ innings was the second best all time for the Salukis (and remains fifth best on the all-time list through their 2016 campaign).8
Panther's fine performance at SIU during his junior year piqued the interest of the St. Louis Cardinals, who drafted him in the 26th round of the June 1966 Amateur Draft. He did not sign, however, opting to remain in school. "First of all, I didn't like the Cardinals. And second of all, they were loaded with too many other good pitchers," Panther later explained.9 Only a little more than seven months later, another big-league club came calling. On January 28, 1967, the Kansas City Athletics drafted him in the fifth round of the Amateur Draft (Secondary Phase) at the behest of scouting director Joe Bowman.10 This time, Panther decided to sign. "I signed with (Kansas City) and looking back, I probably should have just signed with the Cardinals," he reflected. "The A's were even more loaded than the Cardinals. But I went anyway."11 Although Panther therefore had to forgo his final year of college baseball eligibility, the Sigma Pi fraternity member still prioritized his education.12 He continued to take classes at SIU during the offseasons while playing professional baseball, and ultimately attained a master's degree in 1969.13
Panther had a hectic first season in professional ball in 1967, spending time with three of Kansas City's minor-league affiliates: the rookie-league GCL Athletics of the Gulf Coast League, the Leesburg A's of the Class-A Florida State League, and the Peninsula Grays of the Class-A Carolina League. The 6-foot-1, 190-pound "side-arm fastballer" had consistent success at each stop, not posting an ERA higher than 2.84 for any team.14 Between the three teams, Panther finished the year with a 3-2 record, a 2.09 ERA, and a 1.02 WHIP. He allowed only 25 hits while striking out 45 in his 43 innings of work over 16 appearances. Although he started only two games, one was a complete-game four-hit victory for Peninsula in late August – in which he featured an "excellently-controlled sinking curve" – to put the cap on his promising initial minor-league campaign.15 Panther initially had reservations about pitching primarily out of the bullpen, but grew to like it. "I really enjoyed pitching in relief last year," he said after the season. "I was afraid I wouldn't get enough work in relief, but it's so different from college ball as you get called upon much more often."16
Back with Peninsula for the entire 1968 season (by then an affiliate of the Oakland Athletics, who had relocated from Kansas City), Panther pitched mostly in relief again due to a logjam of capable starters on the Grays' staff.17 Although his 8-4 record in 38 appearances (3 starts) at season's end appeared impressive, examination of Panther's subpar ERA and WHIP – 4.61 and 1.52, respectively – indicated that he had suffered a sophomore slump of sorts. Notwithstanding this step back, Oakland promoted Panther to the Birmingham A's of the Double-A Southern League. He spent the entire 1969 campaign there, during which time teammate Pete Koegel tagged Panther with the nickname "Pink." Despite facing more formidable competition, the 24-year-old saw improvement as he settled into his now-familiar bullpen role. In 21 appearances, he finished the year with a 5-5 record, collected six saves, and dropped his ERA to 3.65 – nearly a full point lower than in his disappointing sophomore stint.
In addition to his time on the mound at Birmingham, 1969 was also a busy and important year personally for Panther. As he worked to complete his master's degree at SIU, he coached the Salukis' freshman baseball squad while he was a graduate assistant.18 And in the fall, Panther began what became a long career as an educator at Libertyville (Illinois) High School. The school's administration was able to accommodate the scheduling conflicts that naturally arose with having an aspiring big-leaguer on its teaching staff. "I've had the best situation here at Libertyville and when I leave, I'm just going to have to tip my hat to everyone," Panther later reflected on his unique employment situation.19
After his bounce-back year at Birmingham, Panther found himself promoted to the Triple-A level for the 1970 season. Once his teaching obligations had been met for the school year, he reported in June to the Iowa Oaks of the American Association.20 Panther acquitted himself nicely at the highest level of minor-league baseball. He became a mainstay in the Iowa bullpen, along the way posting an impressive late-season streak of 26 scoreless innings while the Oaks were in division pennant contention.21 In 35 appearances, Panther finished the year with a 1-1 record, a 2.64 ERA, and six saves.
Panther's fine season at Iowa was rewarded with his addition to Oakland's 40-man roster for the beginning of the 1971 season. Granted a leave of absence by his school so he could attend spring training with the big-league club in Mesa, Arizona, the side-armer performed reasonably well there.22 And with new Oakland manager Dick Williams dissatisfied with the performance of his relievers during the spring games, the bespectacled Panther found himself in a battle with his old teammate from Iowa, LaDon Boyd, for the final spot on the Athletics' pitching staff.23 Ultimately, the future Hall of Fame manager decided to retain the services of Panther. "We decided that Panther would be a little better in relief because of his good sinker pitch," Williams explained.24 Panther did not have to wait long to see his first big-league action. In Oakland's first game of the season, on April 5 in Washington against the Senators, he was inserted into the game in the second inning to replace struggling starter Vida Blue. Inheriting a bases-loaded situation, Panther promptly uncorked a wild pitch that allowed a run. He got the next batter to fly out to end both the inning and his major-league debut. Making his second appearance for the Athletics only two days later in relief of starter Rollie Fingers, Panther allowed a disastrous six earned runs (including four from a grand slam) in only 1⅔ innings of work in being tagged with the loss to the Chicago White Sox. After two additional unremarkable appearances, Panther was sent back to Iowa in mid-April, with his roster spot taken by pitcher Marcel Lachemann. Manager Williams reportedly wanted to give Panther "regular pitching assignments," while believing the veteran Lachemann would be more effective in spot relief for the club.25 Panther's disappointing final statistics in his first stint in the big leagues included an 0-1 record and 11.12 ERA in 5⅔ innings pitched.
Resuming his 1971 campaign in Iowa, Panther initially returned to his comfortable bullpen role. But as the Oaks hit a bit of losing skid against division rival Indianapolis, Panther was given a rare start in late-May. "Panther deserves a start," team owner Ray Johnston succinctly explained.26 Making the most of his first start since 1968, Panther provided "tight pitching" in picking up a complete-game victory over Evansville, and with subsequent solid starts earned his way into the starting rotation. "I've put Jim in our starting rotation because anybody with an arm as strong as his deserves a chance to use it in a lot of innings," manager Sherm Lollar said. "Besides, he might earn himself a call from the Oakland club."27 Although that call never came, Panther was given the honor of a selection to the American Association All-Star team in July.28 Panther finished the year with a 10-10 record and a 3.63 ERA in 30 games (21 starts) for the Oaks. He completed six of the starts, including one shutout.
Back on Oakland's 40-man roster for the 1972 season, the "subdued and almost introverted" Panther was a holdout during spring training because of "money problems with [Oakland team owner] Charlie Finley."29 At the same time, the Athletics were dealing with a thin starting pitching staff due to the lingering holdout of Vida Blue and an injured Chuck Dobson.30 Hoping to strengthen its starting staff, on March 4 Oakland decided to acquire controversial one-time 31-game winner Denny McLain from the new Texas Rangers franchise – formed when the Washington Senators relocated to Arlington for the 1972 season. In exchange, Texas received Panther and fellow minor-league pitcher Don Stanhouse. "We made the trade for youth," Rangers owner Bob Short said.31 While Stanhouse was viewed by many as the "big man" for Texas in the deal, Oakland scout George Bradley felt Panther was being unfairly overlooked. "Panther is a smart pitcher who just might make the jump," Bradley opined.32 Owner Short also expressed confidence in his new side-armer, stating that he believed Panther "could win for us this year."33 Panther himself was pleased about the opportunity to join the Rangers. "I felt the trade was good for me because of the fact that I'd get a better chance to pitch over here. Actually, getting traded was a big break for me," he said.34 Expert analysis of the deal generally indicated that Panther would likely be vying for a spot in the Rangers' bullpen – despite his success as a starter in Iowa during the previous season. Panther was open to any role presented to him, although concerned about having missed a significant portion of spring training because of his contract dispute in Oakland. "Here [Texas], anything they want me to do is all right. But I know I'm off to a late start and I'm worried about catching up with the rest," he confessed.35
Panther did indeed catch up, opening the season on the big-league roster. "I had my doubts about (Panther), although coming out of spring training I thought he could help us," said Rangers pitching coach Sid Hudson.36 Panther made an immediate impact, picking up his first major-league win in relief against Nolan Ryan and the California Angels in only his second appearance of the year. After the game, Panther believed teammate Horacio Piña was awarded the victory. "You mean they gave me the win, not Pina? Well I'll be darn. Gee, that makes me happy, but I would've never expected it," Panther said upon learning he was in fact the winner.37 Feel-good victory aside, Panther struggled during the first month of the season, posting a 9.45 ERA through mid-May. He settled down from that point, however, not allowing an earned run in 13 of his next 14 games. Panther's improvement was attributed in part to his work with Hudson on creating a variety of release points in addition to his usual side-arm delivery. "Really, I didn't think I was throwing that bad at the first of the season, but I can see a definite improvement now," Panther said. "Confidence, of course, is a big thing, and I've got a lot more of that now, particularly since I'm getting to pitch pretty regularly. But also I'm pitching smarter now, I think."38 His pitching coach echoed his sentiments. "Jim was real nervous those first couple of times, you could tell that. But he kept working at it, kept plugging away and now he looks like a different pitcher out there. He's got a lot of poise and confidence. He's challenging people," coach Hudson said.39 Panther became a mainstay in the Texas bullpen for the rest of the season, and finished the season strong, not allowing an earned run in 12 of his final 13 appearances. By season's end he had compiled a 5-9 record with a 4.13 ERA over 93⅔ innings pitched in 58 games.
Finishing its inaugural season in 1972 with a dreadful 54-100 record, Texas sought to add some punch to its listless lineup in the offseason in hopes of improving on their major league-worst .217 team batting average.40 To do so, on October 27 the Rangers dealt Panther to the Atlanta Braves for former batting champion Rico Carty. Although he did not know he would be dealt, Panther was not completely blindsided by the transaction. "It's no secret the Braves want more pitching and the Rangers need more hitting, so the trade wasn't surprising," he said.41 Braves director of player personnel Eddie Robinson confirmed Panther's view, admitting Atlanta was "doing this in hopes of bolstering our pitching staff."42 Robinson had a favorable opinion of the 27-year-old hurler, adding that he believed Panther possessed "a lot of potential."43 New Texas skipper Whitey Herzog had a differing view of Panther's prospects had he stayed with the Rangers, however. "Panther didn't figure to make our club," the future Hall of Fame manager said.44
Despite having a "good spring training" to prepare for the 1973 season, Panther did not make the Atlanta ballclub, either.45 Instead, the "disappointed" pitcher was assigned to the Richmond Braves of the Triple-A International League to open the year, where he resumed his familiar role as a relief specialist.46 Panther struggled in the early going, posting a substandard 5.63 ERA in his first nine appearances. According to Richmond manager Bobby Hofman, the cause of the sinkerball pitcher's difficulties was simple: His "ball wasn't sinking."47 Panther began working on a new release point in an attempt to remedy the problem. "Now he's getting the ball to sink," manager Hofman proclaimed after Panther's successful work with Atlanta's minor-league pitching instructor Harry Dorish.48 He quickly lowered his ERA by more than a full point, and attracted the attention of the struggling parent club that was still feeling the effects of having a pitching staff with the worst team ERA in baseball during the prior season. Called up in late May to replace Tom Kelley in Atlanta's bullpen, Panther started strong, not allowing an earned run in 10 of his first 11 games. "I think I can do a good job for the Braves in relief if they pitch me and it looks like they will," he said.49 Panther did not continue to do a good job for the Braves, however. Allowing earned runs in nine of his next 12 appearances – and culminating with a disastrous outing against the Cincinnati Reds in which he allowed six hits, one walk, and six earned runs in only a third of an inning pitched – Panther's statistics for Atlanta included a 2-3 record and dreadful 7.63 ERA over 30⅔ innings. He was returned in early August to Richmond's bullpen, where he finished the season.
Panther's poor performance with Atlanta stemmed from a stabbing pain he felt in his shoulder during a game earlier in the season. "I felt something in my shoulder," Panther recalled. "It was right before the All-Star break, so I had three days off. I kept my mouth shut, but after that I couldn't throw hard. I finished that year, but the next year I couldn't play. I've had two surgeries on that shoulder for labrum tears."50 Panther was well aware of the precarious realities of life as a marginal big-leaguer. "I was one of those bottom-of-the-line guys," he admitted. "If you had 10 pitchers, I was eight, nine, or 10. In Oakland they had 10 pitchers, and I was 11. If you got hurt, you kept your mouth shut. At least I did."51 Panther never again played professional baseball after this serious injury. "It was tough," he said regarding being forced to hang up his spikes. "The hardest part was when February rolled around and you didn't leave for spring training."52
After leaving the game, Panther continued his work as a teacher at Libertyville High School – albeit without the interruptions from moonlighting as a professional baseball player. He also was able to continue to stay close to the game, initially as an assistant baseball coach at Libertyville before assuming varsity head-coaching responsibilities in 1983. At the end of his 20-year coaching tenure there, Panther was Libertyville's all-time winningest head coach, posting an outstanding 528-169-4 record.53 As a testament to his coaching abilities, Panther was inducted into the Illinois High School Baseball Coaches Association Hall of Fame in 1999 and the Lake County High School Sports Hall of Fame in 2002. "I had more success coaching than I did playing," he reflected. "Working with young people, teaching, and coaching was the most rewarding career I could ever have had. I loved every minute of it."54 Outside of his careers in baseball and education, Panther also enjoyed spending time with his family. He and his wife, Bonnie – whom he married in 1967 – raised three children, Tami, Amanda, and Tim. Tragically, Tim – nicknamed "Mountain Man" due to his love of nature and the outdoors – died at age 23 after mistakenly eating a toxic plant while hiking.55 "No one should ever have to suffer the loss of a child," Panther said. "After that nothing else could ever be as difficult. It changes your life forever."56 After retiring from teaching and coaching in 2002, he and Bonnie relocated from Illinois to the warmer climes of Fort Myers, Florida. In 2011, Panther was diagnosed with prostate cancer, which he ultimately overcame through extensive radiation treatment, keeping a positive outlook all the while. "You do what you have to do," he said regarding his battle with the disease.57 Panther counts golfing, traveling, and exercising among his favorite post-retirement pursuits.
Although he spent only one year in Texas, Panther accumulated a lifetime of great experiences with the Rangers during their inaugural 1972 season – despite the club finishing with an awful 54-100 record and playing in a converted minor-league ballpark. "It was a good place and the fans were great," he said. "It was a lot of fun even though we weren't very good."58 Panther continued to follow the Rangers closely after his retirement, and in 2012 participated in the club's 40th-anniversary reunion ceremony on Opening Day at the Rangers Ballpark in Arlington with 12 of his former teammates from the inaugural 1972 team. "They gave all [of us] a jersey with your name on it, and we threw out the first pitch," Panther recalled. "We threw to people who were '72 season-ticket holders. This was by far the best one [Opening Day] I've ever seen."59 Some of Panther's fondest memories of his playing days in Texas included the opportunity to spend time with the club's manager – and Hall of Famer – Ted Williams, whom he occasionally witnessed still putting on impressive batting-practice feats while in his mid-50s.60 "I got along with (Williams) well and I liked him," Panther said. "It was tough for him to manage [the 1972 Rangers]. We were behind in too many games."61 It was also tough to manage to stay cool in the extreme Texas heat. "Once we played the White Sox there and I'll never forget, at 7:30 [P.M.] it was 105 degrees," Panther said. "We would still do a lot of running no matter how hot it was."62 Nevertheless, the heat was a small price to pay for the good times he had as one of the first Texas Rangers. "I played with a lot of good guys and I wish we would have stayed there," Panther said. "We really enjoyed ourselves down there."63
This article was published in "The Team That Couldn't Hit: The 1972 Texas Rangers" (SABR, 2019), edited by Steve West and Bill Nowlin.
Sources
In addition to the sources noted in this biography, the author accessed Panther's file from the library of the National Baseball Hall of Fame and Museum in Cooperstown, New York; Ancestry.com; Baseball-Reference.com; GenealogyBank.com; NewspaperArchive.com; Newspapers.com; and Retrosheet.org.
Notes
1 Patricia Babcock McGraw, "Panther Delivers His Final Season," Daily Herald (Arlington Heights, Illinois), March 22, 2002: 4-1.
2 Prugh Funeral Service, "Welcome to the Memorial Page for Mary Frances Panther," prughfuneralservice.com/notices/MaryFrancis-Panther, accessed April 13, 2017; Sec Taylor, "Sittin' In With the Athletes," Des Moines Register, August 26, 1955: 17.
3 "Mark Panther Again Hurls the Javelin," Council Bluffs (Iowa) Nonpareil, June 19, 1944: 7; Maury White, "Maury White," Des Moines Register, June 28, 1987: 11D.
4 College of Lake County Athletics, "Lake County High School Sports Hall of Fame – Jim Panther," clclancers.com/HShallOfFame/126.php, accessed April 13, 2017; Ralph Leo, "7th Place Highland Park Has No. 1 League Scorer," Chicago Tribune, February 21, 1963: 12.
5 Ross Forman, "Jim Panther – Teaching Baseball and Enjoying It," Sports Collectors Digest, June 10, 1994: 150.
6 "Panther Delivers His Final Season."
7 "SIU Baseball Team Playing in Quincy Meet," Southern Illinoisan (Carbondale), April 22, 1966: 13; "Stingy Staff Biggest Asset for Southern," Alton (Illinois) Evening Telegraph, April 21, 1966: B-13.
8 Associated Press, "Ohio State Near Title in Regional," Daily Pantagraph (Bloomington-Normal, Illinois), June 4, 1966: 11; Southern Illinois University Salukis Baseball 2017 Media Guide (Carbondale, Illinois: Southern Illinois University, 2017), 117.
9 "Panther Delivers His Final Season."
10 Anup Sinha and Bill Lajoie, Character Is Not a Statistic: The Legacy and Wisdom of Baseball's Godfather Scout Bill Lajoie (Bloomington, Indiana: Xlibris, 2010), 288.
11 "Panther Delivers His Final Season."
12 Jay Langhammer, "Sigma Pi Sports," The Emerald of Sigma Pi Fraternity, Spring/Summer 1984: 17.
13 Jeanne Pauly, "Jim Panther, Player, Coach & Cancer Survivor," Between the Palms, April 2012: 3.
14 "Bulls Down Grays, Yanks Here Tonight," Daily Press (Newport News, Virginia), August 2, 1967: 13.
15 Bob Moskowitz, "Panther, McNulty, Holt Get Grays Past Tobs, Near 1st," Daily Press (Newport News, Virginia), August 31, 1967: 12.
16 Larry Odell, "Prep Star Visits SIU," Southern Illinoisan (Carbondale), January 21, 1968: 10.
17 Bob Moskowitz, "Grays Look 'Right' for 2 Here Tonight," Daily Press (Newport News, Virginia), May 13, 1968: 13.
18 Larry Odell, "Two Preps Pass Up Gridiron for Baseball," Southern Illinoisan (Carbondale), May 12, 1969: 10.
19 "Panther Delivers His Final Season,": 4-4.
20 Larry Odell, "Another Gable, a Wrestler, Packed House," Southern Illinoisan (Carbondale), March 31, 1970: 11.
21 Pete Swanson, "Big Crowd Sees Trips Lose, 4-3," Evansville (Indiana) Courier, August 30, 1970: 1-C.
22 "Jim Panther – Teaching Baseball and Enjoying It."
23 Associated Press, "Rookie Panther Winner for Athletics," Eureka (California) Times-Standard, April 2, 1971: 13; Bill Bryson, "Jim Panther Stays; Boyd Back to Oaks," Des Moines Register, April 2, 1971: 1-S.
24 Bryson: 3-S.
25 United Press International, "Athletics to Open Series With Angels," San Rafael (California) Daily Independent Journal, April 20, 1971: 24.
26 Ron Maly, "Owner Still Likes Skidding Oaks Over Indianapolis," Des Moines Register, May 19, 1971: 2-S.
27 "Oaks' Reliever Fires Shutout in New Role," The Sporting News, July 3, 1971: 37.
28 United Press International, "Oaks Win," Ames (Iowa) Daily Tribune, May 20, 1971: 10; Associated Press, "Add Schubert to All-Stars," Des Moines Register, July 15, 1971: 1-S.
29 Mike Schwebel, "Stanhouse's Long Hair No Problem to Williams," Southern Illinoisan (Carbondale), March 26, 1972: 15.
30 Bruce Markusen, "Oakland A's Diary – Archive," BaseballGuru.com, baseballguru.com/markusen/oak2.html, accessed April 18, 2017.
31 Associated Press, "Stanhouse May Be Starter in Texas," Southern Illinoisan (Carbondale), March 5, 1972: 9.
32 Larry Odell, "Stanhouse Too Inexperienced?" Southern Illinoisan (Carbondale), March 31, 1972: 13.
33 Sid Hartman, "Sid Hartman," Minneapolis Tribune, March 7, 1972: 2C.
34 Randy Galloway, "A Panther on the Prowl," Dallas Morning News, June 19, 1972: 3B.
35 "Stanhouse's Long Hair No Problem to Williams."
36 "A Panther on the Prowl."
37 Newspaper article from Panther's file from the library of the National Baseball Hall of Fame and Museum in Cooperstown, New York.
38 "A Panther on the Prowl."
39 Ibid.
40 Merle Heryford, "Rangers Get Carty to Beef Up Attack," The Sporting News, November 11, 1972: 50.
41 Newspaper article from Panther's file from the library of the National Baseball Hall of Fame and Museum in Cooperstown, New York.
42 Associated Press, "Braves Trade Rico Carty to Rangers," San Antonio Express and News, October 28, 1972: 3-D.
43 United Press International, "Controversial Baseball Star Traded to Texas," Ogden (Utah) Standard-Examiner, October 28, 1972: 7A.
44 Associated Press, "Rangers' Carty Tagged With 'Beeg Boy' Title," Abilene (Texas) Reporter-News, April 4, 1973: 8-B.
45 Larry Odell, "Trading Trials and Tribulations," Southern Illinoisan (Carbondale), June 3, 1973: 11.
46 Ibid.
47 Bob Moskowitz, "Braves' Rally in 5th Downs Peninsula, 5-1," Newport News (Virginia) Daily Press, May 15, 1973: 12.
48 Ibid.
49 "Trading Trials and Tribulations."
50 Roger Wallenstein, "Fresh, Eager and Outclassed," Beachwood Reporter (Chicago), beachwoodreporter.com/sports/fresh_eager_and_outclassed.php, accessed April 21, 2017.
51 Ibid.
52 Barry Temkin, "Panther Leaving Legacy of Fun, Fundamentals," Chicago Tribune, May 5, 2002, articles.chicagotribune.com/2002-05-05/sports/0205050405_1_fundamentals-spring-training-pitchers, accessed May 7, 2017.
53 "Libertyville Wildcats Baseball Coaching Records," Libertyville High School Baseball, wildcatsbaseball.com/team_records.htm, accessed April 21, 2017.
54 "Jim Panther, Player, Coach & Cancer Survivor."
55 "Obituary: Timothy James Panther of Libertyville," Daily Herald (Arlington Heights, Illinois), February 9, 1999, genealogybank.com/doc/obituaries/obit/0FFA292284F97316, accessed May 7, 2017.
56 Ibid.
57 Ibid.
58 Marty Maciaszek, "Libertyville's Panther Recalls Rangers' Start," Daily Herald (Arlington Heights, Illinois), October 18, 2011, dailyherald.com/article/20111018/sports/710189686/, accessed May 7, 2017.
59 "Fresh, Eager and Outclassed."
60 Lew Freedman, "Ex-Big Leaguer Jim Panther Savors His Past," Call to the Pen, calltothepen.com/2013/06/06/ex-big-leaguer-jim-panther-savors-his-past/, June 6, 2013, accessed April 23, 2017.
61 "Libertyville's Panther Recalls Rangers' Start."
62 Ibid.
63 Ibid.
Born
March 1, 1945 at Burlington, IA (USA)
If you can help us improve this player's biography, contact us.
https://sabr.org/sites/default/files/PantherJim.jpeg
600
800
admin
/wp-content/uploads/2020/02/sabr_logo.png
admin
2012-01-04 20:09:04
2012-01-04 20:09:04
Jim Panther