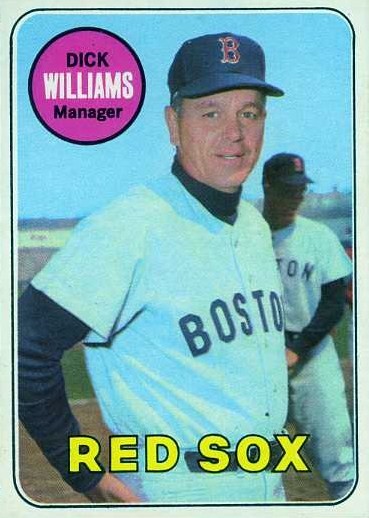 Dick Williams's intense competitiveness and versatility earned him 13 years as a major league utility player. He parlayed those strengths into one of baseball's most successful managerial careers, though not one of the winningest, and the record suggests that he was probably one of the two finest managerial turnaround artists1 between Joe McCarthy and Lou Piniella.

As a rookie manager, he inherited a Boston Red Sox team that had finished ninth in the ten-team American League for the previous two seasons. He and his coaches improved them by 20 wins, and took them to the 1967 World Series. He was only the second manager in baseball history2 to win pennants for three different teams (Boston, Oakland and San Diego).

His no-nonsense, aggressive personal and tactical approaches electrified the fortunes of other franchises. In Williams's first year with the Oakland A's, 1971, they won the A.L. Western Division championship, then won the '72 and '73 World Series. The expansion Montréal Expos responded to his guidance to be in a position to go to their first-ever playoffs in 1981, though he was fired before the end of the season. And the skipper pushed what had been arguably the most underachieving expansion franchise in baseball history, the San Diego Padres, to their first World Series after a 13-year history with only one campaign at or above .500. He ranks 18th on the all-time managerial win list with 1,571 wins and 1,451 losses over 21 seasons.

Williams fashioned more than a decade-long career as a utility outfielder/infielder. That versatility, combined with up-close learning experiences under two of baseball's most important management innovators -- Branch Rickey and Paul Richards -- provided a foundation for the Skipper's managerial skills.

Richard Hirschfeld Williams was born on May 7, 1929, in St. Louis, the second of two children. According to Williams's autobiography, No More Mr. Nice Guy, his father Harvey struggled through the Great Depression. While the hard-headed man was willing to work at whatever came up, if he didn't find any, he took it out on his boys in ways that today would be called child abuse. He taught the boys to be the most determined competitors at whatever they did or suffer his wrath. At the same time, Harvey Williams taught Dick to work with whatever came his way and that he should never try to escape accountability for every single thing he did.

Williams's family lived with his maternal grandfather near St. Louis's Sportsman's Park, home to both the National League Cardinals and American League Browns. "I was a member of the Knothole Gang [the club that gave them free tickets to child fans], and those tickets were in the left field bleachers, so my favorite players were Chet Laabs, the Browns' left fielder, and Joe Medwick, the Cards' [left fielder]," Williams said.3

When Dick was 13 years old, Harvey Williams took his family to California, first to Hollywood and then to Altadena. Dick's formal athletic career started at Pasadena Junior College (then covering 11th and 12th grades followed by two years of college). He just about majored in sports, lettering in baseball, football, basketball, track, tennis, and swimming. In handball, he didn't just letter, he was city champ.4

He said was first noticed by Dodger scout Tom Downey in 1946, when Williams went from bleacher fan to emergency fill-in for the semi-pro El Monte team's center fielder, who was knocked out by a fly ball.5 The next year Williams signed his first pro contract with the Dodgers for a $1,200 bonus. After his twelfth-grade graduation, he immediately went to the Class C team in Santa Barbara, California. He got into 79 games as an outfielder, batting .246 with an adequate .115 isolated power mark and eight stolen bases. What he lacked in superstar numbers he tried to make up for in hustle and picking fights.

The following year he attended his first pro spring training. It was an historic event, the premiere of Branch Rickey's industrialization experiment, Dodgertown at Vero Beach. Dodger management standardized drills and certified standards of accomplishment for every key fundamental a coach could measure. Dodger prospects got sunrise-to-sunset repetitive drills designed to teach the standard approaches to processes ranging from sliding into home plate to throwing to second base with a runner in scoring position. This fit well with Williams's natural predisposition to believe there was a right way to execute and that intensive commitment was the best way to reach a goal. And he started to internalize the drills themselves, adding them to the toolkit he would roll out later in less disciplined organizations.

Back in Santa Barbara for the 1948 campaign, he chewed up Class C pitching (97 games, .335 average, 29 doubles, 16 homers, 16 steals, 90 RBIs), and was promoted to AA Fort Worth, where he was over his head (.207 average with .064 isolated power and no steals in 41 games).

Perhaps it was getting used to AA pitching or meeting two of the most important people in his life, but in Williams's 1949 Fort Worth season, he played 154 games, and the best numbers in his pro career earned him All-Texas League honors: 109 runs, 30 doubles, 23 homers, 114 RBI and a .310 average.

And the two important people? The first was Norma Mussato, a young woman their mutual milk delivery man insisted Williams needed to meet. She would become his wife. Bobby Bragan was the second. While Bragan was a rookie manager, he was a Rickey disciple who went about his business transparently to better communicate with his minor league trainees, and he was a strict enforcer of top-down discipline.6

"I joined Fort Worth, and Bobby Bragan took over ten days after I was sent down from Brooklyn. I had a bad start, but he stuck with me, gave me every benefit he possibly could," Williams said.7 Williams learned the Dodger Way, and learned to rein in his aggressive tendencies, if only to avoid doing extra running in the 100+ degree West Texas heat. Williams said in his book, "There should be a note under every one of my records that says See Bobby Bragan. Because a bit of every one of my wins belongs to him." Bragan also played mind games (for example, warming up a left-handed starter but switching to a right-hander after the opposition had committed to a line-up card) and worked the running game aggressively to distract opponents from more important aspects of the game. Williams internalized these techniques, as well.

Between the 1949 and 1950 seasons at Fort Worth, Williams was back in the Los Angeles area working for money to subsidize his baseball career. He had an unusual temp job as an extra in a low budget movie, The Jackie Robinson Story. "How low budget?" Williams recounted. "In one scene I'm the pitcher and Jackie's playing for Montréal in Jersey City and he hits a homer. And the fans are booing him. Then in the next day's scene, they were doing a shot of him rounding second base... and I was playing the second baseman, too."8

He played for the Almendares Alacranes (Scorpions) in the Cuban League in the winter of 1950-51. He was the only American on the Scorpions. But his Cuban League season ended prematurely February of 1951; he had to report for military training. A high-school football injury kept him from combat duty. A baseball injury in a camp game that same year got him a medical discharge.

Minor leaguers returning from military service had to clear waivers before they could report back to their teams, and this reshaped Dick's playing career. He was claimed by both the Pittsburgh Pirates and the Cardinals. The Dodgers, determined to keep him, had but one option under the rules: bring the young outfielder up to the big club in Brooklyn.

When he arrived in New York, he found himself, like the other bench players, shunned by the starters. The one vet who showed him encouragement was Jackie Robinson. They had already met, not because of the movie, but because Robinson was from Pasadena, too, and Williams was buddies with Robinson's older brother, Mack.

On June 10, Williams debuted in a double-header against Pittsburgh. In the first game, Brooklyn manager Chuck Dressen sent the right-handed Williams in to pinch-hit for left-handed Gene Hermanski against Pittsburgh left-hander Bill Werle, and the rookie grounded out. Dressen made Williams the left-fielder and leadoff man in the second game. Aiming to make an impression in his first plate appearance, he beat out a bunt for a single and went 4-for-5 with a triple, but that game contained the sum of his highlights for the season.9 As the 26th player on a roster of 25 (Brooklyn did not have to count the returning military veteran against their 25), he eked out only 64 plate appearances for a team in a tight pennant race and with three accomplished starting outfielders in Carl Furillo, Duke Snider and Andy Pafko.

While Williams was riding the pine, he did get experience that would serve him later. Manager Dressen kept the youngster close to him on the bench and taught him the fine Dodger tradition of bench-jockeying, at which Williams was a natural star. That also gave him a lever, a fulcrum and a place to sit and shadow Dressen's decisions. As Dressen's "designated smartass,"10 Williams became so notorious around the league that he was occasionally ejected from games for wisecracks other players made.

Dressen taught him another critical managerial lesson. Williams believes Dressen's palpable anxiety as the Dodgers' lead vaporized (13 1/2 games ahead on August 10, tied on the next-to-last day of the season) and the skipper's pacing and screaming and whining weakened the team's ability to hold the lead.11 Williams internalized the idea that the field manager needs to radiate calm confidence more than the shared worry.12

In 1952, league rules again required Williams again to be the 26th man, depriving him of the opportunity to play in AAA ball, where he could have built his skills. He could not be sent down until May 29, when his ex-serviceman roster status would expire. But as the date approached, he made a few fundamental plays Dressen appreciated, including a 3-7 putout of a runner at second base when he crept in from left field unnoticed after a bunt. Dressen decided to keep him, and in August started him in three consecutive games in St. Louis. In the third game, Williams raced in to throw himself at a dying quail off the bat of Vern Benson, dove, extended his right arm and heard a crack. It was a three-way shoulder separation that essentially destroyed his ability to reach his highest potential. His arm became a launcher of Texas League bloopers. Later, when he played third base, a manager told Dick to throw the ball to first on a bounce.

Williams believed this career-sapping injury made him a good manager.
My injury forced me to watch, to listen, to learn every tiny detail about this game that once I could play in my sleep. Because if I ever wanted to play it again, I could no longer be faster or stronger than anyone. Now I had to be smarter.

I would sit on my butt in the dugout for nine innings and watch both the game and its players like I'd never watched them before. I studied opposing pitchers. I studied strategy. More than anything, I studied human nature.

And through it all, Dick Williams the player slowly became something else. He became someone who thought before he acted, who took nothing on the field for granted, who wanted to leave nothing on the field to chance. Slowly, painstakingly, in a process that took 12 years that began from the seat of his pants, he became Dick Williams the manager.13

He bounced between Brooklyn and the team's minor league system until the middle of the 1956 season, when the Orioles snatched him off the waiver wire. The O's, a losing team building themselves into a multi-decade behemoth and innovation factory, were led on and off the field by Paul Richards, a management titan and another important mentor for Williams. Richards loved having the full-tilt Williams on the team so much he acquired him through trades three more times: in 1958, 1961 and with the Houston Colt .45s, in October 1962.

Williams had more than a few individual highlights in the next 8 1/2 years of his career. From 1957-61, playing for Baltimore, the Kansas City Athletics and Cleveland Indians, he notched at least 340 plate appearances each year, playing up to six positions.

Williams was a fundamentally sharp and aggressive base runner (Richards liked to use him as a lead-off hitter) with decent home-run power. Added to that intensity was his versatility.14

On July 15, 1956, for example, Richards inserted Williams as leadoff batter in both ends of a double-header against the Detroit Tigers. Playing center field and second base in the first game and third base and first base in the second, Williams went 6-for-9 with two doubles, a home run, a walk and a stolen base, scoring four runs and driving in two more.15 In July 1959, he hit a homer in each of four consecutive games.

And Williams continued to play for Richards the "designated smartass" position for Richards that Dressen had taught him.

On August 26, 1958, Cleveland's little lefthander Don Ferrarese shut out the Orioles for 11 innings, but loaded the bases in the twelfth. Williams came to the plate and yelled at the pitcher, "I'm not swinging at a ball." Dick then folded himself into a deep crouch, as his teammate Gene Woodling would do. Ferrarese walked him on four pitches to force in a run, losing what he called the best game he ever pitched.16 Williams added a further insult when next facing the pitcher. Three weeks later, Williams batted leadoff for the Birds against the lefty, and eked out a walk to start the game.

With his career winding down in 1962, Williams went from the Houston Colt .45s to the Boston Red Sox in a trade for Carroll Hardy. He played as a lightly-used utility man, getting into 140 games over the next two seasons.

Boston was the American League's big-market team with the weakest front office. He got to witness, and despised, what he called the "country club" atmosphere. Fathered by owner Tom Yawkey and his royal court of drinking companions and yes-men, the organization was driven primarily toward pleasing Yawkey rather than pursuing excellence. The Red Sox hadn't risen above .500 for six years before Williams arrived, a frustration they extended the two years he was with them. Williams struggled to amp up the team's intensity from the bench, to teach them to hate losing as much as he did, but he believed he was associated with "a bunch of losers."17

While his playing skills were slipping at age 35, his intensity, flexibility and passion for observing and understanding caught the eyes of the Red Sox' minor league director Neal Mahoney and business manager Dick O'Connell. Mahoney invited Williams to manage a rookie team in a spring intrasquad game. After the Sox released Williams after the 1964 season, Mahoney offered him a player/coach position with the team's AAA affiliate in Seattle. When the farm team moved to Toronto during the winter, the Seattle manager, Edo Vanni, decided not to go. Mahoney gave Williams his first professional managing job as skipper of the Toronto Maple Leafs.

It was enlightening for several reasons. First, according to Williams, he had to make the transition from bench jockey (criticizing others' mistakes) to accountability enforcer (judging his own). Given his hyper-critical father and his own similar tendencies, he worked to see no mistake went unanalyzed or uncorrected. Williams's relentless pursuit of excellence was rough on his players, rougher on opponents. He was doubly intense because he was working within the "country club" organization that, to him, represented the opposite approach.

Second, he got to manage a lot of the young talent that would play for him in Boston, including 1965 International League batting champ Joe Foy, 1966 batting champ Reggie Smith, and catcher Russ Gibson.

Williams led the Maple Leafs to International League championship in both 1965 and 1966, with records of 81-64 and 82-65. In those two seasons, the Red Sox finished ninth, 40 and 26 games behind. Business manager O'Connell became general manager and, agreeing with Williams about the corrosive "country club" atmosphere, decided to let manager Billy Herman go. The '66 squad had played at about .500 after the All-Star break, a possible indicator that with the right leadership, the team might be ready to excel. O'Connell had the choice of two successful minor league managers, Williams and Eddie Popowski. In September he chose Popowski as a coach and Williams to manage for the next season. O'Connell sensibly gave the rookie manager, at 37 the youngest in the league, the full off-season to prepare.

Williams's preparation evolved from lessons learned from his principal mentors. "I had three managers that you could call my mentors: Dressen, Richards and Bragan. You could put them in a room and they wouldn't agree on anything," Williams said. Dressen was his counter-example; for all his smarts, a narcissist who wasn't happy if the credit went to anyone else. Richards was the innovator and tactician, seeking edges small and large every minute. And Bragan was personally loyal, a straight-shooter and a transmitter of the Rickey method. But Williams made all his bosses mentors: "I managed right along with them. I learned from every manager what to do and what not to do."18

From the first day of spring training, Williams made it clear that there would be only one person in charge -- him -- and there would be an avalanche of changes in management processes and rules. Williams stripped outfielder Carl Yastrzemski of his role as captain. All players who were single had to stay in the team's hotel, and players had to show up on time or be fined. With the standard practices he had learned with the Dodger organization as a basis, Williams stressed fundamentals. He didn't just borrow from successful precedents; he innovated, too. He was one of the first managers to use videotape for studying and coaching -- though he had to borrow the equipment from local television stations to execute his idea.

Williams hated the way the Red Sox had conducted workouts in the past, especially for pitchers, who had a ton of slack built into their schedules. He sopped up slack by making all the pitchers play volleyball in the outfield, a drill that exercised footwork skills and pushed the competitive instincts of his athletes even during the laid-back environment of spring baseball. The games incensed spring training coach Ted Williams, and he went home. Things were different now, and as the manager noted, the Splendid Splinter was extremely happy to join the team's celebration when they won the pennant.

Before the 1967 season began, Williams said, press and oddsmakers' predictions for the team were no different from years past. Williams promised that the team would "win more games than we lose." Opening day at Fenway Park only drew 8,000 fans, but by the end of the season all the home games were sellouts.

Even with the new passion Williams injected, the team started 11-11, the same as it had the previous year. An injury to second baseman Mike Andrews forced Williams to use center fielder Reggie Smith as an emergency second baseman. The club slipped to 18-20 and sixth place by May 27. In a balanced league, a ten-game win streak in mid-July put them a half-game out of first place, brawling for the lead along with the Minnesota Twins, Chicago White Sox and Detroit Tigers. By August 17 they were in fourth place, 3 1/2 games behind the Twins. Their fate might have seemed sealed the following day when right fielder Tony Conigliaro, usually the team's clean-up or number five batter, was knocked out for the season by a fastball to the head. But O'Connell acquired a bevy of veteran subs to complement young José Tartabull as a replacement. Boston stayed in the race and took a one-and-a-half game lead, their biggest of the season, on August 30.

On September 6, there was a four-way tie for first with 21 games to play. The Twins came to Boston for the final series of the regular season, leading the Red Sox and Tigers by a game. Many people expected Williams to start his ace, Jim Lonborg, on short rest, but the skipper decided to stick with his normal rotation. He needed to win both games, and Lonborg couldn't start both, so Williams sent gritty right-hander José Santiago to face everything the Twins could cobble together. The Twins scored a run in the top of the first, the Bosox caught up and passed Minnesota in the fifth, and then put the Twins away in the seventh on Yastrzemski's three-run homer.

The 162nd game of the season was as dramatic. The winner would play in the World Series, with the Twins starting their best pitcher, Dean Chance, the Bosox their ace.

Williams's infusion of relentless, aggressive baseball took hold. The Twins scored a run in the first and one in the third. With his team still down 2-0 in the sixth, Lonborg led off, and, on his own initiative, the 6'5" pitcher laid down a surprise bunt on the first pitch and legged it out for a hit. The Twins came apart: three batters, three singles, a run in and the bases loaded. The Twins replaced Chance with elite reliever Al Worthington, who uncorked a pair of wild pitches. The crowning blow was an error by first-baseman Harmon Killebrew. The inning ended with a 5-2 lead the Bosox would not yield.

Yastrzemski went 4-for-4 to seal his Triple Crown (no one has led the league in batting average, homers and RBI in the same season since), and the team went 92-70, a 20-win boost from the previous year, to claim the pennant.

In the World Series, Boston faced Red Schoendienst's 101-win St. Louis Cardinals, led by future Hall of Famers Bob Gibson, Lou Brock, and Orlando Cepeda. Even minus his clean-up hitter, Conigliaro, Williams played his hand well enough to take the Series to a seventh game, when Bob Gibson started, and won, for the third time, pouring it on with a complete game three-hitter and 10 strikeouts.

The Red Sox' season was one of the great turnaround jobs in twentieth-century baseball history. It was the first of many Williams engineered.

But successful management requires more than operational success. The country-club attitude Williams detested was an overarching ethos cast by owner Tom Yawkey. Williams recognized no privileged characters in the clubhouse, while Yawkey played favorites, granting special treatment to his pet players. Williams tried to enforce glacial emotions, not too high when winning, not too low when losing, a trademark of Paul Richards' methods. Yawkey was, Williams believed, a "front-runner" who would come to the clubhouse and share the good times, then duck and cover when the team was going badly. While Williams worked to suppress some of his intensity, everyone knew what he really thought.

In spite of Williams's shaky relationship with the owner and his courtiers, his tightness with O'Connell and Mahoney insulated him. The three produced a benefit that ownership couldn't ignore. Boston had led the American League in attendance for the first time in more than 50 years, since Babe Ruth was a 20-year-old Red Sox pitcher, and had put more fannies in the seats than in the two previous seasons combined.

The following season saw increased attendance but not wins. Baseball's 1968 campaign featured stifled offense that seemed a throwback to the Deadball Era. Pitching depth would shape the final standings more than usual. This worked against the Bosox in ways a manager couldn't control. Lonborg was injured while skiing in the off-season, and did not come back until late June. At that point Santiago's arm came up lame. Conigliaro, unable to recover from the beaning, was lost for the entire season. The team finished 86-76, in fourth place. Williams had led the Red Sox to their two best records since 1951, but the skipper wasn't behaving any more humbly toward the owner or the press. He was on a tight leash now, more vulnerable to office politics, without the victor's garlands to deflect the toxicity of the unhealthy organization. And the great Baltimore Orioles teams, built on the foundation laid by Williams's mentor Paul Richards, were blossoming, surging 15 wins while still falling short of Detroit that season.

The Red Sox' performance in 1969 could not overcome the manager's poor relations with Yawkey and "his bobos." When he called out Yaz for a mental error on the basepaths and pulled him from the game as an object lesson to all, he smudged his relations with his squad. On September 22, with the team in third place at 82-71, Yawkey fled Boston for his South Carolina vacation home and had O'Connell tell Williams he was fired.19

Williams worked as Gene Mauch's third base coach with the Montreal Expos in 1970. He credits Mauch for advancing his knowledge of how to think ahead two or three innings, how to balance work and rest for bullpen pitchers, and how to engage the entire team in the game by enlisting them to steal opponents' signs. He wasn't happy, though. After a tantalizing taste of managing, it was hard to be a subordinate, and harder to be a subordinate on a last place team. At age 41, he silently wondered if he could already be washed up. After the season, though, he got an offer to manage again, with an organization that was 180 degrees from the Red Sox ethos.

The owner who rescued him was Oakland's Charles O. Finley, a nonconformist, showman, and executioner of managers, even those who achieved winning records. Finley was as uninterested in conventions and niceties as Williams, and just as determined to win. While Williams had taken over a Boston team that seemed content with losing, Finley had collected an exaltation of talented young players. While the Boston team had finished next to last two years in a row, Oakland had had three straight winning seasons, the last two in second place in their six-team division. While Yawkey looked for a manager he was comfortable socializing with, Finley was interested in winning. Even with the A's recent success, he had changed managers eight times in eight seasons. The winners didn't win enough for his taste. Finley wanted it all.

The players were in synch with Finley's and Williams's monomania, and it made the skipper's experience much different from his first managing job:
Number one, this team was basically 25 versions of me, 25 guys who didn't give a shit about anything but winning. They didn't care about their appearance (we looked like damn hippies) or their deportment (we fought like sailors) or their safety (we led the league in Games Played With Death Threats Hanging Over the Players' Heads). The score after nine innings was their only interest, the rest of their world was like recess. So when I looked at them, it was like looking in a mirror... This team was 25 guys who hated their owner, Finley. How did this help me? Well, it's impossible for even baseball players to truly hate two of their bosses at once.20

The roster included pitchers Catfish Hunter, Vida Blue, Rollie Fingers, and Darold Knowles, and everyday players Reggie Jackson, Joe Rudi, Sal Bando, Rick Monday, and Bert Campaneris. Where Williams had had no real player leader on his Bosox team, the A's had three: Jackson, the noisy, vocal one; Bando, the quiet, stoic leader by example; and Hunter, the class clown. Williams went into the season with sky-high hopes.

The 1971 Athletics lost four out of their first six games, allowing 40 runs in five of them. Finley was calling Williams every single day to co-conspire and wheedle and whine, and it was driving the manager nuts. A sophomoric practical joke by players on the team plane was the final straw. Williams had a meltdown, spewed some fire into the team, and either by design or coincidence, they won 12 of their next 13 games. By the thirteenth game of the season, they were in first place in their division. They stayed there, finishing 101-60, the franchise's best record since 1931.

Oakland lost the A.L. championship series to the pitching-rich and more experienced Orioles. Williams took the blame for the playoff loss. In Game One, he had to decide whether to relieve Vida Blue in the seventh inning with a three-run lead. He stuck with his ace, and the tiring starter yielded the game, and in Williams's thinking, by a cascade of events, the series.

Williams and Finley concluded that they needed one more top-notch starting pitcher. Within days, Finley acquired Ken Holtzman from the Chicago Cubs. The 26-year-old Holtzman would yield dividends not only through his starts, but in helping 25-year-old Rollie Fingers to mature.

Fingers was a struggling starter sent to the bullpen to get work. A's pitching coach Bill Posedel, Williams, and bullpen coach Vern Hoscheit analyzed Fingers' struggles and came to realize the problems were emotional. "We made him who he was," Williams said. "As a starter, he was very nervous. Leading up to the day of his start he'd get flustered if he knew when he was going to pitch."21 They surprised Fingers with a relatively low-stress relief assignment on May 11, with a game essentially lost to the Cleveland Indians, and another mop-up job 10 days later against the Twins. Having found he was effective if he didn't have time to over-think, Posedel and Williams committed Fingers to relieving. The pitcher used the rest of 1971 to refine his art, appearing in 38 games, all in relief, and in 69 innings, yielding only 43 hits and 14 walks, inheriting 36 runners and allowing only 9 to score.22 It was a career-changing move. Fingers acknowledges he wouldn't be in the Hall of Fame if not for Williams and Posedel.23

With the addition of Holtzman, the ingredient they agreed they needed, Williams knew Finley's determination to win would make the manager a target if the team fell short of a World Series victory. Winning the 1971 Manager of the Year Award was not enough protection from the mercurial owner.

The 1972 season would deliver that victory, although not without a set of fights that filled the A's clubhouse with angry noise and the sports pages with lively reportage: Vida Blue vs. pitcher Blue Moon Odom, Reggie Jackson vs. first baseman Mike Epstein, Epstein vs. Williams, to name a small sample. The Brawling A's became a legend, underscoring the idea that a team didn't have to get along to go the distance.

The A's got to the series even though Williams had to indulge one of Finley's less-than-brilliant ideas. In light of second baseman Dick Green's injury, and his weak bat when he was available, Finley insisted they try an innovation: pinch-hit for the second baseman every time through the line-up. That way, Finley thought, it wouldn't matter that none of them could hit. Not only did this burn up bench players, it forced the skipper to use non-middle infielders when he ran out of real second basemen. Everyone got pressed into service at second, including catchers Larry Haney and Gene Tenace, third baseman Sal Bando and outfielder Curt Blefary, nicknamed "Clank" for his horrendous fielding rather than his heavy hitting.24

But Finley deserves some credit for his efforts in 1972. He executed an unusually high 62 major league roster transactions, trying to arm Williams with a range of valuable options. He also paid players and coaches to grow mustaches, not only to defuse a potential grooming issue, but to market a unique image.

The A's won 93 games and were as balanced in their play on the field as they seemed imbalanced in their conduct off it: second in the league in runs scored (604), second-best in runs allowed (457), and second in defense (.732 defensive efficiency rate).

Oakland defeated the Tigers in a five-game playoff series and faced Cincinnati's Big Red Machine in the World Series. The Reds were as balanced as the A's, second in runs scored, second in runs allowed, and second in defensive efficiency. They also featured tidier haircuts and clean-shaven faces.

Oakland had lost number-three hitter and center fielder Reggie Jackson with a hamstring injury. Odd events followed the A's into the Series. With death threats against Oakland players made by Cincinnati fans being taken seriously, an unclaimed suitcase was found among the A's players' possessions. When no one claimed it, security, fearing it might be a bomb, gingerly took it out to the deserted field and carefully shot it open. It was filled to its scuppers with Charlie Finley's shoes.25

In the Series, Williams showed a range of extraordinary managerial moves. Against baseball tradition, he bypassed veterans with playoff experience and used young George Hendrick to replace Jackson in center. At catcher, he went counter to the "one what got you there" practice of sticking with his most frequent starters and decided to use back-up Gene Tenace instead of Dave Duncan, who had hit 19 homers. Williams's rationale: on a team with four other homer hitters, a fifth didn't make as much difference.

Tenace opened the scoring with a two-run homer in the second inning and delivered the game-winning hit, another homer, in the fifth. In Game Two, with a 2-0 lead in the sixth, Williams put in defensive replacement Mike Hegan at first for slugger Mike Epstein. Hegan made a game-saving play in the bottom of the ninth by spearing a César Gerónimo liner that would have gone for extra bases. Williams pulled a trick he'd learned from his childhood team's manager, Billy Southworth. With a fast runner on first and Johnny Bench at the plate, the runner stole second on a ball, leaving the count at 3-2. Williams went to the mound and explained to Fingers and Tenace that he wanted Tenace to give a target way outside as he would on an intentional walk, but Fingers should throw a strike on the outside corner. Bench fell for it, and struck out looking.

Behind 2-1 in the bottom of the ninth in Game Four, Williams called for three consecutive pinch-hitters (Gonzalo Marquez, Don Mincher, and Angel Mangual) and each delivered a hit, winning the game. In the eighth inning of the seventh game, up 3-1 with runners on second and third and one out, Williams had Fingers intentionally walk the cold Johnny Bench to load the bases for the hot Tony Perez, putting the go-ahead run on base to set up a force-out or double play. This belied standard baseball dogma, but the strategem succeeded.

For one World Series, everything Williams decided turned to gold (and green). His dream of unquestionable, documented success that even his father would have found exhilarating was a tonic.

In 1973, relations between the intrusive Finley and the skipper worsened. Williams, paid to be Finley's advocate with the players and the players' advocate with Finley, found playing go-between increasingly challenging, mostly because of Finley's conduct. The 94-68 team led the league in runs scored per game, was second best in pitching runs allowed and second best in defensive efficiency. The A's made it to the World Series, and beat the New York Mets, but not until Finley had poisoned the pleasure. After second baseman Mike Andrews made two consecutive costly errors, Finley humiliated him by forcing him to sign a false affidavit declaring he was injured, so Finley could replace him on the Series roster with a personal favorite. Williams was forced by his sense of responsibility to explain his employer's decision and at the same time, by his sense of integrity to make clear to all that he didn't agree. In that moment he realized his position was untenable, that he would have to resign. In a clubhouse meeting he called before Game Three, Williams told his players he had set a new record for a Finley manager (three entire seasons), but that after the Series, he was moving on, even though he was signed to a contract for another year.

For six years, the three under Williams and the three following, Oakland was almost a dynasty. Some of the players believe Williams was the element that made them so successful. Blue, for example, on hearing Williams had been elected to the Hall of Fame said, "He's always joking about how he rode our coattails, but he's the one who taught us to play winning baseball. Dick Williams was that X-factor." Odom said, "With Dick, you had to give 100 percent all the time. I had no problem with that, and with him as manager, we felt no one could beat us."26

Williams was confident he had a back-up plan, a close-to-tampering September offer he had gotten from the new ownership group of the New York Yankees. That did not work out. Finley knew the manager's contract had value, and, as always, he never let an opportunity to make money go by. Precedent made clear that Finley was entitled to cash or prospects or a player. He demanded both the Yankees' most promising young everyday player, outfielder Otto Velez, and their most promising young pitcher, Scott McGregor. It was an unacceptable price, and one Williams knew was doomed to quash the deal.

Within a few weeks, John D. MacArthur, a multimillionaire philanthropist who valued excellence in all realms, literally knocked on the Williams's door, unannounced, and offered him a job, with a raise over his baseball salary. Williams worked with MacArthur for six months, until a baseball offer came that Finley would accept, from a team Finley was confident would be no danger to the Athletics' hegemony.

In June, Williams was recruited by the California Angels' general manager Harry Dalton, at the insistence of team owner Gene Autry. This was not the free-spending Autry of the free-agency era who would explode into the winter player markets a few years later; this was the 13-year owner of a major-market team who Williams believed tried to get talent on the cheap, and who delivered teams that were middling at best. In the previous seven seasons, the Angels had finished at or above .500 only once, 86-76, in 1970, good enough for 3rd place in a six-team division.

Williams said, "They lost simply because the players were like day-old, marked-down doughnuts. They came cheap and even then they weren't worth the money." Whitey Herzog, Williams's former teammate who'd made a post-playing career out of player development and who was serving as Angels interim manager, warned Dick the system was not loaded with young talent.27 Lack of talent may not have been the reason the Angels struggled to deliver winning teams, in spite of Dick's opinion. Harold Parrott, who had served in the Angels' front-office in the years before Williams' arrival blamed the team's consistent underachievement on the lack of focus caused by years of warring cliques in the front office, and the owner's disinclination to discipline any of the participants.28

Regardless of the reasons for the dysfunction, Williams knew, in retrospect, it was a mistake, but his competitive drive made him leave MacArthur and MacArthur's business-transformation workshops prematurely for another baseball job. He craved the immediate, strong feedback of winning or losing a game, something missing from the corporate world. While a turnaround artist such as Williams could work the magic of behavioral change in baseball within a few weeks, the corporate world moves slowly, resists change more effectively, exhibits improvement less clearly. So Williams snapped at the suicide mission and lashed himself to the Angels' fate. In his first partial season, they went 36-48, at .429, little different from what his predecessor had been able to coax. Williams felt the team was imbued with a self-reinforcing culture of contentment in losing.

The 1974 Angels had two ace pitchers, Nolan Ryan and young Frank Tanana, and almost no offense. With no batter who had hit 20 home runs, and with many fast, young players, Williams experimented with stealing bases and taking extra bases as the foundation of a strategy to create runs. The 1975 Angels finished 70-91, and for the first time in Angel history, ownership coughed up assets to acquire talent in its prime: a pair of home run hitters, Bobby Bonds and Bill Melton, who between them had more power than the rest of the squad combined. But Bonds broke his hand in a spring exhibition against the Dodgers, insisted on playing through it, and never attained his full force. Williams believes the team lost heart, "a lethal combination of bad and uncaring."

True or not, by the end of June, their 29-45 record was a great disappointment both to ownership and Williams. The manager and his coaches decided to ride the roster hard, especially the relaxed players, driving them, offering unequivocal critique, even insults. It didn't work, either, though it made the clubhouse more tense. After nearly coming to blows with the underperforming, overweight third baseman Melton on the team bus, Williams was fired by Dalton.

Williams idled for the rest of the season. Near the end of it, he called the Montréal Expos executive John McHale, for whom he'd worked as a third-base coach in 1970, to ask for that franchise's managing job. He knew Les Expos had plenty of young talent in their system, a new general manager he liked in Charlie Fox, and a seven-year history of losing records, including a 55-107 campaign in 1976. It was a tasty prospect for a turnaround artist, and quite a difference from the environment in California: a different kind of organization, different country, different league. Further, wife Norma and he both had a deep affection for the classic city they had grown to appreciate when Dick worked there. He knew he would face a tough few years, but he was thinking of a World Series at the end of the tunnel.

The 1977 Expos won 20 more games under Williams than they had the year before, on the bats and arms and gloves of young talent. While 22-year old Larry Parrish and 26-year old Steve Rogers had been regulars in '76, they were joined by new regulars. Williams removed catcher Barry Foote and installed Gary Carter. He penciled in a rookie outfield of Andre Dawson, Ellis Valentine, and Warren Cromartie. Tony Perez was added for the extra boost a young team frequently enjoys when they have a veteran who has experienced winning a pennant. Williams got them to be more patient (unusual for a team with so many young players) and they boosted their walks by about 10%; got them to run the bases aggressively (they surged to the league lead in doubles, for example), though with some offensive talent, he was not as wedded to the stolen base as he had been with the Angels. They improved to the middle of the pack in both pitching and batting.

The 1978 squad improved by a single game, winning 76, while outscoring their opponents, 633-611. The hitters' walks had declined back to worst in the league and the Expos were finding it too difficult to beat the good teams: Against the five with the best records -- Los Angeles, Philadelphia, Pittsburgh, Cincinnati, and San Francisco -- they were 29-43.

In 1979 the team joined the league's elite, bringing a balanced offense with power and speed and a pitching staff that blended the young and the old. From April 11 to the end of the season, they were either in first place or second, battling the Phillies and Cardinals, and after late July, the "We Are Family" Pirates. Montreal held on to the top spot as late as September 24 with a half-game lead. The pitching turned shaky down the stretch, with Steve Rogers and 23-year-old Scott Sanderson losing blowout games to the Pirates. The Expos finished two games behind Pittsburgh, the team that proved to be the World Series winner.

The season revealed an unusual aspect of Williams's management style. He wasn't biased against young players (or old), and he wasn't afraid to give a young player a chance to compete with an established veteran (and not just in the Carter decision). His second baseman since he'd come to Montréal had been Dave Cash, a three-time All-Star who had an adequate bat and a great glove. He had been in playoffs and a Series, and was the kind of veteran managers usually stick with beyond their shelf life. But in spring training, Williams spotted Cash's fielding range dropping; he was cheating a lot and leaving big holes. Even though Cash looked like he was still able to hit, the skipper moved Rodney Scott into the position. "He hit about .195 with no power and he could steal a base. He didn't swing at a pitch without two strikes on him... that would get pitchers mad and they'd throw at him. He could make all the plays at second base or short."29 Williams found in the very incomplete Scott a few talents and made the most of them. He used Scott at second base and shortstop, used his irritating batting style and 39 stolen bases, and worked around his weaknesses. As teammate Gary Carter said of Williams, "He's always gotten the best out of his players."

Nineteen-eighty proved to be a similar year. The Expos grabbed first place on June 11 and stayed in the lead until game 159. They were fourth best in scoring runs and fifth best in pitching. Their offense led the league in walks. But again, the young (this year even younger from an influx of prospects) Expos flagged in the home stretch. They fell short by a single game.

The 1981 campaign would be Williams's last in Montréal. He believes the players were tired of him; he'd never stayed so long in a job. He feuded with several players, including newly acquired reliever Jeff Reardon. John McHale was uncomfortable with the skipper's tactical aggressiveness. "Late in the season," Williams related, "I pinch hit for the last first baseman I had in the bottom of the ninth and we won. John said to me after, 'That made no sense; what would you have done if you hadn't won the game?' And I told him, 'You played first (base). I played first. ANYONE can play first.'"30 It wasn't clear if McHale was fearful of aggressive tactical innovation making the Expos look bad, or if he simply preferred conservative operating procedures.

On June 11, with the team 30-25 and in fourth place, the Players Association and owners were unable to come to an agreement on an ownership proposal to roll back free-agency gains. The season stopped until the sides reached a compromise that allowed play to resume August 10. This interrupted season spawned a scheme to add a layer of playoffs by dividing the year into pre-strike and post-strike halves, with the divisional winner of each half meeting in a pre-playoff playoff.

Montreal's record was 14-12 on September 7, just one-and-a-half games behind the division-leading Cardinals, when McHale fired Williams. Under new manager Jim Fanning the Expos won the second half and beat the first-half leaders, the Phillies, 3 games to 2. In the NL Championship Series, they lost to the Los Angeles Dodgers in the final inning of the final game.

The skipper views that team as his finest creation, one that had learned everything he had to teach, and he mourned their loss to the Dodgers, rooting for his squad even after being fired. Rookie outfielder Tim Raines batted .304 in 88 games, with a .391 on-base percentage and 71 steals against 11 caught stealing. Andre Dawson had his career year (.553 slugging, Gold Glove and Silver Slugger awards). A tough bullpen was cobbled together from aging starters Woodie Fryman and Bill Lee and young Jeff Reardon.

That was the zenith of the franchise's accomplishment, though partly through tough luck. While the team never got to another post-season series, the Expos had the best record in the majors in 1994 when the owners forced a strike and Commissioner Bud Selig canceled the playoffs.

Williams was still driven, perhaps more stoked than usual, by the premature finish to his Expo cycle. He had gotten the Red Sox and A's into World Series before his time expired. So in the ensuing off-season, when he was courted by the National League's sad-sack franchise, the San Diego Padres, he accepted the position. The Padres had 13 years of uninterrupted losing as a tradition, holding a death grip on the cellar seven of those years. Their 41-69 record in 1981 left them in last place in both half-seasons.

San Diego had more talent than the Angels, but Williams saw the same comfortable-with-losing clubhouse. In GM "Trader" Jack McKeon, Williams had a co-conspirator who was willing to turn over the roster to weed out those unable to get fired up, or those like Ozzie Smith, whose unhappiness pulled the rest of the players down. At the winter meetings, Williams and McKeon worked out a deal with the Cardinals' Whitey Herzog, swapping Smith and a reliever for the Cards' shortstop, Garry Templeton and outfielder Sixto Lezcano, a big win for both teams.

In Williams's first season, the Padres rose to .500 for the first time in their history. At 81-81, it was the equivalent of a 20-victory improvement over the shortened previous season's winning percentage. Catcher Terry Kennedy had a career year, Lezcano had a great year, Templeton's quiet grit helped harden the team's resolve (while traded shortstop Smith was a critical ingredient in his new team's Series trophy). McKeon brought up a rookie outfielder who would play a critical role in the team's near and later successes: Tony Gwynn. Williams and McKeon had tweaked the squad, Dick had hammered some desire for winning into them, and they responded in all facets of the game. They climbed from eleventh to seventh in runs scored per game, becoming one of the most successful league offenses on the road, adapting to various environments. They moved from ninth to sixth-best in runs allowed, in part because the team went from ninth to first in defensive efficiency.

The 1983 squad moved sideways, again with 81 wins, but the players were learning to understand the Williams game. McKeon added power in outfielders Kevin McReynolds and Carmelo Martinez, and acquired first baseman Steve Garvey. While Garvey's best years were clearly past him, he provided a model of the hard-work ethic Williams favored and a positive mental attitude that helped dispel some more of the team's lax attitude.

Young pitchers amped it up or got shipped out like Chris Welsh. On April 30, Welsh started; with a runner on base, Williams signaled for a pitchout, hoping the runner would try to steal and get gunned out. Welsh instead tried a pickoff to discourage the runner from stealing, the opposite of Williams's aim. When pitching coach Norm Sherry went to the mound to explain the difference, Welsh, probably having been confused but not wanting to admit it, told Sherry he'd do it his own way, and if they didn't like it they could get someone else. Williams warmed up a reliever and yanked Welsh at the end of the inning; McKeon got rid of him before his next start.

Williams loved such opportunities to drive his point home. According to his theory of management, it buoys the hard-chargers who want to win, because they believe management is taking notice of serious effort, and makes those players opposed to him work harder to prove him wrong -- incidentally helping the team achieve better performance. Williams thought this team was on the cusp of breaking out.

For the 1984 season, the GM added what Williams and he both thought was necessary to put them over the top: an intense veteran who could model winning behavior and enforce as a peer. McKeon acquired two: third baseman Graig Nettles and reliever Goose Gossage.

After a seven-game losing streak that held them to an 18-18 start, the Padres began running on all cylinders. Williams believes the team responded either with anger at his chronic critique of mental mistakes, or simply from a desire to prove him wrong. A 15-5 run took them to first place on June 9 with a 33-23 mark. They didn't yield that spot through the end of the season, finishing 92-70, with only one serious turn.

On August 12, a beanball war erupted with Joe Torre's Atlanta Braves. The trigger was an early-game revenge move against Padres second baseman Alan Wiggins, who'd gone 5-for-5 against the Braves in the previous game. When Wiggins was nailed in the back by pitcher Pascual Perez, the home plate umpire warned both managers. The Padre starter tried unsuccessfully to plunk a jumpy Perez, and Williams and his starter were ejected. It took three Padres pitchers to hit Perez, which, in baseball norms, would have equalized the situation. But Torre's pitcher, Donnie Moore, hit Nettles. The donnybrook continued, leading to 16 ejections, fines, suspensions, and all manner of long-term hostility. People tend to remember the fiery Williams for this renowned brouhaha, but tend to forget the genteel Torre's equal part in it.

Between the tension and desire to win, Williams's alcohol intake got out of control. A mid-September bar argument with low-achieving outfielder Carmelo Martinez (.240/.333/.389) put his behavior in the public eye, and put the front office on alert, watching out for the team's image in ultra-mellow San Diego, and worried about Dick's hair-trigger inclination to offend the many devout Christians and the right-wing political activists on the team. After the argument, though, Martinez went on a hot streak, batting .349/.417/.465 the rest of the way.

In the League Championship Series San Diego faced the Chicago Cubs, who made it to post-season play for the first in nearly 40 years of famous futility. The Cubs hammered the Padres in the first two games, and Williams's club looked and felt dead. But led in part by Garvey's heroics, Templeton's cheerleading and endless comebacks, the Padres won their first pennant.

Their World Series opponent, the Detroit Tigers, had taken sole possession of first place in the season's fourth game, a position they would never lose, going 104-58. It was a balanced team that finished first in batting, first in pitching, and first in defensive efficiency. Detroit burned through the Padres in five games in what looked like a foregone conclusion from the first syllable of "The Star-Spangled Banner." No amount of inspired tactical legerdemain or inspirational speechmaking would allow the Padres to overcome that Tiger squad. In the fifth and final game, Detroit's Kirk Gibson made one of the greatest unrecognized plays in Series history when he tagged up and scored the go-ahead run on an infield pop-up.

But the Series archive includes an incident that provides an insight into Williams's personnel management. In the eighth inning of that final game, down by only one run, the Tigers had runners on second and third with one out when the hot-hitting Gibson came to the plate. Williams signaled his pitcher, Gossage, to intentionally walk Gibson, a near-automatic move that sets up a force at every base and the possibility of an inning-ending double play. Gossage started yelling into the dugout, and Williams trotted out to hear what was on Goose's mind. Gossage wanted to pitch to Gibson; he didn't want to give in. The numbers told Williams it was a lower-percentage move, but his decision was to let the pitcher go with his best stuff.

"My principle has been, it's his earned run average... it's his butt. If I can help him succeed, fine, but if he fails, he won't be able to live with himself unless he fails his way."31 Williams channeled his father's commitment to accountability, but rolled in his own, directly opposite twist: delegation. The result? "The first pitch Gossage threw broke three seats in the right field stands,"32 a game-altering homer.

Even with the disappointment of losing, it was a big win for the Padres franchise. For the third time, Williams had turned a chronic loser into a financial success; for the third time, a Williams team had set a franchise's attendance record (more than doubled in Boston in 1967, and more than doubled in Montréal in 1977 and increased 33% over the pre-Williams ceiling). But GM McKeon purged Williams's coaches and installed his own loyalists. McKeon's desire to resurrect his mediocre field managing career (286-310 until then), combined with Williams's inability to fully control his unruly behavior would lead to the skipper's departure. In 1985, the Padres made it to the All-Star break just a half-game out of first, needing one more starting pitcher to keep up. "Trader Jack" McKeon, for perhaps the only time in his career, made no deals, and the team struggled, finishing 83-79. The front office forced Williams out, making the announcement on the first day of spring training in 1986. Williams was enraged that the team's announcement made it look as if he had quit on his players, but he could not speak up because of a gag clause in his contract.

Williams would be lured to one more major league managing position, yet again with a sad-sack franchise, the young and under-funded Seattle Mariners. Seattle brought him on 28 games into the 1986 campaign, and he led the team to a listless 58-75 mark, a little better than his predecessors. Of the 14 main players, only two had reached the age of 30, though there were five relatively expensive veterans. The team appeared to have a healthy proportion of young talent in Mark Langston, Mike Moore, Alvin Davis, Danny Tartabull, Harold Reynolds, and Phil Bradley, but they seemed to Williams to be listless and content with losing. Williams, ever driving himself, wanted to prove he still had the magic, and he assumed the tightwad millionaire owner, George Argyros, would eventually spend to win.

In 1987, his first full season, the Mariners achieved their best-ever record at 78-84. Five troublesome vets had been released, three young but undisciplined players traded. Williams believed he needed some veteran talent, but the GM couldn't talk the owner into spending money. Ownership was generous, Williams believed, with one thing they shouldn't have been: unconditional love for the players. So his attempts to discipline went under-supported or even undermined. It would prove his downfall the following season.

The M's best hurler was 26-year old Mark Langston, who believed he, not the manager, should decide when he came out of games. Williams could not brook this impertinence, but the front office backed the franchise's crown jewel, and Williams stubbornly campaigned for what all of baseball views as the manager's right. On July 27, Langston entered the ninth inning with a 3-0 lead against the division-leading Twins. The pitcher kept peering into the dugout, silently asking to be taken out. Williams didn't sympathize: "He was the team's best pitcher -- if he couldn't win this game when it counted, then the Seattle Mariners could never win games when it counted. He had to get tough. His teammates had to get tough." Langston blew the lead. But ownership considered the financial bottom line the true measure of success, and winning only as a side dish. Williams was demoralized and angry, although it didn't always show at work.33

Forty-six games into the 1987 season, Williams was gone. The Mariners did not post a winning record until 1991, after new ownership took over and the young stars Ken Griffey Jr. and Edgar Martinez arrived.

Williams never again managed in the majors. In 1990 he managed the West Palm Beach Tropicals in the Senior Professional Baseball Association, an attempt to put retired players in competition with each other in a league format. After that, he did occasional scouting for San Diego, gathering intelligence on AAA players when they played in Las Vegas, where he lived. He worked for George Steinbrenner and the New York Yankees as an adviser through 2002.

In January 2000, while attending a fantasy camp, he was arrested on an indecent-exposure charge at his motel. He allegedly walked around the grounds naked. He pleaded no contest, according to court records.34 This happened within two months of the 2000 Veterans Committee Hall of Fame vote, and it's been alleged, but not documented, that Williams missed being elected that year and for the next six years because of the incident. The Hall did not make those vote counts public.

He is still married to Norma, and they live in the Las Vegas area, where he acted as the analyst for Sunday broadcasts for the Pacific Coast League's AAA Las Vegas 51s.

Dick Williams's managerial career was remarkable within baseball, but the key talents that made him an exceptionally successful turnaround artist and leader are even more remarkable and precious in non-baseball management. He had the skill to use what resources were on hand. He was successful with different kinds of teams, not relying on a rigid protocol to be a roadmap to success. He could adapt his tactics to the roster he had, something few managers beyond baseball can do.

At the same time, he was unafraid to take chances to improve his personnel. He was able to observe, monitor and analyze his young players, and successfully determine when the team would be able to take an immediate-term hit in experience as an investment in the development of a player who could become an all-star. Players who got their first chance under Williams, or who have stated he "taught me how to win," include Hall of Famers Gary Carter, Reggie Jackson, and Tony Gwynn.

In December 2007, the Veterans Committee elected Dick Williams to Baseball's Hall of Fame. And which team's cap is he wearing on his plaque? Unsurprisingly, the cap of the franchise that, of all the ones he managed, had an owner most passionate about winning. He chose the cap of Charlie Finley's Oakland Athletics.

The combination of humorous self-deprecation and swagger that he always carried on and off the field came through when he heard he was to be enshrined in Cooperstown. "I'm very humbled by it, if I can ever be humbled, because you know me."35


Note

Eric Aron contributed many insights and some writing to this biography. Warren Corbett contributed many, many insights.


Sources

1 The other is probably Billy Martin, advocated as the finest by Bill James.

2 The first, Bill McKechnie, led three National League teams, Pittsburgh (1925), St. Louis (1928) and Cincinnati (1939) to the World Series.

3 Dick Williams, author interview, January, 2006.

4 Dick Williams and Bill Plaschke, No More Mr. Nice Guy. (Harcourt Brace Jovanovich, 1990) p.13.

5No More Mr. Nice Guy, p.23.

6No More Mr. Nice Guy, p.32-35.

7 Author interview, January 2006.

8 Author interview, January 2006

9 Author interview, February, 2006.

10No More Mr. Nice Guy, p.50.

11 The Dodgers played winning baseball during that stretch; they were 28-25 after August 10, but lost all five games against the Giants and a single win among those would have sealed the pennant for Dressen's squad.

12No More Mr. Nice Guy, p.56-8.

13No More Mr. Nice Guy, p.64.

14No More Mr. Nice Guy, p.69.

15 Thanks to David Smith for finding the boxscore and exact details for this doubleheader Williams had told me about.

16 Reported by Ferrarese to the SABR Oral History project (courtesy of Warren Corbett).

17No More Mr. Nice Guy, p.73.

18 Author interview March 2006.

19No More Mr. Nice Guy, p.116

20No More Mr. Nice Guy, p.120

21 Author interview, March, 2006.

22 Baseball-Reference.com, Rollie Fingers gamelog for 1971.

23 "At last, Hall call to Dick Williams," San Francisco Chronicle, December 3, 2007.

24No More Mr. Nice Guy

25 Author interview, January 2006.

26 "At last, Hall call to Dick Williams."

27No More Mr. Nice Guy, p.180.

28 Harold Parrott, The Lords of Baseball, Praeger Publishers Inc., New York, 1976, pp. 50, 261-263.

29 Author interview, February 2006.

30 Author interview, March 2006.

31 Leonard Koppett, The Man in the Dugout.

32 Author interview, January 2006

33 I was a wire service stringer during Williams's tenure in Seattle and interviewed him many times. While his reputation as a hard-ass and tough on the press was something I got to see earned, he was invariably polite to reporters asking intelligent questions.

34http://espn.go.com/mlb/news/2000/0128/320663.html

35 "At last, Hall call to Dick Williams."


Photo Credit

The Topps Company