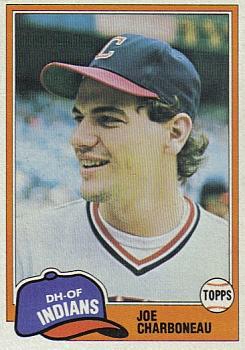 ---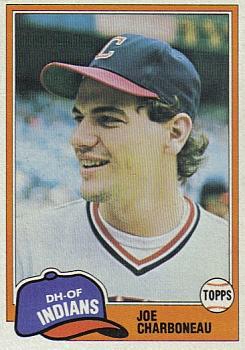 If reviewing the list of examples of baseball stars who fell victim to the fabled sophomore jinx, you are sure to find the name of Joe Charboneau near the top. Charboneau captured the imagination of Indians fans during the summer of 1980 like no other player since Rocky Colavito. However, the man called "Super Joe" in 1980 appeared in only 70 more games over the next two seasons. His 201 career games played stands as the record for the fewest played in the major leagues by a position player who won a Rookie of the Year award.1 Despite his quick disappearance from majors, Charboneau remains one of the most popular Cleveland Indians of all time and an icon in Cleveland sports lore.
Joseph Charboneau was born on a farm outside Belvidere, Illinois, on June 17, 1955.2 He was the fifth of seven children born to Arthur and Kathleen (Van Keuren) Charboneau.3 Art worked as both a milkman and shoe salesman before discovering a rewarding career in industrial sales. Kathleen was a homemaker when Joe was very young. In 1958 Art was transferred and the family moved to Royal Oak, Michigan. Art continued to advance his career and in 1961 he found a new position that took his family to Santa Clara, California.4 In 1963, a year after their move to California, Art and Kathleen separated. The couple eventually divorced in 1970. Art later remarried and had another son.
The departure of his father turned what was an upper-middle-class family into one that had to scramble and scrounge to evade the grasp of poverty and the daily uncertainties that accompanied it. While Kathleen took a job as a receptionist at Kaiser Permanente Hospital, she constantly struggled to make ends meet. The family moved frequently during Joe's 16 years in California, often in a downward direction.
By all accounts, Joe was never an excellent student. He was dismissed from St. Lawrence Elementary and Middle School in the seventh grade because of his poor grades. He would need tutors (and girlfriends) throughout high school and college to keep him eligible to play athletics. Joe was also frequently involved in fights in the local neighborhood and often showed up as a patient at the hospital where his mother worked.
Joe's academic and social problems would surely have landed him in a special education environment in today's world. However in the 1960s and 1970s little support was available for students who faced challenges similar to Joe's. In fact, relatively little was understood about such obstacles to learning. His mother summed up his struggles as follows:
"Joe had concentration problems. He is an intelligent person with an above average IQ. I talked to a lot of his teachers and they said he could not sit still. Joe is a very physical person and he has so much energy. He can't stay in one place for very long … I was losing my grip on him. In California he was faced with so many problems."5
Sensing Joe was teetering on the verge of major trouble from which he would not be able to rebound, Kathleen sent him to Portland, Oregon, to live with his father. Reflecting on the experience, Joe thought he benefited from the change. "Portland was good for me. My dad put my head on straight. I was back playing baseball and doing better than I ever had. My brother also got me interested in lifting weights," he said.6
Joe returned to Santa Clara in 1971 after a year under the watchful eye of his father. However, he soon slipped back into his old ways. As a sophomore, Joe was declared academically ineligible to play baseball and he continued to engage in behavior that later fed the legend of "Super Joe." He engaged in bare-knuckle fights with migrant workers as a means to make a few extra dollars and rarely backed down from any dare, regardless of how dangerous it may have been. He swallowed eggs whole, drank beer through his nose, and generally engaged in behavior that ranged from risky to downright out of control.
When Joe finally suited up to play baseball at Buchser High School few took notice. One individual who did notice was Eddie Bockman, the Phillies' scout credited with signing him. Bockman first saw Joe play while scouting Buchser High's star player, Steve Bartkowski. Charboneau wasn't considered a great high school player or much of a prospect at that time. Bartkowski meanwhile opted to play football and would go on to have a Pro-Bowl career with the NFL's Atlanta Falcons.7
Following high school Charboneau enrolled in classes at West Valley College in Saratoga, California. West Valley was ideal for him. It was close to home and allowed him to continue to pursue his dream of playing professional baseball. He majored in Park Management at West Valley with the fallback plan of being a park ranger if baseball didn't work out.8 Baseball did work out and Joe left school before earning a degree.
Charboneau's first season at West Valley was a memorable one. He hit .373 with a conference leading 12 homers, attracting the attention of several scouts including Bockman. It was also the year he would meet Cindi Engle at a Fourth of July party.9 Cindi was three years younger than Joe and an accomplished synchronized swimmer. While the couple dated, Cindi helped Joe remain academically eligible by assisting him with his school work. The couple married on January 15, 1977, at St. Justin's Catholic Church in Santa Clara.10
Charboneau was originally selected by the Minnesota Twins in the sixth round (the 111th pick overall) of the 1976 amateur draft in January. He opted not to sign with the Twins and returned to West Valley for a second season. Following the season, the Philadelphia Phillies selected him in the second round (the 35th pick overall) of the secondary phase of 1976 amateur draft. On June 10th he signed a contract that paid him a $5,000 signing bonus, a large sum of money for a kid who had been scrapping with migrant workers to earn a few extra bucks.
He was immediately farmed out to Spartanburg (South Carolina) where he joined the Phillies' Class A entry in the Western Carolinas League. Charboneau, who was now 21 years old, appeared in 43 games and finished the season with a .298 average, four home runs and 18 RBIs. Defensively, he made 40 errorless appearances in the outfield.
Following his promising season at Spartanburg, the newly married Charboneau started the 1977 season with the Peninsula Pilots of the Class A Carolina League. Mired in a slump that resulted in a .172 average and a frequent seat on the bench, he asked the Phillies to send him back to Spartanburg where he could play on a daily basis. The Phillies refused and Charboneau quit baseball to return to Santa Clara where he took a job as a stock clerk in an electronics company. When not working, he played a little softball and lifted weights. Following the season, Bockman reached out and convinced Charboneau to give baseball another try.
Given a second chance, Charboneau was sent to Visalia to join the Minnesota Twins' Class A affiliate in the California League. Playing close to home, he had a breakout year with the Visalia Oaks. Charboneau won the California League batting title with a .350 batting average, beating out teammate Tack Wilson by a single point. He also hit 18 home runs and drove in 116 runs. However, the outfielder's quirky antics were perhaps a little more than the Phillies management was willing to tolerate and during the winter meetings that followed the 1978 season the Phillies traded Charboneau to the Cleveland Indians for pitcher Cardell Camper.
Following his success at Visalia, Charboneau won his second consecutive batting title in 1979. Patrolling left field for the Chattanooga Lookouts of the AA Southern League, Charboneau batted .352 with a team-leading 21 home runs and 78 RBIs. While he was a fan favorite among Chattanooga's faithful, he also had difficulty controlling his volatile temper both on and off the field.
Despite his successes during the previous two seasons, few fans in Cleveland had heard about Charboneau and he didn't figure to factor into the Indians' plans when he arrived at spring training in 1980. Cleveland leadership first read reports of the 6'2", 200-pound kid who was pounding the ball in Florida. He gave interviews, demonstrated some of clubhouse stunts and eventually made the starting lineup when outfielder Andre Thornton went down with a season-ending knee injury at the end of spring training. Indians' beat reporter Terry Pluto of the Plain Dealer recalled the discovery of Joe Charboneau that spring. Pluto declared, "I thought I'd found Shoeless Joe from Hannibal, Missouri, you know, Joe Hardy from 'Damn Yankees.'" 11 Pluto is credited with being the first writer to give him the moniker of "Super Joe."
Charboneau had an immediate impact once the Indians broke camp. Starting in left field on Opening Day in Anaheim, he hit a fifth-inning home run to right-center off Angels' right-hander Dave Frost. Eight days later, the 24-year-old rookie made an amazing debut at Municipal Stadium in the Tribe's home opener. Charboneau had a single, double, home run, and a walk in his four plate appearances. His home run was a sixth inning solo shot of veteran reliever Tom Buskey. Charboneau cites the pair of Opening Day home runs among his fondest memories of his rookie year.12
On June 28, 1980, the Legend of Super Joe Charboneau took full flight. Leading off the top of the second inning Charboneau deposited a three-and-one fastball from Yankee southpaw Tom Underwood into the third deck of the left field grandstands at Yankee Stadium, a section reached previously by only two individuals; Jimmie Foxx and Frank Howard. In Whatever Happened to Super Joe, Charboneau recalled, "I remember it like it was yesterday. As I was going around second base, I looked up to where the ball landed and thought to myself that I'd probably never hit another ball like that again. And I never did. It was a once-in-a-lifetime swing. Later they told me it was one of the three longest home runs ever hit in Yankee Stadium … the 'House that Ruth built.'"13
News of Charboneau's eccentric behavior and daring feats also fed into the legend of Super Joe. These included stories of how he opened bottles of beer with his eye socket, pulled an aching tooth and fixed a broken nose with some whiskey and a pair of pliers, removed a tattoo with a razor blade, ate lit cigarettes and drank beer through his nose.14 Teammate and friend Mike Hargrove debunked the myths and urban legends surrounding Charboneau. "Joe was a great guy and quite a character. But all those stories about removing bottle caps with his eye socket, and so forth, were exaggerations," Hargrove said.15
Years later, Charboneau also revealed that some of the stories were blown a bit out of proportion. "You know, I only opened a beer bottle one time with my eye socket, back when I was in college — it was a bit uncomfortable," Charboneau said. "But that story followed me the rest of my career."16
At the end of August, Charboneau was hitting .291 with 21 home runs and 78 RBIs. Go Joe Charboneau, a song recorded by a local group called "Section 36" had reached No. 4 on the 45s chart in Cleveland.17 He was the toast of Cleveland and entering the final month of the season, he was the clear front-runner for AL Rookie of the Year honors.
Despite hitting only two home runs and compiling nine RBIs during the final five weeks of the season, Super Joe finished 1980 with a .289 average, 23 home runs, and 87 RBIs. Charboneau captured 15 first place votes and easily out-distanced fellow rookies Dave Stapleton, Doug Corbett, Damaso Garcia, and Britt Burns to become the Cleveland Indians' third Rookie of the Year.18 The future seemed bright for both Charboneau and the Indians.
The sophomore jinx hit Charbonneau even before the 1981 season started when he injured his back sliding head-first into second base. He attempted to play through the pain, but never found his stroke. Following the resumption of play after the 1981 Major League Baseball strike, he was optioned to the AAA Charleston Charlies of the International League. At the time of his demotion he was hitting just .206 with four home runs and 16 RBIs. Charboneau failed to rediscover his stroke during a 14-game stint with the Charlies, but was brought back up to finish the year with the Indians. That winter he had his first back surgery.
Prior to the strike and his being farmed out to Charleston, Charboneau enjoyed the thrill of playing left field for the Indians on May 15, 1981, when close friend Len Barker tossed a perfect game against the Toronto Blue Jays. He ranks the experience among his most memorable moments in baseball. Admitting he wasn't the best outfielder in the game, Charboneau recalled how manager Dave Garcia went to Barker and said, "I'm gonna pull Charboneau in left." Barker replied, "If you pull him, you'll have to pull me too." Joe and the other Indians who started the game stayed in the whole game because Barker thought everybody who started should be on the field if he pitched a perfect game.19
Charboneau and Barker had a close relationship that has endured beyond their playing days. He recalled how he frequently borrowed money from Barker. "I used to borrow money from Len Barker; twenty bucks all the time." Charboneau went on to quip, "I saw him recently and he said that he claimed me on his income tax return."20
Charboneau and the Indians entered 1982 hopeful that he would regain his form. He struggled to hit for average and was unable to display the power that elevated him to stardom only two years earlier. He was hitting .214 with two home runs and nine RBIs when the Indians optioned him to AAA Charleston following their June 1 game against the Minnesota Twins. Just outside of two weeks before his 27th birthday, he had played his last major league game.
Super Joe fared no better at Charleston. In 20 games with the Charlies he managed to hit .234 with one home run and five RBIs before being sent down to AA Chattanooga. Southern League pitching did nothing to help him get back on track. In 13 games with the Chattanooga Lookouts he hit a dismal .207 with one home run and three RBIs. Following the 1982 season, he endured another surgery on his back. Reflecting back on his rapid decline, Charboneau surmised, "After I hurt my back the first time, I never got rid of the pain, and I never got my swing back.21
The Indians gave Charboneau one last opportunity with the AA Buffalo Bisons of the Eastern League. In 11 games with the Bisons, Charboneau could manage no better than a .200 average with two home runs and three RBIs. Following an incident when he gave jeering fans an obscene gesture, he was suspended for a week and subsequently released, prematurely ending his 1983 season.22
In 1984, Charboneau made a cameo appearance, as one of Roy Hobbs' (played by Robert Redford) New York Knights teammates in the film The Natural.23 After that, Charboneau signed a minor-league contract with the Pittsburgh Pirates.
Assigned to the Prince William Pirates of the Class A Carolina League, the one-time AL Rookie of the Year and now 29 year-old was playing with a new generation of prospects that included Bip Roberts and Felix Fermin. In 108 games with Prince William, Charboneau hit a respectable .289. However, his power failed to return as he managed to slug only eight home runs and amass a slugging percentage of only .418.
Following the end of the Carolina League season, Charboneau joined the Pirates AAA affiliate in Hawaii to finish off their season. In 15 games with the Islanders, Charboneau hit .224 with only three RBIs. So ended his meteoric rise to stardom and his equally as dramatic descent back down.
"All that stuff embarrassed me … the nickname, the book, the song, the stories," Charboneau said as he reflected on his brief career. "I just wanted to play ball. I wasn't interested in a lot of publicity.24 "Making it to the big leagues was the highlight for me. Baseball was good back then. … You played for the love of the game and you didn't make a lot of money. There were fewer teams and better pitching. It was harder to make it.25
In 2000, while coaching the Canton Crocodiles of the independent Frontier League, Charboneau made his final professional appearance as a pinch-hitter. The appearance was part of a scheduled promotion. If Super Joe homered, one fan would receive $25,000. And, if he struck out, the victorious hurler would win a full week's salary of $500.26 There were no winners that night, other than the 45-year-old Charboneau who singled!
Today Charboneau lives in North Ridgeville, Ohio, with Cindi, his wife of 40 years. The couple has two children — a son, Tyson born in 1979, and a daughter, Dannon, born in 1981 — and six grandchildren. He is involved in public relations for MOD Disaster and Restoration Services, engaged in public speaking and personal experiences, and works as an independent professional hitting instructor.27 He and former teammate Ron Pruitt also serve on Len Barker's coaching staff at Notre Dame College in Ohio.28 And of course, to this day he is still "Super Joe" Charboneau, the Indians' resident Ambassador of Baseball.
Last revised: October 5, 2017
Acknowledgments
This biography was reviewed by David Lippman and fact-checked by Stephen Glotfelty.
Sources
In addition to the sources cited in the Notes, the author also relied on Baseball-reference.com and Retrosheet.org.
Notes
Born
June 17, 1955 at Belvidere, IL (USA)
If you can help us improve this player's biography, contact us.
https://sabr.org/sites/default/files/CharboneauJoe-Topps.jpg
600
800
admin
/wp-content/uploads/2020/02/sabr_logo.png
admin
2017-10-05 19:48:42
2020-04-09 14:40:31
Joe Charboneau