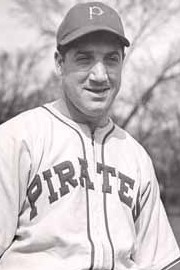 ---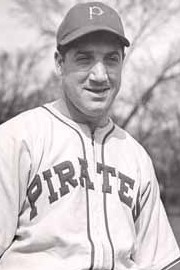 It would have been a great story, a former minor-league hurler and Army veteran who signs on as a batting practice pitcher with his hometown team. Then he gets put on the active roster due to injuries and gets a chance to live his dream and pitch in the major leagues. While it all sounds like a tale that would make a perfect movie, the story ends in a bizarre fashion. The one consistent thing that seemed to trouble pitcher Joe Vitelli throughout his professional baseball career, a disagreement with management as to his worth, ended his brief stay in the majors less than a year after he debuted.
Italian natives Dominico and Piffaela Vitelli emigrated to the United States and had three children: Antonio Joseph Vitelli and his two siblings, Sam and Elizabeth. Joe was born on April 12, 1908 in McKees Rocks, Pennsylvania. His dad worked as a laborer on the railroads in Pittsburgh, and his mom ran a boarding house. Joe grew up only nine miles from Forbes Field, where he eventually would pitch. He later married Kathryn Norick, and the couple had one son, Joseph Jr.
The 6-foot-1 right-hander was a freshman fullback for the great Jock Sutherland at the University of Pittsburgh, as well as a pitcher on their baseball team. He then played semipro football for one of the best teams in Western Pennsylvania — the Rox Rangers, coached by former Panther All-American Toby Uansa — before embarking on his career in professional baseball. With an effective fastball, plus a good curve and off-speed pitch, the hurler became part of the New York In 1932, he pitched for the Cumberland Colts in the Middle Atlantic League. Yankees organization. Vitelli's rookie season in the minors left something to be desired: he finished with a 7-6 mark and 4.45 ERA. Plus, his 1.527 WHIP was awful.
But he made vast improvements in 1933, starting the season with Yankees affiliate in Wheeling, West Virginia. Amid his wonderful sophomore campaign with the Stogies, Vitelli's temper got the best of him towards the end of July. Following a confrontation with manager Jack Sheehan, the 25-year-old pitcher was suspended without pay for insubordination and an indifferent work ethic. An irritated Sheehan said the pitcher was done with Wheeling. Within the next two weeks, Vitelli had apologized to Sheehan and was reinstated, but soon after he was traded to the independent Johnstown (Pennsylvania) Johnnies, also of the Middle Atlantic League, for third baseman Bill Crittenden. Vitelli finished his season with Johnstown, rebounding to a 16-9 combined record (3.23 ERA) for both clubs, and much more respectable 1.225 WHIP.
Vitelli stayed with the Class C Johnnies in 1934, although at the beginning of the year, rumor had it he would pitch for the Birmingham Barons of the Class A Southern Association. While he put up a winning 7-3 mark that season, his ERA ballooned to 4.33. Nonetheless, he was brought up one level in 1935, to the Yankees' Class B Piedmont League club in Norfolk, Virginia.
Vitelli struggled there: his WHIP hit a career-high 1.531. Besides his less-than-stellar performance, he once again got embroiled in an argument with management. Following a dispute with manager Bill Skiff, Vitelli was not only suspended for the rest of the season, but spent the 1936 campaign out of professional baseball.
Just as it seemed Vitelli's career had cratered, enter manager Bill McCorry, who was taking over a new team in the Class A New York-Pennsylvania League, the Albany Senators. McCorry had a team with no players, and one of the first he signed was Vitelli. Many criticized the manager for the choice, feeling that "a year out of pro ball doomed an ordinary performer to subsequent mediocrity."1 Yet the choice soon proved surprisingly wise.
The Senators finished tied with Trenton in last place with a 54-80 mark. By that token, few would have noticed had Vitelli continued his downward trend, but instead he responded with his best season. He single-handedly made the pitching staff of the Senators formidable. As the best pitcher on the club without question, he made several memorable starts, including an 18-inning 2-1 victory against Trenton. Not only did he completely shut down the Trenton hitters, but he stroked the game-winning single. McCorry called the game the best-pitched contest he had seen in his 30 years in the game.2
Vitelli also became well known for ending losing streaks, halting five- and nine-game skids during the season. He was 17-10 with a 2.66 ERA, winning over 30 percent of the Senators' games that season. Vitelli was beaten out for the circuit's pitcher of the year by future big-leaguer Jim Bagby Jr., but many felt that he should have been given the award, especially considering the poor team he played on.
However, for the first time in his five-year career the 29-year old right-hander thought he had a legitimate shot at making a major-league club. He failed to make the Reds in 1938, though, and was returned to Albany instead of Cincinnati's top farm club, Syracuse of the International League.
Vitelli did not respond well to being back with the Senators. He was beaten decisively in his first three outings, and despite McCorry's hope that he would return to the level he had in 1937, he did not. He hurt his arm during the season and finished 7-11. He had an arm operation in the offseason and declared he would retire if his performance didn't improve in 1939.3 Fortunately he compiled a winning 11-8 record that season, although he did not regain his banner 1937 campaign's form. He thus decided to hang up his spikes.
He returned to playing semipro ball in 1940 and 1941, perhaps in hopes of keeping his baseball career alive. Drafted jnto the Army early in 1942, he was assigned to the 628th Reconnaissance Company at Camp Livingston, Louisiana. Private Vitelli stayed in the States during his tenure in the Armed Forces and was discharged in 1944, and soon received the opportunity that he never thought he'd get.
With the war still raging in 1944 and manpower at a premium in the majors, the Pittsburgh Pirates used only a seven-man rotation for most of the season. At one point southpaw Johnny Gee suffered a sore arm, which led the team to hire a batting practice pitcher, who turned out to be 36-year-old Vitelli. Less than a month after joining the team, he was finally given the opportunity he had hoped for since 1932 — a chance to pitch in a major-league game.
Pittsburgh was playing the Brooklyn Dodgers at Ebbets Field on May 30, and after the fifth inning with Brooklyn comfortably ahead, 7-0, manager Frankie Frisch called upon Vitelli for some mop-up work. He was pretty impressive in his inaugural appearance, and Ed Balinger of the Pittsburgh Post-Gazette observed that "Vitelli then showed that in addition to pitching batting practice . . . , he can turn in a very neat rescue job. He allowed only one of the 12 Brooklyn swats and the two runs off him resulted from bad support."4
After striking out Luis Olmo to begin his major-league career, Vitelli issued a walk to Dixie Walker but got out of the sixth inning unscathed. In the eighth inning third baseman Bob Elliott's error led to two unearned runs in Brooklyn's 9-3 victory, but the hometown pitcher was impressive, surrendering only a hit and two walks over three innings of work.
Almost a month later, on June 24, he got a second chance. This time it came with Pittsburgh trailing St Louis, 15-0. Vitelli gave up the first earned run of his career, surrendering a double by first baseman Ray Sanders, which plated Pepper Martin in the 16-0 defeat. Vitelli pitched two more times in 1944, on July 5 in the final inning of a 9-4 loss to Philadelphia that completed a rained-out contest from May 21, and on August 29 in the final inning of the first game of a doubleheader against the Cubs. That was his worst outing of the season. He allowed two hits and walked five, finishing up a 15-4 rout by Chicago. While he threw only seven innings in four games, the Pirates appreciated Vitelli's contribution, voting him a full share of the World Series pool for second-place teams, $722.48.
Vitelli looked forward to contributing even more in 1945, but he appeared in only one game, and not even as a pitcher. On May 30 at Forbes Field against the Dodgers, the score was tied 1-1 in the bottom of the fifth. Vitelli pinch-ran for pinch-hitter Spud Davis, who'd drawn a walk. Vitelli eventually scored after a single by Bob Elliott on the way to 13-5 victory.
He didn't get to pitch at all during July, and disgruntled once again, Vitelli left the team. Convinced he was as good a pitcher as some on the Pirate roster, he felt entitled to compete for a permanent spot and the opportunity to earn more money. Other than the pinch-running appearance, Frisch kept him on the bench and pitching batting practice. No other team was willing to give a 37-year old pitcher the chance Vitelli believed he was ready for. His career then ended for good.
Deciding to stay in Pittsburgh, Vitelli worked for the Rox Rangers, as well as coach for many youth baseball teams, including his last stint as manager for the Moon Township American Legion team. He also worked for Allegheny County heading up baseball clinics for both North and South Parks in the county.
On February 7, 1967, at the age of 58, Vitelli died after what was described as a lingering illness in Veterans Hospital. From his window he may have been able to see the same Pitt Stadium where he played as a freshman four decades earlier. Even though his own baseball career culminated in disillusionment and disappointment, in the end his contribution to youth baseball in the city of Pittsburgh crowned his life in the game with success.
Acknowledgments
This biography was reviewed by Tom Schott and fact-checked by David Kritzler.
Notes
1 R.J. Conners, "Joseph A Vitelli of Albany Senators," The Sporting News, July 22, 1937, 2.
2 Ibid.
3 R.J. Conners, "Albany Good-will visit Keeps Rabbit on Jump," The Sporting News, January 19, 1939, 1.
4 Ed F. Balinger, "Dodgers Whip Pirates Twice, 9-3, 4-3," Pittsburgh Post-Gazette, May 31, 1944, 14.
Born
April 12, 1908 at McKees Rocks, PA (USA)
Died
February 7, 1967 at Pittsburgh, PA (USA)
If you can help us improve this player's biography, contact us.
https://sabr.org/sites/default/files/Vitelli%20Joe.jpg
600
800
admin
/wp-content/uploads/2020/02/sabr_logo.png
admin
2018-08-09 09:29:47
2020-04-09 14:38:42
Joe Vitelli