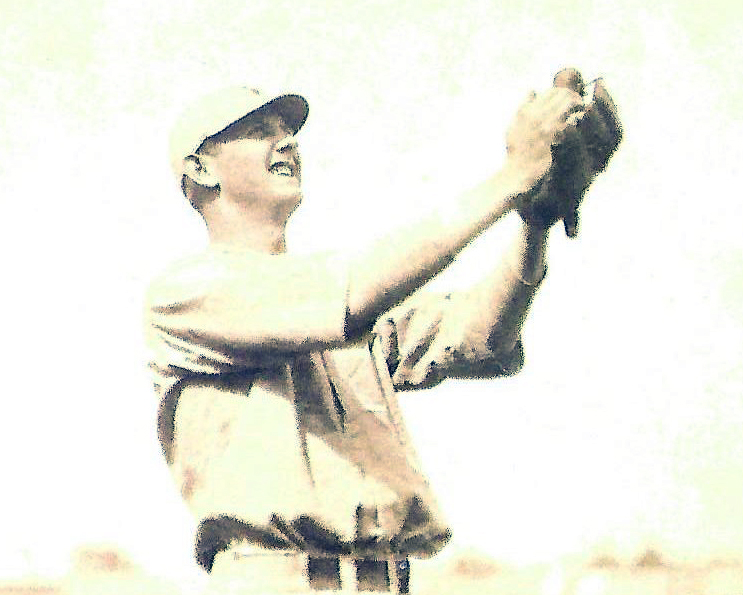 ---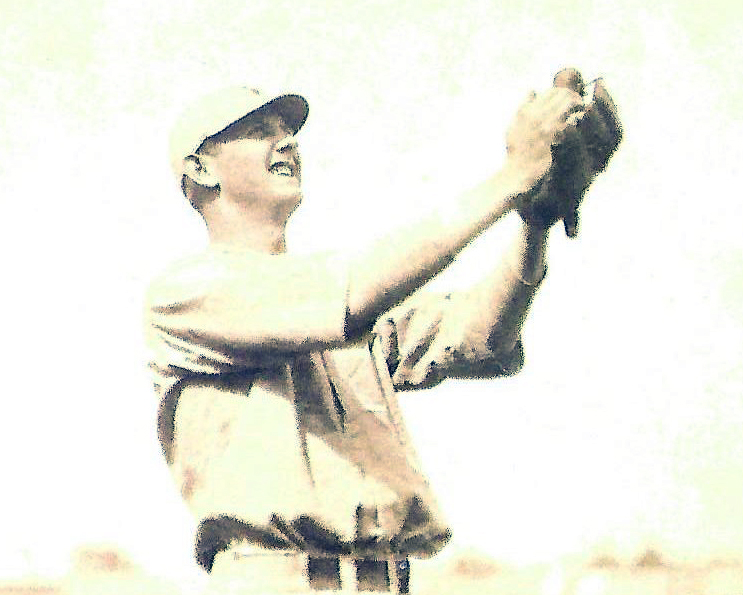 Major-league teams are constantly on the search for talent. Even before teams had minor-league systems they had working relations with specific teams to supply talent. Players were sent up to the big club for a tryout, frequently after the minor-league team was out of their pennant race. Cleveland manager Tris Speaker realized early in 1924 that the Indians did not have the talent to compete for the pennant. He was unafraid to tap into his minor-league connections and give a youngster a look-see. That helps explain why 22 pitchers toed the rubber for the Tribe that year (the league median was 14). In September Speaker even went so far as to bench himself so that outfield prospects could be evaluated. Outfielders given a trial this way were Sumpter Clarke, Tom Gulley, and Joe Wyatt.
Loral John "Joe" Wyatt was born in Petersburg, Indiana on April 6, 1900. His parents, both Hoosier natives, were Thomas J. and Willa A. (Nelson). Joe was the middle of three boys, Nasby was born in 1897 and Fred in 1903. Thomas was a farmer in Pike County, Indiana at the time of Joe's birth, but left the fields for a job as a weigh boss at a coal mine near Princeton, Indiana. The boys all attended Princeton schools where they excelled as athletes. Nasby lead the basketball team in scoring his senior year and Joe duplicated that feat in his final season. Princeton did not have a baseball team for the high school so the boys honed their baseball skills on local summer teams.
After graduation Joe was inducted into the infantry for the duration of the war. He makes no mention on his Hall of Fame questionnaire of combat or deployment. Following his discharge he joined Nasby working in the rubber factories in Akron, Ohio. Factory work was a short term means of making money to attend college. Joe entered Wabash College in Crawfordsville, Indiana where he played basketball and baseball, joined Sigma Chi fraternity and graduated with a business degree in 1924. He hit over .300 as a freshman and sophomore and played on championship teams in 1923 and 1924. He served as captain for the squad his senior year and teamed with his brother Fred in the outfield. The June 6 Cleveland Plain Dealer raved about Joe's talent as a "hard hitting, fast outfielder…who made only one error" his whole career at Wabash and hit over .500 his last two seasons. In fact, during a stretch in 1923 he went 17 for 26 at the plate. Joe was brought up to Cleveland after graduation and spent a week or two with the club learning the ropes, but seeing no action, before he was sent to Kansas City in the Class AA American Association.
Joe's first professional appearance was on July 1, 1924 in St. Paul. He batted leadoff for Kansas City going hitless and having no chances in center field. That was his only action with Kansas City before being returned to the Indians, who promptly sent him to Terre Haute on July 7. Joe played 61 games for the Tots in the Class B I-I-I league. He was recalled at the end of the season and saw action in four games with the Tribe. His first major-league appearance was in a doubleheader in St. Louis on September 11. He went 0-2 in the first game and 2-5 in the second. He played again on September 12 versus the Browns and then in a home game versus the A's on September 13. He played right field in all four games while Sumpter Clarke handled center field. When Joe went to the bench Tom Gulley was given his audition in right field. Eventually Speaker inserted Riggs Stephenson in right field for the rest of the year.
Wyatt went to spring training with Cleveland and eight other outfield candidates in 1925 at Lakeland, Florida. He showed a fine glove and a strong arm, but was optioned to Terre Haute on March 24 for more seasoning. He played in 128 games hitting .308 with 13 homers. In mid-July the Indians cancelled their option on Joe. The Indianapolis Indians of the American Association purchased his contract just before the close of the I-I-I season. Joe played 14 games with them, mostly in left field. His bat was cool for the first few games, but from September 19 to the end of the season on the 27th Joe hit a torrid .531 (17 for 32) with four doubles. Indianapolis welcomed him back for the 1926 season. On July 5 he was acquired by the Columbus Senators, also in the American Association. Between the two teams he saw action in 131 games, 95 as an outfielder and then some third base during August with Columbus. He hit .308 overall.
In 1927 Joe was back at Indianapolis where he was the fourth outfielder, but was second on the team to Reb Russell with a .329 average before he was sold to New Orleans in the Class A Southern Association. Suffering a demotion despite hitting well was tough on Joe. He struggled in 52 games with the Pelicans, hitting only .255. But he fielded brilliantly and provided some timely hits as the Pelicans stormed back in the second half of the season. 11 games behind Birmingham on July 4, New Orleans captured the pennant by 5.5 games. The comeback earned the Pelicans a berth in the Dixie Series versus Wichita Falls. The series opened in Wichita Falls before 15,000 fans in cool, football-like weather. The Spudders won the pitcher's duel 2-0 with Joe getting the only long hit for New Orleans, a double. The Pelicans dropped the next three games with Wyatt seeing only a pinch-hit appearance in game 4.
Joe was a no-show at spring training in 1928 and the Pelicans sold his contract to Decatur in the I-I-I league. New Orleans had invited six outfielders to camp, Decatur listed ten on their roster. Now back in "B" ball, Joe chose to leave the game and find other ways of earning a living. He rejoined Nasby in Akron to work in the rubber industry. By mid-May he was a starting outfielder on the Firestone Non-Skids, a crack industrial team. The Firestones played in the Double A Industrial League that included teams from Akron, Canton, and Cleveland. Joe had his finest game in that league on September 2 when he banged out three triples, a sacrifice fly, walked and stole a base. Firestone went on to be the Ohio Industrial champions and played in the National Baseball Federation AA Championship. They lost out to champion Indianapolis Power and Light. The Firestones played a more independent schedule in 1929 and did not fare as well. Joe made only a few appearances in their lineup before moving back to Vincennes.
Wyatt was a gracious, outgoing person with a winning smile and personality. He impressed the Firestone business people with more than his baseball talent and he was sent back to Vincennes, Indiana to run one of their stores. He was attending a Rotary meeting one day when a lovely, young soprano from St. Mary's of the Woods was the featured entertainment. Joe told those with him that he would marry that girl. True to his word on February 11, 1933, Joe and Erma Josephine Kurtz were wed.1 Joe got a promotion and moved to Louisville, Kentucky as a regional troubleshooter for Firestone. The couple moved back to Vincennes in 1936 when Erma was pregnant because Joe wanted his children to be raised in a small town. The couple would have three children, J.Cyrilla, JoEtta, and Kim. In the late 1930's, Joe left the employment of Firestone for a job with Texaco. He eventually became his own boss when he teamed with Nasby to found J&N Beverages Inc. located in Vincennes, Indiana.
Joe was heavily involved in the community baseball program, sponsoring teams and managing youth teams. A life-long Mason, he served as an officer and was involved in their community service projects. Wyatt was an avid hunter. He especially liked tracking down grouse and pheasant. He was on a hunting trip near Oblong, Illinois in early December, 1970 with a trio of friends when he was stricken with an aortic aneurysm. Despite the best efforts of his companions to get him to a hospital, Joe succumbed. He is buried in Vincennes at the Mount Calvary Cemetery. Erma eventually moved to the Dallas, Texas area to be close to the children. She died there in 1997.
Sources
Newspapers used: Cleveland Plain Dealer, New Orleans Times-Picayune, Dallas Morning News, State Times Advocate from Baton Rouge, Indianapolis Star, Columbus Dispatch, Princeton, Indiana Daily Clarion, Canton Repository, Akron Beacon-Journal, The Sporting News, Terre Haute Saturday Spectator, The Valley Advance ( Vincennes, Indiana),Vincennes (Indiana) Sun-Commercial, The New Orleans Item
Internet sources: ancestry.com, Baseball Reference
Cooperstown Baseball Hall of Fame questionnaire
A major debt of gratitude to Joe's daughter, Cyrilla, who provided invaluable family background information. Her memories of Joe and Erma are truly warm and touching.
A thank you to Brian Spangle at the Knox County (Indiana) Public Library who provided the obituary on Joe. Also a nod to Linda Petrie @ Wabash College for the contents of his file there.
A special note of thanks to Princeton, Indiana sports historian and retired baseball coach Tim Nonte for background info on Joe. Tim has written a book on Princeton HS basketball and continues to research baseball in the area.
Notes
1 The marriage date was provided by a clerk at Gibson County records in Princeton, Indiana. Joe had written the marriage date as Feb.4, 1935 on his HOF questionnaire. Cyrilla did not think that date matched with stories she had heard. Joe was not the first man to forget his anniversary date.
Born
April 6, 1900 at Petersburg, IN (USA)
Died
December 5, 1970 at Oblong, IL (USA)
If you can help us improve this player's biography, contact us.
https://sabr.org/sites/default/files/WyattLoral1.jpg
600
800
admin
/wp-content/uploads/2020/02/sabr_logo.png
admin
2013-11-15 13:02:52
2013-11-15 13:02:52
Joe Wyatt