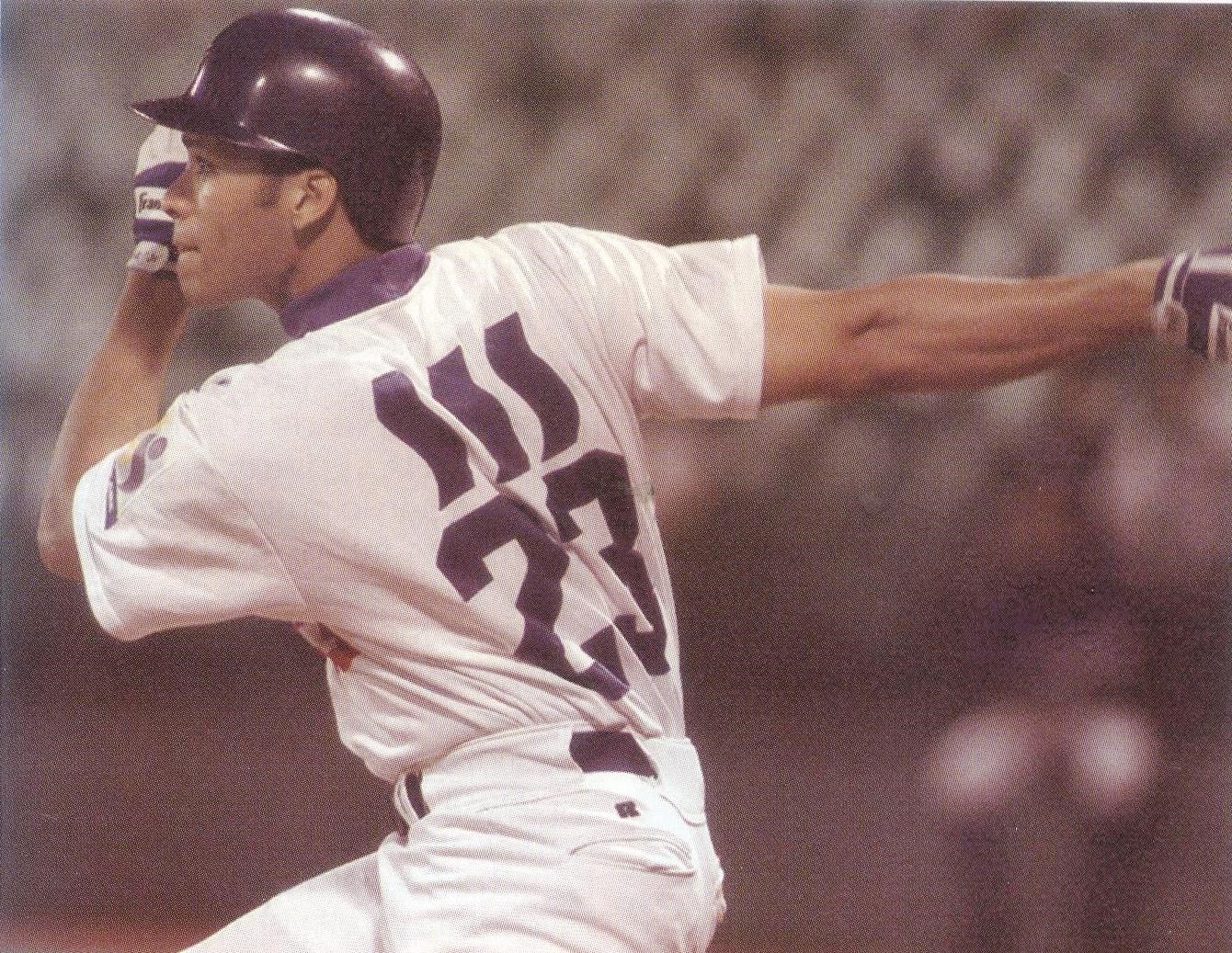 ---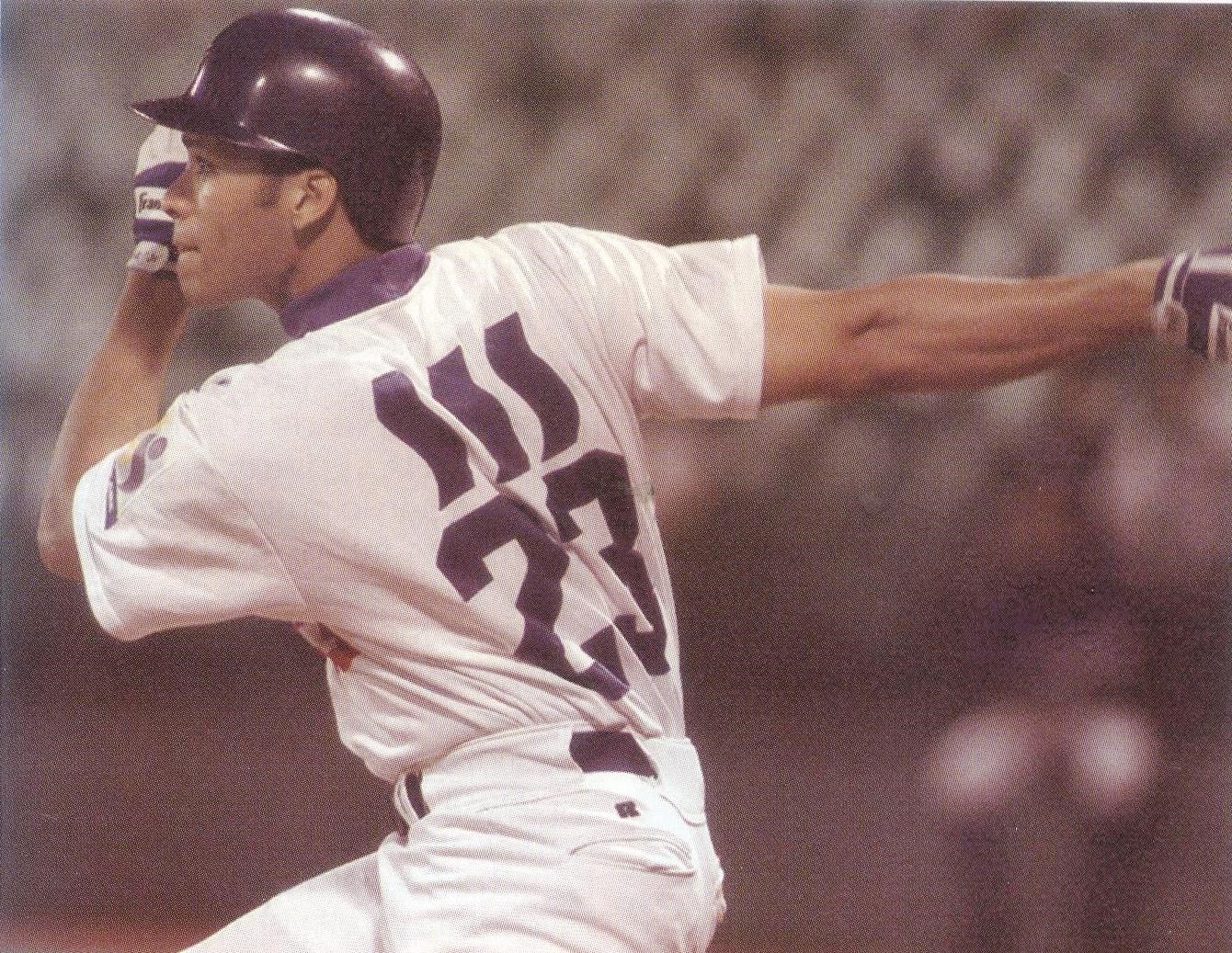 José Luis Cruz Jr., a switch-hitting major-league outfielder for 12 years, grew up around baseball. "It's pretty much been baseball all my life," said Cruz as he reflected on his adolescence as the son of major leaguer José Cruz Sr. "People ask me if it was exciting, growing up with a father in the majors, and two uncles. Maybe now, I guess, looking back. Back in those days, it was just normal."1
Cruz was born on April 19, 1974, in Arroyo, Puerto Rico, on the south coast of the island. His father is not his only major-league connection. He is also the nephew of former big leaguers Héctor and Tommy Cruz. Cruz hung around the ballparks as he grew up. He studied his father and his uncles. He learned from an early age how to carry himself as a player and studied the give-and-take in the clubhouse.2
"I remember one time getting knocked out by a foul ball during the Caribbean World Series, literally knocked out, when I was five years old," he told the authors of a book on baseball fathers and sons. "Later I was able to see my dad's last hit in the big leagues. It was a grand slam. It was a great way to end a career."3
When Cruz started playing baseball as a youngster, his father and uncles played a big role in helping him to develop his skills. He learned a lot from his family: "I remember driving in the car with [my father and uncles] to and from games. My dad was driving, my uncle was in the passenger seat and I was in the back seat. We used to go through all different kinds of scenarios, matchups and lineups. What's the right way to get an out? What's the wrong way?"4
Cruz grew up in Bellaire, Texas, a suburb of Houston, while his father played for the Astros. He At Bellaire High School he led the baseball team to a number-one national ranking during the 1992 season, his senior year.5 The Atlanta Braves selected him in the 15th round of the 1992 amateur draft but Cruz chose to attend college.
Cruz attended Rice University from 1992 to 1995 and led the Owls in hits, home runs, and RBIs during the 1993 and 1994 seasons, and in runs and doubles in 1994. On February 9, 1995 Cruz had a school-record 10 RBIs in a game against Southwest Texas State. (As of 2017 the record still stood.) Cruz was a three time All-American at Rice.6
Cruz was the Seattle Mariners' first-round pick in the 1995 amateur draft, the third overall pick that season. Seattle gave Cruz a team-record $1.3 million signing bonus and placed the young player on a fast track to the majors.
After signing his contract, Cruz played in just three games for the Mariners' short-season team, the Everett AquaSox. He had five hits in 11 at-bats before being moved to the Riverside Pilots of the high-A California League. With the Pilots he had 29 RBIs in 35 games. After the season, Cruz played winter ball for Santurce in Puerto Rico, a club that was managed by his father.
With the Lancaster JetHawks, the new Mariners farm team in the California League, at the start of the 1996 season, Cruz improved his batting average 68 points to .325 and had 43 RBIs in 53 games, earning himself a promotion to the Port City Roosters in the Double-A Southern League. Against the faster competition his batting average fell but he drove in 31 runs in 47 games. The Mariners promoted him once more: He finished the season in Triple A, with the Tacoma Rainiers of the Pacific Coast League. Cruz struggled against the higher caliber pitchers in the league and his batting average dropped to .237.
The Mariners sent Cruz back to the Rainiers in 1997. His confidence improved and so did his statistics. He raised his batting average to .268 in 50 games before the Mariners called him up in May. Cruz made his major-league debut on May 31, 1997. Playing left field alongside Ken Griffey Jr., he was hitless but drove in a run with a groundball. Cruz played in 49 more games before he was traded on July 31 to Toronto for pitchers Paul Spoljaric and Mike Timlin. At the time of the trade, Cruz had 12 doubles, 12 home runs, and a .541 slugging percentage.
The trade was a surprise since the Mariners had such high expectations for Cruz. But they decided that they needed pitching more than hitting.7 In Toronto, Cruz hit 14 home runs in 55 games as he split his playing time between left field and center field. His play for both teams earned him a second-place finish behind Nomar Garciaparra in the balloting for the Rookie of the Year Award.
Cruz started the 1998 season with Toronto's Triple-A team, the Syracuse SkyChiefs, in the International League. After 40 games there, he was recalled and became one of the Blue Jays' regular outfielders, again splitting his time between left field and center field. In 105 games he batted .253 with 11 home runs.
The Blue Jays sent Cruz back to Syracuse to start the 1999 season but recalled him after just 31 games. He played in 106 games for the Blue Jays and hit .243 with 14 home runs and 14 stolen bases.
The next season, 2000, was Cruz's breakout year as a major leaguer. He started in center field in all 162 Blue Jays games. He led the league's outfielders with 407 putouts and flashed power with 32 doubles and 31 home runs, though his batting average was still in the .240s. He was voted the Blue Jays' MVP by the Toronto chapter of the Baseball Writers Association of America.
In the offseason Cruz played for the Cangrejeros de Santurce, which swept the Caribbean Series. Cruz was the MVP of the series. He hit .385 with 5 doubles and 10 RBIs. "That Caribbean Series was extremely special. It was all about the team and country," he said in a 2015 interview.8
In 2001 Cruz continued to play well defensively and offensively, raising his batting average to .274, hitting 34 home runs, and stealing 32 bases. He was caught stealing only five times, an 86.4 percent rate for the season.9
Cruz's offense slipped in 2002. He played in 124 games for the Blue Jays, losing five weeks to injury in August and September. He hit just 18 home runs and stole only seven bases and his batting average slid 29 points to .245. After the season the Blue Jays let him go to free agency, and Cruz signed with the San Francisco Giants in January 3002.
With the Giants in 2003 Cruz batted .250 with 20 home runs. He won his only Gold Glove that season, logging 18 outfield assists and a .994 fielding percentage. But Cruz may be remembered in San Francisco for dropping an easy fly ball in the 2003 Division Series against the Florida Marlins. With the series tied at one game apiece and the game in extra innings, the Giants scored a run in the top of the 11th to take a 3-2 lead. Jeff Conine led off for the Marlins with a fly ball to right field. It looked as though it would be the first out of the inning, but Cruz dropped the ball when he closed his glove too soon and the ball bounced off of the heel of the glove.10 The Marlins went on to win the game 4-3 win and take 2-1 series lead. "We lost a game we should have won. That's it," Giants manager Felipe Alou said.11
A free agent again after the season, Cruz signed with Tampa Bay and smacked 21 home runs in 2004. But on February 6, 2005, Cruz was traded to the Arizona Diamondbacks for Casey Fossum.
Cruz played for three teams in 2005. He started the season with the Diamondbacks. He had played in only 64 games because of injuries when he was traded on July 30 to the Boston Red Sox for two minor leaguers. The Red Sox put him on waivers 10 days later and the Los Angeles Dodgers picked him up. Although Cruz was injured for most of the year, he ended the season on a tear, hitting .301 with six homers for the Dodgers.
Cruz was picked to play for Puerto Rico in the 2006 World Baseball Classic. He helped Puerto Rico reach the second round of the tournament as he hit .353 with a .476 on-base percentage in five games. When Cruz was asked about his experience playing for his birthplace, he said: "It was amazing. It was the most fun playing baseball I had as a professional."12
Throughout his career, Cruz always emphasized that the importance of his family's Puerto Rican heritage. "[T[he older I get, the prouder I am of the whole family thing," he said. "I look at it from a father's perspective because I'm a father too. I'm very privileged and very blessed to be a part of [the Cruz family]. Both my father and I were able to help put the game of baseball in such a high place in Puerto Rico. We grinded it out and gave it our all — and that's what we try to show to my kids."13
Cruz played for the Dodgers again in 2006. Injuries continued to limit his play and Cruz started just 86 games before the Dodgers released him on August 1, 2006. Cruz did not play for the rest of the 2006 season. In December he signed with San Diego. He played in 91 games for the 2007 Padres but his weakness at the plate led to his release on July 31. Cruz signed a minor-league contract with the New York Yankees on August 18 and finished the season playing in 16 games with the Scranton/Wilkes Barre Yankees.
Cruz played for the Ponce team coached by his father in the Puerto Rico Winter League in 2007 and 2008. He described the experience as a family reunion, since he also played with his cousins and uncle. His cousin Enrique was a player in the Mets organization at the time. Alberto, another cousin, was playing in the minor leagues with the Astros. His uncle Tommy was the hitting coach on the Ponce team. "We rode together in the same car to games. We had a lot of fun, talked a lot of baseball and about life … about how much baseball had done for us and about growing up in Arroyo," Cruz wrote in an article about the experience.14
The Houston Astros signed Cruz as a free agent in November 2007. It was a homecoming of sorts for Cruz, since his father had been such an important player for the Astros over the years, and had lobbied multiple times for the team to sign him. Cruz started seven times in the outfield in 2008 but hit just .122 with one double, one RBI, six runs scored, and nine strikeouts.15 The Astros released him on June 1 and he retired as a player.
In 2012 Cruz joined ESPN as a baseball analyst. In an interview about his career shortly after taking the job, Cruz reflected on the rewards and challenges of being a major leaguer: "I think the scrutiny of being an everyday player in the MLB along with the traveling were the toughest parts of being a pro. The good parts were that you got to play baseball in the best stadiums of the world. … [It's the] [g]reatest job."16
When Cruz was drafted by the Mariners in 1995, he lacked credits for his degree in sports management. As part of his contract with the Mariners, the club had agreed to pay a portion of his education costs if he decided to finish his degree. Cruz finally decided to finish up the required classes for his degree in sports management from Rice University in 2012. He graduated in May 2013 along with his younger brother, Enrique. Cruz said his mother, Zoraida, was the impetus for his return to school. "She said, 'All I want is for you to graduate from college. That's my request.' That stayed with me through the years."17
While keeping his ESPN job, Cruz in 2012 took a job with the Major League Baseball Players Association to provide assistance and counsel for Spanish-speaking players. MLBPA president Tony Clark said of Cruz at the time: "José's playing career, background in the game and his desire to support our fraternity of players makes him the ideal candidate for a role in the union's player services department."18
Cruz and his wife, Sarah, have two sons Trei, 18, and Antonio, 17 and a daughter Alisa Loren, 15.
Cruz told the authors of the book on baseball fathers and sons that he counted his family's relationship to baseball as one of the most important parts of his life. His father's advice and coaching was special to him in many ways. "He taught me to have fun with the game and enjoy what you are doing. He would often say that people lost sight of that. Even to this day, he stresses that fact — to enjoy what you are doing."19
Last revised: June 13, 2018
This biography appeared in "Puerto Rico and Baseball: 60 Biographies" (SABR, 2017), edited by Bill Nowlin and Edwin Fernández.
Sources
In addition to the sources cited in the Notes, the author also utilized the Baseball-Reference.com and Retrosheet.org websites for box scores, player, team, and season pages, pitching and batting game logs, and other material pertinent to this biography. FanGraphs.com provided some the statistical information used in this biography.
Notes
1 Larry Stone, "All in the Family — Mariner Prospect Owes Much o Parents' Influence," Seattle Times, March 26, 1997.
2 Ibid.
3 Kevin Neary and Leigh Tobin, Major League Dads: Baseball's Best Players Reflect on the Fathers Who Inspired Them to Love the Game (Philadelphia: Running Press, 2012), 57.
4 Den Cafardo, "Double Duty: Jose Cruz Jr. Joins Baseball Tonight, Beisbol Esta Noche," ESPN Frontrow.com, May 2007.
5 Neary and Tobin, 57.
6 Rice Owls Baseball 2016 Baseball Factook, grfx.cstv.com/photos/schools/rice/sports/m-basebl/auto_pdf/2015-16/prospectus/prospectus.pdf, accessed March 15, 2017.
7 Barrett Hansen, "Deadline: 7 Worst Deadline Deals in Mariners History," Bleacher Report.com, July 29, 2011.
8 David Venn, "Cruz Fondly Recalls Puerto Rico's Legendary Title Teams," MLB.com, January 31, 2015.
9 Clayton Ritcher, "Cruz Missile — Interview With Jose Cruz Jr.," Baseball Hot Corner.com, May 10, 2012.
10 Michael Almonte, "A Missed Catch 10 Years Ago," Sports Media101.com, August 17, 2013.
11 Henry Schulman, "Giants Drop the Ball, Face Elimination / Cruz Error, Blown Chances Doom Them in 11 Innings," SFGate.com, October 4, 2003.
12 Ritcher.
13 Cafardo.
14 Jose Cruz Jr., "Cruz Cherishes Baseball Winters of Family Fun," San Diego Union Tribune, May 21, 2007.
15 David Coleman, "Astros History: Cheito's 38-Game Career in Houston," CrawfishBoxes.com, May 12, 2012.
16 Ritcher.
17 Richard Justice, "Cruz Family to Enjoy a Proud Day Together," MLB.com, May 10, 2013.
18 "Jose Cruz Jr. Joins MLBPA Staff," MLB.com, February 25, 2013.
19 Neary and Tobin, 57.
Born
April 19, 1974 at Arroyo, (P.R.)
If you can help us improve this player's biography, contact us.
https://sabr.org/sites/default/files/CruzJoseJr.jpg
600
800
admin
/wp-content/uploads/2020/02/sabr_logo.png
admin
2012-01-04 20:40:16
2012-01-04 20:40:16
Jose Cruz Jr.