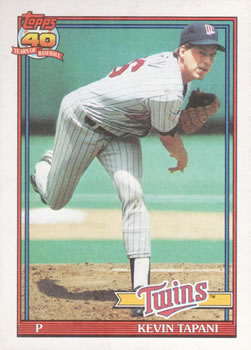 ---
"Everyone dreams about playing in the majors, but I never thought I'd get the chance. Almost no one else from there had ever done it, so I didn't think about it. Baseball was just for fun." — Kevin Tapani1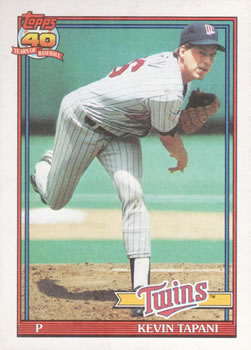 When he was growing up in the Upper Peninsula of Michigan, Kevin Tapani didn't expect to be playing major-league baseball someday. His high school didn't even have a baseball team because the winters were so long. But after accepting an invitation to try out for the Central Michigan University baseball team, he helped pitch the team to three straight Mid-American Conference baseball titles and the NCAA Mideast Regional. Five years later, Tapani contributed to the Minnesota Twins' second World Series championship in a fall classic that was labeled "the greatest ever" by Sports Illustrated and ESPN.2
After leaving Central Michigan as a finance major, Tapani was signed by the Oakland Athletics and won 143 games with the New York Mets, Minnesota Twins, Los Angeles Dodgers, Chicago White Sox, and Chicago Cubs during his 13-year career in the major leagues. He started 354 games, pitched 2,265 innings, gave up 2,407 hits, struck out 1,482 batters, walked only 554, and finished with a 4.35 earned-run average.
He placed among the majors' top 10 in wins four times (1991, 1992, 1994, and 1998), starts five times (1991, 1992, 1993, 1995, and 1998) and shutouts three times (1993, 1995, and 1998). The 6-foot, 180-pound right-hander also led the league's hurlers in fielding percentage in 1993, 1998, and 2000.
Kevin Ray Tapani was born in Des Moines, Iowa, on February 18, 1964, when his father, Ray, was playing for the Des Moines Oak Leafs in the International Hockey League. After playing semipro and minor-league hockey and serving in the US Army in Germany, Ray Tapani returned to Michigan's Upper Peninsula and started working as a computer programmer for trucking companies in Iron Mountain and Escanaba, Michigan. Ray and his wife, Sandra, had two other children, Kevin's older sister, Michele, and his younger sister, Erika. Kevin's great-grandparents emigrated from Finland and settled in the Upper Peninsula, an area known for its mining and lumber industries.
Tapani's parents moved to Tennessee in about 2001 to get away from Upper Michigan's long winters and to be closer to their daughters. His father died on August 12, 2018, at Saint Thomas Highlands Hospital in Sparta, Tennessee.
Although the region's long winters prevented Escanaba Senior High School from having a baseball team, Kevin played Little League, Babe Ruth, and American Legion ball and in adult leagues organized by former Detroit Tigers pitcher John Hiller.
"Growing up, baseball was my best sport, but I played it the least," Tapani said. "Football got me notoriety."3
He quarterbacked the high-school football team to the Michigan large-school state football championship in 1981. The 5-foot-10, 155-pound signal caller split the position with Dean Altobelli at the start of his senior season; then Altobelli was moved to tailback to balance the team's offense. Altobelli later starred as a defensive back at Michigan State University, became a Rhodes Scholar, and as of 2019 was an analyst for the University of Alabama football team. In capturing the Class A Michigan football title, the Eskymos finished 12-0, outscored their opponents 345-67, and recorded six shutouts.4
Tapani returned to baseball by accident when he enrolled at Central Michigan University in Mount Pleasant, Michigan, in the fall of 1982. "A guy asked me if I was going to the Los Angeles Dodgers tryout camp," he recalled about that fateful experience in the fall of 1982. "The Central baseball coach was sitting in the stands watching and asked me afterwards if I'd like to try out for the baseball team. I said I'd see him next spring and he said practice started two weeks ago!"5
So Tapani joined the baseball team as a walk-on, threw a no-hitter, and finished 8-2 as the Chippewas' number-three starter during his senior year. CMU lost to Indiana State, 7-6, in the NCAA Mideast Regional championship that year, but Tapani was named to the all-tournament team. CMU beat Oral Roberts University, 7-2, two days earlier to advance to the Regional championship. Tapani had a four-hit shutout with one out in the ninth inning against Oral Roberts before giving up back-to-back solo home runs. "I was feeling good at the end of the game," he said afterward. "I just got a couple of pitches up. It is different going nine innings. You have to suck it up a little more."6
As a CMU junior, Tapani declined to sign with the Chicago Cubs, who took him in the ninth round of the June 1985 amateur draft after he finished 7-2 as a junior and helped the Chippewas capture the Mid-American Conference baseball title. "The money would have had to be pretty high to come out this year," he said, explaining why he decided to stay in school rather than sign with the Cubs. "Now I can get (school) out of the way."7
The Oakland Athletics drafted the 22-year-old in the second round of the June 1986 amateur draft and signed him to his first professional baseball contract. "It was a fair offer, but not what one would expect for a second-round choice," said Tapani's father, Ray, at the time. "But he was pretty much over the barrel."8
Tapani pitched at four levels in the A's minor-league system during his first year of pro baseball and went 10-7 for Class A Modesto a year later, catching the eye of Modesto manager Tommie Reynolds. "He goes right after the hitters and that's what I like about him," Reynolds said after watching Tapani battle former Oakland Athletics ace Mike Norris. "He's not afraid of them."9
On December 11, 1987, the A's traded Tapani to the New York Mets in a three-way deal involving eight players. Tapani pitched for the Mets' Class A and Double-A affiliates in 1988 and then made his major-league debut on July 4, 1989, against the Houston Astros. Taking over for starter Bob Ojeda with the Mets behind, 8-0, Tapani threw 4⅓ innings, gave up two hits and one run, and walked three batters. The Mets had called up Tapani from their Triple-A Tidewater team after Mets starter Dwight Gooden was placed on the disabled list.
Tapani got his big break on July 31, 1989, when the Mets traded him, three others, and a player to be named later to the Minnesota Twins for 1988 American League Cy Young Award winner Frank Viola, who was 8-12 at the time. Viola's three-year, $7.9 million contract then became the Mets' responsibility.
Tapani was called up to the Twins on September 1, 1989, after going 4-2 with a 2.20 ERA for Triple-A Portland. He got his first major-league win four days later against the Texas Rangers at Arlington Stadium. Tapani allowed six hits and two runs, both earned, during his seven-inning start as the Twins won, 8-4. "He made an impression," Twins manager Tom Kelly said. "Guys will play for you if they get the ball over the plate."10
Entering the 1990 campaign, Tapani, 26, had pitched in three organizations in 11 cities since Oakland drafted him in 1986. At that point he was part of a group of Twins hurlers known as the Young Guns who also included Mark Guthrie, 24, Mike Dyer, 23, David West, 25, and Roy Smith, 28. "You look at my stat sheet, and I look like a 12-year vet," he told sportswriter Jim Caple.11
Tapani won three of his first five decisions in 1990 and recorded his first shutout on May 6 against the Milwaukee Brewers. He allowed five hits, struck out nine, and didn't walk a batter as the Twins won, 4-0, at County Stadium. "He was good as anyone we've seen this year," Brewers skipper Tom Trebelhorn said.12
Tapani won three of four games against Bret Saberhagen, Nolan Ryan, and Roger Clemens from June 14 to July 3 that season. The latter trio of pitchers had combined for 500 wins, 7,477 strikeouts and four Cy Young Awards at that point. When Tapani was placed on the disabled list in mid-August with a muscle strain in his rib cage, he lost his chance for that year's American League Rookie of the Year honor.
Nevertheless, umpire Vic Voltaggio compared Tapani to Catfish Hunter that season. "For a young man, he's got a lot of poise. I think it's important for a pitcher not to show any emotion on the mound," Voltaggio told sportswriter Caple. "Tapani gives up a home run, and he's 'Give me the ball, let's go.' That's the way Catfish Hunter used to be."13
Tapani's 1990 season was interrupted when he pulled a muscle in his left rib cage on August 16 and was placed on the disabled list. Despite the injury, he recorded his first of seven seasons with double-figure wins (12).
The next season was magical as the Twins went from last place in the AL West in 1990 to first place and a World Series championship. Despite losing six straight games early in the season, Tapani compiled a 16-9 record with a 2.99 ERA by season's end and finished seventh in the AL Cy Young Award voting. "We got off to a rough start in 1991. We had a team meeting in mid-April and started winning a few," Tapani recalled. "Then we won 15 games in a row and never lost a series the rest of the year. Our team had the ability to beat a team in so many ways. Our defense was excellent and our pitchers eliminated walks. We could see improvement as the season wore on."14
The control artist pitched 33⅔ innings without giving up a walk before walking a batter on August 11 in Seattle. By early September he had won 11 of his last 12 decisions and was 8-0 in 13 starts since his last loss on June 27. The Twins scored fewer than three runs in eight of his nine losses; otherwise, he would have finished with a better record than 16-9.15
In fact, the Twins had three of the top seven finalists for the Cy Young Award in 1991. The other two were veteran Jack Morris, who was obtained during the offseason, and Scott Erickson, who had a 2.87 ERA in 17 games after his promotion to the big leagues the year before.
The upstart Twins were managed by Kelly, who compiled a 1,140-1,244 record over 16 seasons as Minnesota's field boss. "What stands out with Tom is, he set a style of play. He did an excellent job with the pitching staff. He didn't overextend people," Tapani said. "He put people in situations where they could succeed."16
In Game Two of the American League Championship Series versus Toronto, Tapani gave up three early runs as the Blue Jays won, 5-2. In the World Series that year, he split his appearances against the Atlanta Braves' crafty left-hander Tom Glavine, winning 3-2 in Game Two and losing 14-5 in Game Five.
Against Atlanta the Twins jumped out to a 2-0 lead, winning twice at home. But they fell behind 3 games to 2 after losing the next three games in Atlanta. In the sixth game, Kirby Puckett led off the bottom of the 11th inning with a game-winning home run at the Metrodome to force Game Seven. The decisive seventh game was even more dramatic with epic pitching performances by Morris and Atlanta's John Smoltz. With the game scoreless after the first nine innings, the Twins' Dan Gladden reached second on a fly to short left field that dropped in for a hit. Gladden advanced to third on a sacrifice and Puckett and Kent Hrbek were walked intentionally to load the bases. Moments later, Gladden scored on pinch-hitter Gene Larkin's fly ball over the drawn-in outfielders to give Minnesota the World Series title.
Tapani posted records as good as 16-11 before tailing off to 6-11 with the Twins in 1995. He is ranked by one writer among the top 50 players in Minnesota Twins history.17 He is listed at number 33, ahead of such Twins as Butch Wynegar (36), Jacque Jones (35), and Scott Baker (34). The top of the list includes Harmon Killebrew, Rod Carew, Puckett, Tony Oliva, and Bert Blyleven.
On July 31, 1995, Minnesota traded Tapani to the Los Angeles Dodgers. He went 4-2 with the Dodgers and pitched twice against Cincinnati in the National League Division playoffs. In a 2019 interview Tapani said he believed the Dodgers were really after left-hander Guthrie, who was included in the trade.18
The Chicago White Sox signed Tapani as a free agent on February 3, 1996. After signing a one-year, $1.1 million contract, he turned in a 13-10 season with a 4.59 ERA. "In August I tore a ligament in my pitching hand so I couldn't throw a split breaking pitch anymore," he said in 2019. "I didn't know it was as bad as it was."19
The Chicago Cubs signed the veteran hurler as a free agent on December 13, 1996, in a three-year, $12 million deal. At that point he was one of only four major-league pitchers to have 10 or more wins in every season since 1990. After the signing, Cubs general manager Ed Lynch said, "We felt we needed to add another quality, veteran starting pitcher to our rotation, a guy that can go out there and pitch 200 innings and keep us in ballgames. With Kevin Tapani, we feel we fulfilled that need."20
But trouble loomed during spring training in 1997. "It felt like I had a knife in the back of my hand during spring training," Tapani said. "It was a redo off my career. I had to learn a different style of pitching."21
He made 13 starts and finished 9-3 in his first year with the Cubs, but missed almost two-thirds of the season after surgery in mid-April to remove scar tissue around a ligament near his right index finger. He did not pitch again until July 23 when he allowed one run and five hits in a seven-inning, nine-strikeout performance against the Braves in Chicago.
The torn ligament was not discovered by the White Sox in 1996 or by the Cubs during spring training of 1997 because no one knew what to look for, Tapani told sportswriter Barry Rozner a few days before the surgery.22 An MRI in mid-March of the '97 season finally detected the injury.
Tapani tossed a one-hitter against the Reds at Wrigley Field on September 16, allowing only a single by Bret Boone in the top of the sixth inning. He faced only three batters over the minimum and threw 96 pitches in the 1-hour 57-minute contest. Did a no-hitter ever cross his mind during the Cubs' 5-0 victory that day? "There's just no reason for me to think about that because I'm not that kind of a pitcher," he said.23 He finished the surgery-shortened season on a high note, winning seven straight games from August 25 to September 26. The right-hander was especially tough at home, compiling an ERA of 1.65 in 49 innings, allowing 40 hits and nine earned runs. However, the '97 Cubs got off to a 0-14 start under manager Jim Riggleman and finished in fifth place with a 68-94 record that year.
Tapani pitched more than 200 innings for the fifth and last time and won a career-high 19 games for the division champion Cubs in 1998. On July 21 he hit the first home run of his career, a grand slam in a Cubs' 11-4 win in Atlanta. On September 28 he pitched into the ninth inning of the Cubs' 5-3 win over the San Francisco Giants in a one-game wild-card playoff. Tapani and the Cubs lost a heartbreaker in Game Two of the NL Division Series. After he outpitched Tom Glavine for eight innings, Braves catcher Javy Lopez tied the score with a home run. The Braves then scored the winning run in the 10th inning on Chipper Jones's single off reliever Terry Mulholland.
When reflecting on his 28-12 record since radical finger surgery in spring 1997, Tapani said 1½ years later, "It probably was a blessing in disguise. I tried to use the split-finger, but it wasn't an effective pitch. I went back to my fastball, and I'm less reliant on offspeed pitches and changeups."24
Tapani had to battle injuries and lack of run support during his final three seasons with the Cubs. In 1999 his season ended in late August because of a tight throwing shoulder, two hand injuries, and lower back pain. "On July 4 that year, I injured a disc in his lower back so I couldn't throw a breaking ball," he said. "So I threw changeups and fastballs. Joe Girardi caught me then. He got me through the last year and a half of my career."25
In 2000 manager Don Baylor picked Tapani as one of four team captains, On July 3 of that year, The Sporting News reported that the New York Mets tried to obtain the veteran hurler, but Tapani, who had a no-trade clause in his contract, wanted to stay in Chicago. A few weeks later, Tapani, now 36 years old, was among the league leaders in innings pitched despite a 6-8 record. "He is one of the headiest pitchers in the game. He still possesses a good fastball, and he's able to keep the ball down with a split-finger pitch," sportswriter Bruce Miles said. "With the Cubs expected to introduce a number of young pitchers to the team, his leadership skills and unflappable nature should prove valuable for at least another year."26 However, Tapani underwent surgery in September to repair rough areas under his right knee cap.
Tapani surrendered 35 home runs in his next-to-last season with the Cubs. "Tapani has such good movement on his fastball that sometimes it moves back and catches too much of the plate, and hitters take advantage," Miles wrote.27 And despite Sammy Sosa's 50 home runs, 138 RBIs, and .320 batting average, the Cubs finished sixth in their division at 65-97.
Tapani went into his last season as the Cubs' projected number-3 starter behind Kerry Wood and Jon Lieber. The 37-year-old hurler got off to a 5-1 start and sportswriter Miles called him "a stabilizing force … in the rotation."28 After 59 games that season, the Cubs were in first place in their division with a 37-22 record. Up to that point, Tapani had an 8-1 record and a 3.53 earned-run average with 52 strikeouts and 16 walks in 63⅔ innings. But he faded in June and finished with a 9-14 record as the Cubs scored just 11 runs during his nine straight winless starts. After holding onto first place in the National League Central Division for nearly three months, the Cubs faded, too, and finished in third place at 88-74.
The Cubs didn't pick up their option on Tapani after the 2001 season and his career came to an end.
After retiring, Tapani and his wife, Sharon, moved back to the Twin Cities area in Minnesota. They were married in 1988 and have three children, Sarah, born in 1991; Ryan, born in 1994; and Luke, born in 1996. The Washington Nationals selected Ryan in the 21st round of the June 2018 draft out of Creighton University in Omaha.
In 2016 Tapani was an assistant baseball coach at Providence Academy in Plymouth, Minnesota. He told Twins Trivia that since retiring from baseball, he had "been fortunate to get involved with some great charitable groups, serve in a few different organizations, and spend much more time with my family and be involved with their interests."29
He is a member of the Central Michigan University Athletics Hall of Fame and the Upper Peninsula Hall of Fame.
Acknowledgments
This biography was reviewed by Chris Rainey and Len Levin and fact-checked by Alan Cohen.
Sources (online)
Baseball-almanac.com
Baseball-reference.com
dailypress.net/sports/local-sports/2018/05/chip-off-the-old block
mininggazette.com/obituaries/2018/08/ray-albert-tapani/
Newspaperarchive.com
Paperofrecord.com
Retrosheet.org
Notes
1 Jim Caple, "Whoopee for Kid From U.P.!" The Sporting News, August 6, 1990: 11.
2 John Bonnes, "The Minnesota Twins Story," The National Pastime, 2012.
3 Kevin Tapani, telephone interview, June 28, 2019.
4 Michigan-football.com/f/escanaba.htm, accessed July 9, 2019.
5 Tapani, telephone interview.
6 "Tapani, CMU Romp," Escanaba (Michigan) Daily Press, May 24, 1986, 7A.
7 "Tapani Selects School Over Pro Baseball," Escanaba Daily Press, June 11, 1985: 10.
8"Tapani Inks A's Pact," Escanaba Daily Press, June 9, 1986: 11.
9 Dennis Grall, "Tapping about Baseball," Escanaba Daily Press, August 16, 1986: 9A.
10"A.L. West," The Sporting News, September 18, 1989: 23.
11 Caple, "Twins Young Guns Closer to Mark," The Sporting News, April 16, 1990: 18.
12"What's the Question? Bullpen Saves Twins," The Sporting News, May 21, 1990: 14.
13 Caple, "Whoopee for Kid From U.P.!"
14Tapani, telephone interview.
15 "No Pitching Means No Texas Souvenirs," The Sporting News, September 9, 1991: 16.
16 Tapani, telephone interview.
17 Aaron Gleeman, "Top 50 Players in Minnesota Twins History," The National Pastime, 2012.
18 Tapani, telephone interview.
19 Ibid.
20 Scot Gregor, "Two Can Play This Game," Daily Herald (Arlington Heights, Illinois), December 14, 1996: 2, 1.
21 Tapani, telephone interview.
22 Barry Rozner, The Sporting News, April 7, 1997: 27.
23 Rozner, "With Right Moves, There's Hope for '98," The Sporting News, September 29, 1997: 37.
24 Rozner, "Chicago," The Sporting News, October 12, 1998: 70.
25 Tapani, telephone interview.
26 Bruce Miles, "Possible Closer of the Future Will Be Eased Into Audition," The Sporting News, July 31, 2000: 38.
27 Miles, "Sosa, Young Not Enough to Rescue Wobbly Cubs," The Sporting News, October 9, 2000: 23.
28 Miles, "News Flash: Bullpen Provides Unexpected Surprise in April," The Sporting News, May 7, 2001: 24.
29"Twins Trivia," twinstrivia.com/interview-archives/kevin-tapani-interview/, accessed January 6, 2019.
Born
February 18, 1964 at Des Moines, IA (USA)
If you can help us improve this player's biography, contact us.
/sites/default/files/Tapani%20Kevin.jpg
600
800
admin
/wp-content/uploads/2020/02/sabr_logo.png
admin
2019-10-22 12:58:32
2020-04-09 14:37:29
Kevin Tapani