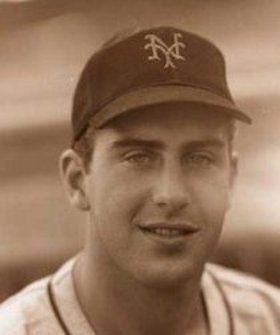 ---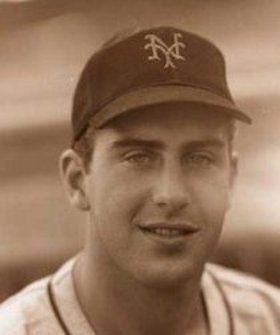 Baseball was a family affair for Lloyd Gearhart. He taught his sons- Marty, Steve, and Bruce- everything he knew about the game. But he never expected the game to separate the family like it did one day in 1968. In June, 1968 he packed up the whole family and moved to Marion, Virginia to serve as manager of the Appalachian League Marion Mets. Marty, a Mets draftee was on his roster. Gearhart did a stellar job with the team, but had issues with Umpire Joe Pompino. According to a Sporting News article he had been ejected on two occasions by Pompino before a fateful game in mid-August. Pompino was taking catcalls from the Marion dugout and went over to find the culprit. He asked for the heckler to confess. When no one spoke up he said "Somebody has to go" and tossed #15, Marty Gearhart, out of the game. The batboy laughed at this and Pompino tossed the youngster, Bruce Gearhart, out of the game. About this time the ballboy came into the dugout with a supply, but because he was out of uniform Pompino tossed him from the game. The ballboy was Steve Gearhart. Through it all, Gearhart managed to keep his composure and did not get ejected.[fn]The Sporting News, August 24, 1962: 40[/fn]
Lloyd William (Gary) Gearhart was born on August 10, 1923 to Henry W. and Dora (Johnson) Gearhart in Jackson Township, Montgomery County, Ohio. He was the sixth of eight children, five boys and three girls. The family was of English and Dutch descent, Gearhart termed it "Pennsylvania Dutch" on his Hall of Fame questionnaire. Lloyd's grandparents lived on the family farm, but Henry took work with a refrigerator company around 1930. Times were hard and the 1940 census indicated that Henry had been unemployed for over a year. Dora worked as a cafeteria cook in New Lebanon, Ohio where the children attended school. Gearhart graduated from Dixie high school in New Lebanon in 1942. He lettered in baseball all four years as well as earning letters in football, basketball, and track. After high school he attended Ashland (Ohio) College for a year.[fn]Hall of Fame questionnaire and file information[/fn] At 5'11" and 180 pounds[fn]Gearhart listed himself as 6 feet on his questionnaire. He also listed his weight as 175.[/fn], Gearhart possessed excellent speed. A right handed hitter who threw lefty he was a star pitcher, but saw the outfield as a way of getting to the majors quicker.
Gearhart honed his skills in the Dayton amateur leagues and was offered a contract by Lynchburg in the Virginia League. For reasons unknown, the contract was never finalized and Gearhart was approached by the Atlanta Crackers in the Southern Association in the fall of 1943. His file in the Hall of Fame mentions he was signed by Earl Mann, owner of the Crackers, on a recommendation from former major league hurler Dick Bass who coached in the Dayton league. The Crackers were coming off a dismal 1943 season and invited a host of rookies to camp besides Gearhart. Most prominent were Billy Goodman and pitcher Dick Mauney. Gearhart injured a knee in preseason and after making one pinch hit appearance on April 28 (he walked) it was determined that he needed surgery. The repair to his knee cartilage sidelined him until mid-season.[fn]The Sporting News, May 18, 1944: 29[/fn] Once back to strength manager Kiki Cuyler inserted him in the lineup and Gearhart responded with a .340 average. Classified 4-f because of the injury, Gearhart returned to the Crackers in 1945. Goodman was inducted into the service and Gearhart took over in centerfield. He appeared in 120 games and batted .304 with 22 stolen bases. His performance earned him a berth on the league all-star team. Atlanta won the regular season but lost in the playoffs.
Gearhart returned to Atlanta in 1946 and had the most impressive season of his career. He hit .332 and led the league in runs scored and tied for the lead in triples. He was second in hits and total bases to batting champion and league MVP Tommy Neill of Birmingham. In a season that only saw seven league hitters amass double digits in homers; he was second on the Crackers with eight. Named to the all-star team he also finished in the top 10 in MVP voting. Atlanta won 96 games, but needed seven games in the playoffs against both New Orleans and Memphis to be crowned champions. Gearhart scored the winning run in game seven against Memphis. The playoff victory netted each Cracker an extra $3000 and a berth in the Dixie Series. The Dallas Rebels of the Texas League provided the opposition for the Dixie Series. The Crackers proved to be no match for them, losing four straight and being outscored 30-11. Gearhart batted a mere .125.
The 1946 New York Giants under the leadership of Mel Ott struggled. They were never out of the second division and crumbled in September to finish in last place at 61-93. The management vowed to get faster in the outfield. They brought up rookie Whitey Lockman, drafted Al White, and purchased Gearhart. The team also brought rookies Bobby Thomson, Clint Hartung, and Jack Lohrke to training camp in Phoenix. Gearhart got off to a slow start in exhibition games, but broke out on March 14 with a homer, triple and three runs batted in. The Giants then left for a five-game series in Hawaii where Gearhart batted over .400. To start the season, Gearhart would platoon with Al White and bat lead-off. Thomson was inserted at second base, Hartung in right field, and Lohrke at third base. Gearhart's first regular season action was against Brooklyn on April 18. He went one for two. He recorded assists in his next two games and had a four-game hitting streak snapped on April 24 in a game where Johnny Mize clubbed three homers. The experiment with four rookies produced 15 errors in the first 5 games. On April 29 Thomson was switched to center field, Lohrke and Gearhart went to the bench, and Hartung went to the bullpen.
The Giants finished with an 81-73 record. More impressively they bashed a then-record 221 home runs; including a stretch of seventeen games with at least one homer. Gearhart contributed six to the total. His first was on May 31 when he launched a ninth inning shot to beat Pittsburgh 10-9. On June 22 he again played hero with a two-run shot in the top of the eleventh in St. Louis to give the Giants a 7-5 win. He added another winning blow on September 8 in Pittsburgh off Jim Bagby in the ninth. Part of his success belongs to Ernie Lombardi who served as a mentor to the youngster. "Ernie would inform me what kind of pitch to look for…I was always next to him on the bench."[fn]The Xenia Daily Gazette, September 30, 1977: 6[/fn] In later life Gearhart pointed with pride to the team's accomplishments and joked that he and Mize had slugged 57 homers.
A subject of trade rumors during the off-season, Gearhart went to spring training with the Giants in 1948 and opened the exhibition season in the starting lineup, but late in camp he was optioned to Jersey City Giants in the International League. Gearhart hit .288 for the seventh place Giants. In the fall he and Dick Hoover were swapped to Atlanta along with cash for infielder Davey Williams. Gearhart's winter was one to remember. On January 26, 1949 he married Winifred Ann Burdette. Known as "Penny" she worked for the Dayton Daily News and Gearhart had met her the year before when he had visited the sports department.[fn]The Sporting News, January 26, 1949: 21[/fn] The couple went to Pensacola, Florida for spring training. Gearhart was in fine shape exhibiting speed, power and enthusiasm. Manager Al Dapper predicted a quick return to the majors for him.[fn]The Tennessean (Nashville), March 13, 1949: 21[/fn] He settled in immediately in left field with the Crackers and led the team in triples and homers while finishing number two in batting average. In July he was named to the all-star team and hit a home run in the ninth inning as part of a nine-run rally against Nashville. The Crackers finished in the second division.
With a baby on the way, Gearhart went south in the winter for extra paydays with Cienfuegos in Cuba. There was a spirited pennant race and Cienfuegos finished two games behind Almendares. Gearhart hit .245 with 6 homers and led the team with 32 RBI's. In December the Crackers sold pitcher Bill Kennedy and Gearhart to the Indianapolis Indians in the American Association. Indianapolis trained in New Orleans and Gearhart held out and reported late. The Indians optioned him to New Orleans in the Southern Association in early April and he opened the season as a Pelican. He was batting .274 in 49 games when he was optioned to Albany in the Eastern League. New Orleans was out of the race, but Albany still had a chance for the playoffs. He joined the Senators on August 2 and paid instant dividends when he hit two homers on August 4.Gearhart produced a .323 average and eight homers in 32 games to help the Senators finish in fourth place a game ahead of Utica. They were bounced from the playoffs in five games by Binghamton. In 1951 Gearhart returned to Indianapolis and suffered through his toughest season with the seventh place Indians. He only played in 86 games and hit a career low .228.
Indianapolis switched their working agreement from the Pirates to the Indians in 1952. Gearhart found himself with youngsters like Herb Score, Ray Narleski, and Al Smith along with veterans like Dave Pope who led the league in hitting, Luke Easter, and Snuffy Stirnweiss. Managed by Gene Desautels the team climbed close to .500 and a sixth place finish. For his part Gearhart hit .281 with 12 homers. Gearhart went south again that winter. This time he joined Caracas in the Venezuelan league and its manager Martin Dihigo. As league champions Caracas represented Venezuela in the Caribbean series played in Cuba. Playing at first base and the outfield Gearhart hit .250 in the series and tied for the team lead in RBI's.
The 1953 Indianapolis team welcomed Birdie Tebbetts as manager and young Wally Post to the outfield. Gearhart was only part time, seeing more action as pinch-hitter than outfielder. The next spring he was released and joined Atlanta for his third stint with the Crackers. He was released after 17 games and caught on with the Beaumont Exporters in the Texas League for four games. The family now numbered 4 with the addition of Marty and Steve and Gearhart's playing were fading fast. He signed with the Charleston, West Virginia Senators for 1955 and went to camp with veterans like Ron Northey and Luke Easter. He was released in early April.
Blessed with warmth and charm and a winning smile, Gearhart was a natural salesman. Over the next decades he would manage an appliance store, sell cars, serve as recreation director for the city of Xenia, Ohio for many years in two different stints, and work with youth at the Ohio Soldiers and Sailors Home in Xenia. But the lure of baseball drew him back in 1956 after a season away from the game. He took the job as manager for Port Arthur in the Big State League.
Port Arthur was in Class B ball and was Gearhart's first experience below A-ball. As player-manager, Gearhart took a job where "the managerial mortality rate had been astronomical."[fn]Abilene ( Texas) Reporter-News, March 29, 1956: 27[/fn]
He was confident "his Cleveland Indians farmhands will be a strong representative, but is not certain about his own fate."[fn]Ibid.[/fn] Gearhart put himself at first base to be in the midst of the action. The team opened the season with their bats on fire. James Kirby was hitting .583 after two weeks and Gearhart was at .522. On April 18 he hit his final professional home run, a 3-run shot against Victoria. Two days later he was beaned by Corpus Christi pitcher Gustavo Muniz. In late April the franchise owner suffered a heart attack and was advised to sell the team. In a truly bizarre series of events the team was sold to Al Baillari who was general manger of the New Iberia, Louisiana team in the Evangeline League. Baillari shut down that franchise, brought six players with him, signed Tex Sanner and replaced Gearhart with himself as manager. Gearhart ended his career on a woeful 6-for-35 stretch at the plate to finish at .310. He returned to the New Lebanon area and a sales job. Port Arthur went on to defeat Corpus Christi in the playoffs for the championship.
Gearhart's brother, Russell, was Clerk of Courts in Xenia, Ohio and well placed in Republican politics. When the job of Parks and Recreation director came open in Xenia, Gearhart had an easy path to the position. He worked diligently as director until 1967. In the 1970s he would return for a second stint. During their first decade in Xenia the Gearhart's became integral parts of the community. The family grew to seven with the addition of Bruce, Julie, and Kim. Penny served for years as the Heart Association chairperson. They both would be involved with fund raising for the school's sports programs. Gearhart never missed an opportunity to speak about baseball or the need for youth recreation facilities. In 1962 he also began a relationship with the Mets as a scout which would eventually lead to his position as regional director over five states and a dozen scouts.
Managing Marion in 1968 was a definite change of pace for Gearhart. After a decade of working with politicians and governing boards he was suddenly put in charge of a clubhouse filled with mostly teenagers. The "elder statesman" on the team was 22 year old Charlie Carr, a 38th round pick out of North Carolina University. He led the team with a .332 average. The youngsters included first round pick Tim Foli who was a mere 17 and the Mets number two selection, 18 year old Don Dickerson. The pair had signed for a combined $100,000. 34 players saw time with the Mets including former New York Mets batboy Joey Fitzgerald and Gearhart's oldest son Marty. The younger Gearhart was an outfielder who split time with Carr and future major leaguers John Milner and Dave Schneck. The Mets started slowly and then went on a tear, including a two-week long win streak in July and finished in first place. Gearhart was named co-Manager of the Year.
The family returned to Xenia after the season and Gearhart went back to sales and scouting. Over the years he signed a number of players for the Mets: Joe Boggs from Portsmouth, Ohio, Joe Cahill from Wittenberg University, Joe Campbell from Cave Creek, Kentucky[fn]The Xenia Daily Gazette, April 29, 1966: 5[/fn], Richard Globokar from Cleveland[fn]Cleveland Plain Dealer, June 12, 1970: 55[/fn] and his son Steve. Oddly, he had not signed Marty; those duties went to Whitey Herzog. The Mets gave Marty a $10,000 bonus which he used to get a degree from Morehead State University. Only Campbell, who played for Morehead State, had a career of any length and saw action in one major league game as a Rule 5 draftee by the Cubs.
In the years after baseball, the Gearhart family would suffer tragedies and near misses. The Xenia tornado of 1974 that killed 33 and devastated the community spared their home. They were not as lucky when a horrific auto accident in Wyoming paralyzed Steve in August, 1976. The Xenia community rallied around the family and held fundraisers to help with equipment needs and expenses. In 1990 Marty succumbed to cancer. Gearhart kept his spirit though it all. "He cut the ribbon or threw out the first pitch at hundreds of Little League openings…at Old Timers games he would show up in his well preserved 1947 Giants uniform."[fn]Ritter Collett, "Baseball was an integral part of Lloyd Gearhart's life". Dayton Daily News, April 3, 2001:3D[/fn] When the baseball card craze was going strong in the late 1980's and 1990's he could be found at shows in the Dayton/Springfield area showing off uniforms from his playing days and signing autographs on Brace postcards. He also ran sports camps and tutored individual ball players. He was an active member in the Methodist church and with the local historical societies. Dixie High School inducted him into their Hall of Fame in 1994. The baseball playing field is named in his honor. Gearhart died while hospitalized in Kettering, Ohio on April 2, 2001. He was buried in a small cemetery in Beavercreek, Ohio. Penny joined him there in 2005.
Sources
Thanks to Kregg Creamer, athletic director at Dixie High School.
Jorge S Figueredo, Cuban Baseball: A Statistical History 1878-1961. (Jefferson, North Carolina: McFarland & Co., 2003)
Lloyd Johnson & Miles Wolff ed. The Encyclopedia of Minor League Baseball. (Durham, North Carolina: Baseball America, 1993)
Augusta Chronicle (Georgia)
Bluefield Daily Telegraph (Virginia)
Commercial Appeal (Memphis, Tennessee)
Laredo Times (Texas)
Paris News (Texas)
Times-Record (Troy, New York)
Waco News-Tribune (Texas)
Born
August 10, 1923 at New Lebanon, OH (USA)
Died
April 2, 2001 at Kettering, OH (USA)
If you can help us improve this player's biography, contact us.
http://sabr.org/sites/default/files/GearhartLloyd.jpg
600
800
admin
/wp-content/uploads/2020/02/sabr_logo.png
admin
2016-04-27 14:27:12
2016-04-27 14:27:12
Lloyd Gearhart