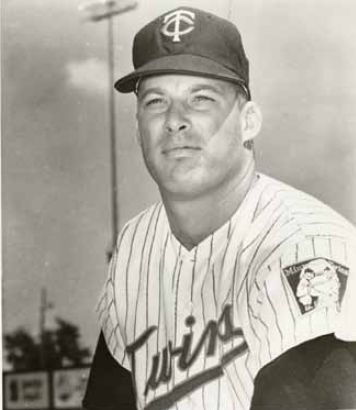 ---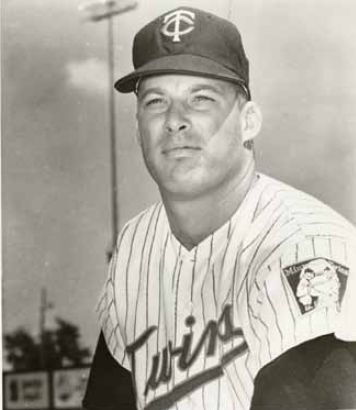 Mel Nelson entered professional baseball as a right-handed-hitting outfielder, spent parts of six seasons in the major leagues as a left-handed pitcher, and when his playing days were over served as a scout for several teams.
He spent more than half a century in professional baseball, including 17 years as a player.
Although he didn't pitch in the 1965 World Series after 28 regular-season appearances for the American League champion Minnesota Twins, Nelson did hurl a scoreless inning in the 1968 fall classic for the St. Louis Cardinals. It was his second stint with the Cardinals; he also pitched for the Los Angeles Angels.
The 6-foot-tall, 185-pounder posted a 4-10 record in the majors, with an earned-run average of 4.40. He started 11 games, tossed one complete game, and appeared in 82 games in relief. He finished 31 of those games, and recorded five scattered saves.  His defense was perfect; he handled 40 career chances flawlessly.
Melvin Frederick Nelson was born on May 30, 1936, in San Diego, California, the older of Melvin and Kay (Martin) Nelson's two children. The elder Melvin Nelson (the family did not use the senior or junior designations) was a civilian engineer employed by the US Navy. His expertise in radial aircraft engines was in high demand, and he was posted to short stints at military air depots in Sacramento, California; Alameda, California; and Pensacola, Florida. After the United States entered World War II in December 1941, Melvin was commissioned into the Navy, and assigned in 1942 to the Army Air Force's air depot at San Bernardino, California. After six nomadic years, the family, which included younger brother Ken, settled down to stay in San Bernardino, located in the Inland Empire region east of Los Angeles. After the war ended, the elder Nelson returned to civilian life and managed the engine shop for Norton Aircraft Maintenance Services.
The younger Nelson was a blossoming athlete who led San Bernardino High School to a Citrus Belt League title as a power-hitting center fielder and also a hard-throwing pitcher, and earned all-California Interscholastic Federation honors.
"Mel Nelson was King Kong at San Bernardino High," former classmate Jack Brown said years later. "Mel was the purest baseball player that I've seen, and I saw Kenny Hubbs."1
In 1954 Nelson was scouted by the St. Louis Cardinals, and was invited to Wrigley Field in Los Angeles, about a 60-mile drive from his home, where he participated in an infield practice before a Cardinals exhibition game against the Cubs.
Later that summer, the organization invited Nelson and his father to St. Louis, where he worked out in right field with Stan Musial. Cardinals chief scout Joe Mathes and minor league personnel director Walter Shannon met Musial in his restaurant that evening. "Is the kid coming out again tomorrow?" asked Stan the Man. They said he was. "Then put him in left field," said Musial. "Don't let him show my arm up."2
Soon after, Ken Penner, the Cardinals' West Coast scout, signed Nelson to a contract, and the youngster joined the organization where Musial was in the midst of a Hall of Fame career.
"I was lucky enough to spend six or seven spring trainings with Stan Musial," Nelson remembered after Musial died in 2013. "The Cardinals held their camp in St. Petersburg, Florida. Stan didn't offer anyone pointers on how to be better. If you asked, he would help. You just watched him play and you try to let it rub off. When he did talk, I would listen. He lived a long life. I guess you can't ask for much more if you make it to 92."3
After he signed, Nelson was assigned to Fresno of the Class C California League, where he batted .228 with three doubles and a triple in 39 late-season games as an 18-year-old in 1954.
He returned to Fresno in 1955 and batted .296 with 185 hits, 27 of them homers, to help the Cardinals cruise to the California League pennant. He scored 151 runs, drove in 112, and stole 29 bases. In July he tripled to lead the South to a win in the loop's All-Star Game. It was an impressive offensive showing for the 19-year-old Nelson, but he also struck out 152 times. "After my dad saw me hit in the minor leagues, he told me I'd be pitching in the big leagues in five years; he was right," Nelson said later.4
After the season Nelson was invited to the Cardinals' spring-training camp in St. Petersburg. Manager Fred Hutchinson said that he had the potential to develop into a good hitter, but that the strikeouts were a concern and Nelson needed to eliminate a hitch in his swing. Hutchinson was also bluntly opinionated about a lefty thrower hitting right-handed — for some reason considered taboo at the time. "If I were an owner, I'd give $100,000 for Nelson right now — if he batted left-handed," Hutchinson said, still excited about Nelson's potential. "He struck out more than 140 times, so you can imagine what he is going to do when he cuts that down." 5
One sportswriter summed up the Cardinals' confidence in their young slugger. "The numerous old heads coaching fledgling Cardinals here are confident, however, that Nelson, not yet 20 … will turn out to be an exception to the rule that left-handed throwers can't hit right handed," Harry Grayson wrote. "The ball explodes when Nelson hits it."6
After an extended spring training, Nelson was promoted to Triple-A Rochester (New York) in the International League, where he batted .244 with 4 home runs and 35 runs batted in 427 at-bats. He also made the first seven appearances of his pitching career, without a decision, for manager Dixie Walker.
Nelson struggled to hit at the Triple-A level again in 1957, batting just .133 in 17 games for Rochester, and just .156 in 24 games for the Columbus (Georgia) Foxes of the Class A South Atlantic (Sally) League, before landing with the Billings (Montana) Mustangs, where he batted .280 with 11 home runs in 68 games for the Class C Pioneer League champions. Nelson also finished with a 4-3 record and a 4.33 ERA in seven starts and four relief appearances.
In spring training in 1958, the Cardinals persisted in their efforts to see Nelson on the other side of the plate. "I was 22 years old, and they asked me to try switch-hitting, but I had enough problems hitting right-handed, and now they are trying to get me to hit left-handed. It didn't go very well and I gave it up."7
He spent the majority of his time on the mound that season, posting an 8-5 record and a 4.08 ERA in 30 appearances, including 18 starts for the York (Pennsylvania) White Roses in the Class A Eastern League, and a 4-1 record with a 1.29 ERA in eight games for the Houston (Texas) Buffaloes of the Double-A Texas League. He appeared in 24 games as an outfielder in York, but was used exclusively as a pitcher by Dixie Walker's brother, Harry, at Houston.
The Cardinals moved their Texas League affiliation to Tulsa in 1959, and Nelson posted a 9-9 record and a 3.02 record for the Oilers, completing 10 of 19 starts, with three shutouts. He advanced to the Omaha Cardinals of the Triple-A American Association, where he was used primarily in relief, compiling a 2-0 record and a 4.43 ERA in 25 appearances. He was also an offensive weapon, posting a .353 batting average with 18 hits, including a pair of homers.
Though still property of the Cardinals in 1960, Nelson posted a 13-7 record, with a 3.69 ERA in 33 appearances, including 22 starts, to help the Triple-A Spokane Indians, a Dodgers affiliate, capture the Pacific Coast League title.
After the season he was promoted to St. Louis, and made his major-league debut on September 27, 1960, at the age of 24, against the Los Angeles Dodgers. He replaced Bob Gibson in the bottom of the eighth and struck out the first two batters he faced, Maury Wills and Charlie Neal. After giving up a single to former minor-league teammate Willie Davis, he induced a groundout from Gil Hodges. After the game he and his father celebrated at Musial's St. Louis restaurant, Stan and Biggie's, with a steak dinner.
Nelson made one more appearance for manager Solly Hemus, a start against San Francisco on the final day of the season. He took the loss despite pitching seven strong innings, and finished the campaign with a 3.38 ERA and seven strikeouts, while walking just two and surrendering a home run to Willie Mays. He also collected the first hit of his career and drove in a run in two plate appearances.
Nelson failed to stick with the Cardinals in 1961, and returned to the Pacific Coast League, this time with the Cardinals' Triple-A affiliate, the Portland Beavers, where he was briefly a teammate of legendary 54-year-old pitcher Satchel Paige. "He was 55 when they signed him and only pitched on weekends to increase attendance," recalled Nelson. "He had a dry sense of humor, very funny. I can imagine how good he was at 22 or 23 years old."8 Nelson posted a 9-12 record, with a 4.65 ERA.
After a brief stint in the Army that ended in August, Nelson appeared in just eight games as a 26-year-old, winning once, with the Cardinals' new affiliate, the Atlanta Crackers, champions of the Triple-A International League. On October 15, 1962, the Cardinals sold his contract to the Los Angeles Angels of the American League for $25,000.
While a member of Bill Rigney's staff, which also included Bo Belinsky and Dean Chance, Nelson developed a screwball, and appeared in a career-high 36 games, posting a 2-3 record and a single save, with a 5.30 ERA over 52⅔ innings. He surrendered 55 hits, seven of them home runs, walked 42, and struck out 41, in an up-and-down year.
In July, days before he was to be honored at San Bernardino-Colton Day at Chavez Ravine, where the Angels were temporary tenants of the Dodgers, the Angels sent Nelson back to the PCL, this time to the Hawaii Islanders, where he posted a 4-4 record with a 6.19 ERA. While he was there, Nelson and Jeanne Barr of Riverside, California, were married on August 12, 1963 in Honolulu. 
After the season, Nelson and six other Angels played in the Venezuelan Professional Baseball League, where he posted a 3-2 record and a 2.18 ERA in 10 appearances for Estrellas Orientales (Eastern Stars), representing the tourist-friendly Anzoátegui region. He completed three of six starts, and hurled the second no-hitter in the league's history, shutting down the Caracas Lions.
Nelson started the 1964 season with the Islanders, suffered from a sore arm, and made nine appearances before the Angels sold his contract to the Minnesota Twins. The Twins sent him to their Triple-A affiliate, the Atlanta Crackers of the International League, where he posted a 9-12 record and a 2.96 ERA, starting 23 of the 24 games in which he appeared.
Nelson earned a spot on Sam Mele's staff with the Twins in 1965, at the age of 28, and Johnny Sain served as pitching coach. "When I made the team, Johnny Sain said that I had made my team on my ability, and he didn't want me to change how I pitched; he wanted me to improve," Nelson said.  It was great to have him as a pitching instructor."9
In 28 appearances, including three starts, Nelson posted an 0-4 record with three saves and a 4.12 ERA (the league average ERA was 3.46). He gave up 57 hits and 29 runs in 54⅔ innings, walked 23, and struck out 31. He collected a single and a sacrifice bunt in 10 plate appearances.
Nelson was a part of Minnesota's first-ever pennant-winning team, and became a lifelong fan of slugger Harmon Killebrew. After the Twins legend died in 2011, Nelson remembered him first as a great teammate, saying, "He always made time for people no matter who you were. He represented nothing but the best. He was a fun guy on the club. There is no doubt that Harmon ranks up there with the best. He didn't hit for an average like Ted Williams, yet as a person he was near the top. He was strong and had arms like big irons. He could catch the ball"10
"It was fun to have Harmon as a teammate. It wasn't fun to pitch against him. When he hit the ball it would go. You could watch it go far into the night," said Nelson. "It took him a while to get his career going. Once he got going, he was consistent."11
When the Twins met the Los Angeles Dodgers in the World Series, Nelson was a spectator. "Going to the World Series was a thrill," he remembered. "There were four of us who didn't get into a game. That's the way it is." He was more disappointed that the Twins weren't able to beat a team that included many of his minor-league teammates and rivals, and one that was played so close to his hometown. "If we could have won one of the games at Dodger Stadium, maybe it would have been different … but pitching overshadowed hitting at that time," Nelson said. "The Dodgers had a great team, but if we had played a week later, maybe we would have won."12
Nelson was back in the minors the next year, and after an early-season appendectomy, posted a 5-11 record and a 6.21 ERA for the Twins' Triple-A farm club in the Pacific Coast League, the Denver Bears, as a 30-year old in 1966.
Nelson was much better the following year, sporting a 10-3 record and a 2.67 ERA at Denver, making one start in 54 appearances. At the end of the PCL season, he was recalled by the Twins, who were a part of a four-team race for the American League pennant. He offered little help, making one relief appearance and giving up three hits, including a homer, and two runs in just one-third of an inning for manager Cal Ermer.
The Twins returned Nelson's contract to Denver, and in December the Bears traded him to the Jacksonville Suns of the International League for pitcher Joe Grzenda. Nelson absorbed a loss in three appearances for the New York Mets' Triple-A farm team, and was released in May. 
At first contemplating a return to San Bernardino and a full-time job at the local Sears store, Nelson averted retirement when he signed a free-agent contract with St. Louis. Bing Devine, who had regained his position as general manager of the Cardinals after a four-year exile, remembered Nelson from his previous stint. After he posted a 1-2 record and a 2.52 ERA in 13 games for the Triple-A Tulsa, Nelson was called up to St. Louis, and in his first appearance, on June 23, hurled the only complete game of his career, a six-hitter against the Atlanta Braves, retiring Hank Aaron four straight times. He made 14 relief appearances, finished eight games, and posted one save. He gave up 49 hits and 17 earned runs, walked 9 and struck out 16. Nelson finished the season with a 2-1 record with a sparkling 2.91 ERA over 52⅔ innings for Red Schoendienst's pennant winners. This time he played in the World Series, pitching a perfect ninth inning in Game Six, a 13-1 Detroit win. "Someone told me I was the only one that was able to get them out that day," Nelson remembered. "I told them that their guys were just tired from running around the bases all day."13
Later Nelson remembered his time with the Cards fondly: "Bob Gibson was the team leader and Roger Maris was the prankster. Both were very good to me."14 
The veteran hurler started the 1969 season with the Cardinals, gave up four runs in his first appearance, made five scoreless appearances, and then gave up three runs in his next outing. On June 2, 1969, at the age of 33, Nelson appeared in the major leagues for the final time, walking the only batter he faced in a 6-3 loss.
Sent to the minors, Nelson posted a 6-6 combined record for two American Association teams, Tulsa, a Cardinals farm club, and Denver, back in the Twins' organization
He found work again in 1970. In his final minor-league season, at the age of 34, Nelson posted a 6-8 record with a 4.55 ERA in 37 appearances with the Richmond of the International League, the Atlanta Braves' top farm club.
After his playing career ended, Nelson scouted for the Cleveland Indians (1973), Los Angeles Dodgers (1974-1976), Chicago White Sox (1978-1980), and the Oakland A's (1982-1989), was a scouting supervisor for the St. Louis Cardinals (1990-1992 ), a major-league scout for the Colorado Rockies (1994-1995), a scouting supervisor for the New York Yankees (1996), and a scout for the Houston Astros (1998-2005). Among his signings were Dmitri Young for the Cardinals and Ron Coomer for the Athletics. His organizations made five World Series appearances, the Dodgers in 1974, the A's in 1988 and 1989, the Yankees in 1996, and the Astros in 2005.
After the Astros "forced me out due to economic reasons" in 2006, Nelson was hired by Jack Brown, his old San Bernardino High School teammate, to work in construction, building and development for Stater Brothers Markets. "Stater Brothers is lucky to have someone of Mel's stature," Brown told a local newspaper. "He encourages kids and is a leader. Wherever Mel Nelson goes you can expect a win."15
Nelson was employed there for 3½ years. In retirement, he worked in his yard, attended California League and California Winter League games, and visited a nearby baseball camp. Outgoing and affable, he attended the 40th anniversary celebration of the Minnesota Twins 1965 AL pennant in 2005. "It was great to get together with all of the guys. They were all good players and great guys; Killebrew, Allison, Grant, Oliva, Kaat, Rollins, Sam Mele. I hope they do it again sometime," Nelson said in a 2014 interview. "We might be able to see each other and sit down and sign a few pictures."16
Nelson is one of several hundred living former major-league players who finished their careers prior to the establishment of the players union, and is not eligible for a pension. "The current Major League Baseball agreement does not include us old guys. Players now can receive $10,000 per month. We get nothing. There's only 900 (as of 2009) of us pre-union guys still alive. We didn't make anything in our day and it's the old guys who need the help. They only care about the young guys," he said.17
Nevertheless, in a phone conversation he looked back on his career and many teammates fondly. "I was very fortunate," Nelson said.  "I played on some great teams and some bad teams, but all of the guys were really great guys."18
As of 2014 Nelson and his wife, Jeanne, reside in Highland, California, not far from San Bernardino. They had three children — Lance, a member of the 1980 Cal Poly Pomona Division II national championship team, Brigg, and Shannon — and four grandchildren.
Sources
Grayson, Harry, "Success Isn't in the Cards for 'Big Rookie' Nelson," Grayson's Scorecard, Pittston (Pennsylvania) Gazette, March 7, 1956, 7.
Kahn, Harvey M.,  "Former SBHS Great Mel Nelson Was a Baseball Associate of Musial," Inland Empire Community Newspapers, January 24, 2013, A5.
Kahn, Harvey M., "Former SBHS Star Remembers Teammate Killebrew," El Chicano Weekly, May 26, 2011.
Kahn, Harvey M.,, "Jackie Robinson: One of America's Greats to Be Subject of Warner Brothers Release," El Chicano Weekly, 2013.
Kahn, Harvey M., "Mel Nelson Ends Long Championship Baseball Career," El Chicano Weekly, June 25, 2009.
Thielman, Jim, Cool of the Evening: The 1965 Minnesota Twins (Minneapolis: Kirk House Publishing, 2005).
"Cherubs Up in Air Over Missing Part in Mound Machine," The Sporting News, December 15, 1962, 15.
"Longshot Nelson Supplies Cards With Quick Lift," The Sporting News, July 6, 1968, 7.
 "Tutor Marv Hones Seraph Slab Corps to Razor-Fine Edge," The Sporting News, May 4, 1963, 15.
 "1955 Fresno Cardinals," Bill Weiss and Marshall Wright, MiLB.com.
 San Bernardino County Sun
The Sporting News
minors.sabrwebs.com (Society for American Baseball Research minor leagues database).
scouts.baseballhall.org  (Diamond Mines, the National Baseball Hall of Fame scouts database).
Telephone interview with Mel Nelson, September 24, 2014.
Notes
1  Harvey M. Kahn, "Mel Nelson Ends Long Championship Baseball Career," El Chicano Weekly, June 25, 2009. Hubbs, an infielder from nearby Colton, California, was the National League Rookie of the Year in 1962, but died in a plane crash in 1964.
2 Harry Grayson, "Success Isn't in the Cards for 'Big Rookie' Nelson," Grayson's Scorecard, Pittston (Pennsylvania) Gazette, March 7, 1956, 7.
3  Harvey M. Kahn, "Former SBHS Great Mel Nelson Was a Baseball Associate of Musial," Inland Empire Community Newspapers, January 24, 2013, A5.
4 Kahn, "Mel Nelson Ends Long Championship Baseball Career."
5 Ibid.
6 Grayson, "Success Isn't in the Cards."
7 Telephone interview with Mel Nelson, September 24, 2014.
8 Kahn, "Mel Nelson Ends Long Championship Baseball Career."
9 Nelson interview.
10 Harvey M. Kahn, "Former SBHS Star Remembers Teammate Killebrew," El Chicano Weekly, May 26, 2011.
11  Ibid.
12 Nelson, September 24, 2014.
13 Ibid.
14 Kahn, "Mel Nelson Ends Long Championship Baseball Career."
15 Ibid.
16 Nelson interview.
17 Kahn, "Mel Nelson Ends Long Championship Baseball Career."
18 Nelson interview.
Born
May 30, 1936 at San Diego, CA (USA)
If you can help us improve this player's biography, contact us.
http://sabr.org/sites/default/files/MelNelson_0.JPG
600
800
admin
/wp-content/uploads/2020/02/sabr_logo.png
admin
2012-01-04 20:42:27
2021-08-14 13:16:16
Mel Nelson