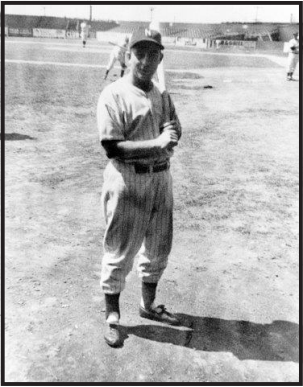 ---
Virtually every book or article on the St. Louis Browns during World War II portrays a team made up of colorful individuals variously described as alcoholics, carousers, or players whose careers had been resuscitated because of the exigencies of the worldwide conflict.  One of the players on the Browns roster during this era who did not fit any of these images was their left fielder, Milton John Byrnes, whom manager Luke Sewell characterized as a wartime fill-in player.  Sewell's assessment certainly had a solid pedigree; Byrnes's career in the majors existed only during baseball's war years.  Yet, despite Sewell's appraisal, hints suggest that Byrnes may have been better than suggested.  Byrnes was a shadowy figure during his playing career.  Knowledge of his life before and after baseball is just as obscure, with very few details readily available. 
Byrnes was born in St. Louis on November 15, 1916, making him truly a hometown ballplayer.  A Sporting News article in 1945 about Browns hometown players said Byrnes was of German-Irish extraction.1  He was the son of Sophie and John Byrnes. John is listed as a cooper with Union Cooperage on his draft card in World War I.2  
The Sporting News article described Byrnes as playing ball at Fairground Park, a former race track, now a municipal park.  He played football in high school as well as American Legion baseball, throwing two no-hitters for St. Louis Post No. 4.  Later he played in a local Muny League.  Scouted by the Cardinals' Charlie Barrett, he failed to catch on. Subsequently the Browns' Ray Cahill brought Byrnes into the Browns organization after he had asked for a tryout.3  (Cahill's playing career had ended after he was gassed in World War I and developed chronic asthma, the same ailment Byrnes developed, which kept him out of the service during World War II.4 
Byrnes broke in with the Lafayette White Sox of the Class D Evangeline League in 1936, hitting .335.  Moving up to the Texas League the next season with the San Antonio Missions, he hit .313 in 1937, but failed to distinguish himself over the following several years, usually batting in the .250's. Over the years Byrnes acquired the nickname Skippy from the popular comic strip about the adventures of an unruly young boy named Skippy Skinner.5
In 1940 Byrnes joined the Toledo Mud Hens of the American Association, the Brpwns' top minor-league club, mostly continuing to hit in the .250 range with little power.  By the end of the 1942 season he seemed destined to end his career as a career minor leaguer.
The early 1940s, however, were hardly typical times for baseball. World War II changed the nature of the game.  Prime major-league prospects were highly susceptible to the military draft and were called to serve in ever-increasing numbers.  Former major leaguers recalled from the minors or players with medical deferments keeping them out of the service replaced those drafted.
Byrnes was part of this latter group.  St. Louis lost outfielders Walt Judnich to the Army Air Force and Glenn McQuillen to the Navy, giving Byrnes his opportunity to make the team.  Preseason hype made the most of Byrnes being a hometown product.  The Browns frequently compared him to Jack Tobin, a St. Louis native who played for the Browns in the 1920s.  General manager Bill DeWitt, seeking to excite hometown fans, waxed eloquently on Byrnes: "Why, Byrnes is the nearest replica of Tobin I've ever seen.  Bats left-handed, throws left-handed, a drag bunter and fast as a deer.  Great fly-chaser and has a good arm.  Wouldn't that give fans here something to cheer about if we'd wind up with a home-town boy in our outfield?"6                        
Byrnes vied with Mike Kreevich for the center-field job vacated by Judnich.  While DeWitt may have been trying to elicit enthusiasm over Byrnes's potential, Browns manager Luke Sewell did not share it.  Although Sewell understandably kept quiet, Byrnes did not impress him favorably.  Years later in the book Even the Browns, Sewell was quoted as saying, "To show you how the scouting was, the reports on Byrnes were that he was one of the better center fielders in the minor leagues but he couldn't hit.  When he got to the majors, we found it was just reversed.  He was a good hitter but couldn't field." 7 
Sewell's lack of enthusiasm notwithstanding, Byrnes made the team.  He appeared in his first game on Opening Day, April 21, 1943. Batting seventh, he went 0-for-3 with a sacrifice in a contest that saw pitcher Al Hollingsworth four-hit the Chicago White Sox, 3-0, at Sportsman's Park.8  Hits were sparse for Byrnes the first few months.  Playing sporadically, he was at .172 by the end of May; the Browns, after a third-place finish the year before, a dead last.  Both Byrnes and St. Louis picked up as the season progressed.  On June 27 he hit his first major-league home run, off Detroit Tigers pitcher Hal White; by the end of the month Byrnes was up to .250 as St. Louis escaped the cellar.        
By August 1 Byrnes was playing almost every day. Making the most of his opportunity, he hit .317 the rest of the way, ending at a solid .280 as the Browns improved to sixth place. He hit only four home runs but had 28 doubles and 7 triples.  Despite Sewell's concern about Byrnes's defensive ability, he led American League outfielders in fielding average at .997, a lone error early in the season keeping him from a perfect record.  With 13 assists, Byrnes was fourth in the league.    
A sixth-place finish usually does not augur well for a team's prospects the next season.  But escalating demands of the military draft continued to destabilize rosters. An article in Major League Baseball, handicapping the 1944 race, underscored their picks, noting, "[A]ny expert in his right mind would hesitate to call the turn, especially in advance of spring training capers and without knowing what effect the continuing drafting of players may have on team rosters."9  With that considerably limiting caveat, the article went on to suggest the Yankees would win their fourth consecutive pennant.  The Browns were picked to finish fifth.
Thus, it was a great surprise to virtually every baseball prognosticator when St. Louis opened the season with a record-setting nine straight victories. Byrnes started the season in left field after having held out for better pay during spring training.10 As was the case in 1943, he started slowly, batting just .118 during the winning streak. Eventually Byrnes began to hit as the Browns found themselves in a tight pennant race, in which it became increasingly apparent that the military draft would play a major role in determining the teams' fortunes.
Each team contending with the Browns lost key players for the 1944 season.  Major contributors to the New York Yankees' success in 1943 were third baseman Billy Johnson and pitcher Spud Chandler, the '43 Most Valuable Player. Save a lone appearance by Chandler, both players were lost to the military in 1944.  Prominent losses for other teams expected to contend for the pennant in 1944 included Mickey Vernon and Jerry Priddy of the Washington Senators, defending American League batting champion Luke Appling of the Chicago White Sox, Detroit pitcher Virgil Trucks, and for the first half of the season, Tigers 1943 outfield sensation Dick Wakefield. 
By way of comparison, the Browns' loss of 15-game winner Steve Sundra was countered by the acquisition of starting pitcher Sig Jakucki who went on to pitch as well as Sundra had pitched.  St. Louis had 18 4-F players on its roster, the most of any American League team.11  One of them was Byrnes, rejected for service because of his bronchial asthma.12
Byrnes played all three outfield positions in 1944, appearing mostly against right-handed pitching and alternating in the outfield with Kreevich, Gene Moore, Al Zarilla, and Chet Laabs.  Despite Sewell's characterization of Byrnes as just a wartime replacement player, his performance was more than adequate. After his slow start, he picked up the pace, batting over .300 until the last week of the season, and getting clutch hits on several occasions.  On June 25, his 10th-inning single beat Detroit; on July 5 he hit a key single to help prolong a game-winning rally against the Philadelphia Athletics; and on July 8 he scored the decisive run in a victory over Washington.13  On September 26 Byrnes singled in the only run in a 1-0 victory over the Boston Red Sox to keep the Browns tied with Detroit for first place.14 
It turned out to be Byrnes's last hit of the year. He went hitless in next three games and was benched, missing the last two games of the season as St. Louis beat the Yankees to win their sole American League pennant. For the season, he hit .295, and showed a proclivity to get on base via walks, finishing ninth in the league in that department.
Despite his solid performance during the season, Byrnes found himself on the bench as the Browns squared off in the World Series against the St. Louis Cardinals, the Browns' tenants at Sportman's Park. Perhaps it was because Byrnes had slumped in September, hitting only .241, that Sewell went with Kreevich, Moore, Zarilla, and Laabs as outfielders against the Cardinals.  Byrnes made three pinch-hit appearances, walking once and striking out twice as the Browns lost to the Cardinals in six hard-fought games. Byrnes received a full World Series losers' share of $2,743.79.15             
During the offseason, Byrnes was again subject to physical examination for military service and failed to pass because of his bronchial condition.  He also had an operation for a hernia.16  Ailments seemed to follow Byrnes; he missed some playing time with a pulled leg muscles during spring training and, still later in the 1945 season, was out with a pulled tendon.17   Whether these physical setbacks hampered his play is uncertain, but he did fall off from his first two years, slumping to .245. The Browns, sluggish most of the season, finished third behind Detroit and Washington, six games out. Byrnes had a few clutch hits for the Browns during the season; perhaps the most remarkable was a home run against the Washington Senators on May 31 at Griffith Stadium. It was one of only six hit in the Senators' ballpark that season.18 On September 30, the last day of the season, Byrnes started in center field against the Detroit Tigers at Sportsman Park with the pennant on the line for Detroit. Hank Greenberg's ninth-inning grand slam secured the victory, and the league championship for Detroit.  It was Byrnes's last major-league game.
What little is known of Byrnes's ability came from comments made by his manager, Luke Sewell, who besides the comment mentioned above about Byrnes's fielding ability made other observations that he was just a wartime replacement.19 Sewell was often a keen judge of players; and the 1944 team was primarily composed of men he had acquired or brought up from the minors. Yet his assessment of Byrnes does not quite jibe with his major-league performance.  Byrnes played in  390 games and hit .274. Considered one of the fastest players on the team, he led American League outfielders in fielding in 1943, and was second in 1945.  Byrnes finished in the top 10 in walks in 1944 and 1945. He generated better-than-average ability to get on base, ranking fifth in the league in on-base percentage in 1944. 
Perhaps Sewell's attitude toward Byrnes can be seen in an observation he made about another Browns player who showed the same aptitude for getting on base via walks. One of the more curious comments attributed to Sewell in Even the Browns was his dislike of an outfielder he inherited when he took over the club in 1941, Roy Cullenbine: "Cullenbine wouldn't swing the bat. Laziest human being you ever saw."20 Yet between 1941 and 1947 Cullenbine never finished lower than fifth in the league in walks and ranked high in the subsequently developed on-base percentage statistic. Sewell's lack of respect for Cullenbine culminated in his being traded to the Senators in early 1942 despite having hit .317 in 1941 and finishing second in the league only to Ted Williams in getting walks.
Regardless, Sewell had the ability to make player transactions and in early April 1946 he sent Byrnes to the New York Yankees for catcher Ken Sears. A few days later the Yankees sent Byrnes to their farm team in Kansas City. He stayed in the minor leagues until 1951, bouncing around to play for nine different teams, never putting up good enough numbers to warrant a return to the majors.     
Little is known of Byrnes's personal life.  His player questionnaire at the Baseball Hall of Fame, prepared in 1961, shows he married June Henderson on February 25, 1937.  His obituary listed a wife, Melva, and a daughter, Gloria.  A 1958 St. Louis city directory noted his occupation as a salesman, his questionnaire further notes that Byrnes was a route salesman for a local St. Louis bottling company.21 When Byrnes died on February 1, 1979, obituaries in St. Louis newspapers were cursory, giving just the names of surviving relatives. The Sporting News's equally brief obituary noted his having played for the Browns and leading outfielders in fielding in 1943.  He is buried at Our Redeemer Cemetery in Affton, Missouri, along with Melva, who died 22 years to the day after his death.
Byrnes played strictly during the war years, and his minor-league career before and after was of average quality, yet during his stay in the majors his record indicates a respectable level of play, Sewell's comments notwithstanding.  While his stay in the majors lasted only three years, Byrnes accomplished a rarity.  He was a member of the only St. Louis Browns team to win a pennant.     
  Notes 
1 Frederick G. Lieb, "Browns Set New High for Home-Town Players," The Sporting News, April 26, 1945, 5.
2 Ancestry.com, 1920, 1930, and 1940 census reports and John Byrnes Registration Card.
3 Lieb, "Browns Set New High for Home-Town Players."
4 baseballlibrary.com/ballplayers/player.php?name=Ray_Cahill.
5 baseball-reference.com/bullpen/Milt_Byrnes; en.wikipedia.org/wiki/Skippy_(comic_strip).
6 Ray J. Gillespie, "It's 1943, So Byrnes of Browns Follows Traditional Footsteps of Tobin and Mueller," unidentified publication, Byrnes's file at the Baseball Hall of Fame.
7 William B. Mead, Even the Browns, The Zany, True Story of Baseball in the Early Forties (Chicago:  Contemporary Books, Inc., 1978), 112.
8 All statistical data unless otherwise noted comes from Baseball Reference or Retrosheet.
9 Don H. Black, "Looking Fore and Aft," Major League Baseball, 1944, 105-106.
10 Mead, 131. Baseball Reference shows Byrnes's salary increasing from $3,000 in 1943 to $5,000 in 1944.  
11 Bill Borst, The Best of Seasons:  The 1944 St. Louis Cardinals and St. Louis Browns. (Jefferson, North Carolina: McFarland & Company, Inc., Publishers, 1995), 37.
12 "Milt Byrnes of Browns Turned Down by Army," undated, unidentified publication, Byrnes's Hall of Fame file.
13 Borst, 110, 123, 125.
14 Borst, 212.
15 Joe Marcin, ed., Official Baseball Guide for 1979 (St. Louis: The Sporting News, 1979), 286.
16 Frederick G. Lieb, "Walk Cooper Makes Grade on U.S. Team," The Sporting News, March 1, 1945, 4.
17 "Major League Notes," The Sporting News, April 26, 1945, 12; Frederick G. Lieb, "Browns Climbing at Gate While Dropping in Race," The Sporting News, June 28, 1945, 4.
18 John Duxbury, "Your Question Please," The Sporting News, November 3, 179, 59.
19 Mead, 160. Sewell's quote on Byrnes: "Byrnes was just a fill-in player."
20 Mead, 71.
21 Byrnes' player questionnaire at the Baseball Hall of Fame.
Born
November 15, 1916 at St. Louis, MO (USA)
Died
February 1, 1979 at St. Louis, MO (USA)
If you can help us improve this player's biography, contact us.
http://sabr.org/sites/default/files/Screen%20Shot%202016-08-07%20at%202.10.47%20PM.png
600
800
admin
/wp-content/uploads/2020/02/sabr_logo.png
admin
2012-01-04 20:47:16
2020-10-14 08:59:55
Milt Byrnes