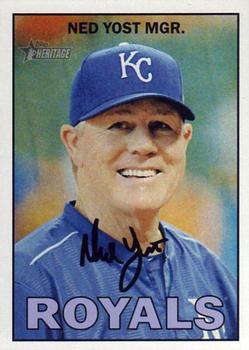 ---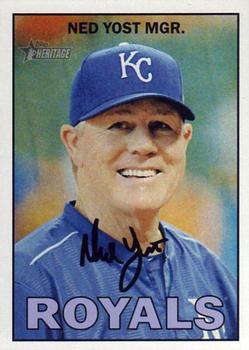 A major-league ballplayer gets called a lot of things during his career, and a manager probably more so. In the case of Edgar Frederick Yost III, some of those things include taxidermist, catcher, grinder, idiot, app developer, survivor, twitter hashtag (#yosted), clothier, pot scrubber, and hunter. Oh, and one more thing — World Series champion manager.
Ned Yost was born on August 19, 1954, in Eureka, California, the son of Edgar Yost Jr. and Lael (Prindle) Yost. The Yost's divorced while Ned was in elementary school. Yost's father played football at Santa Rosa Junior College where he was named a Little All-American.1 His mother was a homemaker. In May 1971, when Yost was a junior in high school, his father, a tanker-truck driver for the Arco petroleum company, was killed when a car cut his truck off. "Right after you get drafted, and then you work your way up, the first day you make it in the big leagues, you're thinking, 'Man, I wish he could have seen this,'" Yost said in 2014. "And then in '82, when we made it to the World Series (as a player with Milwaukee), it was, 'Man, I wish he could have seen this.'"2
Around the time of his father's death, Yost's family had moved to Dublin, California, where Yost joined the high-school baseball team, with little to no effect. "I went a whole year in high school without getting a hit, 0-36 my sophomore year."3 Yost would improve, thanks to a summer job. "I went to work at Kentucky Fried Chicken. I was a pot scrubber. I'd sit there and scrub pots all summer long and my arms got strong."4 Yost's improved strength translated to the field as he earned all-league status as a senior, but didn't translate to any college scholarship offers, so he decided to walk on at Chabot Junior College in Hayward, California.         
Chabot had produced several major-league players, including Dick Tidrow and Von Joshua, but coach Gene Wellman didn't think too much of Yost's chances after he was drafted seventh by the New York Mets in the first round of 1974 June Secondary Phase Draft. After deciding to sign with the Mets, Wellman told Yost to take care of himself for the next week. Wellman then told him why a just a week — "Because that's how long you're going to last, son. You're going to be back on the first bus. You think you're a professional player? You ain't going to make it. Good luck. See you later."5
Yost went to Batavia of the New York-Penn League in the summer of 1974 to try to prove Wellman wrong. He played in 44 games and hit .252, splitting time behind the plate and struggling with his defense, allowing six passed balls and 11 errors. Still, his performance gained him promotion to Wausau of the Midwest League for the 1975 season. Yost's hitting was more challenged at the higher level; he hit only .192 while handing most of the catching duties for the Mets' Single-A club. In spite of these troubles, Yost advanced to Double-A ball in 1976, with the Jackson (Mississippi) Mets of the Texas League. In Jackson, Yost improved his defense enough to catch most of the team's games even though he hit only .199 in 83 games.
While with Jackson Yost opened a taxidermy studio during the offseason, behind his uncle's bowling alley. "And that was my winter job. We'd go deer hunting and we'd do taxidermy in the back of the bowling alley back there. It was a lot of fun."6 Yost would list taxidermy as his current occupation on the National Baseball Hall of Fame questionnaire that players complete when they make the major leagues.
The 1977 season changed the direction of Yost's life. After a great start with Jackson, he was promoted to Tidewater of the Triple-A International League. He continued his good play, hitting 12 home runs in 60 games while batting .291. Once the season ended, he married the former Deborah Ann Ferrell in September 1977. And finally, the Milwaukee Brewers acquired Yost in the Rule 5 draft during the winter meetings. Yost performed well with the Brewers' Triple-A affiliates in Spokane (1978) and Vancouver (1979), earning an invitation to the Brewers 1980 spring-training camp. Yost had confidence that he would make the major-league roster, whatever it would take, telling Brewers coach Larry Haney, "I'll warm up the pitchers, I'll wash the uniforms. I'll scrub out the clubhouse; anything."7
Yost made the team as the Brewers' third catcher behind Charlie Moore and Buck Martinez, and made his major-league debut on April 12, 1980, in the first game of a doubleheader against Boston. "We were blowing them out big, 14-0, 15-1, something like that, in the seventh inning and they put me in," Yost recalled. "The first hitter was Carl Yastrzemski. I remember just staring at his face, thinking that I can't believe this is happening."8 After three appearances without a hit, Yost was sent back to Vancouver in May. His performance there (.309/2/41) earned him a trip back to Milwaukee in September. In his first at-bat back in the big leagues, Yost got his first major-league hit, off Albert Williams in a 15-2 drubbing of the Brewers at the hands of the Minnesota Twins. Yost wound up the season hitting .161 without a home run or RBI.
In December 1980 the Brewers acquired Ted Simmons from the St. Louis Cardinals, seemingly burying Yost deep in the Brewers roster. However, the Brewers traded Martinez in May, and Moore spent time on the disabled list and in the outfield, giving Yost an opportunity to learn from the experienced Simmons. Simmons wanted to pass on what he had learned in the majors, and found Yost a willing, if not skeptical, student. Simmons told Yost that he would have something for him every day to learn. Yost thought, "Yeah, right. And then for the next two and a half years, Simmons had something for me every day."9 Yost got only 30 plate appearances in 1981 but experienced postseason baseball for the first time as the Brewers won the second half of the strike-shortened 1981 season, losing the Division Series to the New York Yankees.
Yost served as Simmons's primary backup behind the plate during the Brewers' 1982 campaign that took them to Game Seven of the World Series. Yost saw limited action, playing in 40 games with 107 plate appearances. He hit only one home run during the season, but it was one of the most important homers in the Brewers' season. They had taken over first place at the end of July and led the Baltimore Orioles in the AL East by three games with six to play going into their game at Boston on September 29. Yost entered the game in the bottom of the eighth and came up with two on and two out in the top of the ninth inning after Cecil Cooper was intentionally walked. Yost's home run gave the Brewers the 6-3 win and a four-game lead with five games to go over the Orioles. He was so sure he wouldn't be playing on the road trip that he had not packed a bat for the road trip, using Moore's bat to hit the game-winner. "It's a dream come true. You think about it, then you saw 'Naw. That would never happen.'"10
The Brewers lost their next four, allowing the Orioles to tie for the division lead going into the last game of the season, in Baltimore. Milwaukee defeated the Orioles in game 162 to win the division flag. Yost did not play in the League Championship Series against the California Angels, and walked in his only appearance (in Game Six) of the World Series against the Cardinals.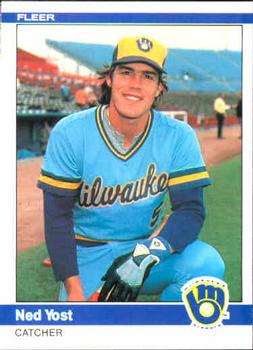 The home run against Boston was the pinnacle of Yost's playing days. In 1983 he started 57 games behind the plate for the Brewers, 30 more than in 1982. He added six home runs in 1983, but his average dropped to .224 and he continued to struggle throwing runners out, nailing only 8 of 65 would be stealers for a 12 percent rate (the league average was 33 percent). The Brewers decided to move on from Yost, trading him to the Texas Rangers for veteran catcher Jim Sundberg.
Rangers manager Doug Rader thought Yost would be his starter for the 1984 season. "I believe Yost will be a top catcher," Rader said. "But because of the situation in Milwaukee — where Ted Simmons had a lock on the job — he has not been able to prove it. He will get that opportunity with the Rangers."11 For his part, Yost was excited about the chance to be a number-one catcher. "I'm happy as heck about it," Yost said. "From everything I've heard, I think it's going to be fun."12 Yost was the Opening Day catcher in 1984, but did not take advantage of the opportunity, hitting only .182 in 80 games. His hitting woes and continued difficulty with baserunners saw him lose time to Donnie Scott, and in April of 1985 he was released by the Rangers, catching on later that month with Montreal, who sent him to their Indianapolis affiliate for the season. Yost's numbers came up a bit at the Triple-A level, and he was called up to Montreal to finish the season and his major-league career. Yost signed with the Braves organization, where he bounced between Triple-A Richmond and Double-A Greenville for the next two seasons.
Knowing his playing days were over, Yost wondered what his next move would be when the Braves asked if he would work with the young players on their minor-league team in Sumter, South Carolina. He wound up being appointed manager in Sumter, and worked with some of the Braves that would go on to success at the major-league level, including Ryan Klesko, Ron Gant, and Mark Wohlers. After three years working in the South Atlantic League, Yost was again promoted to the big leagues, this time as the bullpen coach in Atlanta. "I was in the right place at the right time," he said. "It was just pure luck."13 Phil Niekro had been the bullpen coach and was named the manager at Richmond, opening up the bullpen-coach job for Yost, working for manager Bobby Cox.
Yost joined Atlanta at the start of one of the most remarkable team runs in sports history. In every year Yost with the Braves (save the strike-shortened 1994 season), they won the National League East title. Yost spent eight years in the Braves bullpen and then moved to the third-base coach's box in 1999. Bobby Dews, who had been the third-base coach, was moved to the bullpen by Cox after the 1998 season.
Yost didn't spend all of his time in Atlanta studying box scores. In May 1993 he opened a clothing store, Major League Image, whose customers were helped to match their wardrobes using a dress-by-the-numbers strategy. The store had evolved from a computer program that Yost and local retailer Mac McLemore had developed. Yost used the system himself — "Hey, my wife can't travel with me everywhere," Yost once joked.14 He also spent time outdoors with friends, including NASCAR legend Dale Earnhardt. The two were introduced by a mutual friend, Jody Davis. "We hit it off. Hunted together every year," said Yost.15 Yost even worked on Earnhardt's pit crew during the 1994 baseball strike. Earnhardt was a huge Braves fan, and often pestered Yost to help him get into the Braves dugout so he could help manage. Earnhardt died in a crash near the end of the Daytona 500 in 2001. "There'd be times when we'd have an exciting play on the field and I'd think, 'Boy, I bet that fired Dale up.' I'm gonna miss knowing he's there watching us do our thing. There's a lot to miss when a man like him's not around anymore."16 Yost began to wear uniform number 3 as a tribute to Earnhardt after his death.
The Brewers were looking for a new manager after the 2002 season. Jerry Royster had been fired after leading the team to a 106-loss season that saw attendance at Miller Park drop by nearly a million. The Brewers had looked at a number of candidates, and had offered the job to Ken Macha, who turned them down to take the Oakland A's open position. Brewers general manager Doug Melvin had not considered Yost until Yost's agent, Alan Hendricks, spoke with him. Melvin also spoke with Cox and Braves general manager John Schuerholz and gave Yost an interview. After he made the hire, Melvin said that Yost's "work ethic, energy and enthusiasm" set him apart from the other candidates.17 Brewers fans would have been expected to wonder if a guy with no major-league managerial experience was ready for this job, but Yost believed that he was. "I don't have any apprehension about being a major-league manager," he said. "I don't have much experience managing but I've been around a Hall of Fame manager (Cox) for 11 years."18
The 2003 Brewers showed improvement in Yost's first year, improving to 68-94. Melvin was pleased with the team's improved play. "I guarantee you he talked our team into 15 or 20 wins last year just by telling the players they were better than they actually were. They believed him and went out and did it," Melvin said.19 The Brewers continued to improve under Yost, and their record of 81-81 in 2005 was the first time since 1992 that the team did not have a losing record. After a slight step back in 2006, the Brewers rebuild was in full form for the 2007 season. They started the season 16-9 in April and by mid-May had an eight-game lead in a weak National League Central Division. They kept the lead until mid-August when a five-game losing streak knocked them to second place. The Brewers stayed in the hunt and moved into a tie for first on September 18. But the heat of the pennant race seemed to take its toll on Yost and the players. Yost was ejected from three games during a four-game stretch and served a one-game suspension on September 27 for retaliation in a game against the Cardinals. Yost was defiant, stating, "What happened in the past doesn't really concern me right now, but to answer your question, no, I wouldn't do a thing differently."20 GM Melvin supported Yost, but admitted, "This is a situation we haven't been in before, and it's a situation Ned hasn't been in before as a manager. We handle all these things together as a team."21 Brewers fans had been filling the sports airwaves and message boards looking for Yost's removal after the team lost an 8½-game lead in June, but Brewers owner Mark Attanasio confirmed Yost's status when he said, "Ned is fine."22
The 2008 version of the Brewers played better than they did in 2007 but found the division race more challenging with the improved play of the Chicago Cubs. Still, the Brewers were in the hunt for the playoffs after going 20-7 in August, finishing the month with a record of 80-56 and a 5½-game lead for the wild card over the Philadelphia Phillies. A poor homestand to start September saw the wild-card lead shrink to four games with a key four-game set coming in Philadelphia. The series was a disaster for the Brewers, who lost all four games and their wild-card lead. Attanasio and Melvin had seen enough after the Phillies series, and decided to fire Yost with 12 games left in the season. "When we talked to (Ned), he didn't have all of the answers to what's gone on the last two weeks," Melvin said.23 Yost said he did not see the move coming, stating, "The timing of it surprised me. It's the nature of the business, but it's gotten a little strange. Two bad weeks (and you get fired)."24 Yost's bench coach, Dale Sveum, took over the team, and while the results improved only slightly (7-5 over the final 12 games), it was enough for the Brewers to end their postseason drought and claim the wild card. The Brewers were eliminated by the Phillies (who had overcome the New York Mets to win the NL East) three games to one in the Division Series.
Yost spent 2009 on his 210-acre farm in Georgia but was not out of baseball long. In early 2010, Kansas City Royals general manager Dayton Moore hired him as a special assistant to baseball operations. Many saw it as an insurance policy for the Royals, whose manager, Trey Hillman, had taken a lot of criticism after a 97-loss season in 2009. "That's not the motive," said Moore. The motive is hiring good people to impact the organization. Trey was as much on board bringing in Ned as I was."25 It didn't take long for the insurance policy to be cashed in, as Moore fired Hillman on May 12, 2010, and replaced him with Yost. "Ned has been through what we're going through (in terms of building a club). He has a lot of similarities to Trey, actually as far as their energy and relationship skills with people."26 Yost later said that managing in the big leagues is mostly about three things: You must manage the personalities of the players, the games, and the media. Thinking he did okay with the first two while in Milwaukee, he decided that he wouldn't read, listen, or watch any coverage of the Royals. Some of the decisions he would make as the Royals returned to respectability would challenge this.
The Royals whom Yost inherited were in many ways like the Brewers in 2003, or even the Braves in 1991. After an 83-win season in 2003, they had three straight 100-loss seasons. Hillman was able to get them out of the AL Central cellar in 2008 with a 75-87 campaign. A promising 18-11 start in 2009 fell apart as the Royals crashed to a 65-97 final record in 2009, setting the table for Hillman's demise. But the poor record translated into high draft choices, and Moore and his staff made some good choices in these years, including first-round picks Alex Gordon (2005), Mike Moustakas (2007), and Eric Hosmer (2008). This infusion of young talent and a manager experienced in growing young talent led to improvements in the standings, from 67 wins in 2010 (Yost was 55-72) to 71 in 2011 and 72 (and a third-place finish in the division) in 2012.
Offseason moves to add pitchers James Shields and Wade Davis lifted expectations for the 2013 season, and The Sporting News predicted a second-place finish for the Royals and Manager of the Year honors for Yost. Yost shrugged off the pressure of these expectations, saying, "There's pressure with everything that you do, there really is, whether it's expectation and pressure. But there are so many variables. You can't get too carried away, because there are a lot of things that have got to happen right."27 The season got off to a fair start, but by the end of May the Royals were 22-30 and in last in the division again. Speculation began to rise regarding Yost's job security, but Moore came to his defense, stating that Yost "was the least of the club's problems.28 The team responded to Moore's defense of their skipper, going 64-46 the rest of the season to finish in third place with a winning record for the first time since 2003 and a contract extension for Yost, setting up several very exciting years of baseball in Kansas City.
Yost realized by the start of the 2014 season that the strict boundaries he had learned from Cox in Atlanta needed to be adjusted for the player of today. "I've gotten much better results than just coming in and trying to be the tough guy," he said. "The authoritarian. Yelling, screaming. That doesn't work with kids nowadays."29 Billy Butler noticed the change in Yost. "He's been easier to talk to," Butler said.30
The Royals got off to another slow start in 2014, and in early June were three games under .500, bringing up discussion of Yost's job again. But just as in 2013, the young Royals found their form in the summer. They stayed in race for the division crown as well as the wild card. They could not catch the Detroit Tigers for the AL Central, but clinched a spot in the wild-card game after beating the Chicago White Sox on September 26.
The wild-card game cemented Yost's growing reputation as a manager who would manage his way, and not how convention would have him manage. In the top of the sixth inning, the Royals clung to a 3-2 lead, but starter Shields put the first two hitters on. Convention said that Yost should bring in Kelvin Herrera, as he usually did in the seventh inning, but instead he chose Yordano Ventura, a starter who had pitched two days earlier. Ventura promptly gave up a three-run home run and the lead. Fans in Kansas City had taken to Twitter to express their displeasure in similar Yost moves with the hashtag/verb #yosted, describing what happens when a choice goes horribly wrong. When Yost pulled Ventura three hitters later for Herrera, the Royals fans gave Yost rousing disapproval of the moves. "I'd never in my life heard anything like it,' said broadcaster Ryan Lefebvre.31 "It didn't bother me. I still felt like we were going to win the game. I had no doubt that we would," Yost said. 32 They did, coming from behind with three runs in the eight and one in the ninth to tie, and then with two runs in the 12th after the A's scored one in the top of the frame. So inspired were the Royals after this multiple come-from-behind win that they swept the Los Angeles Angels in the Division Series and then the Baltimore Orioles in the AL Championship Series.
Suddenly the guy who couldn't handle the pressure of pennant race in Milwaukee and had nearly thrown away the Royals' first playoff appearance since 1985 became the first manager in history to start a postseason 8-0. "I've been called a dunce (Wall Street Journal), an idiot (Chicago Tribune) and everything else. It just doesn't bother me. I'm really comfortable with who I am. I know who I am," said Yost after the season.33 The Royals faced Yost's favorite team growing up, the San Francisco Giants, in the World Series and came as close as you could to winning, leaving the tying run on third base in the bottom of the ninth inning in Game Seven. Yost spent time during the offseason doing exactly what one would never think he would do — develop an app for iPhone and Android. Ned Yost's Baseball Academics was launched at the American Baseball Coaches Association conference, where it won best in show. "It just teaches kids to think, teaches them to think quick and where to properly throw the ball. Even college coaches said, 'I would make my kids do that,'" Yost said.34
The 2015 Royals would not leave anything to chance. Avoiding the slow start that plagued the previous two seasons, they jumped out to a 15-7 record by the end of April, took over the Central Division lead for good on June 9, and won the division by a comfortable 12 games. Yost became the Royals' all-time winningest manager on June 18 with his 411th victory. The Division Series against the Houston Astros went the distance, but trade-deadline pickup Johnny Cueto pitched a gem to win the series for the Royals. The Toronto Blue Jays were the opponent in the ALCS, and were dispatched in six games, leaving the Royals in the World Series in consecutive years for the first time. In the 1985 Series, the Royals had to battle back from a 3-1 deficit to claim the title. The 2015 Royals avoided this drama, winning the Series over the New York Mets in five games when they scored two runs in the top of the ninth inning to tie Game Five, then five more in the 12th to win the series.
Yost and the Royals perhaps used up all of their magic in their 2015 run to the title and could not replicate it in 2016. This version of the Royals briefly flirted with first place in May but fell to third in the division with a record of 81-81. The 2017 version was no better, finishing with an 80-82 record. Perhaps the most excitement that 2017 provided Yost nearly cost him his life. On November 4, while in a tree stand on his property in Georgia, Yost fell 20 feet when the stand collapsed as he was trying to attach a safety strap. He broke his pelvis and severed his iliac artery. The trauma doctor told him that he was lucky to be alive, as this type of injury has a 25 to 30 percent mortality rate. "I had my cell phone in my pocket, which was my key to the whole thing and being in a spot on my farm that had service was key," Yost said.35
After two mediocre seasons, the Royals decided to rebuild in 2018, and their record fell to 58-104, their second-worst performance in franchise history. Moore hired former Cardinals manager Mike Matheny as a special adviser in November 2018, perhaps as another insurance policy, especially with Yost under contract for only one more season.
In May 1983, after hitting home runs in consecutive games in Oakland, Yost saw his old coach Wellman for the first time since he left Chabot. "I was dead wrong about you," Yost recalled him saying. "The one thing I didn't take into account is that you can't keep a good man down."36 Yost has been called many things during his career, many not fit for print. But he helped build one of the great teams in baseball history, then transformed two small-market losers into winners. Perhaps the best thing said about Yost came from a man who both hired and fired him, Doug Melvin: "He took a franchise that had not been to the playoffs in 25 years, built it up and got it to the playoffs. Then he took a franchise in Kansas City that hadn't been to the playoffs in 30 years and did the same thing. I don't care what anyone says about him. How many managers have done that?"37
Last revised: August 1, 2019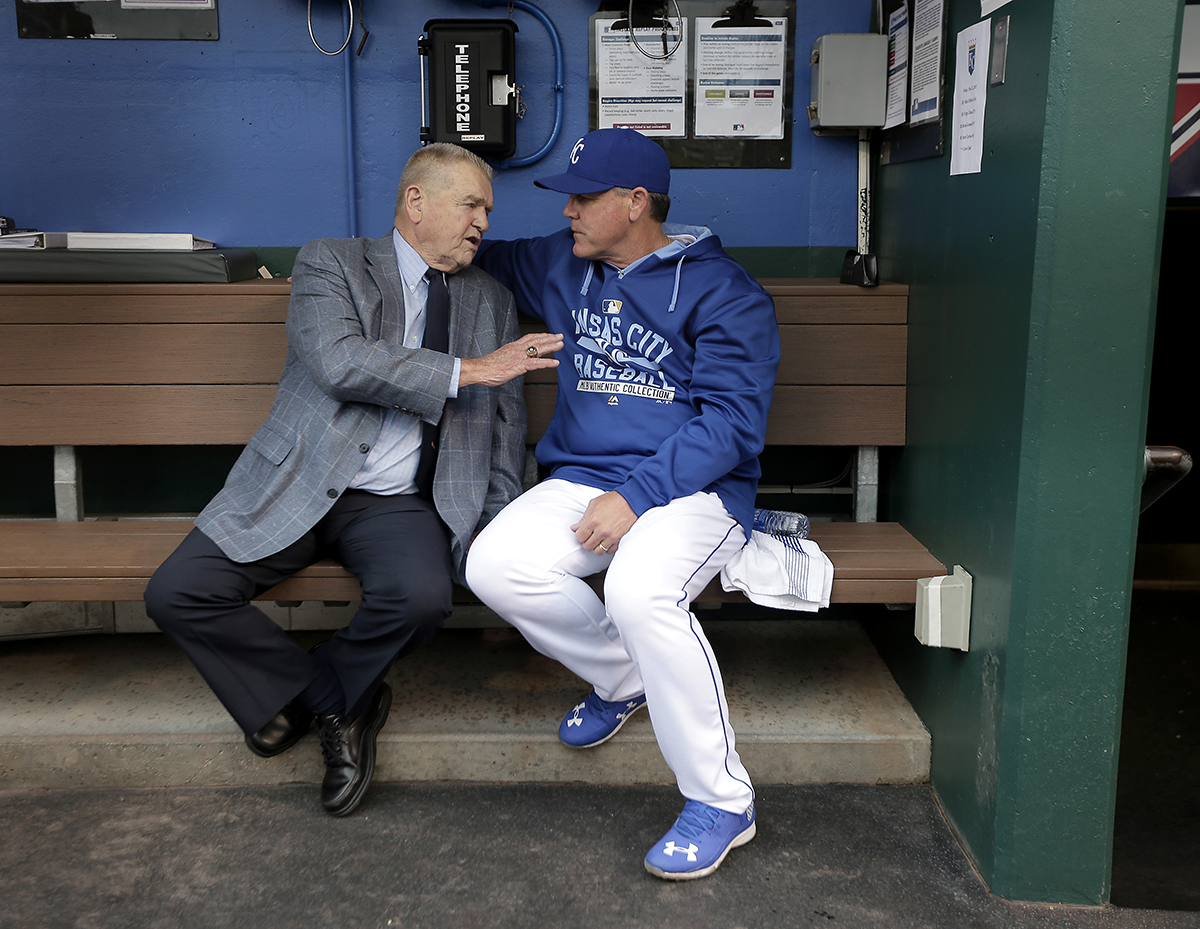 Kansas City Royals managers Ned Yost, right, and Whitey Herzog talk before a game at Kauffman Stadium in Kansas City. (COURTESY OF THE KANSAS CITY ROYALS)
This biography appears in "Kansas City Royals: A Royal Tradition" (SABR, 2019), edited by Bill Nowlin.
Sources

In addition to the sources listed in the Notes, the author accessed Retrosheet.org and Baseball-Reference.com.
Notes
1 Vahe Gregorian, "Ned Yost Has Been Making 'Most of What He Has' Since Growing Up a Giants Fan," Kansas City Star, October 20, 2014, kansascity.com/sports/spt-columns-blogs/vahe-gregorian/article3185608.html.
2 Ibid.
3 Dick Kaegel, "Yost Recalls Hitless Season in High School," MLB.com, April 22, 2014 mlb.com/royals/news/royals-manager-ned-yost-recalls-hitless-season-in-high-school/c-72993074.
4 Gregorian.
5 Ibid
6 Chris Fickett, "Yes, Royals Manager Ned Yost Was a Taxidermist," Kansas City Star, October 27, 2015.
7 Tom Flaherty, "Kid Yost Mentally Ready, So Are Brewers," The Sporting News, April 26, 1980: 18.
8 Chuck Greenwood, " '82 World Series Yost's Career Highlight," Sports Collectors Digest, July 18, 1997: 60
9 Gregorian.
10 Tom Flaherty, "AL East Notes — Yost an Unlikely Brewers Hero," The Sporting News, October 11, 1982: 33.
11 Jim Reeves, "Deals for Ward, Yost Please Rader," The Sporting News, December 19, 1983: 42.
12 Jim Reeves, "Yost Promises Plenty of Hustle," The Sporting News, December 26, 1983: 47.
13 Greenwood.
14 I.J. Rosenberg, "Getting Dressed by the Numbers," Atlanta Journal-Constitution, February 18, 1993: E2.
15 Bruce Schoenfeld, "How Ned Yost Made the Kansas City Royals Unstoppable," New York Times Magazine, October 1, 2015.
16 Steve Hummer, "When NASCAR Lost an Icon, Yost and Others Lost a Friend," Atlanta Journal-Constitution, February 20, 2001: F5.
17 Michael Cunningham, "Yost Gets Two Years to Show Brewers He's the Man for the Job," Milwaukee Journal Sentinel, October 30, 2002: 1C.
18 Drew Olson, "Yost Looks to Catch On in Milwaukee," Milwaukee Journal Sentinel, October 29 2002.
19 Tom Haudricourt, "Yost Offers Brewers a Fresh Approach," Milwaukee Journal Sentinel, February 22, 2004.
20 Gary D'Amato, "Tumultous Week Finally Ends for Yost," Milwaukee Journal Sentinel, September 29, 2007: C1.
21 Ibid.
22 Rick Braun, "Players Not Surprised Yost Returning," Milwaukee Journal Sentinel, September 27, 2007: C5.
23 Tom Haudricourt, "Brewers Fire Manager Yost," Milwaukee Journal Sentinel, September 15, 2008.
24 Ibid.
25 Sam Mellinger, "Royals Hire Ex-Brewers Manager Yost as Special Advisor," Kansas City Star, January 13, 2010.
26 Bob Dutton, "Royals Fire Hillman, Select Yost as Replacement," Kansas City Star, May 13, 2010.
27 Pete Grathoff, "Ned Yost, Manager of the Year," Kansas City Star, February 6, 2013.
28 Bob Dutton, "Royals' Yost Says He 'Doesn't Listen' to Speculation Regarding His Job Security," Kansas City Star, May 29, 2013.
29 Andy McCullough, "Royals Manager Ned Yost Loosens the Reins as He Adjusts to a New Generation of Players," Kansas City Star, March 1, 2014.
30 Ibid.
31 Schoenfeld.
32 Ibid.
33 Joe Strauss, Royals' Yost Shrugs Off the Critics," St. Louis Post Dispatch, December 9, 2014.
34 Pete Grathoff, "Royals Manager Ned Yost Developed App to Teach Baseball Strategy," Kansas City Star, February 4, 2015.
35 Pete Grathoff and Rustin Dodd, "Royals Manager Ned Yost Says He Nearly Died as a Result of Fall from Tree," Kansas City Star, November 13, 2017.
36 Gregorian.
37 Schoenfeld.
Born
August 19, 1954 at Eureka, CA (USA)
If you can help us improve this player's biography, contact us.
https://sabr.org/sites/default/files/YostNed-2016.jpg
600
800
admin
/wp-content/uploads/2020/02/sabr_logo.png
admin
2012-01-04 20:32:03
2020-10-08 16:50:16
Ned Yost