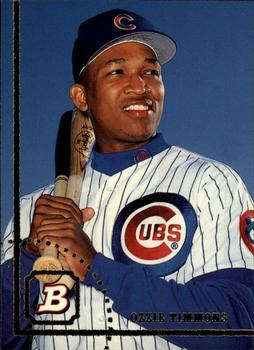 ---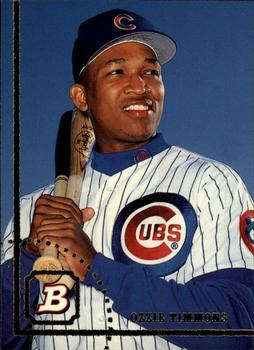 Osborne Llewellyn Timmons, better known as Ozzie Timmons, learned to love baseball when he grew up watching some of the terrific hometown players. After his playing career, Timmons joined the coaching ranks to continue to share his knowledge and love of the game with the young players just starting their careers.
Timmons was born on September 18, 1970, in Tampa, Florida. Both of his parents were from South Carolina. Timmons doesn't know much about his father, Willie Timmons, who died when he was five years old. His mother, Julia, was born and raised in Sumter, raised him alone after his father's death. Timmons grew up in Tampa with his three siblings, two brothers, Willie and Tyrone, and one sister, Daralyn Doby. The youngest and the most athletic of his siblings, he remembers learning to play baseball in his backyard in the Progress Village neighborhood. "We just played . . . with a broomstick and a tennis ball. My mom and my brother Willie had me throwing the tennis ball all the time."1
His mother has even more precise memories of Timmons yearning to play baseball: "In my back yard I have a screened porch, and he always knocked out my screens." She always found her son out there, swinging a bat or shovel or stick at a baseball, rock, tennis ball or whatever he could find. "Whatever worked he would use. He used a stick at first and made a ball out of tape, a rock, anything. There were times when he would disappear from church, run home and start a stickball game in the street with children in the neighborhood."2
Timmons, who bats and throws right-handed, grew up playing just about just about every sport he could with his tight-knit group of friends, but the early games of unorganized neighborhood ball that hooked him on baseball. "It was just a thing in the neighborhood. We were in the backyard playing stickball. You get any kind of ball you can find, a broom handle or any kind of stick you can find, and you play strikeout. I mean, all you needed was two guys; three would be best because you'd have a catcher, a hitter, and a pitcher. That's how it started with me. All the guys in the neighborhood, we all played."3
Several baseball teams had their spring training sites in Tampa, and this quickened Timmons's interest in baseball. Although Timmons played Little League, he didn't focus solely on baseball until high school. That was when he learned about fall ball, developmental leagues for young players to improve their skills and get ready for the next level of baseball.
Timmons attended Brandon High School in Brandon, Florida, just outside Tampa, and played baseball every year of high school, although "I didn't get in a game as a sophomore. I started out as a second baseman but I moved to the outfield as a junior. That was the way to go. Greg Paris, the assistant coach, saw promise in me and decided to put me in the outfield."4 The change in position and his hard work paid off as Timmons earned all-county and all-state recognition during his senior year. Timmons, who is 6-foot-2 and 205 pounds, played against several future major leaguers in high school, including Carl Everett, Derek Bell, and Gary Sheffield.
Timmons often returned to Brandon High during the offseason after he began his professional career to work with the coaches and prepare for the next season. "'Ozzie was one of those guys that really worked hard at his game. He's a tremendous individual," said Paris, an assistant coach when Timmons played there.5
The Chicago White Sox drafted Timmons in the 44th round of the 1988 amateur draft. "Al Goldis, a scout with the White Sox, told me that they decided to take a chance on me but knew that I had a scholarship," Timmons recalled. "When I was not picked in the first three rounds, I decided to attend college. I wasn't ready physically and mentally to go in the pro ranks. I give credit to the kids who go pro right away because it is not easy."
At the time, Timmons had a scholarship offer to play baseball at the University of Tampa (UT). He lived at home until his junior year of college. Timmons earned All-American honors during his sophomore and junior years. He concluded his UT Spartan career as Baseball America's top Division II player in 1991.6 Timmons said that after Tino Martinez attended UT and brought a lot of notice to the baseball program, the team became more competitive. As a result, they played numerous Division I schools, which helped him to improve his skills. Timmons also played in the Cape Cod League, a summer league for promising college players, after his sophomore year. He credits this experience with bringing him to the attention of major league clubs.
"We called [UT] a factory because guys like Fred] McGriff would work out with the team. I learned a lot from them. I was way ahead when I got to pro ball because of the time at UT."7 Indeed, Timmons ranks third all-time among home run hitters at UT. He hit 37 home runs there; only Martinez and Paul Russo have hit more. Timmons also became the fifth University of Tampa baseball player to enter the Sunshine State Conference Hall of Fame when he was inducted in the class of 2005-06.8
By the end of his junior year, Timmons was drafted by the Chicago Cubs in the 5th round of the 1991 amateur draft, and he signed a contract with them on June 7, 1991. The Cubs sent him to their low-A Geneva (NY) team in the New York-Penn League. He hit 12 home runs and batted in 47 runs in just 73 games that summer.
Promoted to the Cubs' High-A team, the Winston-Salem Spirits of the Carolina League in 1992, Timmons produced well enough to earn yet another promotion later that season to the Double-A Charlotte Knights. He improved his batting average 41 points that season and continued to show power at the plate. Timmons finished the season with a combined 21 home runs and 69 RBIs.
Timmons stayed in Class AA for the 1993 season, leading his team (the Orlando Cubs of the Southern League) in home runs while collecting 56 RBIs. He batted .284, an improvement of 22 points from his combined 1992 totals. During his tenure there he suffered the only injury of his playing career. "I had game keeper's thumb. The doctor put it in a cast to heal. I missed the last part of the season." (Game keeper's thumb is a chronic injury to the ligament that joins the thumb to the other hand bones and stops it from pulling too far away from the hand.)
The injury led to Timmons's playing winter ball for the first time. He played in Puerto Rico and the experience opened up a new world for him: "I fell in love with it. The atmosphere and the fans are amazing. You've always got to be ready to play."
Playing winter ball helped him to prepare for the coming season. "When I got to spring training I was ahead of everyone else. You can work out in the offseason but playing the game is the best way to prepare. If you don't go to winter ball, you won't be ready." The hard work paid off as Timmons was promoted to Class AAA for the 1994 season.
Timmons spent his fourth season in baseball playing for the Cubs' Class AAA Des Moines, Iowa, team. This would turn out to be his breakout year. Timmons led the team with 22 home runs and was fourth with 66 RBIs, which earned him a spot on the major league roster when the 1995 season started. "It really hit that I was in the big leagues was when I was on the Cubs for opening day in Chicago. The place was packed. The atmosphere was fantastic. It was 20 degrees and I was just soaking it all up."
He made his major league debut on April 26, 1995, in a 7-1 Cubs road victory over the Cincinnati Reds. Timmons pinch hit for Scott Bullett in the sixth inning. Reds' pitcher Chuck McElroy walked him with the bases loaded, and just like that, he earned his first big league RBI. Timmons walked a second time leading off the eighth inning and later scored his first MLB run on a wild pitch. He started the next day in left field and he recorded his first major league hit, a single in the top of the second inning. That single scored Sammy Sosa for Timmons's second RBI in as many days.
During his rookie year, Timmons played in 77 games, platooning in the outfield with Bullett. This arrangement lasted until the Cubs acquired Luis Gonzalez on June 28. Although he had less playing time thereafter, Timmons hit 10 doubles and 8 home runs overall to finish the season with a .474 slugging percentage.
Timmons started the 1996 season as a reserve with the Cubs before being sent back to the Iowa Cubs. In 59 games there, he hit 17 home runs and had 40 RBIs. He was slugging .521 when he was recalled in August. Continuing to platoon in the outfield, he appeared in 65 games. Unfortunately, the strong offensive performance he had recorded in the minors did not continue. His batting average fell to .200, and he only had 7 home runs, the second lowest total to that point in his professional career.
The Cubs traded Timmons along with minor leaguer Jay Peterson to the Cincinnati Reds in exchange for Curt Lyons on March 31, 1997. The Reds used him as a pinch-hitter and outfield replacement for six games at the beginning of the 1997 season, then assigned him to their Class AAA franchise, the Indianapolis Indians. He performed creditably there (.253/.348/.396) in 125 games. He also hit 14 home runs and batted in 55 runs.
When the 1998 started, the Reds kept Timmons on the Indianapolis roster. There was little room on the major league club, which had Dmitri Young and Reggie Sanders playing every day in the outfield. Timmons played in 117 games for Indianapolis and finished with 21 doubles, 12 home runs and a .456 slugging percentage. But at the end of the season, the Reds opted to release him and he became a free agent on October 15, 1998.
Timmons made a foray into the American League when he signed a contract with the Seattle Mariners on March 12, 1999; at the close of spring training, the team assigned him to their Class AAA club, the Tacoma Rainiers in the Pacific Coast League. He played in 82 games for the Rainiers, and was promoted to the Mariners in July. At the time he led the Tacoma team with 21 home runs and was second with 66 RBIs. But Timmons once again failed to produce in the majors. He appeared in 26 games but had just one home run, three RBIs, and a paltry .114 batting average. The Mariners cut him loose on October 11, 1999.
Eighteen days later, the Tampa Bay Devil Rays signed him; he was excited by the prospect of playing before his hometown crowd. But before that could happen, Timmons had to prove himself with the Durham (NC) Bulls, the Devil Rays' Class AAA International League team. He played in 137 games with the Bulls in 2000, splitting his time between the outfield and DH. Once more Timmons led a Triple-A team, with 29 home runs this time. He also led the International League with 104 RBIs, 100 runs scored, and hit .300, a performance that earned him a spot on the 2000 International League All-Star team.9
Timmons was called up to Tampa Bay when the teams expanded their rosters in September. In 12 games, he hit 4 home runs and batted in 13 runs. Timmons had measurably improved in all offensive categories, but recalls he was frustrated that he was not playing outfield regularly.
Timmons played his last major league game on October 1, 2000. He got a start that day against Boston and played right field. The game went into extra innings and he delivered his final major league hit leading off the bottom of the tenth inning. That single led to the winning run in a 3-2 Tampa Bay victory. "I had a good year in 2000," Timmons said. "I went to play winter ball," he continued, since he had been used mostly as a DH, "and I wanted to play the outfield. I'm down in Venezuela, and I learn that I'm released from the Rays. They didn't even call me."
But he had caught the attention of the Chunichi Dragons of the Japan Central League. They bought his contract from the Devil Rays on November 27, 2000, and Timmons headed for the Orient. "The Japanese team came down to Venezuela and signed me to a one year deal," Timmons relates.10
His experience was similar to other American players who signed with Japanese teams. By 2001, Timmons was 30 years old, and most major league clubs considered still unestablished players like him too old to take a risk on. Nonetheless, he was able to find a spot in Japan, where he was, if not respected, at least given a chance to play every day and earn reasonably good pay.11
Timmons initially found it difficult to adjust to life in Japan. But he eventually met some other Americans living there, and this helped him to adjust. "I met another American. He was a musician at Gary's, a bar in Tokyo. They played Motown. That made a difference since I now knew someone there." In the end, Timmons enjoyed his playing time in Japan: "It was fun to play over there. There are bands that travel with the teams, and they bring a lot of spirit to the games."
Timmons played in 83 games with Dragons in 2001. He batted .228 with 12 home runs and 45 RBIs. Released at the end of the season, he said "I would have loved to stay [in Japan], but I didn't have a good year. It was a struggle to play there because of communication. They play differently. They believe that every game can be won by one run. It is very different from major league ball."
Timmons returned to the United States in the winter of 2001-02 in hopes of signing with a major league club. He succeeded: the Atlanta Braves signed him on January 14, 2002. After spring training, he was assigned to the Triple-A Richmond Braves in the International League. Timmons played in 131 games that season, turning in a .258/.309/.399 line with 15 home runs and 76 RBIs, both second best on the team. But this wasn't enough to get him a call up to the majors that September, and he was granted free agency on October 15, 2002.
The following year Timmons played 14 games for the Atlantic City Surf, an independent team in the Atlantic League when the season started. "Independent ball is the place where you go to try to get back into pro ball," Timmons says. "I was just trying to get back into pro ball. I knew that it was mostly pitchers that were chosen but I was determined to get back with a club." Actually he played well enough that the Arizona Diamondbacks decided to sign the 32-year-old to a minor league contract. He was originally assigned to their Class AA club in El Paso, but Arizona promised to call him up before the season ended. Timmons realized only later that they "wanted me to get into coaching and were thinking of me as a coach at the time although I didn't know it. Tommy Jones [the Diamondbacks' director of player development at the time] started getting me to think about coaching."
But Timmons wasn't ready give up playing. At age 33, he returned to the Atlantic City Surf for the 2004 season, and hit 21 home runs with 73 RBIs in 77 games. The New York Mets decided to take a look, signing him on August 13 and sending him to their Class-AAA team, the Norfolk (VA) Tides. Timmons hit four home runs and drove in 18 in the 30 games he played there. At the end of the season, the Mets released him.
In 2005, after playing in 107 games back with Atlantic City, Timmons signed with the Piratas de Campeche in the Mexican League. Timmons said that he did this to make more money but "you are still looking to get called up." He then switched to another Mexican League team, the Acereros de Monclova in Coahuila, where he played another eight games before deciding to return to the States. "It is really hot in Mexico. I was just there for the money," Timmons remembered. "Some days I was wondering 'what am I doing here?'" At the end of the season, he decided that if he didn't get picked up by a major league team the following year, he would seek out a coaching position.12
He returned to independent ball and the Atlantic City Surf once again in 2006. In 113 games for them Timmons amassed some solid offensive statistics—19 home runs, 29 doubles, 63 RBIs and a .478 slugging percentage. But no major league teams discerned any future for a 36-year old minor league veteran. Indeed, Timmons had always been a productive batter in the minors, finishing his career with 191 home runs and an .818 OPS in 12 minor league seasons.
But now he was forced to make a difficult decision. Although he would be saying goodbye to his playing days, he would no longer need to spend each winter hoping he might be picked up by a major league team or fight again to prove he still had power in his swing. The decision wasn't easy for Timmons, but he said, "I've got no regrets. I played hard every time I played."
He did not stay out of baseball long after he hung up his spikes. He became part of the Tampa Bay organization for the 2007 season, hired as the hitting coach for the Rays short-season Class-A team in the New York-Pennsylvania League, the Hudson Valley Renegades. It was the start of a second career in baseball for Timmons, one he hoped would eventually lead him back to the majors in some capacity. After a year with Hudson Valley, he was promoted to the Rays' Class-A Columbus (GA) Catfish in the South Atlantic League.
Mitch Lukevics, director of minor league operations for the Devil Rays, said that Timmons was chosen to be a coach for the organization because of his experience on the field. "He's lived it from the lowest level to the highest level. He has knowledge of the game and experience." But Timmons confronted a learning curve as he started his coaching career which he recognized immediately. "Coaching is hard because you're working with a lot of different personalities. I have to find ways to push players and make them better. I have to find ways to bring out the best of them." 13
Tampa Bay promoted Timmons in 2009 to the Montgomery (AL) Biscuits, their Class-AA team in the Southern League. He spent seven seasons coaching in Montgomery before being again promoted in 2015, this time to the International League Durham Bulls.
Timmons brings a unique perspective to his job. "I'm a coach-player. I feel like I'm still one of the guys, but I know when to separate it. I can go play cards with you, but I can yell at you three hours from now when you do something stupid in the game. I can separate the two."
As he moved up through the Rays' organization, Timmons learned that he needed to pay attention to providing as much on support off the field as he does on it. "Some of these guys are here by themselves, especially guys from Latin America, so they don't have anybody. If they've got somebody that they can connect with, it makes them relax a little more before they step back on the field."
Timmons has an easy-going personality that helps him to connect with the players. It also helps him to teach the hitters that he works with about what he sees as an invaluable part of competing and earning that much-desired call up. "I tell them once you step on the field, it's time to have fun. When we're in the cage working, we work, we can talk about your hands, we can talk about your feet. But once you step in the box, free all that. Trust what we do in the cage is going to translate on the field."14
As he finishes his 11th season of coaching, Timmons's love of the game and of baseball's inherent comradeship is as strong as ever. "Until they take the uniform off [me], I'm gonna keep going. What I learned coming up as a player, I try to give back to these players. I still try to play the game hard, play the game the right way, be a good teammate, and have fun. That's the way I was taught, and that's why I went into coaching was to give all that back to the younger generation coming up now."15
In the offseasons, Timmons works on completing his degree in liberal studies from the University of Tampa. He coached winter ball in Venezuela in 2016 but doesn't plan to return there due to the political situation in the country.
Timmons is not married as of this writing in late 2017, although he has three children from a previous marriage: Marnika, who works as a chef, Keyon, who serves in the military, and Ozzie Jr, who attends community college in the Tampa area.
Timmons always had hope that he might eventually make it back to the majors as a coach or manager, although he remained realistic about his chances: "You've just got to work and hope something happens, that someone else gets moved up so that you can get moved up."16
And indeed, on November 3, 2017, the Rays announced that Timmons would become the seventh first base coach in the team's history. When the announcement was made, manager Kevin Cash said, "I'm excited for Ozzie to join our staff. He has a track record of connecting with hitters and providing high quality coaching throughout his career. We're looking forward to him complementing our staff with those skills and many others."17 Timmons' hard work has finally paid off as he makes his return to the majors.
Last revised: January 12, 2018
Acknowledgments
This biography was reviewed by Tom Schott and fact-checked by Jack Zerby.
Sources
In addition to the sources cited in the Notes, I also used the Baseball-Reference, Baseball-Almanac, and Retrosheet websites for stats, box scores, play-by-play information, and other pertinent material. I am also grateful to Ozzie Timmons for generously giving of his time to be interviewed for this biography.
Notes
1 Interview, Ozzie Timmons with author, August 25, 2017.
2 Scott Rupp, "Ozzie Timmons Nowhere Near Final Inning," Tampa Tribune, June 6, 2007.
3 "Ozzie Timmons: Talk to Me," June 20, 2017, http://bit.ly/2C8ggat, accessed December 12, 2017.
4 Ibid.
5 Rupp, "Final Inning."
6 Ozzie Timmons entry, Sunshine State Conference Hall of Fame, sunshinestateconference.com, accessed December 22, 2017.
7 Timmons interview.
8 "Ozzie Timmons," Tampa Bay Spartans, http://bit.ly/2A5usjf, accessed December 12, 2017.
9 2000 International League Season entry, B-R Bullpen, baseball-reference.com, accessed December 22, 2017.
10 Timmons interview.
11 Nikolai Yasko, "Baseball in Japan," http://bit.ly/2AL0Z16 , accessed September 12, 2017.
12Timmons interview, August 25, 2017.
13 Rupp, "Final Inning."
14 Information in preceding paragraphs from "Timmons teaches lessons learned in second stint at DBAP," June 30, 2016, http://bit.ly/2BZ8nmY, accessed December 11, 2017.
15 "Ozzie Timmons: Talk to Me."
16 Timmons interview.
17 "Rays add Ozzie Timmons to MLB staff as first base coach," November 3, 2017, http://foxs.pt/2AQRknE, accessed December 12, 2017.
Full Name
Osborne Llewellyn Timmons
Born
September 18, 1970 at Tampa, FL (USA)
If you can help us improve this player's biography, contact us.
https://sabr.org/sites/default/files/TimmonsOzzie.jpg
600
800
admin
/wp-content/uploads/2020/02/sabr_logo.png
admin
2018-01-12 13:40:34
2020-04-09 14:40:27
Ozzie Timmons