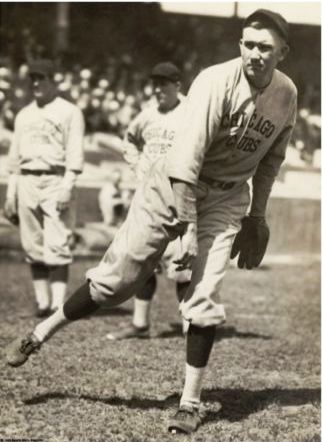 ---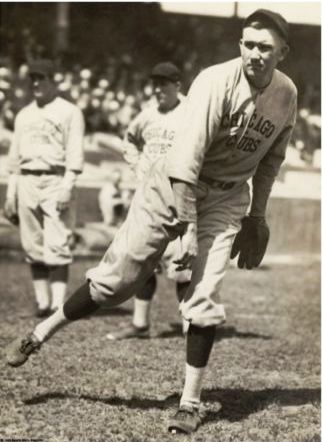 When Shufflin' Phil Douglas arrived on the baseball scene in 1910 at the tender age of 20, he brought with him size and a fastball impressive enough to draw comparisons to Walter Johnson's. Douglas, a product of Cedartown, Georgia, was a big man, especially for that era, standing 6-feet-3 and weighing 190 pounds, who threw especially hard. Eventually he would boast four pitches in his repertoire—spitball, curve, fastball, and change-up—though he relied mostly on a devastating spitter that he learned from Hall of Famer Ed Walsh in 1912.
Douglas's professional career was mostly successful—from 1912 to 1922, he won slightly more often than he lost, compiling a 94-93 record, but with a very good 2.80 earned-run average, and a career 2.77 mark in the National League from 1914 through 1922 that ranks 10th among National League hurlers over those nine seasons. But alcoholism and a tendency to disappear from his teams for days at a time resulted in multiple fines and an eager willingness by his employers to ship him off to whomever was willing to put up with his behavior. Because of that, Douglas played for five teams in nine years before he was banned for life in 1922.
Phillip Brooks Douglas was born on June 17, 1890, in Cedartown, Georgia, to John A. and Lucy Jane (Hawkins) Douglas. Phil was one of three children born to John and Lucy; he had an older sister named Eunice, who was seven years his senior, and a brother named Charley, who was deceased as of the 1900 census. Phil also had three half-brothers, including one known as Pig Iron Bill, and two half-sisters from his father's previous marriage to a woman who died sometime in the 1880s. John was working in an iron foundry in the Cumberland Mountains town of Cowan, Tennessee, when he met and married Lucy. They moved to Georgia, where Phil was born, but went back to Cowan, where Phil grew up.
Douglas's first season in organized ball came with Rome (Georgia) of the Southeastern League, but the league folded in July, so he had to wait until 1911 to enjoy his first full season of professional ball. He was a great success that year, leading the Class C South Atlantic League Macon Peaches with a 28-11 record, which so impressed the Chicago White Sox that they purchased his contract. In mid-August it was reported that Douglas would join the White Sox on September 1, but his major-league debut didn't come until a year later. He began the 1912 season with Des Moines of the Class A Western League and went 15-16 before joining the White Sox and making his first major-league start on August 30. He went seven innings against Cleveland and allowed seven runs on nine hits, five walks, and an error in the 7-2 loss. The game also marked the debut of ill-fated Indians shortstop Ray Chapman.
Douglas appeared in two more games that season and finished his first major-league stint with a record of 0-1 and an ERA of 7.30 in 12 1/3 innings. He went to spring training with the White Sox in 1913, and by one account did "exceptionally well," but was shipped to the San Francisco Seals of the Pacific Coast League on April 2. The Chicago Tribune was pleased with Douglas's progress, however, insisting that all he needed to do to make it back to the big leagues and become a "first class twirler" was learn how to hold runners on base. "He has everything else," the paper averred.
Douglas went 6-8 with San Francisco, then 10-10 with Spokane of the Class B Northwestern League, a team that featured future Hall of Fame hurler Stan Coveleski and Black Sox co-conspirator Swede Risberg. Douglas was acquired by the Cincinnati Reds in the 1913 draft and earned a spot in the Reds' rotation in 1914.
Cincinnati finished in last place that year, 34½ games behind the eventual champion Miracle Braves of Boston, but Douglas enjoyed a very good season despite a record of only 11-18. He led the team in ERA at 2.56, ERA+ at 114 (100 is the league average), hits per nine innings, and strikeouts per nine innings, and finished among the top ten in the National League in the latter three. He also incurred his first fine when Reds manager Buck Herzog docked him $100 for violating training rules. Douglas had come from a hard-drinking Southern family and developed his own taste for alcohol in his late teens. He was also used to a more relaxed lifestyle than the one he found in Organized Baseball. "The sacrifice of his fishing and drinking days between starts was a big one for Phil Douglas," wrote Tom Clark, author of One Last Round for the Shuffler, "and one which, for all his love of baseball, he was not always willing to make."
In December, it was reported that the Chicago Cubs' new manager, Roger Bresnahan, coveted four Reds pitchers, including Douglas, and that a trade was in the making. But Reds president Garry Herrmann was less than impressed with Bresnahan's list of available Cubs and held on to his hurlers. In hindsight, Herrmann probably wished he had dealt Douglas when he had the chance.
The spitballer was awful for Cincinnati in 1915, going 1-5 with a 5.40 ERA in eight games. He was also suspended briefly in early May for "tanking up," and was taken to task by a Cincinnati sportswriter for failing to learn a lesson from the "Baseball Booze Hoisters of the past." Tired of Douglas's act, the Reds sold him to the Brooklyn Robins on June 14 for $10,000.
Brooklyn was taking a huge risk; despite his slow start, there was no questioning Douglas's abilities, but his commitment to the game was secondary to his craving for hard liquor, which made it impossible for him to remain subordinate to his employers. The suspension in May was one of three times he "broke training" with the Reds before he was sold to Brooklyn. Brooklyn manager Wilbert Robinson thought that if he could keep Douglas sober, he'd have the best pitcher in the National League. But that was easier said than done. "Shufflin' Phil was really an anachronism and belonged back in the days of Rube Waddell and Bugs Raymond, when the festive baseball athlete passed the leisure hours irrigating his system with rum," wrote the Los Angeles Times's Harry A. Williams. "Drinking was not a habit with Douglas—it was a disease."
Opposing managers were so apprehensive about Douglas that when Reds skipper Buck Herzog tried shopping the troubled hurler to both leagues, no one was willing to trade for him. Only the Robins expressed interest and only for cash.
Douglas regained his form with Brooklyn, going 5-5 with a solid 2.62 ERA in 20 games, but he was with the team only a month before being suspended by manager Robinson for suffering from "dizzy spells." The Los Angeles Times reported that Douglas was "off the reservation again and suspended for breaking loose." The suspension didn't last long; Douglas was on the hill to face the Pittsburgh Pirates only two days later, losing 6-2. But he continued to violate the team's training rules and was waived by Brooklyn in early September. The Cubs and Braves both placed a claim on Douglas before National League president John Tener awarded him to Chicago.
He started four games for the Cubs and was fantastic, going 1-1 with a stellar 2.16 ERA and fanning 6.5 batters per nine innings. Still, the Cubs adopted the same attitude toward Douglas as the Reds and Robins had and began shopping him during the offseason, offering him and an unnamed infield prospect to the St. Louis Cardinals for southpaw hurler Slim Sallee, who had gone 13-17 with a 2.84 ERA in 1915, his worst record since 1910. No deal was made, however, and Douglas stayed with the Cubs.
He brought more trouble on himself in 1916, but didn't bother to wait until the season actually started before getting in hot water with his skipper, Joe Tinker, who declared Douglas suspended indefinitely on March 7 when he smelled alcohol on his enigmatic hurler at the team's hotel in Tampa, Florida. Douglas asserted that the odor emanating from his body was actually garlic from a Spanish restaurant he'd recently frequented. "Honest, Joe, I haven't had a drop for three months," Douglas lied. "That garlic that you get in these Spanish dumps certainly sticks to a fellow." Tinker kicked him out of the hotel and insisted that he would never pitch for the Cubs again. "He's through. I won't have him on my ball club and I won't have him where my ball club is," The manager said.
Douglas disappeared and was reportedly heading for Cowan, Tennessee, when Tinker received a telegram from Mike Kelley of the St. Paul Saints of the American Association in which he offered to assume Douglas's contract. The Cubs sold Douglas to St. Paul and he won 12 games for them, finishing at 12-11 and leading the team with 1.137 walks and hits per inning. It was Douglas's last minor-league stint.
After leading the Cubs to a 67-86 record and a fifth-place finish in 1916, Tinker was replaced by Braves coach Fred Mitchell before the 1917 campaign. Douglas was given a fresh start and he made the most of it, tossing a four-hit shutout in a 2-0 victory over Pittsburgh in his first start, then scattering nine hits in a 9-2 complete-game victory over the Cardinals on April 18. Sporting Life predicted that Douglas would be Mitchell's "principal winner," but only if he saw the "error of his ways" and "concentrated on baseball."
"Douglass [sic] would rank among the first five pitchers every year were he to take care of himself," wrote Sporting Life. "His ability is unquestioned." Douglas wasn't Mitchell's principal winner that year—Hippo Vaughn won 23 games to Douglas's 14—but he was second on the staff in victories, posted a very good 2.55 ERA, and finished among the top ten NL pitchers in eight categories. He paced the league in games with 51 (37 starts), finished second with a 3.02 strikeout-to-walk ratio, was third with 151 strikeouts, and ranked among the top five in strikeouts per nine innings and shutouts. Despite all that, he lost 20 games and finished with the 10th worst winning percentage (.412) among starters.
For the most part, Douglas stayed out of trouble that year. He suffered an injury to his pitching hand in July when it got caught in an electric fan while he was stretching in a subway car—years later it was posited that he jammed his hand into the fan on purpose because he was a "very inquisitive fella"—but he was back on the mound less than a week later. J.C. Kofoed of Baseball Magazine applauded Phil for "turning his back upon old John Barleycorn, and settling down to hard consistent work." Kofoed even went so far as to suggest, "If the big southerner had taken care of himself a few years back he might have rated with [Grover Cleveland] Alexander today." It was an ironic comparison, considering Alexander would become one of the more celebrated alcoholics the game has ever known.
Under Mitchell, the Cubs finished fifth again in 1917, but improved slightly, winning seven more games than they had in 1916 under Tinker. Before the 1918 season, though, J.V. Fitz Gerald of the Washington Post gave Cubs fans a reason to be optimistic when he called the Cubs' rotation the best in the National League and possibly the equal of the Red Sox' staff, which boasted Babe Ruth, Ernie Shore, Carl Mays, "Bullet Joe" Bush, and Dutch Leonard. Chicago had added Alexander in a trade with the Phillies, who were fearful that Pete would be drafted into the service—they were right; Alexander spent most of the season in France serving as a sergeant in the artillery—and they had Vaughn, Lefty Tyler, Claude Hendrix, and Douglas to round out the rotation.
Even without Alexander for most of the year and only a half-season's worth of Douglas, who suffered an attack of appendicitis in February and wasn't able to make his first start of the season until June 6, the Cubs finished the 1918 season with the best record in baseball at 84-45 and a World Series berth against the Red Sox. They also made Fitz Gerald look downright prescient by posting a 2.18 ERA, best in the National League and 13 points better than the Red Sox' 2.31.
Douglas finished fourth on the staff with 10 wins and posted a then-career-best 2.13 ERA, but the only action he saw in the fall classic came in Game Four, when he relieved Tyler in the eighth inning and took the loss after allowing an unearned run on a single, a passed ball, and his own throwing error to first base on a grounder by Harry Hooper. The Red Sox defeated the Cubs in six games for their fifth championship in 18 years.
The Cubs were expected to repeat as NL champions in 1919 and Douglas did his part, going 10-6 with a 2.00 ERA in 25 appearances. But through 80 games, Chicago was languishing in third place, nine games behind the first-place New York Giants. The Giants were looking to add pitching depth and wanted to unload outfielder Dave Robertson, who had refused to play for manager John McGraw, so on July 25 the Giants sent Robertson to Chicago for Douglas. When asked why he was so willing to part with Douglas, Mitchell told writers, "He didn't fight with the boys or bust down houses. It was just that I never knew where the hell he was, or whether he was fit to work."
The New York papers focused on Douglas's talent more than his transgressions, however; according to the Times, the Giants secured the NL title with the trade: "With Shuffling Phil Douglas to strengthen the pitching staff, the Giants have little to do now but tack the pennant on the flagpole." It was a bold claim considering the Giants were only a game and a half up on the Reds with more than 60 games to go. McGraw wasn't particularly worried about Douglas's history either. "I know I am getting myself in for something when I take on Douglas," he told the writers, "but I am sure I can handle him."
On the field, Douglas did, in fact, prove to be a valuable addition. He lost four of six decisions, but posted a 2.10 ERA, sported the best strikeouts-per-nine-innings mark among the starters, and had the best strikeouts-to-walks ratio, by far. But Douglas's demons began to get the best of him again and his behavior became erratic as the pennant race heated up. He won his first two games with the Giants, but the Reds caught New York on July 30 and passed them a day later when they swept the Braves in a doubleheader while Douglas was beating the Pirates, 5-2. He lost his next start in St. Louis, on August 5, and the Giants fell 2½ games off the pace; he lost to the Cubs on August 9 and the Giants fell 4½ games back; he lost the second game of a doubleheader to the Reds on August 13 and the Giants fell 6½ games behind Cincinnati; then he lost to the Cubs again on August 19 and that sent him over the edge.
Douglas went AWOL and disappeared for a few days, prompting McGraw to suspend him indefinitely for leaving the team without permission. The Times called his disappearance "mysterious," and claimed the Giants had no idea what prompted Douglas to abruptly leave the team. Sportswriter Hugh Fullerton reported three days later that Douglas insisted that a member of the Reds had drugged his lemonade and put him out of commission. It was a farcical claim, but Fullerton regaled his readers with a plethora of tales about past druggings, poisonings, and nefarious plots that allegedly impacted previous pennant races.
The truth was that Douglas couldn't stand McGraw and didn't like New York, so he went back to Chicago and signed to pitch for the Logan Squares, a semipro team whose ranks included at one time or another George Halas, Babe Didrickson, Hippo Vaughn, and Ray Schalk. Douglas then appeared to have a change of heart and newspapers reported that he hoped that after he explained his disappearance to McGraw, the Giants skipper would lift the suspension. According to reports, McGraw sent word that the incident was closed and that Douglas could return to the team, and the manager reportedly refunded the fines he'd imposed on the pitcher. But Douglas opted to remain with the Squares instead.
As one would expect, Douglas dominated the lesser semipro batters and allowed only two runs in 49 innings, the second tally coming on a fourth-inning balk in his last game of the season. Before that, he had allowed only one run in 43 innings. But Douglas apparently tired of facing inferior competition and applied for reinstatement in January 1920. The National Commission approved his application but warned him that future transgressions would result in a heavy fine. Washington Post sportswriter Fitz Gerald called the warning nothing more than a "verbal spanking," and asserted that Douglas's disappearance was an "out and out case of desertion." But he also blamed the owners for "encouraging disobedience and contract breaking" and speculated that McGraw was willing to take Douglas back merely to use him as trade bait during the offseason.
But McGraw had other plans and kept Douglas on the team in 1920. He hired detectives to follow Phil and keep an eye on his every move. The pitcher resented the intrusion into his personal life, but he pitched well, tying his season-best in wins with 14, posting a solid 2.71 ERA, and leading the team in games finished, saves, and strikeouts per nine innings. Despite being bird-dogged everywhere he went, Douglas occasionally managed to elude the detectives long enough to get himself into trouble. On July 9, McGraw suspended Douglas again for "failure to keep in condition." The Giants were in Chicago for a four-game series with the Cubs and Douglas fell off the wagon on the first day. He last pitched on July 2, beating the Boston Braves, 13-4, in a complete-game victory, and didn't appear again until a two-inning relief stint against Pittsburgh on July 17.
Harry A. Williams of the Los Angeles Times reported that opposing teams would tempt Douglas with liquor prior to games he was scheduled to pitch. "When right, Douglas is the best right-hander in the National League today, and when wrong he is all wrong," wrote Williams. "However that may be, when Shuffling Phillip skids it's a long skid with a loud crash at the other end."
McGraw became so fed up with his recalcitrant hurler and his ineffective detectives that he hired a man named Shorty O'Brien to keep tabs on Douglas. The pair drew stares everywhere they went—O'Brien was bald and stood only 5-feet-1; Douglas was 6-feet-3 and close to 210 pounds. McGraw allegedly offered Douglas a bonus of between $3,000 and 3,500 if he stayed sober during the season, and O'Brien was brought in to help him do it. Instead of balking at the idea of having a "keeper" whose sole purpose was to keep him out of trouble, Douglas hit it off with O'Brien and they became friends.
It was a tactic that McGraw had employed before. A decade before, he had a similar relationship with Arthur "Bugs" Raymond, an even bigger alcoholic than Douglas. Raymond would trade warm-up balls for alcohol during games and it wasn't rare for him to pitch while inebriated. McGraw had Raymond's roommates keep an eye on him, hired members of Raymond's family to travel with him on the road, and once locked him in the clubhouse with guards at the door, only to find that he was able to smuggle booze to himself by lowering a bucket out the window to his fans down below. McGraw even resorted to sending Raymond's paychecks to his wife, to which Raymond responded, "If my wife gets the money, let her pitch."
McGraw eventually suspended Raymond indefinitely midway through the 1911 season, claiming that Bugs had shortened the manager's life by five years. He never pitched in the majors again. Only a year later, Raymond got into a fight with some local hoodlums at a semipro game in Chicago, was repeatedly kicked in the head, and suffered a fractured skull. He died two days later of a brain hemorrhage.
Douglas made it through the rest of the 1920 season with no more infractions, but McGraw had had enough and placed him on the trading block in November. "Douglas's eccentricities have tired McGraw and he has decided the Giants can get along without the star," wrote the Atlanta Constitution. But again Douglas remained with the team, and again McGraw would be forced to deal with one of Douglas's "vacations" during the 1921 season.
Douglas had gotten off to a good start, winning five of his first six decisions and posting a 3.29 ERA in his first 13 appearances. On June 18, he tossed 7 1/3 shutout innings at the Cubs to improve to 5-1 and reduced his ERA by almost half a run. On June 22, he suffered his second loss of the season when he allowed six earned runs in five innings to the Braves. But it was his poor performance and McGraw's decision to leave him in for the full nine innings against the Phillies on June 27 that prompted Douglas to abandon the Giants again. Philadelphia tagged him for 12 runs on 19 hits, five of which were home runs, in a 12-8 victory that dropped Douglas's record to 5-3 and increased his ERA more than a full run, from 3.84 to 4.86.
Upset that he had been left in the game to take such a beating, Douglas took another vacation. Despite yet another defection, McGraw reinstated the troubled hurler only four days later. He responded with a complete-game victory over the Dodgers on July 4 to improve to 6-3. Douglas went only 9-7 the rest of the way and posted his worst ERA of his career at 4.22, but he kept his nose clean over the second half of the season, won a career-best 15 games, and led the league in shutouts (3).
More importantly, "The Shuffler" was fantastic in the World Series against the Yankees, going 2-1 with a 2.08 ERA and fanning 17 batters in 26 innings to help lead the Giants to their first World Series title since 1905. McGraw called Douglas's performance "among the best pitching that has ever been displayed in a World Series." And Babe Ruth is said to have told Douglas that he was "as tough a man as I've seen in [the American League]."
But that wasn't enough to keep Phil off the trading block for yet another offseason. In late February 1922, the New York Times reported that Douglas and fellow hurler Jesse Barnes were on the market. Douglas and Barnes had won 30 games between them and accounted for four of the Giants' five World Series victories, but neither had signed his contract for 1922 and though McGraw refused to call them holdouts, it was speculated that he was trying to trade them for that very reason.
About Douglas, McGraw was more pointed, though. "If he won't behave I don't want him around," he told reporters. "I won't put up with behavior like last year's." He also wasn't very impressed with Douglas's 15 victories in 1921: "I can take any one of the young pitchers on the staff last year and make them win that many. That ought to show where Douglas stands on this club." Rumors had Phillies pitcher Lee Meadows or Pirates southpaw Wilbur Cooper coming to the Giants for Douglas. Others thought that McGraw was just trying to scare Douglas into behaving by threatening to trade him.
Either way, the market for Douglas had dwindled over the years. Neither the Dodgers, Cubs, nor Reds would touch him with a ten-foot pole, as they'd already experienced life with Douglas and weren't about to go down that road again. Dodgers president Charles Ebbets scoffed at the notion of acquiring the alcoholic slabman again. "I wouldn't give the waiver price for Douglas," Ebbets insisted. Pirates treasurer Samuel Dreyfuss quickly dismissed the Cooper rumor, and the Braves and Phillies gave no indication they were interested either. Only Branch Rickey of the Cardinals was reported to be interested enough in Douglas to keep in touch with the Giants, which was odd, considering that Rickey regularly lectured about the evils of alcohol and had a brother who worked as a federal marshal in the prohibition enforcement wing of the US Treasury Department.
Douglas failed to report for 1922 spring training and was said to be unhappy with the terms of his contract. McGraw reported that he had doubled Douglas's salary, but that the terms were contingent on the pitcher's behavior and the number of games he won. Douglas didn't like those conditions and his teammates figured they'd seen the last of "Shufflin' Phil." But he reported to camp on March 23, "looking fitter than ever and in a mood highly repentant," and was reported to be "in as good condition as any other Giant."
He signed his contract the next day, then threw four innings against the San Antonio Bears in a 4-3 win. "He used a mild form of spitball which the Bears raised in pop flies," wrote the New York Times, "and except for bad fielding behind him he would have blanked the Texas Leaguers."
Douglas got off to another fast start in 1922, beating the Dodgers twice in the season's first week, throwing seven shutout innings against the Braves, then beating the Phillies on May 5 with a brilliant 14-inning performance in which he allowed only two runs on a homer by Cy Williams in the sixth inning of New York's 3-2 win. Douglas was equally impressive on May 24, when he held the Reds to one unearned run on five hits in 10 innings in a 2-1 win that improved his record to 6-1 and lowered his ERA to a nifty 1.57.
His ERA climbed to 2.23 on June 19, but he continued to impress into the summer, making a start on July 3 in which he held the Dodgers to two earned runs in nine innings to improve to 10-3, then following that with consecutive relief appearances on July 7 and 15 in which he tossed another six scoreless innings to reduce his ERA to 2.00.
Then things began to fall apart. Douglas suffered through his worst outing of the year on July 18, lasting only 1 2/3 innings against the Cardinals in a 9-8 loss that pulled St. Louis to within a half-game of the first-place Giants. To make matters worse, McGraw criticized him throughout, causing an argument that lasted until McGraw shouted his pitcher down in the clubhouse after the game.
Douglas allowed only two runs in seven innings in his next outing, a no-decision against the Reds, then recorded his 11th and final win of the year on July 26 with a less-than-stellar performance in which he allowed five runs to the Cards in seven innings in a 10-5 Giants victory.
At that point he was 11-3 with a very good 2.45 ERA and was by far the Giants' best pitcher. But it was just a matter of time before Douglas finally imploded and that moment occurred on July 30. Douglas took the hill at the Polo Grounds against the sixth-place Pirates looking for his 12th win and trying to help the Giants keep the second-place Cardinals, who were only 2½ games out of first, at bay. But Douglas was pounded by the Pirates to the tune of five runs on 11 hits, including a double, a triple, and two homers, in seven innings in a 7-0 whitewash. Combined with St. Louis's 3-2 win over Brooklyn, the Giants' lead was down to a game and a half. Douglas fell to 11-4 and saw his ERA climb to a still very good 2.63.
McGraw accosted Douglas after the game. "Where's your bottle hid?" he demanded. Douglas was taken aback; his poor performance had nothing to do with alcohol. "I want to be traded to St. Louis," he replied. St. Louis was the southernmost major-league city at the time and was less than 500 miles from Birmingham, Alabama, where Douglas made his offseason home. But Douglas was less concerned with being close to home than he was with being as far away from John McGraw as possible. McGraw flatly refused. "You'll play for me or you'll play for nobody," he raged.
The spitballer was despondent and badly in need of a drink, so he headed to a friend's apartment, got drunk, and passed out. Shorty O'Brien was no longer around—McGraw had fired him because not only did O'Brien play cards and go to the movies with Douglas, but he drank with him too, and allowed Douglas to "slip the leash" on occasion. Instead McGraw charged Giants coach Jesse "The Crab" Burkett with keeping tabs on Douglas during the season. Burkett did such a good job that Douglas grew to detest him. But Douglas was able to elude Burkett after getting pasted by the Pirates and he ended up on the Upper West Side getting soused.
While Douglas was sleeping it off, two detectives posing as representatives of Western Union gained entry to the apartment and found the drunk pitcher in bed. They accused him of stealing a watch from a fan at the Polo Grounds, a charge Douglas denied, and told him they were taking him into custody. When they attempted to remove Douglas from the apartment, he resisted, which prompted the detectives to threaten to "bring their blackjacks into play" if he continued. The detectives took Douglas to the 135th Street police station, where he was met by Burkett, who then transported the pitcher to the West End Sanitarium, where he was held against his will for five days.
Douglas underwent a grueling detox process that included hot baths, stomach pumping and multiple injections of a sedative. Later on, the pitcher insisted he was kidnapped, that as many as five detectives were involved, that his clothes were taken from him, and that they refused to allow him to call his wife to tell her where he was. Burkett called her to let her know that her husband was all right and McGraw eventually called her to let her know where Douglas was located so she could see him, which she did on Friday, August 4. "I was in bad shape then, and they promised to let me out of the sanitarium on that day," Douglas later recounted. "Instead of letting me go they gave me some knockout drops again and I didn't come to until the following day."
He was eventually released on Saturday, August 5. Ironically, Douglas's disappearance was reported in that morning's newspapers with an interesting claim that "no one could account for his absence." The following Monday he appeared at the Polo Grounds for the first time in a week. Not only was he still under the influence of the depressants he'd been given, but he had spent the previous two days drinking heavily and was barely coherent. When he picked up his mail he found a bill for the taxi ride to the sanitarium and the five-day stay, which amounted to $224.30. When he tried to protest to McGraw, the manager lit into him and fined him $100 plus five days' pay (about $188).
According to witnesses, it was the "most vicious tongue-lashing" McGraw had ever given a player. "He called me the most vile names. … I'll never forget the way he talked to me on that day in the clubhouse," Douglas later recalled.
That set into motion a series of convoluted events that would end Douglas's major-league career. According to Douglas, when he learned of the fine, the loss of wages, and the bill from the sanitarium, he also believed he'd been dismissed from the Giants. Already broke, fearing that he wouldn't be able to make a living, and upset with McGraw for giving him a "rotten deal," Douglas sat down in the Polo Grounds clubhouse and penned a letter to Cardinals outfielder Les Mann, a former teammate with the Cubs.
Dear Leslie,
I want to leave here but I want some inducement. I don't want this guy to win the pennant, and I feel if I stay here I will win it for him. You know how I can pitch and win. So you see the fellows, and if you want to, send a man over here with the goods and I will leave for home on next train. Send him to my house so nobody will know and send him at night. I am living at 145 Wadsworth Avenue, Apartment 1R. Nobody will ever know. I will go down to fishing camp and stay there. I am asking you this way so there cannot be any trouble to anyone. Call me up if you are sending a man. Wadsworth 3210, and if I am not there, just tell Mrs. Douglas. Do this right away. Let me know. Regards to all.
Phil Douglas
Sending a letter like that was a terrible mistake, especially with Commissioner Kenesaw Mountain Landis looking to crack down on crooked players in the wake of the 1919 Black Sox scandal. But sending it to Mann proved to be Douglas's ultimate undoing. According to author David Pietrusza, "Mann enjoyed a reputation as one of the game's more upstanding individuals." Douglas realized his mistake almost immediately, phoned Mann in Boston where the Cardinals were playing and asked him to destroy the letter. Living up to his standup reputation, Mann instead showed the letter to Branch Rickey, who recommended that he forward the letter to Landis.
From there, things spiraled out of control for Douglas. He accosted sportswriter Fred Lieb in the press box at the Polo Grounds after the Giants' 7-3 loss to the Reds on August 8 and told him never to write anything about him ever again, "good or bad." After he calmed down, he admitted that he'd been fined for breaking training and that he was in Burkett's custody. He was also under team physician William Bender's care. Bender went to Douglas's house on Saturday, August 12, and injected him with a depressant. He repeated the injections on Sunday and Monday. Douglas and Burkett left for Pittsburgh on Monday night, where the Giants were to begin a three-game series with the Pirates on Tuesday, August 15.
Landis was also on his way to Pittsburgh. On the morning of August 16, McGraw and Landis met in Landis's suite at the Hotel Schenley and summoned Douglas for questioning. Landis asked him about the letter, Douglas confessed, and he was immediately placed on the Giants' list of permanent ineligible players and stricken from the hotel register as a member of the team.
When reporters showed up for the impromptu press conference, Landis was "grief-stricken … and looked weary and depressed," and called the incident "tragic and deplorable." National League president John Heydler called Douglas a "victim of his own folly." When it was McGraw's turn to speak he held nothing back. "[Douglas] admits the charge, and now he is a disgraced ballplayer, just as crooked as the players who 'threw' the 1919 World's Series. He will never play another game in organized baseball, and not a league will knowingly admit him to its parks."
"Personally I am heartily glad to be rid of him," McGraw continued. "Without exception he is the dirtiest ball player I have ever seen and his value to the club has been little or nothing."
It was a ridiculous statement on almost every level. Douglas had much value to the Giants—he paced the National League in ERA, ERA+, WHIP, and hits per nine innings, and it could be argued that he was the most valuable pitcher in all of baseball that year. And calling him the "dirtiest ballplayer I have ever seen" is preposterous considering that McGraw managed notorious game-fixers Hal Chase and Heinie Zimmerman, and men like Bennie Kauff, Buck Herzog, Rube Benton, Jean Dubuc, Fred Merkle, and Gene Paulette, all of whom were linked at one time or another to game-fixing, gamblers, or the Black Sox scandal, and some to all three.
The New York Times weighed baseball's newest scandal against the White Sox' throwing of the 1919 World Series, calculated the difference between the winners' and losers' share, considered that the Giants could possibly lose out on World Series money if they failed to win the pennant, and decided that in terms of total dollars, Douglas's proposed abandonment of the Giants in the middle of a pennant race made it "the biggest scandal in the history of baseball."
Douglas went home to New York and spilled his guts to the press. Soon more details began to come to light, although some were slow in coming. Les Mann denied any involvement in the scandal, which led reporters to speculate that the Pirates, Cubs, Cardinals, or Reds were involved. Dreyfuss denied Pittsburgh's involvement, and National League president Heydler dismissed the notion that the Cubs were involved either. The Reds were also ruled out when Douglas repeatedly fingered Mann as the letter's recipient.
Douglas insisted that he was innocent, then muddied the waters even further by claiming he was approached first by gamblers who wanted to fix the NL pennant race, and he had a letter to prove it. Apparently he figured if he wasn't the instigator, he'd receive leniency. McGraw made things even murkier when he reported that Douglas had been negotiating his "fishing trip" with an unnamed player since January and that the Giants had evidence of such in the form of letters and phone records. McGraw even claimed at one point that he had overheard phone conversations between the conspirators, and that he had had his eye on Douglas since Opening Day. "Douglas has not only not been on the level," McGraw spat, "but he is an ingrate."
"I may never get back into Organized Baseball," Douglas responded, "but before long I'll force them to admit that I was not guilty of any crookedness. I never threw a game in my life and my record during my years in baseball speaks for itself. McGraw gave me a dirty deal and the public will soon find out that I am innocent. … I haven't always kept in the best of condition, but I've always done my best. The letter put me in an awful fix and makes everything look bad for me, but I'm not concealing anything…I want the public to know that I am not guilty of any crooked baseball."
Douglas's wife insisted that Phil was the victim of a "frame-up" and that family and friends were conducting their own investigation. Theories held that Douglas was double-crossed by gamblers who convinced him to write the letter to Mann, then exposed him to authorities knowing that he'd be blacklisted, which would weaken the Giants and affect the pennant race.
Meanwhile, Heydler was on his way to Cincinnati to investigate rumors that the National League pennant race had been fixed "for Pittsburgh to win and New York to lose." If the rumors were true, the conspirators did a lousy job; when Heydler launched his investigation, the Giants were in first place with a 3½-game lead over the Cubs and Cardinals, while Pittsburgh floundered in fourth, seven games out of first.
Landis wasn't buying any of it and was convinced that Douglas made the overture to abandon the Giants out of revenge for being "abused and mistreated" by McGraw. "If you see the same things in [the letter] that I see, you will be convinced that it was written by a man who was making, not answering, an offer to desert his team for money. … The tone of the letter indicates that Douglas was taking the initiative." Landis called the letter "damaging evidence," but was more than willing to review any evidence Douglas could produce that might exonerate him. He also took one last parting shot at the pitcher. "As for Douglas he is more ignorant than anything else—a foolish, simple fellow who is unmoral rather than immoral. He is amazingly credulous and is inexperienced in many sides of human nature—an easy dupe for others."
Others, like Mike Thomas of the Atlanta Constitution, questioned whether Douglas and his "childish mind" had the "intelligence to figure out a 'scheme' of this nature." Tom Rice of the Brooklyn Daily Eagle was of the same opinion, calling Douglas "an overgrown man with the mind of a wayward child." Heywood Broun wrote, "[Douglas] didn't begin to have sufficient strength of character to be a thoroughgoing villain." And Harry Williams wrote, "It is hardly the act of a sane and sober man to put a thing that like in writing. … Was Douglas, drunk, the mere dupe of smarter men?" Rice thought not. "He has not the intellectual capacity for conceiving and carrying through the intricate plans of such men," he insisted.
Les Mann again refused to admit that he was the recipient of the letter, but flatly denied that a telephone conversation had ever taken place between the two and insisted that he had "never in (my) life" spoken on the phone with Douglas. The rest of baseball also began to respond to the incident; Yankees business manager Ed Barrow reported that Douglas had been banned from the Polo Grounds and would not be admitted "even if he bought a ticket."
Douglas hired Edward Lauterbach, one of the most popular attorneys in New York, who wasted little time and requested a hearing with Landis so that he would be "fully informed of all the details leading to the unfortunate incident." Lauterbach denied the rumor that Douglas had been a pawn in a larger conspiracy hatched by gamblers, insisting that the pitcher acted alone but was not in his right mind when he penned the letter, and that he was in a "dopey and sluggish mental condition" brought on by as many as 20 injections of depressants administered to him.
The Washington Post called the whole fiasco a "dime novel tragedy, involving all allegations of a drunken orgy, a raid, a taxicab kidnapping by detectives, a race to a police station, imprisonment in a sanitarium, a threat to use blackjacks, the use of hypodermic needles, and finally the expulsion of the former Giant pitcher from baseball."
On August 22, the New York Times reported that Lauterbach was prepared to file a civil suit against the Giants for $100,000 if Landis refused a hearing. The Post put the figure closer to $300,000 and quoted Lauterbach as saying, "We may also prosecute on a charge of kidnapping and false arrest" if Douglas was denied his right to a hearing. A day later, Lauterbach announced that he had obtained "important" affidavits from people who witnessed Douglas's kidnapping by detectives, and from sources who could prove that Douglas indeed made a phone call to Boston and asked that the letter be destroyed, which contradicted Mann's earlier denials. "I am confident that when I have completed my collection of the necessary affidavits I will have plenty of evidence to prove beyond a shadow of a doubt that Douglas committed no crime and that he had no criminal intent in writing the letter," Lauterbach said.
While Lauterbach awaited Landis's reply to his request for a hearing, the plot thickened. Apparently Douglas told his attorney that he'd been offered $15,000 to throw the games he was scheduled to pitch against the Yankees in the 1921 World Series, but he had destroyed the letter and had no way to prove it. Interestingly, Yankees hurler Carl Mays was under suspicion for throwing games during the same Series, made all the more intriguing by the fact that all three games he pitched were against none other than "Shufflin' Phil" Douglas, two of which he lost, Games Four and Seven, in the late innings under suspicious circumstances. Had gamblers employed a backup plan in the event that Douglas refused their offer?
Landis acknowledged receipt of Lauterbach's request for a hearing, but claimed the attorney failed to produce evidence sufficient enough to reopen the case. "Douglas has the right to appeal his case to the Commissioner," Landis stated, "but he must present evidence not already heard in the case which shows him guilty of the charges of the New York club."
The commissioner's response, combined with the weight of the case, proved to be too much for Douglas, who suffered a nervous breakdown and had to be confined to his home. Meanwhile Lauterbach continued gathering evidence but in early September he started to backpedal a bit, speaking not of civil action and lawsuits, but of clearing Douglas's name of "any connection with crime or criminal intent" so that he'd be able to play semipro ball if Landis refused to restore Douglas to "good standing" in the major leagues. In fact, it was reported that Douglas was scheduled to pitch for a semipro team in Canton, Georgia, only three days later. Yearning to return to the South, Douglas gave up his fight, dismissed his lawyer, and, with his wife and two daughters in tow, returned to Birmingham.
All the talk about affidavits and hearings soon dissipated as newspapers shifted their focus away from Douglas and back to the pennant races. A day after Lauterbach made what appeared to be his last statement about the Douglas case, the Giants beat the Phillies 3-2 to hold back the surging Pirates, who swept a doubleheader from the Cubs and pulled to within four games of first place. It was the closest any NL rival had been to the first-place Giants since the Cards had a 3½-game deficit on August 23. Meanwhile, the Yankees and Browns were pitched in a heated battle for the American League crown, New York holding a half-game lead over St. Louis.
Neither second-place team was able to overtake the front-runners, however, and the Giants and Yankees headed back to the World Series for a second straight showdown. Pundits previewing the Series opined that the loss of Douglas severely weakened the Giants, leaving McGraw with only one reliable starting pitcher in left-hander Art Nehf. At least one writer called the Giants' staff the weakest of any that McGraw had ever taken into the postseason.
The Yankees were favored to win their first World Series title, but the Giants overcame their supposedly weak pitching and swept the Bronx Bombers in five games (Game Two ended in a tie). Nehf, Jesse Barnes, Jack Scott, Hugh McQuillan, and Rosy Ryan posted a composite 1.76 ERA in 46 innings and held Babe Ruth to two hits in 17 at-bats (.118). The Giants clinched their second straight title on October 8 with a 5-3 win behind Nehf.
The winner's share that year came to $4,545.71; Douglas reportedly made $6,500 for the 1922 season. If not for his ill-advised letter to Mann, Douglas would have boosted his salary 70 percent in less than a week. Perhaps that was weighing on his mind when he beat his wife, Louise, three days after the Series ended. Douglas and his family had recently arrived in Birmingham after having been in Lakeland, Florida, where he pitched semipro ball. According to Louise, the domestic disturbance was "the climax of a series of outbreaks," and occurred right in front of their two children. When police arrived, they found her with two black eyes. Not surprisingly, Phil was drunk. He pleaded guilty to drunkenness and disorderly conduct and paid a $10 fine.
Things looked as though they might turn around for Douglas in 1923, when it was reported that he was being courted by an outlaw team from Hornell, New York, that paid as much as $4,000 for top talent. Former Philadelphia Athletics hurler Scott Perry, who had once been the subject of a legal battle between the A's and the Boston Braves, was a 27-game winner for Hornell in 1922, and Fred "Bugs" Hersche, formerly of the International League, won 20. Former Pirates second baseman Jake Pitler was the team's player-manager. The Hornell team was said to be the strongest outlaw team in the country. But players and teams who competed against Hornell were blacklisted.
That proved to be a problem almost everywhere Douglas landed. When he signed a deal in early August to play for the Forest City club of the Blue Ridge league in North Carolina, league officials were concerned that other players' eligibility would be endangered. Regardless, Forest City signed Douglas to a contract that was to pay him $75 a week. His stint with the team lasted all of three innings.
Douglas's first and only start came against Caroleen, Forest City's chief rival. The team's management did a fantastic job spreading the news that a former major-league pitcher would be suiting up for the club and scores of people from neighboring towns descended on the ballpark "The roads leading into Forest city were jammed with automobiles, wagons, buggies and pedestrians," reported the Atlanta Constitution. "Hundreds of expectant fans crowded into the Forest City ball park to see the widely heralded game."
Douglas allowed seven runs in three innings—"Phil had found that his curves no longer possess their one-time uncanny ability to puzzle the enemy"—and the same fans who came to cheer him on, turned on him and accused him of "laying down." Douglas was replaced by a high schooler, who earned the win when Forest City came back to defeat Caroleen. That was to be Douglas's only appearance. "Shorn of the glamour which had surrounded him on his arrival, Douglas held no more terrors for opposing hitters. The local management decided to rely solely on local pitching talent, and Douglas was handed his release."
Douglas hung around town for a day or two before climbing aboard a train and heading for destinations unknown, claiming that he was through as a pitcher and would need to seek another line of work. "Not one hero worshiping urchin was at the station to bid farewell to the fallen idol," the Constitution reported. Few realized just how far Douglas had fallen. Making little money to begin with and saving none of it, Douglas lost his Birmingham house when it was repossessed that autumn.
Six months later, in March 1924, Douglas visited the sports department at the Chicago Tribune and announced that Landis had reinstated him and that he would be leaving for Winter Haven, Florida, to begin training with the Chicago White Sox. Before he left, he asked a scribe if he could borrow $5 so he could get to Belvidere, Illinois. The writer handed Douglas the money and he left. Landis denied the report. "I haven't seen Phil Douglas in a year and haven't had any plea for reinstatement from him," said the commissioner. White Sox owner Charles Comiskey also denied having spoken to Douglas.
Though it appears things didn't turn out well for him in Forest City, Douglas's semipro pitching performances were more often than not dominant. His next reported stop was Pikeville, Tennessee, where he pitched in 1925, and reportedly captured some of his old glory. "He pitched for us one time and fanned nineteen in terrific heat, even though he had been drinking the night before," recalled Pikeville resident John Haswell. "We thought he was the greatest pitcher—we felt sure he was the greatest ever to come out of the Pikeville area." He also reportedly pitched a handful of no-hitters and one-hitters in places like Tracy City, Tennessee; Lynch, Kentucky; and Bluefield, West Virginia.
Douglas's name appeared again in the papers in December 1925, when the New York Times reported that the pitcher was suing a Pittsburgh sportswriter, Joe Ward for libel for an article he wrote for Baseball Magazine the previous January. Douglas was seeking $100,000, but it's not immediately clear why he filed suit. Ward, a writer for the Pittsburgh Chronicle-Telegram, met Douglas in an all-night restaurant in a seedy part of the Steel City.
When Ward arrived for the interview, the former pitcher was drunk. He described Douglas as "30 years old, looking fifty, his head bowed in grief. … He mumbled something we could not understand, but we held our tongue."
Out of pity, Ward bought Douglas a drink and the hurler recounted the events of 1922; how he didn't realize what he was doing, how he tried to have the letter intercepted before it reached Mann. He expressed through tears how badly he wanted to get back into baseball and out of the slums, and how booze was slowly killing him.
"He was a mere shadow of his former self," Ward concluded. "All he had left were the broad shoulders, long and angular now, the strong muscles worn away by the drink. His old familiar shuffle is still there, but it is more like that of an aged man than of the one-time star pitcher. His hair has turned gray and his cheek bones stick out beneath a pair of blazing eyes, the face of a starving man."
After that, Douglas shuffled back to obscurity, although he would earn a mention every now and then. In 1927, his wife, Louise, died of cancer. Her death drove Phil deeper into the bottle—he'd sometimes drink for a week at a time—but even at 38, he continued to dominate semipro competition. Pitching for the Cowan, Tennessee, town team he regularly beat top squads from Tennessee and Alabama.
He remarried in 1928 and his drinking subsided. He and his family moved from Tennessee town to Tennessee town, from Tullahoma to Nashville to Whitwell, where he settled down and pitched for the local team while working in the coal and iron mines until 1931, when he moved to Bon Air. He pitched for and managed the local Bon Air team for a year before moving back to Whitwell. And so it went.
Like most residents of Sequatchie Valley during the Depression Era, Douglas was poor. In 1936, the Washington Post reported that Douglas was living in "abject poverty in a shack in Alabama." The Post was partially correct; Douglas lived in abject poverty in the neighboring state of Tennessee. The writer may have been confused because Douglas enlisted the help of Birmingham News sports editor Zipp Newman in an effort to apply to Landis for reinstatement that same year. Landis denied his application.
In 1938, in an article about the Hall of Fame, John Lardner wrote that he thought that among the "outlaws," Douglas was a Hall of Fame caliber player. "(W)hich of them were players of the class of Ruth, Speaker, Matthewson [sic], Johnson, Young, Lajoie, Wagner, Alexander, Keeler, Sisler, and Collins? I'd say that three of them were, and maybe four or five. [Joe] Jackson, [Buck] Weaver, and [Hal] Chase belong near the top. So, for this department's money, do [Eddie] Cicotte and Douglas."
"Shufflin' Phil Douglas was an authentic iron man, when he wanted to be. Phil was strong as a horse, with great speed, and an excellent spitter. Only his happy-go-lucky disposition kept Philip from ranking with Young and Ed Walsh. But his disposition was peculiar, as you will gather from the fact that he once thrust his hand into an electric fan on a bet."
That Cicotte was of Hall of Fame caliber is inarguable; that Douglas was is preposterous. Douglas finished with a career record of 94-93 and though his ERA of 2.80 is very good, none of his other numbers really stand out. Even had he the benefit of a full career, how many more wins would he have been expected to earn? He was 32 years old when he was banned, had averaged just over 10 wins a year in his career, and never won more than 15 in a season. When Douglas was at his best, he was fantastic, but there was nothing to indicate that he would have been at his best long enough after 1922 to merit induction into the Hall of Fame.
Douglas eventually landed on his feet working as a foreman for a state highway crew in Jasper, Tennessee, just a few miles from his home. He worked for the Tennessee State Highway Department for eight years until 1949, when a lawnmower blade cut his foot. The cut itself wasn't debilitating, but a blood clot formed soon after, and he suffered a stroke. Unable to work, he lost his job and settled back into poverty, living with his wife in an old log cabin in Sequatchie, paid for by his meager state pension.
Douglas suffered a second stroke in 1951, then a third in July 1952. Down to the last day of his life, he insisted he'd been framed and that his actions of 1922 were not intentional. He died on August 1, 1952, at the age of 62.
In 1990, friends and relatives petitioned Commissioner Fay Vincent to overturn Landis's decision and lift the ban on Douglas on the basis that Landis wasn't fully aware of the reasons Douglas wrote the letter, most notably that he was under the influence of drugs forced on him in during a "brutal" alcoholic rehabilitation program, and that he had an overwhelming hatred of John McGraw.
Unable to re-create the events of 70 years prior and unwilling to second-guess Landis's decision, Vincent rejected the appeal.
Sources
Clark, Tom. One Last Round for the Shuffler. Pomerica Press, 1979.
Heritage Quest, 1900 Census/Tennessee/Franklin County/Tenth District. Supervisor District No. 3; Enumeration District No. 28.
Atlanta Constitution, 1919-1925
Boston Globe, 1915-1922
Chicago Tribune, 1912-1924, 1945, 1952, 1959
Christian Science Monitor, 1911
Hartford Courant, 1919, 1928, 1938-1940
Kofoed, J.C.. "The Youngsters of 1917." Baseball Magazine, August 1917.
Los Angeles Times, 1913-1925
New York Times, 1913-1925, 1947, 1990
Sporting Life, 1917
Washington Post, 1914-1926, 1936
"Who's Who on the Diamond." Baseball Magazine, October, 1918.
www.baseball-reference.com
www.retrosheet.org
Notes
The origins of Douglas's nickname are somewhat of a mystery, although it's been credited to Hall of Fame sportswriter Charles Dryden, who dubbed Frank Chance the Peerless Leader, Charles Comiskey the Old Roman, and the 1906 White Sox the Hitless Wonders. In his book One Last Round for the Shuffler, Tom Clark also credits Dryden, and places the date of its origin at 1919, but the nickname appeared in print as early as 1913. Newspapers had erroneously been listing Douglas as William and Bill late in 1912 and sometimes as Douglass, until March 1913, when he appeared as Shuffling Phil Douglas in the Chicago Tribune. According to Clark, Douglas earned the nickname because of the slow pace with which he "shuffled" from the bullpen to the mound.
Harry A. Williams listed Shorty O'Brien's real first name as Billy, while Tom Clark wrote that it was James.
Born
June 17, 1890 at Cedartown, GA (USA)
Died
August 1, 1952 at Sequatchie, TN (USA)
If you can help us improve this player's biography, contact us.
http://bioproj.sabr.org/bp_ftp/images4/DouglasPhil.jpg
600
800
admin
/wp-content/uploads/2020/02/sabr_logo.png
admin
2012-01-04 20:09:36
2012-01-04 20:09:36
Phil Douglas