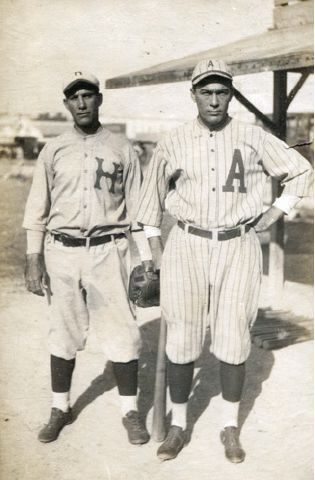 ---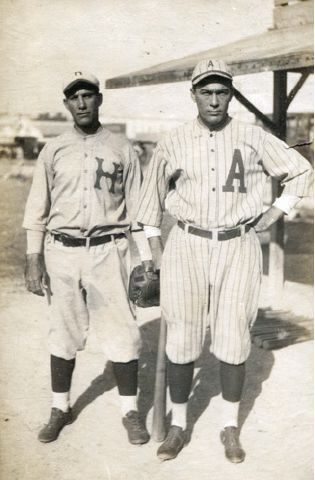 "Wish we had him. He is not colored."1
Those were the words that Frank Bancroft, the Cincinnati Reds' business manager, wrote to team president and National Commission Chairman Garry Herrmann in 1911 about Rafael Almeida. The Reds were in the midst of acquiring Almeida and fellow Cuban player Armando Marsans, and, as the first two Cubans to play major-league baseball, their signings marked a significant milestone in terms of who could participate in white Organized Baseball at its top level. However, as evidenced in Bancroft's letter, Almeida's presence on the Reds roused the suspicions of the league's white-supremacist gatekeepers, and questions of his perceived skin color and racial background dominated much of his short playing career in the National League.
Almeida and Marsans traveled similar paths to the Reds. Born in Havana on July 30, 1887, Almeida was the child of a wealthy Cuban family, a background that would form the crux of many later battles over his racial "fitness" for white professional leagues in the United States. Wealth and whiteness were linked closely in nineteenth-century Cuba, and Almeida's family benefited from a racial hierarchy in society and politics that privileged whiteness. Racial knowledge in Cuba differed greatly from that of the United States, a nation simultaneously recovering from an aborted Reconstruction project, indulging its imperialist impulses (including that which compelled the United States to fight for possession of Cuba), and welcoming thousands of immigrants from some European countries while shutting out completely nations with populations comprising people of color. Almeida's career in both Cuba and the United States occurred in and engaged with all of these historical trends.
At the age of 16, Almeida made his professional debut for a local Havana club, and he spent the next eight years plying his infield craft in a variety of Cuban leagues and in winter series with a mix of black American players and Cubans. Many of the teams for which Almeida played in Cuba fielded players who would go on to become Negro Leaguers and major leaguers, including Marsans, Al Cabrera, and the legendary José Mendez. Almeida likewise gained experience playing with and against players from the United States in occasional series against Negro League and major league teams, and also from playing with a handful of Americans — black and white — who had come to Cuba during the United States' occupation from 1906 to 1909.2
Almeida's Almendares club won the championship in 1905, behind his strong play and that of Marsans, and it would be the only Cuban team of the three traditional teams in the circuit — Almendares, Fé, and Habana — to largely field only Cuban players for the next several years. Fé and Habana saw an influx of American players in 1907, with Habana featuring talent from the white major leagues and Fé boasting Rube Foster and other black baseball greats.3 Historian Roberto González Echeverría notes the nationalist underpinnings of the Almendares-Fé contests that decided the champion that season: Almendares were the Cuban darlings, and the Fé club garnered the unsubtle nickname intervencionistas. Almeida's first experience playing with American players came in competition against them, and not as a teammate.
While he was not a prolific hitter, his overall solid performances for the storied Almendares club earned Almeida recognition from touring players and managers from the United States. When Negro League and major-league clubs sojourned in Cuba, Almeida faced them, and Almeida, Marsans, and Mendez often beat them. Almendares steeled themselves against the American incursions: They fielded almost exclusively Cuban players, defeated American teams, and impressed both their fans and their opponents with their play.
The third baseman Almeida starred in these contests, impressively enough in the eyes of some American gatekeepers to garner his first taste of baseball in the United States. That came in 1908, the product of a peculiar struggle over the talents of Almeida and Marsans. The previous season, minor-league clubs from Scranton, Pennsylvania, and New Britain, Connecticut, both placed claims on the two players; Garry Herrmann, as chairman of the National Commission, ruled in favor of Scranton, but Almeida and Marsans chose not to report to the team. They signed with New Britain.4
That season in New Britain, Almeida was the 11th-ranked hitter, but Adrian Burgos recounts some of the violence — physical and psychological — that the Cubans on the New Britain roster had to endure en route to that successful mark. Opposing pitchers aimed to hurt the players at bat, and fans rained boos and taunts upon them.5 Such abuse anticipated the treatment faced by Jackie Robinson and the host of integration pioneers after him.
Almeida, for his part, played well. In 326 at-bats over 86 games, the infielder recorded 95 hits (good for a .291 average) and slugged five home runs while playing steady defense. His very participation was in jeopardy for the 1909 season, however, as the league convened to decide whether it would draw the color line more starkly.
The Connecticut League had actually been somewhat of a haven for black players since the 1880s, and had at one point hosted an all-black team featuring legends Frank Grant and Sol White.6 Teams made up of black players had competed against white teams often in the league's history, some even fashioning themselves under the moniker "Black Cubans" — a common practice at the time, even though the players were black Americans.
The league eventually relinquished plans to bar black players (likely including black Latinos), but it folded only a few years later. Almeida played for New Britain in 1909 and 1910, hitting around .300 in both seasons.
The Cincinnati Reds had lost seven of 13 games while touring Cuba in the winter of 1908 — not an uncommon occurrence for major-league clubs barnstorming in the Caribbean — and saw firsthand the exceptional skill many of their opponents possessed. While there, the Reds noted certain players who might be major-league material. Management settled upon a project to bring some of those players stateside — a pioneering move — but, as with the Dodgers' signing of Jackie Robinson decades later, their chief fount of inspiration was Garry Herrmann's pocketbook, not progressive sensibilities.
Almeida and Marsans were already playing with the New Britain club when Herrmann made his move to bring a few Cuban players aboard. However, the two ballplayers had made an impression during the Reds' time in Cuba, while they played for Almendares. Almeida found himself the beneficiary of that project, and he and Marsans signed with the Reds in June 1911. In its report on the transaction, the Washington Post cited the players' "good style" of fielding and their good hitting seasons.7 Bancroft, the business manager of the Reds, had clearly become enamored with that style when he visited the country during barnstorming tours.
Anticipating the intense suspicion regarding Almeida's racial background, Bancroft and the Reds issued a barrage of letters and press insisting on his whiteness. The club called the players "pure Spaniards, without a trace of colored blood," but the most infamous of justifications came via the pen of the Cincinnati Enquirer: The two Cubans were of "a noble Spanish race, with no ignoble African blood to place a blot or spot on their escutcheons. Permit me to introduce two of the purest bars of Castilian soap that ever floated to these shores."8 Bancroft, Clark Griffith, and Herrmann had the power to shape the color line to their desires; clearly, their desires were to hem it as close to whiteness as possible. They denied the opportunity to expand Organized Baseball to more players of color, and their rhetoric had significant ramifications for Latinos who sought to play major-league ball.
There were others with stakes in the success of Almeida and Marsans who sought to define their prospective baseball careers in other terms. Robert Peterson, in Only the Ball Was White, relayed the comments of a black newspaper upon the signings: "Now that the first shock is over it would not be surprising to see a Cuban a few shades darker than Almeida and Marsans break into the professional ranks. … With the admissions of Cubans of a darker hue in the two big leagues it would then be easy for colored players who are citizens of this country to get into fast company."9 The Reds' language denied this possibility, however. For the next three decades, Cubans and other foreign-born Latinos were whitened in the press, and Almeida's signing would be only a half-measure of integration.
Almeida and Marsans finally debuted on July 4, 1911, against the Cubs at their pre-Wrigley Field ballpark on the West Side. One journalist noted that Almeida secured his spot on the club in August by doing "what few players would attempt": getting hit by a pitch with the bases loaded to coax in a run.10 The reporter noted that Almeida received an "awful blow" that "nearly put him down and out." Almeida's violent plunk was among the first of the dangerous and racially motivated hit-by-pitches players of color would face for decades.
Almeida's first month with the club met some skepticism from local and national media, however. In a syndicated piece, the Boston Globe wrote in July that, while "practically certain" that Marsans would stay with the Reds, Almeida had been injured and "unable to show his full worth."11 By July, however, there was at least some belief that Almeida would be a key part of the Reds. Recounting a game against St. Louis at the Palace of the Fans — in the final season of its service as the Reds' home park — the Cincinnati Enquirer praised Almeida and Marsans, noting that they "were greeted with great applause," and reporting on Almeida's strong arm and speed, saying he "threw like a shot from third base and beat out an infield hit."12
Jack Ryder, the Reds beat writer near the start of his 30-year career with the Enquirer, continued to relay Almeida's performance and the Reds fans' reactions to his play. In a characteristic column, Ryder wrote of Almeida's "timely hitting" as a "great [factor] in the Reds' success" that day, driving in the two winning runs. A few lines below, he captured the crowd's feelings and alluded to Almeida's purported racial makeup: "Almeida was greeted with rousing cheers from the populace, and responded by doffing his cap in a polite Castilian manner as he left the field. His double was one of the longest and hardest hits of the day, and came just when it was most needed to give the Reds the edge on the contest."13
This sort of writing is emblematic of how many tied Almeida's skill to his perceived white professionalism and class background, a theme common with Latino players in the pre-Jackie Robinson era. Ryder directly linked Almeida's good performance, his favor among the Cincinnati faithful, and his "Castilian manner," an important schema of thought for those invested in upholding the color line. When faced with the prospect of those who didn't fit the black/white binary upon which the segregated major leagues were built, it became vital for those white gatekeepers to engage in the rhetorical whitening of those players. Rafael Almeida's major-league experiences are an important piece in the story of Cubans gaining entry — or failing to gain entry — to white Organized Baseball in the United States.
The next two years were trying for the infielder, as he bounced between Cincinnati's big-league club and minor-league affiliates. Almeida's batting line dropped from a good .313/.383/.769 — good for an OPS 18 percent better than league average — to .220/.281/.390 in only 65 plate appearances. The infielder found himself relegated to the Reds' minor-league club in Montreal, coincidentally the same team for whom Jackie Robinson would debut in 1945.
Almeida performed well enough for the Montreal Royals to merit a larger role on the 1913 Reds, and he capitalized by hitting .262/.324/.392. But Herrmann was willing to let Almeida depart the Reds for a modest sum in 1913, when he asked $1,800 from a Nashville minor-league team for the infielder's services. The deal was never consummated, but Almeida did return to Montreal, and there he learned to play center field. One report summed up a meeting between the erstwhile Red and his ex-teammates, including Marsans, stating that Almeida's "presence made the rest of the Reds feel what a big mistake was made in letting him go so suddenly."14
The 5-foot-9, 164-pound Almeida played third base most of the time he was with the Reds, with a couple of games at shortstop, one at second base, and three in center field. He had an unfortunate career fielding percentage of .904. His major-league career comprised 102 games spread over the three seasons, and he finished with a career batting mark of .270.
Ultimately, it seemed that Almeida's greatest sin was that he was not Marsans. His pioneering counterpart starred in the National League for several years, and Almeida often faced unfair comparisons to the outfielder who shined. While Marsans would go on to be a key figure in the case of the National League against the upstart Federal League — a case he lost, in part, due to Reds manager Clark Griffith's testimony — Almeida quietly departed the Reds and the National League to continue his career in American minor-league ball and in the Cuban league. Almeida donned the Almendares and Habana uniforms for many years after his major-league career had stalled, always finding a spot on the field at Almendares Park.
Then a major-league veteran, Almeida patrolled the outfield into the 1920s, and remained active in Cuban sporting culture. He shepherded the amateur Vedado Tennis Club to several pennant victories in the mid-'20s and helmed the winning Cuban national club at the 1930 Central American Games, and his baseball oeuvre warranted induction into the Cuban Baseball Hall of Fame in its inaugural 1939 class.15
Almeida's 102 games with the Reds comprise the centerpiece of his baseball career, but the infielder played a quarter-century in Cuban and American baseball leagues, found himself located in various spots on the spectrum of the color line, and achieved a great deal on the diamond. During his life, his legacy as a pioneer often went unrecognized for reasons rooted in lingering white supremacy. A New York Times assessment of the precarious position in which Cuban major leaguers found themselves in the wake of the Cuban Revolution recounted the tale of Almeida's signing with the Reds, but removed any semblance of autonomy for Almeida. "The instigator of the immigration was Clark Griffith. … A year before he established his regime in Washington, Griff was managing Cincinnati. It was from there in 1911 that he hired his first Cuban, Rafael Almeida. He was bought sight unseen, a mail-order purchase."16
Knowledge of the actual circumstances of Almeida's signing had clearly atrophied — he had played several seasons in the United States, and the Reds themselves had personally seen him before Herrmann inked him to a contract. Fortunately, Almeida's legacy has been rehabilitated over the past few decades as historical research on the participation of foreign-born Latinos the major and minor leagues has grown. He's now rightly recognized as the pioneer he was. Almeida died in Havana on March 18, 1969, at the age of 80 and a decade after his home country cut ties to the country in which he was an early integration pioneer.
By the time of his 1939 induction into the Cuban Baseball Hall of Fame, Almeida had become one of the legends of Cuban baseball's golden era, joining Marsans, Mendez, Cristóbal Torriente, and others in representing the nation's diverse racial demography. Almeida was emblematic of the inductees: a participant for decades in the Cuban leagues, the American major leagues, and the American minor leagues, and a representative of the nation's sizable impact on transnational baseball culture.
Notes
1 Frank Bancroft correspondence, "1080 1914" box, Garry Herrmann Papers, National Baseball Library and Archive.
2 Rob Ruck, Raceball: How the Major Leagues Colonized the Black and Latin Game (Boston: Beacon Press, 2011), 12-13.
3 Roberto González Echevarría, The Pride of Havana: A History of Cuban Baseball (New York: Oxford University Press, 1999), 127.
4 Adrian Burgos Jr., Playing America's Game: Baseball, Latinos, and the Color Line (Berkeley: University of California Press, 2007), 92.
5 Burgos, 93.
6 Steve Thornton, "Swinging for the Fences: Connecticut's Black Baseball Greats," ConnecticutHistory.org, https://connecticuthistory.org/swinging-for-the-fences-connecticuts-black-baseball-greats.
7 "Reds Buy Cuban Players," Washington Post, June 16, 1911.
8 Burgos, 90.
9 Robert Peterson, Only the Ball Was White (New York: Random House, 1970), 61-62.
10 "Gets Hit; Has a Job Now," Washington Post, August 29, 1911.
11 "Cincinnati Owners to Give Several Men Another Try in Hope of Bracing the Reds," Boston Globe, July 20, 1911.
12 Jack Ryder, "One Round: Enough for the Cards," Cincinnati Enquirer, July 24, 1911.
13 Ibid.
14 "Cuban Almeida Calls on His Fellow Countrymen and Old Team Mates," Cincinnati Enquirer, August 14, 1913.
15 Echevarria, 277.
16 Arthur Daley, "Sports of the Times: Decision Is Castro's," New York Times, January 6, 1961.
Born
June 30, 1887 at La Habana, La Habana (Cuba)
Died
March 18, 1969 at La Habana, La Habana (Cuba)
If you can help us improve this player's biography, contact us.
http://sabr.org/sites/default/files/RafaelAlmeida.JPG
600
800
admin
/wp-content/uploads/2020/02/sabr_logo.png
admin
2012-01-04 20:40:35
2021-01-05 01:41:11
Rafael Almeida