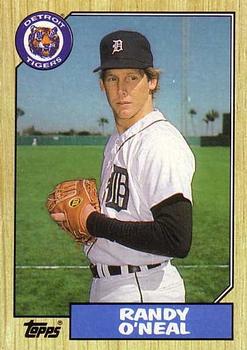 ---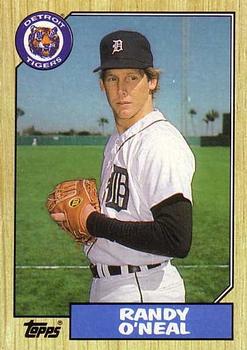 As the tall young right-hander strode to the mound that Tuesday night in September 1984 to make his first major-league start, he was not nervous. Excited, yes; determined, yes; but nervous, no. Even though it was an important game, one in which the Detroit Tigers could clinch the American League East championship, the young man kept his composure. Listening to a Detroit radio station before the game, he had heard the doubts expressed on the air. Who is this guy? Why is he pitching tonight? Why is manager Sparky Anderson starting an unknown rookie in such a game? The questions only made Randy O'Neal more determined to show that he was not a nonentity, but a capable major-league pitcher.
The game against the Milwaukee Brewers was at Tiger Stadium on September 18. Randy struck out future Hall of Famer Robin Yount, the leadoff batter, on a pitch out of the zone. His confidence surged. "I can get these guys out," he thought. "I can do this!" For seven innings O'Neal shut out the Brewers, giving up only four hits, walking one, and striking out six. Anderson brought in Willie Hernandez to pitch the eighth and ninth, preserving the shutout and the win. Willie had not blown a save all season. "The instant I came out, I knew I had a win," Randy said. "With Willie coming in, I knew there was no doubt." In remembering the game 25 years later, O'Neal said, "I could feel then something special was coming. I had dreamed of that moment all my life. It was such a special feeling. I'm very proud of that to this day. I loved my time in Detroit, and that certainly was a great night." He had the team autograph the lineup card. He still has it and cherishes it.
Randall Jeffrey O'Neal was born in Ashland, Kentucky, on August 30, 1960, the son of Gaynelle and Ralph O'Neal. As a child he moved with his parents to Florida. He attended John I. Leonard High School at Greenacres, in the central part of Palm Beach County. From his accomplishments in high school and amateur ball, he gained enough renown to be drafted four times by major-league teams in 1979 and 1980, but did not sign, preferring to pursue the sport at Palm Beach Community College for two years and at the University of Florida in 1981, when he helped the Gators win their first Southeastern Conference championship. He was one of three pitchers named to the all-tournament team.
O'Neal was selected by the Montreal Expos in the fourth round in January 1979; by the Minnesota Twins in the second round of the June 1979 secondary draft; by the Milwaukee Brewers in the third round of the January 1980 secondary; and by the Cincinnati Reds in the third round of the June 1980 secondary. Four times drafted, each time in a fourth or higher round, and four times he refused to sign. Why? Two reasons: O'Neal did not feel ready for professional baseball, and the money was not attractive enough to lure him from continuing his education. Then, on June 8, 1981, he was selected in the first round of the secondary draft (15th overall) by the Detroit Tigers. His $35,000 signing bonus was typical for first-round draftees in the early 1980s, and this time he signed and started his professional career with the Lakeland Tigers in the Florida State League.
On August 23 O'Neal pitched a seven-inning no-hitter in a 4-0 win over Winter Haven. He said he "quickly learned to compete with men, not boys." He advanced in the Tigers' system, going to Double-A Birmingham and Triple-A Evansville before joining the big club in 1984. In 1982 he won 11 games for the Birmingham Barons in the Southern League, the only time in his professional career that he won more than 10 games in a season. In 1983 and 1984 he pitched for the Evansville Triplets in the American Association, posting a losing record each year. However, his nine wins, ten losses, and 3.57 earned-run average in 1984 showed enough promise to earn him a big-league trial late in the season.
O'Neal made his major-league debut on September 12, 1984, in Baltimore against the Orioles with three strong innings of one-hit relief. The first two hitters he faced were eventual Hall of Famers Cal Ripken Jr. and Eddie Murray. Ripken greeted O'Neal with a single, but O'Neal retired baseball's reigning iron man his second time up.
Knowing he was about to make his first start for the Tigers in the potential pennant-clincher, O'Neal spent three hours pacing in a local mall, hoping to settle his nerves. He listened to the radio that day, too, and heard people wondering who he was and why he was starting such an important game. He remembered, "Jack Morris and Dan Petry were lobbying [manager Sparky Anderson] pretty hard to let them pitch, but Sparky had faith in me and stuck with me. It was scheduled to be my first start, and he let me keep it. I'm eternally grateful for that." Randy sensed the gravity of the game before it was over: "In about the seventh inning they brought the horses and the extra security out. I could feel then something special was coming."
O'Neal remembered that night as "a fantasy to have the opportunity to pitch that game for my first start, ahead of some of the great pitchers we had. To win it was an even bigger dream that came true."
The crowd remembered his name the next day at the ballpark. "You do your wind sprints to the foul poles with the pitchers, and my second time over I hear the crowd chanting my name, 'O-Neal, O-Neal.' Had to be 20,000 there for batting practice! I'll never forget it because it would echo in that stadium."
O'Neal got his second start and second win on September 25 with five shutout innings, again versus the Brewers. In his first three big-league outings he had accrued two wins in 15 consecutive shutout innings, allowing only seven hits, two walks, and 11 strikeouts. He pitched once more in that magic 1984 season, on the final day against the New York Yankees. That outing brought him back down to earth a bit; he gave up seven earned runs in 3⅔ innings. He finished the year 2-1 with a 3.38 ERA.
O'Neal was not on the playoff roster and did not pitch in either the American League Championship Series or the World Series. He had made his contribution the night of his first major-league start. O'Neal split the 1985 and 1986 seasons between Detroit and Triple-A, relocated from Evansville to Nashville. In 1985, he appeared in 28 games for the Tigers (starting 12 of these), going 5-5 with a 3.24 ERA. And in 1986, he appeared in 37 games (starting 11), going 3-7 with a 4.33 ERA. Over the two seasons he won eight and lost 12 for the Tigers; he won six and lost six for the Sounds.
O'Neal pitched at a time when bullpen roles were evolving. The newfound prominence of closers highlighted the need for set-up men and other relief specialists. By 1986, Randy had begun the shift from his previous role of starting pitcher to becoming a middle-relief specialist.
In January 1987, the Tigers traded O'Neal, with pitcher Chuck Cary, to the Atlanta Braves for minor-leaguer Freddy Tiburcio — who never did make it to the bigs — and outfielder-designated hitter Terry Harper. O'Neal had four wins and two losses for the Braves and one loss for their International League affiliate in Richmond. The Braves sent him to the St. Louis Cardinals that July for relief pitcher Joe Boever, who made his way to Detroit in 1993. O'Neal got minimal work with the Cardinals, pitching in one game, a start, with no decision and a 1.80 ERA in 1987, and going 2-3 with a 4.58 ERA in 10 games (eight starts) in 1988. The Cardinals more often kept O'Neal in Louisville, where he was 3-1 for the Redbirds in 1987 and 3-5 in 1988. In October he was granted free agency, and he signed with the Philadelphia Phillies in December. After he appeared in 20 games (starting only one of these) with Philadelphia, going 0-1 with a 6.23 ERA, the Phils sent him to Triple-A Scranton/Wilkes-Barre, and he was 4-4 with the Red Barons in 1989. Despite an improved 2.53 ERA, the best of his career, the Phillies released him at the end of the season.
Again a free agent, O'Neal signed in January 1990 with the San Francisco Giants, where he was reunited with Roger Craig, his pitching coach in Detroit during that pennant-winning season of 1984, and now the manager of the Giants. Craig had managed the Giants into the World Series in 1989, and remembered what O'Neal could do on the hill. This time, though, Randy appeared solely in a relief role for Craig, going 1-0 with a 3.83 ERA and no saves in 26 games spanning 47 innings. The reunion did not last the entire season. O'Neal also spent time in the Giants' farm system. He pitched three innings for High-A San Jose in his only appearance there, and got into seven games with Triple-A Phoenix. Despite five wins and no losses and a 2.97 earned run average for the Firebirds, he was released at the end of the season.
Along the way O'Neal tore his labrum and his rotator cuff and had surgery. Then he reinjured his shoulder. He continued to "play for the love of the game and the chance to compete and get back to the big leagues." He pitched in the Kansas City Royals' system for the Double-A Memphis Chicks in 1991, his last year in Organized Baseball, with only one win against four losses.
In 1994 O'Neal attempted a comeback with Corpus Christi in the independent Texas-Louisiana League. In two years he won seven games and lost eight for the Barracudas. After the 1995 season, Randy retired as a professional baseball player. From 1984 through 1995 he had pitched for five major-league clubs and 11 minor-league aggregations. In the majors he had compiled 17 wins and 19 losses and a 4.35 ERA; in the minors he had 61 wins and 61 losses (his ERA was 3.64). All in all, he had won 78 professional contests, none more noteworthy than his first major-league victory on September 18, 1984.
After his playing days were over, O'Neal completed his degree in business/finance from the University of Central Florida, but he retained a keen interest in baseball. He designed some interesting bats to help pitchers have a keepsake in addition to the game ball from special games. One design, which he patented, had a baseball-size hole through the barrel that was burned with a torch to symbolize a ball thrown so hard that it burned through the wood. In 1995 O'Neal and three friends purchased the Kissimmee Sticks, a wood-bat manufacturing company. They changed the name to Stix Baseball and installed Randy as president. In 1999 Randy sold the company to Easton Sports, the giant manufacturer of aluminum bats.
In 2010 he owned the Heaters Bat Company. However, his principal profession was that of educator. He was a reading teacher and baseball coach at Olympia High School in Orlando, Florida. His Titans compiled a school record 21-5 mark in 2009. Baseball remained a big part of the life of Randy O'Neal. He said he loves "coaching and teaching the game to be played the right way. I want to give back to the players and try to make a difference in their lives."
In 2010 Randy lived with his family in the Orlando area. He and his wife, Kathy, married 14 years as of 2010, had a son, Blake, 13, and a daughter, Taylor, 10.
Looking back on his time in the major leagues, O'Neal said he felt "lucky to have played with so many great players and friends, in such great baseball cities and with wonderful fans."
This biography is included in "Detroit Tigers 1984: What A Start! What A Finish!" (SABR, 2012), edited by Mark Pattison and David Raglin.
Sources
Associated Press.
Dow, Bill. "Tigers Clinched the AL East 25 Years Ago Today." http://blog.detroitathletic.com/2009/09/18/tigers-clinched-the-al-east-25-years-ago-today/
"Easton Steps up to Plate, Buys Bat Biz." http://www.accessmylibrary.com.
"Kissimmee Stix Bio." http://www.boombats.com.
Lambie, J. Ellett, "Happy Anniversary Randy O'Neal — 25 Years Since the Tigers Clinched." http://eyeofthetigers.com/2009/09/18/happy-aniversary-randy-oneal.
"Olympia Titans Baseball," http://www.eteamsz.com/olympiatitansbaseball.
"Randy O'Neal." http://www.baseball-reference.com/players.
"Randy O'Neal," http://www.baseball-refernce.com/minors/player.
The Sporting News.
United Press International.
Geisler, Paul. E-mail interview with Charles F. Faber, February 17, 2010.
O'Neal, Randy. Personal correspondence with Charles F. Faber, February 1, 2010.
Born
August 30, 1960 at Ashland, KY (USA)
If you can help us improve this player's biography, contact us.
https://sabr.org/sites/default/files/ONeal-Randy.jpg
600
800
admin
/wp-content/uploads/2020/02/sabr_logo.png
admin
2012-01-04 19:54:12
2012-01-04 19:54:12
Randy O'Neal