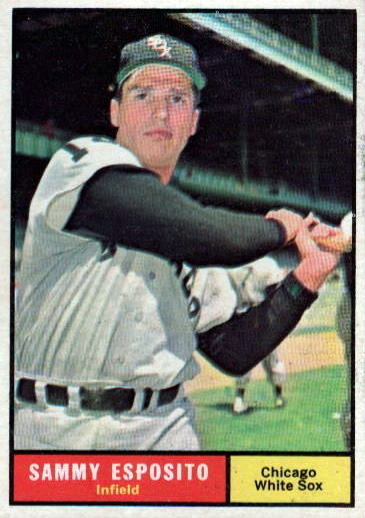 ---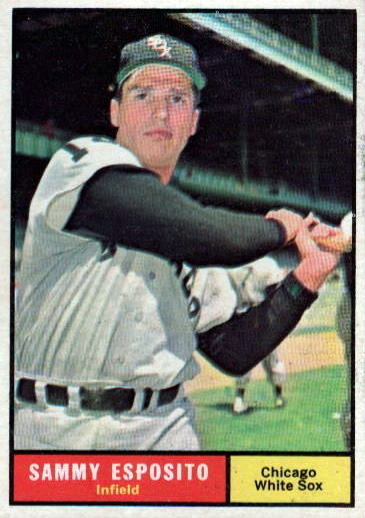 For every 30-home-run hitter and 20-game winner, there is often a role player who, though contributing less, is embraced by the fans and given nearly unconditional support in return for those elusive attributes scrappiness and hustle. For the pennant-winning White Sox of 1959, that player was Sammy Esposito. Despite spending the majority of his career watching Nellie Fox and Luis Aparicio from the bench, the local boy endeared himself to South Side fans with heady play and solid defense. Esposito later made good use of the insight collected during his playing days, becoming one of the most successful coaches in the history of the Atlantic Coast Conference over the course of a long career at North Carolina State.
Samuel D. Esposito was born on December 15, 1931, to Mr. and Mrs. Joseph Esposito on the South Side of Chicago. He first made a name for himself while attending Fenger High School at 112th and Wallace. There, he was a three-sport athlete, starring in basketball and football as well as baseball. In fact, it is debatable which of the three sports he excelled at the most. He began playing football his junior year, when coach Chuck Palmer happened upon him throwing a football in a physical education class. That year, as a 16-year-old, he led Fenger to a tie for the city championship, throwing 12 touchdown passes and running for two. As a point guard on the basketball team, he averaged about 30 points per game in both his junior and senior seasons, leading the city in scoring in the latter despite standing only 5 feet 7 inches tall. In his final game, Esposito set a single-game record for the city of Chicago (since surpassed) by scoring an incredible 81 points. In the spring, he played shortstop and occasionally pitched for coach Harry Dixon, leading Fenger to a 14-8 record in his senior year.
After graduating in 1950, Esposito was offered contracts by several big-league clubs but passed them up in favor of enrolling at Indiana University. There, he continued to play three sports with a great deal of success; he was named IU's outstanding freshman athlete in 1951. Jason Hiner writes in his book Mac's Boys: Branch McCracken and the Legendary 1953 Hurryin' Hoosiers:
Down the stretch of the 1951-52 [basketball] season, Esposito emerged as one of IU's rising stars. He was lightning quick, had great hands, and was very smart with the basketball. He was a terrific passer and could use his athletic ability to break down the defense and create shots for himself and his teammates.1
It was on the baseball diamond, however, that Esposito made his biggest mark as a Hoosier. In the 1952 season — his only year of varsity baseball at Indiana — he batted .285 in 26 games, .333 in Big Ten games. He spent that summer playing in the Iowa semipro league, where he batted .450. Esposito's amateur career came to a close on August 29, 1952, as he was signed to a big-league deal by White Sox scout Doug Minor. Minor signed several future major leaguers for the White Sox, including Orval Grove, Bob Kennedy, and Don Kolloway, as well as 1959 White Sox pitcher Rudy Arias. Esposito said in a 1956 interview that he had signed "because I wanted to get into organized ball before he went into the Army."2 Reports of Esposito's contract differ. A March 24, 1953, Chicago Tribune article, which credits Minor, said he signed for $55,000. Jason Hiner wrote that he received $50,000—a $17,000 bonus and $11,000 for each of his first three seasons as a professional. In either case, it was a generous offer for the era, and Esposito was given an immediate opportunity to prove he deserved it.
Sammy's first game in the major leagues came on September 28, 1952, a month after he'd signed, at Comiskey Park. The third-place White Sox were taking on the seventh-place St. Louis Browns in their season finale, and only 10,343 fans turned out to watch. Esposito played shortstop and batted leadoff. He collected his first major-league hit in the game, a single off Dick Littlefield, who had taken over in the fourth inning for injured starter Duane Pillette. Inauspiciously, Esposito was promptly thrown out attempting to steal second. He also struck out twice and made two errors, thereby fitting in well with the lackluster Sox, who lost the game, 12-1. Esposito's hit was one of only five for the team. This brief appearance earned him the distinction of being the youngest player in the major leagues in 1952, as he was several months shy of his 21st birthday. It should be noted that after signing with the White Sox, Esposito continued to work toward his degree in physical education, at Indiana and later at George Williams College in Chicago. He eventually graduated from Indiana several years later.
Esposito attended spring training with the White Sox in El Centro, California, in 1953, but failed to win a roster spot and was optioned on March 24 to the Waterloo, Iowa, White Hawks of the Class B Three-I League. The White Hawks were managed by longtime big-league catcher Zack Taylor, who had also several seasons managing the St. Louis Browns (1946; 1948-51). In Waterloo, Esposito hit .265 in 96 games while playing shortstop. His season was cut short on August 14, 1953, when, as expected, he was inducted into to the Army. He was assigned to the 44th Division in Fort Lewis, Washington, as a private. While stationed at Fort Lewis over the next 18 months, Esposito played on the division's basketball and baseball teams, hitting .390 over 70 games.
The 23-year-old was discharged from the Army in the spring of 1955. He joined the White Sox at the end of May, and was sent to the Memphis Chicks of the Double-A Southern Association. The Chicks played in the peculiarly-shaped Russwood Park, where it was farther to the outfield corners than to straightaway center. Esposito again had the good fortune of playing for a well-known manager, as White Sox Hall of Famer Ted Lyons took over for former Pirate Jack Cassini midway through the year. In 101 games, Esposito rapped out 101 hits. The 1955 campaign also gave the young player his first extended experience at third base, where he had been moved in order to accommodate teammate Luis Aparicio. Esposito later spoke gratefully of manager Cassini's patience with him as he adjusted to the new position. At the end of Memphis' season, he was recalled to Chicago and played two games at third base without collecting a hit.
It was during spring training of 1956 that Esposito finally earned a permanent spot on the club. Manager Marty Marion was enamored with the 24-year-old: "There could be new developments before the season starts," said Marion, "but right now I'd say Esposito will be our third baseman. He's done everything correctly at third. In fact, I don't know what more a kid could do to win a job."3 George Kell, a future Hall of Famer and the Sox' incumbent third baseman, commented, "I liked Esposito last fall when he played a few games for us. I told [Marion] again this spring that I thought the kid was a very bright prospect."4
The season was still several weeks away, however, and by Opening Day, Kell and journeyman Bob Kennedy had moved ahead of Esposito on the depth chart. Sammy made sporadic starts in April and May, but was not rewarded for his success. On May 23, he doubled and drew a bases-loaded walk in a 3-2 victory over the Orioles, but was on the bench the next game as Minnie Minoso played the hot corner. Five days later, Esposito again made the most of an opportunity, driving in two runs in the ninth inning to tie the game against the Athletics, but again was not in the starting lineup for the next game. The month of May also saw a rather significant shake-up in the Chicago infield as a result of two trades. On May 15, Kennedy, Jim Brideweser, and Harry Byrd were dealt to the Tigers for outfielder Jim Delsing and infielder Fred Hatfield. Six days later, Kell was the centerpiece of a six-player swap with Baltimore, which brought pitcher Jim Wilson and outfielder Dave Philley to Chicago.
Esposito's two spring-training competitors for the third-base position were thus gone just a month into the season. Unfortunately for him, newly-acquired Fred Hatfield stepped into the position; for the season, Esposito appeared in 84 games around the infield. He batted only .228 but had an on-base percentage of .371, walking 41 times against just 19 strikeouts. Three of his eight career home runs also came in 1956; the first was on August 1, off Washington lefty Chuck Stobbs. (Seven of the eight homers were solo shots.)
While Sammy struggled in his rookie season, the White Sox' other young infielder, Aparicio, led the American League with 21 stolen bases and was named the Rookie of the Year, garnering 22 of 24 possible votes. His double-play partner was 28-year-old Nellie Fox, who had already been elected to five All-Star Games. It was perhaps unfortunate timing for Esposito to spend most of his career in the same infield as Aparicio and Fox, both of whom ended up in the Hall of Fame. On many other teams, Sammy might have started, but, talented as he was, he couldn't crack that particular White Sox infield. In a 1959 Chicago Tribune feature, he summarized his situation succinctly:
When I was playing at Fenger High School, I hoped to make the big leagues as a shortstop. So I end up with the White Sox, who have Luis Aparicio, baseball's best shortstop. When I was with the Waterloo club, I figured maybe someday I'd be a major league second baseman. So, how much chance do I have of dislodging Nellie Fox? I played third base at Memphis, alongside Aparicio at short, and when I land in Chicago, where the position is open, I find they don't want .247 hitters at third base.5
Marty Marion was replaced as manager after the 1956 season by former Cleveland Indians skipper Al Lopez. Like his predecessor, Lopez was impressed by Esposito's play early on: "When I managed Cleveland, I never thought of him as anything more than a possible reserve infielder. But he really has made me revise my opinion. As a matter of fact, I gained a lot of respect for his ability before we even left spring camp."6 As in the previous year, however, Sammy failed to convince his manager that he deserved a starting position. He battled Hatfield and rookie Tommy Brown during spring training. When both faltered, Lopez called in outfielder Bubba Phillips to man third base, relegating Esposito to the bench once more.
On June 26, Esposito, who was batting just .171 in limited time, got the start at third base, replacing the struggling Phillips. Over the next five weeks, he started 22 games. In that time, he batted .253, but had an on-base percentage of .357 and committed only three errors. The Chicago Tribune, in an a pictorial feature entitled "Sammy's Medicine Show," raved about the young man "who has been performing all sorts of rare fielding tricks for the White Sox at third base"7; after a tough loss to New York on July 15, the Daily Defender asserted that "Esposito alone must have robbed the Yankees of at least three hits with the brilliant fielding at third base." More significant was the praise of manager Lopez: "Sammy took his lumps and learned a lot while waiting it out, and now it's paid off. … He's young and tough and aggressive, and the kind of third baseman the White Sox have been looking for."8 As July came to a close, Chicago trailed the Yankees by only 3½ games, while maintaining a healthy 7½-game lead over third-place Boston. Phillips returned to the starting role at the beginning of August. For the season, Esposito hit .205, though with a .344 OBP, in 176 at-bats; it was the last time in his career he had 100 at-bats in a single season.
In 1958, it was newly-acquired Billy Goodman who received the bulk of the playing time at third base, with Phillips chipping in when healthy. Esposito stepped to the plate on 97 times that year, hitting .247 and getting on base at a .358 clip. The high point of the year for Sammy came on September 5, when his seventh-inning double off Cleveland's Don Mossi — one of his three hits that day — moved the tying runs into scoring position in an eventual White Sox victory.
By the start of the 1959 season, Esposito was 27 years old, and had been labeled, not unfairly, as a good-field, no-hit utility infielder. He was no longer seen as competition for a starting position at third base or anywhere else; in 1959 he started three games at third in addition to six starts spelling Aparicio at short. Manager Lopez, however, continued to support him: "Don't underestimate Sam just because he isn't a regular," the skipper said. "Name me any major leaguers who could beat out Little Lu with his glove, or Foxey with his bat!"9 At the same time, the South Side fans had taken a shine to the local boy, who still lived on Lafayette Avenue with his parents. Indeed, despite appearing at the plate only 81 times in 1959, Esposito was able to deliver some important hits for his team. In the season opener, on April 10, he singled off Detroit's Don Mossi in the 14th inning, allowing Fox to follow with a game-winning home run. On June 21, Esposito hit his only home run of the season, a solo shot that proved to be the difference in Billy Pierce's 3-2 victory over Boston. The game reports added that he "figured in two double plays as well as handling himself with aplomb on defense."10 In some ways, Esposito was characteristic of the Go-Go Sox of 1959: He played outstanding defense when called upon, and was skilled at drawing walks and sacrificing for teammates. On July 25, when the Sox defeated Baltimore in 17 innings — their 23rd one-run win of the season, and their fourth in a row — it was Esposito who crossed the plate with the game-winner.
Unfortunately for the White Sox and their fans, the euphoria occasioned on September 22, when the Sox clinched the pennant, did not outlive the month of October, as Chicago lost to the Los Angeles Dodgers in six games. Esposito had just two at-bats in the World Series, both in the first game. He entered the game for Goodman in the fourth inning and struck out looking against Clem Labine. In his next at-bat, he tapped a grounder back to reliever Johnny Klippstein. His only other appearance was as a pinch-runner in Game Three.
Esposito played seven full seasons in his career, of which the 1959 campaign was the midpoint. From 1956 to 1958, he amassed 441 official at-bats; from 1960 to 1962, he had just 252. Remaining with the Sox as a utility fielder, he totaled 14, 16, and 19 hits in the first three years of the 1960s, getting most of his appearances as a late-inning pinch-runner or defensive replacement.
Although Esposito's skills were fading, the hometown fans continued to cheer for the scrappy infielder. During one game in 1960, his scrappiness was put to the test. On September 7, in a home match against the Yankees, Esposito was starting at second for the injured Nellie Fox. In the eighth inning, he muffed a double-play ball that would have ended a New York threat. Minutes later, an enraged fan, Willie Harris, charged onto the field and confronted Esposito at his position. "I couldn't make out too well what the guy said," Sammy told the papers. "Something about having money bet on the ball game. I didn't do a thing, and when it looked like he was going to swing, I swung at him. I didn't hit him, I missed him, and then the players and ushers came around and broke it up."11 After having been escorted off the field, Harris punched a security guard and knocked his front teeth out, earning himself a $25 fine, plus costs, in court the next day.
In 1963, Esposito was bothered by a sore arm and played in only one game with the Sox, appearing as a ninth-inning pinch runner on April 16. He was released on May 9 as the White Sox brought their roster down to 25. The Tribune reported that Chicago had offered him a scouting position, but the 31-year-old Esposito opted to pursue his career elsewhere. On May 26, he signed with the Kansas City Athletics. Sammy played in 18 games with Kansas City, starting seven of them and collecting five hits. His final big-league game was a loss to Detroit on August 23, 1963; in this game, he entered the game as a defensive replacement and singled off Frank Lary in his final at-bat. He was released after the end of the season, on October 7.
His playing career over, Esposito began to look toward the future. Since 1959, he had been an assistant basketball coach at East Chicago (Indiana) Washington High School. He returned to Indiana University in 1964 for additional coursework in hopes of becoming a full-time coach.
Esposito's second career began in earnest in 1967, when he was hired as head baseball coach at North Carolina State University in Raleigh. He had almost immediate success, as the Wolfpack won the Atlantic Coast Conference championship in his second season and finished third overall at the College World Series. Among his players that year were future major leaguers Dick Burris, Tommy Smith, and Mike Caldwell, runner-up for the 1978 American League Cy Young award. Esposito also coached the freshman basketball team from 1967 to 1969, then was a varsity assistant under Norm Sloan until 1978.
Twelve of Esposito's college players went on to play in the major leagues, including pitchers Mike Caldwell, Tim Stoddard, and Dan Plesac, and outfielders Doug Strange and Greg Briley. Besides 1968, his teams also won the ACC crown in 1973, 1974, and 1975. He was named ACC coach of the year in 1984 and 1986, as his teams finished 32-8 and 35-15, respectively. Sam finally retired after the 1987 season at the age of 55. In 21 seasons at the helm, he led the Wolfpack baseball team to an overall record of 513-253-4, making him the winningest coach in school history. His son, Sammy Jr., played baseball at North Carolina State from 1999 to 2002, and in 2008 was an assistant coach for Ray Tanner at the University of South Carolina. Tanner had served as an assistant coach under the elder Esposito at N.C. State, and succeeded him as head coach in 1988 before moving to South Carolina in 1997. Esposito, who spent the last nine years of his life in assisted living in Newland, North Carolina, died at age 86 in on July 10, 2018. His wife Noreen had passed away in January of 2018. The Espositos had a son, Sammy Jr., and a daughter, Toni, along with five grandchildren.
It is often said that mediocre players make the best coaches. For Sammy Esposito, it was certainly educational to spend seven years as a member of a fundamentally sound White Sox team that routinely competed for the pennant. The time he spent on the bench as Luis Aparicio and Nellie Fox took the field may in fact have made him the outstanding coach that he was. Chicagoans will recall Esposito fondly from those Go-Go Sox teams, as a steady if modest contributor, a local boy who made good.
An earlier version of this biography originally appeared in SABR's "Go-Go To Glory: The 1959 Chicago White Sox" (ACTA, 2009), edited by Don Zminda.
Sources
In addition to the sources cited in the Notes, the author also consulted www.baseball-reference.com, www.thebaseballcube.com, and SABR Minor Leagues Database, http://minors.sabrwebs.com/
2008 N.C. State basketball and baseball media guides
Archives of the Chicago Tribune and The Sporting News (contact author for specific issues)
"Wolfpack Baseball: A Century of Achievement" display, North Carolina State library web site. http://www.lib.ncsu.edu/exhibits/baseball/highlights.html.
Samuel Donato Esposito obituary, Raleigh News & Observer, July 15, 2018
Thank you to David Vincent, for the home-run information; Eric Hanauer, for his recollections from the period at George Williams College; Dave Goss, for statistics and sources from Indiana University; Lorna Donley of the Special Collections and Preservation Division of Harold Washington Library in Chicago, for locating, photocopying, and mailing things from Fenger High School yearbooks; and readers of the SABR listserve for helpful thoughts and suggestions. Also to the editors and organizers of the 1959 White Sox project, for their patience and encouragement.
Notes
1 Jason Hiner, Mac's Boys: Branch McCracken and the Legendary 1953 Hurryin' Hoosiers (Bloomington & Indianapolis: Quarry Books, 2006), 101.
2 John C. Hoffman, "Marion Finds New Sizzler in Esposito at Hot Corner," The Sporting News, April 4, 1956.
3 John C. Hoffman, "Chisox Show New Faces in Three Places," The Sporting News, April 11, 1956.
4 Ibid.
5 David Condon, "Sox Jack of All Trades is Master of One," Chicago Tribune, March 5, 1959.
6 Edgar Munzel, "Chisox Find New Third Sacker in 'Forgotten' Sam," The Sporting News, July 17, 1957.
7 "Sammy's Medicine Show — Magic Stops and Juggling" (Pictorial Feature), Chicago Tribune, July 26, 1957.
8 Chicago Daily Defender, July 16, 1957.
9 Condon.
10 Richard Dozer, "Homers Help Pierce Beat Boston, 3-2," Chicago Tribune, June 22, 1959.
11 Richard Dozer, "Yanks Beat White Sox, 6-4; Orioles Lose, 3-2," Chicago Tribune, September 8, 1960.
Born
December 15, 1931 at Chicago, IL (USA)
Died
July 10, 2018 at Newland, NC (US)
If you can help us improve this player's biography, contact us.
http://bioproj.sabr.org/bp_ftp/images5/EspositoSammy.JPG
600
800
admin
/wp-content/uploads/2020/02/sabr_logo.png
admin
2012-01-04 19:54:22
2012-01-04 19:54:22
Sammy Esposito