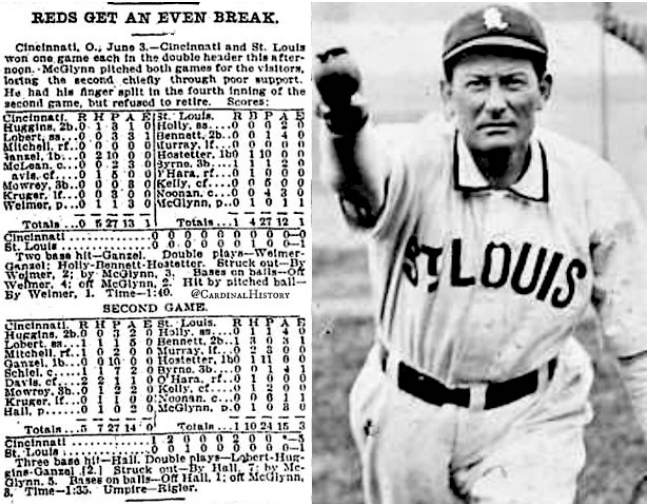 ---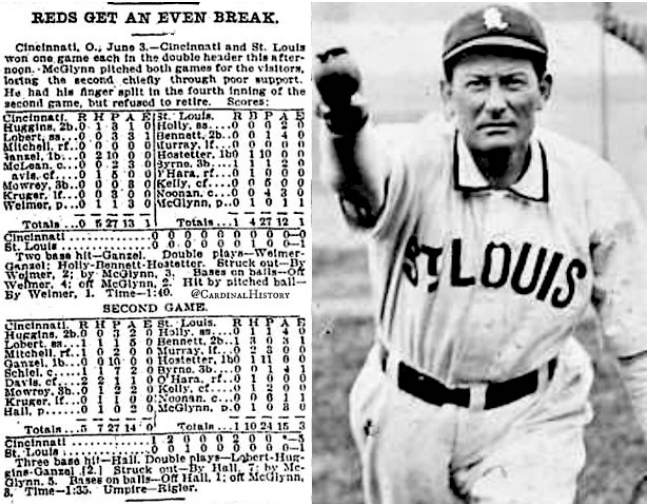 Ulysses Simpson Grant "Stoney" McGlynn pitched one full season in the major leagues at age 35 and lost 25 games for the cellar-dwelling St. Louis Cardinals. But he set National League records for work – innings pitched, batters faced, and complete games – while winning 14 games and completing 33 starts. For more than 30 years, McGlynn was called the "Iron Man of Baseball" for his durability as a semiprofessional, minor-league and major-league pitcher who pitched both ends of doubleheaders and extra-inning marathons that produced glorious victories and agonizing defeats.
He was born on May 26, 1872, in Lancaster, Pennsylvania, one of eight children of Anthony (1825-1874) and Anna E. McGlinn (1834-1906). His father served as a Union infantry private in the Civil War and worked as a carpenter in Lancaster. McGlynn's grandfather, Anthony McGlinn Sr., was a mortician in the city. Anna Elisabeth was born in Charleston, South Carolina, and raised the children.1
"Grant" broke into baseball at the age of 15, earning $10 as an emergency catcher for Easton of the Pennsylvania State League, later signing for $125 a month. He caught for his high-school team in Carlisle, Pennsylvania, and played catcher, shortstop, and third base for Cumberland Valley, a Pennsylvania-based semiprofessional team. In 1895, McGlynn played shortstop and third base for Harrisburg in the Pennsylvania State League. When he pitched the first of 399 games over a five-year period, McGlynn struck out 22 batters in an astounding victory.2
On September 12, 1895, McGlynn married Bertha Bousum at Harrisburg, Pennsylvania. They had one son, Charles G. (1903-1975), a star pitcher for the Manitowoc Vans of the Lake Shore League in the 1920s and early 1930s who became director of purchasing at Mirro Aluminum Co. of Manitowoc, and two daughters – Ida, who worked for the local M&M Printing Company, and Marguerite, a member of the Cobb's Musical Comedy Co. in Prairie du Chien, Wisconsin.3
Little is known about McGlynn's career until 1899, when he pitched for the Susquehannas against Elizabethtown on June 4.4 In April 1900, the Harrisburg Telegraph reported that McGlynn was "considered one of the best all-round ball players in this city, and has a number of offers to play with amateur teams."5 McGlynn pitched for the Harrisburg Athletic Club for the next two seasons. In 1902, McGlynn played right field and first base for Lancaster until the Pennsylvania League folded in May. On July 20, he pitched for Harrisburg, losing 6-5. On August 22, McGlynn returned there as the opposing pitcher for the Chester, Pennsylvania, club, "enthusiastically greeted by his hosts of friends among the fans," and defeated his old club, 10-4.6
In 1903, McGlynn joined the York (Pennsylvania) Penn Parks of the independent Tri-State League. From 1904 through 1906, he won 94 games and lost 37. In 1904, McGlynn posted a 30-11 record and shut out Harrisburg, 1-0, on June 11, enduring hoots, jeers, the blasting of tin horns, and shouts through megaphones from a hostile crowd (perhaps upset over his defection to Chester two years earlier). His mother, a full-blooded Cherokee, cheered and clapped from the grandstand and McGlynn kept his eye on her throughout. "The shouts and jeers from the bleachers and grand stand didn't worry her," the Harrisburg Telegraph reported. "She wanted her son to win the game and he did."7
The Penn Parks won Tri-State titles in 1904 and again in 1906, when McGlynn won 36 and lost 10. On July 3, 1906, the Philadelphia Inquirer, reporting on McGlynn's 4-3 win for York over Lancaster, observed, "The iron man again proved his worth."8
McGlynn had repeatedly rejected offers to sign with Joe Cantillon's Washington Senators and refused to report to the Shreveport Pirates of the Southern League in 1905 and 1906 because of his contract with the York club. In the summer of 1906, McGlynn took $1,000 from the Class-D Steubenville Stubs of the Pennsylvania-Ohio-Maryland League. In the September 15 issue of Sporting Life, Washington correspondent Paul W. Eaton announced that the Senators had signed McGlynn but Shreveport invoked its contract with McGlynn and sent him to the St. Louis Cardinals. At age 34, McGlynn's major-league career began.
McGlynn pitched six complete games for the Cardinals from September 20 to October 7 and posted a 2-2 record. (Two games ended in ties.) A Sporting Life scribe wrote that McGlynn was "the oldest young blood that ever broke into the National League. 'Stony' shows his years in his face but not in his arm. He says he feels better now than he ever did and is good for ten years of active service."9 On September 24, he pitched a seven-inning no-hitter against the Brooklyn Superbas, a game that ended in a 1-1 tie that was cut short by darkness. On October 7, McGlynn pitched an 11-inning, 3-3 tie with the National League champion Chicago Cubs, seeking their 117th victory.
McGlynn considered quitting the game after becoming a police officer in York in November 1906, but he resigned and reported to the Cardinals' spring-training camp at Houston on March 1 after a brief holdout. "I got into Houston at four in the morning," McGlynn recalled years later. "I woke (Cardinals manager John J. McCloskey) and told him, 'Your iron man is here.' He bawled me out for having missed two weeks of training."10
"Stoney McGlynn is regarded by (McCloskey) as one of the greatest pitchers in the country," the St. Louis Post Dispatch reported, "and in pinches he is invincible."11 In 1907, McGlynn led the National League with 352⅓ innings, 39 starts, 33 complete games, and 1,426 batters faced. Of course, McGlynn also led the league in losses (25), hits allowed (329), earned runs allowed (114), and bases on balls (112). On April 27, he lost a 12-inning game to the eventual world champion Cubs, allowing just three singles in the first six innings.12 On June 3, McGlynn pitched two complete games in a doubleheader, winning the first game, 1-0, in 10 innings but losing the second, 5-1.13 "McGlynn might have pitched a dozen doubleheaders and won them in the Punktown League," the Post-Dispatch opined, "but in the National, where the brand of ball is a bit different, he should have been satisfied with his opening triumph."14
McGlynn had his share of "blowups" in the late innings and made wild throws that cost games, but many defeats came from a lack of offensive support or poor defense. Still, McGlynn was the Iron Man. On July 28, he pitched a 10-inning, 1-0 shutout in the first game of a doubleheader with Brooklyn. On August 10, he beat Boston, 3-2, pitching with a broken left index finger suffered in an August 6 exhibition game against Burlington (Iowa). In winning four of his last eight decisions, McGlynn beat the Cubs, 7-2, on September 1 at the West Side Grounds and pitched all 14 innings of a 4-4 tie with the Cubs on September 11 at Chicago. He finished with a 14-25 record and a 2.91ERA.
In January 1908, rumors flew about McGlynn returning to the York police force, buying his release from St. Louis or pitching in an outlaw league. The Cardinals also explored trading him for another Iron Man, Joe McGinnity of the New York Giants. They also coveted veteran infielder Hans Lobert of the Cincinnati Reds, who released two pitchers in hopes of acquiring McGlynn, but Lobert refused to go to St.Louis.15
McGlynn stayed in shape roller-skating during the winter months and McCloskey told writers that McGlynn and Bugs Raymond were ready for the season. The 1908 season proved otherwise. McGlynn managed one victory against six defeats, completing four of six starts and making 10 relief appearances. He worked only 75⅔ innings and faced only 316 batters. His iron-man work had apparently turned him into a rusty piece of scrap metal.
Instead, McGlynn became a record-setting Iron Man for the Milwaukee Brewers of the Class-A American Association in 1909. Reunited with manager McCloskey, McGlynn tossed a record 14 shutouts, won 27 of 48 decisions and worked 446 innings as Milwaukee won 90 games and finished second, 2½ games behind the Louisville Colonels. On May 9, McGlynn blanked the Colonels, 6-0. Eleven thousand fans filled Milwaukee's Athletic Park stands or sat four-deep in the outfield. A 2-0 shutout of Minneapolis on May 28 gave the first-place Brewers a four-game lead over Louisville. In early June, McGlynn took "an enforced vacation" because of a hip injury and a stomach disorder, then returned June 30 to win three straight games in one week, including two more shutouts, one of them a one-hit gem at home against the Colonels.16
On July 21, McGlynn beat Louisville twice in one day, 9-1 and 3-2, to put the Brewers within one game of first place. "I suppose that the people back home will jump on McCloskey for overworking me," McGlynn said. "Overworking, nothing, why when I am feeling good I could work every day and Mac never has to force me into a game." McGlynn believed four or five days' rest caused pitchers' arms to stiffen up. He claimed never to have had a sore arm because of his practice of putting his prize pitching tool under a hot shower until it turned red.17
On September 15, McGlynn pitched both games of a doubleheader against hard-charging Louisville, winning 5-2 and losing, 1-0. He started the next day but twisted an ankle on the pitching rubber in the first inning and left the game. He returned on the 20th and blanked Indianapolis, 1-0. Despite McGlynn's courageous work, the Brewers lost 16 of their last 21 games and finished second.
In January 1910, McGlynn signed with the Brewers for an undisclosed pay raise but the Iron Man slumped to 16-21 and Milwaukee won just 76 games. A June 1 article in the Green Bay Press-Gazette observed, "'Stoney' worked too hard in 1909, evidenced by the rough start in 1910."18 He had spent the offseason doing roller-skating stunts on the vaudeville circuit. After Milwaukee's April 6 exhibition victory at the University of Illinois, he performed at the Orpheum Theater in Champaign with pitcher Hippo Hammond, who sang baritone. Despite strong showings against the University of Illinois and Marquette University in spring training, McGlynn did not get the Opening Day starting assignment. Instead, Ralph Cutting ("another McGlynn," according to McCloskey), beat St. Paul, 2-1.19 Cutting, 21-game winner Bill Schardt, and newcomer Jack "Rube" Gilligan pushed McGlynn into a spot starter-reliever role.
McGlynn did not win his first game until April 28, when he beat eventual league champion Minneapolis, 3-2 in 10 innings. He pitched a 12-inning shutout at St. Paul on May 22, blanked Indianapolis on May 31, and hurled another 1-0 shutout of Columbus June 19 for his seventh victory.
McGlynn ended July losing two consecutive starts and endured hoots from home fans when he made an August 6 relief appearance. He rebounded in September, "steady as a Grand Avenue cop," beating Kansas City, 3-1 on September 4.20 Five days later, McGlynn fanned 11 St. Paul Saints in a 3-2 victory and beat them in relief the next day, driving in the winning run.21
In 1911, McGlynn won 22 games for player-manager Jimmy Barrett. The Milwaukee Sentinel reported that McGlynn "was as strong as a piece of twelve inch armor plate and he is never out of condition. The wing will probably retain all its strength and keenness for years."22 McGlynn shut out Indianapolis, 4-0, April 14, striking out eight, but did not win again until May 12, when he beat first-place Minneapolis, 5-2.23 It seemed all over for McGlynn when he was removed from an 11-5 defeat on May 16 and lost his next two starts. Not so. The Iron Man returned June 6 and tossed a two-hit, 1-0 shutout at St. Paul.24 On June 13, the "galvanized wonder" blanked Indianapolis, 6-0, and the June 14 Indianapolis Star account read, "Nay, nay, Pauline! Stoney McGlynn, the imperial steel man, is not ready for the scrap heap just yet."25
McGlynn abruptly left the team on June 23 after he missed a turn because of an apparent illness and the Brewers docked him several days' pay.26 On July 2, he returned and won both ends of a doubleheader at Columbus and won his next two starts. From July 14 to July 31, Stoney won six of seven decisions.27 A six-game losing streak ended on September 17 with another Iron Man performance. McGlynn won both games of a doubleheader from Indianapolis, 3-2 and 4-3.28 After another double win over Louisville on September 26, newspapers across the country crowed about the "Stone Man of old." On October 2, only darkness after four innings prevented McGlynn from claiming another twin bill over St. Paul at Milwaukee.29
On November 1, Barrett resigned as manager and Hugh Duffy took the reins. Stoney lost 8-1 at Toledo on April 11, 1912, made two relief appearances and was cut loose. The Indianapolis News reported McGlynn's release on April 30 as "the passing of one of the greatest pitchers that ever worked (in the American Association)."30
In May, the Brewers sold McGlynn to Mobile of the Southern Association but McGlynn instead moved to Manitowoc, Wisconsin, where he pitched for the Lake Shore League semiprofessional club. He was selected as the number 2 pitcher on the Lake Shore All-Stars, having signed with McCloskey's Ogden (Utah) Canners of the Class-D Union Association but not reporting.31 
Manitowoc skipper Jack Herzog expected McGlynn to sign with McCloskey's Salt Lake City club (Union Association) for 1913 after the Skyscrapers bought Stoney's contract from the Brewers. McGlynn spurned the offer, saying the salary would not cover his losses for moving west.32 He changed his mind, arrived in Salt Lake on July 31 and beat Great Falls, 4-2, on August 1, belting a three-run home run that landed 100 feet beyond the outfield fence.33 "Salt Lake at last has a baseball hero," the Salt Lake City Herald-Republican beamed. In mid-August McGlynn made four relief appearances in five days and regularly saved victories for the Skyscrapers, who were in a virtual tie with Great Falls (Montana) on September 6. The following day, McGlynn started, was removed in the fifth with the score tied, and Salt Lake lost to its rivals, 10-5.The lack of pitching depth cost the 75-47 club a pennant.
In 1914, the Brewers cut all ties with McGlynn, who returned to Manitowoc. On June 28, he pitched a 12-inning shutout against Sheboygan at the Manitowoc Fair Grounds that ended in a scoreless tie because of darkness. On August 16, McGlynn hurled another doubleheader against Sheboygan, winning the nightcap with a 2-0 shutout. The following season, McGlynn joined McCloskey at a new outpost – El Paso of the Rio Grande Association (the Union Association folded in 1914). He won seven of his first eight decisions but finished 9-9.
In March 1916, McGlynn became pitching coach for the University of Illinois and pitched for Manitowoc's Lake Shore League team that summer. He pitched his final game on September 2 and decided to retire and devote his energies to coaching college teams. In 1918 he applied to be an umpire in the American Association but learned there were no openings, so he umpired in the Lake Shore and Fox River Valley Leagues and in 1923, the new Wisconsin State League.34 In 1920, he became part owner of the Manitowoc Vans when manager John F. "Jack" Herzog retired. His son, Charles G., referred to as Stoney in the local newspapers, pitched for the club, firing eight no-hit innings in a Manitowoc victory on June 22.35 Young Charlie led Manitowoc to the 1928 Lake Shore title with a 16-6 record and once fanned 18 pitching for Sturgeon Bay of the Cherry League in 1924.36 Like father, like son.
The elder McGlynn continued to umpire through the 1920s, coached his employer's baseball team, the Aluminum Goods Co., in 1926, and became an executive as president of the eight-team Tri-State Amateur Circuit in 1928. The league included Manitowoc and seven other teams, mostly from southeastern Wisconsin and the Fox River Valley.37
He also became a hero. A lifeguard at Manitowoc's South Side bathing beach, McGlynn and a companion rescued two boys whose makeshift wooden raft had gone adrift from a strong west wind. A Northwestern Railroad switching crew saw the boys in peril and notified McGlynn, who boarded a rowboat from the beach and brought the boys to safety.38
In October 1931, "Stoney" McGlynn pitched his final game, an exhibition tilt at Milwaukee's Borchert Field, formerly Athletic Park. Seven years later, McGlynn attended a Milwaukee Brewers game at the same park and told their 23-game winner Whitlow Wyatt, "I hope you not only tie my record, lad, but go out and crack it," referring to the 14 shutouts McGlynn tossed in 1909. 39The Iron Man once said he could get $60,000 in 1930s dollars for his pitching skills. But baseball was more than money to someone who gave it all and more for good teams and bad. And he gave back to his new-found Manitowoc community right up to his death on August 26, 1941, at age 69. Fifty decisions and a losing record in the majors (17-33) do not measure this man, whose likes will never be seen again.
This biography is included in "20-Game Losers" (SABR, 2017), edited by Bill Nowlin and Emmet R. Nowlin.
Sources
In addition to the sources cited in the Notes, the author also consulted Baseball-Reference.com, Newspapers.com, and the El Paso Herald.

Notes
1 "Ulysses Simpson Grant 'Stoney' McGlynn," FindAGrave.com. Accessed June 6, 2017; Ancestry.com. Headstones Provided for Deceased Union Civil War Veterans 1861-1904. Ancestry.com. Headstones Provided for Deceased Union Civil War Veterans 1861-1904. ancestry.com/interactive/1195/MIUSA1879_113705-00044?pid=66415. Accessed June 5, 2017; Lancaster County Directory, 1869-70, Anthony McGlinn. Ancestry.com; Pennsylvania Death Certificates, 1906-1964, Anna Elisabeth McGlinn. Ancestry.com.  
2  "Penn'a League," Sporting Life, June 24, 1901: 13; Sporting Life. May 31, 1902: 9; "Penn Park Took 'Em Both." York (Pennsylvania) Daily, August 26, 1903: 5.
3 Obituaries – McGlynn. Manitowoc Herald-Times, July 18, 1975: 3; "Engagement of Young People Is Announced," Manitowoc Herald-Times, January 2, 1923: 8.
4 Harrisburg Telegraph, May 31, 1899: 5.
5 Harrisburg Telegraph, April 24, 1900: 2.
6 Harrisburg Daily Independent, August 23, 1902: 7.
7 "Five Out of Seven Lost to York." Harrisburg Telegraph, July 6, 1904: 9.
8 Philadelphia Inquirer, July 3, 1906.
9 "McGlynn No Youth," Sporting Life, October 20, 1906: 13.
10 Sam Levy, " 'Iron Man' Told Whit About Arm," Manitowoc Herald-Times, August 30, 1938: 8.
11 "Nie's Column," St. Louis Post-Dispatch, March 8, 1907: 14.
12 "Long Game Away," St. Louis-Post Dispatch, April 28, 1907: 36.
13 "June 3, 1907: Stoney McGlynn's Iron Man Pitching Performance in Cincy," in On This Day in Cardinal Nation – Preserving the Rich History of the St. Louis Cardinals, June 3, 2015. onthisdayincardinalnation.com/2015/06/june-3-1907-stoney-mcglynn-has-iron-man.html. Accessed February 22, 2017; "Reds Get Even Break," Cincinnati Enquirer, June 4, 1907.
14 "St. Louis Players Burn Up American Association," St. Louis Post-Dispatch, June 5, 1907: 14.
15 "National League News," Sporting Life, January 4, 1908: 3; Ren Mulford Jr., "National League News. In Grave Peril," Sporting Life, January 18, 1908: 3; "Chicago Chat. Condensed Dispatches," Sporting Life, May 30, 1908: 2;
16 Manning Vaughan, "M'Glynn Holds Night Riders to One Hit," Milwaukee Sentinel, July 1, 1909: 10.
17 Milwaukee Journal, July 24, 1909. See also Dennis Pajot's The Milwaukee Brewers 1902-1919 at SABR.org, file on the 1909 Milwaukee Brewers, page 10. Accessed February 8, 2017.
18 "Too Much Work Hurts Pitchers, Green Bay Press-Gazette, June 1, 1910: 7.
19 "Brewers Win From Collegians, 6 to 2," Milwaukee Sentinel, April 7, 1910: 8; "Brewers Take First Game from St. Paul," Milwaukee Sentinel, April 14, 1910: Home Edition: 2.
20 Manning Vaughan, "Macmen on Top in Two Games," Milwaukee Sentinel, September 5, 1910: 2.
21 Manning Vaughan, "Late Rally Gives Brewers 3-2 Win," Milwaukee Sentinel, September 10, 1910: 6; "Brewers Win Half of Doubleheader," Milwaukee Sentinel, September 11, 1910: Part 2, Sporting: 1.
22 Manning Vaughan, Milwaukee Sentinel, March 12, 1911: 6.
23 H.G. Copeland, "M'Glynn Deceives Burke's Sluggers," Indianapolis Star, April 15, 1911: 10; Fred R. Coburn, "Millers Are Again Beaten by Milwaukee," Minneapolis Star Tribune, May 13, 1911: 20.
24 "Another 'Dry' Victory," Kansas City Times, May 17, 1911: 10; "McGlynn in Form," Coshocton (Ohio) Morning Tribune, June 7, 1911: 2; Milwaukee Sentinel, June 7, 1911: 6.
25 "Jinx? No, Just S. M'Glynn Again," Indianapolis Star, June 14, 1911: 8.
26 "M'Glynn Leaves the Milwaukee Team," Louisville Courier-Journal, June 24, 1911: 11.
27 Dennis Pajot. Milwaukee Brewers 1902-1919. 1911 Milwaukee Brewers; "M'Glynn Wins Close Contest," Indianapolis Star, July 15, 1911: 8; "Iron Man Humbles Burke's Redskins," Indianapolis Star, August 1, 1911: 8.
28 "M'Glynn is Victor in Doubleheader," Indianapolis Star, September 18, 1911: 8.
29 "Colonels Lose Two More Games," Louisville Courier-Journal, September 27, 1911: 7; "Sunday Marks Close of Association; Game of Horse Play," Eau Claire (Wisconsin) Leader, October 3, 1911: 3.
30 "McGlynn Passes From A.A.," Indianapolis News, April 30, 1912: 12.
31 "Baseball Notes," Frederick (Maryland) Post, June 1, 1912: 6; "Little Bits of Baseball," Pittsburgh Press, June 7, 1912: 26.
32 "Stoney M'Glynn Refuses to Come to Salt Lake," Salt Lake Herald-Republican, March 21, 1913: 8.
33 "Stoney M'Glynn's Pitching and Homer Wins 4 to 2 Game," Salt Lake Herald-Republican, August 2, 1913: 10.
34 "Stoney McGlynn Named Umpire in Lake Shore League," Sheboygan Press, June 28, 1919: 3; "McGlynn Will Umpire in New State League," Manitowoc Herald-Times, April 13, 1923: 9.
35 "Herzog to Quit Baseball, Sells Out Franchise," Sheboygan Press, April 24, 1920: 3; "Pitched Good Game," Wausau Daily Herald, June 23, 1920: 2.
36 "Bits of Sports Gossip," Manitowoc (Wisconsin) Herald-Times, October 2, 1928: 6; "McGlynn Fans 18, Allows 3 Hits," Manitowoc Herald-Times, May 31, 1924: 9.
37 "Stoney McGlynn is President of Amateur Loop," Capital Times (Madison, Wisconsin), April 7, 1928.
38 "Stoney McGlynn in Boat Saves Drifting Pair," Manitowoc Herald-Times, July 25, 1928: 1.
39 Sam Levy.
Full Name
Ulysses Simpson Grant McGlynn
Born
May 26, 1872 at Lancaster, PA (USA)
Died
August 26, 1941 at Manitowoc, WI (USA)
If you can help us improve this player's biography, contact us.
https://sabr.org/sites/default/files/stoney.png
600
800
admin
/wp-content/uploads/2020/02/sabr_logo.png
admin
2012-01-04 20:29:59
2021-07-15 19:11:56
Stoney McGlynn