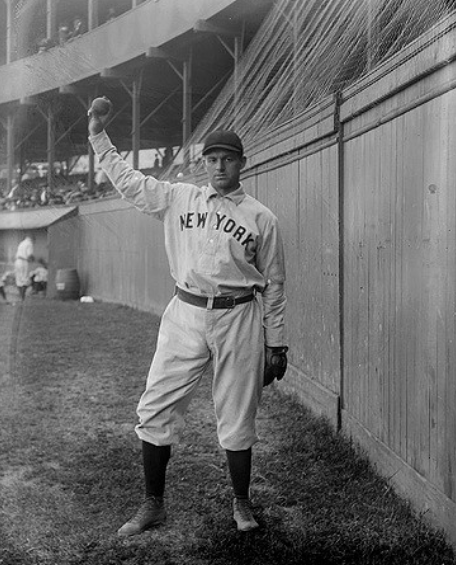 Joe McGinnity was truly an "Iron Man" in almost every sense. Though he said that the nickname came from his off-season work in his wife's family business, an iron foundry in McAlester, Oklahoma, McGinnity became famous for pitching both ends of doubleheaders and led his league in innings pitched four times in the five seasons from 1900 to 1904. He was also an "Iron Man" in terms of longevity: he pitched professionally until age 54, racking up 246 wins in the major leagues and another 240 in the minors, a combined total topped only by Cy Young. A stocky 5'11" right-hander, McGinnity for most of his career weighed a good deal more than the 206 lbs. that is listed in record books. He owed his durability to a style of delivery that saw him alternate between overhand, sidearm, and a wicked underhanded curve that he called "Old Sal." "I've pitched for 30 years and I believe I've averaged over 30 games a season, and in all my experiences I've never had what I could truthfully call a sore arm," Joe confided.

Joseph Jerome McGinty (he changed his last name to McGinnity as an adult) was born on March 19, 1871, in Cornwall, Illinois. His early minor-league career gave no indication of the success to come: in 1893-94 he was a combined 21-29 for Montgomery of the Southern Association and Kansas City of the Western League, with more walks than strikeouts and far more hits than innings pitched. Returning to Springfield, Illinois, McGinnity operated a saloon and built a reputation as a tough character, serving as his own bouncer when the need arose. He also pitched at the semipro level for the next three years, and it was then that he discovered Old Sal, the pitch that changed his career. In 1898 McGinnity returned to professional baseball with Peoria of the Western Association, going 9-4 with fewer hits (118) than innings (142) and more strikeouts (74) than walks (60) for the first time in his professional career.

The following year McGinnity made his National League debut with the Baltimore Orioles, establishing himself from the start as a dominant pitcher. The 28-year-old rookie was 28-16, leading the NL in wins and ranking second in games (48), fifth in ERA (2.68), and fourth in innings pitched (366.1). In one stretch in October McGinnity appeared in every game that week, winning five games in six days. In 1900 Joe joined the Brooklyn Superbas, as did several other Orioles, but the change in cities made no difference in his winning ways. His 28-8 record gave him the NL lead in wins for the second time in as many seasons, and for the first time he led the league in innings pitched with 343. After the Superbas captured the NL pennant, McGinnity led them to a three-games-to-one victory over the Pittsburgh Pirates in the Chronicle-Telegraph Cup by pitching two complete games without allowing a single earned run.

Turning down an offer of almost twice as much to return to Brooklyn, Joe McGinnity signed for $2,800 with the Baltimore franchise in the new American League, managed by his old manager-teammate on the 1899 Orioles, John McGraw. McGinnity's career almost ended on August 21, 1901, when he spat tobacco juice in the face of umpire Tom Connolly, precipitating an on-field donnybrook that led to the ejections of teammates Mike Donlin and Bill Keister, as well as Detroit's Kid Elberfeld. McGinnity was arrested and hauled before a judge, but his bigger concern was AL president Ban Johnson, who wanted his league free from brawls, especially of the umpire-baiting variety. Initially Johnson announced that he was permanently suspending the burly pitcher, but he reduced the suspension to 12 days when a penitent McGinnity agreed to apologize to Connolly. Joe made up for lost time by pitching both halves of two September doubleheaders, earning split decisions in each. Despite mediocre support, he finished the season at 26-20 and led the AL in games (48), complete games (39), and innings pitched (382).

McGinnity started 1902 in Baltimore but followed McGraw to New York in mid-July. The following year, his first full season with the Giants, he again led the NL with 31 wins and pitched an incredible 434 innings, a league record that will probably stand forever. That August McGinnity recorded his most extraordinary feat by pitching complete games in both ends of three doubleheaders, winning all six games. After the last of the three, the New York Times reported that he showed "no signs of fatigue--in fact, he seemed fresh enough to tackle the visitors for a third contest if that were necessary." The rough-and-tumble McGinnity, who hit opposing batters at the alarming rate of one for every 19, differed greatly from his refined teammate Christy Mathewson, but the two combined for 73% of the Giants' victories in 1903, making them the 20th century's most successful pitching tandem. The following year McGinnity enjoyed his greatest season, leading the Giants to the pennant by winning 14 consecutive games en route to a 35-8 record. Again he led the NL in games (51) and innings pitched (408), but he also paced the circuit in shutouts (9), saves (5), and ERA (a career-best 1.61).

Mathewson replaced McGinnity as the NL's best pitcher in 1905, but the Iron Man contributed 21 wins to another pennant-winning season. The Giants had five pitchers who won at least 15 games that season, but McGinnity started two of the five World Series games against the Philadelphia Athletics. He lost Game Two to Chief Bender by giving up three unearned runs on six hits, but he bounced back in Game Four to pitch a five-hit shutout, winning 1-0. In 1906 McGinnity reclaimed the NL lead in wins with 27 even though he missed 10 days in July while serving another suspension. This time his antagonist was Pittsburgh Pirates catcher Heinie Peitz, with whom he'd been exchanging verbal insults for quite some time. After reaching his breaking point, McGinnity gave chase to Peitz, caught up with him, threw him to the ground, and began punching him. When the dust settled, NL president Harry Pulliam levied a series of fines and suspensions, the heaviest to McGinnity for what Pulliam called "attempting to make the ball park a slaughterhouse."

The 37-year-old McGinnity finished 1907 with an 18-18 record, his only non-winning season in the majors. His ERA increased almost a full run to 3.16 and he yielded more hits than innings for the first time since 1901, prompting reporters to speculate that he was past his days of big-league usefulness. McGinnity missed the start of the 1908 season, suffering from a severe fever at his home in McAlester. He didn't pick up his first win until May 30, and shortly thereafter John Brush, the Giants owner, put him on waivers to try to rid himself of the big pitcher's "ironclad" $4,000 salary (he also received a $1,000 bonus). Brush tried again on August 22 but again found no takers. That afternoon McGraw called on McGinnity after Red Ames walked the first two Reds batters "and the Iron Man performed in his 1903 style," wrote Jack Ryder in the Cincinnati Enquirer. "Isn't baseball a funny proposition? Here is a pitcher the Giants are trying to give away. Necessity forces his use a few hours after the gift proposition is made, and the old boy works like a Mathewson." McGinnity pitched well for the rest of the season, ending up at 11-7 with five shutouts, a league-leading five saves, and a 2.27 ERA.

Down the stretch of that 1908 season, McGinnity played interesting roles in two of the most famous games in history. In the Merkle Game, he quickly recognized what the Cubs were up to so he recovered the ball hit by Al Bridwell and threw it out of the Polo Grounds to prevent Johnny Evers from retrieving it and tagging second base. Evers obtained a loose ball from somewhere, probably the Cubs dugout, and umpire Hank O'Day ruled in favor of the Cubs, necessitating a one-game playoff at the end of the season. "Before the game we talked over in the clubhouse how in the world we could get Chance out of there," recalled Fred Snodgrass of the Giants. "Matty was to pitch for us, and Frank always hit Matty pretty well. So it was cooked up that Joe McGinnity was to pick a fight with Chance early in the game. They were to have a knockdown, drag-out fight and both would get thrown out. Of course, we didn't need McGinnity, but they needed Chance. McGinnity did just as he was supposed to. He called Chance names on some pretext or other, stepped on his toes, pushed him, actually spit on him. But Frank wouldn't fight. He was too smart. And they beat us, with Chance getting a key hit."

On February 27, 1909, the Giants finally released McGinnity, but that ended only phase one of his baseball career. He went on to spend another 14 seasons in the minors, becoming part-owner and player-manager of teams in Newark, Tacoma, Butte, and Dubuque. At Newark the Iron Man went 29-16 in 1909 and set all-time Eastern League records for innings pitched (422) and shutouts (11). He also continued his doubleheader pitching ways, winning both ends on August 27, 1909, and July 23, 1912. McGinnity racked up five 20-win seasons and one 30-win season in the minors before pitching his last game in Organized Baseball in 1925 at the grand old age of 54, hurling for Springfield, Illinois, where he'd discovered Old Sal some 30 years earlier. In 1926 he joined old teammate Wilbert Robinson as a coach with the Brooklyn Dodgers.

In the spring of 1929 Joe was helping out with the Williams College baseball team when he became ill and returned to Brooklyn where his daughter lived. He died there at age 58 on November 14, 1929, and was buried next to his wife in McAlester. Joe McGinnity was inducted into the National Baseball Hall of Fame in 1946.


Note: A slightly different version of this biography appeared in Tom Simon, ed., Deadball Stars of the National League (Washington, D.C.: Brassey's, Inc., 2004).

Sources

For this biography, the author used a number of contemporary sources, especially those found in the subject's file at the National Baseball Hall of Fame Library.