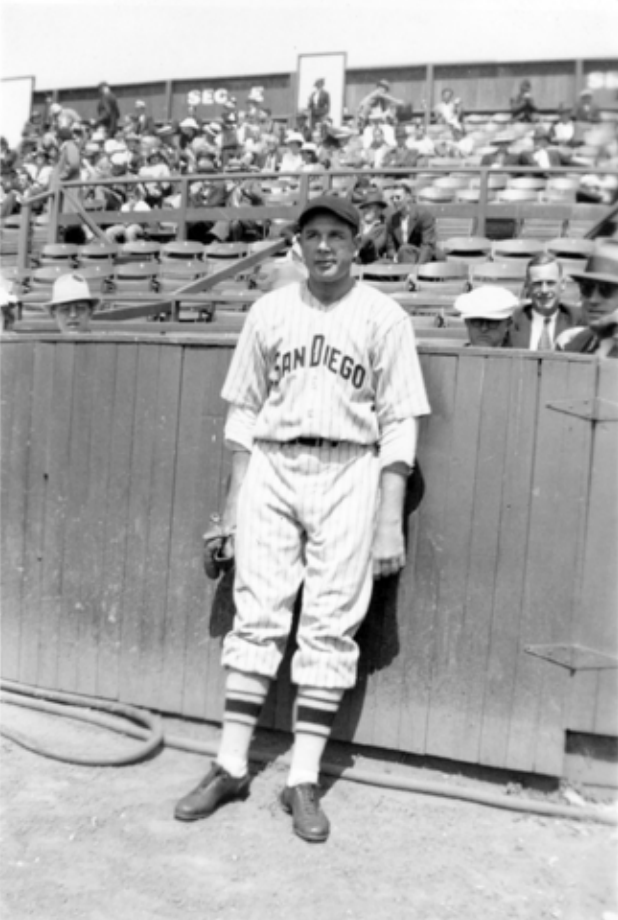 ---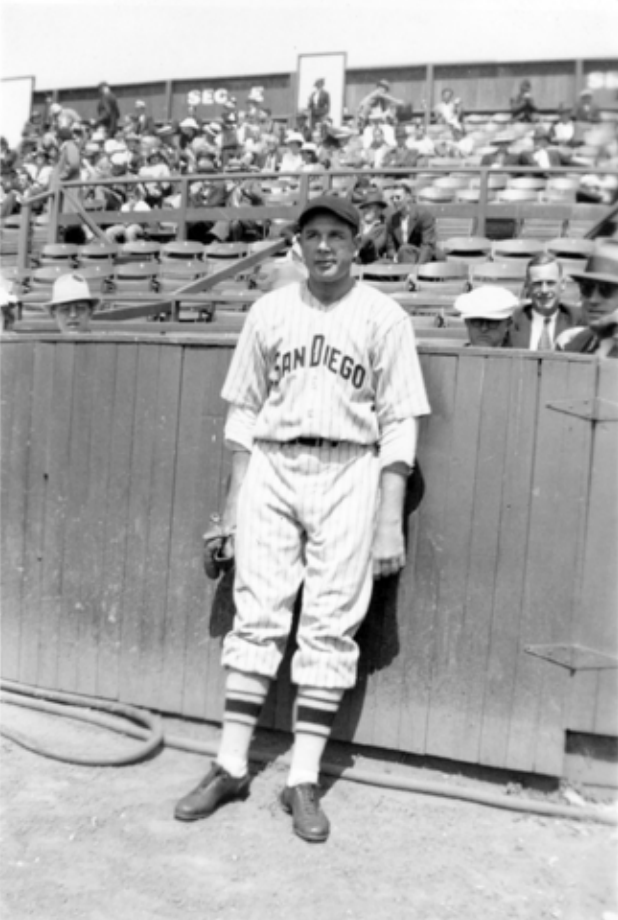 Baseball has always loved an underdog. Rugged southpaw Wally Hebert gave fans across the nation during the Great Depression what they craved, at least for a short while: a story about David defeating Goliath. Hebert went from the sandlots of Louisiana in 1929 to the St. Louis Browns and the big leagues in 1931. In his first start, he tossed a complete-game victory to beat Connie Mack's two-time-reigning World Series champion Philadelphia A's. Three more distance-going victories followed in rapid succession, including another against the A's, and one against the New York Yankees in the Big Apple, thrusting the hurler into the national spotlight. Despite his auspicious start, Hebert won only seven more games in three seasons with the Browns before being sold to the Hollywood Stars in the Pacific Coast League. At the age of 35, Hebert was back in the majors, as a wartime player with the Pittsburgh Pirates in 1943, winning 10 games.
Save for 14 springs and summers playing professional baseball, Wallace Andrew Hebert spent his entire life living on the bayous in the extreme southwest corner of Louisiana. On August 21, 1907, he was born in a small rural community in Cameron Parish near Sweetlake, on the outskirts of the swampy marshes that defined the landscape.1 His parents were John Aurelian and Matilda (née Smith) Hebert, hardworking country folk who welcomed eight children (three boys and five girls) into the world over a period of almost two decades. When Wally was still a toddler the Heberts moved to nearby Big Lake, and finally settled in Lake Charles, then a city of about 10,000. Around the time Wally was in first grade at Fourth Ward School, his classmates began calling him "Preacher" for the hat he wore; locals said it looked like a hat a preacher would wear. That peculiar moniker stuck, and forever thereafter, Hebert was known to friends and family as Preacher.
"My father was from a poor Cajun family," said Hillene Hebert Deaton. "They'd go out into the swamps and hunt and fish."2 In a time when money was scarce, the Heberts were independent and self-reliant. What they lacked in formal education, they made up for in an acute understanding of nature. Hebert's other daughter, Linda Todd Hebert, told the author a story that seemed to capture her father's determination, courage, and spirit, but also served as a snapshot of an era that might be hard to imagine today.3 At about the age of 13, Hebert went with his father into the swamps to hunt alligators, then considered a nuisance because they preyed on muskrat, mink, and other lucrative fur-bearing animals that could be sold. A nearby wealthy landowner paid the Heberts a premium for all the alligators they could kill and skin. After a few days his father returned home and left his son to fend for himself. Living in an old dilapidated houseboat, the teenager spent the nights in a thin hand-carved canoe tracking down the dangerous beasts and then blasting them with his shotgun. When the youngster returned home a few months later, continued Linda, he had grown about six inches and his mother barely recognized him.
Hebert's interest in baseball began around 1920 when Connie Mack's A's conducted spring training in Lake Charles for two seasons. The teenage Hebert was often at the park, hustling balls from the players. After getting his start in baseball on local sandlots, Hebert emerged as a four-sport star at Lake Charles High School, moving between baseball, football, basketball, and track as the seasons progressed. "I never dreamed of playing pro baseball," Hebert once said. "I just played for fun."4 Hebert left school after the 11th grade and soon thereafter began working for a gas company, Gulf State Utility, which sponsored a team in a local semipro league. Hebert, who had grown to a stout 6-feet-1 and almost 200 pounds, distinguished himself on the mound with his strong left arm. In a tournament in Houston against other Gulf State teams in 1929, Hebert caught the attention of Ray Cahill, a scout for the St. Louis Browns. By the end of the summer, Cahill had signed Hebert to a contract.
Hebert's career in Organized Baseball got off to a thunderous start with the Springfield (Illinois) Midgets in the six-team Class-C Western Association in 1930. In his first professional game, and the Midgets' season opener on April 24, Hebert tossed a resounding 15-inning complete game to defeat the Joplin Miners, 5-2.5 Described as "nigh unbeatable in the first half," Hebert came down with arm fatigue in the second half of the season, finishing with a 15-16 record and logging 241 innings.6
Hebert got the surprise of his life when the St. Louis Browns invited him to spring training in West Palm Beach in 1931. The Browns had enjoyed their best decade in the 1920s, posting winning records in five campaigns and finishing in the first division seven times; however, skipper Bill Killefer's squad fell to 64-90 in 1930 and had the worst pitching staff in the AL. Ordinarily an untried green recruit from the low minors like Hebert would not get a look-see in camp; however, with only one other southpaw on the staff, 20-game winner Lefty Stewart, Killefer thought Hebert might serve as a good batting-practice pitcher. Hebert quickly made an impression. "[I] have lots of confidence in the young man," said Killefer.7 "The kid has a deceptive delivery and a good knowledge of pitching."8 Notwithstanding his success, Hebert had no inkling that he'd make the club. "I was supposed to be moved up to Wichita Falls in the Class A leagues," said Hebert, "but at the last moment in spring training … Killefer told me that I was going to stay."9
Hebert didn't mind spending the first six weeks of the regular season primarily tossing BP. "[I]t's good to be in the big leagues," he said enthusiastically. "Take Springfield. We played night baseball, then climbed into a bus and drove darn near all night to the next stop." The first night game in the history of professional baseball took place on April 28, 1930, when the Independence (Kansas) Producers hosted the Muskogee (Oklahoma) Chiefs at Riverside Park in the Class-C Western Association in 1930.10 The only time Hebert took the mound in a game during that stretch was on May 1 in the "Baseball Palace of the World," Comiskey Park in Chicago. "I was so nervous that my teeth rattled," said Hebert. "I walked Lu Blue, the first man up."11 After catcher Rick Ferrell picked Blue off first, Hebert retired the next two batters.
Hebert began to see more action when the Browns kicked off a grueling three-week, season-longest 20-game Eastern road swing on May 26. After hurling 2⅔ innings of scoreless relief against the New York Yankees in two outings and another scoreless frame against the Boston Red Sox, Hebert had what sportswriter George Mackay called his "baptism of fire" by making his maiden big-league start against the reigning two-time World Series champion Philadelphia A's on June 11.12 He held the slugging A's to seven hits and two runs (one earned) in a complete-game victory, 8-2, and also collected his first hit. His name suddenly graced the front pages of sports sections across the nation. In the grand baseball tradition of obfuscating age, Hebert was hailed as a teenage wonder even though he was 23 years old. St. Louis sportswriter L.C. Davis was moved to write a poem about Hebert's unlikely feat:
Fans, Meet Mr. Hebert.
Young Wallace Hebert, Brown recruit,
Put on his junior baseball suit,
And neatly trimmed the A's.
When Wallace gave the Browns a leg,
And moved his playmates up a peg,
The fans were in a daze.
The world-renowned White Elephants
Could do but little with his slants,
And proved an easy mark.
Though Wally was still in his teens,
He spilled the scrapple and the beans,
All over Connie's park.
The A's were eating from his mitt,
And as the pill they couldn't hit,
He had them on the run.
Not only that, the useful ace,
Struck Simmons out with three on base,
A thing that's seldom done.13
After a rough outing against the Senators in the nation's capital (seven runs in 6⅔ innings), Hebert became the talk of the baseball world by tossing three consecutive complete-game victories in eight days at Sportsman's Park in St. Louis. He downed the Yankees, 8-2, the A's, 6-5, and the Boston Red Sox, 5-4. Sportswriter John Nolan described him as a "cool, accomplished chucker,"14 while John Wray of the St. Louis Post-Dispatch opined that "Hebert's 'arrival' at this time may be the turning point for the Browns."15
A level-headed Hebert took his new-found notoriety in stride. "I ain't got much speed," he said in a Southern drawl with a twinge of the Cajun-French accent that remained with him his entire life. "I just try to fool 'em. I got a good hook, though, then I try to give 'em the change of pace."16 Never a hard thrower despite his robust stature, Hebert had a deceptive sidewinding delivery that was hard for batters to time. He also hid the ball easily in his big left hand. Killefer once described Hebert's hands as the biggest he'd ever seen, which punctuated long, "gangling" arms.17
Sportswriters had a field day with Hebert's name and heritage. The Post-Dispatch, playing on the stereotype of flaky left-handers, noted that Hebert "has but one eccentricity," namely the pronunciation of his name.18 His name was pronounced "Ay-Bare," the paper often reminded readers, and not "Hee-burt" as everyone called him, and was widely reported as the first Cajun big leaguer.
Hebert's three-week fairytale began to unravel in July. He lost five of his next six starts. According to Killefer, "a lump almost as large as an egg" formed under "Hebert's shoulder blade" during a rainy game in Washington on July 23, and the pitcher was never the same thereafter.19 Confined mainly to the bullpen and little used in the last two months of the campaign, Hebert tossed a darkness-shortened eight-inning complete-game 8-3 victory against the Chicago White Sox to finish his rookie season with a 6-7 record and a 5.07 ERA in 103 innings.
Coming off a dismal 63-91 record and fifth-place finish in 1931, Killefer expected Hebert to join Sam Gray (11-24), Lefty Stewart (14-17) and George Blaeholder (11-15) to form a durable quartet of starters in 1932. "I am banking a great deal on Wallace Hebert," said Killefer. "He seemed to find himself all of a sudden last year."20 Stewart, Hebert's road roommate, also predicted success; "[H]e's got what most southpaws lack — control."21 In his first appearance of the season, Hebert tossed 11⅓ innings and yielded only one earned run in heartbreaking walk-off 3-2 loss to the Detroit Tigers on April 16 at Navin Field. After retiring just one batter and surrendering four runs in his next start, Hebert was moved back to the bullpen, and occasionally made a spot start. He struggled with shoulder pain the entire season; terrible swelling made it difficult for him to raise his arm into a windup. In a trying season, Hebert lost his first eight decisions, and finished the campaign with an unsightly 1-12 record. In his lone victory, he was whacked for 13 hits and seven runs (three earned) in 7⅔ innings against Detroit on July 24, but made up for it by clubbing four hits and scoring three times.
His 6.48 ERA (in 108⅓ innings) was easily the highest in the majors among pitchers with at least 100 innings. Despite the Browns' identical record from the previous season and his own personal hurling struggles, Hebert kept a positive attitude, and was typically described as a popular player with fans and teammates alike. "I probably should have had a couple more years in the minors before going up," he said, looking back on his career in retirement.22 Though some baseball players have had success after just one year in the minors, few, if any, made the monumental jump from one season in Class C to find success in the majors.
When the Browns' cash-strapped owner, Phil Ball, sold the club's three best players, Lefty Stewart, future Hall of Fame outfielder Goose Goslin, and outfielder Fred Schulte, to the Senators for three players and cash in the offseason, Brownie fans knew it would be another long summer in 1933, and it was. The Great Depression had hit the Gateway City hard, with unemployment running at over 30 percent, and the Browns acutely felt its effect. They had averaged a major-league low 1,501 spectators per game in 1932; in 1933 that number dipped to 1,144, marking the eighth of 18 consecutive seasons that the Browns ranked last in the AL in attendance. The departure of Hebert's roommate seemed to open the door for the 25-year-old hurler, but he struggled in spring training and was confined to the far end of the bullpen when the season opened. He made his first start on May 20 against the left-handed-heavy Yankees in the Bronx. With "great perspicacity and redoubtable effect," wrote St. Louis scribe Allen Gould, Hebert set down the reigning World Series champions on six hits in a distance-going outing, 4-2.23 Two starts later, he tossed a complete-game eight-hitter to beat the Tigers, 3-1, in the Motor City. Soon thereafter he came down with a sore shoulder again.
After he yielded 25 earned runs over a stretch of 18⅓ innings (June 19-July 11), Killefer lost confidence in him; by that time the Browns were firmly entrenched in the AL cellar. Ball tried to make a splash by signing an aging Rogers Hornsby as player-manager on July 26, the day he was released by the Cardinals. "If you'd talk baseball, you'd get along with him good," said Hebert about the Rajah, whose contempt for pitchers was well known. "If you'd change the subject, he'd move on."24 With only three appearances in the final month of an abysmal season, Hebert could see the writing on the wall. On December 14 he was shipped to the Hollywood Stars of the Double-A Pacific Coast League along with flychaser Smead Jolley and middle infielder Jim Levey for shortstop Alan Strange. "I hadn't been pitching regular with the Browns," said Hebert (4-6, 5.30 ERA in 88⅓ innings). "I didn't feel bad at all about going to Hollywood, … I always liked pitching in warm weather."25
With the balmy climate and six-month baseball seasons with as many as 180 games, the PCL afforded Hebert the chance to pitch regularly. His combined record of 21-28 in his first two seasons with the Stars did not portend his subsequent success and his emergence as a future three-time 20-game winner. One of Hebert's biggest highlights during his years in Tinseltown was a cameo appearance in the film Alibi Ike (1935), a romantic comedy based on a Ring Lardner story. Actor Joe E. Brown starred as Frank Farrell, a rookie pitcher for the Chicago Cubs, who aggravates both his manager and fiancée with his crazy alibis and excuses en route to trying to lead his team to the pennant. Director Ray Enright filmed game action at Wrigley Field, located about 10 miles from Hollywood in south Los Angeles; the stadium, owned by the Wrigley family who also owned the real-life Chicago Cubs, was a popular place to film baseball movies. About 18 professional baseball players made cameos in Alibi Ike, but none had speaking roles, nor were they listed in the credits. "My father put his foot on the running board of a car," said Linda Todd Hebert with a chuckle. "He was in the film for a nanosecond."
Hebert's career took off when Stars owner Bill Lane relocated the team to San Diego and rechristened them the Padres for the 1936 season. For years, the Stars had played second fiddle to the city's other, more successful PCL club, the Wrigley-owned Los Angeles Angels, and had played in the Angels' home park, Wrigley Field. Player- manager Frank Shellenback, one of the most successful minor-league pitchers in history with 316 victories, including 296 in the PCL, took Hebert under his wing. The arrival of 18-year-old Ted Williams on the team in 1937 marked a magical season for the Padres. Hebert tossed his first and only no-hitter, against the Valley All-Stars in an exhibition game at the Padres' home stadium, Lane Field, a former Navy athletic field that had been renovated as part of a Works Progress Administration project. The Padres went on to win the PCL championship, sweeping the Portland Beavers in four games. As of 2016, it was the only championship in the history of professional baseball for a team in San Diego. Hebert went on to win 20 games in 1939, 22 in 1941, and 22 in 1942 while also hurling 33 complete games and logging 319 innings. After enduring rumors in previous seasons that he'd be sold to a major-league club, Hebert finally got another chance on the big stage when the Pittsburgh Pirates acquired him in the Rule 5 draft on November 2, 1942. The Pirates, who had conducted spring training in San Bernardino, had regularly faced the hurler in exhibition games.
At the Pirates camp, which had been relocated to Muncie, Indiana, because of wartime travel restrictions, Hebert quickly showed that he was not the same pitcher he had been during his first stint in the big leagues. Possessing the confidence inspired by 147 wins in the PCL, Hebert was a crafty, now 35-year-old southpaw, but still relied on his curves, changeups, and good control, kept the ball low, and pitched to contact. Pirates skipper Frankie Frisch, coming off a lackluster 66-81 season, looked to Hebert to replace the club's only southpaw, Ken Heintzelman, who was now in the Army. In his second start of the season, Hebert blanked the Chicago Cubs on six hits to record his first and only big-league shutout, 3-0, in the first game of a doubleheader at Forbes Field on May 2. He concluded the month with a 10-inning complete-game victory over the Phillies, 2-1, in the Smoky City. Hebert finished the season with a misleading 10-11 record; his 2.98 ERA (in 184 innings) was much better than the 3.42 league average. He also completed 12 of 23 starts, and relieved in 11 others for the fourth-place Bucs (80-74). Despite his success, he clashed with Frisch, renowned for his hothead demeanor. He objected to the Fordham Flash's penchant to juggle his pitchers to play for matchups, and thought it disrupted his continuity.
Hebert returned to Lake Charles in the offseason, as he had done every year since 1930, but this time it was different. He knew his career was over even though he had signed a contract for the 1944 season. Hebert had married Nannie Locke Bostick on November 25, 1932, and had two daughters, Linda and Hillene. Preacher was tired of dragging his family around the country, and Linda was about to start school. "I turned down the best contract I was ever offered," Hebert recalled, and decided to stay in Louisiana. He also admitted that the situation with the Pirates made it easier for him to hang up his spikes. "I guess if Frisch had not been the Pirates manager," he said years later, "I would have kept pitching."26 His final slate read 21 wins, 36 losses, and a 4.63 ERA in 483⅔ innings; of his 125 appearances, 61 were starts, including 22 complete games. He also batted .270 on 43 hits.
Hebert exchanged the long train rides and road trips of baseball for the bayous and swamps that never left his heart. He and his wife welcomed three more children into the family, Wally Jr., David, and Steve. The family resided in Westlake, adjacent to Lake Charles, and for 29 years Preacher worked as an operator in a Firestone plant in the city.
"Once my father got out of baseball, that was sort of the end of it," said Linda. "He never coached or was active in it." He didn't talk much about his career, never bragged, or called attention to himself. Linda recalled sleeping as a kid in her father's San Diego Padres jersey and attending games in Forbes Field, but simply took it for granted that he had been a player. Hillene recounted a story about the time she "discovered" that her father had been a ballplayer. "My brothers and I were playing in the attic and came across an old suitcase full of clippings," she said. "We bombarded [my father] with questions and he began to tell us some of his baseball stories. One of the clippings was about a game against the Yankees. Well, when sharing time came in my third-grade class, I stood up and said, 'My daddy struck out Babe Ruth,' and the boys in the room laughed and told me I was making it up. It spilled out onto the playground where I got into a fight and had a black eye for my efforts. The next day I brought the clipping and read the whole thing to the class. Now the boys wanted his autograph."
Linda described her father as "the most easygoing person you'd ever meet. I can't remember him being mad about anything, and he never lost his temper." Nature was Hebert's playground, just as it was when he was a teenager. He hunted, fished, and skinned gators, kept a garden until he was in his late 80s, and enjoyed cooking family Cajun recipes. "He could have lived two or three centuries ago, and been fine," said Linda with a laugh.
Wally "Preacher" Hebert died on December 8, 1999, at the age of 92 in Westlake. He was buried in Westlake Memorial Gardens. "He was a Renaissance Man," said Hillene sincerely when the author asked her to sum up her father's life. "He could do anything he put his mind to."
This biography originally appeared in "From Spring Training to Screen Test: Baseball Players Turned Actors" (SABR, 2018), edited by Rob Edelman and Bill Nowlin.
Photo Caption
Wally Hebert, one of a dozen-plus professional ballplayers cast in Joe E. Brown's Alibi Ike.
Sources
In addition to the sources noted in this biography, the author also accessed Hebert's player file and player questionnaire from the National Baseball Hall of Fame, the Encyclopedia of Minor League Baseball, Retrosheet.org, Baseball-Reference.com, the SABR Minor Leagues Database, accessed online at Baseball-Reference.com, and The Sporting News archive via Paper of Record.
The author also expresses gratitude to Linda Hebert Todd and Hillene Hebert Deaton for their interview on August 12, 2016, and many subsequent email exchanges thereafter.
Notes
1 According to Hebert's daughter, Linda Hebert Todd, the baseball player was born on August 21, 1907. Wally Hebert's mother, Matilda Hebert, celebrated her son's birthday on August 21; as did the baseball player and his family his entire life. The Lake Charles, Louisiana, courthouse burned down when Wally was a youth, and all birth certificates were destroyed, including Wally's. Mrs. Todd explained that another reason for the confusion about her father's birth date was his baptismal certificate, which gave August 22 as the birth date.
2 Author's interview with Hillene Hebert Deaton on August 12, 2016. All quotations from her are from this interview.
3 Author's interview with Linda Hebert Todd on August 12, 2016. All quotations from her are from this interview. A more detailed version of the story about the teenage Hebert's exciting summer hunting alligators can be found in Peter and Barbara Jenkins, "A Walk Across America 2," Louisiana Life, January/February 1982: 54-60.
4 Yancey Roy, "Preacher Hebert Played Baseball Games for Fun," Lake Charles (Louisiana) American Press, December 14, 1986.
5 John Snow, "Hebert Battles Miners, Midgets Win Opener," Springfield (Illinois) Ledger, April 25, 1930: 19.
6 "Hebert, Southpaw, and Right-hander Terhune Have Made Fine Records With Kid Elberfeld's Club," St. Louis Post-Dispatch, August 21, 1930: 2B.
7 "Waddey Appears to Be Browns' Best Bet for Right-Field Position," St. Louis Post-Dispatch, March 27, 1931: 2E.
8 Browns' Contest With Atlanta Is Called Off; Play Birmingham Next," St. Louis Post-Dispatch, March 31, 1931: 2C.
9 Bill Dixon, "From Bog Lake to the Big Leagues: The Story of Preacher Hebert," Sports World, September 12, 1984.
10 Oscar Eddleton, "Under the Lights," SABR Baseball Research Journal, Vol. 9, 1980, https://research.sabr.org/journals/under-the-lights.
11 George Mackay, "Preacher Hebert Is Interviewed After Trouncing World's Champs." [Dated June 1931; unknown source. Player's Hall of Fame file].
12 Mackay.
13 L.C. Davis, "Fans, Meet Mr. Hebert," St. Louis Post-Dispatch, July 13, 1931: 10.
14 John Nolan, "Hebert, St. Louis Rookie Chucker, Crippled A's in His First Start." [Dated June 1931; unknown source. Player's Hall of Fame file].
15 John Wray, "Wray's Column. Flash in the Pan," St. Louis Post-Dispatch, June 12, 1931: 2N.
16 Mackay.
17 "Oh! Those Hands," Cincinnati Enquirer, April 10, 1932: 34.
18 L.C. Davis, "Sport Salad," St. Louis Post-Dispatch, July 1, 1931: 2B.
19 William Braucher, "Killefer Grooms Hebert to Lift Brownies Out of Second Division," Jefferson City (Missouri) Post-Tribune, March 24, 1932: 5.
20 Ibid.
21 James M. Gould, " 'Preacher' Hebert's Got What Most Southpaws Lack — Control; The Brownies Sure Like Him, Too," St. Louis Post-Dispatch, June 28, 1931: 3E.
22 Dixon.
23 Allen Gould (Associated Press), "Hebert to Get Starting Job With Browns." [Dated June 1932; unknown source. Player's Hall of Fame file].
24 Tony Salin, "Wally Hebert," Baseball's Forgotten Heroes (New York: McGraw Hill, 1999), 156.
25 Salin, 149.
26 Dixon.
Born
August 21, 1907 at Lake Charles, LA (USA)
Died
December 8, 1999 at Westlake, LA (USA)
If you can help us improve this player's biography, contact us.
https://sabr.org/sites/default/files/Screen%20Shot%202018-12-04%20at%2012.40.34%20PM.png
600
800
admin
/wp-content/uploads/2020/02/sabr_logo.png
admin
2017-12-04 12:39:43
2020-04-09 14:40:29
Wally Hebert