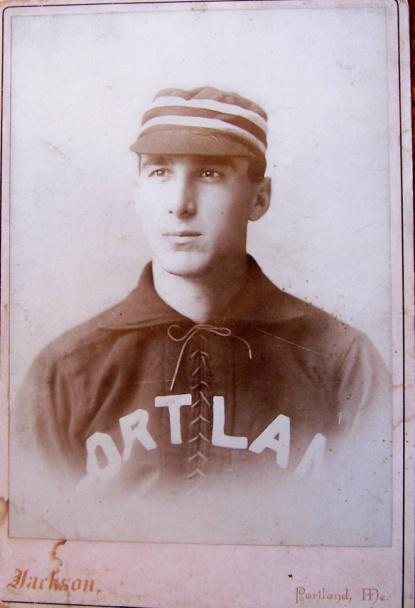 ---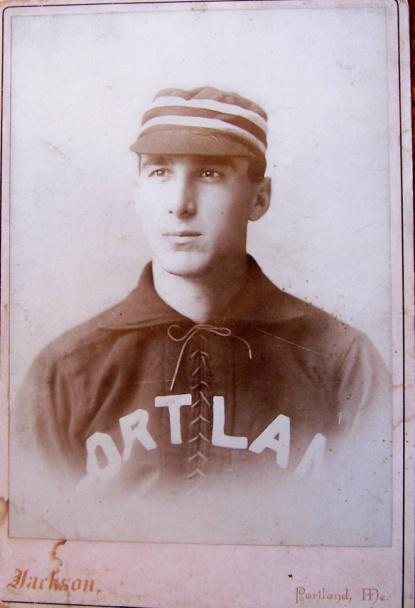 Part of the story of Willard Eben Mains is typical of the era, but his achievements during his baseball career are not. Mains pitched in professional baseball for 20 years (1887-1906). He played briefly in the majors; the bulk of his career was spent in various minor leagues, where he was the first pitcher to win more than 300 games.
When his career ended in 1906, only six major league pitchers (all future Hall of Famers) had reached 300 wins. Only Cy Young, Kid Nichols and Tim Keefe had more victories than his 334 total. Mains was arguably the best minor league pitcher of his day.
Typical of the times, Mains had to support himself when he was not playing professional baseball. Most players held down other jobs during the off-seasons.1 As early as the 1890s, Mains was making baseball bats in Sandy Creek, Maine. According to his grandson, Mains's bats were used by the minor league teams he played on and by other teams in the region.2
Willard was born at North Windham, in Georgetown, Sagadahoc County, Maine, on July 7, 1868. He was one of three children born to John and Irena Mains. He had a brother, Sargent, who was six years older, and a sister, Lelia, seven years younger. John Mains was a farmer, and as of the 1880 census the family was still living in Georgetown. Little is known about Willard's childhood or schooling, although it is safe to say he worked with his father on the farm.
Willard grew to become quite tall for his time, standing at least 6-feet-2 (6-feet-4 by some accounts) and weighing 190 pounds. After playing as an amateur locally, he got his first chance in professional ball near home with Portland of the New England League on May 9, 1887. Then 19 years old, Mains pitched seven games for the team, winning four and losing two that season.
The following year, he started the season with Davenport (Ohio) in the Central Interstate League. Mains was 18-5, completing all 23 of his starts. He was brought up to the Chicago White Stockings of the National League for a brief trial. Mains pitched in two games, winning one and losing the other, but didn't show enough promise to make the club.
In 1889, Mains moved to the St. Paul Apostles in the Western Association, and had a strong year with 32 wins and 13 losses. The team finished second, eight games behind Frank Selee's Omaha Omahogs. Omaha's star was future Hall of Fame pitcher Nichols, who won 39 games. In 1890, again with St. Paul, Mains won 16 but lost a career-high 26 games. The team finished in last place. Mains had the dubious distinction of leading the league with 40 hit batsmen.
Despite his losing record, Mains got another opportunity to pitch for a big league team in 1891. He went 12-12 with 20 complete games for King Kelly's Killers, Cincinnati's new team in the American Association. The ban on Sunday baseball was strictly enforced in some places, and after a loss to the Louisville Colonels on April 23, the entire Cincinnati team, including Mains, was arrested for violating the local blue laws.
Kelly's team also had a reputation as a wild undisciplined lot, and for occasionally getting on the field in a less than sober state. The team eventually folded in August with a record of 44-57, and the Milwaukee Brewers were brought in from the minors to take Cincinnati's place in the league. Mains pitched for the Brewers and was 0-2 during the remainder of the year.
Mains, a strong hitter, received an offer to play first base for the New Orleans Base Ball Club for 1892.3 He decided to travel to the Pacific Northwest League to play for the Portland Webfeet in Oregon, where he went 11-9.
The next year he returned to play for Portland, Maine, in the New England League, where he compiled a 10-5 record. When he wasn't pitching, Mains played first base. In 1893 he led the New England League in batting with a .377 average.
In 1894 he was traded to Lewiston (Maine) where he had a mediocre 7-8 record while batting .329. However, in 1895 he had an outstanding season as a two-way player, going 24-14 and batting .364. Louis Sockalexis, the first Native American to play in the National League (1897-99), also played with Lewiston that summer after finishing the school year at Holy Cross College in Worcester, Massachusetts.
This led to Willard's final stint in the major leagues, with the Boston Beaneaters of the NL in 1896. Although they finished fourth, the teamfeatured four future Hall of Fame players: Hugh Duffy, Billy Hamilton, Jimmy Collins and Nichols. Mains pitched in eight games, winning 3 and losing 2, but still couldn't get a permanent role with the team.
He finished the 1896 season back in the New England League with Bangor, where he went 14-4, but the team finished two and a half games behind the league-leading Fall River Indians. The Indians that year had Napoleon Lajoie, who led the league in batting at .429 before he was purchased by the Phillies.
In 1897 Mains moved to the Eastern League and played with the Springfield Ponies and Toronto Canucks. He was 20-15 and batted .301. The following year he began with the Eastern League's Buffalo Bisons, but left to play with Taunton back in the New England League. Between the two teams, Willard pitched in just nine games, going 3-5.
The year 1899 started a new phase in Willard's career, an eight-year run in the New York State League. That year Willard played on his first championship team in the minors, the Rome Romans. He went 20-8 as the team won 76 of 108 games. In 1900 he had one of his finest years, winning 27 and losing 5. His 27 wins and .843 winning percentage led the league. Rome finished behind Utica and Cortland, but just two and half games out of first place. Manager Tom O'Brien, who had taken over a sub- .500 club and brought the Romans to the 1899 championship, was replaced by pitcher George Wheeler for the 1901 season.
Mains won 19 and lost 10 in 1901, but with Wheeler in charge, the team could do no better than fourth place, while O'Brien, who had been picked up by the Albany Senators, brought home another league championship, edging out both Utica and Binghamton for first place.
Mains moved to the Syracuse Stars in 1902 and won 17, 23, 21, and 18 games (total 79) over the next four years, while losing only 47. Although O'Brien's Albany Senators would again lead the league in 1902, the Stars finally won the league championship in 1904. Willard's final year with Syracuse, in 1906, was also his final year in the professional leagues. By age 38, his arm was feeling the effects of nearly 600 games and 500 complete games. Willard's career included 318 minor league victories along with 16 major league wins. He lost only 181 games in the minors and 17 in the majors. He won 20 or more games seven times, won 19 once and 18 twice.4
During his playing days, Mains earned several nicknames. Most common was "Grasshopper," which appeared on his 1889 Old Judge baseball card. He most likely got the name because of his thin rather pointed head.
After hanging up his spikes, Willard retired to his home in Bridgeton, Maine, and began devoting full time to his bat-making business in nearby Sandy Creek. Willard had begun making baseball bats in the off-season in Harrison, Maine. during the late 1890s with a partner named Charles Dolley.
For a short time they also made bats in Fryeburg, Maine, which had Mains, Dolley & Ward center labels. A. H. Ward would supply Mains & Dolley with lumber, and had worked an agreement for a small share in the business. After a few years, Dolley retired, and Mains continued the business, changing the company name but keeping the same operational facilities in Sandy Creek.
Willard married Edith Evangeline Chaplin in 1914. He was already 46 years old, while Edith was only 24. The marriage was actually kept a secret until some close friends discovered the truth several months later. A daughter, Francisca, was born in 1916 and a son, James, in 1922. Another daughter was stillborn in 1920.
In addition to Mains's passion for baseball and his bat company, he was an avid fisherman and successful pearl hunter. His searches were rewarded by some exceptional specimens of the gem. One of his largest rose pink pearls weighed 15 grams. For a while, he also experimented with the formation of pearls in mussels.
Willard's woodworking skills were further illustrated when he made an exceptional violin for his daughter. With all his varied interests, Mains may well have been considered a renaissance man of his era.
Mains continued to operate his bat company until he died of a heart ailment on May 23, 1923, at age 54. At the time of Willard's death, his son James was only 11 months old. Jim Mains went on to play college ball at Harvard. In 1943, when he was 21, he was called up from Utica in the Eastern League to start a game for the Philadelphia Athletics. He went the distance but lost in what would be his only major league appearance.
Willard and Jim Mains hold the major league record for the longest time gap, 55 years, between debuts by a father and son. Peaches and Jack Graham are second in this obscure statistic with a span of 43 years.
Willard Mains is buried at the High Street Cemetery in Bridgton. His wife and descendants are also buried in the family plot.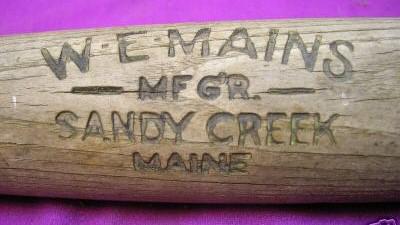 Acknowledgments
This biography was reviewed by Andrew Sharp and Norman Macht and fact-checked by Kevin Larkin.
Sources
Bevis, Charlie, The New England League, McFarland, 2008
Baseball Encyclopedia, 10th Edition, Macmillan 1996: 2181
Johnson, Lloyd The Minor League Register, Baseball America, 1994: 397
Smith, James D. III, Baseball's First Stars Vol. 2, SABR, 1996: 99
Wright, Marshal, The International League, McFarland, 2005: 88
Newspapers
Athens Messenger Gazette & Bulletin (Williamsport, Pa.)
Berkshire (Mass.) Eagle
Bismarck Tribune
Bridgton News
Daily Kennebec Journal
Daily Sentinel (Rome, N.Y.)
Davenport Democrat and Leader
Delta Democrat-Times (Greenville, Miss.)
Portland Press Herald
Portland Sunday Telegram
Times Record (Troy N.Y.)
Sheboygan (Wisc.) Press
Waukesha (Wisc.) Freeman
Bridgton Chamber of Commerce
Bridgton Public Library
Fryeburg Public Library
Ned Allen, Bridgton Historical Society president
Donna P. Barker, Harrison, Maine
Ruth Demers, Rome Sports Hall of Fame, Rome, N.Y.
Jim Mains, the player's grandson, Bridgton, Maine
John Pardon, SABR Founding Member
Newspaper archives.com
Spalding Baseball Guides
SABR Minor Leagues Database
US Census data, accessed through Heritagequest.com
www.baseball-reference.com
Notes
1 As a collector of vintage baseball artifacts, the author has a significant collection of vintage bats, including several bats made by Willard Mains.
2 Email from Jim Mains, the player's grandson, to the author.
3 The letter making the offer is among Willard's keepsakes in the Bridgton, Maine, home of grandson Jim Mains. The New Orleans team offered Willard between $100 and $125 for seven months. Baseball's First Stars Vol. 2, 99.
4 Minor league statistics from Lloyd Johnson and Miles Wolff, eds., The Encyclopedia of Minor League Baseball, Third Edition (Baseball America, 2007).
Born
July 7, 1868 at North Windham, ME (USA)
Died
May 23, 1923 at Bridgton, ME (USA)
If you can help us improve this player's biography, contact us.
https://sabr.org/sites/default/files/MainsWillard.jpg
600
800
admin
/wp-content/uploads/2020/02/sabr_logo.png
admin
2019-07-12 01:36:01
2020-04-09 14:37:32
Willard Mains