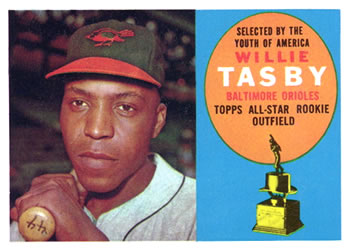 ---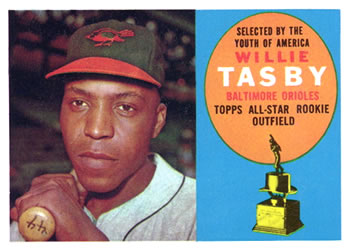 Outfielder Willie Tasby was one of the many major leaguers who graduated from Oakland's McClymonds High School after playing for legendary coach George Powles. Robbie Henderson of probaseballscouting.com wrote, "Seventeen of Powles' protégés made the major leagues. He coached and mentored so many athletes. I doubt any one scout coached/mentored the likes of Curt Roberts, Willie Tasby, Charlie Beamon, Frank Robinson, Jesse Gonder, Curt Flood, Vada Pinson, Aaron Pointer, Lee Lacy, or even Bill Russell in basketball, just to name a few."1
Tasby took a while to reach the majors, which he viewed as a function of racism. "Tasby. . . felt he was unjustly left to rot in the minors. 'Baseball wasn't nearly as good to me as I was to baseball.'"2 Nonetheless, he persevered and played in 583 big-league games over six seasons.
Tasby was born in Shreveport, Louisiana, on January 8, 1933. The 1940 United States census shows him as Willie Lee Tasby, the fourth of seven children born to John and Mary Tasby. The player questionnaire he completed for the National Baseball Hall of Fame states "NMN" – no middle name – but he also wrote that he was "Willie Jr." John was a yardman doing private work.3 The family evidently moved to California at a later time, perhaps one of the many families who relocated to work on the West Coast during the Second World War. Willie attended the Prescott Elementary School prior to McClymonds. He was right-handed, stood 5-feet-11, and is listed at 170 pounds.
Before the 1950 season, he was signed by Tony Robello for the St. Louis Browns when he was 17 years old.4 He stayed in the Browns organization for a full decade, through the franchise shift to Baltimore, and debuted for the Baltimore Orioles in 1958. We have only skimpy stats for his first two seasons in Class C: seven Northern League games for the Fargo-Moorhead Twins in 1950 and four in the Southwest International League for the 1951 Phoenix Senators.
Tasby married Jacqueline Lacy of Alameda, California, in December 1950. However, his player questionnaire says he married Cathrine Hart on December 23, 1949 – at which time he was 16.
Willie Tasby got his real start in 1952 in Pocatello, Idaho, with the Class-C Pioneer League Pocatello Bannocks. The team finished first, but lost out to Idaho Falls in the final round of the playoffs. Tasby played in every one of his team's 131 games and hit .283 with 22 homers. He was named to the league All-Star team. However, "this may well have been where Tasby picked up his reputation for being outspoken and a troublemaker, labels he felt kept him out of the big leagues until 1958." It stemmed from overhearing his manager, Ed Fernandes, refer to two opponents with a racial epithet. The incensed Tasby confronted Fernandes.5
Tasby played in 1953 and 1954 for the York (Pennsylvania) White Roses in the Class-B Piedmont League. It may have taken him the first year (batting .254 with 17 homers) to settle in against the higher level of competition. In his second year, he hit .304 with 27 homers. With regard to racism, Tasby said he had no problem in York – but Hagerstown, Maryland, "was as bad as Mississippi. That was one of the worst places I played in my life."6
He played winter ball in Puerto Rico in 1954/55 and suffered a very serious ankle injury, fracturing it in the last game of the season. It was not until mid-July that he was able to resume play, joining the AA San Antonio Missions.7 He hit .279 with 19 homers in 48 games.
He got off to a much slower start with San Antonio in 1956 and was only hitting .219 after his first 51 games. Then he was sent to the Texas City Texans (in the Class-B Big State League) within a few days after the franchise had shifted from Lubbock. He played in 75 games and hit .318. Though there were still teams which had not integrated at the major-league level, the Orioles were active in signing what we now call "players of color" – witness news reports that as of the spring of 1957 they now had 21 "tan players" signed.8
Tasby reflected on his experience. "I think all the black guys who played in the minor leagues at the time were like Jackie Robinson. We didn't eat right. But when we played, we had to have endurance, stamina. There weren't any places for us to eat at certain times at night. I guess God took care of us. I guess he kept us from doing things that probably could have gotten us killed or hurt. A guy could come over from Italy and play, from Mexico and play. I was born here, and I couldn't play. What the hell was going on?"9
Tasby began the 1957 season with the Vancouver Mounties and played very well (he was 6-for-13) in the three regular-season games in which he appeared, but on April 21 he jumped the club and was reportedly heading home to Oakland. Mounties manager Charlie Metro said, "Willie has all the ability in the world, but he's irresponsible. He may come back to us just as quickly as he left, but we have other plans for our outfield, anyway."10 The Orioles found a place for him with the Knoxville Smokies in the Class-A South Atlantic League. He appeared in 132 games, homered 20 times, drove in 86 runs, and batted .272. He also stole 20 bases.
Tasby played the 1958 season for the Louisville Colonels, Baltimore's Triple-A team. He was named to the league All-Star team, and was voted Rookie of the Year in the American Association. His 174 base hits led the league. He hit for a .322 batting average (second in the league), and his 22 homers helped him drive in 95 runs for a Colonels team that finished in last place. On September 6 he was called up to the Baltimore Orioles.
His major-league debut came in Kansas City on September 9. The Orioles were losing, 7-2, and so at the game's midpoint, manager Paul Richards had Tasby (a very good fielder, with a career .980 fielding percentage in 1,183 chances) go in to spell Gene Woodling in right field. He was second up in the top of the sixth and singled to left field, putting two men on base, then scoried on a home run to help bring the Orioles to being just down by two, 7-5. His next time up, he was hit by a pitch. He got up one more time and struck out leading off the ninth.
He got a start the next day and collected both his first homer and RBI, off Bob Grim. It was the only homer and only run batted in that he had in his first season. Though he played in 18 games; his year-end batting average was .200. On September 20, he'd played center field through six, then shifted to right, and helped preserve Hoyt Wilhelm's 1-0 no-hitter over the Yankees. It was the first no-hitter in modern-day Orioles history.
He played winter ball for Havana in the winter of 1958/59 and was one of many American players in Cuba at the time of the Cuban Revolution at the beginning of January. Like the others, he had to wait until the players could be brought back to the United States.
In February 1959, as spring training was about to get under way, Paul Richards wrote a bylined story for the Associated Press. In it, he said, "Of all the new players, the one I'm expecting most from is Willie Tasby, a young center fielder who can both hit and field. He was the MVP in the American Assn. with a .322 batting average and looked like an exciting ball player in a brief trial we gave him at the end of the season."11 No pressure or anything, but the Washington Post looked ahead to the season in early April and ran a story under the headline "Willie Tasby Holds Key To Chances of Orioles."12
As it happened, the Orioles had finished sixth in 1958 and did so again in 1959. Tasby started off with an eight-game hitting streak and hit safely in 13 of his first 14 games, but cooled off as the season wore on. From hitting .304 at the end of May, he was down to .250 at season's end (with a .303 on-base percentage, though he struck out more than twice as often as he walked). He typically batted leadoff and scored 69 runs; he drove in 48. He homered 13 times.
There had been talk in the first part of the season of him possibly becoming A.L. Rookie of the Year; if so, he would have been the first African American in the A.L. to win the honor. (There had been seven in the National League.) It didn't work out that way, but he did achieve a certain degree of national attention as the first shoeless ballplayer since Joe Jackson. Legend aside, Tasby actually did play part of a game without shoes on. It was the metal cleats that worried him. On Sunday, July 19, in Baltimore, with two outs in the ninth, there was lightning in the skies, so he removed his shoes and placed them in the bullpen. No ball was hit his way. "Man, I was scared of that lightning. I was standing in pools of water, and I didn't want those spikes on my feet at a time like that."13 It was not an unwise decision; out of an abundance of caution, the protocol in major-league baseball has become to suspend play at the first sign of lightning. He was beaned in August 1959 and not used as often in games after that, which kept down some of his numbers for the season.14
There simply may have been too much in the way of expectation. He was billed as "Baltimore's Willie Mays," and a couple of years later said, "I guess I was trying too hard and maybe I lost my confidence for a while…This Willie Mays tag for one thing would be a tough one for anybody to live up to."15
Tasby had a better year in 1960, but it was only after he'd been traded to the Boston Red Sox. He began the season with the Orioles, though he'd been slow to sign with the team. Through 39 games with the O's, he was only batting .212, with three RBIs. On June 9 he was traded to the Red Sox straight up for Gene Stephens. Both were underperforming; Stephens batted from the left side and Tasby from the right. The Red Sox were looking for more right-handed power. Not only should he bring more power to the lineup, but he was, wrote the Record's Joe Cashman, "a year younger than the 27-year-old Stephens, has a strong arm, he's fast, and he'll be able to play every day."16
For his part, Tasby said, "I'm hopeful this trade will help me regain my stride. For one thing I like the thought of swinging for that short left-field fence at Fenway Park. One thing, though, any park is okay if you're hitting the ball."17
"Tasby looked good," read a Boston Herald subhead after he singled and walked twice in his Red Sox debut.18 Three consecutive multi-hit games in the first week helped Tasby get started with his new team, as did a later stretch of five games in a row later in June when he had two hits per game. He was well-accepted in Boston, even by manager Mike Higgins, never known for enlightened racial views. He hit a grand slam on July 3, beat out a bunt to set up the winning run in the July 4 game, and had himself a 5-for-5 day on July 10, with four RBIs. He had become, at least for a while, "Boston's newest hero."19
Higgins also noted Tasby's work in a late July doubleheader. He didn't get a base hit in either game, "but do you know what he does? He scores five big runs for us. He gets on base five times, and he scores five big runs for us. He got hit on the head once and got himself four walks. Now that's a remarkable performance, but he didn't get any credit for it."20
Former Red Sox center fielder Dom DiMaggio declared, "In my opinion, Tasby has made the team jell. He's not graceful, He's not the big star. But he does the job…I've got to say he's a pretty good center fielder."21 Tasby credited both Ted Williams and Rudy York for giving him help with hitting.22
He became a regular for the Red Sox and got into 105 games, usually playing in center field alongside Ted Williams in left. Lou Clinton played most of the games in right field. Over that stretch, Tasby hit .281 (.371 OBP), scoring 68 runs and driving in 37. He had only hit seven homers, but that still ranked him fifth on the Red Sox. Even before mid-September, he was signed again for 1961.
There was, however, the addition of two new ball clubs in the American League in 1961, and to help populate the new teams, an expansion draft was held in December 1960. Tasby was not among those protected by the Red Sox, and he was drafted by the Washington Senators on December 14 as the 37th pick overall in the draft, the first outfielder selected.23
Tasby played a full season with the Senators, appearing in 141 games and leading the team in runs batted in with 63. He homered 17 times, bettered only by Gene Green's 18. He had been hitting .300 into July, but tailed off progressively as the season wore on. In the end, he hit for a .251 batting average with a .330 OPS. Washington ended the year tied for last place in the league. There had been criticism in mid- to late September that all three of their top sluggers – Tasby, Green, and Dale Long – had not been sufficiently hustling (and all three were benched at one point, all at the same time.) Tasby said he was trying as hard as ever, but was simply in a slump.24 When the Senators picked up Jimmy Piersall at the beginning of October, it looked like there was less room for Tasby and that he and Green might be available in trade.
Segregation was still an issue in Florida at spring training time. Tasby lived in Plant City and the Senators trained at Pompano Beach. He said that even though he was not allowed to stay at the Sea Garden Hotel, the team hotel, and had to stay in a private home, he was satisfied at the ball club's efforts to avoid segregated housing for players. He did suggest, however, that the club could move to another city if the situation persisted.25
At some point in 1961, the Tasbys divorced. They had three children and, unfortunately, his former wife obtained a warrant in July charging him with non-support.26
Tasby played in 11 games for the 1962 Senators (batting .206 without an RBI) before he was traded on May 3 to the Cleveland Indians for two left-handed pitchers, Steve Hamilton and Don Rudolph. He played in 75 games for the Indians, one of three backup outfielders and the one who got the least amount of work. He hit .241 with four homers and 17 RBIs.
His last year in the majors was 1963. He was the team's fifth outfielder, appeared in 52 games and hit .224. He homered four times but drove in only five runs. He'd been up and down to the minors, optioned to Jacksonville in early May and recalled in mid-June. He hadn't hit much better in Triple A, batting .229 in 35 games. At the end of the season, Cleveland assigned his contract outright to Jacksonville.
His full 1964 season was spent in the Pacific Coast League playing for the Portland Beavers, where he had a successful .308 average. In 1965, he played his final year in professional baseball with Monterrey and Reynosa in the Mexican League.
For several years in the late 1970s, there was a Willie Tasby Fan Club "comprised of Bostonians who work in Washington for various political reasons."27
As of 2016, Tasby still lived in Plant City, Florida (about 25 miles east of Tampa). Information about him and his life after baseball is very scanty, but he did make a notable contribution to Bruce Adelson's book about the integration of minor-league baseball in the American South, Brushing Back Jim Crow.
Last revised: December 27, 2017
Acknowledgments
This biography was reviewed by Norman Macht and Rory Costello. It was fact-checked by David Kritzler. In order to bring the story up to date, numerous attempts were made by telephone and mail over the course of a couple of months in 2017 but they have proved fruitless. Any additional information would be very welcome.  
Sources
In addition to the sources noted in this biography, the author also accessed Tasby's player questionnaire from the National Baseball Hall of Fame, the Encyclopedia of Minor League Baseball, Retrosheet.org, Baseball-Reference.com, Rod Nelson of SABR's Scouts Committee, and the SABR Minor Leagues Database, accessed online at Baseball-Reference.com.
Notes
Born
January 8, 1933 at Shreveport, LA (USA)
If you can help us improve this player's biography, contact us.
https://sabr.org/sites/default/files/TasbyWillie.jpg
600
800
admin
/wp-content/uploads/2020/02/sabr_logo.png
admin
2017-12-27 17:30:14
2022-05-17 13:05:47
Willie Tasby