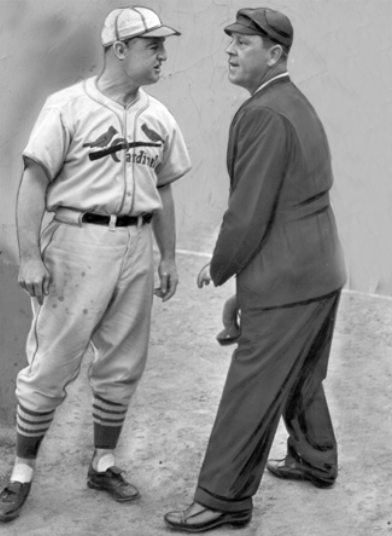 ---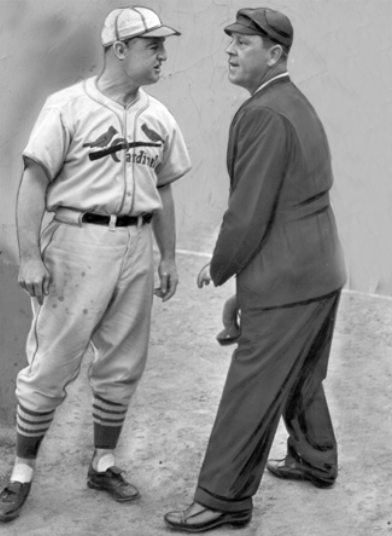 John William "Ziggy" Sears was a minor-league outfielder from 1912 to 1928, a Texas League umpire from 1929 to 1934, a National League umpire from 1934 to 1945, a Pacific Coast League umpire in 1946, a scout for the Pittsburgh Pirates in 1947, a Texas League umpire from 1948 to 1951, and an actor in two baseball movies in 1948 and 1949.
Sears was born in Central City, Kentucky, to George T. and Mattie Sears on January 10, 1892. His father was a coal miner, a trade Ziggy Sears practiced briefly before attending college and then becoming a professional baseball player. He attended Western Kentucky State Normal School from 1910 to 1911. The college later became Western Kentucky University.1
Sears' baseball career began in 1912 when he played for the Winchester Hustlers/Nicholasville Orphans/Mount Sterling Orphans in the Class-D Blue Grass League. In 1913 and 1914, Sears played for Owensboro in the Class-D Kentucky-Illinois-Tennessee (Kitty) League, for Marshalltown in the Class-D Central Association, and for Streator in the Class-D Illinois-Missouri League. Sears married Hazel Phillips on February 2, 1915. That year, the 5-foot-11, 198-pound outfielder was with Streator and Marshalltown.
In 1916, while playing for Clinton in the Central Association, Sears was almost called up by the Detroit Tigers. Detroit purchased his contract, but a leg injury prevented him from joining the team. He stayed with Clinton and also played for the Central Association's Dubuque/Charles City franchise in 1917, the year his son Kenneth was born.
Sears' rise to fame began in 1918 when he began playing for stellar manager Jake Atz and the Fort Worth Panthers of the then Class-B Texas League. Atz was one of the best minor-league managers ever. The teams he managed in the Texas League won 1,566 games and lost 1,221. Both are the top marks for any manager in the league. His teams won six consecutive Texas League championships from 1920 to 1925 and five of six Dixie Series championships in those years. The Panthers finished second to Dallas in 1917 and 1918. They compiled the best record in the league in 1919 but lost to Shreveport in the playoffs.2
Atz gave Sears his nickname when Sears reported to the Panthers. Sears announced his name as John, but Atz decried there would be no "Johns" on his team. Atz's given name was John Jacob. Recalling a pitcher named Ziggy Shears, who had tried out for the Panthers the previous season, Atz gave Sears the moniker and forever branded Sears as Ziggy.3
Sears, a left-handed-hitting outfielder with good speed, most often played left field. From 1918 to 1926, he hit .290 with 277 doubles, 31 triples, and 87 home runs. He played in 1,256 games for the Panthers in those years. He also played for Fort Worth in 1927, but that data is not available. Sears' best season was 1925 when he hit .321 with 35 doubles, 2 triples, and 23 home runs. In a game against San Antonio in May 1925 he drove in 11 runs. Panthers team secretary Paul LaGrave valued Sears so highly that in 1926 he arranged for the outfield sod at old Panther Park to be moved to the new Panther Park, being built a few blocks east of the old park.4 He sought to protect Sears' fragile ankles with the move.5
Sears played for Waco, Shreveport, and San Antonio in his final two seasons. At the end of the 1928 season, he asked Texas League President J. Doak Roberts for a job as an umpire, and Roberts accommodated him. Sears umpired in the Texas League until July of 1934, when he was hired by the National League.6
Sears was selected to work the 1935 All-Star Game after less than one full season in the National League. He also umpired in the 1938 and 1944 World Series. Illness prevented him from working the 1943 World Series. He stayed in the National League until the end of the 1945 season when he suffered a broken foot in the final game of the year.
In the book Nice Guys Finish Last, Leo Durocher related a story in which he got an ejection by Sears overturned. On August 16, 1945, Sears booted Durocher, then the Brooklyn Dodgers manager, for arguing balls and strikes. Durocher claimed he wasn't arguing Sears' call, but rather seeking clarification on it. On an appeal by Durocher, National League President Ford Frick overturned the ejection and Durocher said that Frick levied a fine on Sears. A few months later the league released Sears.7
Sears and Durocher had a rocky relationship. Sears ejected Durocher eight times between 1938 and 1945, including twice in the final months of the 1945 season. Sears led the league in ejections that year with eight.
The events that led to Sears' departure from the National League are unknown. Did he quit or was he fired? Did the number of ejections he made in his final season cause too much trouble for Ford Frick and the National League powers? Was the foot injury enough to bring the then 53-year-old Sears to thoughts of retirement? Did the hearing and fine combine with the injury and the exhaustion of an umpire at the end of a long season enough to bring Sears to seek his release?
Regardless, Ziggy Sears returned to baseball the following season. He worked in 1946 as an umpire in the Pacific Coast League, and then scouted for the Pirates in 1947 before returning to the Texas League as an umpire from 1948 to 1951.8
Sears appeared briefly in two baseball films in 1948 and 1949. The first was The Babe Ruth Story, starring William Bendix as Ruth. The film credits listed Sears as an umpire. Film critics generally regarded the movie as one of the worst baseball films ever produced. Leonard Maltin called it "perfectly dreadful."9 Bosley Crowther, longtime film critic for the New York Times, said it was "a wallow in sloppy sentiment."10
As Crowther noted, the film presents Ruth as a naïve, lovable man-child prone to acting on impulse, often to his detriment. It is a sanitized and heavy-handed version of Ruth's life and career. Bendix was right-handed and had no athletic ability. His efforts at baseball were comically amateurish. Ruth was, of course, left-handed and a great athlete. The picture of Ruth as the hard-drinking, womanizing, shrewd businessman was almost totally absent from the film.11
Sears also appeared, this time uncredited, in The Stratton Story. James Stewart played Monty Stratton. June Allyson played Stratton's wife, Ethel. Monty Stratton was a White Sox pitcher who came up in 1934 and established himself as a rising star. He had a career record of 36-23 with an ERA of 3.71 at the end of the 1938 season. Stratton accidentally shot himself while hunting in Texas in November of 1938. Doctors amputated his leg and provided him with a wooden prosthesis. After fighting through a bout of self-pity, Stratton learned to walk with the artificial leg and then to pitch. He eventually returned to the low minor leagues in Texas, where he pitched for seven seasons. Bill Dickey and Jimmy Dykes appeared in the film as themselves and Cleveland Indians pitching star Gene Bearden appeared as a pitcher for an All-Star minor-league team. Douglas Morrow, co-author of the screenplay, won an Oscar for the Best Writing, Motion Picture Story for his work on the film.12
In 1951 Sears suffered vision damage when he was hit by a thrown ball while working an exhibition game between the Dallas Eagles of the Texas League and the Milwaukee Brewers of the American Association. He retired from the game at the end of the season. He lived out his life in Houston and died there of a heart attack on December 16, 1956. His remains rest in Forest Park Cemetery in Houston.
Ken "Little Ziggy" Sears followed his father into baseball. He was a mascot for the Fort Worth Panthers as a child and attended the University of Alabama from 1936 to 1938. He signed with the St. Louis Cardinals as a catcher. By 1943 he was in the New York Yankees organization. Debuting in the major leagues on May 2, 1943, Sears played in 60 games, batting .278 with two home runs and 22 RBIs. Sears was in the US Navy in 1944 and 1945.13 He played in seven games for the St. Louis Browns in 1946, hitting .333 with no home runs and one RBI. He finished his baseball career with Little Rock (Southern Association) and San Antonio (Texas League) in 1947 and Borger (West Texas-New Mexico League) in 1949.
After retiring from baseball, Ken Sears became a train engineer for the Rock Island Railroad. He died in Bridgeport, Texas, on July 17, 1968.14 He is buried in Greenwood Memorial Park, Fort Worth.15
This biography originally appeared in "From Spring Training to Screen Test: Baseball Players Turned Actors" (SABR, 2018), edited by Rob Edelman and Bill Nowlin.
Sources
In addition to the sources cited in the Notes, the author also consulted Retrosheet and Baseball-Reference.com.
Notes
1 1900 US Federal census for Muhlenberg County, Kentucky; 1910 US Federal census for Muhlenberg County, Kentucky; The History of WKU (wku.edu/wkuhistory), accessed June 23, 2016.
2 2016 Texas League Media Guide and Record Book. The Dixie Series was a postseason playoff between the champions of the Texas League and the Southern Association. It was played from 1920 to 1958.
3 John Sears file, Giamatti Research Center, National Baseball Hall of Fame, Cooperstown, New York.
4 A team secretary in those days was equivalent to a general manager today.
5 John Sears file, Giamatti Research Center.
6 John Sears file, Giamatti Research Center.
7 Leo Durocher and Ed Linn, Nice Guys Finish Last (New York: Simon and Schuster, 1975), 197-198.
8 John Sears file, Giamatti Research Center.
9 Leonard Maltin, Leonard Maltin's Movie and Video Guide 2004 (New York: Plume, 2003).
10 New York Times, August 1, 1948.
11 The Babe Ruth Story, Internet Movie Database (imdb.com), accessed June 23, 2016.
12 The Stratton Story, Internet Movie Database (imdb.com), accessed June 23, 2016.
13 The Sporting News, January 13, 1944.
14 Fort Worth Press, July 18, 1968.
15 Ken Sears Memorial, Findagrave (findagrave.com), accessed June 23, 2016.
Born
January 10, 1892 at Central City, KY (US)
Died
December 16, 1956 at Houston, TX (US)
If you can help us improve this player's biography, contact us.
https://sabr.org/sites/default/files/SearsZiggy.png
600
800
admin
/wp-content/uploads/2020/02/sabr_logo.png
admin
2012-01-04 20:27:27
2012-01-04 20:27:27
Ziggy Sears