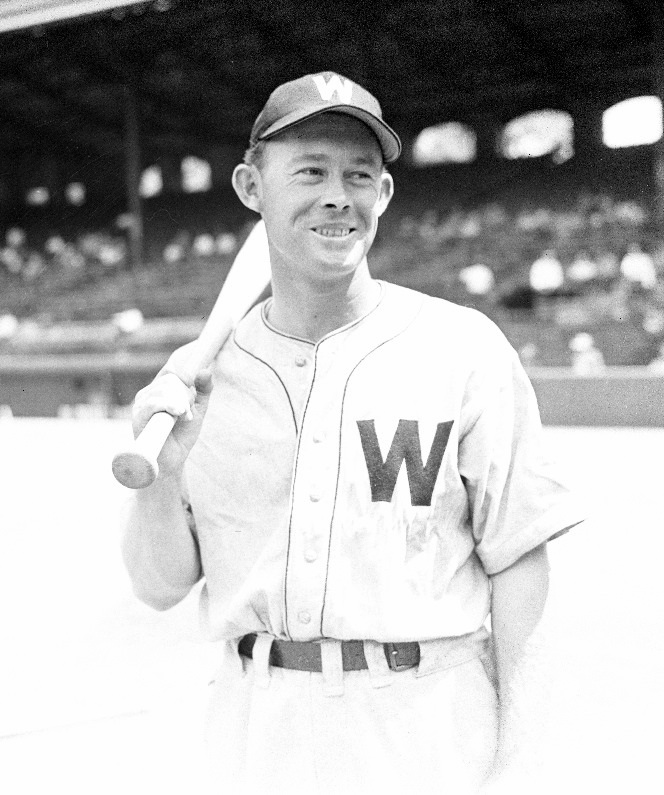 ---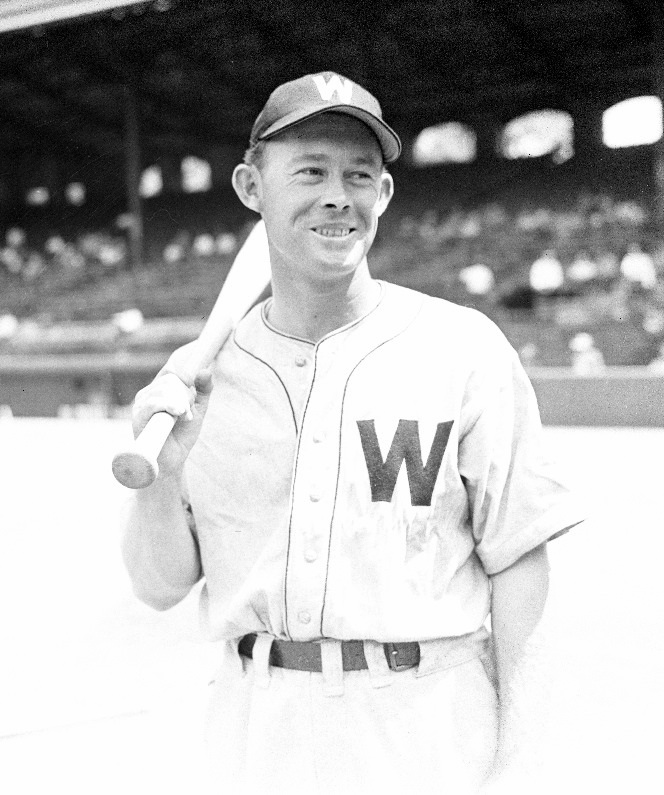 Catcher Al Evans is one of many rural Southern boys, among them Art Fowler, Johnny Riddle, and Mickey Livingston, who made his way from textile league baseball to the big leagues, and managed to make a lifelong career of the game of baseball.
He was born in Kenly, North Carolina, on September 28, 1916. Kenly is a small farming community 40 miles east of Raleigh, which even today has only 2,000 residents. He attended Oak Ridge Military Academy in Oak Ridge, North Carolina, and began his baseball career in the textile leagues. He played in South Carolina for Chiquola Mill in 1936 and Equinox Mill in 1937. He was signed by the Washington Senators as an amateur free agent in 1937, his signing credited to Clark Griffith himself, and was assigned to the New Bern Bears of the Class D Coastal Plain League. He appeared in 33 games for them that year, and hit .221 in 104 at-bats.
In 1938 and 1939, he played for the Class B Charlotte Hornets, batting .302 and .298 during those seasons and collecting his first home runs, three in '38 and nine in '39. Evans was called up by the Senators in September of 1939, and made his major-league debut on September 13 in the second game of a doubleheader in Chicago. He was 1-for-3 with a single. He appeared in seven games that season, and batted .333 – and he drew five bases on balls and earned a .462 on-base percentage.
Evans remained with the Senators for the 1940 and 1941 seasons. In 1940 he was their number three catcher, and hit .320 in part-time action (just 31 plate appearances, which included another six walks). By spring training the following year, he was being considered for the starting job. The Washington Post called him "the story book ball player" at spring training, outpacing the team's veteran catcher Rick Ferrell. "Evans…is regarded as a more constant asset than Ferrell. He threatens to outhit the veteran by several points, throw at least as well, and he has the potential power that Ferrell lacks. It is on the bases, however, that Evans has the big edge. The rookie can fly along the baselines in contrast to the slow-moving Ferrell…Evans is a rag-to-riches story of organized baseball." [i] Evans appeared in 53 games, drove in 19 runs, and hit for a .277 average. His vaunted speed on the basepaths failed to show; he was caught stealing the only three times he attempted to steal. He only stole 14 in his 704 big-league games.
Evans was given a 1-A draft status in March of 1942, but was deferred by the Army. He apparently had not gotten that job as the Senators' regular catcher, as the Washington Post noted that he "possessed of one of the better throwing arms among the league's catchers and fair batting power…[and was] being groomed for regular duty when he went into the service." [ii] He played in 74 games in 1942, but hit only .229. He enlisted in the Navy after the 1942 season, and served until May of 1944. While in the Navy, he was a chief petty officer at the Norfolk Naval Air Station, and was the starting catcher on their baseball team.
He returned to the Senators, and was back behind the plate by July 8. He remained on the team until 1950. He still played behind Rick Ferrell in 1945, and regained his stroke, hitting .260. Evans was Washington's first-string catcher in 1946, but shared duties in 1947.
In 1947 he was inadvertently hit in the head by the bat of George Kell on August 22, received a bad cut behind his ear, and was out of commission for most of ten days. In June of that year he played in an epic 18-inning game against the White Sox and won it when he tripled to right and later scored on a single. He was best known as a defensive catcher, and in 1949 he was named the best defensive catcher in the American League, sporting a fielding percentage of .993 for 107 games with only three errors. Indeed, 1949 was the only season in which he played over 100 games, and it was his best season. His fielding had improved considerably. Where he'd led the league in errors committed in both 1942 and 1946, in 1949, his .992 mark led the American League in fielding percentage, though he allowed more stolen bases than anyone other than Yogi Berra. He'd hit just .235, however, and Washington elected to go another direction.
In February of 1951, he was selected off waivers by the Boston Red Sox. He remained with them until August, playing his final major-league game on August 5 but hitting just .125 and driving in but two runs. Over his 12 seasons in the majors, he had a batting average of .250 and a fielding percentage of .979. He'd scored 188 runs and driven in 211.
Following his final appearance that August, the Red Sox sent him to their Louisville franchise, where he played 11 games. He remained in the minors until 1955, playing with the Louisville Colonels (1952, 1953), the Los Angeles Angels (1954, 1955), and the Norfolk Tars (1955). During his various minor-league stints he played in 510 games and had a batting average of .274.
When he quit playing baseball in 1955 he worked as a minor-league manager for eight years. He started with the Norfolk Tars, but was replaced by Alton Brown on May 25. He then went to the Seminole Oilers, where he started work on June 6. He then managed the Abilene Blue Sox (1956), the Little Rock Travelers (1957), and the Albany Senators (1958, 1959). He finished his career as a manager with the Charlotte Hornets, where he worked from 1963 through 1965. He had his best year as a minor league manager with the Hornets in 1964, when they finished 4th in the league. He worked as a scout for the Minnesota Twins and the San Francisco Giants from 1950 to 1965. He's credited with signing Jim Roland to the Twins in 1961.
Al Evans returned to Kenly in his retirement, and died on April 6, 1979 in a hospital in nearby Wilson, North Carolina. He was survived by his widow, Inez Williams Evans; a daughter, Judy Evans Durham; a sister, Evelyn Howell; a brother, T.A. (Fonzy) Evans (all of Kenly); and two granddaughters. He is buried in Kenly Cemetery.
March 12, 2011
Sources
Baseball-Reference.com
Photo Credit
From the collection of Thad Gregory, Clemson, SC.
Born
September 28, 1916 at Kenly, NC (USA)
Died
April 6, 1979 at Wilson, NC (USA)
If you can help us improve this player's biography, contact us.
http://bioproj.sabr.org/bp_ftp/images5/EvansAl.jpg
600
800
admin
/wp-content/uploads/2020/02/sabr_logo.png
admin
2012-01-04 20:50:23
2012-01-04 20:50:23
Al Evans