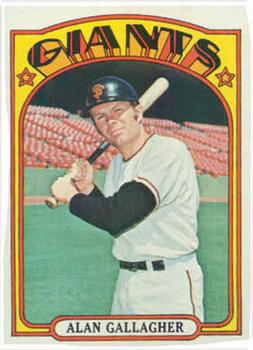 ---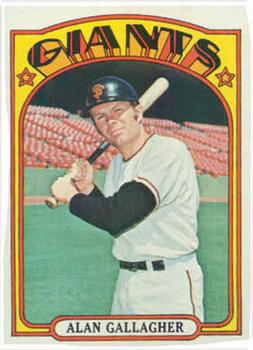 "Dirty Al" Gallagher was the first native San Franciscan to play for the Giants after their move from New York. Gallagher played for his hometown team for three years before being traded to the Angels. After his playing days came to an end, Gallagher enjoyed a long career as a manager in the minor leagues, mostly for independent league teams, for 24 years.
Alan Mitchell Edward George Patrick Henry Gallagher was born in San Francisco on October 19, 1945, to Joseph and Viola Gallagher. Joe Gallagher was born in San Francisco, into poverty and chaos only 42 days after the San Francisco earthquake. He lived with his mother's family for many years. Joe Gallagher grew up on the streets and, from an early age, learned to fend for himself.1
Gallagher's mother, Viola, was born in Wisconsin. Her mother died in childbirth. Her father was an electrician and could not care for his young children. Eventually, Viola and her siblings were placed in an orphanage. She made her way to California when she was about 18.2
When Gallagher was growing up, his father worked as a flooring contractor. He worked for several different companies in the Bay area as well as an independent contractor.3 Gallagher's mother made it through the 10th grade. She did not work outside the home while raising Al, but when he was older, she worked for the Department of Children Services in San Francisco.4
Gallagher's parents tried to start a family for eight years. When they finally had their only child, they had been considering many names. Eventually, they didn't make a choice and Gallagher was given the names they had considered if they had had other children, along with the first name of Dr. Mitchell who delivered him. George was added later when he was confirmed in the church.5
Growing up near Sanchez Street in the heart of the Mission District of San Francisco, Al Gallagher led a hardscrabble life while playing ball with his friends wherever they could. When he was playing for the Giants, he remembered a happy childhood. "My father had me out in the yard swinging a plastic bat at a whiffle ball when I was one year, eight months old. I'm a lucky man. My father wanted me to do the only thing I ever wanted to do – play major league baseball."6
Gallagher pulled for the San Francisco Seals until the Giants came to town. As a teenager, he would go to games at Candlestick Park and sit in the bleachers. He would buy hot chocolate to keep warm while earning money with a special skill that he developed there — findimg foul balls in the stands and selling them to other fans.7
Gallagher wanted to play at St. Ignatius High School but he couldn't earn a scholarship. The coaches told him that he wasn't good enough to make the varsity team on a scholarship, so he went to Mission High School.8
He became a starter on the Mission High School team by his sophomore year, playing third base. He made the all-city team as a sophomore and led all San Francisco high school players in batting average during his junior and senior years.9 Gallagher was even recruited by a lifelong friend, John Callan, to play for his fast-pitch softball team. Most of the players were much older but that didn't stop Gallagher, who batted .586 in 1962.10
Gallagher was good enough to play in the Peninsula Winter League, a rookie league, when he was in high school. He played against some of the best local talent, including Tug McGraw, in this league and garnered enough attention to eventually earn a college scholarship.11
Gallagher attended Santa Clara University, where he led the 1965 Broncos in hitting (.395), hits (60), triples (5) and RBIs (42) during his junior year. Gallagher also had a 25-game hit streak. It was during this streak that he earned his nickname, Dirty Al, when he wore the same unwashed uniform, jock and underwear during the streak.12 He earned an All-American nomination that season for his outstanding play at third base.
George Gale, his philosophy tutor in college and the senior cadet for Gallagher's ROTC company, remembers Gallagher as a freshman. "I called roll [for my ROTC squad], and this frosh, this guy Gallagher, was missing. Then I noticed a cadet streaking my way, holding his hat crookedly as he ran toward us. What an incredible sight! A more disheveled cadet was not to be seen in the entire battalion. Hat askew, blouse buttoned improperly, a bit of shirt showing, brass not just unshined, but green, shoes totally dull…and worst of all, he looked like he'd tried to shave with a dull axe. 'Gallagher,' I whispered, 'you look like you live in a pigpen; see me after drill.'13
Gallagher showed his acumen for managing while he was in college. Gale described him as an individual "with a lot of confidence. He was assertive in asking questions and wanting to understand. He was very together at an early age." Gale remembers Gallagher coming by his office wanting to talk, thinking that he had questions about ROTC. Instead Gallagher wanted to talk philosophy.14 Gale also watched Gallagher play. "He was good in the field. He could wait a pitcher out and he could knock the ball a pretty good distance. And, of course, he was always dirty."15
After his successful junior year, Gallagher was drafted by the San Francisco Giants in the first round of the 1965 MLB June Amateur Draft. The Giants sent him to the Springfield Giants in the Class AA Eastern League. Although Gallagher only batted .193 in 44 games there, the Giants moved him up to AAA Tacoma (Pacific Coast League) to finish the season. His batting average improved to .242 in the 33 games that he played in Tacoma at the end of the season.
Gallagher's meager offensive performance led to the Giants assigning him to the Fresno Giants of the Class A California League in 1966. He improved tremendously, batting .316 with a .473 slugging percentage in 120 games.
Gallagher met Terry Lynn Say while he was playing in Fresno. The couple got married on June 18, 1966, driving through the night to Reno to get married and then returning in time for Gallagher to suit up for that day's game. After the season, the couple were married a second time at St. Paul's Catholic Cathedral in San Francisco.16 While Gallagher played baseball, his wife worked as a residential real estate broker. They eventually had three children, Sean, Darin and Kelly.
Gallagher was sent to the Tacoma Cubs for the 1967 season to give him more experience at the AAA level. He shared third base duties with Ron Campbell, playing in 54 games. His batting average dropped to .230 before he was called up to serve his 90 days of active duty that was required as part of his National Guard assignment. The Giants sent Gallagher to the Arizona Instructional League that fall in order for him to work on his hitting.
The 1968 season saw Gallagher playing for the Amarillo Giants of the Class AA Texas League. He was the starting third baseman for most of the season, batting .276 with a .372 slugging percentage. Once again, Gallagher played in the fall league to work on his batting.
Gallagher returned to Amarillo in 1969 and improved his batting average to .293 in 88 games as the team's third baseman. He was called up to the AAA Phoenix Giants, appearing in nine games in the waning days of the season.
Gallagher finally made the Giants roster in 1970. With Jim Davenport moving toward retirement and Jim Hart hampered by injuries, San Francisco needed a third baseman. Al was the starting third baseman on Opening Day in 1970. He always credited Hank Sauer, the Giants hitting instructor when he was coming up, with helping him reach the majors.17
He always cherished the day when he, the local boy, started for the hometown team. "I was batting second, and Willie Mays was batting third. I remember Mays patting me on the butt and saying, 'Go get 'em, kid.' I wasn't on Cloud 9. I was in heaven. I will never forget that day."18 Mays made such an impression on Gallagher that he always wore Mays's 24 on his jersey during his long managing career.
Gallagher grounded out and popped up in his first two at-bats. But in the fifth inning, he earned his first major league hit when he hit a bouncer across the infield, just out of range of second baseman Joe Morgan. Gallagher thought: "I'm from San Francisco and Joe's from Oakland. I got the ball past him. Wow!"19 He got his first RBI in the seventh when he tripled on a line drive down the right field line that Norm Miller couldn't handle.
He continued to hit well, batting .500 (15-for-30) in his first seven games. Gallagher eventually hit .266 in 109 games in 1970. His efforts at third base led to him making the Topps All-Rookie team that year.
Gallagher loved to perform for the fans but this did not endear him to Giants manager Charlie Fox, who complained about his habits, both before and during games. Fox was frustrated with Gallagher's tendency to "throw the ball some place other than into the first baseman's mitt; and that [Gallagher] thinks he owes the customers a little something extra, so he signs autographs relentlessly, talks to the crowd and does a little back flip after picking up the last ground ball of infield practice."20
He continued to play well in 1971, batting .427 in August to help the Giants win the National League West and finishing the season with a career-high batting average of .277. But Gallagher remained in Fox's doghouse; the manager thought that his antics showed a lack of respect for the game. Gallagher started three games for the Giants in the playoffs. He had just one hit in 10 at-bats as San Francisco lost to the Pirates in four games.
He remained the Giants starting third baseman in 1972 but saw his playing time become more and more limited as his offensive production dropped off. Although Gallagher was frustrated by his lack of playing time, his reputation for not taking the game seriously dogged him.
Bucky Walter, baseball writer for the San Francisco Examiner, wrote, "He doesn't play because he's a flake! He drives poor Charlie [Fox] right up the wall. Gallagher is a good kid, but he just can't help himself. He acts flakey and Fox, who is so serious about this game, just can't stand it."21
Gallagher finished the season with a .223 batting average. His OPS fell off to .588, which many consider to be an unacceptable number for any position but pitcher. Gallagher was benched early in the season when the Giants wanted more power at third base and replaced him with Dave Kingman. After Willie McCovey was injured and Kingman moved to first, Gallagher was kept on the bench in favor of the aging Hart.
Fox justified his benching of Gallagher by saying, "He has some problems with his throwing. He doesn't always think before he throws. He likes to do funny things. That's his business. But it's my ball club to manage and he just has to look at the serious side."22
The feud with Fox lasted beyond the season and Gallagher eventually gave Fox a play-me-or-trade-me ultimatum. "It was just a couple of stubborn Irishmen. I was a streak hitter; he knew that. I wanted to play every day, and he wanted to platoon me."23
Gallagher appeared in five games to start the 1973 season before he was called into the office. The Giants informed him that he had been traded to the California Angels for Bruce Miller, a versatile infielder who could play second base, shortstop and third base. Gallagher said years later that it was the "biggest mistake I ever made."24
The Angels made Gallagher their everyday third baseman. He batted .273 and put up a respectable on-base percentage of .345 but his overall offensive numbers were a disappointment. Late in the season, Gallagher made the mistake of trying to run over Carlton Fisk as he blocked home plate. "I hurt [Fisk] so bad he played 21 more years," Gallagher said years later. "I could have had surgery, but they said it would take two years to get over."25
Gallagher decided to just rest his shoulder and work on rebuilding it through exercise. Unfortunately, that was not good enough and his weakened shoulder robbed him of what little power he had.
The Angels released him at the end of the season. "I was never a home run hitter or anything, but I couldn't drive the ball at all," he said.26 When he wasn't offered any jobs, Gallagher signed with the AAA Richmond Braves (International League). Late in the season, he was loaned to the Salt Lake City Angels (Pacific Coast League) for nine games. He batted a combined .254 with a respectable .701 OPS.
Gallagher returned to Richmond in 1975. He was used a utility infielder throughout the season. His offensive stats were not much different as he hit .260 during the season. But he failed to help the Braves score runs; Gallagher had just 16 RBIs in 78 games.
When the Braves released him at the end of the 1975 season, Gallagher found no other team willing to sign a third baseman who couldn't drive in runs. One morning he received a call from Hank Aaron, who asked if he would be interested in managing a Mexican League team that the Braves had a relationship with. Gallagher accepted immediately.
After he and his family moved to Durango, Mexico, he didn't get along with the owner and so he returned to Clovis, California. Gallagher enrolled in the Master's program at Cal State Fresno. When Gallagher had been drafted out of college, he was just one year away from earning his degree. But his baseball schedule and National Guard requirements made it difficult to finish up at Santa Clara. He attended Arizona State while still with the Giants and fulfilling his National Guard commitment.
After he was traded to the Angels, Gallagher attended Cal State Fullerton when his family moved to Placentia, California. He worked as a substitute teacher until he earned his master's degree from Cal State Fresno. After that, he began a second career as an elementary school teacher.27
He returned to baseball as the manager of the Texas City Stars, an unaffiliated team in the Lone Star League in 1977. Gallagher's Stars won the second half in the north with a 19-19 record, but the playoffs were cancelled when the Corpus Christi Seagulls refused to participate in the post-season. He was also the team's best hitter with a .352 batting average.
The following year, Gallagher signed on as the manager of the Class A Greenwood, SC Braves in the Western Carolina League, winning the league title with an 82-57 record in his first season at the helm. They repeated as champions in 1979 with a 78-60 record.
When Miles Wolff resurrected the Durham Bulls in 1980, he needed a manager. Wolff heard about Gallagher from the Atlanta organization. Gallagher had managed many of the young Braves players during his two years in Greenwood. Since many of those players were going to be playing in Durham, Wolff felt Gallagher might help his new team be successful on the diamond.
Little did he know that he had not only hired a manager but an entertainer and tireless promoter of baseball when he wasn't working with the young players. "Durham was looking for something," Wolff said later. "It needed an identity. A lot of people who lived here really liked baseball and they were looking for something to latch onto."28
Gallagher's antics helped to bring the fans back to the ballpark. From the third-base coaching box, Gallagher conversed with fans in the bleachers, occasionally asking an unsuspecting partisan what strategy he or she would employ during a game. He argued with umpires, kicking dirt at their feet and spitting tobacco juice on their shirts.
One time in 1980, Gallagher was ejected by the home plate umpire. "I remembered the game was being televised, so I figured I'd put on a show," he remembered later. Gallagher walked to home plate, removed the tobacco from his mouth and placed it in the center of home plate. "Family entertainment," he said.29
He managed the Bulls to an 84-56 record in 1980. The team lost in the league championship game. His 1981 team finished the season in fourth place with a 70-68 record.
Gallagher moved to the Cleveland Indians organization in 1982. His first stop was with the Class AA Chattanooga Lookouts (Southern League). The team finished in the cellar that year with a 63-80 record. The following year Gallagher managed the Class AA Buffalo Bisons (Eastern League) to a 74-65 record. The team lost in the league playoffs.
He moved back to the west coast in 1984 where he managed the Class A San Jose Bees (California League) near where he was living at the time. The team was unaffiliated and struggled all season. finishing with a 55-85 record.
After the season, Gallagher returned to being a school teacher. He made the decision for financial reasons. But baseball was always calling him. "I quit managing in 1984 and taught sixth grade in Fresno. Then my teacher's pension kicked in," he said about his return to managing.30
Gallagher and his family led a very nomadic life while he was managing. When his children started school, the family divided their lives into three stages each year. The first stage came at spring training and the early season when Gallagher would leave and the family would stay behind. The second stage came after school finished and his wife would take the children and join Gallagher wherever he was assigned. When the season ended in September, the family would return home. Gallagher would usually be a stay-at-home parent while his wife returned to work.31 Al and his first wife eventually divorced for a variety of personal reasons in the late 1990s.
He returned to managing in 1995 and bounced around the independent leagues for the next 17 years, spending time in places like Bend, Oregon; Madison, Wisconsin; St. Joseph, Missouri and Harlingen, Texas.
Gallagher managed Ila Borders during his year with the Madison Black Wolf. Borders, the first woman to pitch for a professional men's baseball team, credits Gallagher for her success. He used Borders as a three-inning starter in 1999, which allowed hitters not much more than one look at her pitches during a game. This routine enabled her to maintain a 1.67 earned run average.32
In 2002, Gallagher managed the Duluth–Superior Dukes of the Independent Northern League. He stayed with the organization when it moved to Kansas City and became the T-Bones the following year. During his tenure there, Gallagher started a reading program for the team's younger fans. Thousands of children received free T-Bones tickets as they accomplished certain standards of reading comprehension.
Gale, his former tutor from college, met him later when they were both in Kansas City. He remembers that Gallagher made an impression on the community there. "Al was always bigger than the game. He was a really generous guy, an old-school open-hearted Irishman."33
Gallagher managed the T-Bones from 2003 to 2006. They made the playoffs in 2004 with a 48-48 record but lost in the first round. Gallagher's teams never had a winning record during his stint in Kansas City and the team let him go in October 2006.
He moved to the St. Joseph (Missouri) Blacksnakes, another independent team, in 2007. The Blacksnakes finished 34-62 that year and disbanded when the season ended. Gallagher moved on and became manager of the Harlingen (Texas) White Wings when management was looking to change the identity of the team.
Gallagher's young club struggled to a 15-30 mark in the first half of the season and he was fired after just 46 games. "We needed to make a few personnel changes. After all my years in baseball, I know that managers don't win games, players do," he said years later.34
His next stop was with the Coastal Bend Thunder, based just outside of Corpus Christi, Texas, in the independent United League during its two-year existence. The team finished 39-40 in his first year at the helm, losing in the first round of the playoffs. They won just 31 games in 2009 and disbanded when the league folded at the end of the season.
Gallagher returned to Harlingen to take care of his second wife, Nancy, who had health issues. He used his master's degree in education to be a substitute teacher in the local school district in the offseason. Gallagher was hired to be the bench coach when the White Wings played at home in 2011 so that he could care for his wife.
"I tell our players to pick his brain," said Eddy Dennis, the White Wings manager. "He played at the highest level, he's coached at the highest level, and he's been a manager in the minor leagues."35
Gallagher's final job as a manager came in 2012 when he led another independent team, the McAllen, Texas, Thunder. The team was located just 40 minutes from Gallagher's home in Harlingen. They finished with a 31-57 record.
He finally retired from baseball to spend time with his family, moving back to California in order to live close to his sons. But it was not without sadness. Gallagher had a long relationship with baseball. "I love this game because it's changed my life so much. Never once since 1965 have I ever not wanted to go to work or not been proud of what I do. What better could happen to me on this earth than to be involved with such a special game."36
Gallagher died on December 6, 2018, in Fresno, California. Sportswriter Marky Billson noted on his death that "Baseball lifers often aren't remembered. Their legacy ends in forgotten statistics with forgotten teams and in the back of old yearbooks and media guides only pack rats keep around, living on in the fundamentals they taught their players. Gallagher will be different."37
Miles Wolff, his former boss in Durham and later a commissioner of an independent baseball league, said this of Gallagher's contribution to baseball: "When he came to independent baseball, he provided color and enthusiasm that helped make the independent game a special experience."38 The man with the longest name in baseball history left behind a legacy that will be remembered for many years.
Acknowledgments
This biography was reviewed by Chris Rainey and Norman Macht and fact-checked by Alan Cohen.
Sources
In addition to the sources cited in the Notes, the author also used Baseball-Reference.com, Baseball-Almanac.com, and Retrosheet.org websites for player, team, and season pages, and other pertinent material.
Notes
1 Sean Gallagher, email correspondence, February 2, 2019.
2 Ibid.
3 Ibid.
4 Ibid.
5 Ron Morris, "Remembering a baseball character called 'Dirty Al'," Raleigh News & Observer, December 7, 2018.
6 Wells Twombly, "Meet an Average Major Leaguer: Dirty Al," New York Times, July 16, 1972.
7 Marky Billson, "Al Gallagher, A True Bay Area Sports Legend, 1945–2018," Medium.com, December 7, 2018.
8 Shuttleworth, phone conversation, February 6, 2019.
9 Ibid.
10 John Callan, email correspondence, December 19, 2018.
11 Shuttleworth, phone conversation
12 John Shea, "Former Giants third baseman 'Dirty Al' Gallagher dies," San Francisco Chronicle, December 7, 2018.
13 George Gale, email correspondence, December 10, 2018.
14 George Gale, phone conversation, February 5, 2019.
15 Ibid.
16 Ibid.
17 Shuttleworth, phone conversation
18 Ibid.
19 Twombly. New York Times, July 16, 1972
20 Ibid.
21 Ibid.
22 Ibid.
23 Shea. San Francisco Chronicle, December 7, 2018
24 Ibid.
25 Dave Bush, "Ex-Giant Can Relate to his Minor-league Players," San Francisco Examiner, July 6, 2003.
26 Ibid.
27 Sean Gallagher, email correspondence, February 2, 2019.
28 Mark Pinsky, "Durham Loves Team, Its Intimate Ballpark," Los Angeles Times, July 24, 1988.
29 Morris, Raleigh News & Observer, December 7, 2018
30 Dave Bush, San Francisco Examiner, July 6, 2003
31 Sean Gallagher, email correspondence, February 2, 2019.
32 William Charland, "A pitcher defies baseball's gender borders," Christian Science Monitor, August 31, 1999.
33 George Gale, phone conversation, February 5, 2019.
34 Armando Garza, "Safe at home: Gallagher happy to be back with Wings," Valley Morning Star, July 16, 2011.
35 Ibid.
36 "Why I Love Baseball," Tbonesbaseball,com. http://www.tbonesbaseball.com/news/archives/index.html?article_id=141
37 Marky Billson, Medium.com, December 7, 2018
38 "T-Bones Mourn Loss of Gallagher," OurSportsCentral.com, December 7, 2018.
Full Name
Alan Mitchell Edward George Patrick Henry Gallagher
Born
October 19, 1945 at San Francisco, CA (USA)
Died
December 6, 2018 at Fresno, CA (US)
If you can help us improve this player's biography, contact us.
https://sabr.org/sites/default/files/GallagherAl.jpg
600
800
admin
/wp-content/uploads/2020/02/sabr_logo.png
admin
2019-05-14 12:47:45
2020-04-09 14:37:34
Al Gallagher