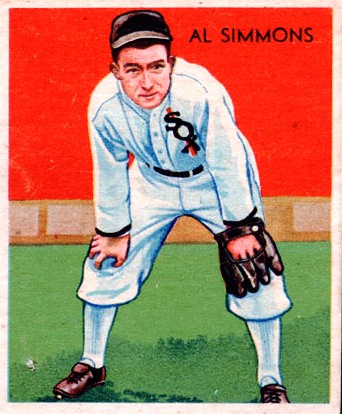 ---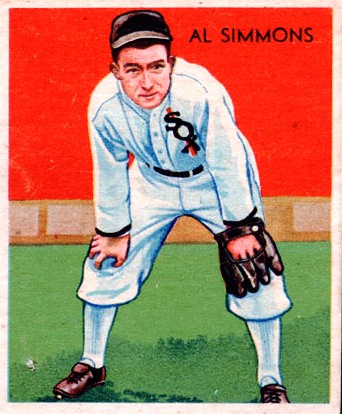 Al Simmons (Aloysius Harry Szymanski) was a premier hitter and left fielder for Connie Mack's formidable Philadelphia Athletics from 1924 to 1932 and subsequently for other major-league clubs through 1944. Simmons was born in Milwaukee on May 22, 1902, the son of Polish immigrants. He played high-school baseball before briefly attending Stevens Point Teachers College as a football player and later playing semipro baseball in Juneau, Wisconsin. The hometown Milwaukee Brewers of the American Association signed the hard-hitting 6-foot, 200-pounder in 1922 and sent him to Aberdeen, South Dakota, of the Class D Dakota League, where he hit .365 in 99 games. He also played in 19 games for Milwaukee that season, getting 11 hits in 50 at-bats (.220). Moved up the following year to Shreveport in the Texas League, he duplicated his performance, hitting .360 in a full season before playing out the rest of the season with the Brewers, where he sparkled, hitting .398 in 24 games.
Simmons' powerful hitting was achieved despite his unusual batting stance. A right-handed hitter and thrower, Simmons stood at the plate with his left (front) foot pointed toward third base, "in the bucket" in baseball parlance. Accordingly, he gained the nickname Bucketfoot Al, which he resented. Theoretically, he should have had difficulty in hitting outside pitches solidly. But Simmons overcame this apparent weakness by using an unusually long bat and moving his left foot closer to home plate with the approach of an outside pitch. As Simmons explained, "I've studied movies of myself batting. Although my left foot stabbed out toward third base, the rest of me, from the belt up, especially my wrists, arms, and shoulders, was swinging in a proper line over the plate."
Though he was still the property of Milwaukee, Simmons was interested at the time in playing for New York Giants manager John McGraw. In 1922 he wrote to Roger Bresnahan, the manager of the Giants' American Association farm team at Toledo, and indicated his availability for $150 in expenses. Bresnahan never responded. Years later, Simmons often commented, "I'm not sure I would have enjoyed playing for McGraw. We were both hotheads and I'm afraid we'd have clashed." Athletics owner-manager Connie Mack purchased Simmons' contract from Milwaukee after the 1923 season and Al was an immediate success with the A's, debuting on April 4, 1924, and hitting .308 with 102 RBIs in his freshman year. He had a breakthrough season the following year with a sensational .387 average and an eye-opening 253 hits. In 1926 Simmons "slipped" to .341 and 199 hits. He was hampered by injuries the following two seasons although he hit for high averages. But he rebounded over the 1929-31 seasons and, along with Mickey Cochrane, Lefty Grove, and Jimmie Foxx, carried Connie Mack's A's to three straight overpowering pennant wins and two World Series victories. Simmons was at his peak during those three years. In 1929 he led the American League with 157 RBIs while hitting .365. In 1930 and 1931 he had league-leading .381 and .390 averages. In 1929 he won the MVP award. In his last season with Connie Mack, 1932, Simmons hit .322 while again leading the league in hits, with 216. Simmons holds the major-league record for reaching 1,500 hits in the fewest games, 1,040.
Simmons hit .329 in the four World Series in which he played. He touched off the most improbable inning in Series history, the seventh inning of the fourth game between the A's and the Cubs in 1929. With the Cubs ahead 8-0, Simmons led off the inning with a home run. The Athletics batted around and were losing by only 8-7 when Simmons singled in his second at-bat of the inning as the A's completed a historic and unforgettable ten-run inning and went on to win, 10-8.
Tommy Henrich recalled a story Bill Dickey told him about Simmons. In 1928 the A's were an up-and-coming team. They came into New York late that season for a crucial four-game series with the Yankees. Before the first game, the Yankees were discussing what to do with the A's big hitters like Jimmie Foxx, Mickey Cochrane, Mule Haas, and Simmons. Dickey remembered that somebody thought it would be a good idea to rough Simmons up, to knock him down a little. "So we roughed him up," Dickey said. "In a four-game series, he had 11 hits, ten of them for extra bases." Henrich said, "Yeah, they roughed him up all right, and he returned the compliment. He hated the Yankees, but I liked him. I liked the way he would bear down against us."
Simmons had one of his most impressive days on Memorial Day in 1930. The first-place A's were losing to the second-place Washington Senators 6-3 with two out and two on in the bottom of the ninth. Simmons homered to tie the game. He doubled in the 11th inning but was left stranded. Simmons doubled again in the 13th but again did not score. He doubled again in the 15th, his fourth straight extra-base hit, and finally he was driven home for a 7-6 win. Before he scored, he injured a knee but managed to limp home.
Simmons' swelling knee prevented his starting the second game of the doubleheader. The Athletics were losing 7-5 in the fourth inning when Simmons pinch-hit and hit a grand slam that led to another A's win. After the A's won the1930 pennant, Washington owner Clark Griffith said, "Simmons hit 14 of his 34 homers in the eighth and ninth innings and every one figured importantly in the final score. We were never the same after he licked us in that doubleheader."
For a right-handed hitter, Simmons had great power on his drives to the right of second base. Hall of Fame second baseman Charley Gehringer told author Donald Honig that Simmons hit the most wicked groundballs to second base. Simmons was pitched outside to negate his pull-hitting power and, as Gehringer described it, "He'd hit to the right side. And he'd slice them. … He could blister it." Lefty Grove was another Simmons admirer. "Could he ever hit that ball! One year (1931) he held out until the season started—finally signed for $100,000 for three years—and came into Opening Day, no spring training or nothing, and got three hits. And he was a great (defensive) outfielder."
On the field Simmons was a warrior, intent on damaging the opposition and demolishing pitchers with his bat, stifling opposing teams' rallies with his glove, and upsetting infielders with violent takeout slides. He never lost his intensity for baseball even when he was an Athletics' coach after his playing days. During batting practice, the Yankees' Tommy Henrich used to urge coach Simmons to grab a bat and display his old hitting form. Henrich remembered: "It was something to see. When Al Simmons would grab hold of a ball bat and dig in, he'd squeeze the handle of that doggone thing and throw the barrel of that bat toward the pitcher in his warm-up swings, and he would look so bloomin' mad even in batting practice, years after he had retired.
Joe Cronin also was highly impressed by Simmons's fielding. Cronin said: "He was great all-around, running, fielding, and throwing, as well as hitting and as a competitor. There never was a greater left fielder in going to the line and holding a double to a single. He'd even dare you to make the wide turn at first on a ball hit to his right."
In 1932 Simmons hit .322 with a league-leading 216 hits, but it was a difficult year for Connie Mack as, after three straight pennants, his club finished second to the Yankees, and the relatively high salaried A's cost more than he could afford. And so, at season's end, Simmons was traded to the White Sox along with infielder Jimmy Dykes and outfielder Mule Haas for $100,000. Simmons had two decent years with the White Sox (.331 and .344), helped out when the team moved home plate closer to the outfield fences. But in 1935, playing for an uninspiring second-place club, the 32-year-old Simmons slipped, his batting average dropping to .267 and his RBIs slipping below triple-digits for the first time in his major-league career. Years later, Simmons admitted to a writer that he had accepted the White Sox' second-division attitude and had slacked off in his customary strenuous practice habits. It was time to move on and in the offseason his contract was sold to Detroit for $75,000. The Tigers had won the 1935 pennant. Although he was well past his prime, Simmons hit .327 with 112 RBIs in 1936, but the Tigers finished behind the murderous Yankees. And Simmons was dealt to Washington after the season.
Simmons had two indifferent years with the Senators, then suffered through the 1939 season with the Braves and the Reds. After returning to the A's in 1940-41, he sat out the 1942 season as a coach but with World War II military demands for younger players, he became a virtual baseball relic, appearing in 40 games for the Red Sox and batting .203. After six at-bats for the Athletics in 1944, he retired. He played in only 90 games in his last four big-league seasons. Simmons was a player-coach for the A's in 1944, then remained with Connie Mack as a full-time coach through the 1949 season. He concluded his major-league involvement by coaching for the Indians in 1950-51.
Late in his playing career, Simmons set a goal of obtaining 3,000 base hits. He came up 73 hits short. He bemoaned the times he had begged off playing to nurse a hangover or left a one-sided game early for a quick shower and a night on the town. Proud of his Polish ancestry, Simmons as a veteran coach imparted his unachieved goal to another Polish-American. "Never relax on any at-bat; never miss a game you can play," he advised a young Stan Musial."
Writer Donald Honig wrote: "Simmons was a testy character who was called 'a swashbuckling pirate of a man' by one contemporary. King of his league's right-handed hitters for a decade, he was an elitist who bullied rookies, manifested a chilly disdain for lesser mortals, and even on occasion questioned the wisdom of Mr. Mack. … Still" – discussing the fading recollection of Simmons by later generations of fans and writers – "Simmons, with his old boiling hatred of pitchers and a batting average of .334 which slots him fifth among right-handed smackers, is becoming a statue in a dark and unvisited basement."
Simmons had a lifetime batting average of .334 with 2,927 base hits (including 539 doubles) and 1,828 RBIs. Despite his induction into the Hall of Fame in 1953, Simmons is not rated by all baseball experts as highly as his gaudy statistics would suggest. Bill James did rate him seventh among left fielders based upon his 375 Win Shares. But in the Seventh Edition of Total Baseball, possibly through inadvertence, Simmons was not rated among the top 100 all-time players.
Well-respected catcher and baseball observer Ralph "Cy" Perkins summed up Simmons when he spoke at Al's Hall of Fame induction: "He had that swagger of confidence, of defiance, when he came up as a kid. He was as sensational as a rookie as he was as a star. I've always classed him next to Ty Cobb (Simmons's idol) as the greatest player I ever saw. … He was what I would call the 'perfect player,'" Sportswriter Bob Broeg agreed with that tribute, writing, "High praise indeed, and even when he began to spend more time with the sauce (drinking) in his last professional baseball job as a coach with Cleveland in 1950, Simmons took pride in proper techniques and methods."
Simmons apparently mellowed as he neared the end of his career. George Case was a young outfielder with the Washington Senators when Simmons, then in his late 30s, became his teammate. One evening in a Boston bar, Simmons invited Case to join him for a drink. With no game the next day, the two men drank together until 2:30 a.m., the teetotaling Case drinking ginger ale and Simmons downing Scotch and water. Simmons recounted the story of his life, telling Case, "You know, I have a reputation for being coarse and a little ornery, but believe me, enough things have happened to me in my lifetime to account for that." Simmons went on to describe the rough time he had as a boy, how poor his family was, and how hard he had to work when he was a young boy. After that, the two men became close friends and Simmons gave Case a lot of good advice and encouragement. As Case recalled, "He turned out to be, under that gruff exterior, a very kindly and thoughtful man."
In his last years in baseball Connie Mack reflected on his long baseball career. He kept only one picture of a former player in his office, and it was the swaggering Simmons. Asked which player could provide the most value to a team, Mack sighed, "If I could only have nine players named Al Simmons."
Simmons married Doris Lynn Reader of Chicago in August 1934. The couple had one son, John, before divorcing. Because of religious convictions, the restless, lonely Simmons remained single after his marriage broke up. Close personally to Connie Mack, Simmons told a writer, "Mr. Mack seemed to look on me as his son. He never stopped feeling sorry for me about the breakup of my marriage," and Mack unsuccessfully urged him to patch things up. Simmons died in his beloved Milwaukee on May 26, 1956, four days after his 54th birthday.
Sources
Biographical Dictionary of American Sports, Greenwood Press, 1987
Bob Broeg, Super Stars of Baseball, The Sporting News, 1971
Cooperstown Where the Legends Live Forever," Arlington House, 1988
Donald Honig, Baseball When The Grass Was Real, Berkley Medallion Publishing
Donald Honig, Baseball America, Macmillan Publishing, 1985
Donald Honig, Baseball Between the Lines, University of Nebraska Press,1976
Bill James, The New Bill James Historial Baseball Abstract, The Free Press
The Ballplayers, Arbor House, William Morrow, 1990
Total Baseball Seventh Edition, Total Sports Publishing, 2001
Born
May 22, 1902 at Milwaukee, WI (USA)
Died
May 26, 1956 at Milwaukee, WI (USA)
If you can help us improve this player's biography, contact us.
http://bioproj.sabr.org/bp_ftp/images3/SimmonsAl.jpg
600
800
admin
/wp-content/uploads/2020/02/sabr_logo.png
admin
2012-01-04 20:42:16
2012-01-04 20:42:16
Al Simmons