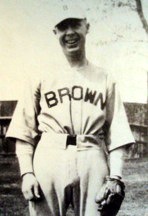 ---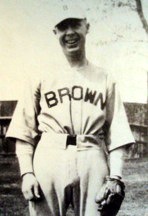 Art Merewether, one of Brown University's 38 big leaguers, became the fourth Ocean Stater to play his entire major-league baseball career in one day. On July 10, 1922, "Merry" pinch hit for pitcher John "Bonnie" Hollingsworth leading off the ninth inning for the Pittsburgh Pirates in a 19-2 loss to Art Nehf and the New York Giants. Art grounded out to shortstop Dave Bancroft and never got another major league swing. Merewether did, however, play more baseball and go on to have a couple of rather amazing careers.
Arthur Francis Merewether was born on July 7, 1902, in East Providence, Rhode Island. He was the first child born to Francis Gilmore Merewether and Margaret Jane (Murphy) Merewether, who went on to add three more sons, Paul, George, and Austin, before completing their family with the birth of a daughter named Olga in 1909. Art's father, who made a living as a plumber, steam fitter, and metal worker, had played baseball before the turn of the century for a Smith Hill baseball team. In addition, he was quite active politically and in 1914 he had even run for office in East Providence as a Socialist.
Art played a variety of sports as a youngster, including football, ice polo (similar to ice hockey, but with shorter sticks like those used in field hockey), and baseball. As a teenager for the East Providence High School Townies, he excelled in each of those sports. In baseball he was a starter at second base for the 1917 varsity team when he was only 14 and he often received rave reviews in the local newspapers. In fact, after his very first varsity game, the newspaper reported that "the fielding and batting of Merewether, a new man for East Providence, was the big feature of the game." [1] Reaching his listed playing size of 5'9" and 155 pounds did not make him stand out, but his talent did. When one got closer to him, his determination, intelligence, and even his different colored eyes—one blue and one brown—made him stand out even more.
Art was also outstanding academically, as evidenced by the fact that after graduation, he was a runner-up for an appointment to the Naval Academy and was accepted into prestigious Brown University where he again excelled both athletically and academically. When he finished at Brown, sports columnist Charley Coppen wrote in the Providence Journal that "Brown lost a baseball star of the highest degree when Arthur F. Merewether of this city was given his diploma….'Merrie,' as he is known on the hill and to college baseball fans all over New England is probably the best fielding second baseman playing in college circles to-day. Time and again during the past season he made seemingly impossible catches around the keystone sack and his handling of double plays may be called letter-perfect….All in all, it is safe to say that Brown loses in Merewether, the best second baseman to ever guard the keystone sack for a Brown nine. A clever dependable fielder with a strong arm, a quick thinker and a man who always gave everything he had no matter how the tide of battle was going. It will probably be some time before his equal is seen at the college under the elms." [2]
Mike Lynch, who had played baseball at Brown around the turn of the century and who had won 40 games as a pitcher for the Pittsburgh Pirates between 1904 and 1907, knew enough about Merewether to strongly recommend him to the Pirates and they promptly signed him to a contract.
After his one and only major league appearance, Merewether spent some time playing second base in Class B leagues for both the Flint Vehicles in the Michigan-Ontario League and for the Worcester Boosters in the Eastern League. He then decided to improve upon his chemistry degree from Brown by enrolling in a graduate program at the Massachusetts Institute of Technology (MIT), where he obtained a masters degree in chemistry in 1925.
While at MIT, Art accomplished something that could never be done now. He went from playing college baseball at Brown to playing professional baseball in both the major and minor leagues, and then back to playing baseball at another college. At MIT he played so well and he was so well liked that he was unanimously elected as the team's captain. According to MIT's newspaper The Tech, "his selection was not in doubt for a minute. He has shown the best brand of ball in practice of any man on the team. His hitting has been very powerful and his fielding nearly perfect." [3]
After leaving MIT, Merewether worked for awhile in private industry. He continued, however, to remain very active in sports. He played semipro baseball in Grant Park, Illinois, and for Great Northern Paper Company in Millinocket, Maine. He stayed in Maine and played for a variety of other teams including Rockland in the Maine Coast League and the Lewiston-Auburn Twins in the New England League. He also continued to play amateur or semipro football and hockey. A 1926 newspaper article reported that "Arthur (Speed) Merewether played his last hockey game with the Gardner team…and the Gardner hockey enthusiasts have reason to regret his departure for they may never again have a hockey player like Merewether." [4]
Merewether left Maine in order coach baseball and football at Phillips Academy in Andover, Massachusetts, with the hopes of eventually being able to teach chemistry. Despite his Brown and MIT degrees, however, Phillips Academy did not accept him as a teacher, reportedly because Roman Catholics were not allowed to teach at that exclusive school in the 1920s. In fact, he was dismissed from his coaching jobs at Phillips Academy after two years when a fulltime mathematics teacher decided that he wanted to become the baseball coach and was given the job.
Because of a fascination with airplanes, Merewether decided to sign up for the Army Air Corps flying school in 1929. By the following year he was an army aviation lieutenant. Art still played baseball when he could. While assigned to Barksdale Air Base in Louisiana during the mid-1930s, he played second base on weekends for the semipro Shreveport Giants. More important to him, however, was that it was in Shreveport that he met Genevieve Evans. On his 35th birthday he married this lovely 23-year-old southern belle. Their first child, Diana, was born in 1938 and the remainder of the family, Catherine, Frank, and James, arrived in '39, '40, and '41 respectively.
Arthur Merewether's main career, however, was not baseball or even flying. It was meteorology. His involvement in that field had begun when General Oscar Westover had selected him, in part on a recommendation from Jerome Hunsaker, chairman of aeronautical engineering at MIT, and perhaps in part because of the appropriateness of his name, for a special assignment in the Boston area. Back at MIT for the first time since 1925, Merewether attended graduate courses in meteorology while conducting early morning weather observation flights every other day. For the rest of his life Art used to jokingly say to his family and friends, "With a name like mine what else could I have done?" It was perhaps appropriate that the science of weather became the centerpiece of the remainder of Art Merewether's life.
In January of 1940 Merewether reported to Washington, D.C. where he worked for Chief of the Army Air Corps General Hap Arnold. Art became the second person in the army to ever have the title of "Chief of the Weather Section." Three months later the officer he had replaced, Lt. Robert M. Losey, became the first American serviceman to be killed as the result of hostile action in World War II.
From that position Merewether was very instrumental in setting up the meteorology academic programs for the military. It started as a three-month course at MIT, but was soon a nine-month course in five universities around the country. These courses eventually produced over 5,000 weather officers who later became the core of America's weathermen when the war ended. Toward the end of 1942 through his medical retirement as a full colonel in 1946, Merewether commanded the 8th Weather Squadron headquartered in Presque Isle, Maine. In that position his contributions to the war effort were very significant.
After his military retirement, Merewether became chief meteorologist for American Airlines and remained so for about 20 years. He also served in 1954 and 1955 as President of the American Meteorological Society. By the time Art passed away in Bayside, New York, on February 2, 1997, he was 94 years old and had received an amazing variety of honors, awards, and decorations. A sampling of those includes his induction into Brown University's Hall of Fame, the Losey Award from the American Institute of Astronautics and Aeronautics, and the U.S. Legion of Merit from the American government. Great Britain honored him with being made a Commander, Order of the British Empire. His contributions were such that the U.S. Air Force Air Weather Service now annually gives out the Col. Arthur F. Merewether Award for Individual or Team Excellence in his honor. Canada even named two landmarks for him in Labrador that he had discovered as a pilot in 1943—Merewether Crater and Merewether Lake. No other Rhode Island-born major leaguer has ever had such an incredible non-baseball career and, in fact, very few former major leaguers from any state have had more impressive non-baseball careers. Not many of his contemporaries are still around, but, as of the summer of 2010, his wife Genevieve, all four of their children, and numerous grandchildren are all well and doing fine.
Sources
Interviews with Diana Merewether (daughter of Arthur F. Merewether)
Guidance from Stephen Eschenbach and James Merewether (son of Arthur Merewether)
Art Merewether Family Scrapbook
Baseball-Reference.com
Brown Daily Herald (Brown University student newspaper) Vol. XXVIII, No 43, p. 2.
Sykes, Robert B. Jr. "Arthur F. Merewether 1902-1997." Bulletin of the American Meteorological Society, Vol. 78, Issue 10 (October 1997), pp. 2261-2263.
The Tech (MIT student newspaper) Vol. XLV, No. 10, April 15, 1925, p. 3.
The Providence Journal, May 30, 1917.
---
Full Name
Arthur Francis Merewether
Born
July 7, 1902 at East Providence, RI (USA)
Died
February 2, 1997 at Bayside, NY (USA)
If you can help us improve this player's biography, contact us.
http://bioproj.sabr.org/bp_ftp/images5/MerewetherArt2.jpg
600
800
admin
/wp-content/uploads/2020/02/sabr_logo.png
admin
2012-01-04 20:00:40
2012-01-04 20:00:40
Art Merewether