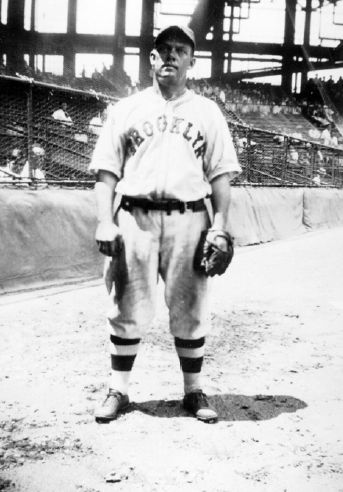 Danny Taylor, an outfielder known for his hitting and his speed, was a product of the sandlots of Western Pennsylvania. He put together a 16-year career in Organized Baseball, starting with his first appearance with the Buffalo Bisons in 1926 and ending as player-manager of the Harrisburg Senators in 1942. During the baseball seasons of 1926 and 1929 through 1936, Taylor played in the major leagues, first with the Washington Senators, and then with the Chicago Cubs and the Brooklyn Dodgers. He was with the Cubs during their championship year in 1929, but only briefly at the beginning of the season.
Daniel Turney Taylor was born in Cowansburg in Sewickley Township of Westmoreland County, Pennsylvania, on December 23, 1900.1 He was the son of coal miner Henry Judson Taylor and his wife, Emma. At the time of the 1900 census, the Taylors were living in Sewickley Township with five children: Mordecai, Anna, Lela, Abram, and Charley. By 1910 Henry Taylor had died, and Emma was living in Sewickley Township with Abraham (19), Charley (14), and Daniel (9). Danny Taylor didn't attend high school, but started working as a weighmaster in the coal mines as a teenager. According to his daughter, Madge Taylor Hula, Danny actually missed his eighth-grade graduation because he was playing in a pickup baseball game.2 He also began playing for a semipro baseball team in nearby West Newton, earning $3.50 per game.3 According to Madge Hula, such baseball teams were very popular at the time, touring the area and even playing local African-American teams like the Homestead Grays.4 In 1924 Taylor was playing for the Uniontown (Pennsylvania) Elks, and "his bat played a pretty song on the short fences at the local park."5 In 1925 he started out playing for West Newton, but then became a star outfielder for the Barnesville Hilltops of the Eastern Ohio League.6 At some time during this period, Taylor married Hallie M. Seneff; their daughter, Madge, was born in 1926.
In February 1926 Taylor was signed by the Buffalo Bisons of the Double-A International League. The Uniontown Morning Herald said he was the "fence buster of the independent circuit. … Taylor has long been an outstanding figure in sandlot baseball here about and is rated as the best hitter on the independent circuit, for the past five years, being particularly a home run clouter. Last season with the champion West Newton team he cracked out 19 home runs and established a new record for long distance hitting by slamming out a pair of circuit clouts in one inning…Buffalo is a big jump for a sandlotter. If Danny can keep up his hitting stride there is little reason to doubt that he can make good."7
Taylor played in 34 games for Buffalo that season, batting .306 with a slugging percentage of .556. By late June the Washington Senators had exchanged pitcher Alex Ferguson for Taylor.8 He made his major-league debut against the Red Sox in Boston on June 30, 1926, at the age of 26. He had three hits, including a home run, in four at-bats. He played 21 games for Washington, batting .300, before being traded to the Memphis Chickasaws of the Class A Southern Association in August for pitcher Horace Lisenbee.9
Taylor remained with Memphis in 1927. Newspapers called him a "speedy, hard hitting outfielder," but said that "Danny does not like the idea of playing in that climate but feels that a season with a team like Memphis will do him much good."10 By early July he led the Southern Association with 11 home runs and was the best base stealer in the league.11 By the end of the season, he led the league with 27 triples, tying the record held by Elliott Bigelow and Ike Boone.12 He played in 151 games for the Chicks that year, batting .286 with a .518 slugging percentage.
By 1928 the Brooklyn Robins had recruited Taylor, but they sent him back to Memphis in late March.13 On July 25 the Chicago Cubs purchased him, but he was not to report until 1929. According to the Uniontown Morning Herald, "Although the purchase price has not been made known it is understood that President W.L. Veeck of the Cubs laid out a fancy figure for the outfielder."14 During his stint with Memphis in 1928, Taylor played in 155 games, the most of any outfielder in the league, and led the league in bases on balls (115) and putouts by an outfielder (322).15 He batted .374 with a slugging percentage of .655.
Taylor was with the Cubs for just over four weeks of the 1929 season. He struck out as a pinch-hitter in the ninth inning in a game against St. Louis on April 23. On May 14 he was brought into right field as part of a defensive switch in the sixth inning in a game against Boston. He had three plate appearances, walking once. He was then sent to the Reading Keystones of the Double-A International League, where he batted .371 and had a slugging percentage of .620. He was clearly having more success against minor-league pitching.
Taylor was back for another trial with the Cubs in 1930. By late August Hugh Fullerton of the United Press was singing his praises: "By his brilliant work as substitute for 'Old Hoss' Riggs Stephenson, young Danny Taylor has just about won himself a regular place in the Chicago Cubs' outfield. Taylor, who finished the Cubs' triumph over Brooklyn a week ago by driving in the winning run in the final game, did the same thing to the New York Giants yesterday in a more sensational fashion and put Chicago five full games ahead in the National League pennant struggle with a 3-2 triumph. Taylor stole home in the ninth inning when the score was tied, the bases full, two men out and two strikes on the batter."16 Writing several years later, sportswriter John Drebinger described Taylor as "the fleet outfielder who once, while wearing the livery of the Chicago Cubs, dismayed the Giants by stealing home in the ninth inning of a crucial battle, while Joe Heving stood on the pitching mound reflecting upon the stitching on the ball."17 Taylor appeared in 74 games for the Cubs that year, batting .283 with a slugging percentage of .402.
Taylor remained with the Cubs in 1931. On July 31 he hit two triples in three at-bats during a 10-3 rout of St. Louis. He played in 88 games that season, with a batting average of .300 and a slugging percentage of .448. He started the 1932 season with the Cubs, playing in six games and batting only .227. Manager Rogers Hornsby was apparently not satisfied, and on May 7 the Cubs sold Taylor to the Brooklyn Dodgers. Taylor immediately caught fire, and had the best season of his major-league career. On July 17, in a Brooklyn victory over St. Louis, he had four hits in four at-bats, including two doubles during the second game of a doubleheader. On August 9, in an extrainning loss to Cincinnati, he had two home runs and a double in four at-bats. He played in 105 games for the Dodgers, batting .324 with a slugging percentage of .499, 11 home runs, 48 RBIs, and 13 stolen bases.
Taylor was back with Brooklyn in 1933. While his hitting was important to the team, some felt his fielding left something to be desired.18 He did, however, pull off an unassisted double play on June 20, something that was not duplicated in the National League by a center fielder until Curt Flood of St. Louis did it on June 19, 1967.19 On August 2 Taylor had four hits, including two doubles, in four at-bats in an 8-5 loss to Boston. Two weeks later he hit two solo home runs in a 2-1 Dodgers extra-inning victory over Pittsburgh. In 103 games with the Dodgers that year, he batted .285 with a slugging percentage of .469 He remained with the Dodgers in 1934. On May 20 he walked twice and stole two bases during Brooklyn's 5-1 defeat of the Cubs. He played 120 games that year, batting .299 with a slugging percentage of .440. He was fourth in the National League with 12 stolen bases.
Taylor, at 5-feet-10, was apparently having trouble with his weight. He appeared for spring training in 1934 weighing 200 pounds, but with new recruit Stanley "Frenchy" Bordagaray threatening his spot in left field in 1935, he came to camp at a trim, fit 185 pounds.20 On June 1 he got four hits, including two doubles, in an 8-4 Brooklyn victory over Philadelphia. During the season he played in 112 games for the Dodgers, batting .290 with a slugging percentage of .432.
Taylor was back with the Dodgers for the first half of the 1936 season. On May 24 he had three hits, including a double and a home run, in four at-bats. He drove in a career-high five runs in this 11-2 rout of the Boston Bees. He was retired as a pinch-hitter in the seventh inning of his final major-league game, on July 10, 1936. Over his 43 games with Brooklyn that year he batted .293 and had a slugging percentage of .397. He played in 674 major-league games, batting .297 with a slugging percentage of .447. His fielding percentage was somewhat less stellar at .979. He had 650 hits with 44 home runs, and drove in 305 runs. He got four hits in ten of his games, and three hits in another 46.
On July 11, 1936, the Dodgers sold the 35-year-old Taylor to the Indianapolis Indians of the Double-A American Association. He played in 16 games for them, batting .302. He remained with Indianapolis in 1937, playing in 146 games and batting .327. In 1938 Taylor played for three teams in the American Association. He started the season with Indianapolis, but by June he was with the Minneapolis Millers. One of his teammates in Minneapolis was Ted Williams. He was soon traded to the Columbus Red Birds for catcher Earl Grace.21 He was leading the American Association with a .364 batting average.22 Over the course of the season, he played in 125 games and batted .333.
In February 1939 the Syracuse Chiefs of the Double-A International League bought Taylor from Indianapolis. According to the Syracuse Herald, "Taylor is listed as liking the idea of being back in the International League. He thrived in his only two years in the circuit which finds [him] not distant from his home in West Newton, Pa., where he resides with his wife and 13-year-old daughter, Madge."23 He played in 126 games that year, batting .306. During 1940 he was a player-coach with Syracuse, batting .316 in 15 games.
In 1941 Taylor was hired by the Lansing Senators of the Class C Michigan State League as a player-manager. He appeared in 20 games during his time in Lansing, batting .351. By June 10 he had resigned at Lansing and was soon the player-manager of the Harrisburg Senators in the Class B Interstate League.24 The 40-year-old Taylor was a big help to the Senators that season. During the last half of June he batted safely in 12 straight games.25 He played in 83 games, batting .335 with a slugging percentage of .500. He remained with Harrisburg in 1942, but his numbers were way down. His batting average was only .243, his slugging percentage .286, and his fielding percentage .971. This was Taylor's final year in Organized Baseball. During his 11 whole or partial seasons in the minor leagues he played with seven Double-A teams (then the highest minor-league classification), two Class A teams, two B teams, and one C. He played in 1,069 games and batted .327 with a slugging percentage of .507 and a fielding percentage of .972.
By 1943 Taylor was back in Westmoreland County, and was a Republican candidate for county sheriff.26 He lost that race, and worked for a time as a salesman for Stoney's Brewery in Smithton. Mostly, though, after he retired from baseball he became pretty much of a homebody. His wife, Hallie, was trained as a teacher. She returned to teaching when there was a shortage of teachers during World War II, and continued teaching after the war ended.27
Danny Taylor died at 71 on October 11, 1972, in Latrobe, Pennsylvania. He is buried in the West Newton cemetery. His wife, Hallie, died in 1978. He is a member of the Westmoreland County Hall of Fame, and was inducted into the Mid-Mon Valley All Sports Hall of Fame on June 26, 1998.28
This biography appears in "Winning on the North Side: The 1929 Chicago Cubs" (SABR, 2015), edited by Gregory H. Wolf.
Sources
Ancestry.com
Baseball-reference.com
Retrosheet.org
Telephone interview with Danny Taylor's daughter, Madge Taylor Hula, August 21, 2013
1. Most sources say that Taylor was born in Lash, Pennsylvania. He was actually born in Cowansburg, which used the nearby Lash post office.
2. Telephone interview with Madge Taylor Hula, August 21, 2013.
3. "Taylor One of West Newton's Baseball Best," Valley Independent (Monessen, Pennsylvania), June 13, 1998, S1; Harold Seymour, Baseball: The People's Game (New York: Oxford University Press, 1990), 263.
4. Madge Taylor Hula interview.
5. "Former Elks' Player Bought by the Cubs," Uniontown (Pennsylvania) Morning Herald, July 25, 1928, 11.
6. Uniontown Morning Herald, August 11, 1925, 10; "Hilltops Trim Noakers and Tie for First," Zanesville (Ohio) Times Recorder, July 18, 1925, 10.
7. "Danny Taylor to Play Ball With Buffalo." Uniontown Morning Herald, February 20, 1926, 10.
8. "Washington Swaps Pitcher Ferguson for Danny Taylor." San Antonio Light, June 24, 1926, 10.
9. "Washington Swaps Pitcher Ferguson."
10. "Taylor Joins Memphis," Coshocton (Ohio) Tribune, February 21, 1927, 6.
11. "Taylor Champion Home Run Hitter for Memphis Team," Charleroi (Pennsylvania) Mail, July 8, 1927, 16.
12. "Taylor One of West Newton's Baseball Best."
13. "Taylor Goes to Minors," Uniontown Morning Herald, March 24, 1928, 10.
14. "Former Elks' Player Bought by the Cubs," Uniontown Morning Herald, July 25, 1928, 11.
15. "Taylor One of West Newton's Baseball Best."
16. Hugh S. Fullerton, United Press, "Cubs Triumph over Giants; Cards take 2," Southeast Missourian (Cape Girardeau, Missouri), August 25, 1930, S2.
17. John Drebinger, "Grantham in Fold; 23d Giant to Sign," New York Times, February 3, 1934, 16.
18. Cleon Walfoort, "The Sport Dial," Sheboygan (Wisconsin) Press, June 10, 1933, 12.
19. baseballlibrary.com/ballplayers/player.php?name=Curt_Flood_1938&page=chronology Accessed August 5, 2013.
20. "Training Camp Sidelights," Ironwood (Michigan) Daily Globe, March 6, 1935, 8.
21. "Baseball," Ironwood Daily Globe, June 17, 1938, 2.
22. "Columbus Player Tops Association Batters with .364," Appleton (Wisconsin) Post-Crescent, June 18, 1938, 14.
23. "Chiefs Buy Outfielder Taylor," Syracuse Herald, February 15, 1939, 18.
24. "Such is the Plight of a Manager," Benton Harbor (Michigan) News-Palladium, June 10, 1941, 7.
25. "Danny Taylor Big Help to Harrisburg," Charleroi (Pennsylvania) Mail, July 5, 1941, 7.
26. Paul Horn, "The Sporting Way," Charleroi Mail, June 11, 1943, 5.
27. Madge Taylor Hula interview.
28. "Taylor one of West Newton's Baseball Best."