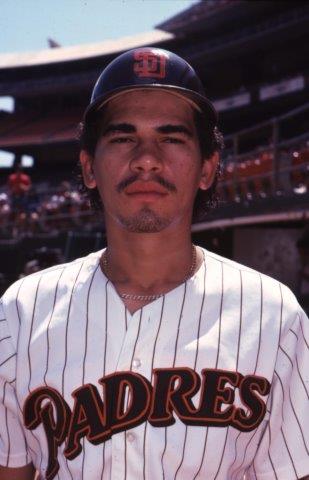 ---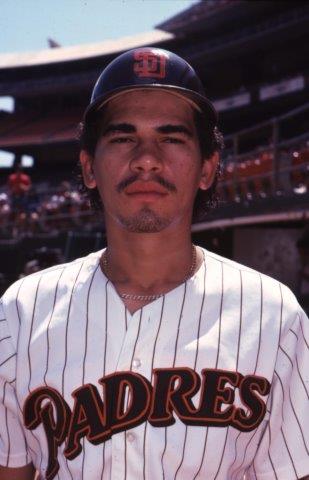 Benito Santiago was one of the best catchers in the majors in the late 1980s and early 1990s. Santiago played solid baseball and set several catching records during a 20-year career during which he played for nine teams. His legacy was tarnished as a result of his inclusion in the steroid scandal that swept through baseball shortly before his career ended.
Benito Rivera Santiago was born in Ponce, on the south coast of Puerto Rico, on March 9, 1965. His father, José, a truck driver, died when Benito was 3 months old. José had an accident with his rig, refused to be treated, and died shortly after the accident.1 Shortly afterward, Benito's mother abandoned him, giving him to friends living on the opposite side of the island. He grew up never knowing his mother.2
Santiago not only grew up poor but he also grew up on the streets in the small town where he lived. If it hadn't been for baseball, he might have become just a poor farm worker. He reflected on this in an interview in 1989 when he returned for a visit to his hometown with a reporter and said: "See those guys out there picking tomatoes and watermelons? That used to be me. That would be me today."3
Santiago started out as a shortstop. He had to be talked into catching for his Little League team when the regular catcher did not show up for a game.4 He attended John F. Kennedy High School in Santa Isabel, Puerto Rico. His coach, Luis Rosa, was also the Padres' chief scout in Puerto Rico. Santiago admired Rosa tremendously and after graduating from high school he signed with the Padres as an amateur free agent.
The Padres assigned the young catcher to the Miami Marlins of the low Class-A Florida State League in the spring of 1983. He played in 122 games and began to show the hitting prowess for which he would be recognized throughout his major-league career. He had 25 doubles and 56 RBIs. Promoted in 1984 to the Reno Padres of the faster Class-A California League, Santiago hit .279 with 16 home runs and 83 RBIs.
After spring training in 1985, the Padres assigned Santiago to the Beaumont Golden Gators of the Double-A Texas League. He continued to demonstrate his ability to be an offensive threat even as he faced stiffer competition. Playing in 101 games, Santiago had 111 hits and raised his batting average nearly 20 points to .298. In 1986, promoted to the Las Vegas Stars of the Triple-A Pacific Coast League, Santiago batted .286 with 17 home runs and 71 RBIs. Called up to the Padres after the PCL season, Santiago made his major-league debut on September 14. He started the game against Houston and got his first major-league hit, a double off Mike Scott, in his first at-bat.
It was clear to the Padres that Santiago was ready for the majors. He became the team's starting catcher in 1987 and was a unanimous selection for the National League Rookie of the Year Award. His .300 batting average with 33 doubles, 18 home runs, and 79 RBIs, earned him a Silver Slugger Award, and behind the plate he was among the league leaders in several defensive statistics (although he notably led the league in passed balls and errors).
One of the most exciting parts of Santiago's rookie season was his 34-game hitting streak. Santiago batted .346 with 5 homers and 19 RBIs during the streak, which lasted from August 25 through October 2. His streak was the 15th longest in major-league history and the longest ever for a Padre, a rookie, or a catcher. Teammate Tony Gwynn pointed out the significance of Santiago's accomplishment when he said: "Every player but the catcher gets to rest and contemplate his next at-bat."5
Santiago's batting average plunged to .248 in 1988, but he won his first Gold Glove Award. In 1989 he won the first of four consecutive All-Star Game selections; he was the starting catcher for the NL team. In 1990 Santiago earned his third consecutive Gold Glove Award and third Silver Slugger Award. Chosen for the National League All-Star squad, he was injured and didn't play. For the first time, he received votes for the Most Valuable Player Award. He finished 23rd in the voting.
Santiago, who was paid $750,000 in 1990, sought a four-year, $11 million contract in 1991. The Padres offered $1.65 million for one year and they went to arbitration. Santiago lost, and said he would leave the Padres after the 1992 season and enter the free-agent market.6 Santiago didn't let his contract situation in San Diego bother him on the field; he had one of his best offensive seasons in 1991, batting .267 with 17 home runs and a career-high 87 RBIs. Santiago was the starting catcher for the NL in the 1991 All-Star Game. (He repeated in 1992.)
Santiago went to arbitration again in 1992 and won his case, being awarded a salary of $3.3 million rather than the Padres' offer of $2.50 million. After the Padres made it clear that they were not going to re-sign Santiago or any of their other high-salaried players as a cost-cutting move,7 he said he was sad to leave the organization that gave him his start in baseball,8 entered the free-agent market after the season, and signed with the expansion Florida Marlins for $3.4 million.
Santiago hit the first home run in the Marlins history when he knocked a pitch by Trevor Wilson out of Candlestick Park on April 12, 1993. Santiago was solid as the Marlins' first-string catcher in 1993 and '94, but the Marlins declined to sign him at the end of 1994 because they had a young catcher, Charles Johnson, ready to step into the position.
Santiago once again entered the free-agent market and signed with the Cincinnati Reds for 1995. Sharing duties behind the plate with three others, Santiago played in only 81 games and helped the Reds get to the postseason. They defeated the Dodgers in the Division Series but lost the NLCS to Atlanta.
Once more Santiago went looking for a team after the season. He signed with the Philadelphia Phillies, for whom he hit a career-high 30 home runs, including a ninth-inning grand slam on May 3 off Greg Maddux, the first slam surrendered by Maddux in his career.9 But the Phillies released him after the season, and Santiago signed with the Toronto Blue Jays. Injuries kept his catching load in 1997 to 97 games, and in 1998, injuries suffered in an offseason car crash limited Santiago to just 15 games.10 He did not get into a game until September 4, and the Blue Jays released him at the end of the season.
Santiago signed with the Chicago Cubs for the 1999 season. He played in 109 games with middling results the Cubs released him at the end of the season. Santiago signed again with the Cincinnati Reds. He played in 89 games, and was released after the season.
Santiago had now played for six teams in eight years. His inconsistent play as well as injuries had made him no more than a journeyman player at this point in his career. The 36-year-old catcher's next stop was San Francisco. There, some of his new teammates questioned his ability to be a team player. There were also concerns about what skills Santiago retained, considering that he played a position that was physically difficult.11
After starting the 2001 season sharing catching duties with Bobby Estalella, Santiago became the Giants' regular catcher by midseason and played in 133 games. All things considered, he had a respectable season offensively; he was strong behind the plate and provided needed guidance to some of the Giants' young players. Former teammate Mark Grace said of Santiago in 2001: "He's good with pitchers and young catchers and he works hard. It's not an accident he's been around so long. He's a heck of a player."12
Santiago also had a strong 2002 season. Playing in 126 games, he hit 16 home runs and had 74 RBIs. He seemed to thrive when Giants manager Dusty Baker had him bat behind Barry Bonds.13 Santiago's play earned him his fifth All-Star selection. He made the final out in the controversial game, which ended in a tie when both teams ran out of pitchers.
Santiago made his second postseason appearance in 2002, and played well. The Giants defeated Atlanta in the Division Series and St. Louis in five games in the Championship Series. Santiago hit two home runs in the NLCS, had six RBIs, and was named the series' Most Valuable Player. Santiago contributed five RBIs in the World Series, which the Giants lost to the Anaheim Angels in seven games.
Santiago played in 108 games for San Francisco in 2003. The Giants let him go at the end of the season, and he signed with the Kansas City Royals for 2004. On June 18 he was batting .274 with 6 home runs and 23 RBIs (he had hit a three-run homer in the first inning), when he was hit on the left hand by a pitch from Geoff Geary of the Phillies. The hand was broken and Santiago saw no playing time for the remainder of the season. In December the Royals traded him to the Pittsburgh Pirates for Juan Carlos Oviedo.14
Santiago caught in six games for the Pirates in April, the last one on the 11th. At 40, he was the third of three backstops, and the club released him in May. In June he signed a minor-league contract with the New York Mets, but was released in July after playing in nine games for Triple-A Norfolk.
Santiago played in 1,978 games in his 20-year career. He had 1,830 hits and a .263 batting average. Santiago hit 217 home runs and had 920 RBIs. His career fielding percentage was .987. He led National League catchers three times in assists, once in fielding percentage and once in baserunners caught stealing.
Santiago played winter ball in his native Puerto Rico after the 2005 season. His goal was to sign another major-league contract. He felt that he still had the arm and the skills behind the plate to contribute on a contending club.15 No club decided to sign him.
In December 2007, after his playing career was over, Santiago was one of the players alleged in the Mitchell Report to have received anabolic steroids. The report stated that syringes were found in Santiago's locker near the end of the 2003 season. Santiago denied that he used steroids, claiming that he had collected the syringes as part of an ongoing prank by teammate Barry Bonds.16
Despite his positive statistics, Santiago's connection to the steroids scandal hurt his prospects for election to the Hall of Fame. He got just one vote in 2011, his first year on the ballot, and failed to get any votes in successive years. Besides the steroid allegations, some voters may have been deterred by Santiago's fielding statistics. He led the National League in errors six times and in passed balls three times.17
Honoring his accomplishments with San Diego, the Padres named Santiago to the club's Hall of Fame in 2015. Santiago's four starts for the NL All-Star team are the second most in franchise history, behind Tony Gwynn's 12 starts. Santiago's three Gold Gloves and four Silver Sluggers also rank second in franchise history.18
Santiago excelled in a difficult position for 20 years. His 1,917 games caught are 11th on all-time list. While he will be most remembered for his batting, Santiago also demonstrated solid defensive skills throughout his career.
Santiago has four children, daughters Bennybeth and Aliyah and sons Benito Jr. and Benito Ivan. He has been active in Latino events in San Francisco and his home of Puerto Rico since his retirement.
Last revised: July 1, 2017
This biography is included in "Puerto Rico and Baseball: 60 Biographies" (SABR, 2017), edited by Bill Nowlin and Edwin Fernández.
Sources
In addition to the sources cited in the Notes, the author also utilized the Baseball-Reference.com and Retrosheet.org websites for box scores, player, team, and season pages, pitching and batting game logs, and other material pertinent to this biography. Fan Graphs.com provided some the individual statistical information used in this biography.
Notes
Born
March 9, 1965 at Ponce, (P.R.)
If you can help us improve this player's biography, contact us.
https://sabr.org/sites/default/files/SantiagoBenito-6064.94_HS_NBLSauritch.jpg
600
800
admin
/wp-content/uploads/2020/02/sabr_logo.png
admin
2012-01-04 20:34:24
2012-01-04 20:34:24
Benito Santiago