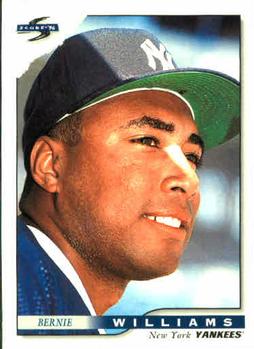 ---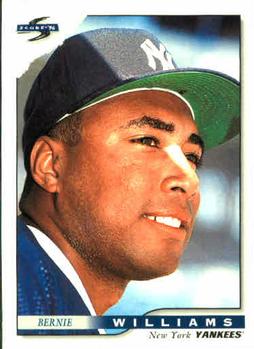 Center field at Yankee Stadium is hallowed ground. Once upon a time, Joe DiMaggio and Mickey Mantle patrolled this section of the House That Ruth Built. Now, granted, Bernie Williams — whose 16-season New York Yankees career lasted from 1991 to 2006 — may at best be a borderline Cooperstown inductee, but he is a more-than-worthy successor to Joe D. and The Mick as a center fielder par excellence. Plus, as was the case with his two predecessors, the Bronx Bombers were his only major-league team. It is understandable, then, that "Bern Baby Bern" predates "Feel the Bern" as a catchphrase among fans of another celebrated Bernie: Senator Bernie Sanders, the 2016 presidential hopeful.
Actually, Bernie Williams's given name is Bernabé (rather than Bernard). He was born Bernabé Williams Figueroa Jr. on September 13, 1968, in San Juan, Puerto Rico. His father, Bernabé Sr., was a merchant seaman and his mother, Rufina, was a high-school teacher-principal and college professor. The family resided in the Bronx during the year after Williams's birth but then settled in Vega Alta, a town around 45 minutes outside San Juan. As a youngster, Williams played Little League and Babe Ruth League baseball; among his opponents were future major leaguers Ivan Rodriguez and Juan Gonzalez. He also regularly attended winter-league games, but baseball was not his sole sport. At age 15, he won four gold medals and a silver medal at the 1984 Central American and Caribbean Junior Championships in Athletics, an international track meet held in San Juan, and was acknowledged as one of the world's fastest 400-meter runners in his age group.1 (Ironically, during his major-league career, Williams never became a feared basestealer, swiping only 147 bases and adding eight more during the postseason.)
Williams grew to be a 6-foot-2, 205-pounder. He was just 16 when, in 1985, New York Yankees scout Roberto Rivera noticed him and wished to sign him. The youngster was dispatched to a baseball training camp in Connecticut, and was inked by the team on his 17th birthday. As he began his minor-league career, he attended the University of Puerto Rico; at this juncture his intention was to earn a degree in biology and, perhaps, also take pre-med classes. But he decided to focus on baseball, realizing that his studies could impede his rise within the Yankees system.
Williams's first minor-league season came in 1986, when he was assigned to the Gulf Coast League Yankees, the team's Rookie League affiliate; he appeared in 61 games, hit a respectable .270 with 2 home runs and 25 RBIs, and was selected to the league's All-Star team. At the time he was strictly a right-handed hitter and speed still was a part of his game, as he pilfered 33 bases. Then in 1987, Williams split the season between Fort Lauderdale in the Class-A Florida State League (where he hit .155 in 25 games) and Short Season-A Oneonta in the New York-Penn League (where he improved to .344, also in 25 games). On November 8 he was added to the Yankees' 40-man roster.
Williams's true breakout minor-league season came in 1988, when he hit a robust .335 (with 7 home runs and 45 RBIs) in 92 games for Prince William in the Class-A Carolina League. He won the league's batting title, but also was sidelined for the season after fracturing the right navicular bone in his wrist while crashing into the outfield wall in a July 14 game against Hagerstown. The following year, Williams arrived at Yankees spring training as a much-heralded prospect. "He is their phenom this spring, their kid with unlimited talent and untapped potential," wrote Michael Martinez in the New York Times. "He is only 20 years old, but the coaches who work with him daily say he has the skills of a big leaguer. The people in the front office speak of his intellectual and his physical growth. They all say he simply can't miss." Added Frank Howard, the Yankees' hitting coach, "He's a quality-looking athlete. He has fantastic bat speed, he can sting the ball and he has great reflexes."2
But Williams still was a work-in-progress. He was promoted to the Columbus Clippers of the Triple-A International League at the start of the 1989 campaign, but after hitting just .216 in 50 game, he was demoted to the Double-A Eastern League Albany-Colonie Yankees, where he improved to .252 in 91 games. On February 23, 1990, he married the former Waleska Ortega; they have three children (Bernie Jr., Beatriz, and Bianca). Initially, the family resided in northern New Jersey, with Waleska and the youngsters spending the school year in Puerto Rico. Then in 1999, they purchased a home in Armonk, New York. "Once we had an opportunity to settle in, we fell in love with the area," Williams declared in 2003. "It's very quiet. It feels like the countryside. It looks a little like the part of Puerto Rico where I grew up."3
The budding big leaguer spent the entire 1990 season at Albany-Colonie, where he made it into 134 games and hit .281 with 8 home runs and 54 RBIs while leading the league with 98 walks and 39 stolen bases. His prospect status was on the rise: He was named an Eastern League and Baseball America Double-A All-Star and was cited by Baseball America as the second-best Eastern League prospect. Also, while in the minors, he began using both hands while playing Wiffle ball with a sibling. In so doing, he realized that he could effectively hit left-handed; he queried Buck Showalter, his manager at both Fort Lauderdale and Albany-Colonie, to win the okay to practice switch hitting — and so he began coming to bat for the first time from the left side of the plate.
During the following two campaigns, Williams further established himself at Columbus, respectively hitting .294 in 78 games and .306 in 95 games. Baseball-Reference.com lists conflicting figures for his career minor-league batting average, home-run total, and total number of games; representative numbers are .285, 48, and 660. Nonetheless, two months into the 1991 season, he was primed for his big-league bow. "Clearly, there are (Clippers) players ready for promotion," wrote the New York Times' Michael Martinez on June 11. One of them was Bernie Williams. "He's got all the tools," observed Clete Boyer, a Columbus coach. "When he gets up there, he should stay."4 What surely was the season's highlight for Williams was his major-league debut, which came on July 7 against the Baltimore Orioles. Replacing the injured Roberto Kelly, he was the starting center fielder, batting eighth and going 1-for-3 with a sacrifice fly and two RBIs in a 5-3 loss. "It's very different," Williams declared of playing before 43,505 fans in the Bronx ballyard. "I've been dreaming of this since I signed six years ago." He said he "was nervous out there at first. I didn't expect this many fans."5 Williams's first big-league hit was a ninth-inning single off Greg Olson, and his initial home run came seven days later against California's Chuck Finley. Prior to his call-up, Williams had been named to the Triple-A All-Star team, but his promotion prevented him from appearing. He was the Bronx Bombers' starting center fielder for the remainder of the season, playing in 85 games and batting .238 with 3 home runs and 34 RBIs. His big-league high point was a five-hit game against the Cleveland Indians on October 5.
Across the decades, rookies in all sports have been subjected to hazing by their veteran peers. Bernie Williams was no different. However, his mild manner made him a special target for Mel Hall, a Yankee flychaser. As reported in a 2014 SB Nation article penned by Greg Hanlon, "With Williams, Hall took rookie hazing to abusive extremes. … He called Williams 'Bambi,' mocking his large doe eyes, which were magnified by his bulky glasses. Alternately, he called him 'Mr. Zero,' Hall's assessment of Williams' value. He once taped a sign on Williams' locker saying 'Mr. Zero,' and would say, 'Shut up, Zero,' whenever Williams tried to speak, something that reportedly once nearly brought Williams to tears. Things got so vicious that management interceded on Williams' behalf. 'Mel was basically bullying Bernie and we put an end to it,' responded Buck Showalter … who was then a Yankee coach. …"6
In 1992 Williams was back in Columbus but he also spent part of the season with the Yankees. He started off in the Bronx but was returned to the Clippers on April 15 after appearing in two games. Clearly, he was not destined to remain at Triple A as he was fourth in the International League in slugging percentage, fifth in on-base percentage, and fifth in the batting race, making it into 95 games and hitting .306. His nine triples were tied for the league lead; he was the Yankees' minor-league player of the month in June and an International League midseason and postseason All-Star. Most impressive of all, Baseball America rated him the fourth-best International League prospect. After his recall to the Bronx on July 31, he appeared in 60 games and hit .281 with 5 home runs and 26 RBIs. Williams played left field in four games and right field in another four, but was shifted to center field on August 7. From then on, he appeared in every game and played every inning for the rest of the season, and also was the Yankees' leadoff hitter. His 1992 highlights included a 10-game hitting streak (September 2 through 13) and a four-hit game on September 12. After the season, he briefly played for Arecibo in the Puerto Rican winter league before sustaining ligament damage in his left knee and undergoing arthroscopic surgery on December 19.7
The 1993 campaign was extra-special for Williams: His minor-league apprenticeship was completed, and he spent the entire season with the Yankees as the starting center fielder. However, a slow start resulted in George Steinbrenner, the easily exasperated Yankees owner, putting pressure on general manager Gene Michael to trade Williams. Rumor had it that he would be swapped for Larry Walker of the Montreal Expos, but the deal was not consummated.8 For the season, Williams appeared in 139 games — a muscle strain in his rib cage sidelined him for 23 games between May 13 and June 7 — and he hit a respectable if unspectacular .268, with 12 home runs and 68 RBIs. He was the team's leadoff hitter through the All-Star break; from then on, he mostly batted sixth. His season high points included his smashing his first grand slam on June 14 off the Boston Red Sox' Danny Darwin — the Yankees won the game 4-0 — and hitting in 21 straight games between August 1 and August 23.
The following season, Williams' batting average improved to .289 (with 12 home runs and 57 RBIs) in 108 games. He returned to the leadoff spot for 28 games, during which he hit .362, but also batted sixth, seventh, and eighth. This success may be contrasted to his .178 average for the month of April. His top performances that year included hitting homers in three consecutive games between June 6 and June 8; on June 6, he enjoyed his initial two-homer game (against the Texas Rangers), in which he drove in seven runs. On that occasion, he joined Mickey Mantle, Roy White, Tom Tresh, and Roy Smalley as the fifth Yankee to homer from both sides of the plate in the same game.
Then in 1995, Williams established himself as an upper-echelon big leaguer, appearing in 144 games and hitting .307 (with 18 home runs and 82 RBIs). Yet again, he started off slowly; for the first two months of the season, he hit .204 with 4 homers and 14 RBIs, but hit .333 for the rest of the season (and .354 during the month of August). While he stole eight bases — he and Pat Kelly trailed only Luis Polonia, who pilfered 10 — by now it was clear that he was no big-league basestealer. However, while the Yankees were shut down by the Seattle Mariners in the American League Division Series, Williams's postseason debut was a stellar one; in five games he hit .429 with two homers and five RBIs.
Still, George Steinbrenner kept insisting that Williams be traded. For one thing, he was not easy to categorize. Despite his speed, he was no basestealer. Despite his ability to run down fly balls, his throwing arm was less than powerful. While a steady hitter, he was no slugger. That season the Yankees owner even wished to swap him to the San Francisco Giants for Darren Lewis, a fellow center fielder. Such a deal was never consummated. Williams also was displeased when the team renewed his contract for what in baseball terms was a paltry $400,000. He was eligible for arbitration the following season and asked for $3 million; the team countered with $2.555 million, which the ballplayer did not accept. He ended up being awarded $2.6 million in arbitration.9
In 1996 Williams proved that the numbers he compiled during the previous campaign were no aberration. He played in 143 games, hitting .305 and establishing what then were career zeniths with 29 home runs and 102 RBIs. His accomplishments that season included three two-home-run games and eight RBIs in a 12-3 triumph against the Detroit Tigers on September 12. He improved on his 1995 postseason performance, hitting .471 with 5 home runs and 11 RBIs in the ALDS and American League Championship Series. While he was the ALCS MVP, his numbers sank in the World Series against the Atlanta Braves; he hit just .167 with a single home run and four RBIs. But no other Yankee matched his RBI total and his home run in the eighth inning of Game Three helped win the game — and allow the Yankees their first world championship since 1978.
Starting in 1997, Williams not only entered his major-league prime but further solidified his status as an elite player and top-of-the-list Yankee. In 129 games he hit .328 (coming in fourth in the American League batting race) with 21 home runs and 100 RBIs, and also earned his initial Gold Glove award. He was seventh in the league in on-base percentage (.408) and eighth in runs scored (107); he was named to his initial All-Star team and in August was the American League Player of the Month, hitting .395 with 8 home runs and 23 RBIs. On the downside, he had two stints on the disabled list, both for strained left hamstrings, and hit just .118 in the five-game ALDS against the Cleveland Indians. And after the campaign, he yet again found himself the subject of trade rumors. One report had him going to the Detroit Tigers for a bevy of young pitchers.10 Another possible trade involved swapping Williams to the Chicago Cubs for center fielder Lance Johnson.11
It was the Yankees' good fortune that Williams was not dealt, as he became the 1998 American League batting champion. In 128 games, he hit .339, homering 26 times and driving in 97 runs. He was his league's Player of the Month in May, when he hit .402 with seven home runs and 27 RBIs. He won another Gold Glove, earned a spot on the All-Star squad, was second in his league in on-base percentage (.422), and finished seventh in the MVP voting. The Yankees' 114-48 campaign was an American League record — and Williams became the first-ever player to win the batting title, a Gold Glove, and a world championship during the same season. While that summer was far from perfect — on June 11, he began a 31-game stint on the disabled list because of a strained right knee, and he hit just .188 during the postseason — he did enter the upper stratosphere of baseball salaries, signing a seven-year, $87.5 million contract on November 25. Also included was an eighth-season $15 million club option. The negotiating with the team was lengthy and contentious; the Yankees were hoping to sign Albert Belle, who instead inked with the Baltimore Orioles. Additionally, the Yankees were involved in a bidding war with the Boston Red Sox for Williams's services.12
Williams' all-time best season came in 1999, when he hit .342 in 158 games –third in the AL batting race — while belting 25 home runs and driving in 115 runs. His 202 hits then were a career high, as were his number of games played and RBI total along with his 116 runs and 100 walks. His seven four-hit games were tops in the majors, with two coming against Tampa Bay on June 22 and June 23; yet again, he made his league's All-Star team, and his status as a feared hitter was demonstrated by his being intentionally walked three times in a game against Tampa Bay on September 26. In the postseason, he hit .273 with two home runs and eight RBIs; in the first ALDS game against Texas, he went 3-for-5 with six RBIs. However, most impressive of all, Williams's elite Yankee status was illustrated by his joining Lou Gehrig, Babe Ruth, Joe DiMaggio, and Mickey Mantle as the only Bronx Bombers to drive in at least 100 RBIs and score at least 100 runs in three separate seasons. He and Derek Jeter became the first Yankees with at least 200 hits in the same season since Gehrig and DiMaggio in 1937.
Williams followed up in 2000 by hitting .307 in 141 games and setting career zeniths with 30 home runs and 121 RBIs. He earned the most All-Star Game votes of any American League flychaser; perhaps his best games of the season came on April 23, when he went 3-for-4 with two homers (one lefty and one righty) and five RBIs, and June 17, when he was 4-for-4 with seven RBIs. However, he sat out seven games, starting on August 19, with a right rib cage strain. In the three postseason series, against Oakland, Seattle, and the Mets, Williams hit a respectable .279 with two home runs and five RBIs.
Williams maintained his solid play in 2001, appearing in 146 games and hitting .307 with 26 home runs and 94 RBIs. His 38 doubles were a career high, and he was an American League All-Star for the fifth straight season; among the three hits he collected on June 2 against Cleveland were the 1,500th of his career. Even though he hit only .220 during the postseason, his 11 RBIs were tops for the Yankees — and he was the first player to hit homers in three consecutive ALCS games. But his season's low point had nothing to do with baseball. On April 9 he missed 10 games upon returning to Puerto Rico to be with his father, who was afflicted with pulmonary fibrosis; then in mid-May, he went home again upon the passing of Bernabé Sr., missing a three-game series against Oakland.13
Then in 2002, Williams appeared in 154 games and finished third in the AL batting race with a .333 average. He hit 19 home runs and drove in 102 runs; his 204 hits were a career high, and he was 5-for-15 in four postseason games. But this was his final season as a .300 hitter. His average sank to .263 in 2003; he appeared in 119 games, hitting 15 home runs and driving in 64 runs. Still, his name was increasingly appearing on team career stat lists. His 1,950 total hits ranked eighth all-time in Yankees annals; his 241 homers were seventh; his 1,062 RBIs ranked ninth; his 372 doubles ranked fifth. He got his 1,000th RBI on April 2, doubling against the Blue Jays. There were downs in 2003: On May 23 he landed on the 15-day disabled list with a torn medial meniscus in his left knee, for which he underwent arthroscopic surgery. But there were ups: He hit .318 in 17 postseason games; his 19th postseason home run, belted in Game Three of the World Series, was the all-time major-league high, exceeding Reggie Jackson and Mickey Mantle; and his 66 postseason RBIs broke the record of 63 held by David Justice.
The 2004 campaign had Williams hitting .262 in 148 games, with 22 home runs and 70 RBIs. His injuries and illnesses were mounting; he failed to accompany the team to its opening series in Japan, as he was felled by appendicitis. However, on June 10, he became the seventh Yankee to reach the 2,000-hit plateau when he singled against Colorado. Six days later he hit his 250th career home run. And on August 6, he doubled for the 390th time in his career, besting Joe DiMaggio's 389 and taking over fourth place on the all-time Yankee list. Two days later he smashed his 10th grand slam, topping the nine hit by Mickey Mantle and Yogi Berra. He now ranked fourth among all Yankees in this category, behind only Lou Gehrig (with 23 grand slams), DiMaggio (13), and Babe Ruth (12). And he enjoyed a solid postseason, hitting .296 with 3 home runs and 13 RBIs.
Then, in 2005 — the final year of his eight-year contract — Williams's batting average sank to .249. In 141 games, he hit 12 home runs and drove in 64 runs. But he was just the 10th Yankee to don pinstripes for 15 seasons; in a game against Baltimore on September 27, his 2,215th hit bested DiMaggio's total and elevated him to fourth place on the team's all-time list. Notwithstanding, the Yankees announced on August 2 that they would not pick up Williams's option for the following season, preferring a $3.5 million buyout. "It's a formality," Williams declared at the time. "I don't think it means I'm going to be a Yankee or not going to be a Yankee. They can still talk to me when the end of the year comes."14 That December Brian Cashman, the team's general manager, re-signed Williams to a one-season, $1.5 million contract. He put up respectable numbers in 2006, playing in 131 games and hitting .281 with 12 home runs and 61 RBIs. On July 26 his career hit total reached 2,300; on August 16 his 443rd double ranked him second on the all-time team list. That year he also played for his Puerto Rican homeland in the World Baseball Classic. But 2006 was Williams's final major-league season. He wished to return in 2007 and even was willing to be a backup outfielder and occasional pinch-hitter, but he was offered only a minor-league contract with the opportunity to come to spring training and compete for a roster spot. He refused the invitation.
In his career, Williams appeared in 2,076 games. He had 2,336 hits in 7,869 at-bats, of which 449 were doubles, 55 were triples, and 287 were home runs. He drove in 1,257 runs while scoring 1,366. His lifetime batting average was a more-than-respectable .297. He also played in every postseason from 1995 to 2006. In 121 total games, he came to bat 465 times with 128 hits, 29 doubles, and 22 home runs. He drove in 80 runs while scoring 83; his postseason batting average was .275; and his number of game appearances and home-run and RBI totals were tops in major-league history. He was on every American League All-Star team from 1997 through 2001; he won four Gold Gloves (1997, 1998, 1999, and 2000); and he was an American League Silver Slugger in 2002. He was second in the American League in on-base percentage in 1998 (.422) and fourth in 1999 (.435). He was third in on-base plus slugging in 1998 (.997). Williams was a part of four Yankees world championships (1996, 1998, 1999, and 2000).15
Even though Williams was unwilling to sign with another major-league team for 2007, the 38-year-old ballplayer refused to officially retire. The following year, he played for Gigantes de Carolina in the Puerto Rico Baseball League, hoping that this would lead to a roster spot on the team that would represent his country in the 2009 World Baseball Classic. "I have as good a chance as anybody to make that team," he declared. "A lot of good players out there, so it's gonna be hard to try and make that team. But I like my chances. They're probably as good as anybody else's."16And so he arrived at the Yankees' 2009 spring-training camp to work out, eager to play in the Classic — and perhaps be one of the 25 Bronx Bombers to head north at the start of the season. "After doing this for 16 or 17 years, you get some of that baseball thing back in your system," he noted. "It's like, 'Whoa, maybe I can do this for a couple more years.' I guess that's part of the fantasy that I try not to allow myself to live."17 But of course, his big-league career was finished.
Despite this, Williams was winning accolades as an all-time-great Yankee. He received a thunderous, 102-second standing ovation upon his first appearance at Yankee Stadium since 2006. The date was September 21, 2008; it was the final game at the "old" ballyard, and he was the final "old-timer" introduced. The following year, he played for his country in the World Baseball Classic, walking twice but getting no hits in five at-bats. Then in 2012, Williams debuted on the Hall of Fame ballot, receiving 55 votes (or 9.6 percent of the balloting). That number fell to 19 in 2013; the 3.3 percent total eliminated him from Cooperstown consideration. But in May 2014 the Yankees announced that he would be honored with a plaque in the Stadium's hallowed Monument Park; on February 16, 2015, the team revealed that his number 51 would be retired. Both occurred in a ceremony on May 24. Williams began his speech by declaring, "This is unbelievable. Never in my wildest dreams I would have thought that a skinny little … kid from Puerto Rico could be here this day, and (for) this celebration." He observed, "I am so proud to represent Puerto Rico." He thanked Gene Michael for not trading him, Roy White for working on his left-handed swing, Willie Randolph for giving him sage advice — and suggesting that he embrace his success — Joe Torre for "being there for me," and his teammates for "letting me be a part of some of the greatest years of my life." While he wished he could still play, he declared, "You don't want the 2015 version of Bernie Williams. This one is more suited for a guitar than for a bat."18 As he was so honored, sportswriter Ian O'Connor, who covered Williams for years, observed that he "forever (carried) himself in pinstripes with dignity and grace. He didn't measure up to DiMaggio and Mantle as a player, but go ahead and read the accounts of life with the late Yankee greats and decide if they measured up to Williams as role models and men."19
As an ex-big leaguer, Bernie Williams has not rested on his on-field accomplishments. Early on, his talents as a classical guitarist rivaled his athletic ability. At age 8, he became enamored of the flamenco guitar music his father played for him. Five years later he began attending San Juan's Escuela Libre de Musica high school, a private performing-arts institution. Even after signing his pro contract, he regularly played his guitar as a form of relaxation, often in his team's clubhouse.
Never was Bernie Williams ever the stereotypical jock. According to longtime New York sportswriter Joel Sherman, he "was quiet, shy, and predisposed to internalize life. He was nice but not overly friendly. He was bright yet often projected flightiness. He seemed almost to travel in a dream state." Sherman added, "Sitting off alone in a corner, strumming his guitar, was heaven for Williams." In this regard, as Williams explained to Sherman, "I always had to prove I could play. They all saw me and always thought I was too mild, that I wasn't tough enough, that I didn't care, that my mind was not into baseball. But none of that was true."20
Williams of course was into baseball, but he evolved across time into an acclaimed guitarist. He was inspired by a range of musical styles (including jazz, classical, pop, Brazilian, and Latin), and became adept at both acoustic and electric guitar. His debut album, the jazz-rock-tropical music-influenced The Journey Within, was released in 2003. On it, he plays lead and rhythm guitar and also penned seven of the album's 12 numbers; among them are "La Salsa En Mi" and "Desvelado," which link his affection for jazz and his Puerto Rican roots. He is joined here by a first-rate group of musicians, including Béla Fleck, Kenny Aronoff, Shawn Pelton, Luis Conte, Leland Sklar, Tim Pierce, and David Sancious. The Journey Within made it to number 3 on Billboard's Contemporary Jazz Chart. Then in 2009 came a second album, Moving Forward, which debuted at number 2 on the Contemporary Jazz Chart, and for which he earned a Grammy nomination. Here, his collaborators include Bruce Springsteen, Jon Secada, Dave Koz, and Patty Scialfa. Two years later, he co-authored the appropriately titled book Rhythms of the Game: The Link Between Music and Athletic Performance. He has over the years performed on countless occasions in numerous venues. One example: In 2014, he played "Take Me Out to the Ball Game" on the field in Fenway Park in a pregame ceremony before Derek Jeter's final big-league appearance.
Williams's charitable enterprises include his involvement with Little Kids Rock, an organization that stresses the importance of music education for disadvantaged youth. However, his connection to popular culture is not limited to his musicianship. In "The Abstinence," a 1996 episode of Seinfeld, George Costanza (Jason Alexander) — who refers to himself as "assistant to the (Yankees) traveling secretary" — offers batting tips to Williams and Derek Jeter. Bernie's one line, to George: "Are you the guy who put us in that Ramada in Milwaukee?"21 He also has participated in a pair of films with baseball connections. Henry & Me (2014) is the animated tale of a cancer-stricken boy who is guided by his guardian angel on a journey in which he meets past and present Yankee greats. Williams does his own voice, as do other Bronx Bombers from Yogi Berra to Reggie Jackson to Hideki Matsui; Luis Guzmán, Chazz Palminteri, Paul Simon, David Mantle, and Hank Steinbrenner respectively voice Lefty Gomez, Babe Ruth, Thurman Munson, Mickey Mantle, and George Steinbrenner. (Alex Rodriguez's presence and voice were deleted in the wake of his 162-game suspension for the 2014 season.) Then in Straight Outta Tompkins (2015), the tale of a troubled teen and budding baseball player who is abandoned by his businessman father and ends up immersed in New York's drug culture, Williams acts the role of a "college baseball scout."
But Bernie Williams's true passion is his music. In May 2016 he earned a bachelor's degree in jazz composition from the Manhattan School of Music, where he had studied for the previous four years. "I think anybody could go out there and play some chords and be very passionate about it and break some guitars, put them on fire, whatever, to get the people's attention," he told New York Post columnist Ken Davidoff. "And that could be a certain part of success. But I think to me, it's just trying to be the best musician that I can and having the respect of the music industry and the people that are really playing."22
While attending the school, Williams blended in with his fellow students, many of whom were a quarter-century his junior. "Once I finally started talking to him and getting to know him, it was clear right away that he didn't want anybody to give him special treatment or act like he was more than just a fellow student," explained Ryan DeWeese, 21. "He is such a genuine guy who really cares about his music, education, and his peers, even if they are a bit younger than he is." Williams himself added, "I will eventually begin working on an album and would like to tour around the world with my band. I'm very excited about the next chapter in my life."23
Last revised: March 1, 2018
This biography originally appeared in "From Spring Training to Screen Test: Baseball Players Turned Actors" (SABR, 2018), edited by Rob Edelman and Bill Nowlin.
Notes

1 Mitchell Stephens, "Bernie Williams: On Westchester, His Music and, Oh Yeah, the Yankees," Westchester Magazine, July 2003.
2 Michael Martinez. "Spring Phenom a Yankee Perennial," New York Times, February 26, 1989: S3.
3 Stephens.
4 Michael Martinez, "Looking Up While Down on Yanks' Farm," New York Times, June 11, 1991: B11.
5 Filip Bondy, "Another in Columbus Crew Gets to Discover Stadium," New York Times, July 8, 1991: C6.
6 https://sbnation.com/2014/7/15/5883593/the-many-crimes-of-mel-hall.
7 https://m.mlb.com/player/124288/bernie-williams.
8 https://espn.go.com/mlb/story/_/id/12926321/new-york-yankees-bernie-williams-uncommon-dignity-grace.
9 Joel Sherman, Birth of a Dynasty: Behind the Pinstripes With the 1996 Yankees (Emmaus, Pennsylvania: Rodale Inc., 2006), 242-243.
10 Murray Chass, "Baseball; Williams, Nearly a Tiger, Is Still a Yankee for Now," New York Times, November 20, 1997: C3.
11 George King, "Survivor in Pinstripes: Yanks Were Smart Not Trading Bernie Williams," New York Post, February 24, 2002: 92.
12 Buster Olney, "Yankees Capitulate, Keeping Williams in $87.5 Million Pact," New York Times, November 26, 1998: A1.
13 Jack Curry, "Williams's Father Dies of a Heart Attack," New York Times, May 15, 2001: D4.
14 "The Yankees Decline an Option on Williams," New York Times, August 3, 2005: D3.
15 https://m.mlb.com/player/124288/bernie-williams.
16 Christian Red, "Former Yankee Bernie Williams Burns for One More Shot at Plate, While Adding to His Musical Legacy," New York Daily News, January 18, 2009.
17 Jack Curry, "Williams Casts Look Toward the Majors," New York Times, March 4, 2009: B14.
18 https://youtube.com/watch?v=OHODIrkfZiI.
19 https://espn.go.com/mlb/story/_/id/12926321/new-york-yankees-bernie-williams-uncommon-dignity-grace.
20 Joel Sherman, 242, 244.
21 https://seinfeldscripts.com/TheAbstinence.htm.
22 Ken Davidoff, "How Bernie Williams Blended in for 4 Years of Music School," New York Post, May 12, 2016.
23 Evan Grossman, "Bernie Williams Hits the Right Notes With Classmates as former Yankees Star Nears Graduation From Manhattan School of Music," New York Daily News, May 12, 2016.
Full Name
Bernabe Williams Figueroa
Born
September 13, 1968 at San Juan, (P.R.)
If you can help us improve this player's biography, contact us.
https://sabr.org/sites/default/files/WilliamsBernie.jpg
600
800
admin
/wp-content/uploads/2020/02/sabr_logo.png
admin
2012-01-04 20:00:52
2012-01-04 20:00:52
Bernie Williams