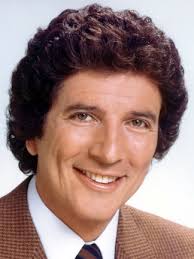 ---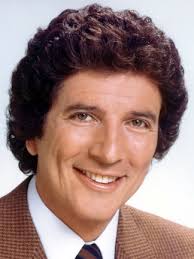 From the 1960s until his death in 1991, Bert Convy was a household name with an authentic nice-guy persona. But before that, he was a minor-league baseball player. It was not well known to the millions of people who knew him as an entertainer—game show host, actor, and, briefly, member of a 1950s rock group with two hit songs. It was not publicized—or at least not celebrated—by Convy, save for an occasional mention when he appeared on talk shows, and only then if the host prompted a query about it. In an industry built on bluster and bluff, modesty governed Convy's approach to this brief but highly significant part of his life.
Bernard Whalen "Bert" Convy was a Depression-era baby, born on July 23, 1933 in St. Louis. His parents were Monica and Bernard Fleming Convy (also known as Bert); his middle name came from his mother's maiden name. In 1940, Convy and his mother made Los Angeles their new home; the elder Bert (a shoe salesman) was no longer in the picture. In a 1983 interview Convy said, "My father was a fast-talking Irishman who couldn't hold his booze—or his business."1
"My only love at that time was baseball," revealed Convy of growing up in the San Fernando Valley.2 The 6-foot-1 lefty attended North Hollywood High School, where he excelled on the diamond.3 Vaulting directly to professional baseball after graduating, he played for the Philadelphia Phillies organization in 1951 and 1952
Convy's first pro team was the Klamath Falls Gems in the Far West League (Class D). Sparse mentions in the Klamath Falls Herald and News and unavailability of statistics indicate that he did not get much playing time in league games. In his first appearance, he did quite well—3-for-4 with a double and two singles.4 Manager Bill DeCarlo gave Convy some other opportunities. One came on July 25 against the Lakeview ballclub of the Central Oregon League, a local semipro circuit. Convy tied the score at 8-8 with a single; the Gems won 9-8.5 He also played against the famous House of David touring team in a two-game set in mid-August.6
Convy had a taste of success—the Gems repeated as Far West League champions that year, sweeping the Redding Browns in three games in the playoff. The schedule was split into halves; the Gems won the first half and lost the second by half a game. He also engaged in social activities with the team. On August 2, he attended a buffet supper for the team at the home of a Klamath Falls citizen.7
Convy played with the Salt Lake City Bees of the Pioneer League in 1952 spring training, along with North Hollywood High classmate, middle infielder Dale Johnston, who'd also been with him at Klamath Falls. (Johnston played four years as a pro, never advancing beyond Class C.) When the year started, they were under contract to the Gems.8 The Salt Lake Tribune described Convy as "green, but has shown considerable promise and may be a good addition to the Bee club."9 He appeared in at least one other Tribune report, featuring Bees skipper Hub Kittle, who managed Klamath Falls in 1950. Kittle prided teamwork on his club and noted how he found another first baseman helping Convy on ground balls.10
Convy's career aspirations beyond baseball were no secret. Tribune sportswriter John Mooney, in a prophecy of sorts, wrote, "Bert Convy, who is battling for a first base spot with the Buzzers, is majoring in drama and radio announcing and hopes to wangle a movie tryout after he's through with baseball."11
His first regular-season assignment in 1952 was with the Miami Eagles of the Kansas-Oklahoma-Missouri League (Class D). In 24 games, he got 22 hits —including two doubles and two triples—for a batting average of .239.
Convy then joined the Salina (Kansas) Blue Jays in the Western Association (Class C). He played in 14 games—going 9-for-46 (.196) with four runs scored.
In 2009, Miami teammate Don Ervin provided the deepest available insight into Convy as a ballplayer. "Bert was having a very hard time getting his bat to the ball and had they given him enough time, he would have started hitting," stated Ervin. "They released him way too soon after sending him to Salina. I had the same problem after two years in Korea and being out of baseball and they gave me every chance to get back on track. Bert was a very positive and energetic person. He attempted everything he could to keep all of us up during each game while he was with us. His personality and people-connecting traits were simply tremendous as any[one] could see from his great success in the entertainment field.
"Like I said, baseball is an unforgiving sport. I couldn't do anything in spring training but pop up and ground out, very seldom hit the ball on the nose. When we started the season in Miami, Johnny Davenport, our manager, platooned Bert and I and for some reason, I started hitting the ball right on the nose and had what I call a banner season and Bert didn't. So, John played me and they sent him to Salina. I was very mad and disgusted at the time, because I was hitting great and he wasn't and I thought I should have been the one to be promoted, not knowing that if he stayed in his slump, he would be released. As far as I am concerned, Bert was a victim of circumstances."12
In a 1975 guest appearance on The Tonight Show, host Johnny Carson asked Convy about his playing days. Convy explained to a national audience, then numbering in the tens of millions, about playing for the Salina ballclub and its connection to Philadelphia. Viewers also learned that Convy worked for Boeing in Wichita, about 90 miles south.13 Salina was a drive of a little more than six hours away from St. Louis, the closest city with a major league team when Convy played. Thus, the Blue Jays offered civic pride, entertainment, and a meeting place for Salinans, who numbered about 26,000 at the time. In a 1976 article about the team, Salina Journal sports writer Bill Burke recalled, "You see, back in the 1940s and 1950s you went to the ball park not only to be entertained, but to cool off. It was, and still is, the coolest outdoor spot in town. Remember, the only air conditioning at the time was in movie theaters."14
Convy's passion did not, in any way, obscure objectivity regarding his skill level. "I was a first baseman but after those two years, I realized I had no real future in professional baseball," he said in 1976. "I hit for a pretty good average, but I was never a long ball hitter. And, as a left-hander, the only places I could play were first base or the outfield, and I knew the majors wanted distance hitters in those positions."15
In 1982, Convy observed, "I had a lot of fun, but I learned it was a very tough business. Show business is a picnic compared to pro baseball."16
And so, Convy began his run in showbiz. It started at UCLA, where he had enrolled, with a non-speaking role—a butler in Molière's play The Imaginary Invalid. Confidence filled Convy. "I remember the first day they gathered the entire theater arts department in Royce Hall. The dean told the 500 of us, 'If you are very, very lucky, one of you will make his living in this business…one!' I remember walking out, feeling sorry for the other 499."17
Scouts for baseball prospects enthuse about the five tools—hitting, hitting for power, running, fielding, throwing. In entertainment, the five tools might be singing, dancing, acting (on stage, film, and television), comedy, and producing. Convy was, indeed, a five-tool performer.
In 1954, Convy's singing group The Cheers—with help from the famous writer-producer duo of Jerry Leiber and Mike Stoller—reached #15 on the charts with (Bazoom) I Need Your Lovin'. The next year they cracked the Top 10 with Black Denim Trousers and Motorcycle Boots. Looking back in 1961, Convy said, "We were just lousy enough to become a hit as rock 'n' rollers."18 It was a statement typical of his modesty, good nature, and sense of humor.
Convy wrote and sang—as a solo artist—the 1958 song The Monsters Hop, a novelty tune for fans of the decade's horror genre. He also made his movie debut that year with an uncredited role in the Western Gunman's Walk.
Also in 1958, Convy met his first wife, Anne Anderson, when she came to see The Billy Barnes Revue, a Los Angeles song/dance/comedy showcase that included him. They were engaged within 17 days. Anne later helped craft Bert's nightclub act and wrote material for his appearances as guest host on the Tonight Show. She also wrote scripts for several TV sitcoms.19
Along with Ken Berry, future star of the 1960s sitcom F Troop, Convy got exposure in New York City with the 1959 edition of the The Billy Barnes Revue (which had come to Off-Broadway). The Decca soundtrack of the revue also brought Convy to the attention of director Roger Corman, who gave him a role (billed as "Burt Convy") in Bucket of Blood. His first substantial movie part came in 1961's Susan Slade, a love triangle drama starring Connie Stevens and Troy Donahue.
On Broadway, Convy made his stage début in 1964 by inaugurating the role of Perchick in Fiddler on the Roof. The following year, he starred in the comedy play The Impossible Years with Alan King, Scott Glenn, Donna Baccala, and Sudie Bond. In 1966, Convy helped launch the musical Cabaret, playing Cliff Bradshaw.
His television credits included guest appearances on many popular shows, including Hawaiian Eye, Alfred Hitchcock Presents, 77 Sunset Strip, The Untouchables, Perry Mason, Bewitched, Nanny and the Professor, Mission: Impossible, Mary Tyler Moore, Police Story, McMillan & Wife, Hawaii Five-O, The Partridge Family, Fantasy Island, The Love Boat, Hotel, and It's Garry Shandling's Show.
If you turned on a television set in the U.S. sometime between the John F. Kennedy and George H.W. Bush administrations, it was quite likely that Convy would grace the screen, either as an actor or a game show host. The Late Summer Early Fall Bert Convy Show was a short-lived 1976 offering displaying Convy's comedic versatility. Occasionally, he did a singing performance; for example, in 1978, Convy showed his vocal chops in another Tonight Show appearance with Nobody Sings A Love Song Quite Like You.
He was also a frequent game show panelist. On a 1969 episode of What's My Line?, Jackie Robinson was the mystery guest, whose identity Convy, Arlene Francis, Soupy Sales, and Joanna Barnes sought to uncover. When host Wally Bruner pointed out Convy's professional baseball career, the entertainer quickly dismissed any comparison: "More than that, don't put me in the league with Jackie Robinson. Please."
Bruner responded, "I'm not putting you in that league. Bert is a great baseball nut and the biggest sports nut in show business."20
In addition to being a panelist across the game show genre, Convy hosted Tattletales, Super Password, a pilot for a revival of Match Game, 3rd Degree, and Win, Lose or Draw. In 1977, Convy won a Daytime Emmy for hosting Tattletales, which consisted of three celebrity couples trying to guess their mate's answers to questions about themselves. At least twice—in 1975 and again in 1976—Convy relinquished the microphone so he and his wife Anne could compete. A revival of Tattletales happened in the early 1980s.
In an example of dramatic skill, Convy delivered a strong performance as a sleazy criminal carrying bubonic plague in a 1973 episode of Hawaii Five-O.21 His character met a visually striking end; the police shot him while he tried to escape in a helicopter, and losing his grip, he plunged to his death in the ocean.
Convy showed his sense of humor in a 1974 episode of The Tonight Show. During his interview with Johnny Carson, the topic of doctors was discussed. Convy claimed that his doctors were named Blood and Gore and his chiropractor was Bones. "I'm not going to ask you the name of your proctologist. I don't even want to hazard a guess as to what his name might be," said Carson.
"Not only that, I'm not going to tell you the name of my wife's gynecologist," responded Convy.22
In addition to the What's My Line? experience with Robinson, Convy crossed paths with major leaguers in talk-show appearances. In 1975 Jimmy Wynn was a fellow guest on The Tonight Show.23 Two years later Convy joined Mickey Mantle on Dinah Shore's show Dinah!24
Convy's ability to go against type and convey charm, deviousness, and cockiness was evident in his film roles. In Semi-Tough (1977), based on Dan Jenkins's novel of the same name (and starring his good friend Burt Reynolds), Convy played a version—parodic to some, spot on to others—of Werner Erhard, guru of the "est" movement. The 1970s cultish fad featured crowds in ballrooms listening to Erhard preach about self-sacrifice, refraining from using the bathroom except during mandated breaks, and completing a four-day, 60-hour seminar—15 hours per day! Convy's "Friedrich Bismark" is a dictatorial figure calling his attendees "assholes," conducting psychological exercises with them, and promising they will find "It" by the end of his Bismark Energy Attack Training (B.E.A.T.). "It" is not defined, but is presumed to be heightened self-awareness.
The most prolific year for Convy's body of dramatic work may have been 1979. In NBC's TV movie The Man in the Santa Claus Suit, which was divided into three stories, Convy played a United States senator's speechwriter who prioritizes his work over his family, which leads to estrangement from his wife and son. By the end of his story, Convy's character switches his priority to his family.
ABC's Dallas Cowboys Cheerleaders—also featuring Bucky Dent—was the highest-rated TV movie of the 1978-79 season. In it, Convy played magazine editor Lyman Spencer, a headlines-grabbing journalist looking for an exposé on the famed cheerleading squad for America's Team. In the end, he is foiled by his reporter and ex-girlfriend, who refuses to exploit the cheerleaders' personal lives for increased circulation. "It didn't hurt, but it certainly didn't help my career," he told Ed Bark of the Dallas Morning News in 1984. "You know, it's funny, because any time a local station is in ratings trouble on a big night, they run Dallas Cowboys Cheerleaders. I'm down to about $6 per rerun. I wouldn't flatter myself to think that America tuned in to see me."25
Convy's passion for tennis was an asset for the film Racquet, an offering in the disco-era genre of zany comedies between the resignation of Richard Nixon and the inauguration of Ronald Reagan. In his mid-40s by this time, Convy looked like he jogged Malibu's legendary 27 miles of scenic beauty daily and could still suit up for a minor-league ball club, though more than a quarter-century had passed since his playing days. Convy was one of the most athletic entertainers in southern California, and a tennis match in Big Sur between his character— fortyish Lothario and tennis pro "Tommy Everett"—and Wimbledon champion Bjorn Borg gave him the opportunity to show off his tennis skills.
Convy starred with a pre-Fame Debbie Allen and Martha Smith—"Babs" from 1978's surprise box office success Animal House—in the 1979 NBC TV movie pilot Ebony, Ivory and Jade. "The concept of the show was a singing and dancing Las Vegas duo who were undercover spies with Bert as our manager," explained Smith. "I couldn't believe it when I got the part because they auditioned about 600 girls. Bert was absolutely the most kind gentleman. Just so gracious and magnanimous to me and Debbie. There was no diva about him. In the 1980s, I went on his game shows several times as a celebrity guest. He was a lot of fun to work with, especially on Super Password."26
The year 1979 also demonstrated Convy's ongoing commitment to using his celebrity for charity. Two years before, he had created the Bert Convy Boys Club of Hollywood annual celebrity football classic. It underscored his enthusiasm about helping the community by leveraging fame to educate, inspire, and ignite action. The classic took place at Hollywood High School in 1979, featuring the USC Marching Band and Song Girls, Los Angeles Rams cheerleaders, and a star-studded roster, including Sammy Davis, Jr., William Shatner, Peter Falk, Frankie Avalon, Jamie Farr, and Lynda Day George—Convy's love interest in Racquet. Also on hand was Dodgers first baseman Steve Garvey.27
Convy showcased his comedy flair in another Burt Reynolds film, 1981's The Cannonball Run. The supporting cast of icons, idols, and other familiar faces also included Dean Martin, Farrah Fawcett, Dom DeLuise, Roger Moore, Jimmy "the Greek" Snyder, and Sammy Davis, Jr. Convy played a well-dressed motorcyclist with a sidekick that he calls "Super Chief," played by Warren Berlinger, nephew of Milton Berle, television's first superstar.
During the 1980s, Convy added director to his list of showbiz credits. Weekend Warriors (1986) was a military comedy starring Chris Lemmon, son of Jack Lemmon.
Three decades after his biggest chart hit, Convy sang a few lines for a 1987 episode of the game show Win, Lose or Draw. He hosted, co-created and co-produced the show with Reynolds—their company was called Burt and Bert Productions.28
Convy's baseball career was a topic briefly addressed on a 1989 broadcast of Donahue featuring Convy and fellow game show hosts Chuck Woolery and Alex Trebek. Humor, again, was on full display. While introducing the guests, Phil Donahue asked, "I didn't know you were a jock? Philadelphia Phillies." Convy responded, "Oh, I'm sorry. I thought you said 'I didn't know you wore a jock.'" Donahue said, "See, the idea is that the host of this show gets most of the laughs." They returned to the topic about five minutes later and Convy gave a shout-out to Klamath Falls and Salina.29
His last role came in 1990 on It's Garry Shandling's Show, where he played himself.30
Convy passed away on July 15, 1991, about 15 months after getting diagnosed with a brain tumor. He had collapsed at Cedars-Sinai Medical Center while visiting his mother. At the time of his death, Convy had been married for five months to his second wife, Catherine Hills. He had three children with Anne—Jennifer, Joshua, and Jonah.
A man of action, Convy applied dynamism to his show business career. "It does help to be a moving target. If you're just sitting by the phone, you can become a victim. You're no longer in control of your own destiny. People say it's bad for an actor to appear in soap operas. I did one and it was a great experience. It was supposed to be death to emcee a quiz show. 'Tattletales' created an audience for me," said Convy in an interview cited in his Associated Press obituary.31
Acknowledgments
This biography was reviewed by Rory Costello and fact-checked by Alan Cohen.
Sources
Racquet, Dallas Cowboys Cheerleaders, and Semi-Tough are on DVD. The What's My Line? episode and The Man in the Santa Claus Suit are on YouTube. List of credits is from imdb.com.
Notes
1 "Between the Lines: The Story Behind The Stories You Read About Celebrities, Florida Today, May 8, 1983. This column was authored by someone who used only the one-word name "Josie."
2 Dick Kleiner, "Bert Convy: From Baseball To The Theater," Poughkeepsie Journal, September 15, 1976.
3 Dick Kleiner, "Ask TV Scout," The Republic (Columbus, Indiana), June 8, 1985. Bill Plummer, "Who Says 'It's Not Easy'? Marriage Has Been a Breeze for Bert and Anne Convy," People, October 31, 1983.
4 Red Hurd, "Gems Blast Shastas, Host Lakeview," Klamath Falls Herald and News, July 18, 1951
5 Red Hurd, "Gems Meet Tulelake Tonight: Spuds Nip Lakeview, 9-to-8; Long Injured," Klamath Falls Herald and News, July 25, 1951.
6 "Gems Meet Davids Tonight," Klamath Falls Herald and News, August 18, 1951.
7 "Buffet Supper for Klamath Gems," Klamath Falls Herald and News, August 11, 1951.
8 Ty Cobb, "Inside Stuff," Nevada State Journal, January 5, 1952.
9 "To '52 P.L. Contracts," Salt Lake Tribune, February 20, 1952.
10 John Mooney, "Sports Mirror," Salt Lake Tribune, April 10, 1952.
11 John Mooney," Sports Mirror," Salt Lake Tribune, April 3, 1952.
12 Don Ervin, response to blog post on Baseball Over Here, April 28, 2009, http://baseballoverhere.blogspot.com/2008/12/johnson-toribiong-president-of-palau.html. The punctuation and spelling have been adjusted from the original Ervin letter, but the words are the same.
13 Bill Burke, "Bert Convy with '52 Blue Jays," Salina Journal, July 13, 1975.
14 Bill Burke, "Pro baseball teams are pleasant memories for longtime Salinans," Salina Journal, July 4, 1976. Note: the 1952 season was the last for the Blue Jays; pro baseball did not return to Salina until 2016.
15 Kleiner, "Bert Convy: From Baseball To The Theater."
16 Penny Butler, "Tennis: Convy, friends to highlight charity journey," Arizona Republic, October 15, 1982.
17 Plummer, "Who Says 'It's Not Easy'? Marriage Has Been a Breeze for Bert and Anne Convy."
18 "Third Comeback May Be Last for Bert Convy," Salina Journal, April 7, 1961.
19 Plummer, "Who Says 'It's Not Easy'? Marriage Has Been a Breeze for Bert and Anne Convy."
20 What's My Line (Syndicated broadcast: November. 20, 1969).
21 Hawaii Five O, "Charter for Death." Directed by Michael O'Herlihy. Written by Carey Wilber and Sheldon Wile. CBS, September 25, 1973.
22 The Tonight Show (NBC television broadcast: May 17, 1974), https://www.youtube.com/watch?v=LdSNXBCwVWc.
23 The Tonight Show (NBC: January 15, 1975).
24 Dinah! (Syndicated broadcast: Aug. 26, 1977).
25 Ed Bark, "A Bert in the hand is worth plenty to TV casting directors," Dallas Morning News, August 12, 1984.
26 Telephone interview with Martha Smith, January 22, 2018.
27 "Celebrities to Take Part in Boys Club Grid Classic," Los Angeles Times, January 12, 1979.
28 https://www.youtube.com/watch?v=vBK77ffaM-w
29 Donahue (NBC television broadcast: November 17, 1989).
30 It's Garry Shandling's Show, "The Wedding Show." Directed by Thomas Schlamme. Written by Larry Levin and Alan Zweibel. Showtime. February 9, 1990.
31 "Game Show Host Bert Convy Dies After Long Battle With Cancer," Associated Press, Tulsa World, July 16, 1991.
Born
July 23, 1933 at St. Louis, MO (US)
Died
July 15, 1991 at Los Angeles, CA (US)
If you can help us improve this player's biography, contact us.
https://sabr.org/sites/default/files/Convy-Bert.jpg
600
800
admin
/wp-content/uploads/2020/02/sabr_logo.png
admin
2018-03-01 15:01:22
2020-04-09 14:40:23
Bert Convy