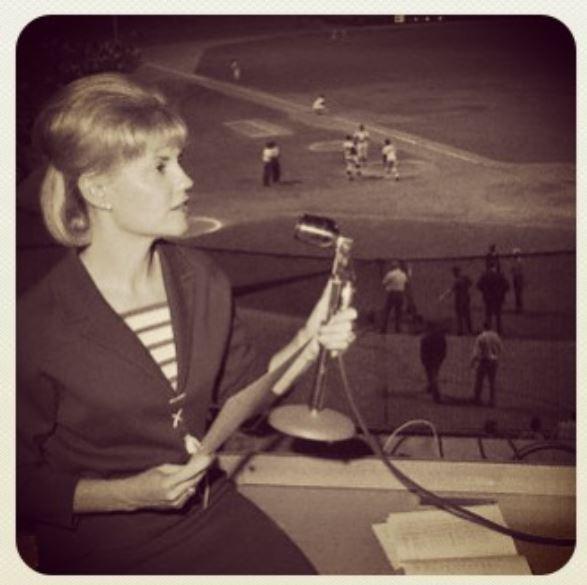 ---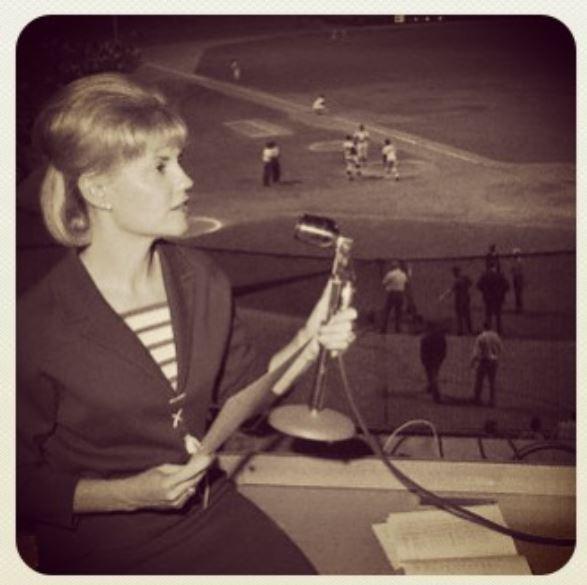 "Betty Caywood is a tall, beautiful blonde with big blue eyes," the Boston Globe's Gloria Negri wrote, "and because of her baseball may never be the same again."1 Caywood was the first female announcer to be hired by a major league team. She had qualifications for the job: an experienced television performer, poised, personable, and articulate, with a Master's degree in speech therapy from Northwestern.
Just one small problem. "Charlie, I don't know the first thing about baseball," she said. That's Charlie as in Charles O. Finley, owner of the Kansas City Athletics. He wanted her to join the team's broadcasts late in the 1964 season.
"He said, 'I know, but you've got the gift of gab, and all you have to do is color.' And I didn't even know what color was. But he was right, I did have the gift of gab, and he offered me an amount of money I couldn't believe."2
A single mother with two young children, Caywood went for the money. Finley went for a distraction with his team headed for a last-place finish — "gimmicks such as me and the mule," she said.3
She was used to playing the dumb blonde. She had filled the role on a television series, Great Ideas from the Great Books, with the philosopher Mortimer Adler, and had been a model and TV "weather girl."
"Men were the media then," she recalled. "The only thing that women were doing in those days were children's shows, women's shows, and weather girl. And I did all of those things."4 She had also worked as an airline stewardess (she quit because of airsickness) and a high school teacher of English and drama.
Caywood was not the first woman to broadcast baseball. In 1938 a young amateur golfer, Helen Dettweiler, had made a promotional tour of major and minor league radio booths for General Mills, whose Wheaties cereal sponsored baseball broadcasts in dozens of markets. Caywood was the first to be hired as a regular announcer for a big-league club, although her baseball career lasted all of 19 days.
She was born Betty Jean Congour in Chicago on March 10, 1931. Her parents, Vernon and Irene (Wolf), split up and Betty and her younger brother, Stanley, moved with their mother to Kansas City, Missouri, while they were children. Betty contracted polio when she was 9 and was taken to Minneapolis for treatment by Sister Elizabeth Kenny, an Australian nurse whose methods, using physical therapy to restore paralyzed muscles, were then controversial. Betty made a full recovery and resumed her childhood career as a professional dancer.5
She attended the University of Missouri and Marymount College in Salina, Kansas. At 20, she married Frank Caywood, 31, who traveled the country as a tournament director for the Professional Golfers Association (PGA). Betty joined him on the road, working as a field secretary for the PGA. They adopted their son, Jeffrey, and Betty gave birth to a daughter, Michelle.
After filing for divorce in 1957, Betty first tried her hand at television as host of a teen panel show in Hutchinson, Kansas, and quickly realized that a blonde with good looks and the gift of gab could make much more money in TV and modeling than in teaching. Moving to Chicago, she began presenting weather forecasts on Channel 7. She modeled a different outfit every day, but drew the line at wearing a swimsuit on the air.
Then came her big break. NBC's Today show auditioned her and hired her as the "Today girl." The role was limited to human-interest features and weather reports, but it was the most prominent position open to a woman in television news.
Looking for a place to live in New York before she started work, she checked out a neighborhood school and saw a concrete wall surrounding the playground. "I couldn't put my children in a concrete playground," Caywood said. She turned her back on NBC.6 Barbara Walters was soon named the "Today girl," propelling her on her way to becoming the first million-dollar talent in network news.7
Caywood had met Finley, who lived in the Chicago area, when he was a guest on Channel 7's news programs. After she left the station, he offered her a place on the Athletics' broadcasts. "Charlie started offering me money and I said no, that's not enough, that's not enough," she remembered. "Finally he got to a figure I couldn't turn down." Finley gave her a substantial raise over her $750-a-week television salary and agreed to hire a nanny to look after her children.8
"The idea is that by putting a woman on the staff we'll appeal to the dolls," Finley said.9 The 33-year-old rookie joined the A's in Boston on September 16, 1964, to meet her radio partners, Monte Moore and George Bryson. The local chapter of the Baseball Writers Association of America (BBWAA) barred her from the press hospitality room at Fenway Park, so a waiter served her dinner on a tray in the broadcast booth. Kansas City sportswriter Ernest Mehl reported that she would travel separately from the team and stay in different hotels. "Miss Caywood admitted her information on baseball was somewhat vague," he wrote.10
"If I can give them some human interest sidelights," Caywood said, "like what color the uniforms are and what the weather's like and something about the players' lives and if their wives are having a birthday or something, maybe women will start going to ballparks."11
She made her debut as a commentator two days later at Yankee Stadium. Before the game, photographers jammed into the booth to take her picture. The BBWAA chapter president12 allowed her to eat in the press dining area.
When a batter tried to reach first base on a dropped third strike, she asked Moore, "Monte, what did that batter run to first for? He struck out."13 Yankees broadcaster Red Barber, who had done a game in Cincinnati with Helen Dettweiler years earlier, quizzed her about her baseball knowledge. She didn't know that the Yanks' No. 7 was Mickey Mantle. Finley observed, "Miss Caywood's legs are sounder than Mantle's."14
Male sportswriters generally treated the new announcer as an amusing curiosity, as if an extraterrestrial had invaded the booth. Few were as overtly sexist as the Chicago Tribune's David Condon, who wrote, "Granted, Miss Caywood's presence would guarantee against the male viewers drifting into the slumber that overcomes dad about the second inning of an Athletics' telecast. But the instant dad begins to ogle, mother would flip the dial."15
As was his habit, Finley sometimes called her in the middle of the night. She hung up on him. Once he wanted her to wear the A's colors, a yellow jacket and green skirt. "When Monte and George wear green and yellow, I will, too," she told him.16
Caywood appeared on KCMO radio broadcasts of the season's last 15 games. "Monte and George were wonderful to me," she said. "They were very professional. And how terrible they must have felt when this little know-nothing person came into the booth with them."17 Finley planned to use her on televised games the next year. "Wouldn't it be something if next year our commercials were for perfume as well as beer!" she said.18
Next year never came. Finley didn't want her back. "When he told me I was through, I said, 'Wouldn't you like to give it another try?' Because I had really learned to love the game. In that offseason I would have worked very hard and I would have become a very good sportscaster."19 Finley replied, "Betty, you were a gimmick. And you were a good one."20
Caywood's best memory of her cup of baseball coffee was "probably cashing my checks."21 The job won her additional perks: She appeared on CBS-TV's What's My Line?, a quiz show featuring a celebrity panel trying to guess the occupation of a guest. Publisher Bennett Cerf identified her.22
But her biggest event of 1964 happened at a party on the Saturday after Thanksgiving, when she met Jordan Bushman, a construction executive. They married in June 1965, had two sons, and stayed together for nearly 55 years until Jordan's death in March 2020. Betty died less than six months later on September 3, 2020, at 89.
"I was so bad I killed the opportunity for another woman," she quipped in a 2019 interview, and added, "I personally don't care for women doing sports. I would never have gone into a locker room. But I'm a different generation."23
Acknowledgments
This biography was originally published in August 2019 and was updated in September 2020. It was reviewed by Rory Costello and Jan Finkel, and fact-checked by Alan Cohen.
Additional sources
"Betty Congour Caywood Bushman," Kansas City Star, September 10, 2020.
"Bushman, Jordan F. 1929-2020," St. Josephs (Missouri) News-Press, April 26, 2020.
Notes
1 Gloria Negri, "A's Girl Broadcaster Makes Debut in Hub," Boston Globe, September 17, 1964: 48.
2 Whet Moser, "Betty Caywood and Mary Shane, Baseball's First Female Announcers," Chicago Magazine, September 26, 2012, http://www.chicagomag.com/Chicago-Magazine/The-312/September-2012/Betty-Caywood-and-Mary-Shane-Baseballs-First-Female-Broadcasters/, accessed November 14, 2018.
3 "Kansas City Baseball Vault," ESPN Radio 1510, Kansas City, June 15, 2012. Finley installed a mule named Charlie O. as the team mascot.
4 "Kansas City Baseball Vault."
5 Author interview with Betty Caywood Bushman, July 8, 2019. Many details of her personal life come from this interview.
6 Betty Bushman interview.
7 In her autobiography, Walters says Today went through several "girls" before she was promoted from her job as a writer for the program in 1964. Barbara Walters, Audition: A Memoir (New York: Vantage, 2009).
8 "The A's on the Air" podcast, October 5, 2018, https://fountaincityfrequency.com/archiverpodcast/2018/10/5/the-as-as-on-the-air, accessed February 15, 2019.
9 "A Woman Broadcaster Is Named by Athletics," New York Times, September 17, 1964: 59.
10 Ernest Mehl, "Finley, A's Add Class to Broadcasting Team," Kansas City Times, September 17, 1964: 2-D.
11 Negri, "A's Girl Broadcaster."
12 That was Til Ferdenzi of the New York Journal American.
13 Mehl, "Blonde Gives Gals a Woman's View of Kaycee Games," The Sporting News, October 3, 1964: 19.
14 David Condon, "In the Wake of the News," Chicago Tribune, September 26, 1964: B1.
15 Condon, "In the Wake of the News."
16 Betty Bushman interview.
17 "Kansas City Baseball Vault."
18 Gay Pauley, United Press International, "She'll Broadcast Baseball," Tucson (Arizona) Daily Citizen, September 22, 1964: 9.
19 "Kansas City Baseball Vault."
20 Betty Bushman interview.
21 "First woman baseball commentator is KC native, began broadcasting with the Kansas City A's," KMBZ, March 30, 2018. https://kmbz.radio.com/articles/first-woman-baseball-commentator-kc-native-began-broadcasting-kansas-city, accessed April 27, 2019.
22 Goodson-Todman Productions, What's My Line? October 4, 1964. https://www.youtube.com/watch?v=Tf0Ufd2mSNY&t=616s, accessed April 27, 2019.
23 Betty Bushman interview.
Full Name
Betty Jean (Congour) Caywood
Born
March 10, 1931 at Chicago, IL (US)
Died
September 3, 2020 at Kansas City, MO (US)
If you can help us improve this player's biography, contact us.
https://sabr.org/sites/default/files/CaywoodBetty.jpg
600
800
admin
/wp-content/uploads/2020/02/sabr_logo.png
admin
2019-08-05 14:19:52
2020-09-11 12:30:56
Betty Caywood