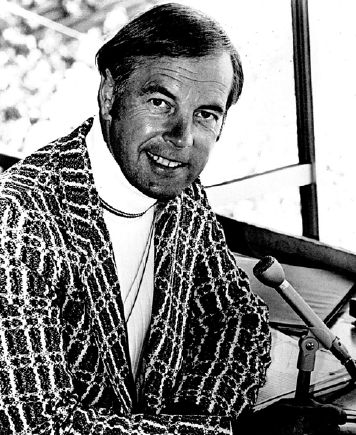 During his two stints as a broadcaster for the Athletics, Monte Moore covered some of the best teams in their history, and some of the worst. Beginning his major-league broadcasting career in the final years of the A's time in Kansas City, he followed the team to the West Coast and broadcast six American League championship teams including the 1972-1947 world champions. Known for his work ethic, knowledge, and enthusiasm for the game, Moore was well respected by A's listeners. In 1974 columnist Bob Foster wrote of him, "It might be said that Monte is one of the better baseball play-by-play men in the business."1 One Bay Area listener summed up Moore's appeal in 1977: "He is completely knowledgeable about his subject, he speaks clearly, has a good sense of humor and projects an image of a good, sound down-to-earth person; someone you'd like to know personally. Above all, though, is his professional ability as a sports announcer."2
Monte Lee Moore was born in 1930 to Travis and Gladys Moore in the small town of Hollis, Oklahoma. Growing up, there were few opportunities to hear baseball broadcasts. Moore's earliest memory of hearing a baseball broadcast was the 1947 World Series between the Yankees and the Dodgers. From that radio broadcast, Mel Allen became Moore's "instant hero."3 Moore recalled in 1966, "This made me feel all the more that I wanted to be up there in a big-league broadcasting booth. I guess it was the first baseball broadcast I ever had heard because we didn't pick up much of anything out there in Oklahoma."4 During his senior year of high school, Moore became ill with rheumatic fever and was confined to bed rest for three months. During his convalescence, he listened to sports broadcasts on the radio, including re-creations of baseball games by Gordon McClendon from Dallas station KLIF. Moore became more determined to become a sportscaster.
After graduating from high school, Moore enrolled at the University of Oklahoma to study radio broadcasting. He also hoped to make the Oklahoma basketball team. During his freshman year, Oklahoma basketball coach Bruce Drake (who would later serve as an assistant coach for the 1956 US Olympic basketball team) took Moore aside and made him an offer. "Monte, I know you want to be a sports broadcaster, we want to help you out all we can," Moore recalled Drake saying to him. "When you come to practice every day, bring a tape recorder with you and you go up in the upper level of the auditorium and while we're practicing basketball, you practice broadcasting what we're doing."5 Recalling the incident in an interview with Visalia Oaks broadcaster Donny Baarns, Moore said with a laugh, "So he was kicking me off the team. I got even with him. In 1951 I married his daughter."6 (Moore married Deonne Drake on December 13, 1951, and they had three children together.) Moore worked at the University of Oklahoma radio station, KUVY, which reached only the university dorms. To promote KUVY's broadcasts of football games, basketball games, and other sporting events, he placed flyers in the cafeteria, residence halls, and other parts of the campus.
During the summer months, Moore played as a catcher with local fast-pitch softball teams. It was his catching ability that led to his first professional job. About a week before his college graduation in 1952, he was broadcasting a college baseball game from a table set up in the stands. Seated a few rows ahead of him was a man named Leo Morris who had pitched against Moore in softball tournaments and was aware of his playing ability. After the game Morris approached Moore and told him he was forming a softball team to play all summer and to go to the world championship in Clearwater, Florida. Morris, who had just taken a job as manager of a radio station in Duncan, Oklahoma, needed a catcher. Morris offered Moore a job with the radio station for the summer if he would agree to be the softball team catcher at night. At the end of this summer spent playing softball and working at the Duncan radio station, Moore reported to Fort Lee, Virginia, for a two-year stint in the Army.
Returning from military service, Moore learned that Leo Morris had moved to KSWO in Lawton, Oklahoma. Morris needed a sports director and hired Moore. At KSWO, Moore covered high-school football, basketball, and Cameron Junior College sporting events. He also did play-by-play for Sooner State League (Class D) baseball games. For road games, Moore provided re-creations from telegraph reports, a common practice at the time.
While Moore was broadcasting a high-school basketball tournament, a man from a radio station in Hutchinson, Kansas, was driving through Oklahoma and heard his play-by-play. The man stopped at the nearest gas station, called KSWO and offered Moore a job with radio station KWHK. Moore served as KWHK's news director and broadcast Big Eight basketball tournaments, and the East-West college basketball All Star Game. On weekends Moore announced games for the Wichita Vickers of the National Industrial Basketball League.
After two years in Hutchinson, Moore became the director of the Kansas University Sports Network, for which he covered all Jayhawker sports. Kansas University sports were carried over station KANU and a network of 24 other stations in Kansas and Missouri. Moore recalled, "Everybody in the Midwest heard Kansas games. If there was one big break for me, it was getting to do the Kansas games."7 Wilt Chamberlain was the star Kansas University basketball player at the time. Moore hosted a radio show with Chamberlain (entitled Flip'er With The Dipper) in which they played music records.
After three years with the Kansas University network, Moore became sports director of Kansas City station WDAF in 1960. He broadcast Big Eight college basketball and football as well as games of the Kansas City Steers of the American Basketball League. Covering a press conference at the Muehlebach Hotel for WDAF, Moore found himself in an elevator with Kansas City Athletics owner Charlie Finley. Finley had heard Moore's basketball play-by-play and was impressed. Moore recalled, "Charlie looked at me and didn't ask me any questions about if I'd ever done a baseball game or anything. He said, 'Hey kid, how'd you like to do the A's games?' Just like that. And of course I was a little staggered but what I said was, 'That's always been my goal, to do major-league baseball.' He said, 'Well, we'll work it out.'"8
Moore went to Cleveland to broadcast the American Basketball League finals. On April 7, 1962, he got a call at his hotel from Finley, who told him he had worked it out so that Moore could broadcast the A's games over KCMO and still do football over WDAF. The season began just three days later and Moore, who worked very hard to prepare for each broadcast, hadn't even had an opportunity to cover the team during spring training.
Early during Moore's tenure as Voice of the A's, his enthusiasm for the team was evident. "I'm not down the middle, I'm definitely pro-Kansas City because I believe a broadcaster is more on the team than perhaps a newspaperman covering the club," he said in 1966. "As far as the players are concerned, I certainly point out their mistakes and say so when I think they are wrong. And I have found that the players don't want you to alibi for them. Still, I'm not there to knock. I'm there to boost as much as I can and try to tell as many inside things as I can about them."9 In an interview with broadcaster Donny Baarns 50 years after joining the A's, Moore said, "I never said 'Come on Campy, get a hit.' I didn't use 'we' or anything like that. But I didn't mind people knowing I wanted the A's to win."10
Because of his enthusiasm, some writers accused Moore of being a shill for Finley. Moore told Baarns, "Finley never one time ever told me what to say on the air other than for promotional things. That's the only time." Moore recalled that Finley would also give him information about trades that were made before he would give them to the print media. "He used to call our radio booth and tell us about trades that were made even while the game was going on and want us to announce it. And the newspaper people hated it because they got scooped on the network, you know, and they blamed me for breaking stories. All I was doing was telling about the trades."11 Though Moore respected Finley because he gave him his first major-league broadcasting opportunity, he would also concede that the A's owner could be difficult to work for and "one of the most vitriolic people that you could ever know."12
Moore's early years of covering the A's had few bright spots. "Those weren't exactly glory years in Kansas City," he said in 1993. "I went through a growth period with a lot of those guys."13 The Athletics lost more than 100 games in both 1964 and 1965. After the team moved to Oakland in 1968, the winning record began to change. In 1969, the team improved to second place. Then came the three straight world championships from 1972 to 1947. In each of those championship years, Moore broadcast the World Series on NBC Radio with Curt Gowdy. Moore's World Series broadcasts were the "biggest thrill" of his broadcasting career.14
In 1974 Moore introduced the term "dinger" into the baseball lexicon. During a pregame radio interview with relief pitcher Darold Knowles, Moore was intrigued when Knowles mentioned that he had given up some dingers in an earlier game. Knowles explained to Moore that he had been referring to home runs as dingers in the A's bullpen. Inspired by this, Moore began using the term during the broadcasts and even obtained his own "dinger" as a sound effect. He explained, "It was a brass bell, kind of a smaller one, really. It was mounted and the equipment guy carried it for us. It was a little thing to put on the desk. And we'd even ring that bell on a road trip when one of our guys hit a home run."15 The popularity of the dinger reached its height late in the 1974 season as the A's battled for their third straight division title. Moore announced on the air, "You know what, fans, we play the Kansas City Royals here next Monday night and we've got a doubleheader. Why don't we just have a dinger night at the ballpark? Everybody bring a dinger of some kind and let's ring those dingers." Moore "didn't ask the ballclub, didn't ask Finley, didn't ask anybody" for permission to plug this event.16 He estimated that at least 20,000 fans of the nearly 50,000 in attendance on September 9, 1974, brought bells of various sizes. Oakland swept the doubleheader. Moore recalled that for years after that, whenever he encountered Royals manager Jack McKeon, McKeon would place his hands over his ears and say to him, ''I never think of the A's without thinking of you and your blankety-blank dingers."17
By 1976 Moore had been the voice of the A's for 15 years, covered three world championship teams, and outlasted several broadcast partners (including Harry Caray, Bob Elson, and Al Helfer). After the '76 season, Moore went on a cruise to Mexico with ten A's players. Returning from the cruise, he found a bill from Blue Cross in his mail. Calling Finley's secretary to inquire about it, Moore was informed that he was no longer on the payroll as of October 31. Moore said, "When I phoned Charlie to ask about my status, he started yelling and cussing. 'Did you have a good time on the cruise with the players?' he asked. Then he screamed at me for fraternizing. He never said I was fired. He just hung up."18 After the story of the apparent firing broke in December, Moore appeared on local TV and radio shows and many Oakland fans were upset on his behalf. One outraged A's fan refused to attend any more A's games because of the situation. By the end of the month, Finley had reversed the apparent firing and explained to the press that the situation was a misunderstanding.
In 1977 the Hayward (California) Daily Review conducted a poll about Bay Area sportscasters and Moore was rated the most popular. But Moore was ready for a change and his 16th season would be his last as the full-time radio Voice of the A's. "I was tired of all the traveling. My kids were getting to the age where they'd be competing in high-school sports and I wanted to watch them," he said.19 In 1978 he bought Porterville, California, radio station KTIP. "I didn't want a big-city station; too much pressure on ratings. I liked the idea of what a small station could do for a small town," he said.20 Under Moore's ownership, the station began broadcasting local high-school events like soccer, baseball, basketball, track, and water polo. Though no longer employed by the A's, Moore did the backup game for NBC's Game of the Week in 1978 and also broadcast Thursday night baseball games on the USA network from 1979 to 1983. Though Moore was regularly heard on national telecasts, he was deeply dedicated to bringing local sporting events to the Porterville community. On at least one occasion he changed his travel schedule so that he could announce a local high-school baseball game over KTIP and then work a nationally televised game the next day.
Moore returned to the A's broadcast booth in 1987 on an occasional basis, filling in for Bill King or Lon Simmons. The following year, he became the full-time television broadcaster, working 50 to 60 A's telecasts each season for KPIX and KICU. As he had in the 1970s, Moore covered three consecutive AL championship teams in Oakland. When KRON purchased the TV rights after the 1992 season, Moore was replaced with Dick Stockton. Stepping into the A's booth, Stockton paid tribute to his predecessor, saying, "Monte Moore was as fine a baseball broadcaster as you could find in the country. He was a high-echelon guy."21 Moore, who had no hard feelings about the replacement, would never again broadcast major-league baseball on a daily basis.
Moore sold KTIP in 1996 but stayed on to work as a consultant. In 2002 he began teaching a class on sportscasting at Porterville College. Mentoring aspiring sportscasters was not new to Moore. In 1974, at his recommendation, the A's hired a 21-year-old unknown broadcaster named Jon Miller to work with him. During his first game, Miller felt nervous and out of place. "But Monte seemed to sense that," Miller said shortly afterward. "He knew it was my first game and he went out of his way to help me. He's a very sensitive person and I appreciate what he did. I'll never forget it."22 Moore mentored many other broadcasters, including USC announcer Pete Arbogast and sportscaster Gary Bender.
In retirement, Moore was able to spend more time with his family and his church. Moore's Christian faith guided his life. "As a lad I went to church twice on Sunday, Sunday school and prayer meetings on Wednesday," he said. "In addition to Christian parents, God gave me a wonderful Christian wife who is truly a helpmate in every way."23 Looking back on his life and career, Moore said, "The Good Lord has looked after me."24
Last revised: July 1, 2015
This article originally appeared in "Mustaches and Mayhem: Charlie O's Three Time Champions: The Oakland Athletics: 1972-74" (SABR, 2015), edited by Chip Greene.
Acknowledgments
Thanks to Donny Baarns for permission to quote from his interview with Monte Moore.
Sources
Busby, Bob, "On the Level," Kansas City Times, July 17, 1957.
Busby, Bob, "On the Level," Kansas City Times, February 18, 1960.
Curiel, Jonathan, "Giants, A's on the Air: New Faces, Voices, Stations," San Francisco Chronicle, April 2, 1993.
Curiel, Jonathan, "Stockton Offers High Praise for Moore," San Francisco Chronicle, February 9, 1993.
Draper, Dick, "CSM's Jon Miller; 'Coloring the A's,'" San Mateo (California) Times, April 18, 1974.
Foster, Bob, "A's Fire Their Sixth Announcer," San Mateo Times, November 23, 1973.
Foster, Bob, "Meet Monte Moore, Al Helfer of the A's," San Mateo TV Times, January 13 ,1968.
Foster, Bob, "Oakland A's Still Without Radio-TV," San Mateo Times, February 8, 1974.
Gilmore, Tom, "Moore Rejoins A's Broadcast Team," San Francisco Chronicle, February 10, 1988.
Hostetter, George, "Gone From A's, Valley Gets Moore," Fresno Bee, February 16, 1993.
Hostetter, George, "With Monte Moore in Porterville, Even JV Teams Get Air Time," Fresno Bee, September 7, 1986.
Johnson, Lew, "Lew Johnson's Column; Notes and Quotes From Here and There," Lawton (Oklahoma) Constitution, August 2, 1957.
Larson, Lanny, "Porterville Radio Station Sold, Longtime Owner to Maintain Ties," Fresno Bee, January 31, 1997.
Levitt, Ed, "Accent on Sports." Oakland Tribune, December 8, 1976.
Lundquist, Carl, "Moore, Voice of A's, Warms Up Pitchers for a New Air Slant." The Sporting News, June 11, 1966.
Rose, Bill, "A's Monte Moore Happy in New Role," Oakland Tribune, February 14, 1970.
Stewart, Rick, "Miller at the Mike: He keeps WITS about him," Boston Herald, February 7, 1982.
Tibbetts, Jim, "Moore, Charley O. Reunite," Leavenworth (Kansas) Times, February 4, 1977.
Tonelli, Charles, "Monte Moore the Favorite; Fans Stick With Local Announcer." Hayward (California, Daily Review, October 5, 1977.
Tramel, Barry, "Cast of Characters — From Wilt to Bud to Joltin' Joe, Moore Has Called It All," Oklahoma City Daily Oklahoman, June 7, 1998.
United Press International, "Moore Will Man A's Microphone," Omaha World Herald, December 29, 1976.
Warner, Gary, "Rush Joins Moore on Air," Kansas City Star, April 11, 1965.
"'Dingers' Boost A's," San Mateo (California) Times, September 10, 1974.
"On K.U. Grid Hookup; University Station and 24 Others to Air Games," Kansas City Times, September 19, 1957.
"Veteran Sportscaster Lends Expertise to Local Students — Broadcaster Monte Moore to Teach Class at Porterville College," Fresno Bee, June 2, 2002.
"Witty Wilt Has Disc Jockey Show 'Flip'er With Dipper," Salina (Kansas) Journal, February 21, 1958.
Interview with Monte Moore by Donny Baarns on Donnycast.com, the official website of broadcaster Donny Baarns: donnycast.com/p/upcoming-broadcasts.html.
1. Bob Foster, "Oakland A's Still Without Radio-TV," San Mateo Times, February 8, 1974.
2. Charles Tonelli, "Monte Moore the Favorite; Fans Stick With Local Announcer," Hayward (California) Daily Review, October 5, 1977
3. Interview with Monte Moore by Donny Baarns, on Donnycast.com, the official website of broadcaster Donny Baarns: donnycast.com/p/upcoming-broadcasts.html.
4. Carl Lundquist, "Moore, Voice of A's, Warms Up Pitchers for a New Air Slant" The Sporting News, June 11, 1966.
5. Baarns interview with Monte Moore.
6. Baarns interview with Monte Moore.
7. Barry Tramel, "Cast of Characters — From Wilt to Bud to Joltin' Joe, Moore Has Called It All," Oklahoma City Daily Oklahoman, June 7, 1998.
8. Baarns interview with Monte Moore.
9. Lundquist, "Moore,Vpice of A's."
10. Baarns interview with Monte Moore.
11. Baarns interview with Monte Moore.
12. Baarns interview with Monte Moore.
13. George Hostetter, "Gone From A's, Valley Gets Moore," Fresno Bee, February 16, 1993.
14. Baarns interview with Monte Moore.
15. Baarns interview with Monte Moore.
16. Baarns interview with Monte Moore.
17. Baarns interview with Monte Moore.
18. Ed Levitt, "Accent on Sports," Oakland Tribune, December 8, 1976.
19. Hostetter, "With Monte Moore in Porterville, Even JV Teams Get Air Time."
20. Hostetter, "With Monte Moore in Porterville, Even JV Teams Get Air Time."
21. Jonathan Curiel, "Stockton Offers High Praise for Moore" San Francisco Chronicle, February 9, 1993.
22. Dick Draper, "CSM's Jon Miller; 'Coloring the A's,'" San Mateo (California) Times, April 18, 1974.
23. Bill Rose, "A's Monte Moore Happy in New Role," Oakland Tribune, February 14, 1970.
24. Barry Tramel, "Cast of Characters."