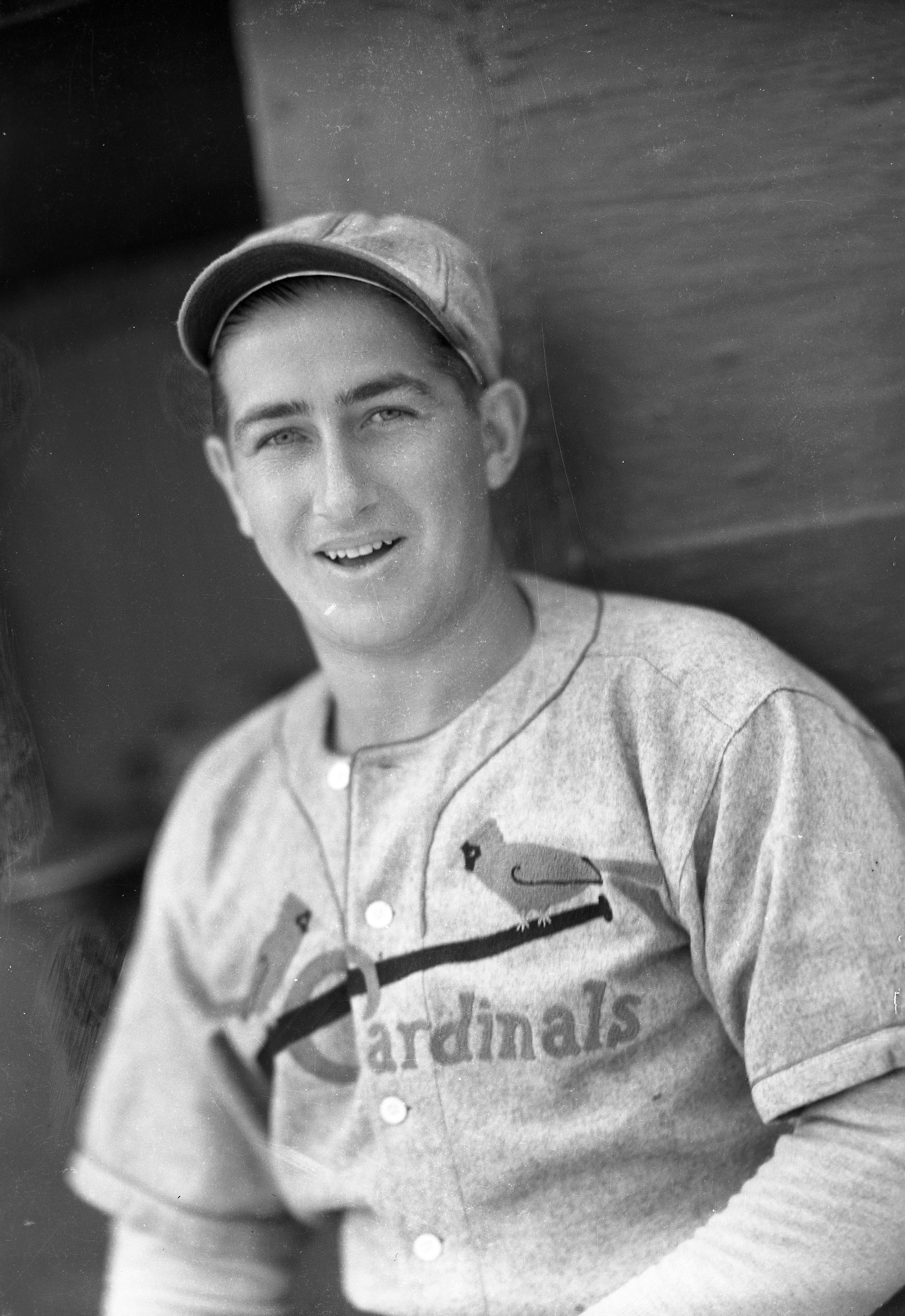 ---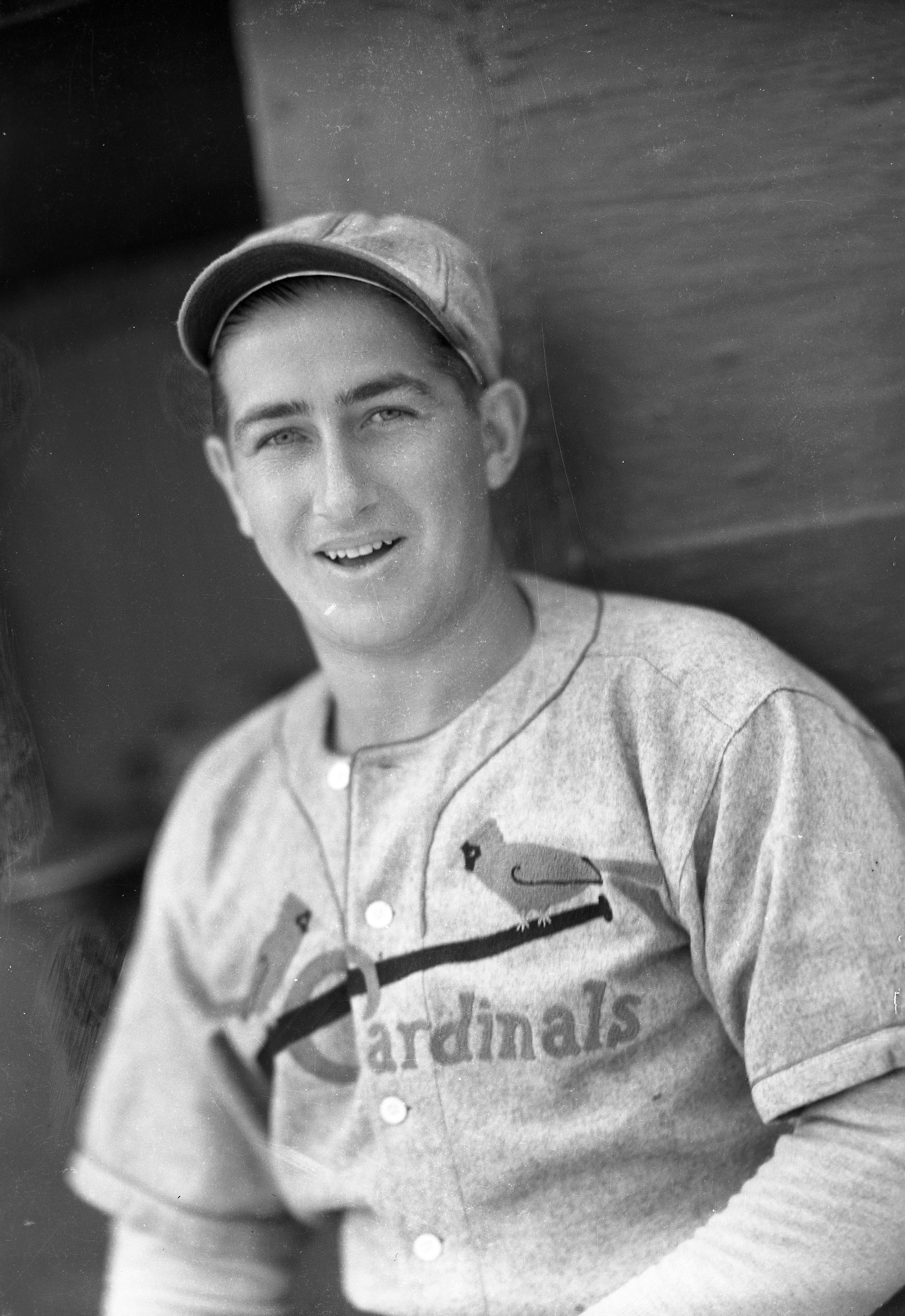 As a 22-year-old Bill DeLancey caught every inning of the 1934 World Series for the St. Louis Cardinals as the club won its third championship. Later, he was named by Branch Rickey as one of the best three catchers he had ever seen, alongside Roy Campanella and Mickey Cochrane. However, DeLancey accumulated only 686 plate appearances in his major-league career, as he soon fell ill with serious lung problems that effectively ended his playing days. Although DeLancey spent several years as a minor-league manager and returned to the majors briefly, he was never at full health again and died on his 35th birthday.
Born on November 28, 1911, in Greensboro, North Carolina, William Pinkney DeLancey was part of a large family of Irish background; he had seven brothers and six sisters. His father, William Pinkney DeLancey, was born in Guilford County, North Carolina.1 His mother, Rosa Ann Brame, was born in Rockingham County, North Carolina. He had at least two older brothers, Frank and James.
DeLancey played baseball as a child and starred in the sport for Bessemer High School in Greensboro before briefly playing as a semipro in the city.2 He began his professional career in 1930 when he signed with the Shawnee Robins of the Class C Western Association. The 18-year-old stood 5-feet-11 and weighed 185 pounds. A left-handed batter, he hit .297 in 192 at-bats for Shawnee.
After the season the Cardinals signed DeLancey and assigned him to the Danville Veterans of the Class B Illinois-Indiana-Iowa (Three-I) League.3 There he hit.260 in 97 games and showed extra-base power by hitting 13 doubles, 12 triples, and 7 home runs. He finished the year by playing 11 games for the Columbus Red Birds of the Double-A American Association.
With several catchers vying for playing time in Columbus in 1932, DeLancey was sent to Springfield of the Class C Western Association. He became the club's primary backstop and one of the key offensive contributors as the team won the Western Association title. He led the team with a.329 batting average and .414 slugging percentage, hit 20 triples and swatted 18 home runs. He had 110 runs batted in and led the league with 108 runs scored. Recalled to Columbus after the Western Association season ended, DeLancey while driving from Springfield to Columbus stopped in St. Louis to visit Branch Rickey, who told him not to continue to Columbus but to head to New York to join the major-league club for the rest of the season.4
DeLancey made his major-league debut on September 11, 1932, as the starting catcher against the New York Giants at the Polo Grounds. DeLancey went 1-for-3 and got his first major-league hit off a future Hall of Famer when he singled off Carl Hubbell.
After the season DeLancey and Frances Yasaitis, a nursing student whom he had met while playing at Danville, were married. For the 1933 season the Cardinals sent him to Columbus, where he hit .285 with 21 home runs. Perhaps his finest game of the year came on August 27 against the Minneapolis Millers, when he went 4-for-6 with two doubles and two homers.5
For the 1934 season Branch Rickey pondered whether to bring DeLancey to the major leagues on a permanent basis. St. Louis had a new catcher, Spud Davis, but Rickey wasn't sure if Davis was strong enough defensively to be an everyday catcher and he was worried about the club asking a rookie catcher, DeLancey, to do too much. Rickey ultimately decided that the club would indeed go with Davis and DeLancey.6
Manager Frankie Frisch was initially hesitant to play DeLancey, and by May 29 he had only 12 at-bats. On May 30 he got his first start of the season, against Cincinnati, and had one of the best games of his career, going 4-for-5 with a triple, a home run, and four RBIs. From that point on, DeLancey split the catching duties with Davis. He started 63 more games over the course of the season and the Cardinals had a .641 winning percentage when he started. DeLancey had a good batting eye and reached base four times in a game on several occasions.
The Cardinals won the National League pennant, finishing two games ahead of the Giants. DeLancey made several important contributions when the Cardinals played the Giants. On June 27 in St. Louis the Giants and Cardinals were tied in the ninth inning when DeLancey hit a home run off Dolf Luque to give St. Louis an 8-7 victory and a split of the four-game series, which kept the Cardinals two games behind New York.
When the Cardinals went to the Polo Grounds for a key series in mid-September, DeLancey figured in two St. Louis victories. On September 13 he drove in Joe Medwick in the 12th inning for the go-ahead run, and on the 16th his single sparked a four-run rally and a 5-3 St. Louis victory.7 On September 30 DeLancey went 3-for-4 and caught a Dizzy Dean shutout as St. Louis clinched a berth in the World Series.
The 22-year-old DeLancey posted a .316 batting average with a .414 on-base percentage and a .565 slugging percentage in 253 at-bats with 18 doubles and 13 home runs. He had his finest season defensively, throwing out 14 of 30 attempted basestealers, for a 47 percent caught-stealing mark, which was above league average.
The 1934 season was a happy time for DeLancey off the field. He and Frances became parents when Doris Ann DeLancey was born on August 29. On the diamond, though, DeLancey was a prickly and hard-nosed player who often complained at and swore at umpires.8 One sportswriter described him as a "spirited, fighting athlete who gives no ground at the plate and has more color than the average catcher."9
An example of DeLancey's feisty attitude came when Frisch told him to lay off the rising fastball during one game; DeLancey had been struggling to hit that pitch, always getting under the ball and popping it up. The next time he came to bat, DeLancey hit a high fastball onto the roof of Sportsman's Park for a homer. When he got back to the dugout he snapped at Frisch, "That's how much you know, you dumb Dutchman."10
Although he was only 22, DeLancey assumed a leadership role on the field and in the clubhouse. Once he saw Dizzy Dean goofing around on the mound and went out to the pitcher and sternly said, "[I]f you ever make a joke of it again when I'm catching, I'll knock your damned block off." Reportedly, this display of fortitude impressed Dean so much that he asked Frisch if DeLancey could catch him regularly.11
By the end of the season the Cardinals were so impressed by DeLancey that he caught every single inning of the World Series. He hit only .172, but that included three doubles and a home run. DeLancey's round-tripper accounted for St. Louis's only run in Game Five. DeLancey became the second rookie catcher to hit a home run in the World Series; the first was Wally Schang of the 1913 Philadelphia Athletics.12 DeLancey contributed an RBI double during the key seven-run third inning in the Cardinals' Game Seven victory. During the Series DeLancey was fined $50 by Commissioner Kenesaw Mountain Landis for swearing at home-plate umpire Brick Owens.13
In 1935 DeLancey ended up splitting time with Davis behind the plate. The young catcher suffered from a nagging cough throughout the year and wasn't able to claim the starting job on a permanent basis. DeLancey was a chain-smoker, but that didn't seem to be the cause of his cough.14 He didn't equal his rookie year at the plate, but still posted a strong .279 batting average, and the Cardinals were 52-25 in the games he started. The team finished second, four games behind the Chicago Cubs. For DeLancey the most memorable stretch of the season occurred over seven games between July 13 and 21, when he went 11-for-24 with four doubles, a triple, a home run, and nine RBIs as the Cardinals won six of the seven contests.
Although he often gained more attention for his offense, DeLancey was a strong defensive catcher and an intelligent student of the game. He possessed a strong throwing arm. He was respected by other ballplayers for his fearless nature. He didn't back down to veterans and demonstrated his leadership with a stern gaze or a streak of curse words. Branch Rickey would call him "a master with his pitchers," regardless of their age, and pitchers recognized this immediately.15 Still, away from the diamond DeLancey was one of the club's best pranksters. Branch Rickey described him as "the most hardened practical joker in baseball that I ever knew, worse than Johnny Evers."16
DeLancey's health problems persisted throughout the season. A few days after the season ended he had a cyst removed from his right eye at St. Elizabeth's Hospital in Danville. Two weeks later he was readmitted to the hospital with a lung infection. DeLancey was transferred to St. John's Hospital in St. Louis, where the Cardinals team physician, Dr. Robert F. Hyland, diagnosed him with pleurisy with effusions.17
Dr. Hyland kept DeLancey in the hospital until he had regained his strength,18 then recommended that DeLancey go to the Southwest because the region's dry air would assist his recovery, so Bill and Frances decided to move to Phoenix.19 Upon his release from the hospital, DeLancey was reportedly still so weak he had to be carried to the train on a stretcher. After arriving in Phoenix he was confined to bed rest for a further eight months, during the first four of which he was so weak that he could only sit upright for 30 minutes a day.20 Realizing he couldn't play baseball in the immediate future, DeLancey voluntarily retired on February 12, 1936.
Initially DeLancey was depressed at the possible end of his baseball career, saying, "If I can't play ball again, what's the use?"21 However, his old friend Branch Rickey played an essential role in helping DeLancey recover through both his finances and his presence. Bill's lungs had to be drained every 48 hours and the Cardinals paid the cost for specialized medical courses so Frances could learn how to perform this task.22 Rickey also came by the DeLanceys' residence during the spring of 1936 and spent about five hours with Bill. His wife later described Rickey's visit as a huge boost to her husband and recalled that he gained confidence and "no longer looked ahead despairingly."23 Aside from their friendship, Rickey may have taken a particular interest in DeLancey's health because he himself had also been a young catcher who had had to give up his playing career because of an injury and because he had managed two players on the 1922 Cardinals club, Bill "Pickles" Dillhoefer and Austin McHenry, who both died in their 20s during the season.24
Rickey's visit helped improve DeLancey's mood, but the key to lifting his spirits may have been the addition to the family of some four-legged friends. While he was recovering, Frances bought Bill a bulldog to keep him busy. The dog seemed to lift Bill right out of his depression and Frances said the dog, as well as her efforts to train it, got him smiling and laughing again.25 Soon the DeLanceys were the owners of two more dogs and Bill spent a great deal of time teaching the dogs tricks and, once he was no longer on bed rest, taking them on small walks.26
DeLancey's recovery went so well that he returned to baseball in 1937. He hadn't recovered enough to play, so the Cardinals made him the manager of their new Albuquerque farm club in the Class-D Arizona-Texas League. A primary reason behind the birth of the Albuquerque Cardinals was to give DeLancey a team to manage.27
Rickey said, "I believe DeLancey is going to make a wonderful manager. He's a keen student of the game. … It was a tough blow to the Cardinals when we lost him as a catcher, just when he was reaching his peak, but I know he's going to prove valuable to the organization as a manager. He knows baseball and he knows players as well."28 He was proved right as DeLancey, despite being only 25 and having no managerial or coaching experience, managed Albuquerque to the league title.
DeLancey managed Albuquerque again in 1938, and took his first small steps toward resuming his playing career. He inserted himself into nine games as a pinch-hitter and got two hits. His first at-bat came during a 10-8 victory over El Paso on August 7. During Albuquerque's five-run ninth inning DeLancey smacked the ball over the center fielder's head to drive in two runs. It would have been a triple, but DeLancey was not at full health and stopped at first before lifting himself for a pinch-runner.29
Meanwhile, the DeLanceys were adapting well to life in Arizona. They owned a small ranch house and 2½ acres of land near Phoenix. They did a lot of riding in the desert.30 Doris Ann went to live with her maternal grandmother during the season and Frances split her time between returning to Westville when the Cardinals were on the road and staying with Bill when the club was back in Albuquerque.31
DeLancey managed Albuquerque for a third season in 1939 and made further small steps toward restarting his playing career, going 3-for-14 with two doubles. He led the team to its second title in three seasons, overcoming losses in the first two games of the playoffs.32 In late September it had been decided that DeLancey wouldn't return to the club to manage the next season. The early speculation was that he would become a coach for St. Louis.33
DeLancey's brief returns to the diamond hadn't been a rousing success statistically, but they suggested to the catcher that he might be able to play major-league baseball again, even if he couldn't return to his old heights. In 1940 DeLancey attended spring training with the parent club. At the end of spring training, he went to St. Louis for a physical examination, was declared fit to play for the Cardinals, and was signed by the club on March 20, 1940.34
The Cardinals planned to use DeLancey as a reserve catcher, pinch-hitter, and tutor for young Cardinals pitchers and catchers. One of his primary duties was to teach Mickey Owen (who was only four years younger than DeLancey) about being a major-league catcher. DeLancey was given a lot of credit for helping to turn Owen into a fine defensive catcher for the Cardinals and Dodgers.35
DeLancey played in only 15 games during the season, starting two of them. He got four singles in 18 at-bats and drove in two runs. It was clear that he wasn't the player he used to be and that his health problems had had a permanent impact on his talents.36 DeLancey's final major-league game came on September 8, 1940, against the Pittsburgh Pirates at Sportsman's Park. He came into the game as a defensive replacement and didn't register a plate appearance. His final major-league hit came as a pinch-hitter against the Brooklyn Dodgers. On September 11, 1940, eight years to the day after he made his major-league debut, DeLancey was released as a player. He signed as a coach the next day. After the season he was released37 and was named manager of the Pocatello Cardinals of the Class C Pioneer League. He played in 49 games, batting.277. DeLancey also made his only professional appearances as a pitcher, hurling ten innings over two games. He never played professional baseball again.
In 1942 DeLancey began the season as manager of the Asheville Tourists of the Class B Piedmont League. During the season he was succeeded by Ollie Vanek, and he left professional baseball. Whatever the reason – whether it was health-related, whether he had given up on playing in the majors again, or whether he was tired of managing and wanted to do something else – DeLancey retired to Arizona.
The following year, DeLancey worked as a sporting-goods salesman in Phoenix and served as commissioner of the Arizona Servicemen's Baseball League. He watched semipro baseball when he had the time, hoping to unearth talent that he could recommend to his good friend Branch Rickey.38 Thoughts of playing again hadn't left him completely and he entertained the idea of playing independent league baseball in Phoenix, although he never did, as he knew it was best not to for his health.39
After suffering only periodic sick spells for several years, DeLancey's health worsened a few years after his retirement and he was forced to leave his sales job.40 His last public appearance in the baseball world came when he umpired an exhibition contest in Phoenix between the Chicago Cubs and St. Louis Browns.41 The effects of his tuberculosis often kept him on bed rest during the final year of his life and he spent his last six months almost entirely in bed.42
DeLancey died of pleurisy on November 28, 1946, his 35th birthday.43 He was survived by Frances; their two daughters, Doris, 12, and Mary Jane, 1; his father; four brothers; and six sisters.44 After a funeral at St. Frances Xavier Parish, he was buried in St. Francis Cemetery in Phoenix on December 2.45
Rickey later paid glowing tribute to DeLancey in his seminal work, The American Diamond. He said DeLancey and Roy Campanella were the two best catchers he had ever signed and named the two of them and Mickey Cochrane on his "All-Time Team" of 30 players.46 The only member of the team who wasn't an established star, DeLancey was selected ahead of such luminaries as Bill Dickey, Yogi Berra, and Gabby Hartnett.
Writing about why he chose DeLancey for his squad, Rickey explained that many of the catcher's best attributes weren't apparent from looking at a box score or his statistics. Rickey wrote, "On the field, he knew everything. He knew movements of the baserunners backwards and forwards and learned hitting traits of batsmen overnight. He anticipated managerial tactics and acted on his judgment. He had a remarkable pitching sense."47
Rickey described DeLancey as a master at reading a hitter's mood and mindset. "He knew there's a lingering hold on the consciousness of the last pitch that hasn't passed by yet with the hitter. He's still seeing it, he's still thinking about it. It may be that you should throw that next pitch within five seconds," while for other batters it might be better to let them stew about the past pitch and let self-doubt surface in their mind. Rickey noted that DeLancey also "knew the time to delay an anxious power hitter who could hardly wait for the next pitch. Let him exercise, let him exercise a lot. …"48
Rickey described DeLancey as an effective player of mind games, describing him as a great psychologist on the diamond with an innate talent for reading people.49 "He knew how to talk to a batter – and when to do it and when not to do it."50
Rickey perhaps best summarized DeLancey in one short passage in the book when he wrote, "He was a natural student of what, how and when. And he could hit! And throw! And run! He was unafraid physically and morally. He was a hell raiser, but he was victory bound."51 If it wasn't for a terrible illness ending his career and then his life so prematurely, perhaps Rickey wouldn't have needed to explain DeLancey's virtues to his readers, as they would be much more widely recognized.
This biography is included in the book "The 1934 St. Louis Cardinals: The World Champion Gas House Gang" (SABR, 2014), edited by Charles F. Faber. For more information or to purchase the book in e-book or paperback form, click here.
Notes

Born
November 28, 1911 at Greensboro, NC (USA)
Died
November 28, 1946 at Phoenix, AZ (USA)
If you can help us improve this player's biography, contact us.
http://sabr.org/sites/default/files/DeLancey.jpg
600
800
admin
/wp-content/uploads/2020/02/sabr_logo.png
admin
2012-01-04 20:33:34
2012-01-04 20:33:34
Bill DeLancey