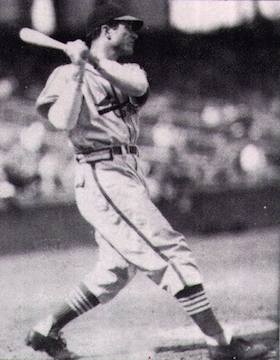 ---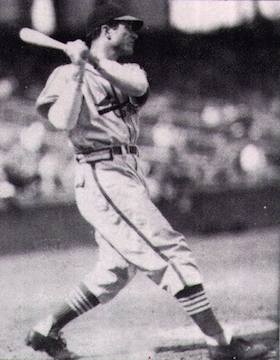 In September 1941, outfielder Bill Endicott seemed poised for a major-league career. In his fifth season of professional baseball, he had a stellar minor-league résumé: three All-Star teams, including one that year in the Pacific Coast League.1, 2 He had also won a batting championship three seasons earlier when he hit .354 for Albany in the Georgia-Florida League.
As a reward, the St. Louis Cardinals called Endicott up to the major leagues, along with a handful of other late-season rookie additions that included Stan Musial.3 Endicott, however, never got to St. Louis because before he got the summons from the Cardinals, he got a summons from his draft board.4 He ended up spending the next four years serving in the Army in World War II before finally stepping foot onto a field for a major-league game in 1946. By then, however, an injury he suffered during the war seriously impaired his throwing arm.5 After a mere 20 games, all but two as a pinch-hitter, he was back in the minor leagues for the next year and then out of baseball after that.6
William Franklin Endicott, who batted and threw left-handed, was born on September 4, 1918, in Acorn, Missouri, a minuscule agricultural town with a population then of 25.7 He was the third of four children of Samuel and Grace Endicott. Severe drought caused the family to leave the state not long after his birth and the 1920 census records show them in Sulphur, Oklahoma, where his father briefly continued farming.8 Eventually the family settled in Santa Fe, California, where his father gave up farming to go to work in the oil fields.9 The 1930 census records suggest that the family also lived for a time in Arizona during the early 1920s, since they show that Endicott's parents had a daughter born in that state in 1921.10
By Endicott's own account, the family struggled early on.
"My father had an old touring car and we all drove cross-country in it – his wife and his four children," Endicott said. "He had a brother who had a job in the oil fields but when we got out there my dad had a hard time finding work. We somehow managed to get a house in Fellows, California, but we had not much money. My dad started walking every week to the oil company offices that were miles away, asking for a job. Finally, after I don't know how many trips, he was at the [reception] counter [at one of the oil companies] and the clerk came out of his office with a question for the employee there and when he saw my dad, he said, 'You're here again.' My dad said, 'Yes and I'm going to keep coming until you hire me.' The clerk said, 'Show up to work Monday.'"
As a boy Endicott took to sports, playing baseball from his sophomore through his senior years at Taft Union High School and basketball all four years.11 After graduation in 1936, he played semipro ball before going to a tryout camp for the Cardinals in Southern California in 1937, where, he said, he met Cardinals general manager Branch Rickey, who signed him to a contract and sent him to Albuquerque in the Class D Arizona-Texas League. As early as training camp, Endicott impressed observers with his speed; one story described him as "one of the fastest runners on the squad," and predicted that it would not take him long to move up beyond D ball.12 Endicott hit from the start, averaging .383 through the first 14 games, so well that The Sporting News characterized him as "showing the way" for league batters.13
Despite that, in early May, when teams in the league had to cut their rosters to 14, including the manager, Albuquerque released Endicott. He said he turned an ankle in a game and exacerbated the injury when he pinch-hit before he had fully recovered; with so few roster spots, the team could not carry a player who could not play every day. The Cardinals sent him to another of their Class D squads, Albany of the Georgia-Florida League, where he hit .297. The Cardinals assigned him to Albany again for 1938, where his league-leading .354 batting average helped them win the title and gave Endicott his first berth on an All-Star team.
Endicott's performance earned him a jump to Houston of the Texas League for the next season but when he hit .237 over his first 14 games, the Cardinals sent him to Class B Mobile of the Southeastern League, where he spent the rest of the 1939 season, as well as 1940. After hitting .314 the first year, he hit .320 the second, putting him among the top 10 in the league in batting, and earning him a second All-Star selection. That year he also earned a watch as a prize for winning a poll the team conducted to select its "most popular player."14
For 1941, the team sent Endicott to Sacramento of the Pacific Coast League, and this time he thrived after the promotion. Initially, manager Pepper Martin saw him as a reserve outfielder, behind Lynn King, but when King suffered an injury during training camp, Martin replaced him with Endicott.15 He immediately began hitting with authority, collecting 16 hits in 35 at-bats over the first week and a half and earning a mention in The Sporting News as "sensational."16 Although his hitting cooled – he finished the year at .298 but among the top five in the league in doubles and triples – he was good enough to earn a place in the PCL All-Star game. The Cardinals rewarded him by calling him to the major leagues when the PCL season ended, picking him up in a trade with Sacramento for Floyd Young.17
However, by the time Endicott got the news, he was already back home in Taft, California, awaiting his orders from the Army, which had drafted him weeks earlier. In October he entered the service as a private, assigned after basic training to the Signal Corps to work in cryptography. He spent 18 months in England, where he rose to the rank of technical sergeant before the Army sent him back to the United States for officer-candidate school, with the intention of shipping him out to Asia as a second lieutenant. However, World War II ended before his orders came through and he finished his military duty in California.18
In the spring of 1946 Endicott came back to the Cardinals to try to revive his baseball career. Despite doing little more for four years than a few pickup baseball games, he was impressive in spring training. At the end of February, The Sporting News reported that he was "hitting power blows from the big batting cage" and that Cardinals manager Eddie Dyer said he could "could fill in the outfield."19 Endicott, however, had broken his left shoulder during his stint in the Army and was never able to throw well again. He said that until team doctors examined his arm and took X-rays, he had no idea he had fractured a bone, only that his arm was sore. He compounded that injury when he crashed into the left-field fence making what a sportswriter described as "a great catch" on a long fly ball in an exhibition game against the Boston Red Sox.20
Despite his injuries, the Cardinals kept Endicott on the roster when they started the season. He appeared in his first major-league game on April 21, against the Cubs as a pinch-hitter in the top of the eighth inning with St. Louis trailing 3-2 with two on and two out. He hit a long fly to right that Cubs outfielder Bill Nicholson misjudged, letting it fall in for a double, driving in the tying and go-ahead runs.21 Despite the misplay, it was enough that Endicott earned mention in an Associated Press roundup of the stars of the day's games across the majors.22
As it turned out, Endicott's debut was the highlight of his major-league career. While he remained on the Cardinals roster for the entire season, he appeared in only 20 games, making it into the starting lineup for two games in left field. His other 18 appearances were, like his debut, as a pinch-hitter. In all, he batted 24 times, collected four hits – to go with his double in his first time at the plate he added two more doubles and a single. He added one more RBI to the two he plated in his first game, albeit one not at all dramatic since it accounted for one of the team's dozen runs in a 12-4 victory over the Pittsburgh Pirates in July.
Although Endicott was on the roster for the World Series that year, he did not appear in a game in the Cardinals victory over the Red Sox in seven games.
The Cards kept Endicott on the major-league roster for 1947, but shipped him to the minors to see if he could shake the effects of his accumulated injuries. After two dozen games, when he saw he wasn't improving and with his batting average at .213, he told the organization that he appreciated their patience but was hanging up his spikes.
Endicott went back home to California, where he worked in the oil fields for a few years, as his father had, until he joined the California Highway Patrol, working first as an officer and then as a detachment commander for nearly 30 years until he retired in 1975.
Endicott married twice. His first wife, Mabel, died and Endicott married the former Mary Griggson in 1971. He had two sons.
He died on November 26, 2016, in Sacramento.
Notes
Full Name
William Franklin Endicott
Born
September 4, 1918 at Acorn, MO (USA)
Died
November 26, 2016 at Sacramento, CA (USA)
If you can help us improve this player's biography, contact us.
http://sabr.org/sites/default/files/EndicottBill.jpg
600
800
admin
/wp-content/uploads/2020/02/sabr_logo.png
admin
2016-05-09 16:53:44
2016-05-09 16:53:44
Bill Endicott