Bill Nicholson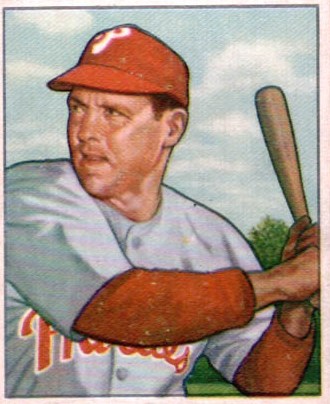 Real Cubs fans never called him Swish. To them, he was Big Bill, or Nick. The Swish nickname originated in Brooklyn. The big left-handed hitter always leveled his bat across the plate several times when stepping in to face an opposing pitcher. Dodger fans would yell, "Swish, swish, swish," in unison with his practice swings. The name caught on the East Coast, but was soundly rejected in Chicago. Because news is written in New York, the Swish designation has survived and Big Bill has been all but forgotten.

Nicholson was the prototypical home run hitter of the early 1940s. His numbers don't look impressive today, but in that low octane era, 20 homers was a big deal. He led the Cubs in home runs eight seasons in a row, a mark that was tied by Ernie Banks and finally broken by Sammy Sosa. From 1940 through 1944, he never finished lower than fourth in the National League in home runs. Although he topped 30 only once, he led the league in homers and RBIs in back-to-back seasons, 1943 and 1944. Only Babe Ruth and Jimmie Foxx had done that previously. Granted, those were war years, but he had solid seasons before and after World War II depleted major league rosters.

He was the most popular Cub of the decade, the idol of urchins everywhere who identified with the North Siders. A husky 205-pound six-footer, he was usually seen on the field with a big chaw of tobacco bulging in his cheek. When the Cubs were losing, people didn't start leaving the park until his last at bat. That successful formula of one big slugger and a beautiful ballpark wasn't lost on Phil Wrigley. In subsequent years of futility, although high profile boppers like Hank Sauer and Ernie Banks were surrounded by inferior supporting casts, the turnstiles kept clicking as long as they were hitting.

William Beck Nicholson was born December 11, 1914, on the family farm just outside Chestertown, Maryland, located across Chesapeake Bay from Baltimore. He was a three- sport athlete at Chestertown High School, graduating in 1931 at age 16, and enrolled at Washington College in his home town. Founded in 1782, this small liberal arts institution is the tenth oldest college in the country. George Washington donated money to its founding, served on the board, and granted the use of his name.

Nicholson was the eighth and last Washington College ballplayer to make it to the majors. He had the longest and most successful career among them. (The first was Al Burris, whose career was limited to one game in 1894.) Big Bill starred as a guard on the basketball team and as a fullback and kicker on the football team. His goal at the time was to be a Naval officer, so in 1933 he left for the Severn School in Annapolis to prepare for entrance to the Naval Academy. He was rejected due to color blindness, a serious blow at the time, but this was the factor that led to his draft deferment during World War II, and his career years in baseball.

Returning to Washington College in 1934, Bill led the football team to its first and only undefeated season. He played center field on the baseball team, leading the 1935 and '36 teams to the Maryland Intercollegiate Baseball League championships, hitting .571 in '36. At the time of his graduation, Nicholson was regarded as one of the greatest athletes in the college's history, and is a member of its Hall of Fame.

Ira Thomas, a catcher on the great Philadelphia Athletics teams of the early teens, scouted Nicholson and signed him for the parent club. Connie Mack's A's at the time were doormats of the American League, having sold off their stars like Lefty Grove and Jimmie Foxx because of the Depression. Nicholson got a $1000 signing bonus and a salary of $1200 for the rest of the 1936 season. A week too late, the Yankees offered $5000.

Desperate for warm bodies, the A's brought him up to the big club, but he had only a dozen at bats, struck out 5 times, and didn't get a hit. He was invited to spring training with the A's in 1937, but was sent to Class B Williamsport before opening day. Despite hitting .300 with 20 homers in each of two minor league seasons, he was traded to the Washington Senators with $30,000 for Dee Miles. Things turned around when his manager at Chattanooga, former Cubs star Kiki Cuyler, tinkered with Nick's stance and batting style. He had Bill crouch more and stop lunging at outside pitches. Cuyler not only is credited for transforming the failed prospect into a feared power hitter, but also recommended the kid to the Cubs' scouting staff.

Nicholson became a Cub in midseason 1939, just after the end of a dynasty when the Cubs won four pennants in 10 years (but lost every World Series). That dominant team was breaking up as a result of old age (Gabby Hartnett, Charlie Root) and bad trades (Billy Herman, Augie Galan, Dolph Camilli). But the deal for Nicholson was a good one. For $35,000 they bought the .334 hitting right fielder from the Chattanooga Lookouts. He hit a home run in his first game as a Cub, had three hits including a triple in his second game, and never looked back.

Nicholson quickly settled in as the Cubs' regular right fielder and cleanup hitter. A National League All-Star in 1940 and 1941, he hit 25 and 26 homers, and drove in 98 runs both years. In the field, he gained a reputation for his strong throwing arm, and throughout his career was one of the toughest hitters to double up, hitting into DPs only once in every 91 at bats.

Teammate Don Johnson recalled, "Nick was one of the neatest guys you ever wanted to meet... built like a fullback, a quiet guy... he was a real good outfielder, covered more territory than you thought... I don't think I ever saw him throw to a wrong base."

The next few years provided plenty of highlights. The first back-to-back-to-back homers in Cubs history were hit by Phil Cavarretta, Stan Hack, and Nicholson on August 11, 1941. But it wasn't enough, as the Cubs lost to the Cardinals 7-5.

On August 15, 1942, Nicholson hit three home runs, two doubles, and a single in a doubleheader against the Pirates. Again it was to no avail as the Cubs got swept. They did better a week later when catcher Clyde McCullough, shortstop Lennie Merullo, and Cavarretta turned a triple play against the Reds in the top of the 11th. Big Bill sent the fans home happy with a walk-off homer in the bottom of the inning.

Nicholson's career years came during the war, in 1943 and '44. That certainly had to affect his standing among all-time Cubs. And despite his efforts, both were losing seasons for the North Siders. The numbers only begin to tell the story. In '43 he hit .309 and led the league with 29 homers and 128 RBIs. The following year he hit .287, leading the league with 33 homers, 122 RBIs and 116 runs scored. He lost out by one point in the MVP voting to Cardinal shortstop Marty Marion, a .267 hitter who didn't lead the league in anything but fielding percentage. But the Cardinals won their third straight pennant, while the Cubs languished in fourth place.

Big Bill provided Cubs fans with some unforgettable moments during those dismal years. The Cubs went 32 games in 1943 before hitting their first home run. (Part of the blame was assigned to the infamous balata ball, used early that season due to rubber shortages.) Nicholson ended the drought with two dingers on May 30. Two months later, Phil Cavarretta hit a home run off Wrigley Field's foul pole against the Dodgers' Johnny Allen. The ball was retrieved (due to wartime shortages), put back in play, and Nicholson hit it out of the park. It was probably the only time that two consecutive home runs were hit off the same ball.

Nicholson's greatest day in baseball occurred on July 23, 1944, in a double header against the Giants. New York manager Mel Ott paid him the ultimate tribute by ordering him intentionally walked with the bases loaded in the 8th inning of the second game. Until then, only Napoleon Lajoie and Del Bissonette had received intentional passes with the bags packed. (Barry Bonds joined the club in 1998.) Nick had hit three home runs in the opener, one in the nightcap, and one in his last at bat the day before. That set records with four consecutive home runs, and four in a double header. Ott's strategy backfired, because the Cubs scored three runs in the 8th to tie the game. But New York scored twice in the last of the 8th to finally win, 12-10. An interesting sidelight was that Ott and Nicholson were tied at the time for the league lead with 23 home runs each.

After five solid years of stardom the bottom suddenly dropped out for Nicholson just as the Cubs got it together for their surprise pennant in 1945. His batting average dropped to .243, with only 13 homers and 88 RBIs. He hit only .214 in the World Series, but drove in 8 runs in the 7 games. That tied a record at the time. Things got even worse in 1946, an injury plagued season as he hit just .220 with 8 homers and 41 RBIs. Despite the anemic power numbers, he still tied Cavarretta for the team lead in jacks. Nobody has ever satisfactorily explained the reason for that two year slump. Nick was diagnosed with diabetes in 1950 while playing for the Phillies, but it's doubtful that he was suffering from its effects that early.

In 1947 he made a comeback of sorts, hitting 26 homers and 75 RBIs, and leading the league's outfielders in fielding average. He also led the league in strikeouts with 83, barely a half season's output for today's free swingers. Nick struck out 90 times only once in his career, yet was in the top three in the league six times. That's another reason why the name Swish stuck.

There were still some highlights left in his big bat. On August 8, 1947, Cub' lefty Johnny Schmitz was locked in a classic pitchers' duel with the Reds' stringbean sidearmer Ewell Blackwell. The score was 1-1 in the bottom of the 11th when Nicholson launched one of The Whip's fastballs into the right field bleachers.

A year later he hit one of the longest home runs in the history of Wrigley Field, a towering blast just to the right of the scoreboard that hit a building across Sheffield Avenue. Several years later, Roberto Clemente hit one to the left of the board. Nobody has ever hit the scoreboard.

At age 33 in 1948, Bill had his final season as a regular, and his last with the Cubs. As soon as the season ended, he was traded to the Phillies for former batting champion Harry Walker. After a couple of months in 1949, Walker was shipped on to the Reds for Hank Sauer, who continued the Nicholson power hitting tradition, albeit in left field instead of right. With the Phillies, Nick played in only 98 games, hitting .234 with 11 home runs. Something was obviously wrong.

Even so, Nicholson was a steadying influence on the young Whiz Kids, who would stun the baseball world with a pennant in 1950. Throughout that season, though, he lost 20 pounds, and on Labor Day was diagnosed with diabetes. He missed the rest of the season including the World Series. Nicholson came back to play three more years with the Phillies, primarily as a pinch hitter. He retired at age 38, after 16 seasons in the major leagues. In that time, he hit .268 with 235 home runs and 948 RBIs. He was a National League All-Star four times.

During his career with the Cubs Nicholson hit 205 home runs, which still ranks seventh on their all time list. Eight of them were grand slams, second only to Ernie Banks. He was named to the Cubs' All-Century Team. In an interview during the 1980s, he said, "Just give me grass, daylight ball, and another pennant flying over Wrigley Field."

Although he had a reputation as a great clubhouse influence, Nicholson was not offered any managerial or coaching jobs after retirement. He tried his hand at real estate and running a bowling alley, and for a while was a race track inspector. But he was happiest working on his 120 acre farm. A life-size statue of Bill, swinging a bat, was erected in Chestertown's main square, next to the town hall on Cross Street, in 1992. Weakened by the effects of diabetes, he died of a heart attack on March 8, 1996, at the age of 81, and is buried outside Old St. Paul's Episcopal Church in his hometown. Bill was the last survivor of his immediate family. Two wives and two children died before him.


Sources

Eddie Gold and Art Ahrens: The New Era Cubs, Bonus Books, 1985

Peter Gohlenbock, Wrigleyville, St. Martin's Press, 1996

Chicago Cubs 1948 Yearbook

Robert A. Greenberg, "When Billy Nick Met Connie Mack," Washington College Magazine, Spring 2006 (http://magazine.washcoll.edu/2006/spring/03.php)

Robert A. Greenberg: "Swish" Nicholson, A Biography of Wartime Baseball's Leading Slugger, McFarland & Company, 2008

http://www.baseball-reference.com/n/nichobi01.shtml

http://www.thedeadballera.com/GravePhotos/Nicholson.Bill.Grave.html

http://www.baseballlibrary.com/baseballlibrary/ballplayers/N/Nicholson_B...

http://www.baseballhalloffame.org/exhibits/online_exhibits/baseball_enli...